Friday night rolls around and what are your dinner plans? Don't feel like going out, don't want to order in, how about date night Shrimp Scallop Pasta with Crispy Bacon?!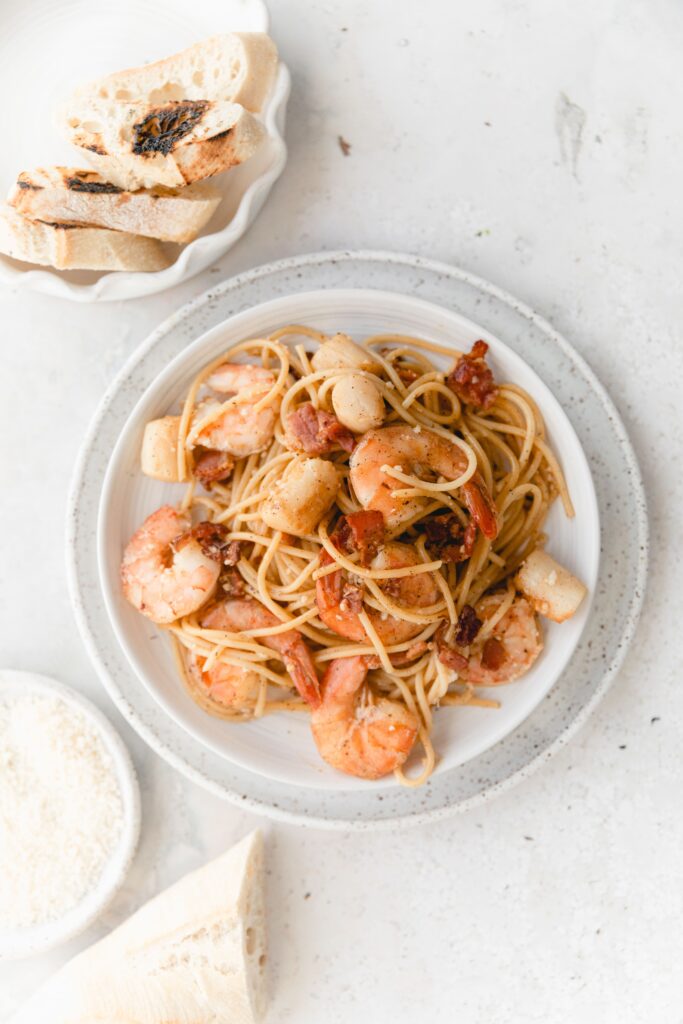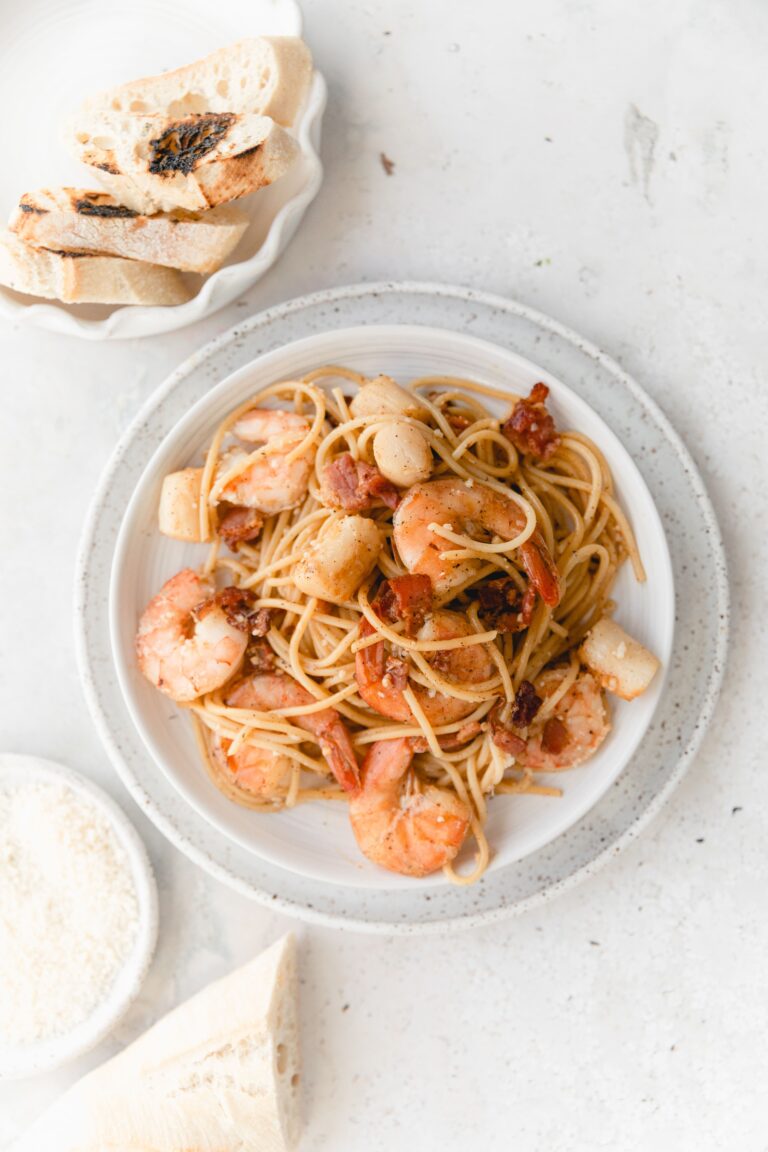 Why Cook At Home For Date Night?
Well..for starters it can be very romantic to get in the kitchen together!
It can be more cost effective.
It can be healthier because you know exactly what's going into your dish! If you need more date night dish inspiration, check out this Dinner For 2: Date Night At Home recipe round up!
Don't forget the drinks either! Grab your favorite glass of wine or cocktail and enjoy...
Getting Super Crispy Bacon
So besides the scallops, shrimp, and pasta, pancetta is arguably the star of the show. And you want that pancetta CRISPY!
Get your cast iron pan (or skillet) screaming hot and toss the cubed pancetta on there.
DON'T TOUCH IT. Let it get a nice sear before you go spooning it around the skillet. About 45 seconds will do!
Render the fat out of the bacon by cooking for an additional 5-6 minutes until they are golden brown nuggets of goodness.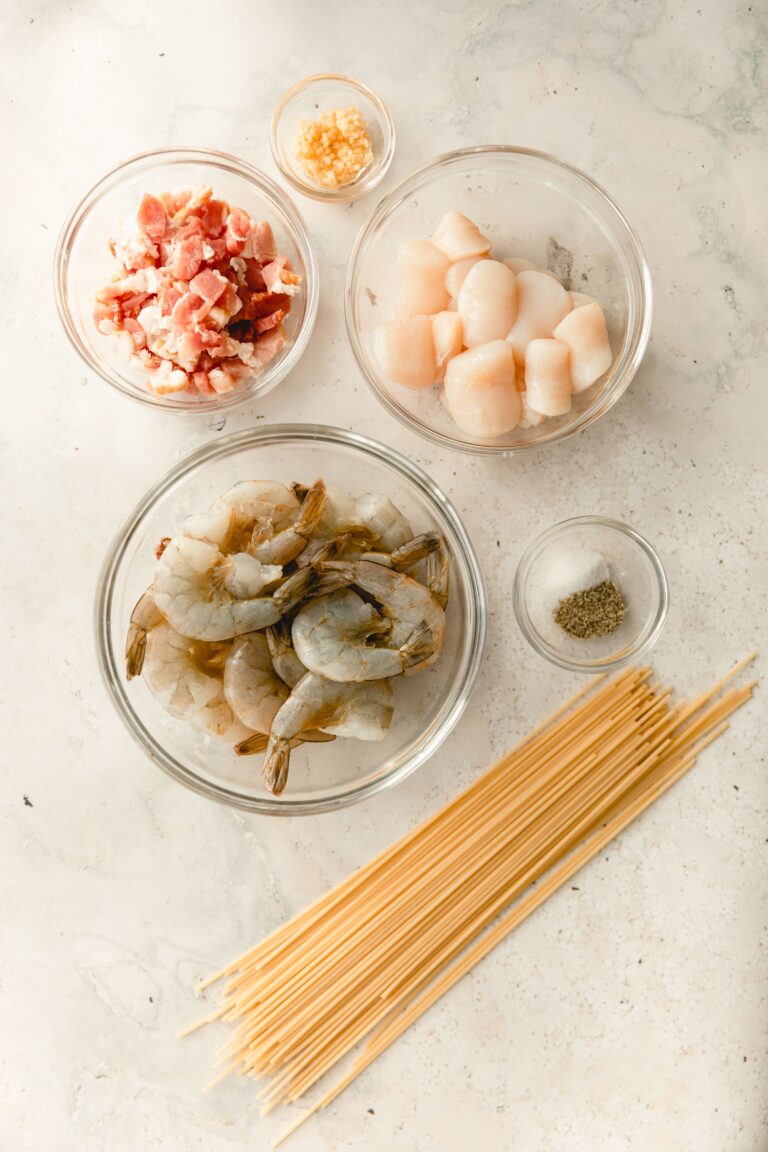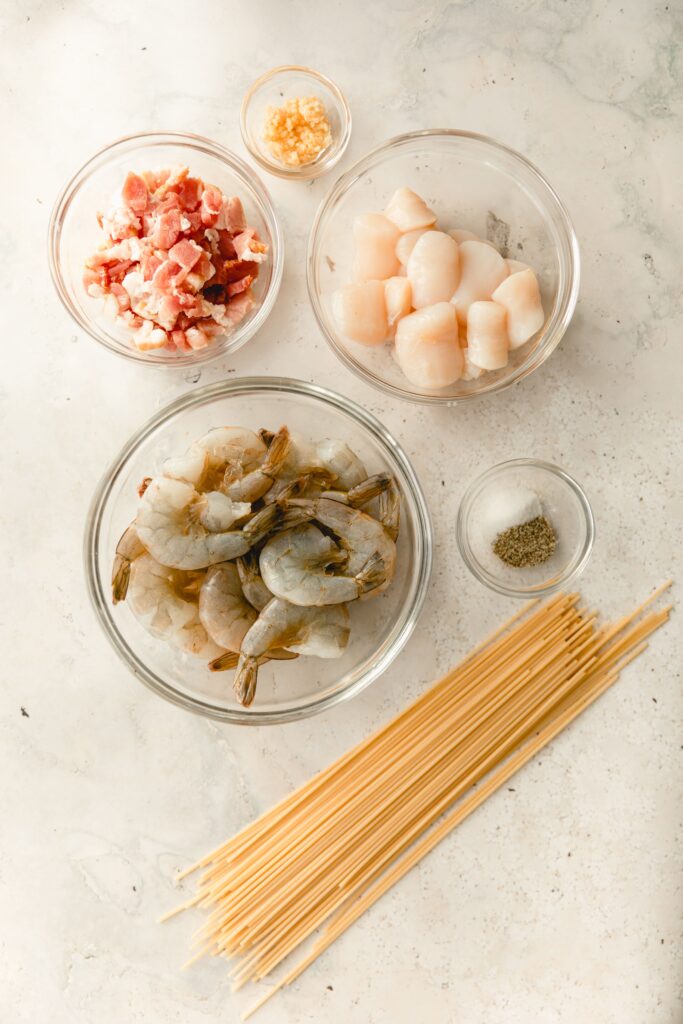 What Type Of Scallops Should I Get?
If you are in the supermarket or your local seafood shop you may notice all different types of scallops. Bay, diver, and sea scallops to name the main ones!
Bay scallops are the smallest, followed by diver, then finally sea scallops being the largest.
In this recipe you'll want to use diver or sea scallops. ½ lb of diver scallops or 4-6 sea scallops will be perfect!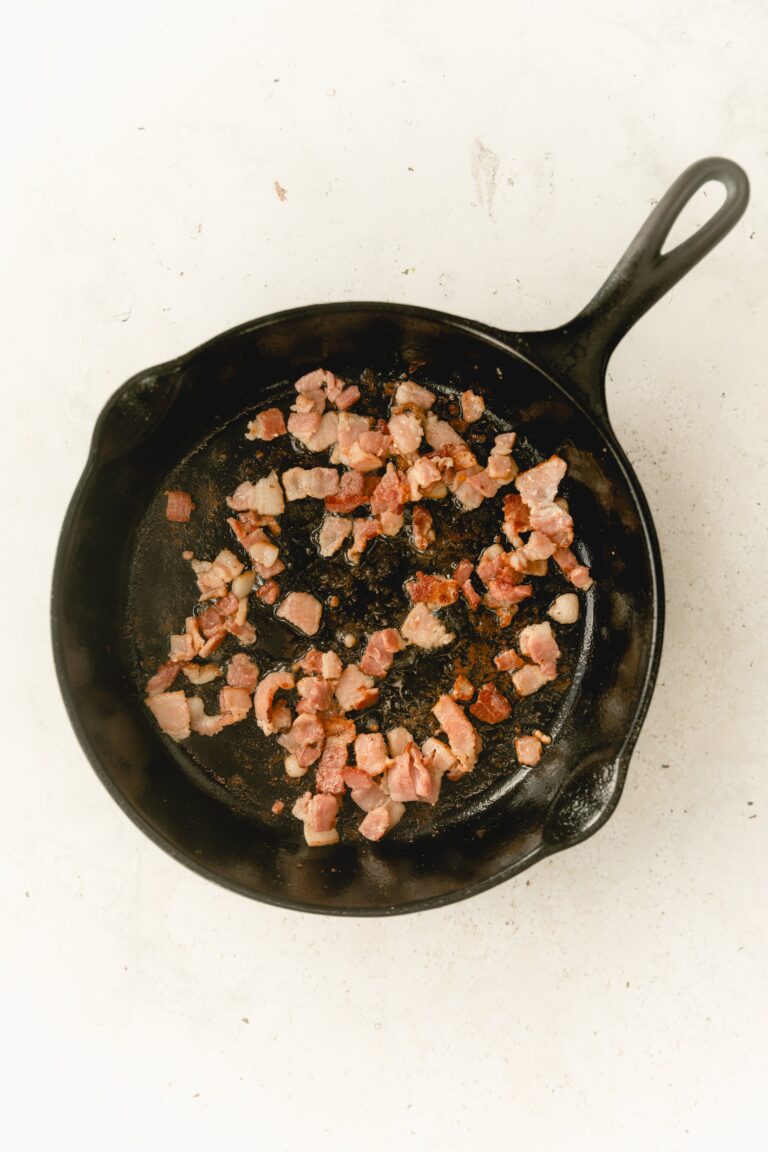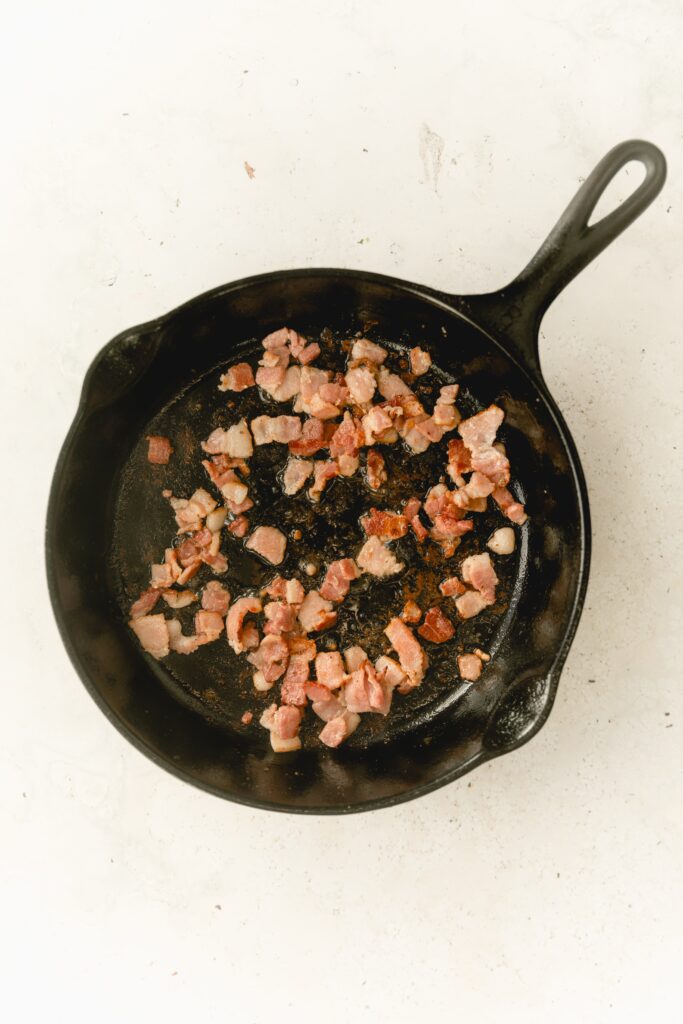 Trimming Scallops
You may find some of your scallops still have their "feet" or a little muscle left on them.
It's rectangular in shape and peels right off, be sure to remove those if you find any on your scallops. They are tough to chew, however won't ruin a good dish if you miss one.
Perfectly Searing Scallops
I have a couple of tricks when it comes to getting a nice sear on your scallops...
Before cooking sprinkle them with salt, let it sit, then pat them dry. This ensures they are seasoned well and get a crust!
Next make sure your pan is searing hot. It should still be hot from cooking the bacon so that should be no problem!
Once you set them on the pan, don't touch! Let them form a crust before flipping to the other side.
Best Pasta for Shrimp and Scallops
I think almost any pasta would be amazing in this. I chose to go with angel hair pasta because I think it grabs onto the sauce really well and I love the way it looks.
You could also use penne, bucatini, fettuccine, or bowtie!
If you are in search of another seafood pasta option, give this Spinach and Salmon Pasta a try!
Other Substitutions
If you can't find pancetta, thick cut bacon is a fine substitute. Just chop it into fine pieces.
You could use any type of scallop for this dish, but just be aware of the cook times for the different size of scallops!
Any type of pasta you have on hand would be totally delicious in this dish. We opted for angel hair!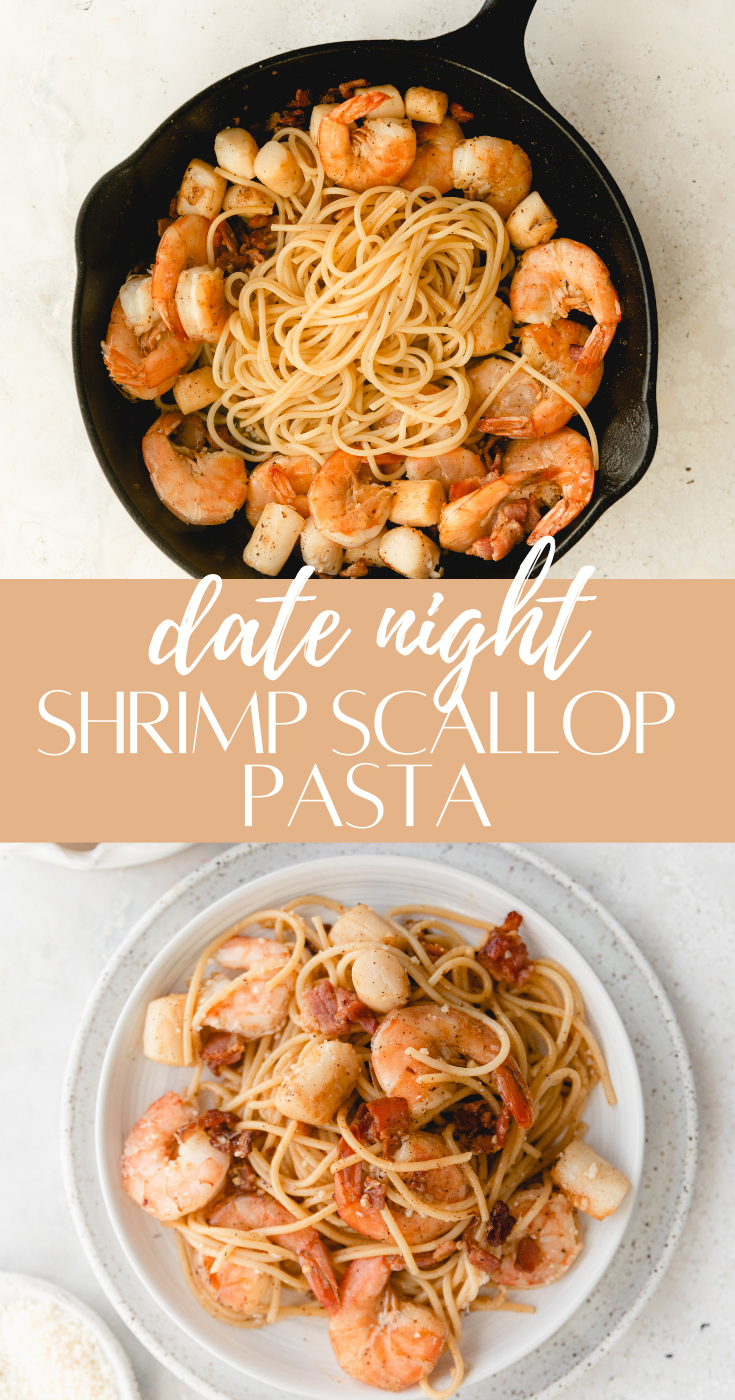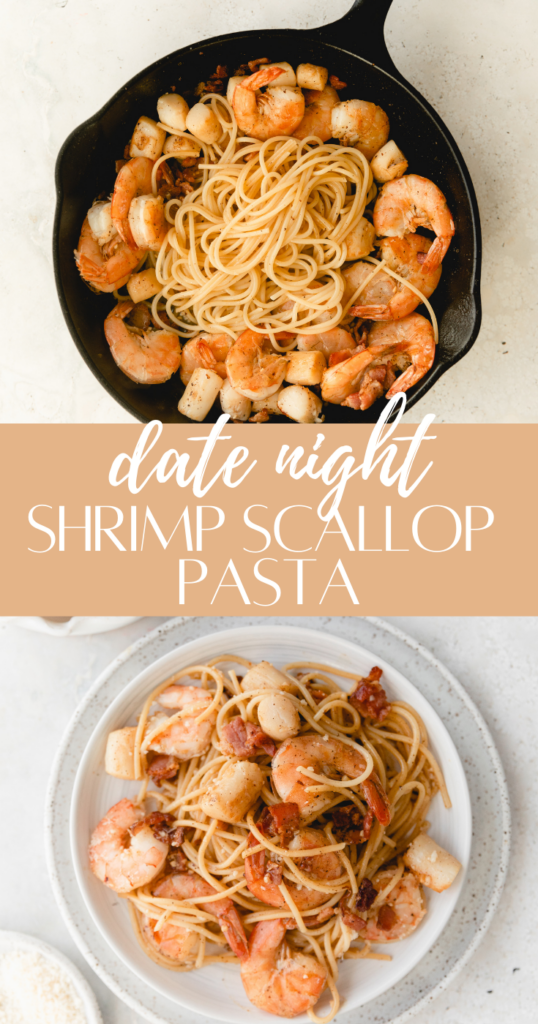 📖 Recipe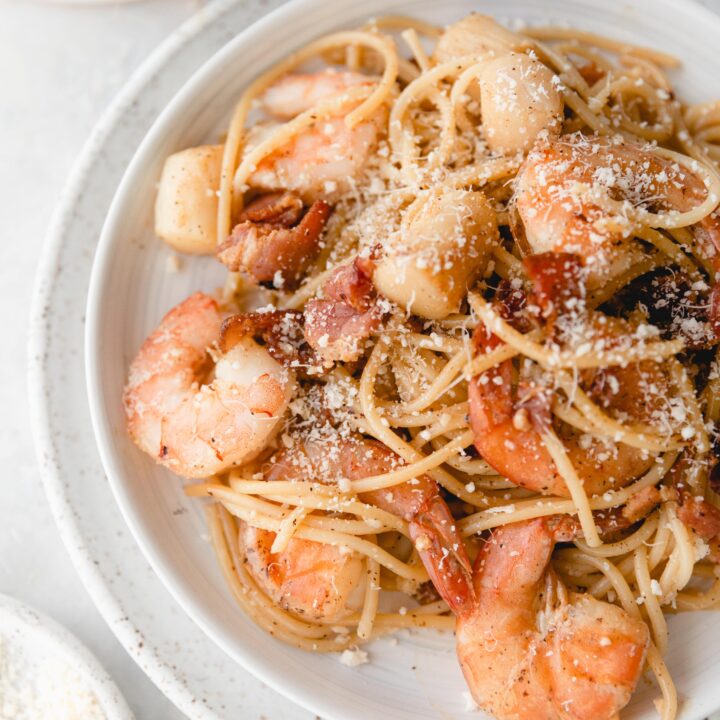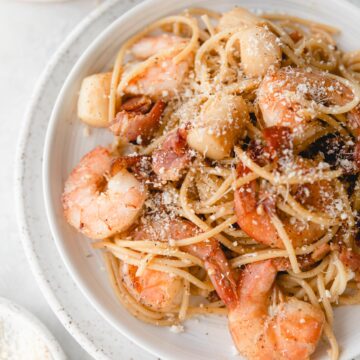 Shrimp Scallop Pasta with Crispy Pancetta
Date night dinner, shrimp and scallop pasta is taken to the next level with crispy pancetta.
Print
Pin
Rate
Ingredients
2

cups

raw shrimp, tail on is fine! just remove before eating.

½

lb

diver scallops

Or 4-6 large sea scallops

½

cup

pancetta

Substitute thick-cut bacon if you need to

1

tablespoon

minced garlic

1

teaspoon

salt

½

teaspoon

pepper

6

oz

angel hair pasta

Substitute in any pasta you may have on hand.

¼

cup

shredded parmesan cheese
Instructions
Prepare the pasta according to the box directions.

In a large cast iron skillet over high heat, begin to render the pancetta or bacon.

Once added to the pan, let it sit for about 45 seconds before stirring around.

Continue cooking 5-7 more minutes until crispy and golden brown.

Remove the pancetta and set aside on a plate, leaving behind the rendered fat. Turn the heat down to medium high.

On a paper towel, prepare the scallops by sprinkling them with salt. Let it sit for about 1 minute until you notice water start to bead up on the scallops.

Pat them dry and begin searing them on the cast iron pan.

Cook for 45 seconds on the first side then flip them over. At this point add the garlic and the shrimp.

Cook until the internal temperature of the scallops are 145.

Add the pasta and pancetta to the pan and toss to coat in the "sauce" that is left in the bottom of the pan. Cook for 2 more minutes.

Sprinkle with parmesan cheese and serve with crusty bread.