Tabouli is an integral part of a Lebanese dinner spread! It's also the PERFECT salad for spring. So fresh, light, full of those spring green onions and yummy parsley. Ugh. SO GOOD! Placing it in a Tabouli Salad Wrap is a no brainer!
I am pretty picky about my tabouli, I love it super lemon-y and loaded with little pops of cherry tomato in every single bite. It is a very simple salad, but if you mess with the ratios it can taste really "meh"
What is Tabouli Salad?
It is a chopped parsley and bulgur wheat salad. Fresh tomatoes, cucumber and mint also make an appearance!
It's a classic Middle Eastern salad with bright flavors and a zingy lemon dressing.
Is It Healthy?
OH YES! Loaded with leafy greens and other fresh veggies- you will no doubt get your vegetable servings in for the day.
It also has the cracked bulgur wheat and an olive oil and lemon dressing. It doesn't get more healthy than that!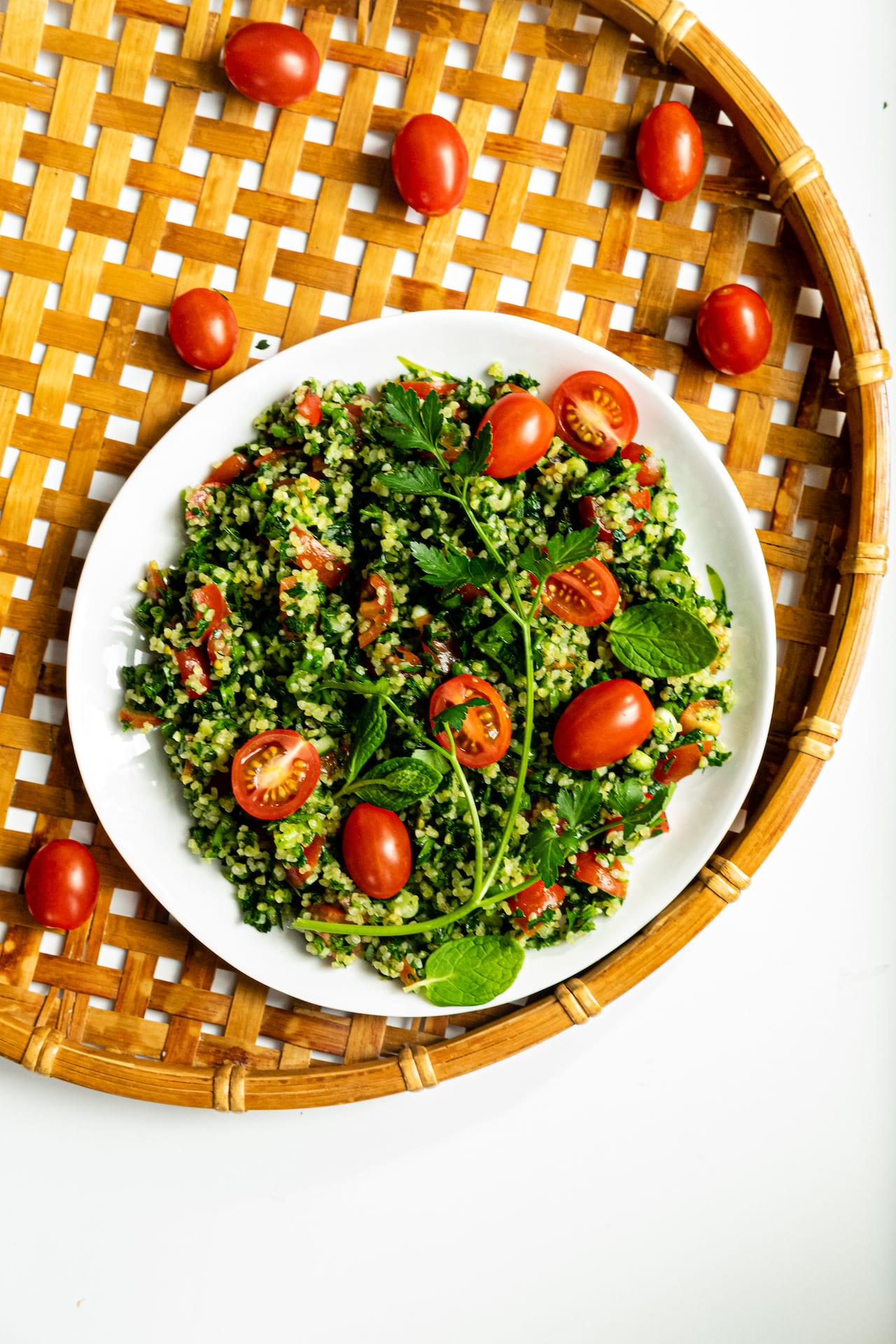 What is in Tabouli?
The ingredients are standard in most every tabouli recipe:
parsley
lemon
cracked wheat
tomato
green onion
mint
oil
salt & pepper
Simple enough, right? The combo of these few simple ingredients will add amazing fresh flavor to any dinner table you set!
We love to eat it with traditional Lebanese dishes like Kibbeh nayeh, baked kibbeh, Chicken Kafta, Lebanese Spinach fatayers, or Kousa but it makes a great side for anything. Especially during the Spring and Summer.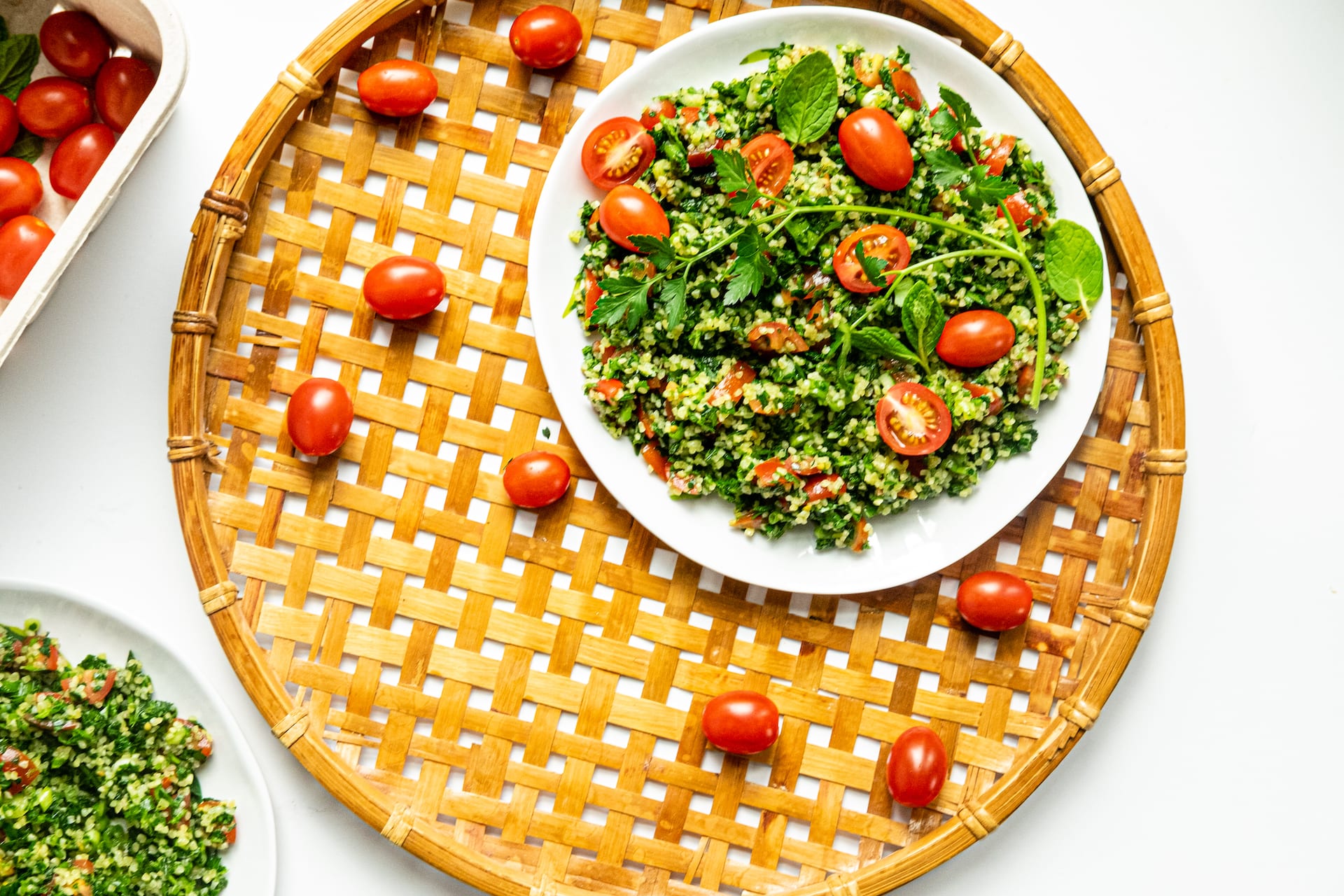 Substitutions
Most of these ingredients should be fairly easy to find. The only one that might be tricky is the bulgur wheat.
You could substitute in cooked quinoa or even cauliflower rice!
How To Use Leftover Tabouli Salad
So after making this recipe by request of my husband again and again and again...we started to have a lot of leftovers & I came up with this tabouli salad chicken wrap! It's basically the perfect bite, every bite.
I layer a wrap with hummus, tabouli, and grilled chicken for the ultimate lunch! Who doesn't have a bit of leftover chicken laying around that could get used up?! So let's make a wrap & some tabouli!
Interested in more salad ideas similar to this one? While tabouli is a classic Lebanese staple, perhaps try this greek Marouli salad or this Parsley and Lemon Carrot Salad!
So, it's as simple as that! Now keep scrolling for my recipe!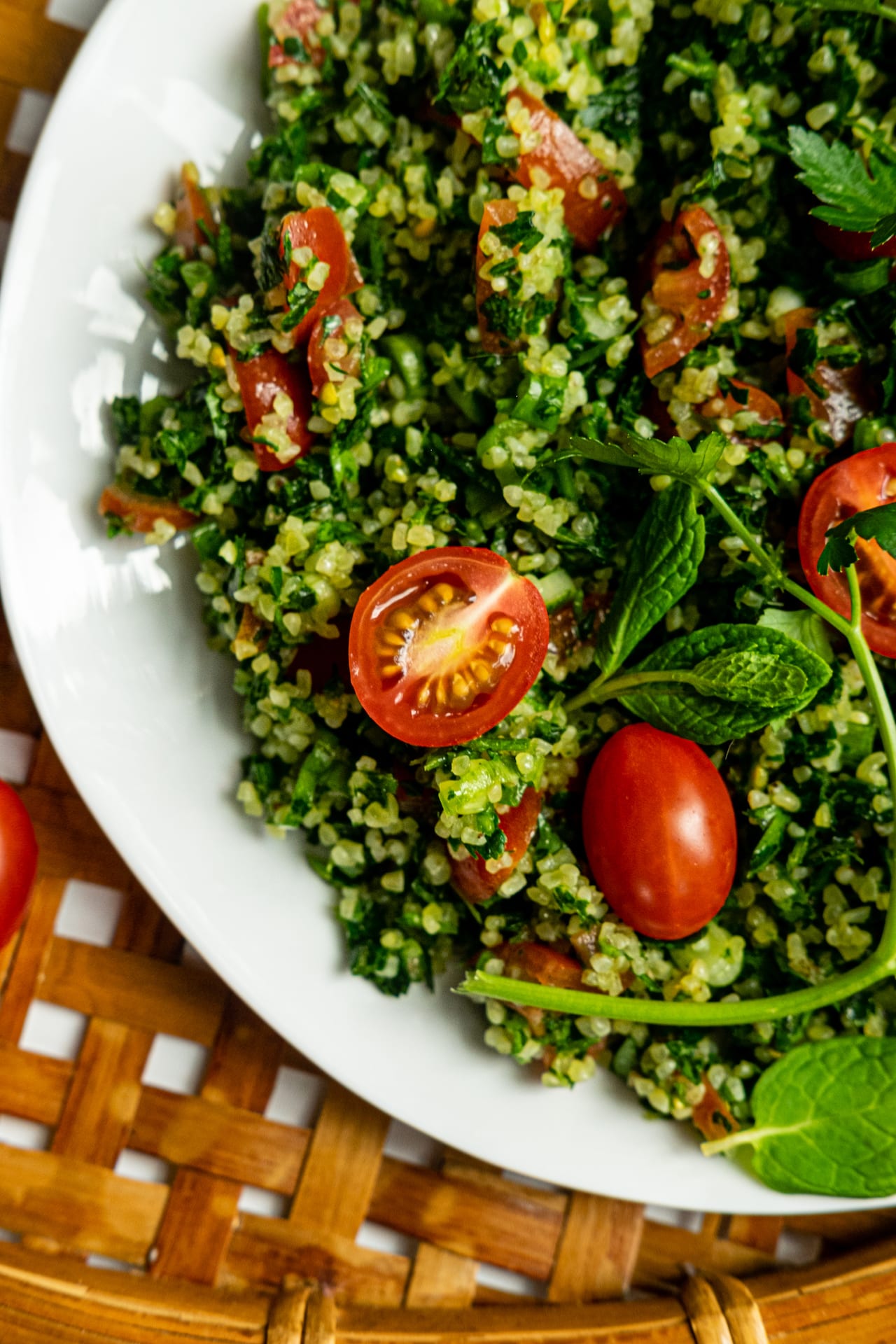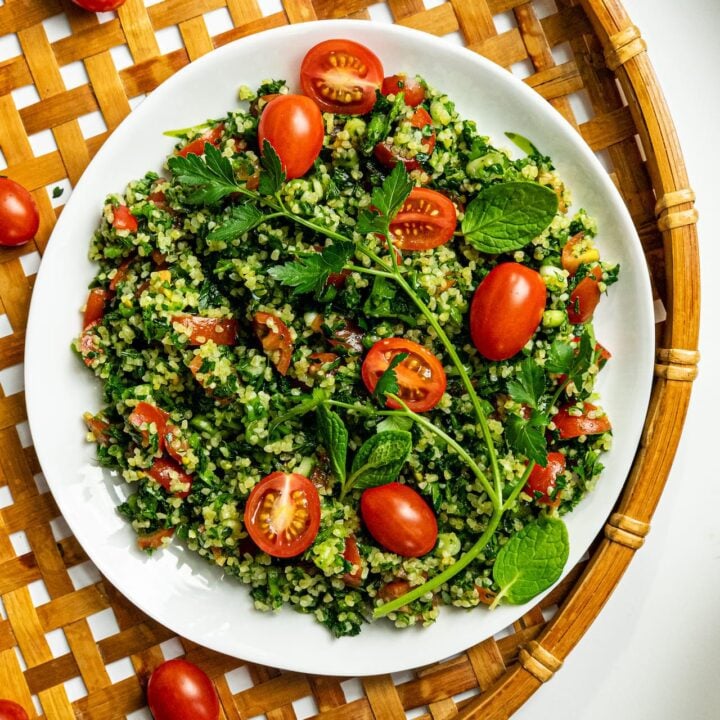 Ingredients
2

bunches of parsley

1

pint

cherry tomatoes

5

green onions

10-15

mint leaves

1/2

cup

olive oil

1/2

cup

fine cracked wheat

1/2

tsp

salt

1/4

tsp

pepper

juice of 1 lemon
Instructions
Thouroughly wash and dry all produce.

In a small bowl combine the cracked wheat with olive oil and lemon juice. Let this soak while you asemble the rest of the salad.

Finely chop the green onion, mint leaves, and cherry tomatoes and combine in a large bowl

In a food processor place 1 bunch of parsley at a time and pulse until very fine. Do in 2 batches and add the parsley with the other ingredients.

Once the wheat has soaked in all the olive oil and lemon juice toss it in with the salad.

Refrigerate for at least an hour for the best flavor!