Are you looking for a plant based option for an easy lunch or meatless Monday dinner? Look no further! Half of my husband's family is Lebanese and we attend a church with a VERY large Lebanese community. So I've quickly fallen in love with the flavors, dishes, and the culture in general.
Falafel is a very popular dish during lent because it is meatless! BUT, it also freezes well and makes for a great lunch or side to any meal. Not just during lent! So here is my delicious baked falafel!
What is falafel?
It is traditionally deep or pan fried veggie ball filled with herbs, spices, and chickpeas! One of my favorite lean proteins! I like to keep things a little lighter around here, so this is my baked falafel recipe. Another lightened aspect of this recipe is that it contains NO FLOUR.
Traditional middle eastern food is so delicious and falafel is just one example!
Interested in more food like this? Check out this travel guide for Israeli street food and markets! So interesting and you might just find some meal inspiration!
What is in a falafel recipe?
Chickpeas make up the majority of this recipe but it also includes herbs like cilantro and parsley. I actually LOVE the bright green color of the raw falafel and I saw a recipe once that included green peas, so they made it into my recipe! It's a great use of those canned or frozen peas you've got. Spices like cinnamon and cumin, a bit of jalapeno for heat and that's pretty much it! It's served with a yummy tahini lemon sauce.
Also, you've seen canned chickpeas, but trust me for the proper texture PLEASE use dried chickpeas for this falafel recipe. They are cheap and they go a long way.(You can also make my Chili Onion Crunch Chickpeas with them!) So they come dried. You will want to bring a pot of water to a boil, place 1 cup of chickpeas in, turn off the heat, and let them soak for an hour. That is how to quick-soak dried chickpeas!
What does falafel go with? I briefly mentioned the tahini lemon sauce that is usually served with it. In addition to that, I love fresh veggies like tomato and cucumber all wrapped up in a warm pita! Now doesn't that sound lovely ?!
How to make baked falafel...
INGREDIENTS
1 cup dried, soaked chickpeas (see above for instructions!)
½ cup frozen green peas
½ bunch of parsley
½ bunch of cilantro
1 teaspoon cinnamon
1 teaspoon salt
1 teaspoon cumin
½ teaspoon baking powder
½ teaspoon pepper
½ onion roughly chopped
¼ small jalapeño
3 garlic cloves
INSTRUCTIONS
Put all of your ingredients in a food processor and blend until it becomes a paste consistency.
Pour into a bowl and refrigerate for 30 minutes
Form them into balls using a cookie scoop, be gently because there is no real binder holding these together.
Pat them down a bit into more of a patty shape for even cooking.
In an oven set to 500, cook for 5 minutes check for brownness and cook for up to another 5 minutes. They should be brown on the outside and green on the inside!
Serve baked falafel with tahini, pita, and fresh veggies!
📖 Recipe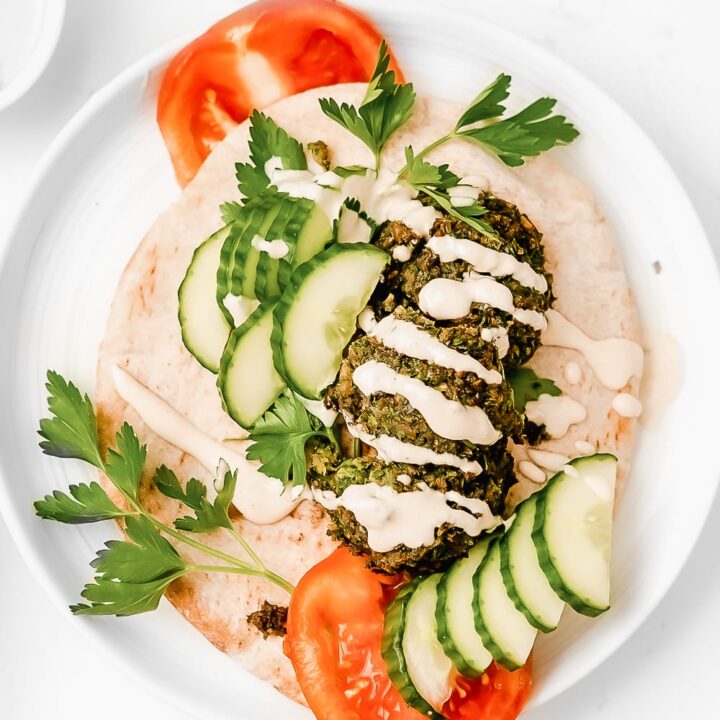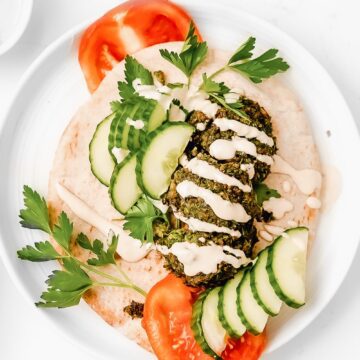 Baked Falafel
Healthy, lighter version of a traditionally fried falafel
Print
Pin
Rate
Equipment
Food Processor

Cookie Scoop

Baking Sheet
Ingredients
1

cup

dried

soaked chickpeas (see above for instructions!)

½

cup

frozen green peas

½

bunch of parsley

½

bunch of cilantro

1

teaspoon

cinnamon

1

teaspoon

salt

1

teaspoon

cumin

½

teaspoon

baking powder

½

teaspoon

pepper

½

onion roughly chopped

¼

small jalapeño

3

garlic cloves
Instructions
Combine all ingredients in a food processor until it is a paste like consistiency

Pour this mixture into a bowl and let it rest in the fridge for 30 minutes

Usng a scoop, form balls. Be careful because there is no binder holding these together.

Flatten the balls slightly for even cooking. Bake for 5 minutes. Check how "brown" they are looking and bake for up to 5 more minutes
Notes
You can definitely deep fry these. Use 4 cups of canola oil in a heavy bottom pan. Heat over medium high for 10 minutes. Fry 6-8 at a time 1-2 minutes each. Roll them around for even cooking 
Place on a paper towel to drain excess oil. Enjoy!