It's one of my favorite Lebanese dishes to make because they are easy to store, people love them, and they are DELISH! Spinach Fatayer (pronounced fa-tie-ya) is a small spinach hand pie with a fluffy dough surrounding lemon-y spinach filling.
I make huge batches of these and freeze for later enjoyment. Or large batches for immediate enjoyment!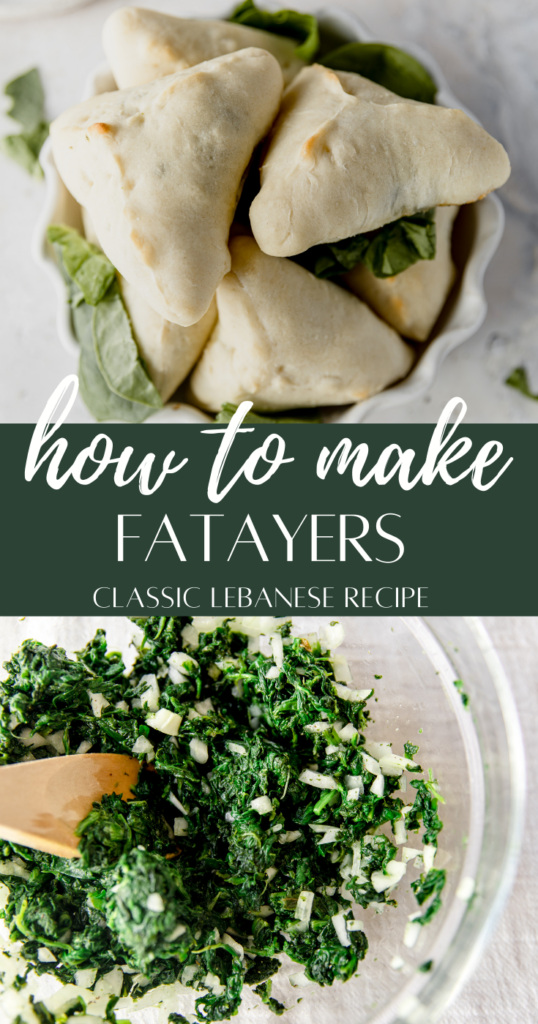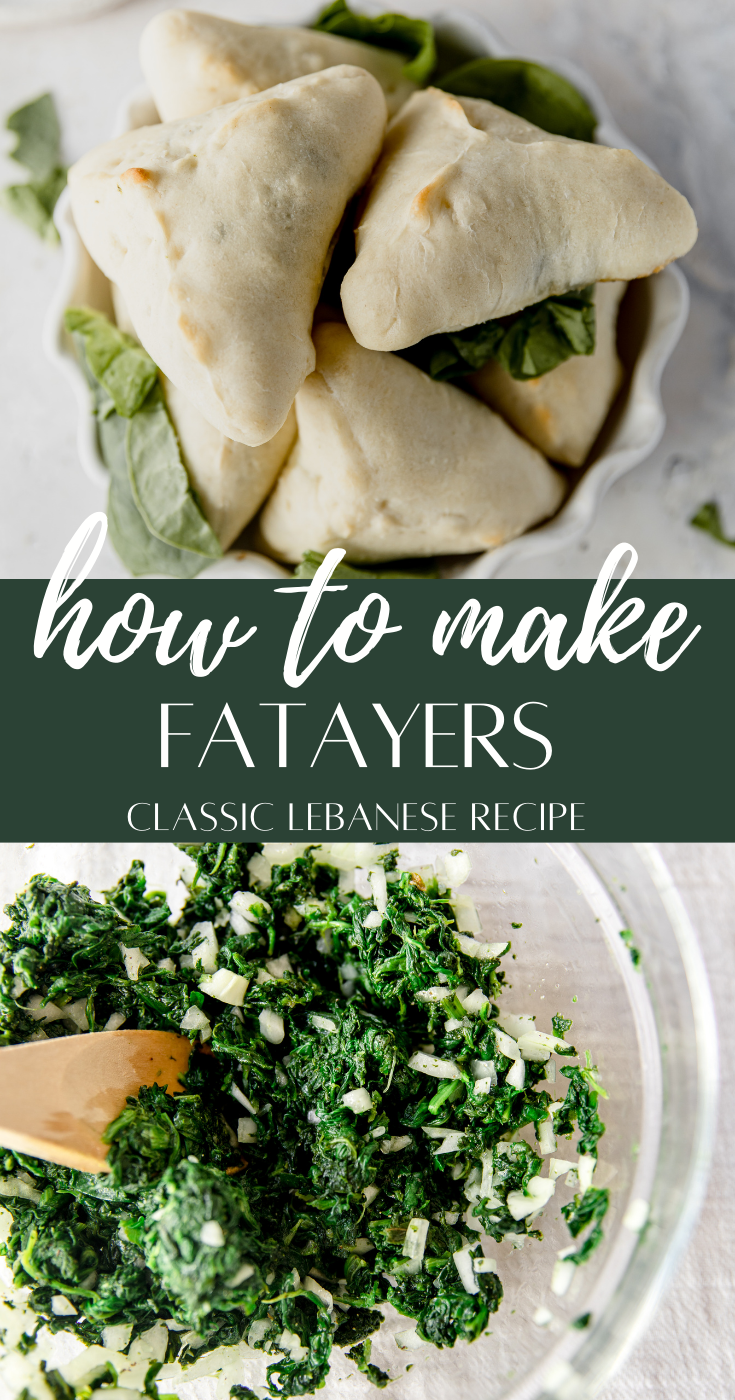 Fatayer Dough
The dough I use for my spinach hand pies is the same as my pizza dough! It's so simple to make and is perfectly fluffy and delicious.
If you have a dough you love, use that! Otherwise try out this super simple pizza dough recipe for your fatayers that I've included in the recipe.
Spinach Hand Pie Filling
So these little hand pies are full of a lot of spinach, lemon, onion, salt, pepper, and olive oil. The filling gets mixed together and stuffed into these little pies!
I prefer to use frozen spinach for this since it's already wilted down. Simply defrost it and squeeze out the excess liquid before mixing.
Also when tasting this filling, you want to go pretty heavy on the lemon juice. Since it'll be wrapped up in dough, you need some intense lemon flavor to really make all the flavors shine!
If you enjoy these spinach pies, you might like to try these Lebanese Bakleh! It is a purslane stuffed puff pastry that is divine!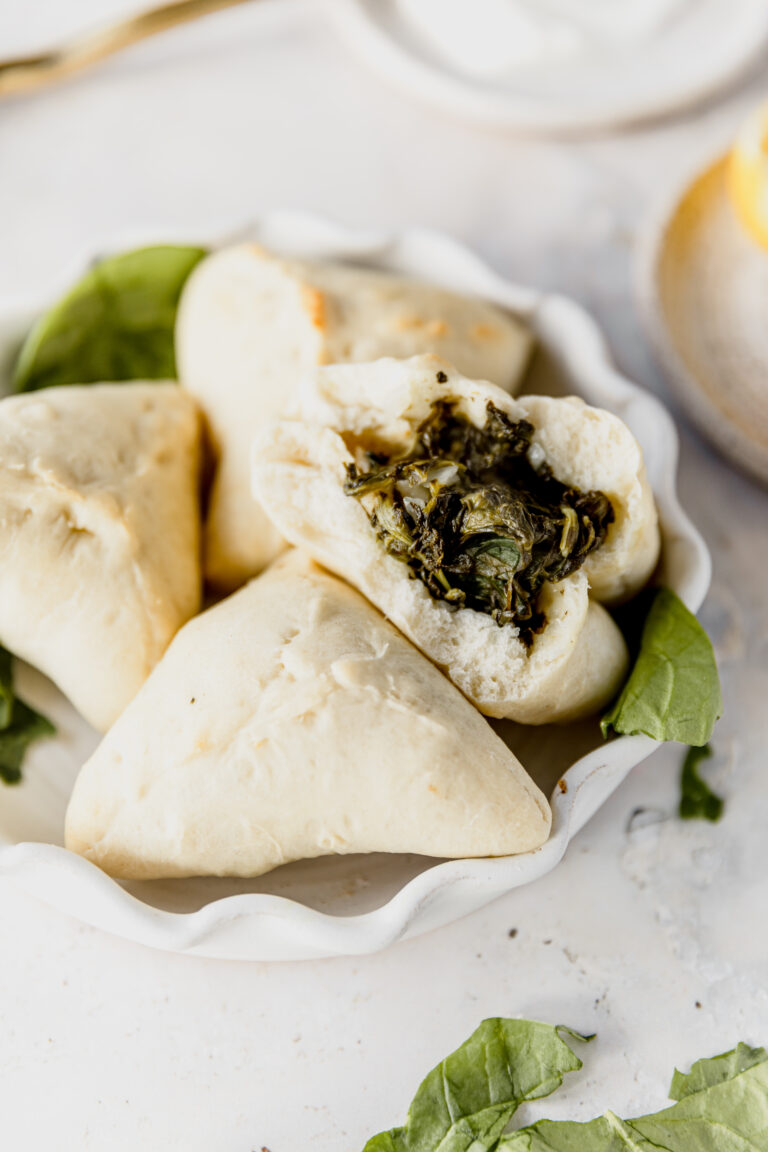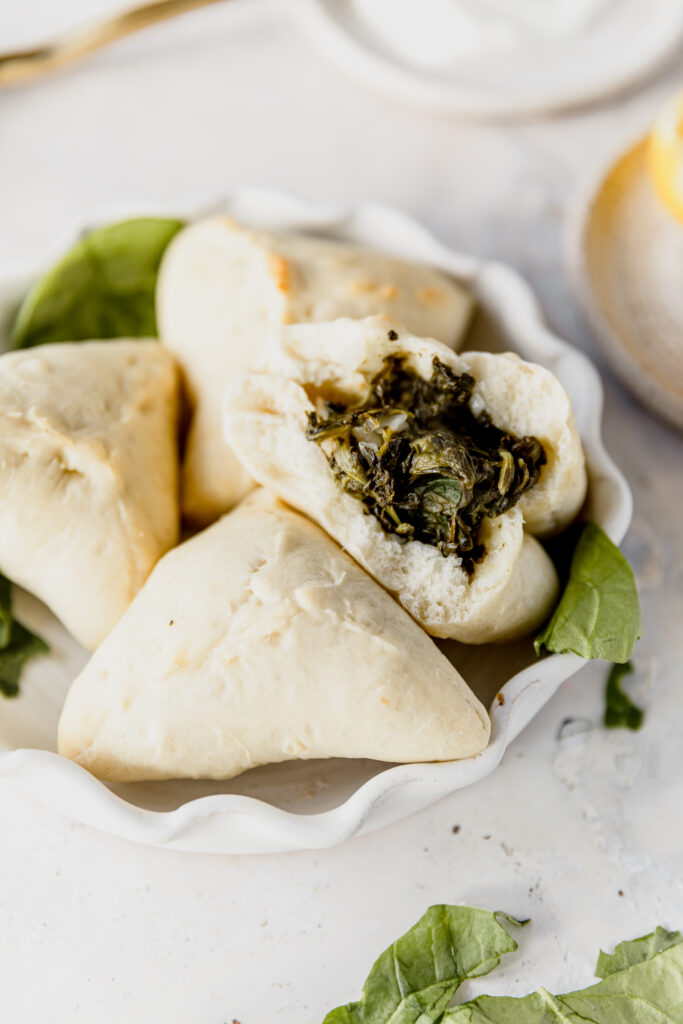 Other Fatayer Fillings
So spinach isn't the only thing you can stuff in Lebanese Fatayers! A meat mixture called Hushwe (hush-wuh) is a spiced meat and pine nut mix that is absolutely amazing as well.
Another common filling is cheese. Using Labneh, a strained yogurt, along with feta and some onion is another delicious way to fill these little pies.
Folding Spinach Handpies
So this may be the hardest part of creating spinach fatayers, the folding! Traditionally spinach pies are folded into a triangular shape, meat is more of a calzone look, and sometimes the cheese is left open faced.
So the trick to folding the pies successfully is to not get oil on the edges of the dough. Easier said than done, but this will ensure that the dough edges stick together and don't come apart during the cooking process.
So you start by rolling out a small circle shape and placing about 1.5 tablespoons of spinach mix inside. Pinch it half, then bring the remaining middle edge of the circle to the center "point." This creates 2 sides.
Lastly, close up the last side. Pinch all sides together one more time to create a little pyramid or triangle shape. Done!
What Should Fatayer Be Served With?
My favorite things to serve along side spinach fatayer are hummus and Labneh!
If we are having a huge Lebanese feast I love making Kibbeh Nayeh, tabouli, and a side of these hand pies.
More Lebanese sides include Fattoush salad or even these easy vegetarian kibbeh!
📖 Recipe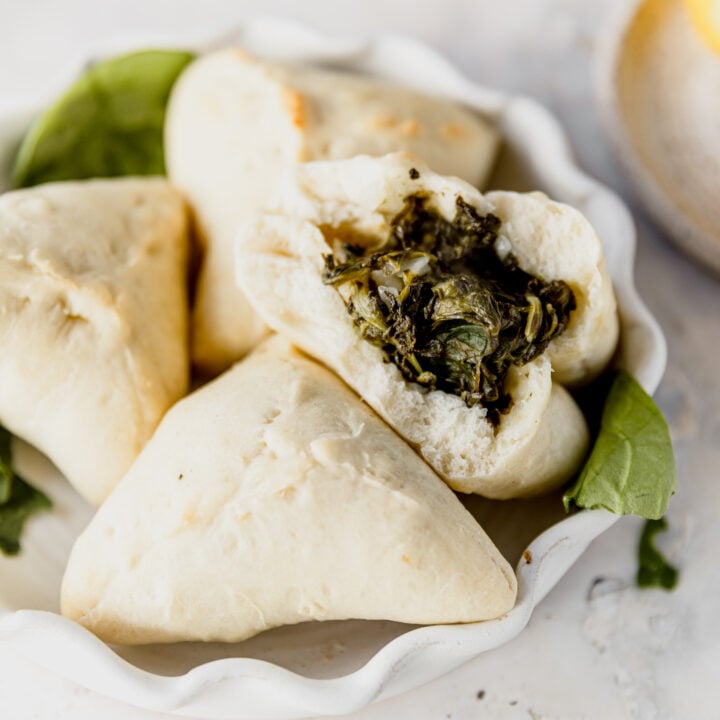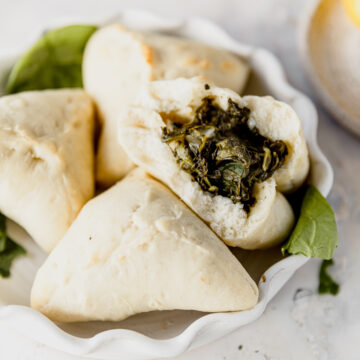 Spinach Fatayers
A classic Lebanese dish, spinach fatayers are miniature hand pies filled with a lemony spinach fililng.
Share by Text
Print
Pin
Rate
Ingredients
1

tablespoon

instant yeast

2

teaspoon

sugar

½

cup

warm water

3

cups

flour

¼

teaspoon

salt

2

tablespoons

olive oil

extra 1 cup warm water

16

oz

frozen spinach

juice of 2 lemons

1

tablespoon

of salt

½

tablespoon

pepper

2

tablespoons

canola oil

1

onion finely chopped
Instructions
In a small bowl mixing bowl combine the yeast, ½ cup warm water, and sugar.

Set in a warm place for 5 minutes until it gets bubbly.

While that is starting to bubble, in your stand mixer whisk together the flour, olive oil, and salt.

Attache the dough hook to the stand mixer and turn on low, add in the yeast mixture to the bowl.

Pour in the additional 1 cup warm water and mix on medium until the dough starts to form a ball.

Let it go in the stand mixer for 3-5 minutes to knead the dough.

Cover the bowl and set in a warm place to let it rise for 1 hour.

While that rises, defrost the frozen spinach in a bowl of warm water for 20 minutes.

Squeeze the excess water from the spinach and add it to a medium mixing bowl.

Stir in lemon juice, salt, pepper, onion, and canola oil. This will be very lemon-y and salty but it will balance out once the dough is wrapped around it.

Once the dough has risen for 1 hour, punch it down and separate it into 16 equal pieces.

Roll out 1 small ball of dough into a circle. It should be about 4 inches in diameter. You can do this with a rolling pin or press with your hands and a small bit of flour.

Add 1-1.5 tablespoons of the spinach (or meat or cheese) into the center.

To fold, we want to pinch the circle together to create a triangle.

Pinch 2 sides of the circle together followed by taking the opposite side of the circle and matching it to the center creating 2 sides of the triangle.

Pinch together the last 2 sides and form your "pyramid" shape.

Preheat your oven to 425F and prepare a sheet tray by pouring ¼ cup of canola oil in the bottom until it fully covers the sheet (this will help cook the bottom of the pies)

Place 4-6 fatayers on the sheet pan and bake for 12 minutes until slightly golden brown on the top.

Serve with hummus or laban (strained greek yogurt)