These Lebanese Chicken Kafta are my lean and green take on a traditional Lebanese Kafta recipe. It is essentially a Mediterranean hamburger loaded with herbs and onion, grilled up, and served with pita bread.
This one of my absolute favorite dishes mostly because it is the easiest thing ever and the mint mixed with parsley makes it feel light and when enjoyed with labneh (thick, strained yogurt) it's just divine!
You might see this word, "Kafta" spelled in different ways: Kofta or Kafta. They each are the same, a spiced meat burger that is deliciously grilled!
Lebanese cooking
My husband is partially Lebanese and we have a huge Lebanese community in our church. So at family functions and church events, the delicious food is readily available to us.
When we were dating I immediately fell in love with the culture and of course the food! A totally different palate than what this Midwest girl was used to, but it was love at first bite.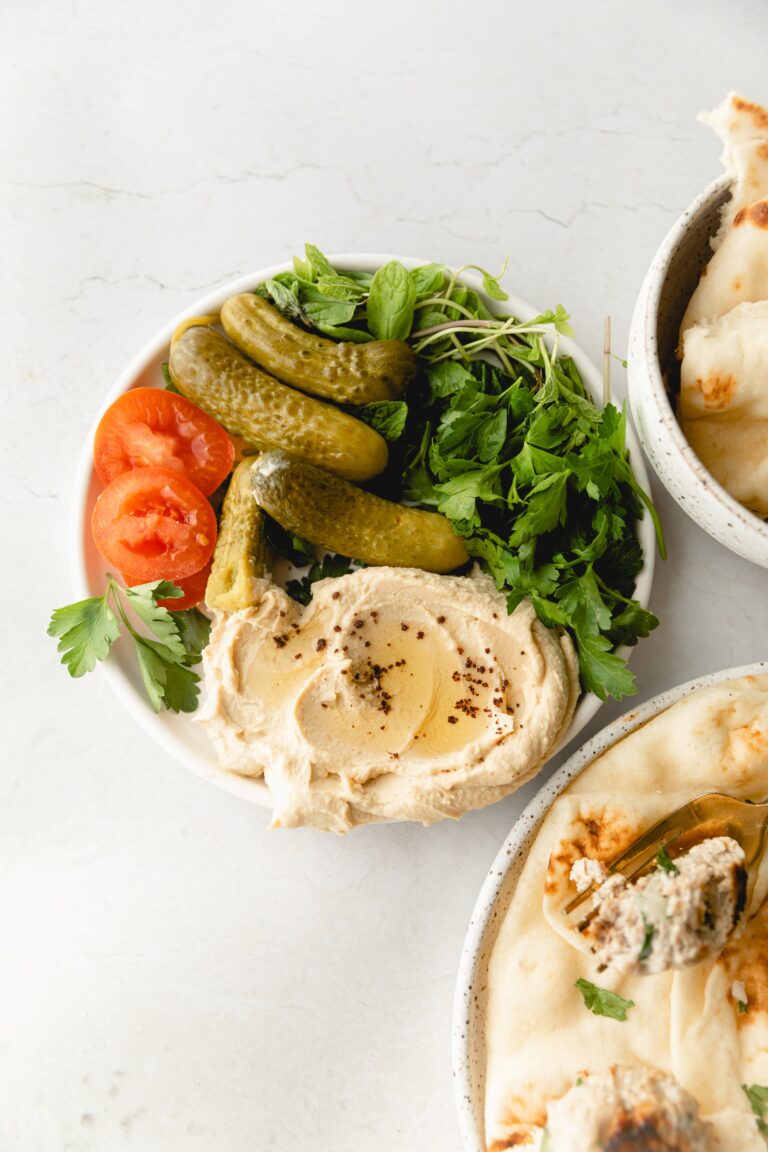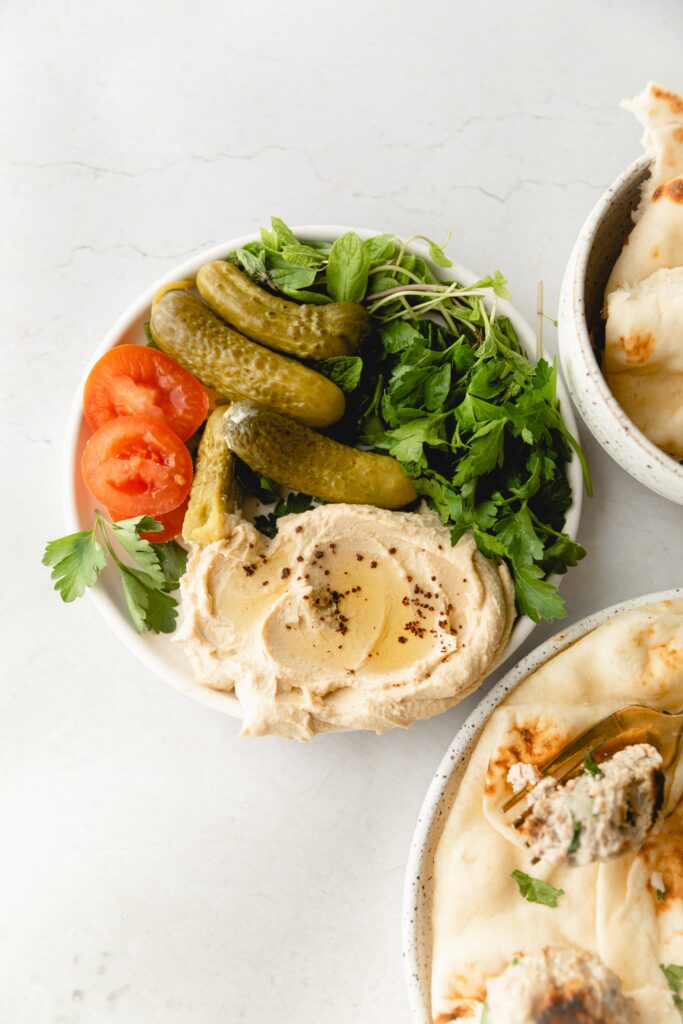 I knew I needed to master a few of these dishes myself and this was one of the first I attempted. Most women I know in the church don't actually keep these recipes written down.
It's a little of this and a little of that until it tastes just right. Learning each recipe by watching their mom or Sittee (grandma) and then it's just in their memory!
Well, that doesn't really help me when I'm trying to learn and document my recipes! So this Lebanese Kafta recipe is kind of pieced together from a few different ones and also includes a couple of my own additions! Including swapping ground beef for chicken.
What is chicken kafta?
Kafta is a Lebanese hamburger and is traditionally made with ground beef and spices. It is delicious served with warm pita, hummus, and labneh (a strained yogurt sauce) It's a perfect weeknight dish because it's done in 30 minutes.
One of the things that drew me into this dish was the warm Middle Eastern spices. Cinnamon is the BEST compliment to these burgers and is unexpected. It's a great step into trying Lebanese cooking and is super easy.
We like it so much that eating ground beef that often was a little much for me. So I swapped ground chicken in to make it a little lighter and to my surprise it was AMAZING!
These are also great little burgers for kiddos. You sneak some finely chopped green herbs in there to them and a perfect portion. So scroll down for my Lebanese burger Recipe!
Traditional Recipes For Kafta
So this is my light and fresh take on the recipe. More likely you've had this made with lamb or beef.
They are often shaped into long finger-like burgers, maybe even on wooden skewers, and grilled.
I've swapped those for chicken in this version, but still maintain the fresh herbs and pungent spices to be incorporated into the ground chicken mixture.
What do you serve with Kafta?
Here are some traditional Lebanese dishes that you could serve along side your kafta!
Tabouli Salad This salad is a mix of fresh chopped parsley, veggies, and bulger wheat mixed with a lemon and olive oil dressing. It is so refreshing and very good for you!
Lebanese Lentil Soup Something comforting and delicious to make this meal even heartier! Lentil soup would make a great pairing.
Toum This garlic sauce, called toum, is a staple in my fridge! It goes on everything and adds tremendous flavor!
Red Pepper Hummus Something a little different and not so traditional, this red pepper hummus would make a beautiful pairing with Lebanese burgers.
Labneh- this is a yogurt sauce that is made from strained yogurt. You can buy it at the store or make your own right at home.
Substitutions
If I don't have ground chicken what can I use?
Traditionally this meal is made as beef kafta, so if you can't get your hands on ground chicken, beef is fine. You could also use ground lamb!
Dried Herbs vs Fresh Herbs
I would highly recommend fresh mint and parsley for this dish, however, if they are too pricey or unavailable, dried herbs are the next best option.
How to Form The Burgers
Think tiny hamburger patty! Little slider-sized is perfect since you will be stuffing it into warm pita bread.
However, you could wrap them around wooden skewers or even form them into long finger-like shapes for a more traditional take!
Using a ¼ cup measuring cup I scoop the chicken mixture
Form the patty into a traditinoal oval shape or circle for a more western style burger!
Place them gently in a hot cast iron skillet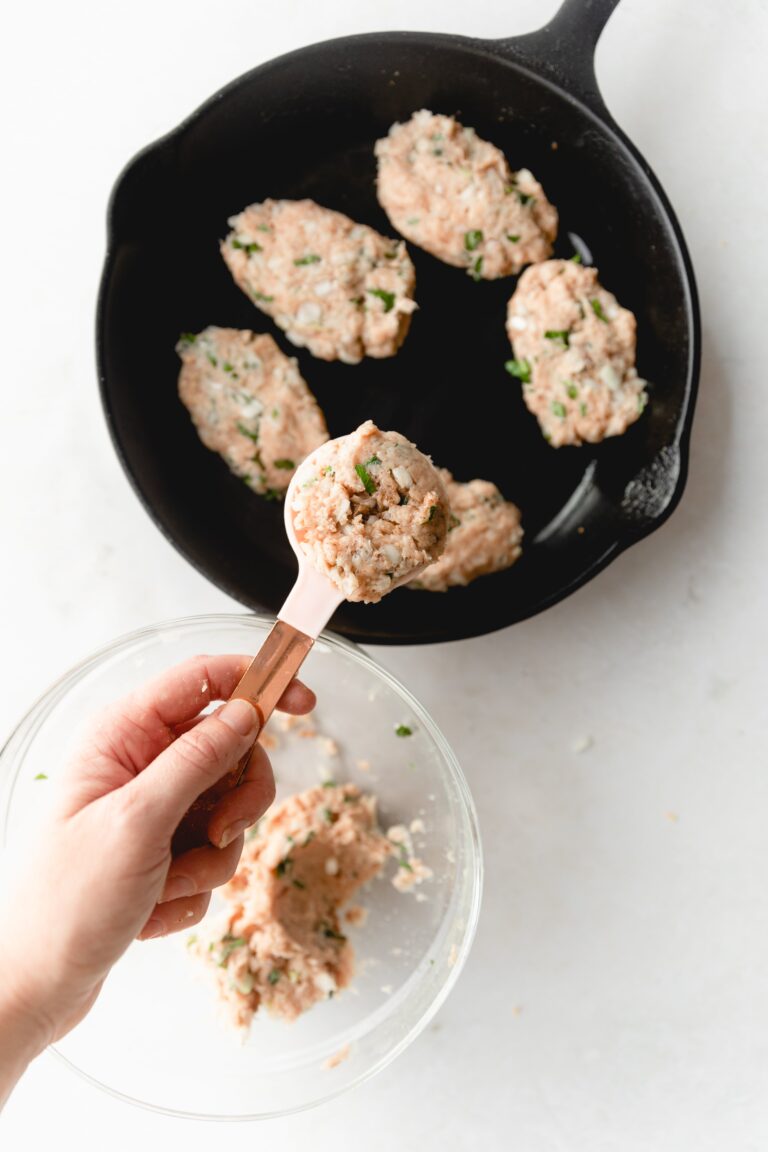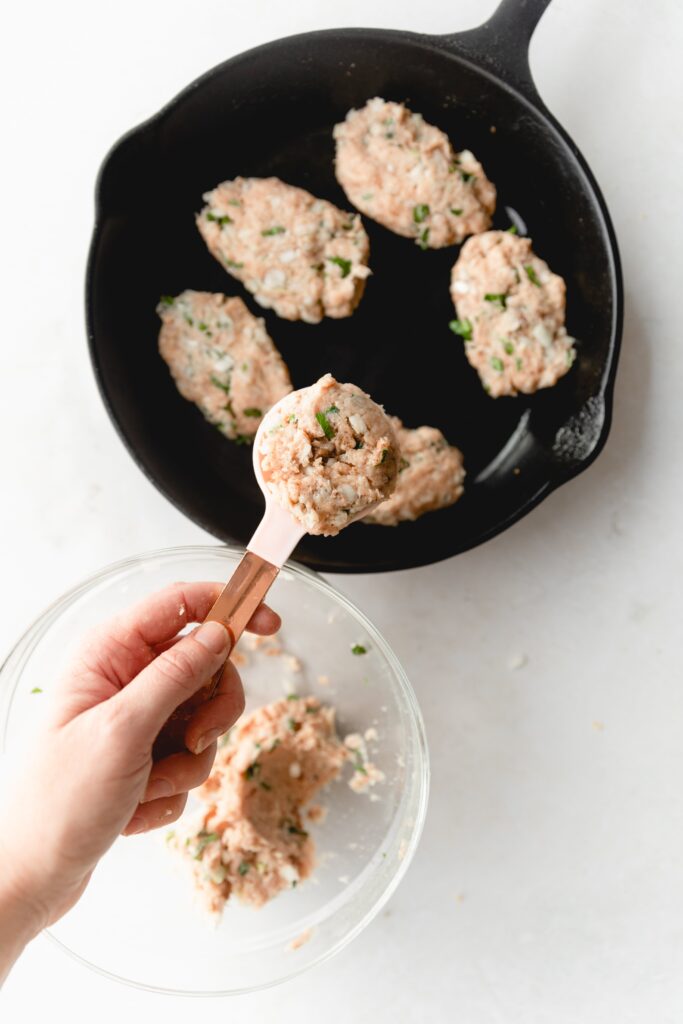 What Middle Eastern Spices are in Kafta
Cinnamon is the most notable flavor here! It's warming and goes exceptionally well with this dish!
Allspice, salt, and pepper are also included in this yummy burger. Fresh herbs really make all the difference when mixing these up so be sure to grab fresh mint and parsley.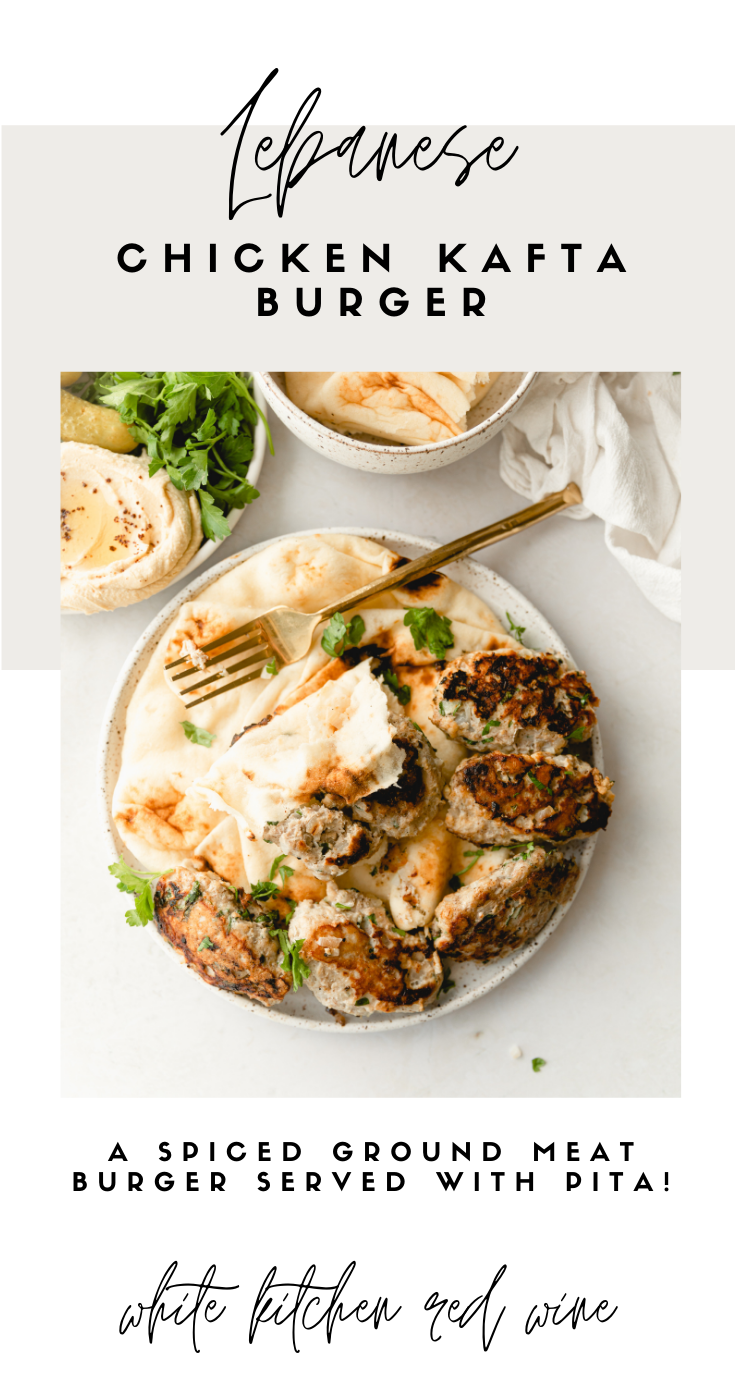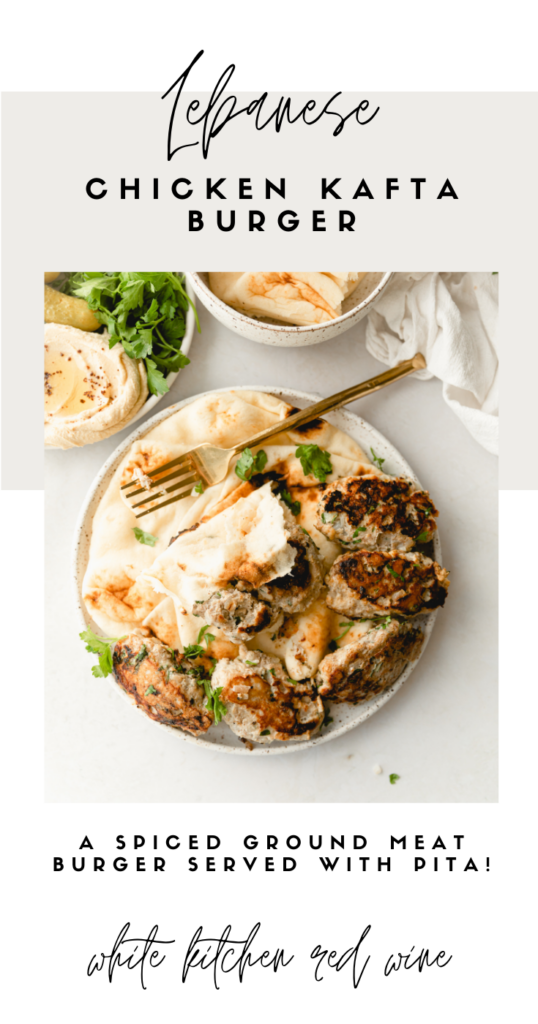 📖 Recipe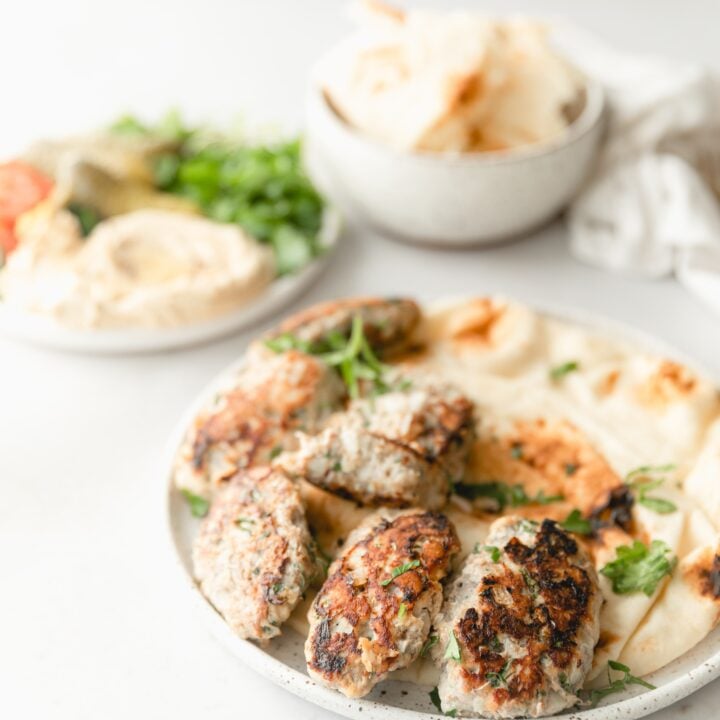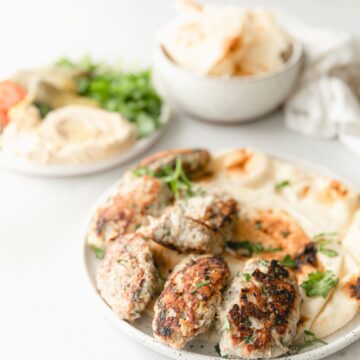 Chicken Kafta Burgers
Healthy twist on a delicious Lebanese classic dish!
Print
Pin
Rate
Ingredients
1

Lb

ground chicken

traditionally this uses ground beef so feel free to try it!

½

white onion finely diced

feel free to chop this using a food processor or small blender to get it really fine!

2

Tablespoons

dried mint or 10 mint leaves chopped

2

Tablespoons

parsley leaves

chopped

½

teaspoon

Allspice

¼

teaspoon

Turmeric

1

teaspoon

Salt

½

teaspoon

Pepper

1

Tablespoon

olive oil

Pita Bread, Labneh, and hummus

for serving!
Instructions
In a mixing bowl combine the ground chicken, finely diced onion, parsley, allspice, mint, parsley, salt, pepper, and turmeric. Mix by hand or with a fork

Heat your cast-iron skillet over medium-high heat with the tablespoon of olive oil

Using a ¼ measuring cup portion out a few patties and lay then in the hot skillet to sear on one side.

Cook for 5 minutes on the first side then flip and cook an additional 4-5 minutes.

You may have to use 2 skillets to fit all the patties

Remove and let sit for 2-3 minutes.

Serve with Labneh (strained greek yogurt), hummus, and pita!
Video