This is my lean and green take on traditional Lebanese Kafta. Kafta is essentially a mediterranean hamburger loaded with herbs and onion, grilled up, and served with pita bread. Chicken Kafta is one of my absolute favorite dishes mostly because it is the easiest thing ever and the mint mixed with parsley make it feel light and when enjoyed with labneh (thick, strained yogurt) it's just divine!
Lebanese cooking
My husband is partially Lebanese and we have a huge Lebanese community in our church. So at family functions and church events the delicious food is readily available to us. When we were dating I immediately fell in love with the culture and of course the food! A totally different palate than what this Midwest girl was used to, but it was love at first bite.
I knew I needed to master a few of these dishes myself and this was one of the first I attempted. Most women I know in the church don't actually keep these recipes written down. It's a little of this and a little of that until it tastes just right. Learning each recipe by watching their mom or Sittee (grandma) and then it's just in their memory!
Well, that doesn't really help me when I'm trying to learn and document my recipes! So this chicken Kafta recipe is kind of pieced together from a few different ones and also includes a couple of my own additions! Including swapping ground beef for chicken.
What is chicken kafta?
Kafta is a Lebanese hamburger and is traditionally made with ground beef and spices. It is delicious served with warm pita, hummus, and labneh. It's a perfect weeknight dish because it's done in 30 minutes.
One of the things that drew me in to this dish were the warm spices. Cinnamon is the BEST compliment to these burgers and is unexpected. Its a great step into trying Lebanese cooking and is super easy.
We like kafta so much that eating ground beef that often was a little much for me. So I swapped ground chicken in to make it a little lighter and to my surprise it was AMAZING! These are also great little burgers for kiddos. You sneak some green herbs in there to them and a perfect portion. So scroll down for my Chicken Kafta Burger Recipe!
What do you serve with Kafta?
Here are some traditional Lebanese dishes that you could serve along side your kafta!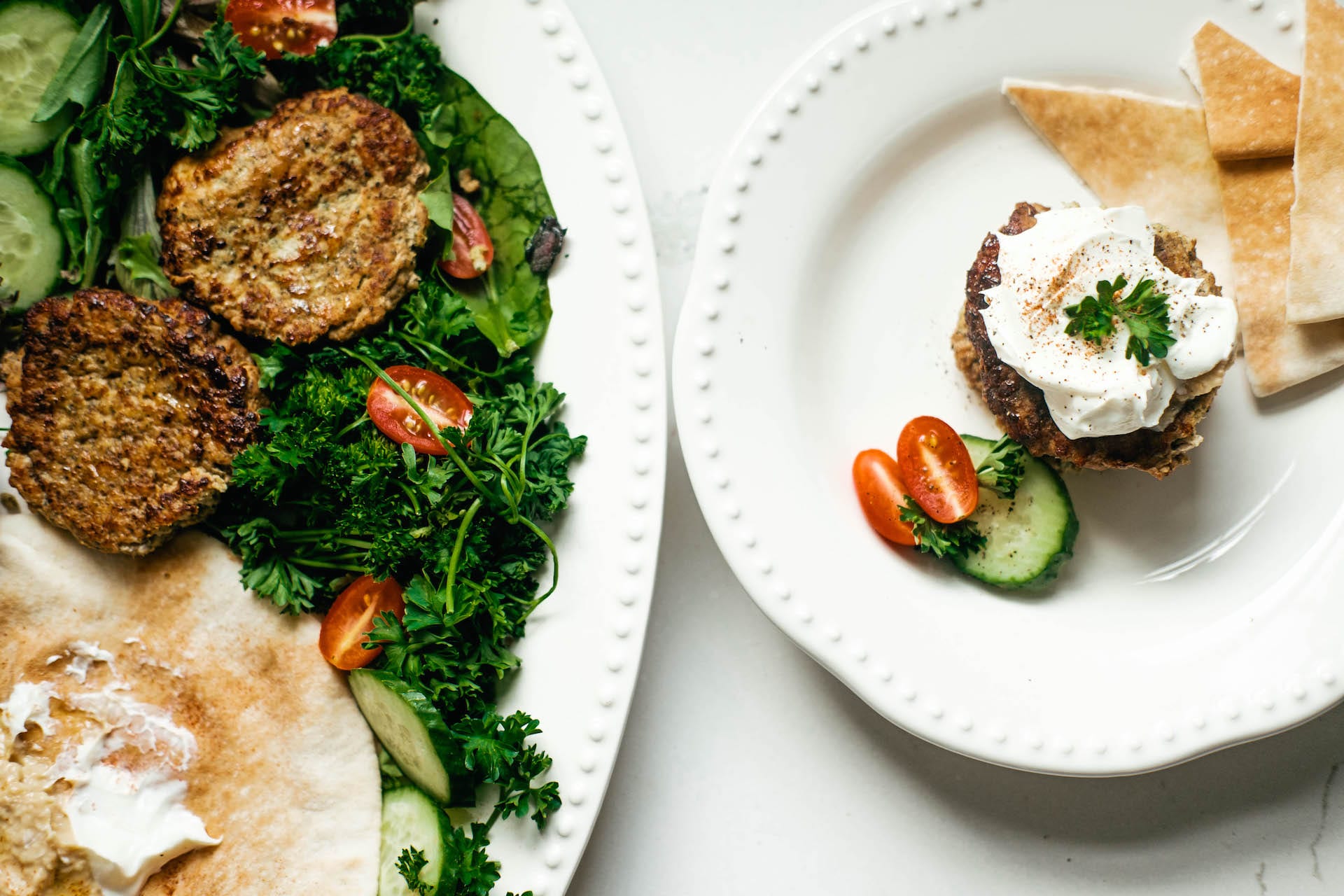 If I don't have ground chicken what can I use? Traditionally this meal is made with ground beef, so if you can't get your hands on ground chicken, beef is fine.
How to form Kafta burgers? Think tiny hamburger patty! Little slider sized is perfect since you will be stuffing it into warm pita bread.
What spices are in Kafta? Cinnamon is the most notable flavor here! It's warming and goes exceptionally well with this dish! Allspice, salt, and pepper are also included in this yummy burger.
What do you serve with Kafta burgers? Hummus, labneh, cucumber, pita, babaganoush go very well with this dinner.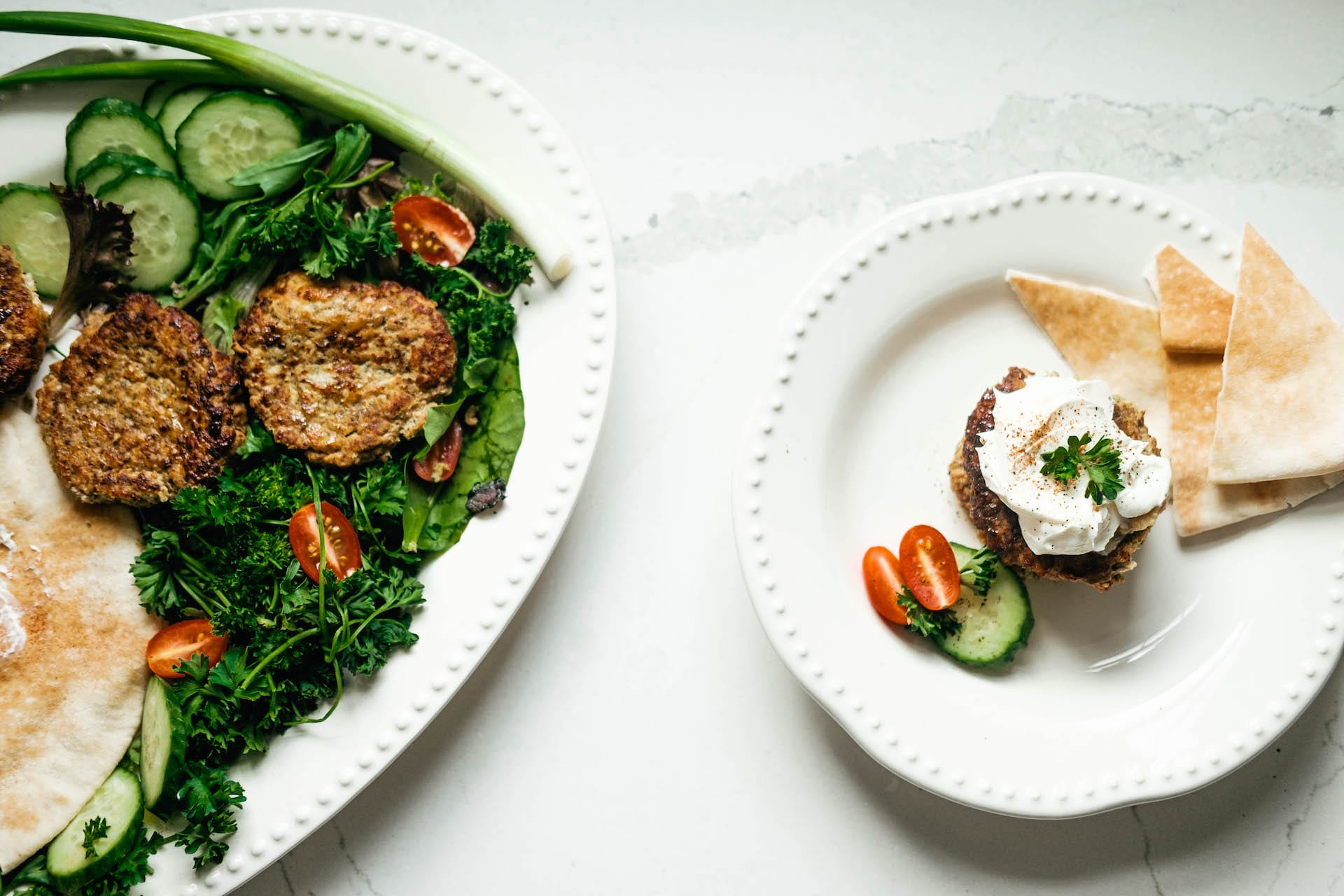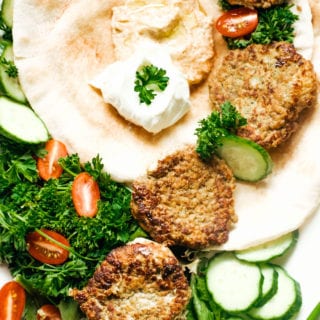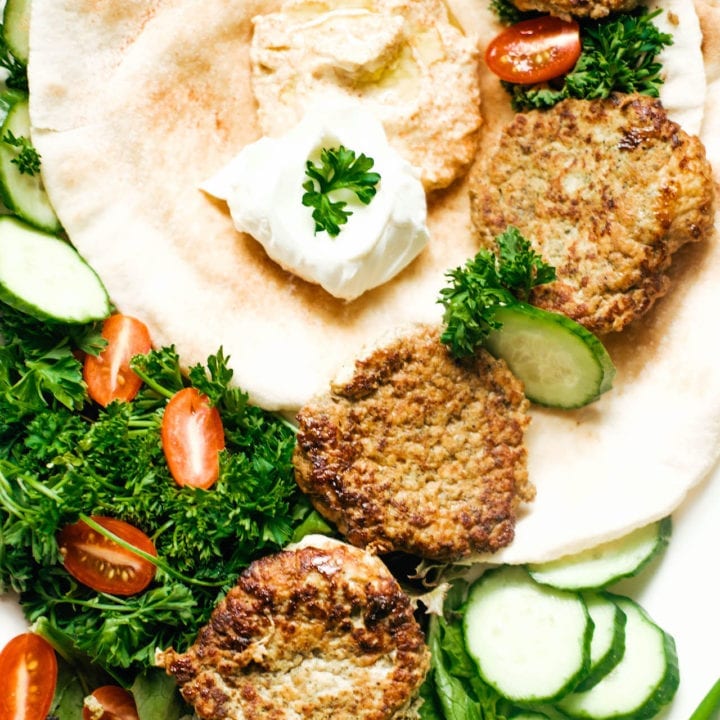 Chicken Kafta Burgers
Healthy twist on a delicious Lebanese classic dish!
Ingredients
1

Lb

ground chicken

traditionally this uses ground beef so feel free to try it!

1/2

white onion cut into quarters

2

Tablespoons

dried mint or 10 mint leaves chopped

2

Tablespoons

parsley leaves

chopped

1/2

Tsp

Allspice

1/4

Tsp

Turmeric

1

tsp

Salt

1/2

tsp

Pepper

1

Tablespoon

olive oil
Instructions
Pre heat your oven to High Broil. Chop your onion into quarters and place into a magic bullet, blender, or mini food processor.

Pulse until it starts to turn into a paste.

Add in allspice, mint, parsley, salt, pepper, and turmeric and pulse until combined. I add turmeric not for taste, but let's be honest ground chicken can look a little gray. So I mix a bit of this bright yellow spice in for color!

Pour spice and onion mixture into the ground chicken and toss with a fork until it is combined.

In an oven safe skillet, heat olive oil over high heat.

Using a 1/4 measuring cup portion out a few patties and lay then in the hot skillet to sear on one side. Sear for 1-2 minutes. Flip the patties and place into the oven on broil.

Broil for 8 minutes on high.

You may have to use 2 skillets to fit all the patties

Remove and let sit for 2-3 minutes.

Serve with Labneh (strained greek yogurt), hummus, and pita!