Chicken Stir Fry with Veggies
This recipe includes a chicken marinade for stir fry that will have you making it over and over! Stir Fry Marinated Chicken with honey and soy is flavorful, healthy, and a delicious meal to feed the family in under 30 minutes.
A perfect way to use up those veggies just hanging out in the fridge. Add it into your menu plan rotation. If you need help getting started with a menu plan, check out my free ebook with 4 weeks' worth of 30-minute meals!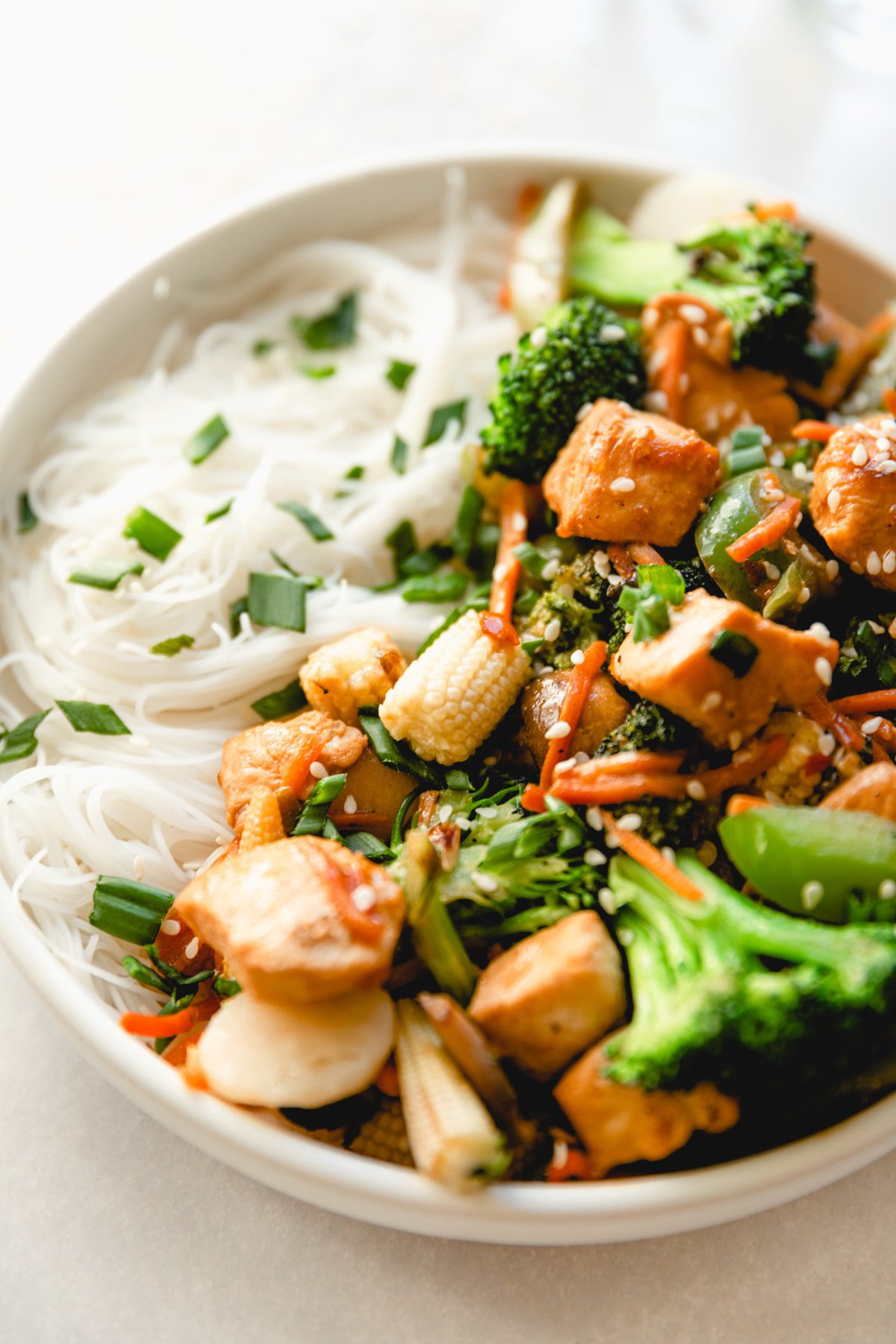 Best Chicken Marinade For Stir Fry
This honey-soy chicken marinade for stir fry is simple to put together in a mixing bowl and you could even use this for an overnight chicken marinade!
It's not only our marinade but also serves double duty as the sauce for our stir fry! We'll use most of it to marinade but reserve a bit to add to the veggies and chicken as it cooks.
red pepper flakes
boneless skinless chicken breasts
sliced water chestnuts
soy sauce
sesame oil
honey
lemon juice
ginger paste
garlic powder
salt and pepper
Do you still have chicken leftover from that package you bought? Try out this delicious marinade for Grilled Chicken Sliders!
Chicken Thighs or Chicken Breast?
I chose to use chicken breast for this, however, it could definitely be used as a chicken thigh stir fry marinade!
Chicken thighs are dark meat and are super tender! In my opinion, it's almost impossible to overcook and so they make a great option for this recipe.
Chicken breast is what I typically have on hand and cubing it and marinating, it helps to keep it tender in the cooking process.
Whichever you choose, this chicken stir fry with veggies is going to be healthy and delicious!
Types Of Vegetables To Use
Stir fry is really customizable and a great way to clean out the refrigerator if you have veggies about to go bad.
I love using vegetables that still retain a little "bite" to them after cooking. Think of things like broccoli and peppers!
This creates great texture and crunch in the dish and gives you a little more diversity than just mushy vegetables.
Vegetables you could include in your stir fry are...
peppers
onions
garlic
broccoli
water chestnuts
baby corn
bok choy
purple cabbage
carrots
snap peas
The list really could go on! The only things I personally like to avoid are any veggie that can turn to mush easily. Vegetables like squash or mushrooms can taste amazing, but after cooking a while might have a weird texture.
Is Chicken Stir Fry Healthy?
It can be! My honey soy stir fry marinade also doubles as the stir fry sauce in this recipe.
It is kind of like a light vinaigrette and is definitely healthy! I even was able to leave out the corn starch or flour thickening agent because the honey in the chicken marinade thickens up nicely after cooking.
Stir fry also has TONS of vegetables to incorporate, so pair that with a lean protein like chicken, and you've got yourself a healthy meal!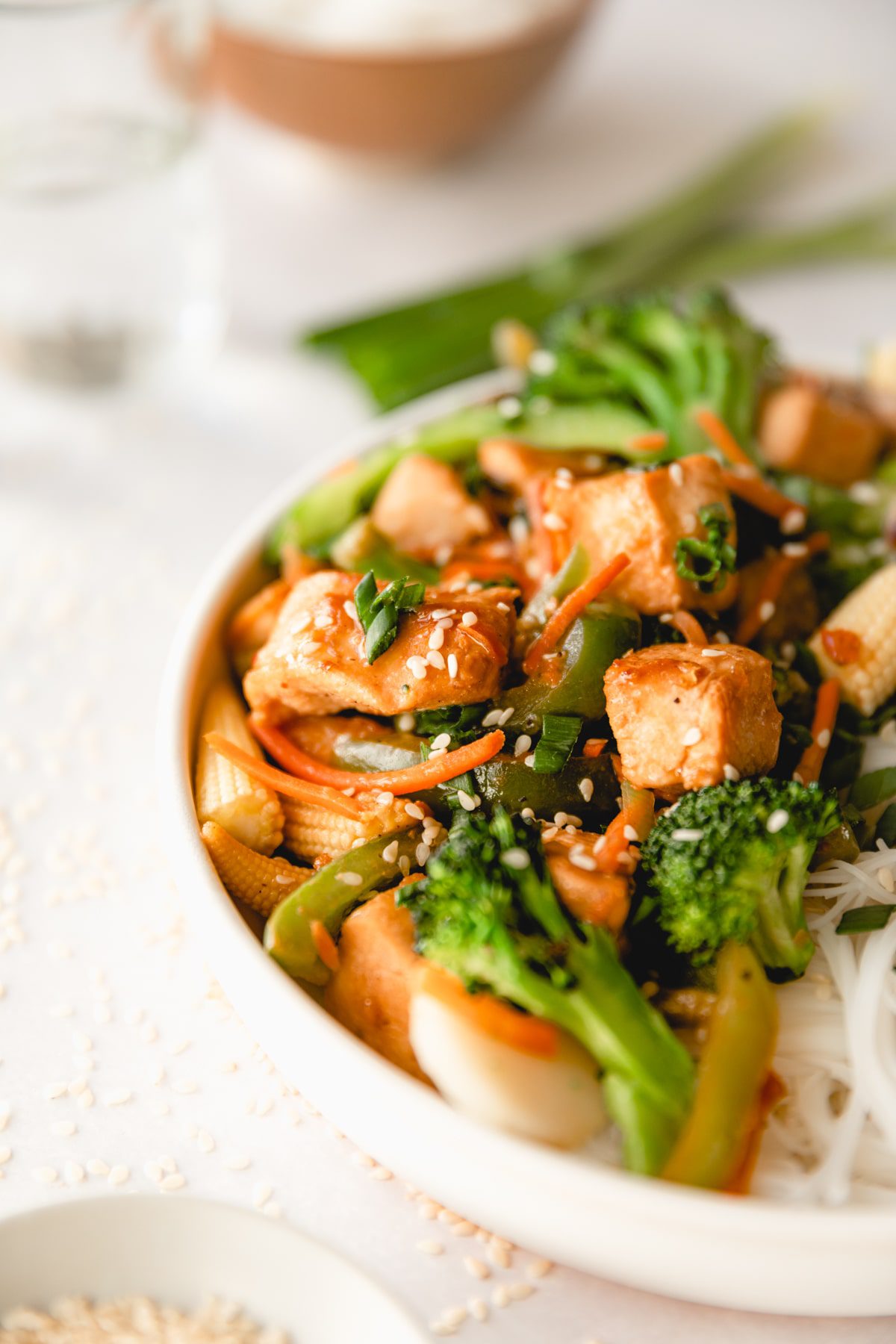 Can You Make Stir Fry Without A Wok?
Simple answer: YES. Any large saute pan should work just fine. The technique for stir-frying simply means quickly frying the vegetables and protein in some cooking oil.
For traditional stir fry recipes, a wok is fantastic and definitely makes it more authentic. For my adapted version of stir fry, using a saute pan at home works great for a quick weeknight marinated chicken stir fry.
Stir Fry Made In A Wok
If you'd like to check out some authentic stir fry recipes using a wok, visit these sites and check the recipes out!
The Woks Of Life - How To Make Stir Fry The Right Way
Made with Lau - Rainbow Chicken Stir Fry
Substitutions and FAQ
Here are some easy tips and tricks I have for this Honey Soy Marinated Chicken Stir Fry. It includes substitutions and FAQs...
Tofu stir fry marinade
Want to make this a vegetarian dish? Go ahead and try this honey soy marinade for a tofu stir fry!
Tofu stir fry can use the same marinade, simply swap out the chicken for extra firm tofu and cook accordingly.
How to Cook Tender Chicken
The trick to cooking tender chicken starts with the marinade! By using the acidic properties in the marinade to begin to tenderize the chicken - it's a great start.
Then in the cooking process, make sure not to overcook the pieces. Cut them into even-sized bites to ensure they cook at the same pace.
Swap out the chicken breast for chicken thighs for ultra-tender chicken stir fry.
Gluten-Free Stir Fry
Make this chicken marinated stir fry gluten-free! Swap out the soy sauce for coconut aminos and choose to serve it with cauliflower rice or no rice at all.
It's filling enough to serve on its own without rice or noodles if you would like.
One Pan Recipes
One-pan, 30-minute dinners are my bread and butter! I love creating them and I love how easy they are to make. Simple and delicious!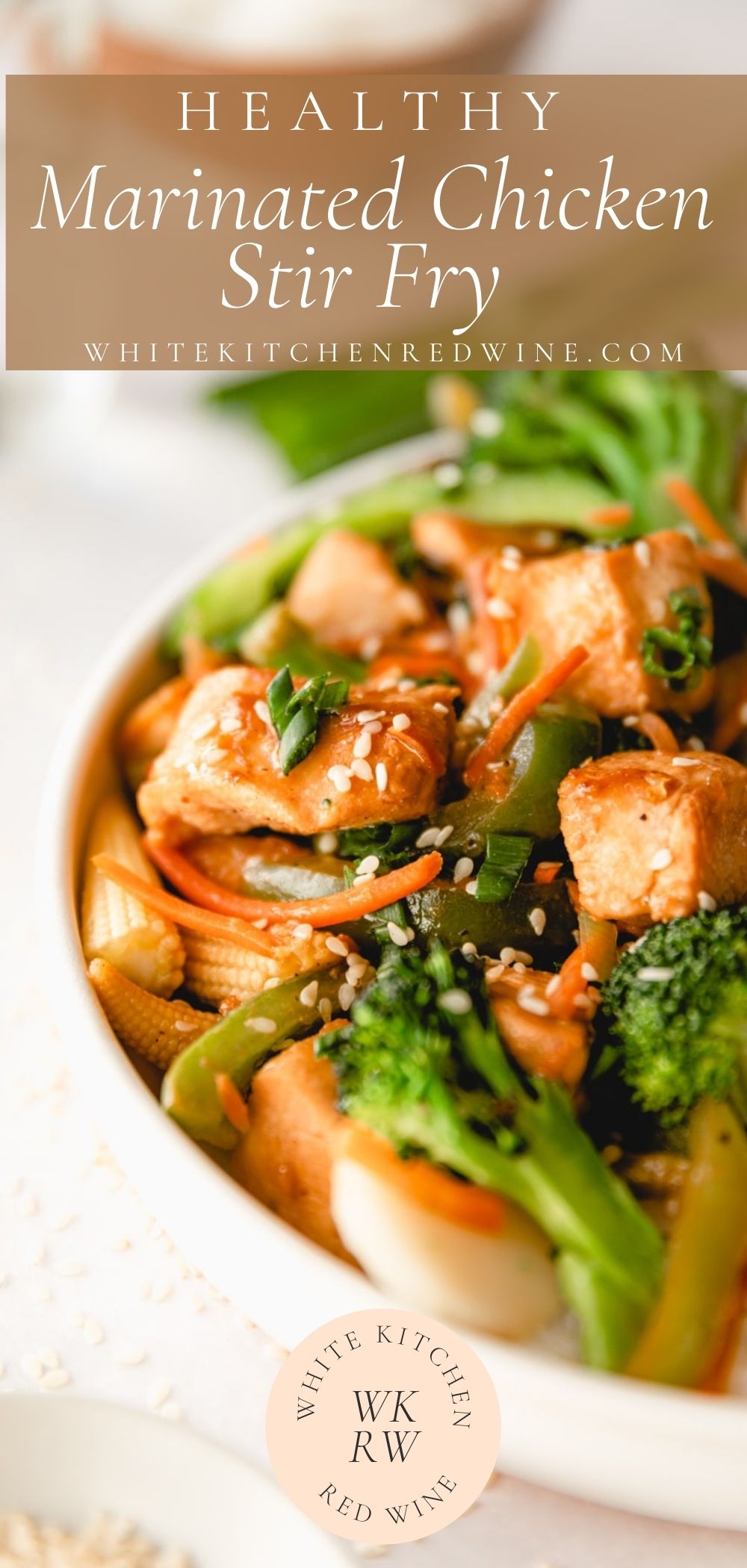 📖 Recipe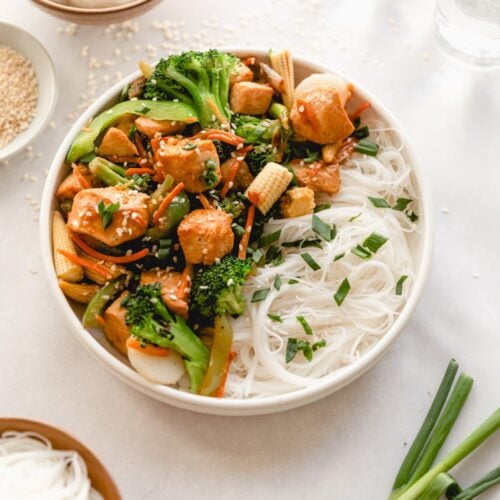 Stir Fry Marinade Chicken with Vegetables
A healthy stir fry with marinated chicken breast and loads of fresh vegetables. It's tossed together in a honey-soy sauce and served with rice or noodles. A great 30-minute meal!
Print
Pin
Rate
Ingredients
2

large boneless skinless chicken breasts

cut into 1 inch cubes
Marinade
1

teaspoon

red pepper flakes

½

cup

soy sauce

3

tablespoons

sesame oil

3

tablespoons

honey

¼

cup

lemon juice

1

tablespoon

ginger paste

1

tablespoon

garlic powder

1

teaspoon

salt

1

teaspoon

pepper
Vegetables For Stir Fry
¼

cup

sliced water chestnuts

1

green bell pepper

sliced

1

yellow onion

1

cup

baby corn

chopped

½

cup

shredded carrots

½

cup

button mushrooms

sliced

1

cup

chopped broccoli florets

3

green onions

sliced
To Fry
2

cloves

garlic

sliced

6

tablespoons

canola oil

divided in half

2-3

cups

vermicelli rice noodles or brown rice for serving
Instructions
Cube the chicken and place in a shallow dish.

In a mixing bowl combine all marinade ingredients and whisk well.

Pour ¾ of the marinade over the chicken and reserve the rest for later.

Cover the chicken with saran wrap and place in the fridge for 2 hours up to overnight.

When you are ready to cook the stir fry, remove the chicken from the fridge and prepare the vegetables.

Slice all the veggies roughly the same size and place in a large mixing bowl.

Begin cooking the chicken by heating your large saute pan over medium high heat for 3 minutes.

Add in 3 tablespoons of canola oil then sprinkle in a bit of minced garlic.

If it begins to sizzle immediately, it's ready. Add the chicken and space it out evenly in the pan.

Do not touch for 1 minute. Let it brown on this side.

While that cooks for one minute, begin to prepare the noodles or rice according to the package directions.

Afer 1 minute, gently begin to toss the chicken and cook for about 8-9 minutes until cooked through.

Remove the chicken and place on a plate to rest, then carefully wipe out the pan to cook the vegetables.

Repeat the process of heating the pan over medium high heat for 3 minutes.

Add 3 more tablespoons of canola oil and a pinch of sliced green onion from your veggie bowl.

If the onion begins to sizzle, it's ready. Add the veggies in.

Toss occasionally for 3-5 minutes.

Pour the remainder of the marinade we reserved from earlier into the pan. Cover the pan.

Let cook for 3-5 minutes and toss the vegetables again.

Add the chicken back in and toss together to coat everything in the sauce.

Once it is well combined, serve the stir fry over rice or noodles and garnish with a little more green onion. Enjoy!