Sweet Potatoes In The Air Fryer
Okay, who landed here by googling "can you put frozen sweet potato fries in an air fryer?" *raises hand* Well, lucky for us, the answer is yes!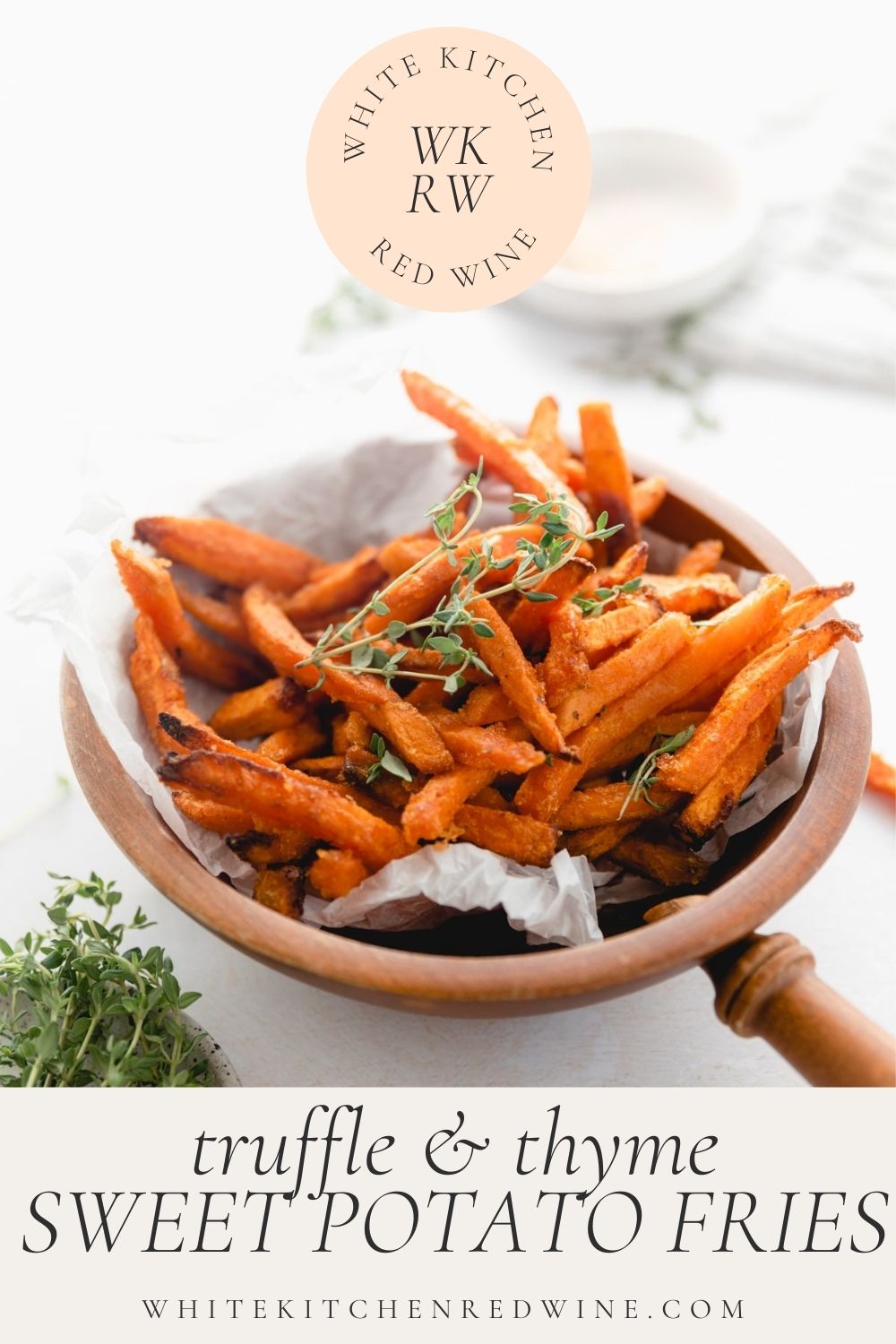 If you've never tried air fryer frozen sweet potato fries, now's your chance. The key to crispy perfection is how long you cook them. Keep reading for all the yummy details!
Air fryer frozen sweet potato fries will be a go-to side dish for your quick weeknight dinners. I've even elevated these with a little truffle oil and thyme.
Best Frozen Sweet Potato Fries: Let's Talk Brand & Type
Trader Joe's
Good old Trader Joe's! You can find the best frozen food in their freezers and the sweet potato fries are no exception!
Alexia
Frozen Alexia sweet potato fries maybe my favorite choice for these truffle thyme fries. I grab mine at Sprouts and it's the ones I used when developing this recipe.
Waffle Fries vs Crinkle Cut vs Diced
The great debate between waffle fries, crinkle cut, or a diced sweet potato...it's going to be left up for YOU to decide.
I've done the classic fry shape for this recipe but it won't change the taste or the way we air fry them if you choose another shape of french fry.
Yes, Frozen Sweet Potato Fries Are Healthy!
A lot of people wonder about calories when debating whether or not to make frozen sweet potato fries in their air fryer.
You can cut down on calories by using low to no oil. I opted for a truffle oil because you still get tons of flavor but a little goes a long way.
Sweet potato fries are a naturally gluten-free and vegan side dish, so perfect addition to your meatless Monday menu.
Ingredients
Here is what you need for these delicious truffle and thyme sweet potato fries...
frozen sweet potato fries, I like Alexia frozen sweet potaotes
truffle oil
fresh thyme
garlic powder
paprika
oregano
salt and pepper
How to Cook Frozen Sweet Potato Fries in the Air Fryer [The Easy Way]
Cooking frozen sweet potato fries in air fryer couldn't be easier.
I like to spread my fries out in an even layer making sure they don't overlap each other. Depending on your size air fryer, you may need to do this in two batches.
Preheat the air fryer for a few minutes then air fry the sweet potatoes tossed with oil and seasonings.
Once you know how to air fry sweet potato waffle fries, you'll never go back to using an oven.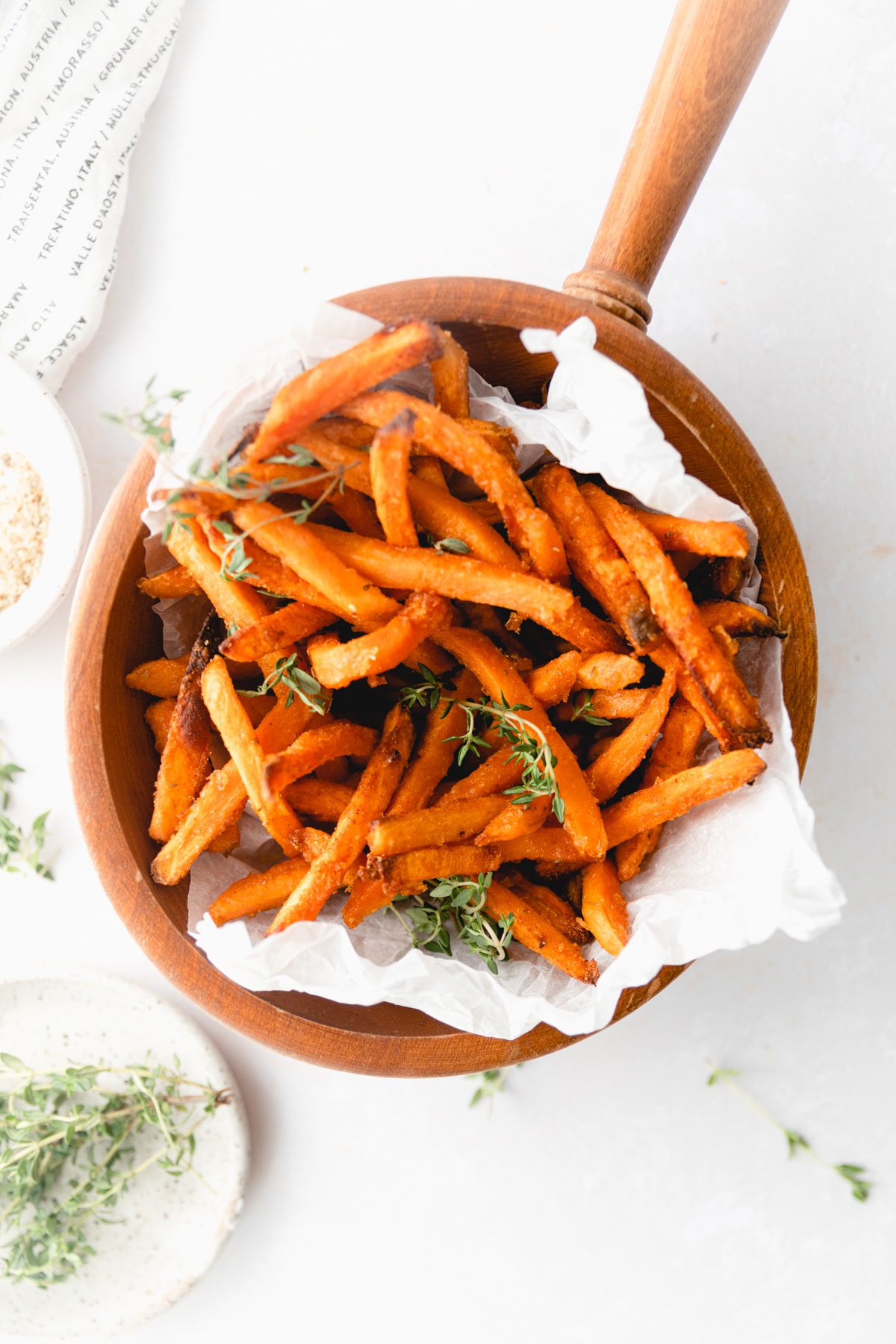 Time and Temp
Frozen sweet potato fries cook faster in the air fryer than they do in the oven! Which is one reason I like these for a quick weeknight dinner side dish.
I like to preheat the air fryer at 400 degrees fahrenheit for 10 minutes before tossing my frozen fries in.
Then continue to cook the fries at 400 degrees for an additinoal 12-15 minutes utnil the edges become dark and crispy!
Recipe Tips & Dipping Sauces to Try
Pro Tip! Preheating the air fryer ahead of time makes sure as soon as those fries hit the basket they start crisping up.
Sauces for these amazing Truffle and Thyme sweet potato fries are endless!
Ketchup - the sweetness balances really well with the savory fries!
Spicy Mustard - especially with the truffle, I like a vinegar-y and tangy mustard
Toum - this is a Lebanese garlic aioli and it's absolutely delicious pairing with any french fries.
How Long Does It Take to Cook Sweet Potato Fries from Frozen?
From frozen, it takes a lot less time than you would think! From start to finish it takes about 12-15 minutes.
This will depend on your air fryer and how crispy you like your fries so adjust accordingly.
Can Sweet Potato Fries Be Reheated in the Air Fryer?
One of my favorite things about the air fryer is that it is THE BEST for reheating leftovers.
This includes leftover sweet potato fries. Pop them in at 400 degrees for another 10 minutes and you'll be able to enjoy them all over again.
Want More Delicious & Crispy Air Fryer Recipes?
The air fryer makes cooking crispier, healthier food is so much easier. I've tried just about everything in my air fryer (okay, maybe not everything), but these were definitely winners:
📖 Recipe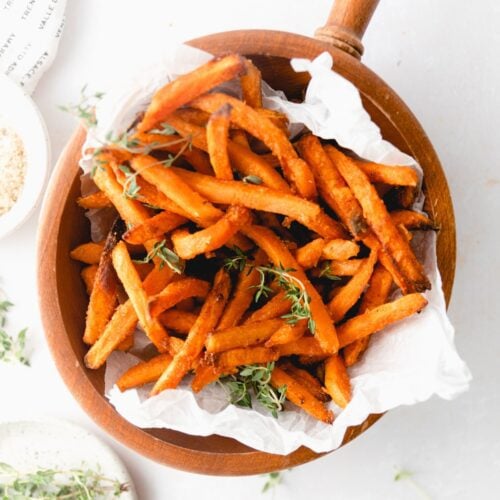 Easy Frozen Sweet Potato Fries in Air Fryer
These air fryer frozen sweet potato fries are crisped to perfection and go perfectly with burgers or grilled chicken dishes. The best part? They cook much faster & without all the deep-fried oil in regular fries!
Print
Pin
Rate
Ingredients
1 20

oz

bag of frozen sweet potato fries

seasoned with salt is fine

1

tablespoon

of white truffle oil

or regular olive oil

2

teaspoons

fresh thyme leaves

1

tablespoon

garlic powder

1

teaspoon

paprika

1

teaspoon

salt

½

teaspoon

pepper

2

teaspoons

dried oregano
Instructions
Pre-heat your air fryer at 400 degrees for 5-10 minutes to warm up the basket.

In a small bowl mix the garlic powder, paprika, salt, pepper, thyme, and oregano.

Place 1 layer of fries in the basket, making sure they don't overlap each other. You may need to do this in batches.

Drizzle truffle oil on the fries and season with the seasoning mix.

Put the basket back into the frier and continue cooking at 400 degrees for 12-15 minutes until the sweet potato fries are brown on the edges.

Enjoy with all of your favorite dipping sauces!