This 30 Minute Meal will give you the best wings with crispy skin and a delicious sauce! Chimichurri Air Fryer Chicken Wings are super easy to make at home and a healthier option!
With no added oil, these wings are a healthier version of fried chicken wings. However you won't miss any of that crispy goodness! Chicken wings are perfect for the air fryer.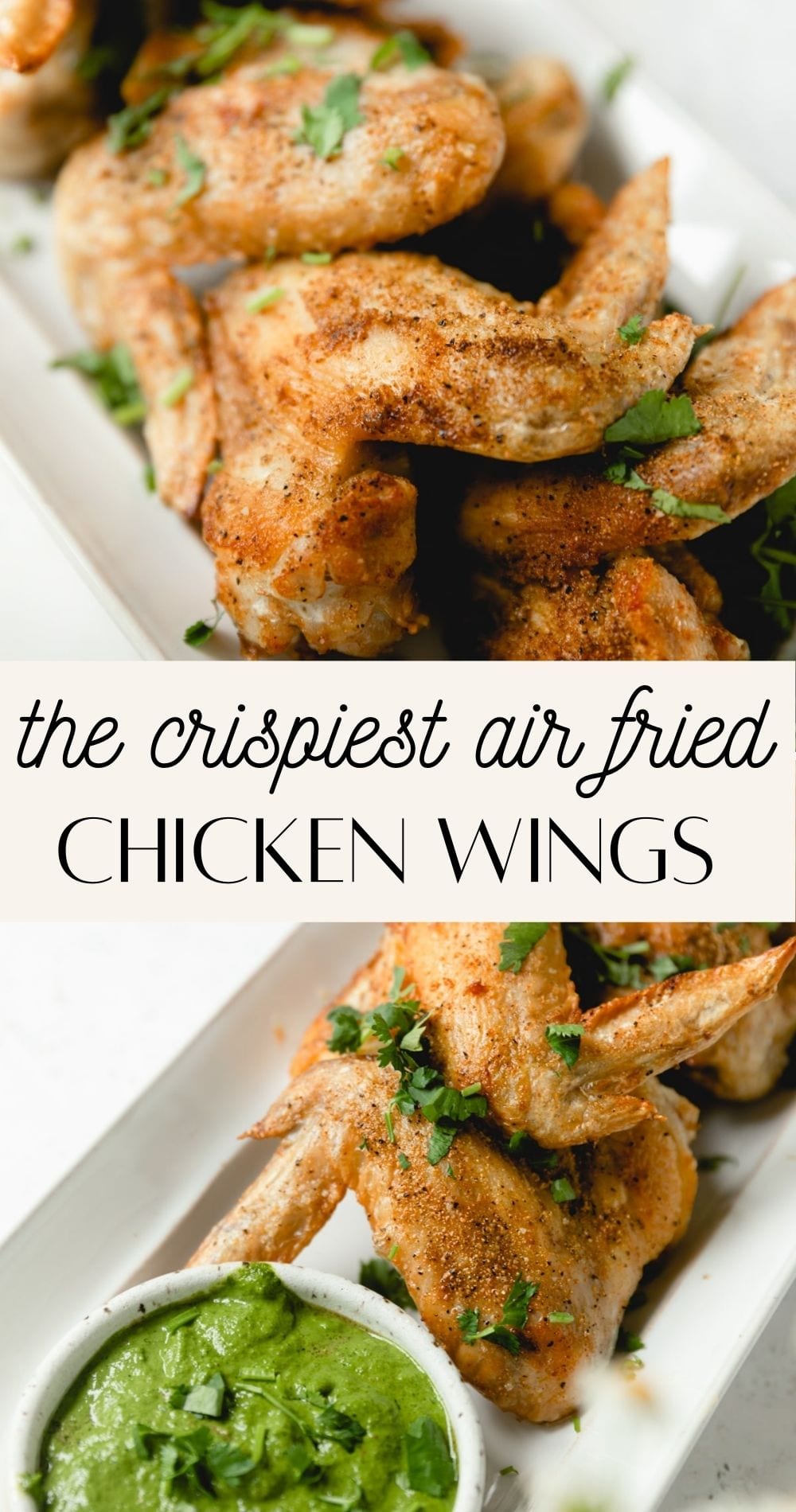 Making Wings In An Air Fryer
Making your chicken wings in an air fryer is definitely my new favorite way to prep them. It gives you the crispiest skin with no extra frying oil.
how long to air fry chicken wings? I air fry my wings for 20 minutes total or until the internal temperature reaches 165 degrees F.
how many wings can fit in an air fryer? I was able to fit about 6 wings at a time in my air fryer basket. This will depend on your make and model of air fryer.
PRO TIP! This is my tip for the crispiest wings. Cook them on a little bit lower temperature for the first 15 minutes then bump it up to crisp it to perfection for the last 5 minutes.
Chimichurri Chicken Wing Ingredients
2 lbs of chicken wings
1 teaspoon of salt
½ teaspoon pepper
1 teaspoon garlic powder
Can You Cook Frozen Wings In An Air Fryer?
Absolutely! Just cook them for 20 minutes on the lower temperature and then cook them on a higher temperature for the last 5 minutes. For a total of 25 minutes.
Cooking frozen wings in the air fryer is an extremely convenient way to have restaurant style wings right at home.
Other Sauces For Crispy Chicken Wings
Crispy chicken wings are delicious with almost any sauce you could dream of. I especially love...
Buffalo Sauce
Ranch or Blue Cheese
Chili Onion Crunch Spicy Oil
BBQ Sauce
Tips on Using An Air Fryer For Wings
The biggest tip I have for getting those perfectly crispy wings in the air fryer is to cook them on a lower temperature for the first 15 minutes then amp up the heat and crisp all that rendered fat!
By doing it at a lower temperature we are melting all the fat in the skin and bringing it to the top.
Crank up the heat and use that fat to our advantage to "fry" the skin of the chicken. No extra oil necessary!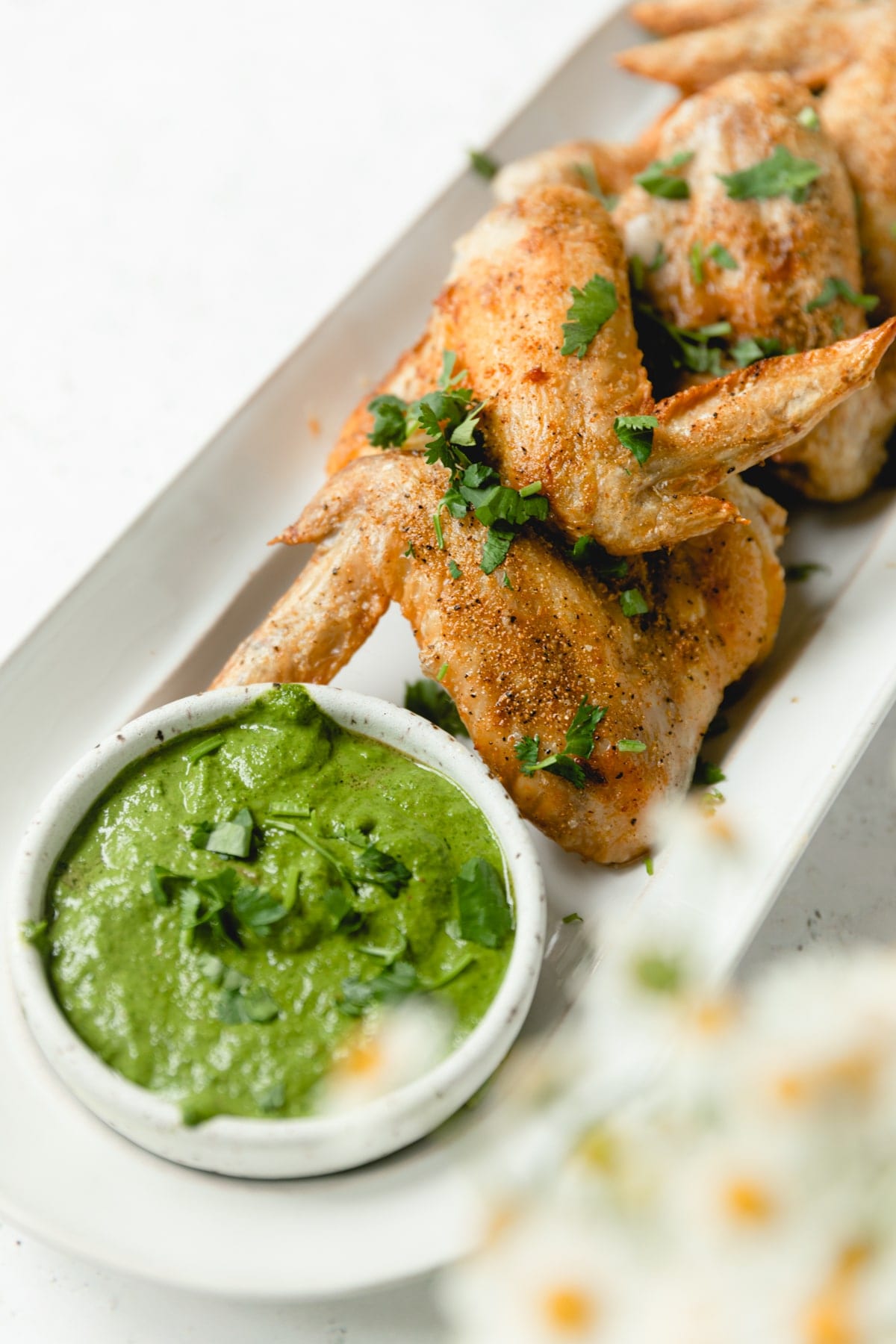 What If I don't Have an Air Fryer?
If you don't have an air fryer you could definitely do this in the oven.
You'll need a baking sheet with a cooling rack placed on it.
Simply place the the wings evenly spaced apart on the cooling rack that is on top of the cookie sheet. This helps air circulate all around the chicken wings.
Using the convection bake setting on your oven, bake at 350 for 15 minutes then 425 for the last 5 minutes. Enjoy!
More Air Fryer Recipes
If you enjoyed these Crispy Air Fryer Chicken Wings you will definitely want to check out these other air fryer recipes.
📖 Recipe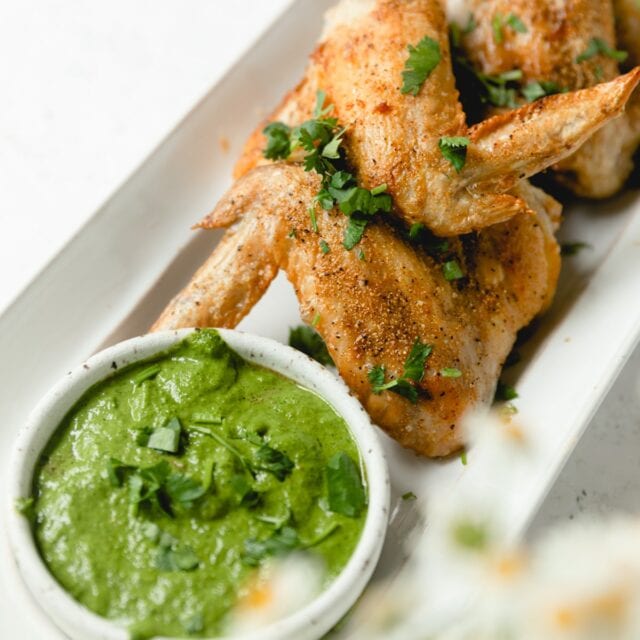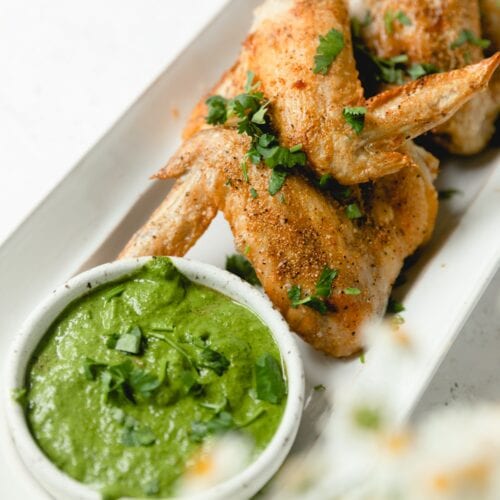 Air Fryer Chicken Wings with Chimichurri Sauce
A delicious and easy way to make healthier chicken wings in the air fryer. Served alongside my homemade chimmichurri sauce.
Print
Pin
Rate
Ingredients
2

lbs

of chicken wings

1

teaspoon

of salt

½

teaspoon

pepper

1

teaspoon

garlic powder

1

bunch of cilantro

3

green onions

2

cloves

of garlic

1

tablespoon

cumin

2

teaspoon

salt

pinch

of red pepper flakes

⅓

cup

red wine vinegar

½

cup

olive oil
Instructions
First make the chimmichurri by roughly chopping the cilantro, green onion, and garlic.

Add cilantro, onion, garlic, cumin, salt, red pepper, and vinegar into the food processor.

Pulse until everything is chopped and well combined.

Turn on the food processor and stream in the olive oil until a sauce has formed.

Set aside and prep the chicken wings.

Season the chicken with salt, pepper, and garlic powder.

Start by preheating the air fryer basket by turning it on 350 degrees for 2 minutes.

After the 2 minutes is up, place a few of the chicken wings in the basket. Don't crowd them!

Cook at 350 for 15 minutes.

After 15 minutes, flip the chicken wings over and turn the heat to 425 for the last 5 minutes.

Serve with the chimmichurri sauce or your favorite wing sauce.