Yep, it's true, you can totally dip shrimp in something other than cocktail sauce! This is the best air fried shrimp ever and by pairing it with creamy coconut shrimp dipping sauce you won't be disappointed.
Our version of Red Lobster's pina colada sauce is a crowd-pleaser with a creamy coconut flavor perfect for dipping shrimp. Mix it up and serve with air-fried coconut shrimp for an easy meal you'll make again and again.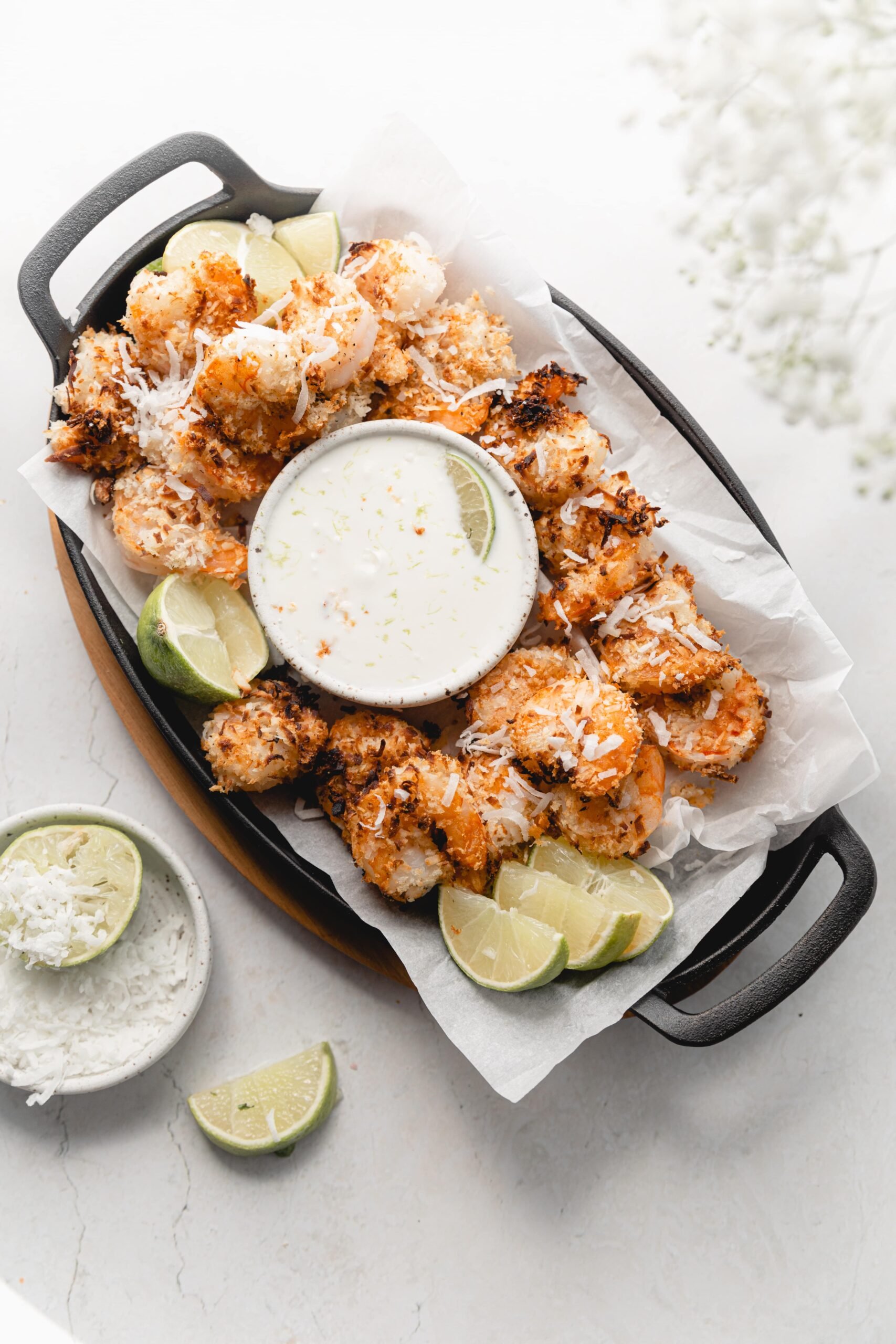 Ingredients for Coconut Shrimp Dipping Sauce
Ingredients the coconut sauce for shrimp are pretty simple and take less than 5 minutes to put together. The beginning of a delicious 30-minute meal!
Unsweetened coconut cream (it comes in a can!)
Pineapple Juice
Crushed Pineapple (optional for sweetness or if you don't like the texture)
Sour Cream
Lime juice
Agave syrup (optional for sweetness)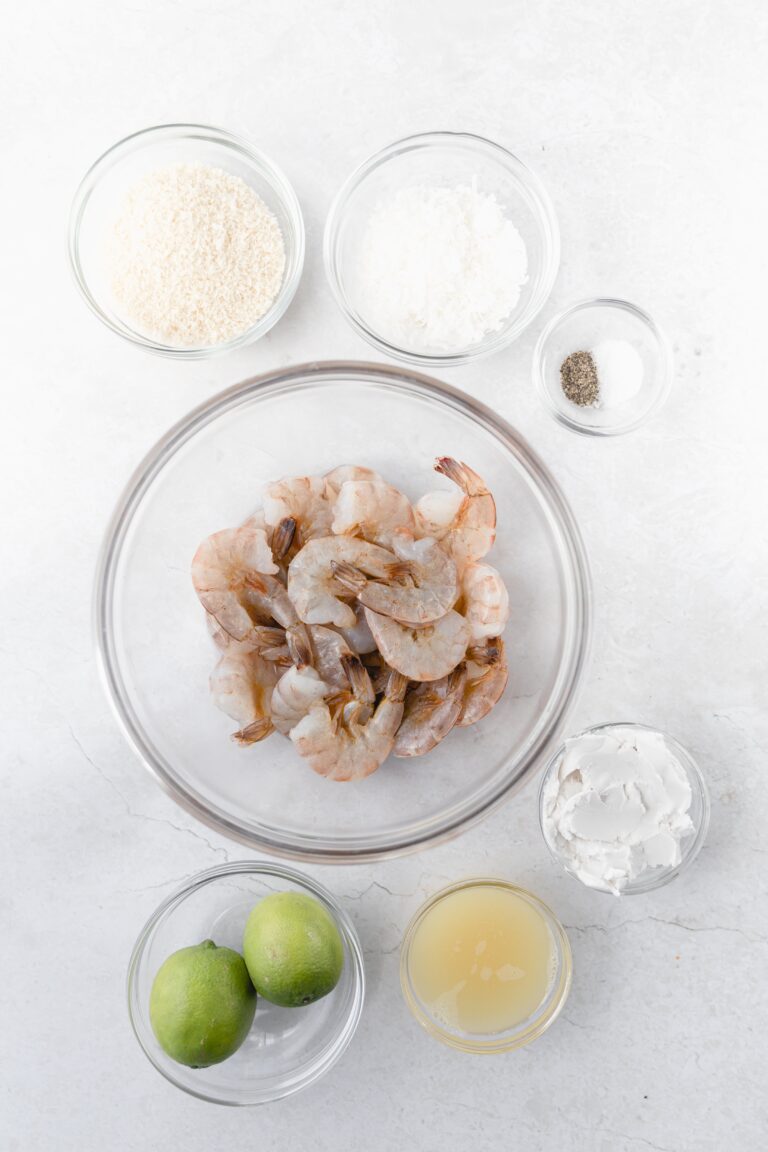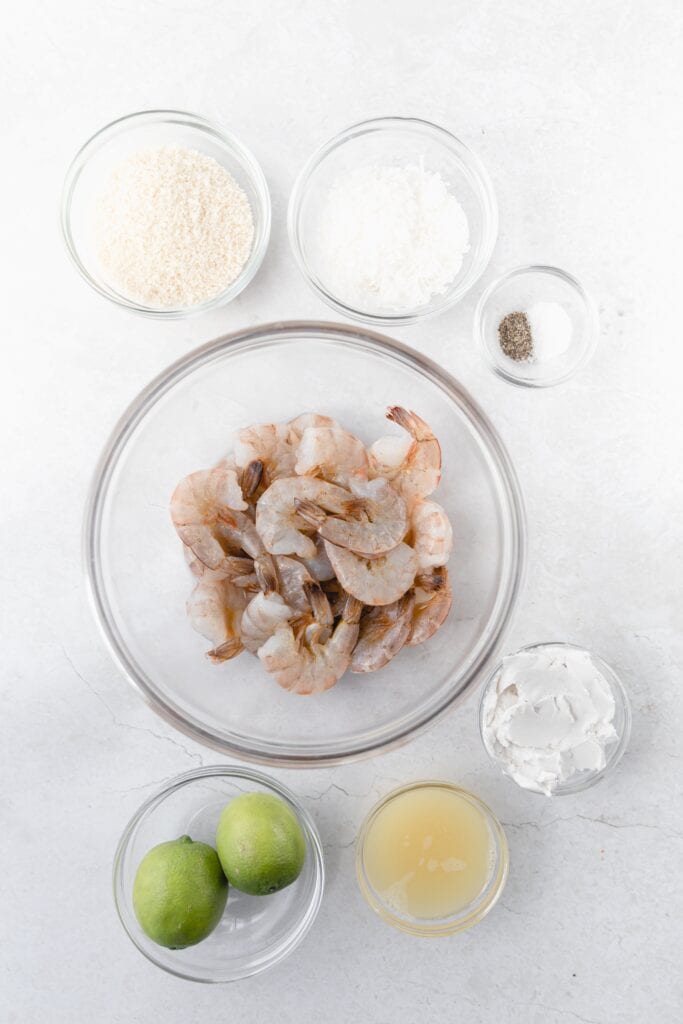 How to Make Coconut Sauce for Shrimp from Scratch
Now that you've gathered your ingredients, lets whip up this coconut sauce shall we?
If your coconut cream is really thick, combine that and the pineapple juice in the mixing bowl and microwave for 15 seconds. Whisk to combine.
Stir in the lime juice, sour cream, and crushed pineapple if you are using.
Give it a taste for sweetness and add in the optional agave if you would like it a touch sweeter!
Yes, it's really that simple! Pop it into the refrigerator for the best results. It gives it time for the flavors to come together while we prepare the shrimp.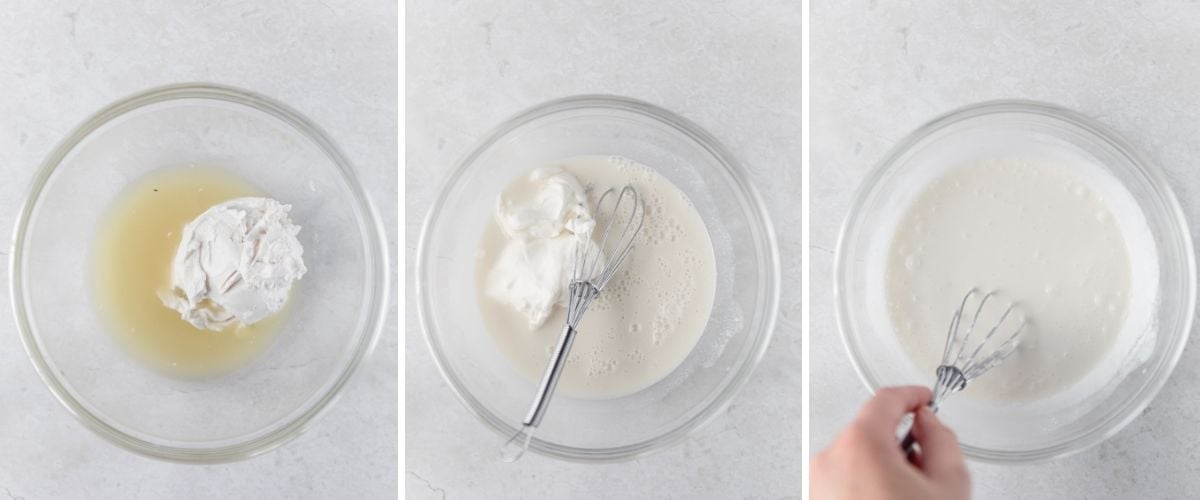 Easy Air Fryer Shrimp Recipe
Speaking of those shrimp! Let's make this air fryer fried shrimp to go with that creamy sauce.
Using large shrimp (peeled and deveined) dredge them in coconut cream, Panko bread crumbs, and shredded coconut.
Place in the basket of an air fryer and spray with cooking oil.
Air fry at 400 for 5-7 minutes until golden brown.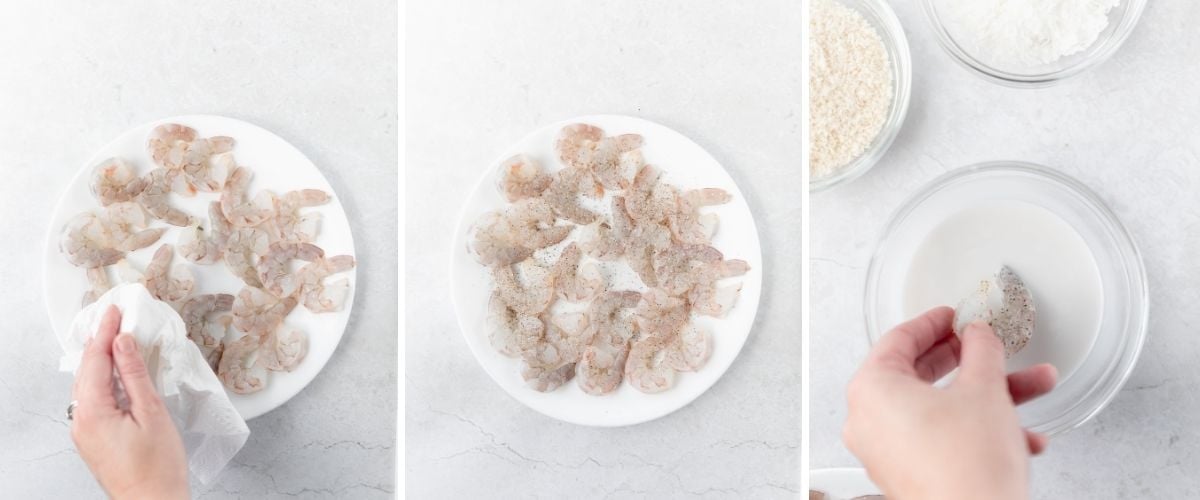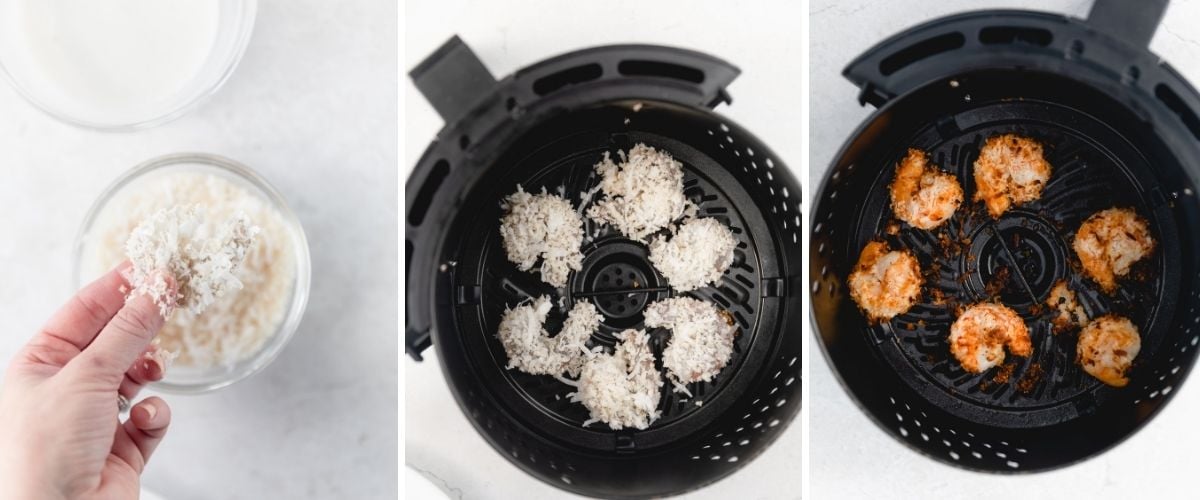 What to Serve with Coconut Shrimp and Dip
This creamy coconut shrimp sauce and the crispy shrimp are a match made in heaven. You might serve it along side a delicious Pina colada or ice cold beer.
This is a great side dish, appetizer, or main course for any season. Your guests will love this fun Red Lobster Copy Cat recipe!
Frequently Asked Questions
Will any kind of coconut flakes work?
I find that unsweetened coconut flakes or desiccated coconut work the best. The sauce we dip it in is already so sweet so we don't want to overwhelm the dish.
What size shrimp should I use for this air fryer recipe?
The biggest you can find! I used XL shrimp with the shell still on, however I peeled them before beginning the dredging process.
How can I tell when the shrimp is done?
Shrimp cooks incredibly quick, only taking 2-3 minutes per side for this size of shrimp. You can use a meat thermometer and check the internal temperature for doneness. It should be at 145 degrees Fahrenheit.
Otherwise cut one shrimp in half and it should be opaque all the way through. No more translucent pink should remain.
Can I put frozen shrimp in an air fryer?
You can absolutely put frozen shrimp in the air fryer! However for this recipe I don't recommend it. Since we need to batter the shrimp up first, having a thawed out shrimp that is patted dry will give the best results.
Want More Shrimp and Dipping Sauce Recipes?
If you like shrimp as much as I do, you'll love these other shrimp recipes. And be sure to check out the romesco dip. It pairs so well with seafood if you're wanting something other than that tropical pina colada flavor:
https://whitekitchenredwine.com/web-stories/healthy-burrito-bowl-with-shrimp/
That about wraps it up for today. Now go try this copycat Red Lobster coconut shrimp dipping sauce recipe and let me know how it turned out!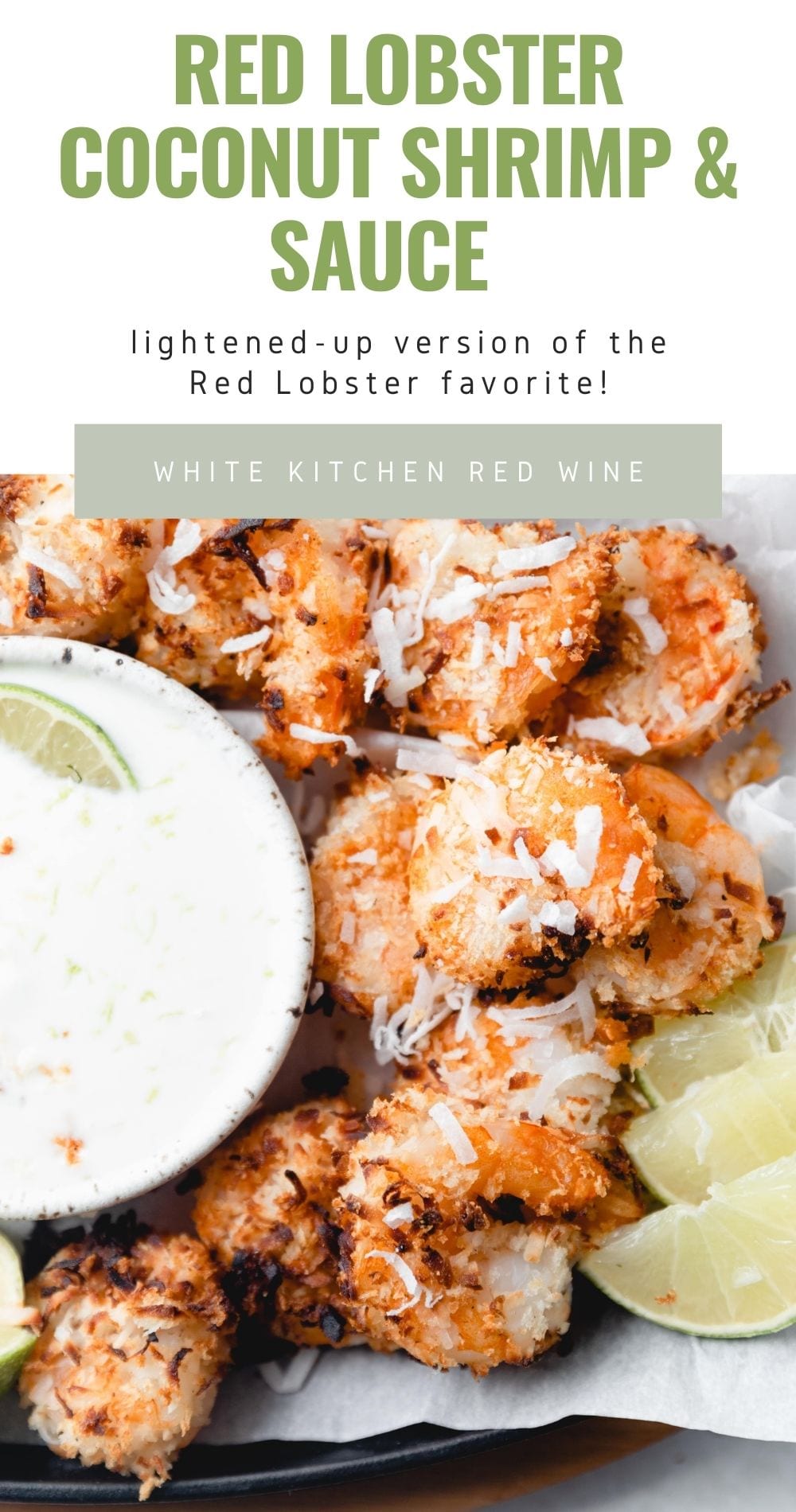 📖 Recipe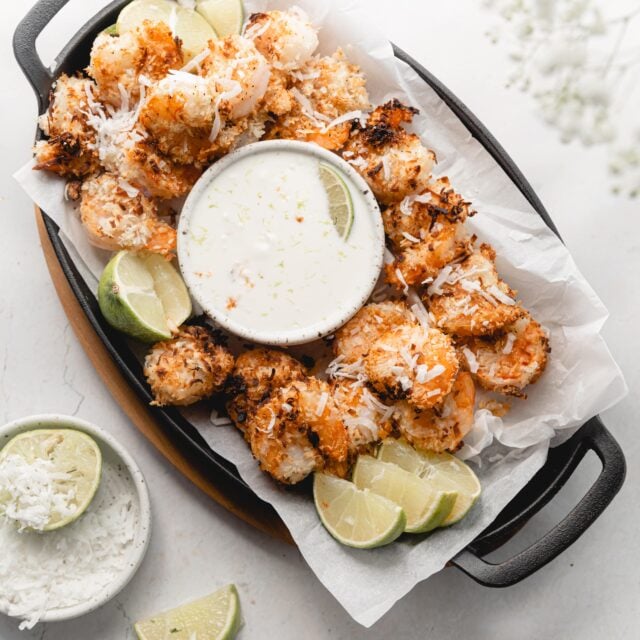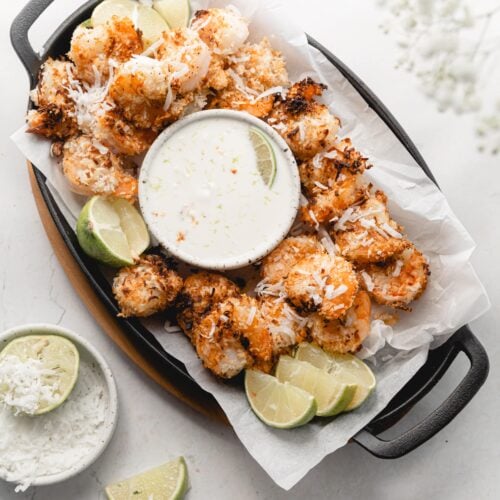 Creamy Coconut Dipping Sauce & Air Fried Shrimp
Make your own piña colada dip at home with this easy creamy coconut dipping sauce. Pairs perfectly with air fryer shrimp - a recipe for that included too! The entire meal is ready in less than 30 minutes.
Share by Text
Print
Pin
Rate
Ingredients
Coconut Shrimp
1.5

lbs

of peeled and deveined extra large shrimp

½

cup

panko breadcrumbs

½

cup

finely shredded

unsweetened coconut

1

teaspoon

salt

½

cup

coconut cream

½

teaspoon

pepper
Coconut Sauce
¼

cup

coconut cream

¼

cup

sour cream

3

tablespoon

pineapple juice

3

tablespoon

crushed pineapple

optional

1

teaspoon

agave syrup

optional

¼

cup

lime juice
Instructions
Coconut Sauce
Make the sauce first, put the coconut cream in a mixing bowl with pineapple juice. Coconut cream can become separated. Make sure that you mix together the "cream" and the "water" in the can before using.

If it's still thick, pop it in the microwave for 15 seconds.

Mix in the sour cream, crushed pineapple, lime juice, and mix until smooth.

Put into the refrigerator to set up while you prepare the shrimp.
Coconut Shrimp
Place shrimp evenly on a plate and pat dry.

Sprinkle with salt and pepper.

In a small mixing bowl combine the panko and shredded coconut.

In an additional bowl put ½ cup of coconut cream.

Dip the shrimp into the coconut milk then into the panko mixture to coat.

Repeat with all of the shrimp.

Place 7-8 shrimp in the basket of the air fryer and spray with cooking oil.

Air fry at 400 degrees for 6 minutes.

You will need to do this in batches so you don't overcrowd the fryer.

Repeat until all shrimp are done. Serve with coconut sauce!