Halloween Shot Recipes
These delicious drinks are perfect for the spooky season! These October cocktails can be made in a pitcher then poured as individual shots for guests! Halloween Shots are fun, scary, and unique!
October is a great month for many reasons. Cooler weather, football games, Halloween, bonfires, and more! These crazy cocktail creations are equally impressive and delicious.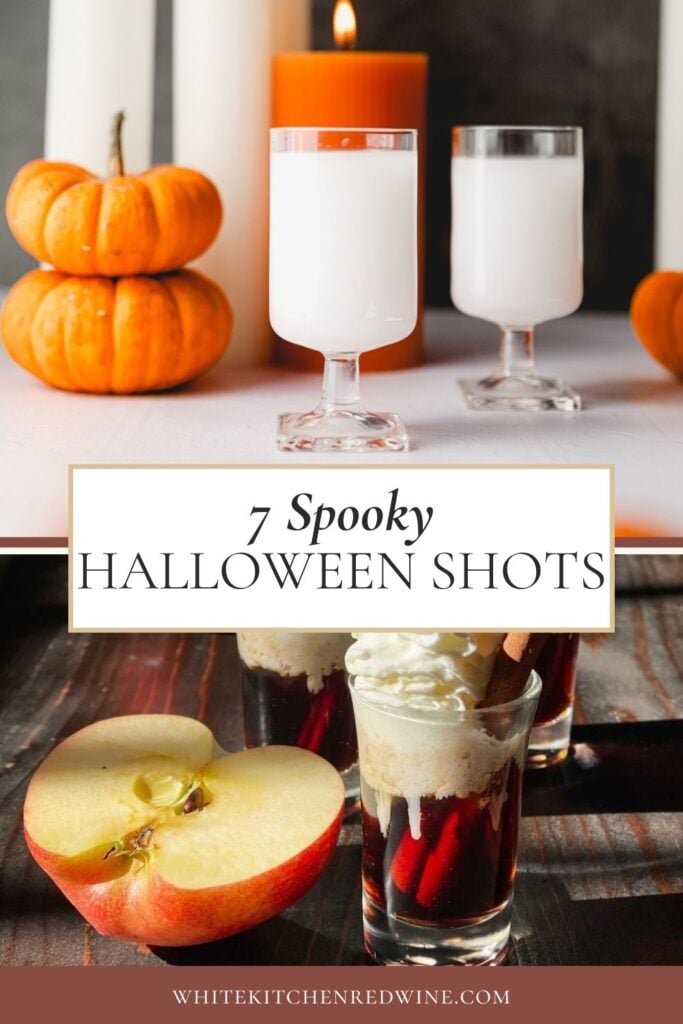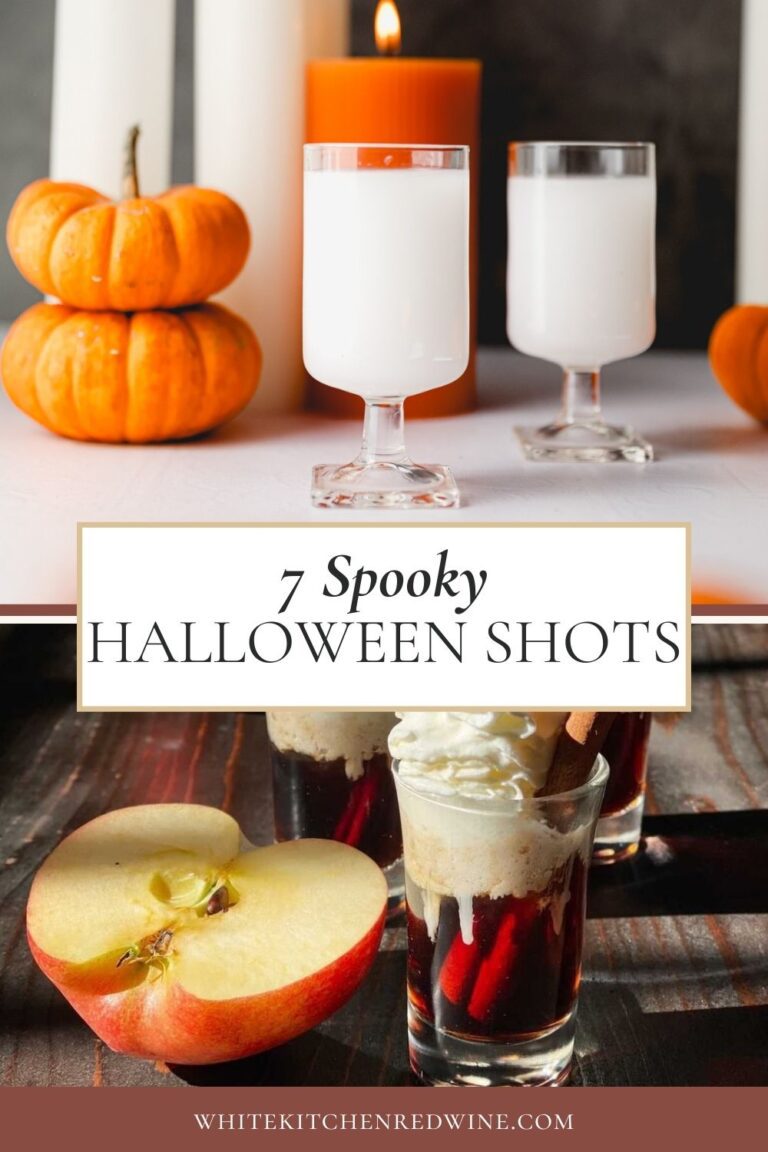 Halloween Dessert Shots
These shots are sweet and a little scary....but that won't stop us from sipping on them! (or shooting them straight, hah).
From whiskey to a sweet Lebanese liquor that tastes like black licorice called Arak, there is something for every palate!
Ghostly Arak Shot - Scroll All The Way Down For Recipe!
This is a Lebanese liquor made from grapes and anise. It has a very strong black licorice flavor and is clear right from the bottle but when mixed with a splash of water or club soda, it turns a cloudy white!
It is a fun party trick to show guests and it also serves as a palate cleanser during a meal! The anise flavor clears the palate and is very tasty as just a shot.
Serve with a cube of dry ice for an extra smoky, spooky effect with this Arak shot.
The recipe card is at the bottom of the page for this delicious, Halloween shot!
Apple Bourbon Shot
Using a homemade cinnamon bourbon, these spicy Apple Shots couldn't be more perfect for fall!
They are sweet, spiced, and oh so nice...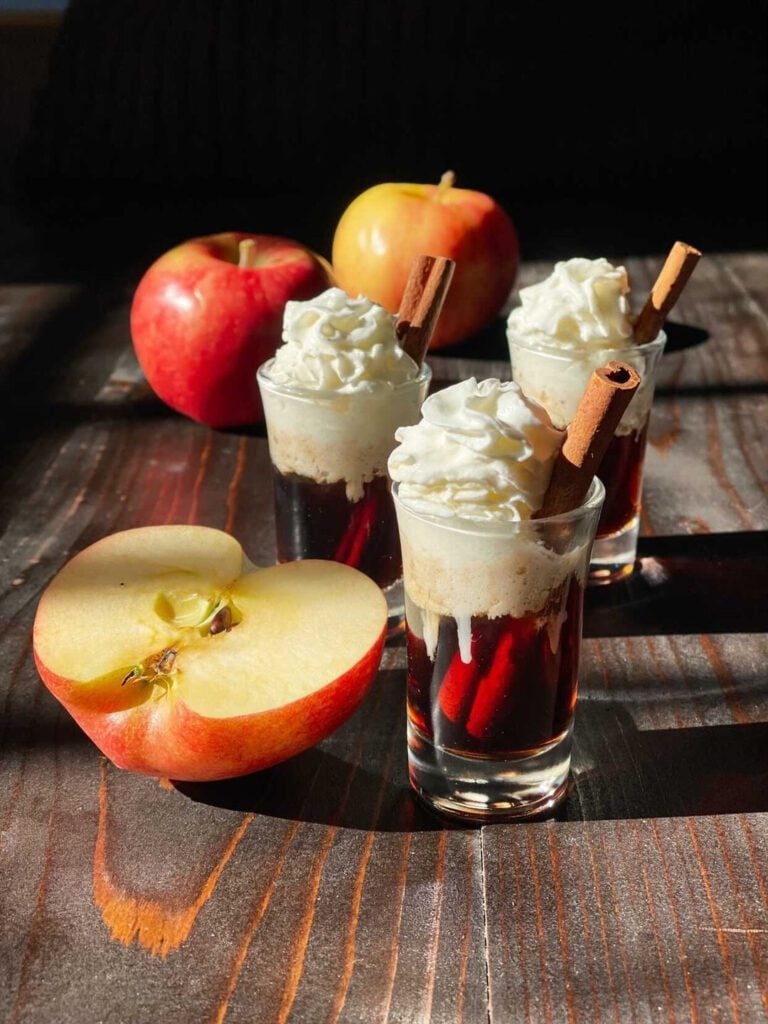 Boos On The Beach
What's more fun than BOOS on the BEACH?! Really nothing! So grab your bathing suits and let's boogie.
This Halloween cocktail is layered for extra fun effects and is a great trip to the tropics right in the middle of fall!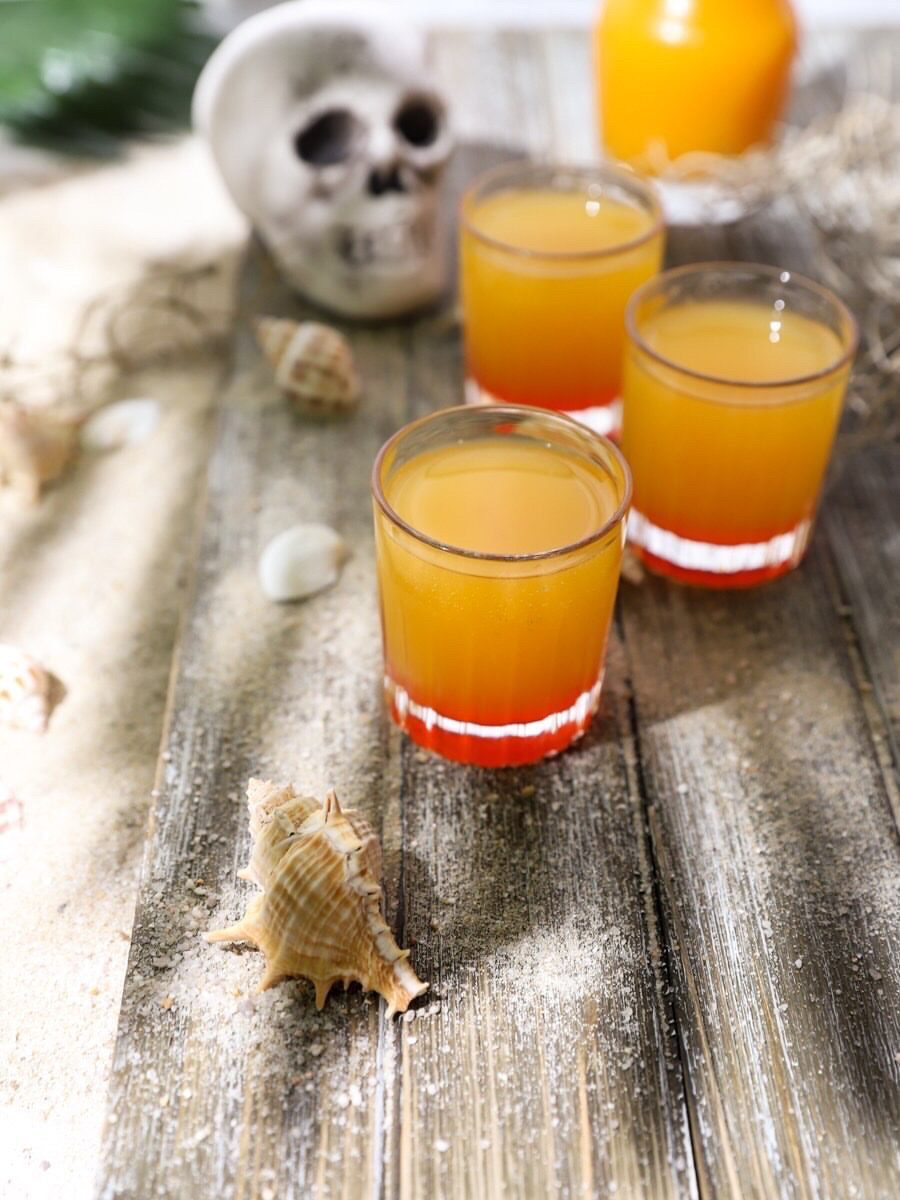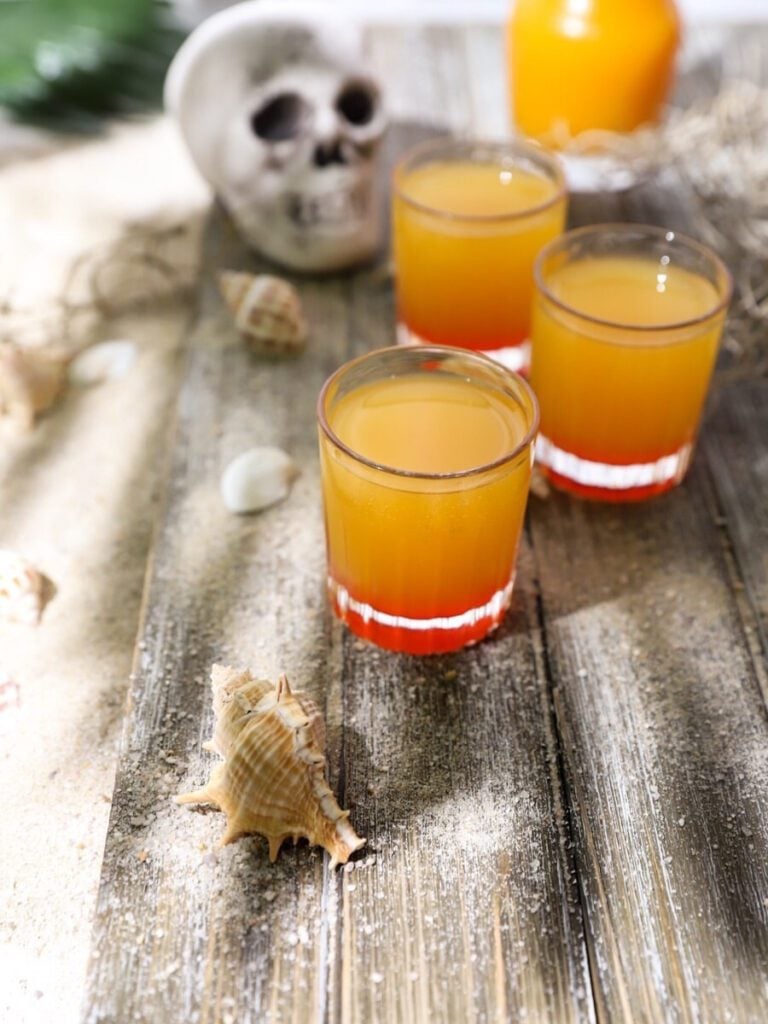 Spicy Squid Ink Margarita
Oh my goodness. Dark as night, spicy, and topped with cutie pumpkins this Halloween spin on a margarita makes my heart stop!
I love a good spicy marg, and this Spicy Squid Margarita really is a show stopper, isn't it?!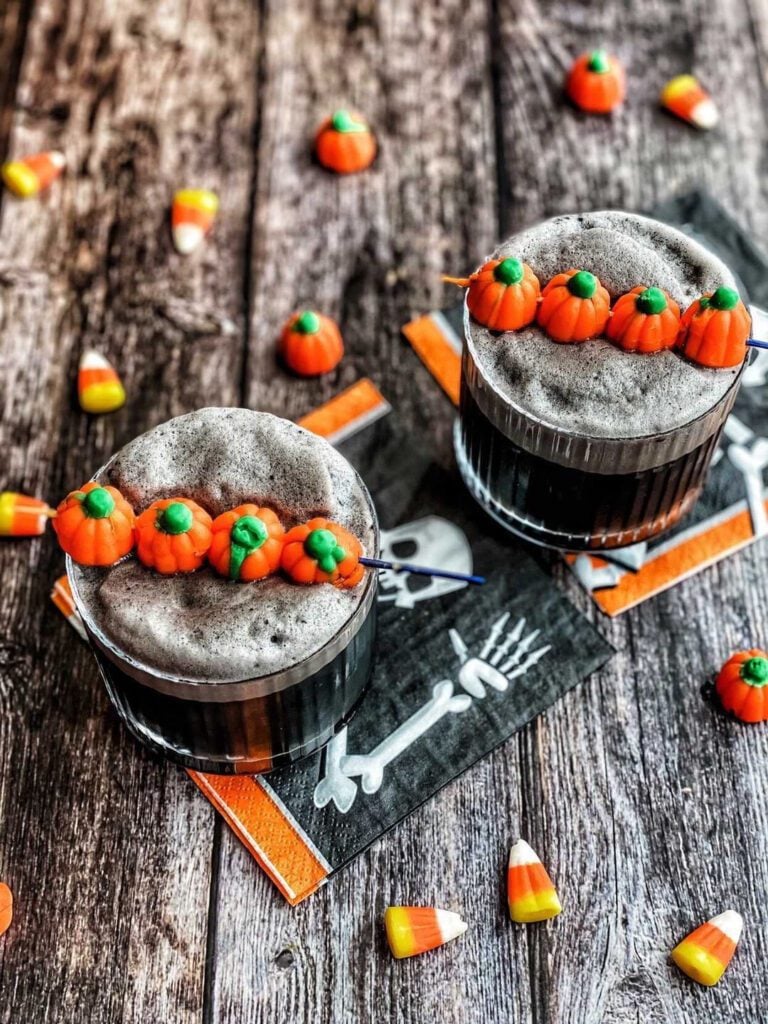 Unique Shot Recipes
Green Goblin Pickle Juice Shot
Ok, this might be the grossest-looking Halloween cocktail in the bunch! In the best way possible...
Pickle juice gives this Green Goblin Pickleback is made with vodka, pickle juice, and a splash of sparkling seltzer. Would you dare to try it?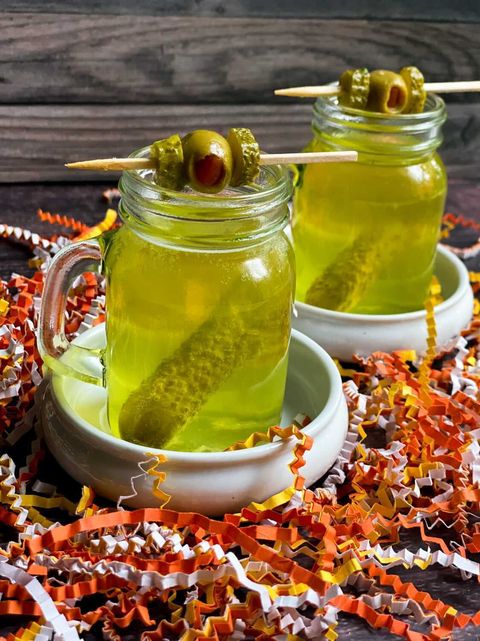 Mysterious Aviation Shot
Purple, gold, and oh so pretty! This unique and festive shot is just magical. It's made with color-changing gin (Empress Gin!)
This is a twist on a traditional drink, the Mysterious Aviation shot can be shaken up quickly and topped with fun edible sprinkles.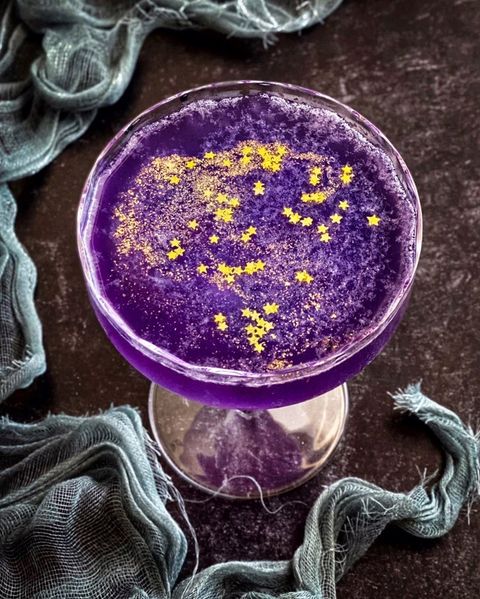 Whiskey Cider Harvest Moon
To round out our Halloween Cocktail lineup, this cider and cinnamon-spiced whisky shooter is warm, comforting, and perfect for the whole fall season.
Whiskey Cider Harvest Moon is a classy, elegant shot that will impress your guests and keep them happy all Halloween!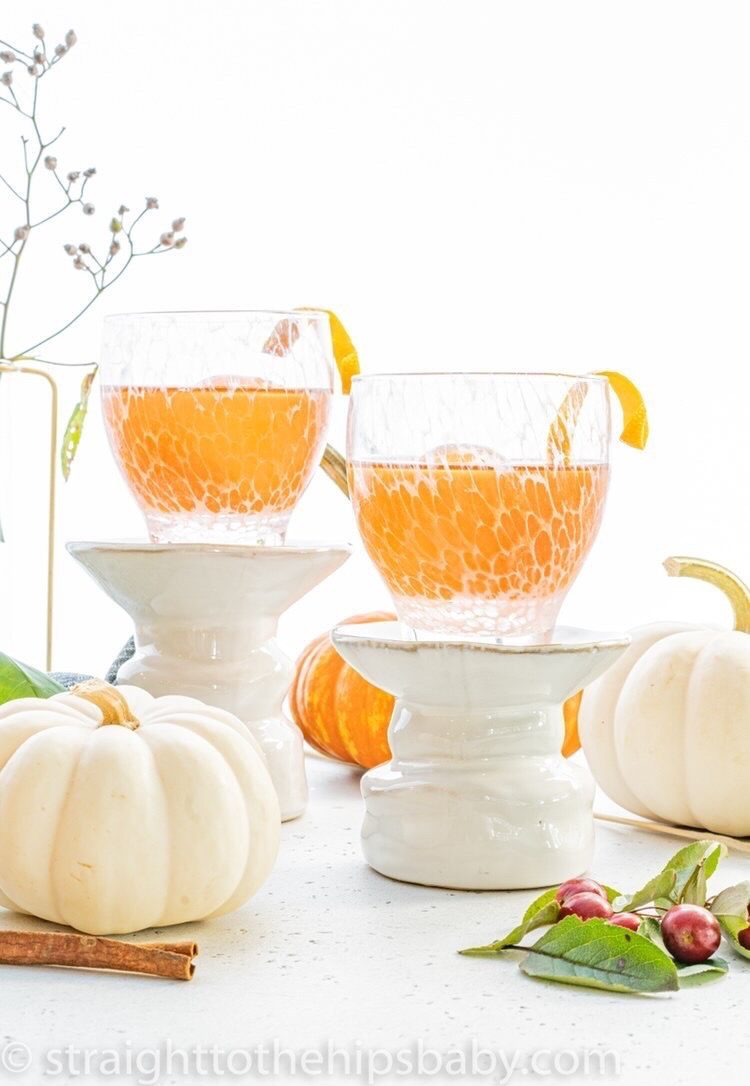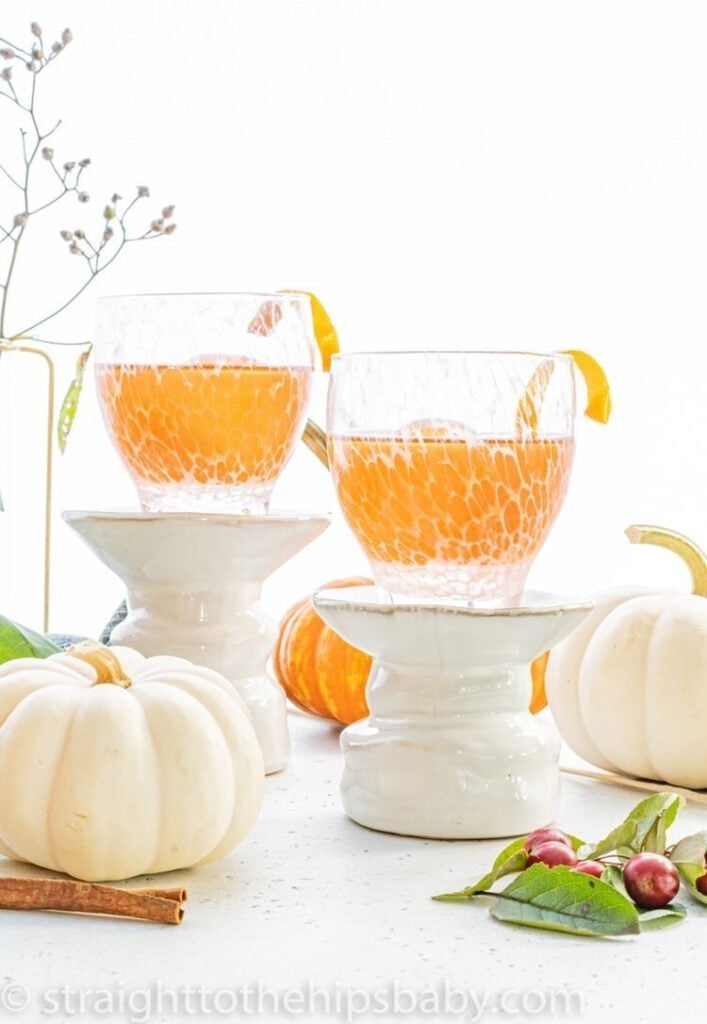 📖 Recipe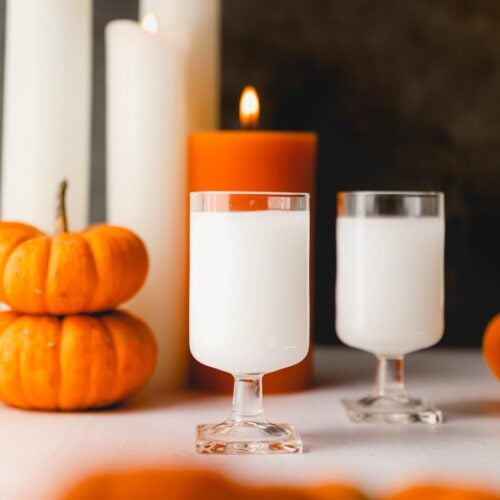 Sparkling Arak Cocktail
A licorice-flavored liquor from Lebanon is a fun color-changing spirit that with a splash of water turns from clear to white! Make this at home today...
Print
Pin
Rate
Ingredients
4

oz

Arak liqour

2

oz

sparkling water

2

oz

simple syrup

1

tablespoon

pomegranate syrup (optional)
Instructions
In a large cup or small pitcher combine sparkling water, simple syrup, and pomegranate syrup. Stir to combine.

Fill 4 shot glasses with 1 oz of Arak in each glass.

Top with the sparkling water mix and watch the color change from clear to white!