Stumped on what to bring to a game day party, backyard cookout, or literally, ANYWHERE appetizers are served? Well, these super crispy, Air Fryer Jalapeno Poppers with Bacon should be the answer.
The cream cheese filling along with crispy bacon, everything bagel seasoning, and a crunchy breadcrumb topping is the perfect flavor bomb. This jalapeno popper reecipe is done in less than 10 min, so let's make it!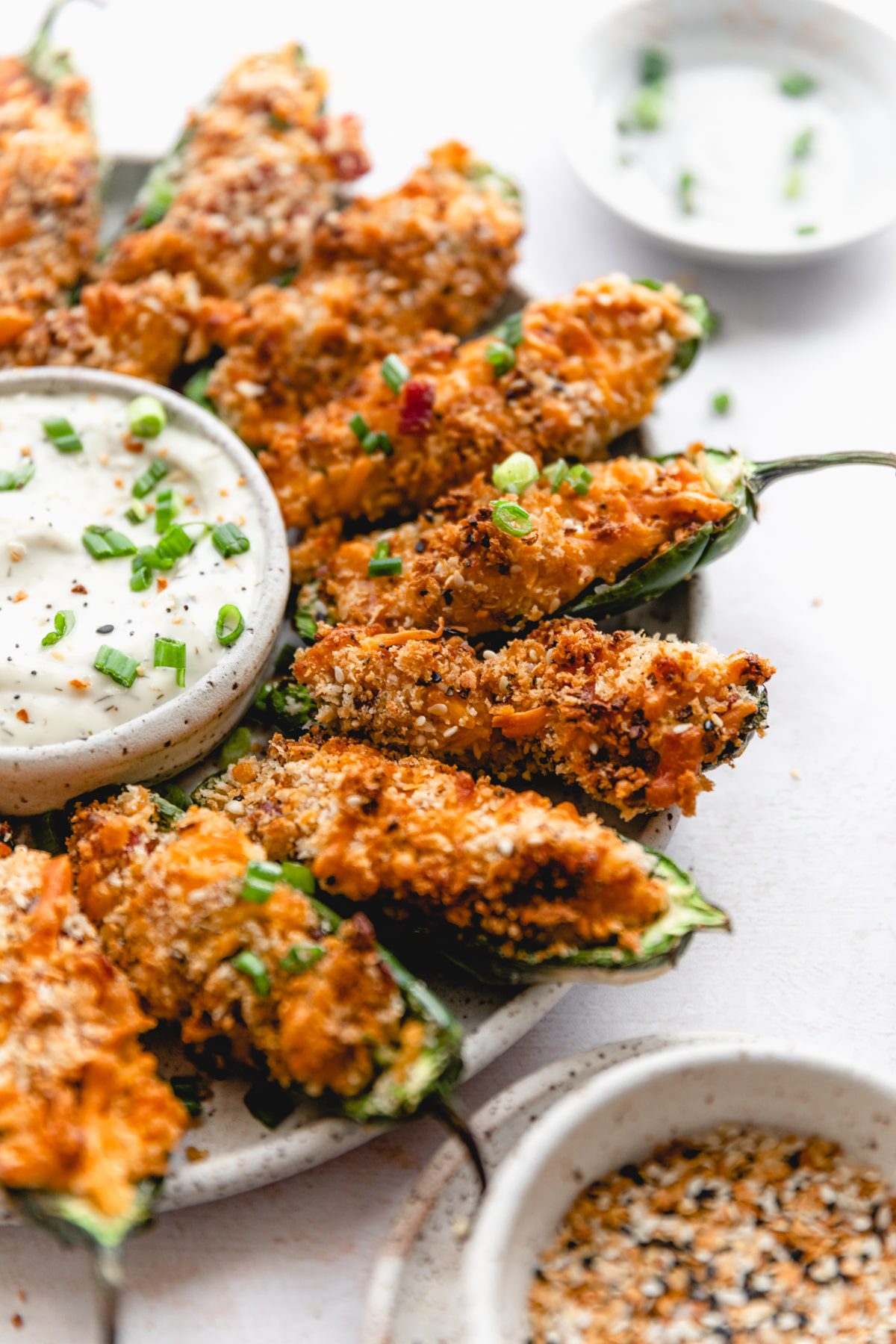 Jump to:
Stuffed Jalapeno Popper Ingredients
This poppers recipe begins with the easy cheese filling. A blend of 2 kinds of cheese, bacon, and green onion ends up being a melty, irresistible bite every time. Here's what you'll need...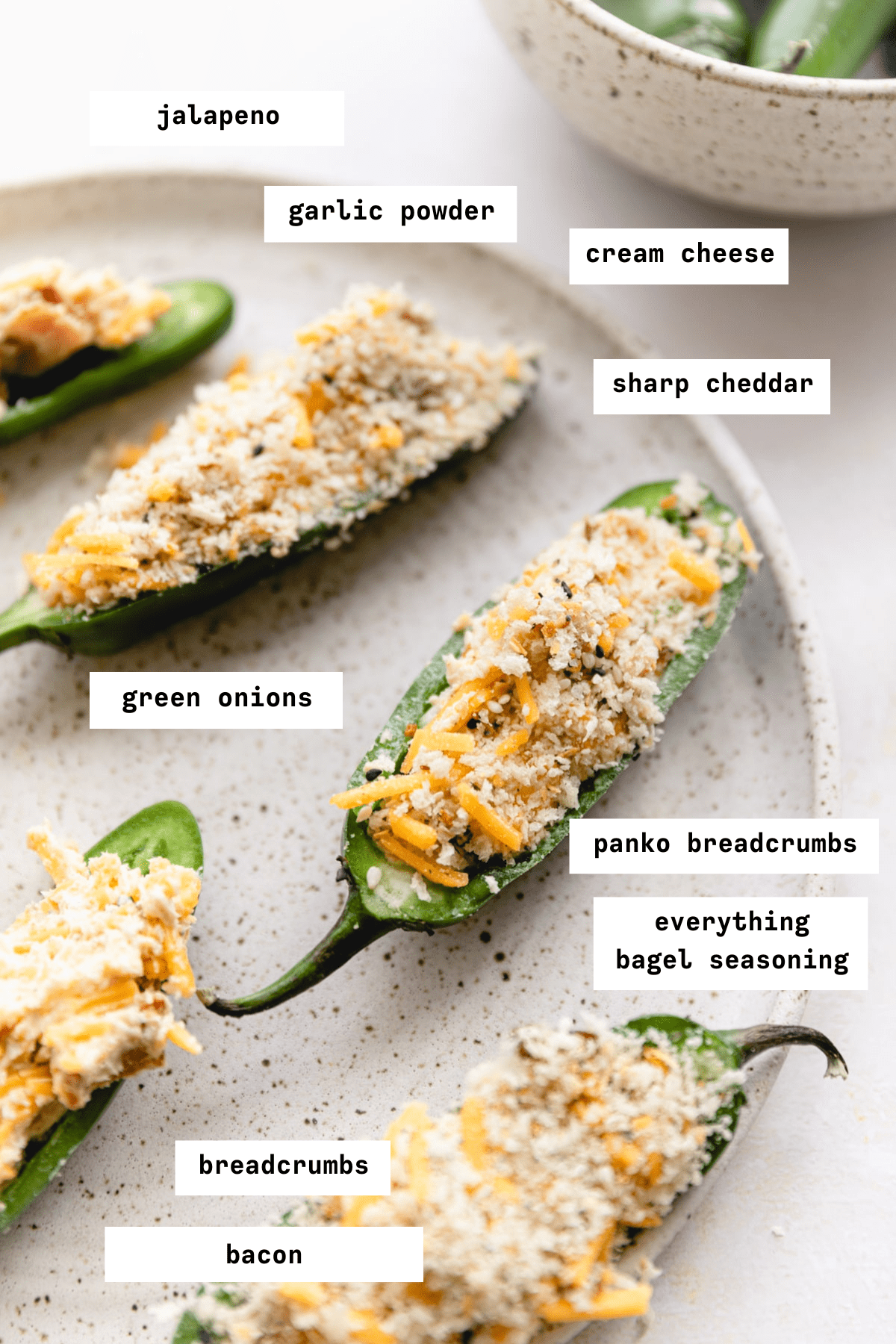 Jalapenos - I like to choose large jalapenos for this, so I can fit TONS of cheesy filling inside.
Sharp Cheddar Cheese - get the pre-shredded cheddar to make your life easier
Cream Cheese - make sure this comes to room temperature before mixing up the filling.
Bacon - you could also swap in bacon bits here to cut down on cook time. You could also make these air fryer jalapeno poppers with no bacon.
Everything Bagel Seasoning - this seasoning mix has salt, pepper, and tons of other flavors that pair so nicely with the air fryer poppers.
Green Onions - every jalapeno popper needs a burst of freshness to it, the green onions are perfect!
Garlic Powder - just to amp up the flavor all around in this dish.
Panko Breadcrumbs - I like to use a half and half mix of breadcrumbs to create a unique texture
Regular breadcrumbs
This list of simple ingredients comes together in a snap to make our air fryer jalapeno poppers!
Choosing Your Jalapenos
Make a careful selection at the store when choosing jalapenos for your poppers. You want large, round jalapenos that can hold a lot of the filling.
When you get home with your jalapenos, they are super easy to prep! Just simply slice in half and use a spoon to scoop out the seeds.
Then immediately wash your hands! You don't want to find out the hard way why this is necessary...
Step By Step Instructions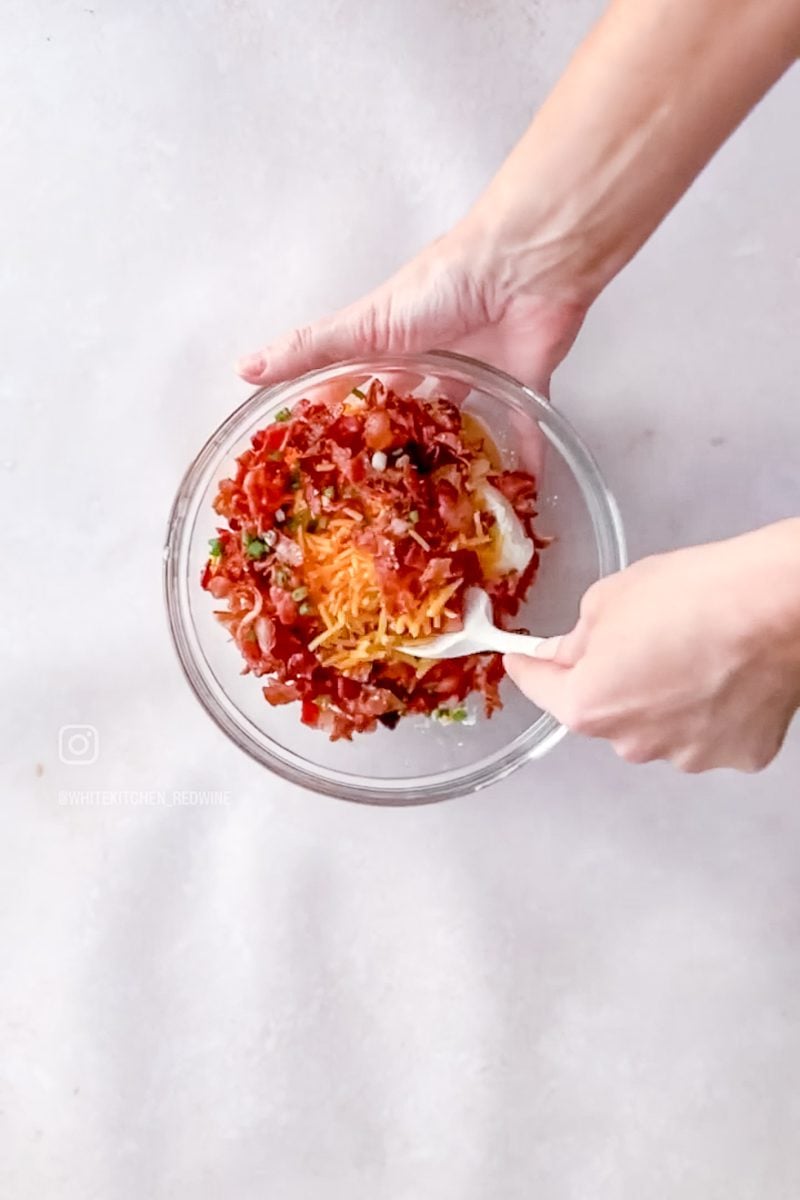 Combine the cream cheese, cheddar cheese, everything bagel seasoning, ½ of the green onions, and garlic powder using a hand mixer.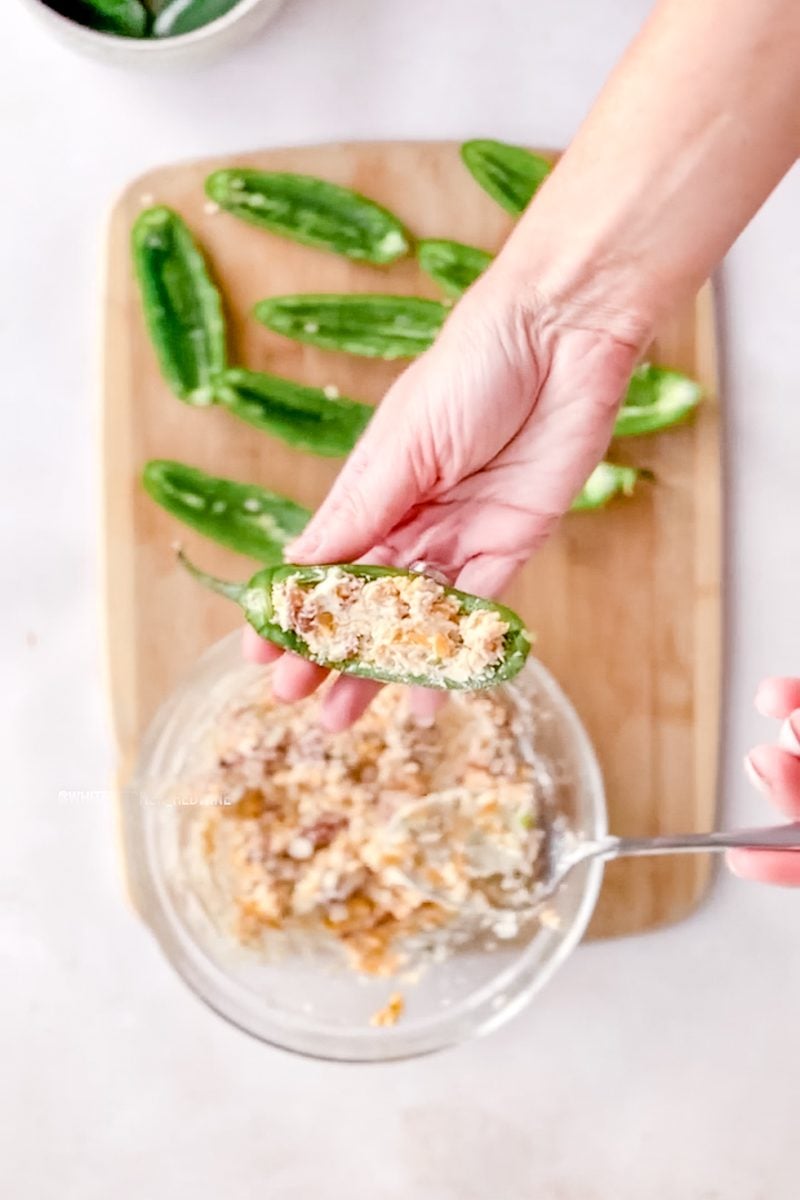 2. Cut the jalapenos in half and scoop out the seeds. Fill them wtih a spoonful or two of the cream cheese mixture.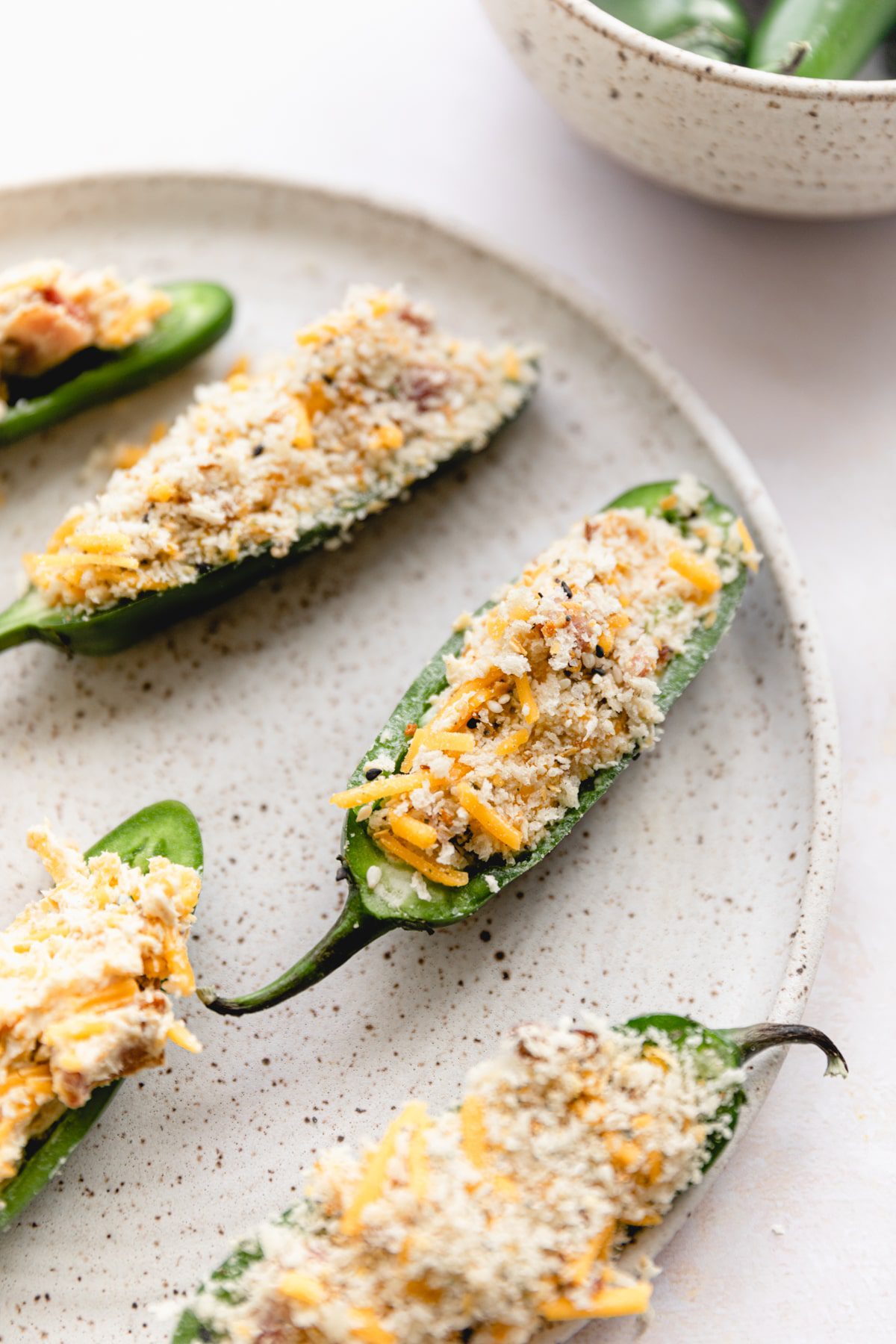 3. In a small bowl mix together the breadcrumbs & top the jalapeno poppers with the breadcrumb mix.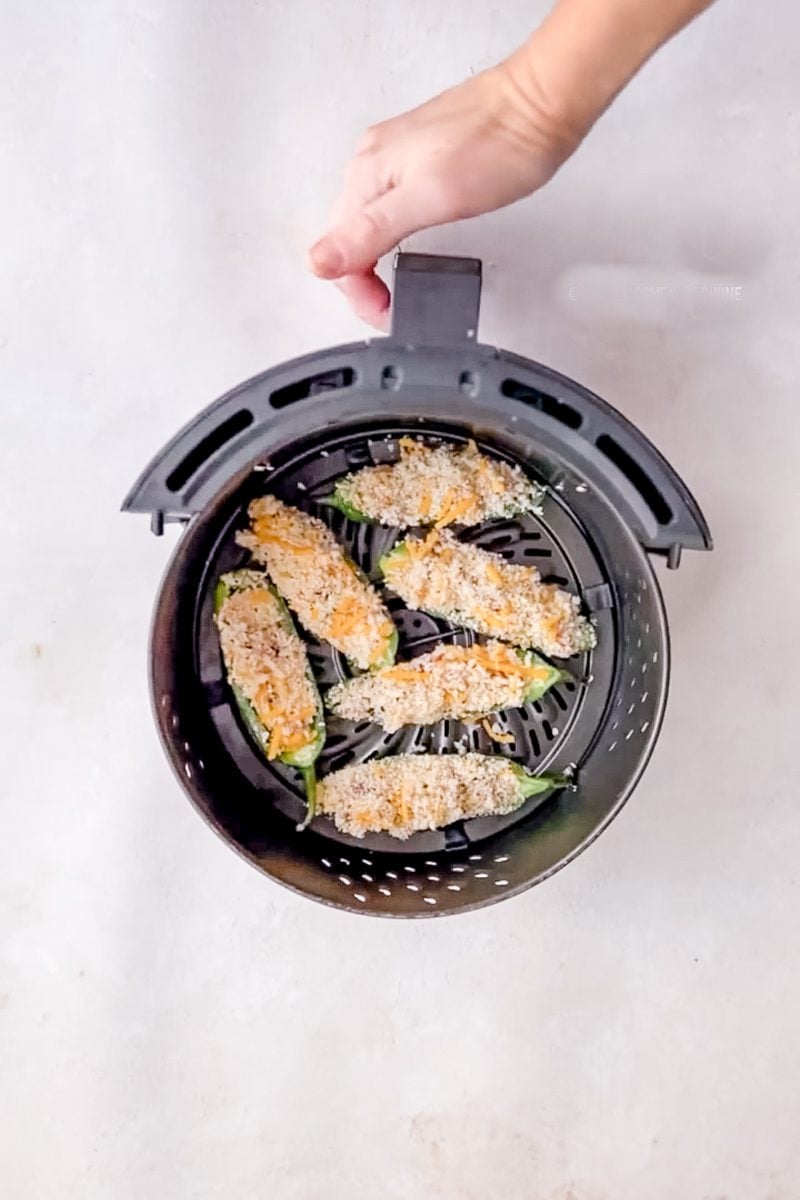 4. Place some of the jalapeno poppers in air fryer and air fry at 375 for 5-7 minutes.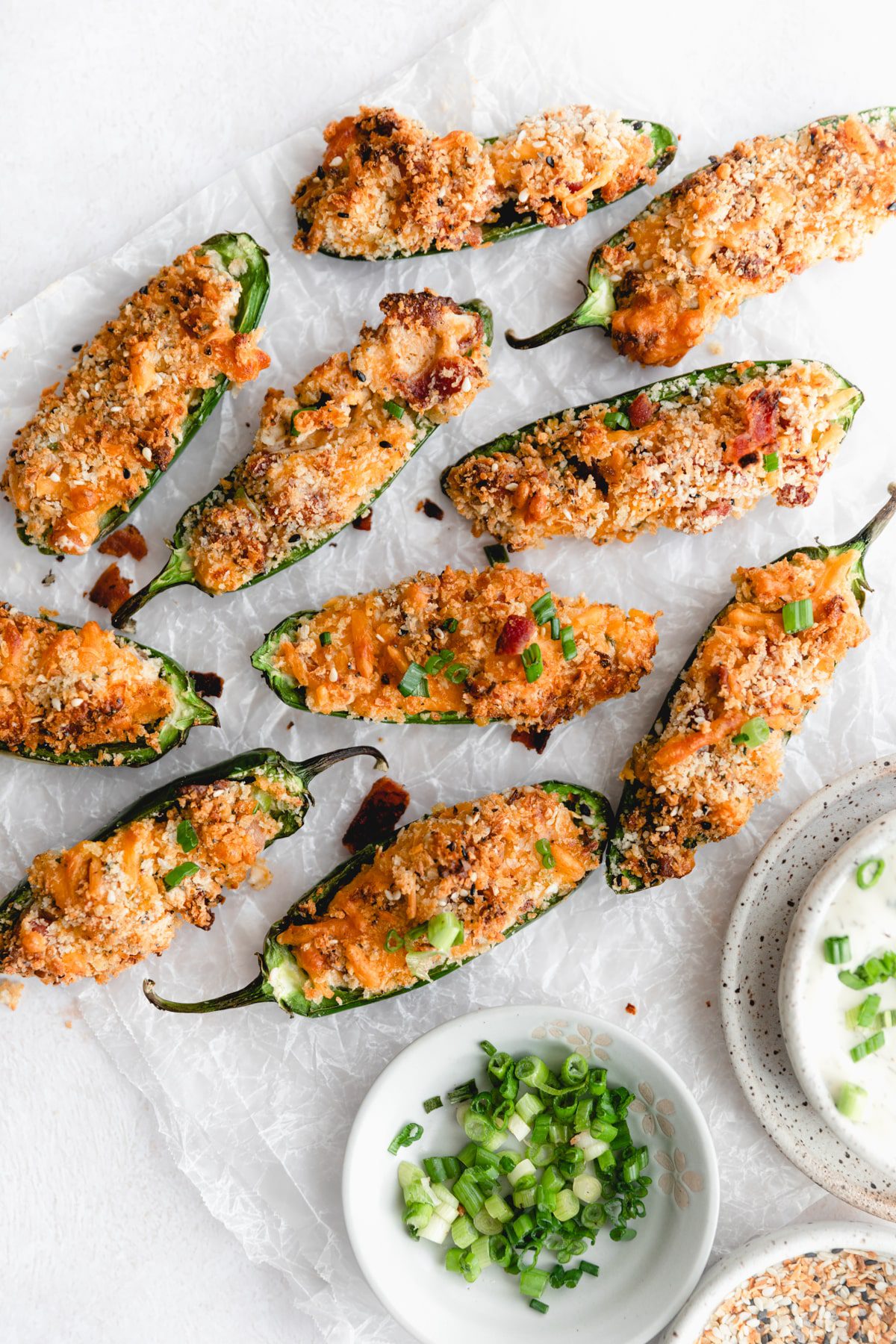 5. Finish the poppers with the remaining green onions and enjoy! 
How Long Does it Take To Cook Air Fry Jalapeno Poppers?
So once we've stuffed topped our jalapeno poppers, it's time to air fry them. The short amount of time it took for these stuffed jalapenos to get tender and melty actually surprised me!
7 minutes in the air fryer basket is all it took to get that perfect, poppable bite. The cheese was melted, the breadcrumb topping was browned, and the jalapenos got perfectly tender.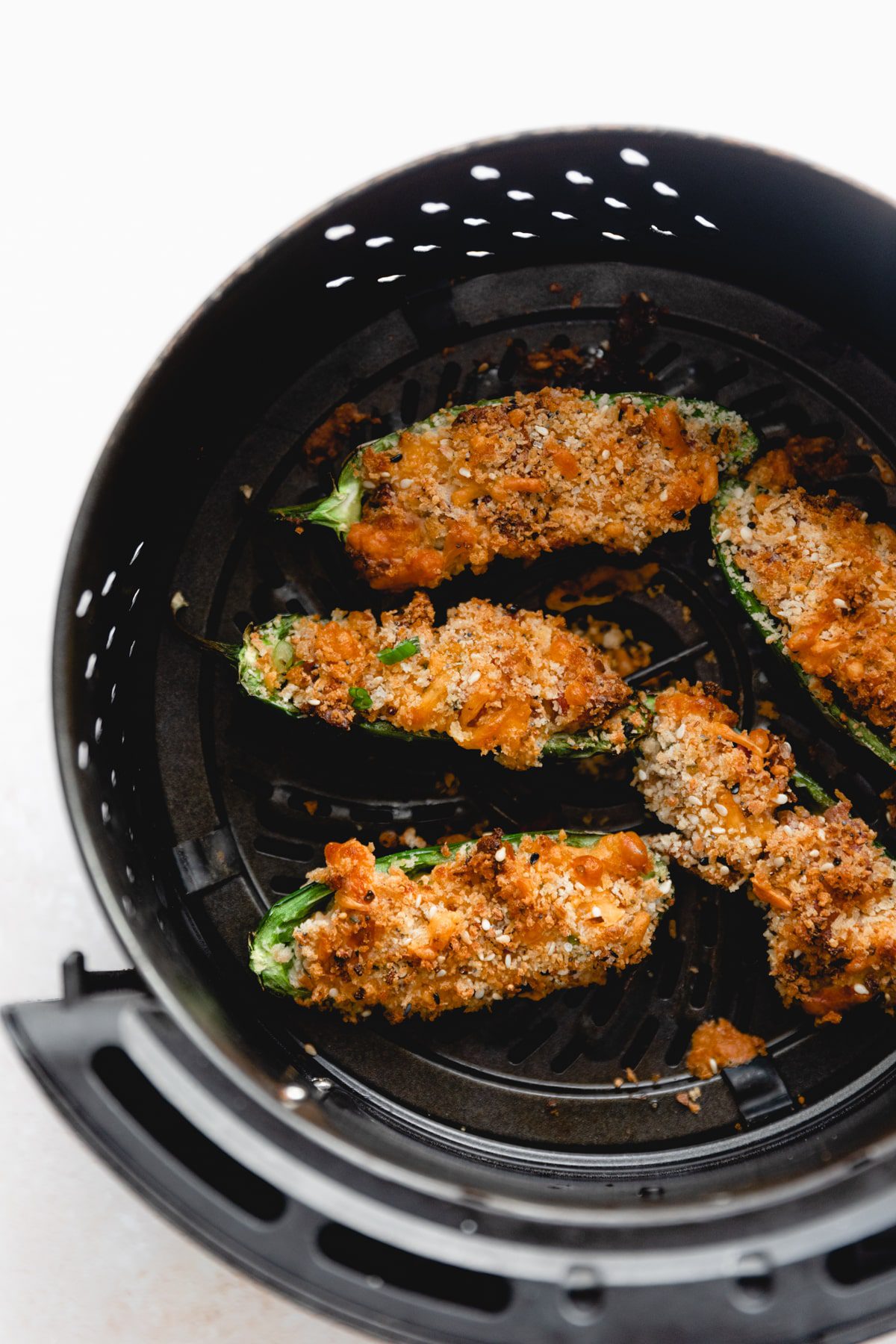 Pro Tip! Why use an air fryer? I love using the air fryer for these poppers because it saves me from heating up the whole oven. It cooks them quicker because there is less space to heat up and the air is circulating all around them, cooking them faster!
FAQ
Are Jalapeno Poppers Keto? 
If you are looking to make keto air-fried jalapeño poppers, then omit the breadcrumb topping. You will still get to enjoy a fantastically melty popper with lower carbs. 
How Do You Get The Breading To Stick to Jalapeno Poppers?
 I like to turn my poppers over and press them gently into the bowl of breadcrumbs to ensure that the topping sticks to the cheese! 
Can you make frozen jalapeno poppers in the air fryer?
While I wouldn't reccomend freezing this specific recipe, if you want to cook a pre-made frozen jalapeno popper in the air fryer, it's totally doable! 
Can you wrap the poppers in bacon? 
YES! If you want bacon wrapped jalapeno poppers, skip adding it to the filling and just wrap a strip of bacon around each popper. Air fry until the bacon is nice and crispy. 
How Do I Prep Bacon For Jalapeno Poppers?
 I love using freshly made bacon for this. Something about the way it still has that grease and crispness to it just elevates this appetizer. I typically cook my bacon in a cast-iron skillet. However, if you want a no-mess way to prep bacon, line a sheet pan with foil and cook it in the oven for 10-15 minutes until crispy!
How Do I Store Air Fried Jalapeno Poppers?
I would put them in an airtight Tupperware for up to 3 days. Pop them back in the air fryer to reheat or if you don't mind the top not being as crunchy you can microwave for 30 seconds. 
What Sauces To Serve with Air Fried Jalapeno Poppers?
Like any fried appetizer, these poppers are just begging to be dipped into something. While delicious and rich on their own, I'll give you some suggestions of dips to go along with them!
Ranch (I used a dill ranch with these!)
BBQ sauce
Raspberry jam (for a delicious salty/sweet combo)
Cilantro lime crema
Substitutions
Here are some things that might help you along in your delicious jalapeno popper journey! If you come across something I didn't cover, drop your questions in the comment box at the end of the blog!
Can I Use Bacon Bits?
Yes, swap in bacon bits if you are in a crunch for time or just don't want to go to the hassle to prep your own bacon.
You could also even lighten these up a bit by using turkey bacon to create these loaded poppers.
Can You Cook These Without An Air Fryer?
Yes, you can! They might not get as perfectly crispy on top, but by popping them in your oven set to "convection bake" it should give the same effect.
Set the oven to 375 on the convection setting and put them on a sheet tray in the oven for 7 minutes!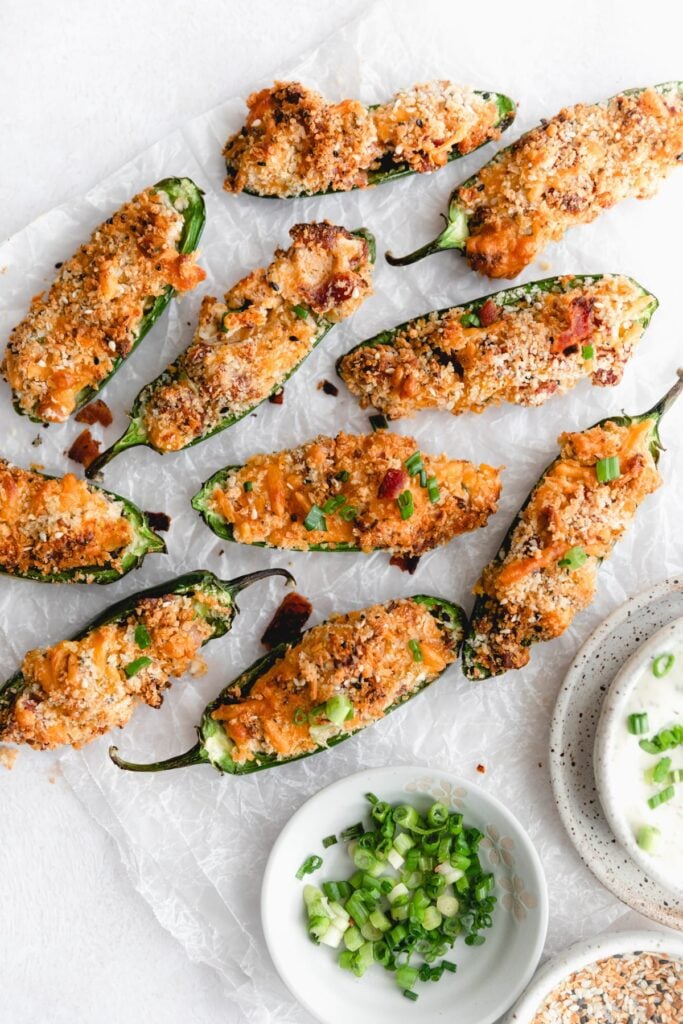 More Air Fried Snack Ideas
If you loved this easy air-fried jalapeno popper with bacon, you are going to LOVE my other air-fried snack recipes...
So break out that air fryer and let me know if you enjoyed the recipe! Share on social media or leave a review below!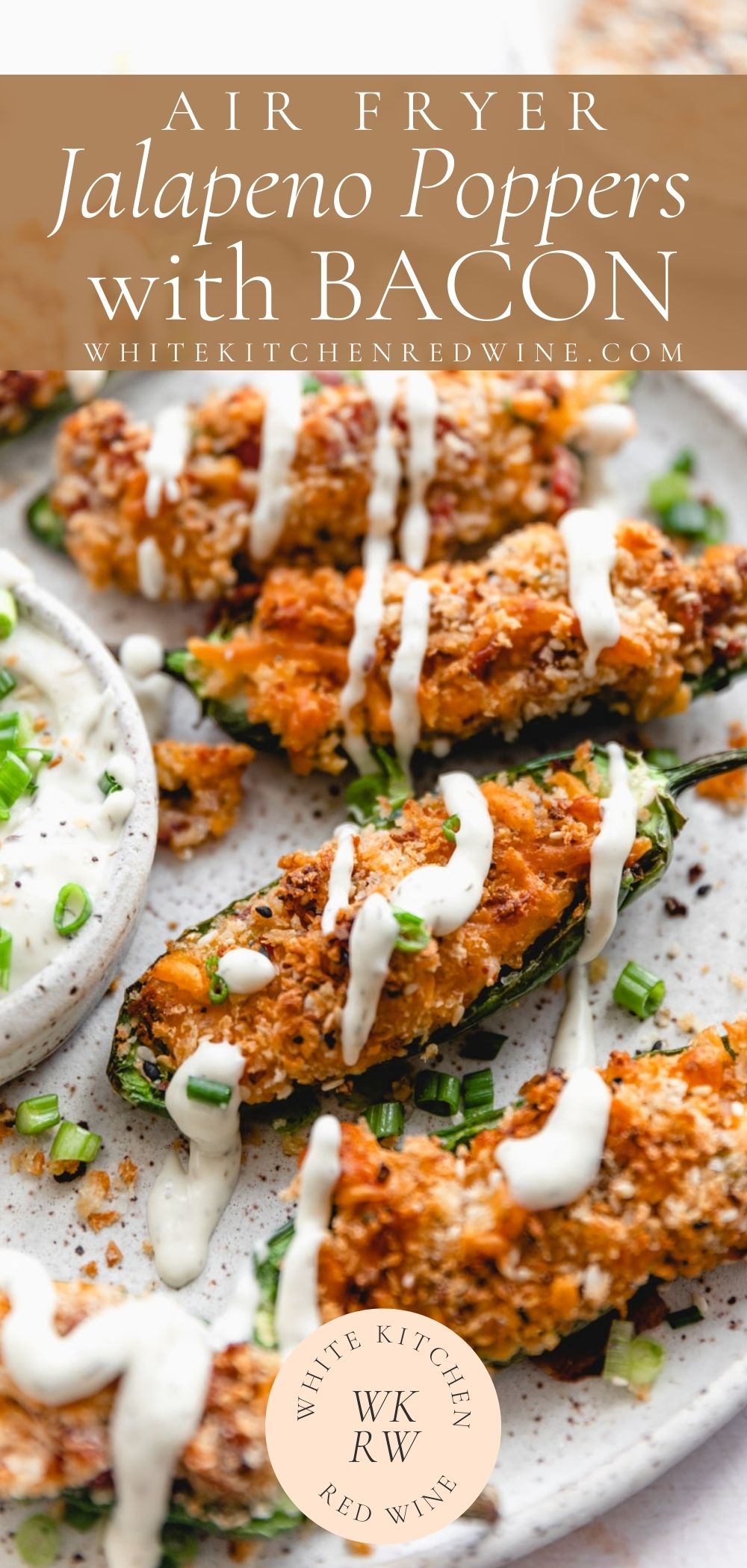 📖 Recipe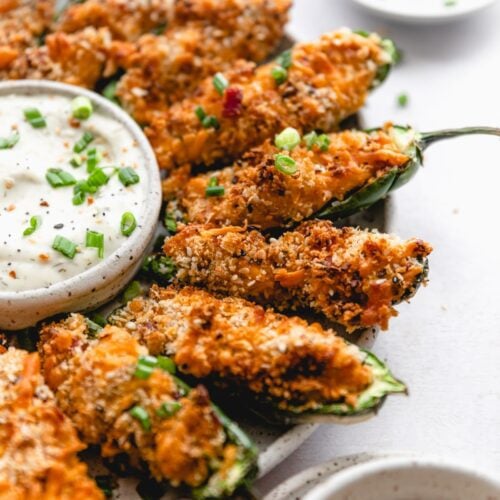 Delicious and Simple Air Fryer Jalapeno Poppers
An easy, quick appetizer idea! These Air Fried Jalapeno poppers feature a bacon, cream cheese filling and are topped with crunchy breadcrumbs and green onion. A flavor explosion in every bite.
Print
Pin
Rate
Ingredients
12

jalapenos

sliced in half and seeds removed
Cream Cheese Filling
1

cup

sharp cheddar cheese

8

oz

cream cheese

softened

8

strips of bacon

1

tablespoon

everything bagel seasoning

4

green onions

sliced

1

tablespoon

garlic powder

¼

cup

sharp cheddar cheese
Breadcrumb Topping
1

tablespoon

everything bagel seasoning

½

cuppanko breadcrumbs

½

cup

regular breadcrumbs

½

cup

ranch for serving (if desired)
Instructions
First prepare the bacon. Heat a cast iron skillet over medium heat and cook for 2-3 minutes each side until crispy. Set aside.

In a large mixing bowl combine cream cheese, cheddar cheese, diced bacon, everything bagel seasoning, ½ of the green onions, and garlic powder.

Mix by hand or with a hand mixer until fully combined.

Take each jalapeno half and generously fill it. Repeat until they are all filled.

In a medium mixing bowl combine all breadcrumb topping ingredients. Stir well.

Take each jalapeno half and press the cheese filled side into the mixture. Then turn it over and sprinkle additional topping on until all the cheese is covered.

Repeat for each jalapeno popper.

In batches, at 375 air fry the jalapenos for 5-7 minutes. Repeat until all are fried.

Top with the remaining green onion and enjoy!