Air Fryer Brussel Sprouts with Balsamic and Bacon
These are NOT your mama's boiled Brussel sprouts. Forget what you thought you knew about cooking sprouts and check out these delicious, Crispy Air Fryer Brussel Sprouts with Bacon and Balsamic.
This recipe has crispy pancetta and tangy balsamic vinegar tossed with the fried Brussel sprouts and I could argue that it rivals any you've had at a restaurant!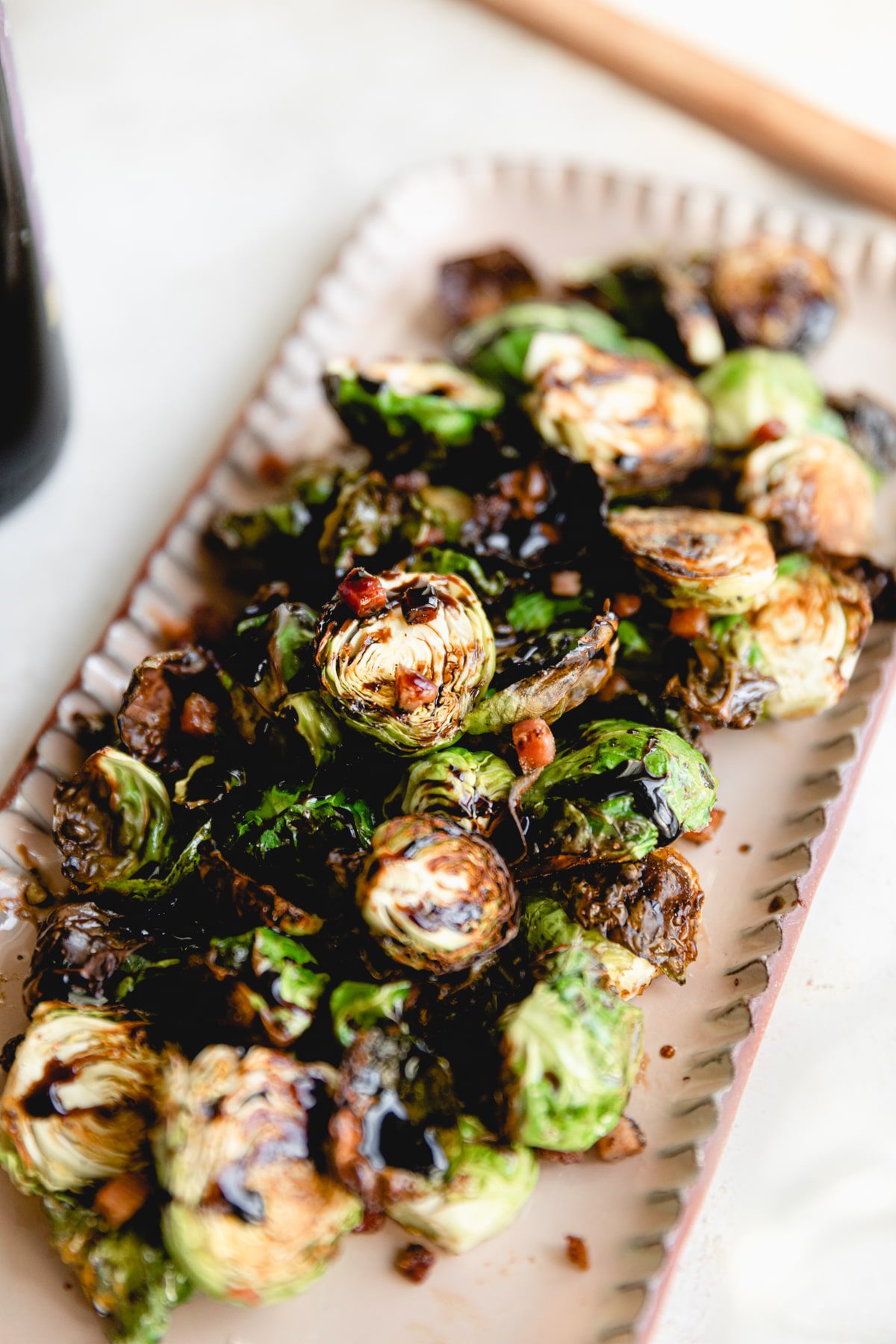 Why You Need To Give Brussel Sprouts Another Chance
Brussel sprouts notoriously get a bad rep. They smell horrible when boiled, are mushy, and, look like tiny little cabbages. Honestly, I can't blame people for not enjoying them...
But I'm here to encourage you to try them again! They have this deliciously "funky" taste kind of like cabbage or kale. Especially when fried up nice and crispy.
They have tons of health benefits such as being high in fiber and minerals but low in calories. They also are a terrific source of antioxidants that can potentially reduce inflammation.
Ingredients Needed...
For these Brussel sprouts with bacon and balsamic, the ingredient list is simple...
brussel sprouts
pancetta, chopped
good quality balsamic vinegar
salt and pepper
garlic powder
olive oil
Now you've rounded up your ingredients let's talk about the best way to cook them.
Best Ways To Cook Brussel Sprouts
There are tons of ways to enjoy a brussel sprout. Obviously, we're going to avoid mushy cooking methods like boiling or steaming. But here are some options for a deliciously crisp Brussel sprout...
Pan-Fried
A very simple way to get a good sear on the sprouts is using a cast-iron skillet to pan-fry them. You just need a drizzle of oil. Cut the sprouts in half and toss them in the skillet. Let them sit, not stirring them until the one side is crispy and browned.
Toss them around and let each side get brown over medium-high heat and then enjoy!
Air Fried Brussel Sprouts
My personal favorite, air frying! It gets each little leaf of the sprout crispy and doesn't require you to stir them around or keep an eye on them. Just add a drizzle of cooking oil and air fry!
Another air-fried brussel sprout recipe is my delicious Air Fried Ceasar Salad!
How To Cook Frozen Brussel Sprouts
So this is an option if you are in a crunch and cannot find fresh sprouts. They aren't the same texture-wise to a fresh sprout but by roasting them on a sheet pan in the oven, you can still get a yummy browned outside!
Roasted Brussel Sprouts
Lastly, sheet pan roasted Brussel sprouts are another easy way to enjoy them for a side dish at dinner. This way takes the longest but still can get you those crispy edges while not having to babysit a skillet on the stove.
If you enjoy roasting Brussel sprouts you would LOVE this Roasted Ranch Brussels and Chickpea sheet pan side dish.
Tips For The Crispiest Brussel Sprouts
So here are my tricks for getting great crispy Brussel sprouts with bacon and balsamic. It's not difficult at all but here are some things to keep in mind.
It's ok to have some leaves fall off! Those stray leaves get extra crispy and add tons of flavor to the dish
Chop into halves or fourths to ensure the sprout cooks all the way to the center in the air fryer.
Drizzle with a bit of olive oil or spray with cooking spray before frying.
Make sure they are dried off from any water going into the air fryer so you don't accidentally end up steaming them.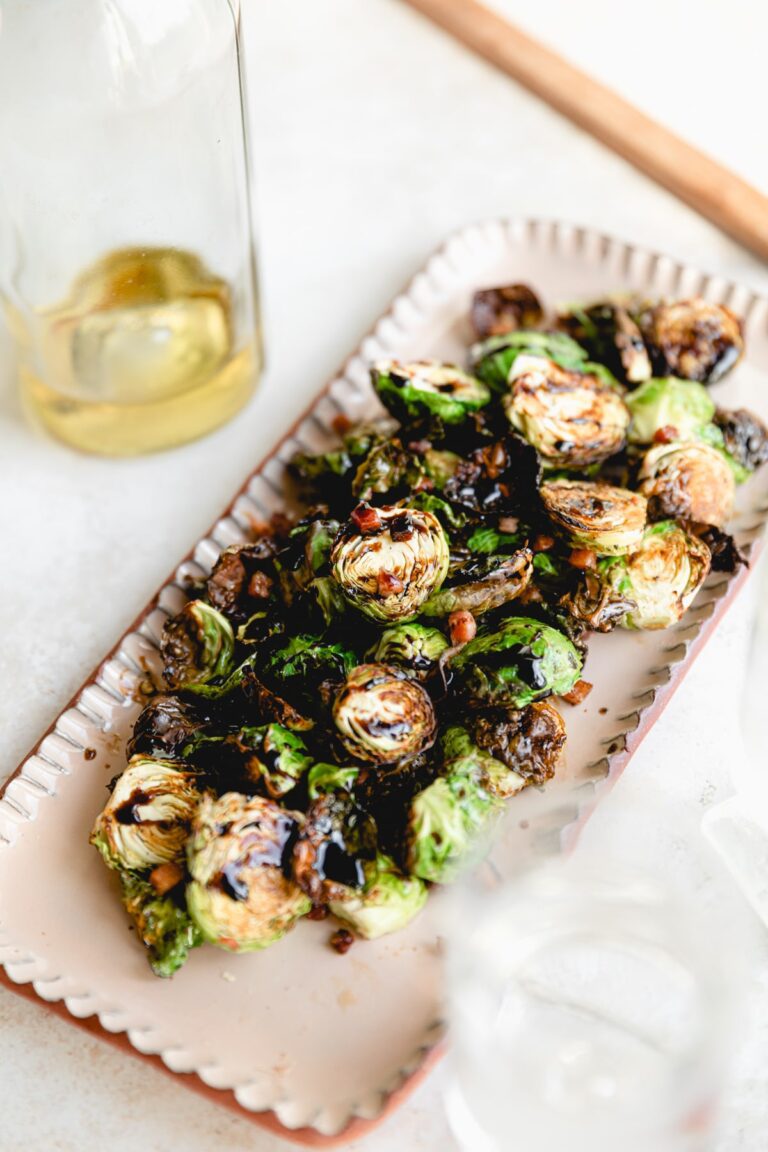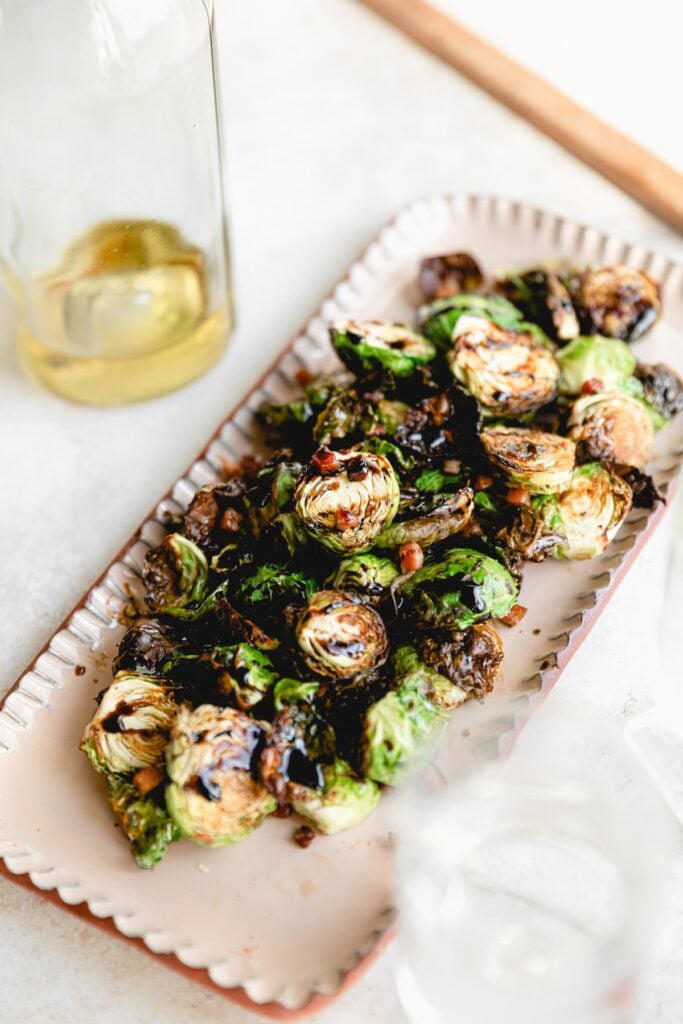 What To Serve with Air Fried Brussel Sprouts
These are a great side dish to go with almost any protein! From salmon to steak, the savory balsamic and bacon are rich without being overpowering.
Storing and Reheating
To store these air fryer brussel sprouts with bacon and balsamic (if there is any leftover...) simply place in an air tight tupperware container.
To reheat them, spread in an even layer and pop them back into the air fryer, a skillet, or even a sheet tray and reheat until warmed all the way through. Typically around 300 degrees for about 5-7 minutes.
📖 Recipe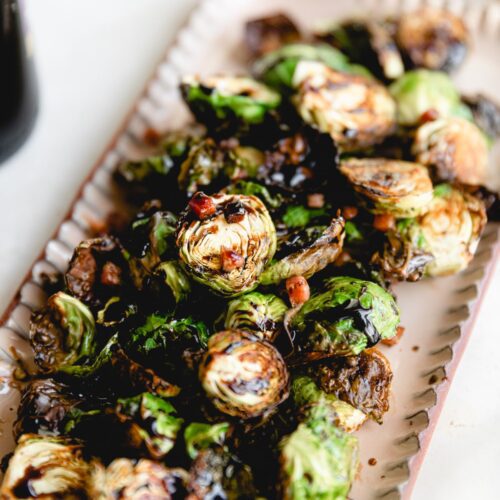 Crispy Air Fried Brussel Sprouts with Bacon and Balsamic
Deliciously easy fried Brussel sprouts tossed with a rich balsamic vinegar and crispy pancetta bacon bits. It's quickly made in the air fryer and perfect for a weeknight dinner side dish.
Share by Text
Print
Pin
Rate
Ingredients
12

oz

bag of brussel sprouts

½

cup

pancetta bacon

chopped (or regular bacon chopped into small pieces)

¼

cup

good quality balsamic vinegar

1

teaspoon

salt

½

teaspoon

pepper

1

tablespoon

garlic powder

1

tablespon olive oil

balsamic glaze for garnish
Instructions
Prepare the brussel sprouts by trimming the ends off and cutting in half or fourths. Keep any stray leaves (except if they are brown) and place into a mixing bowl.

Toss the brussel sprouts with olive oil, salt, pepper, and garlic powder.

Place sprouts into the air fryer basket and fry at 400 degrees for 5 minutes.

After 5 minutes, take the basket out and add the balsamic vinegar in along with the pancetta pieces.

Toss together and air fry for another 5-6 minutes until crispy and brown.

Remove and plate, then drizzle with a balsamic glaze if desired