Back pocket fancy meals are some of my all time favorite recipes. Meals that you want to make when you want someone to feel special and show them you care! What says that better than a perfectly cooked steak and sauce? This Flank Steak with Olive and Artichoke Tapenade is perfect for that!
Well this recipe doesn't have a "sauce" per say, but it does have a delicious tapenade made from briny olives and marinated artichokes. It is simple but the savory olive tapenade goes so well with the rich steak!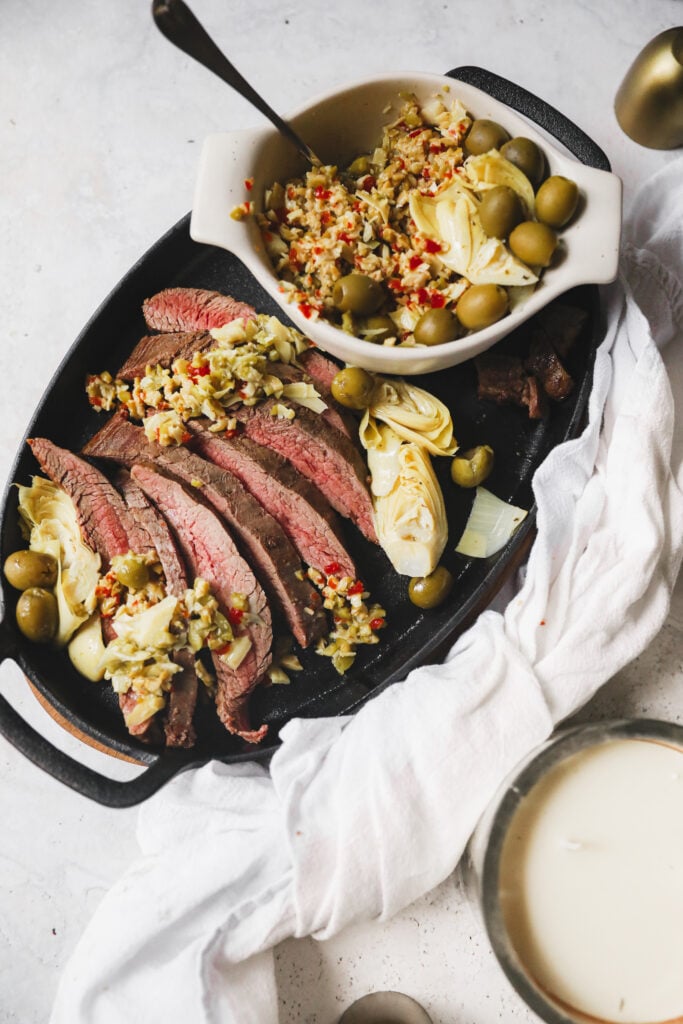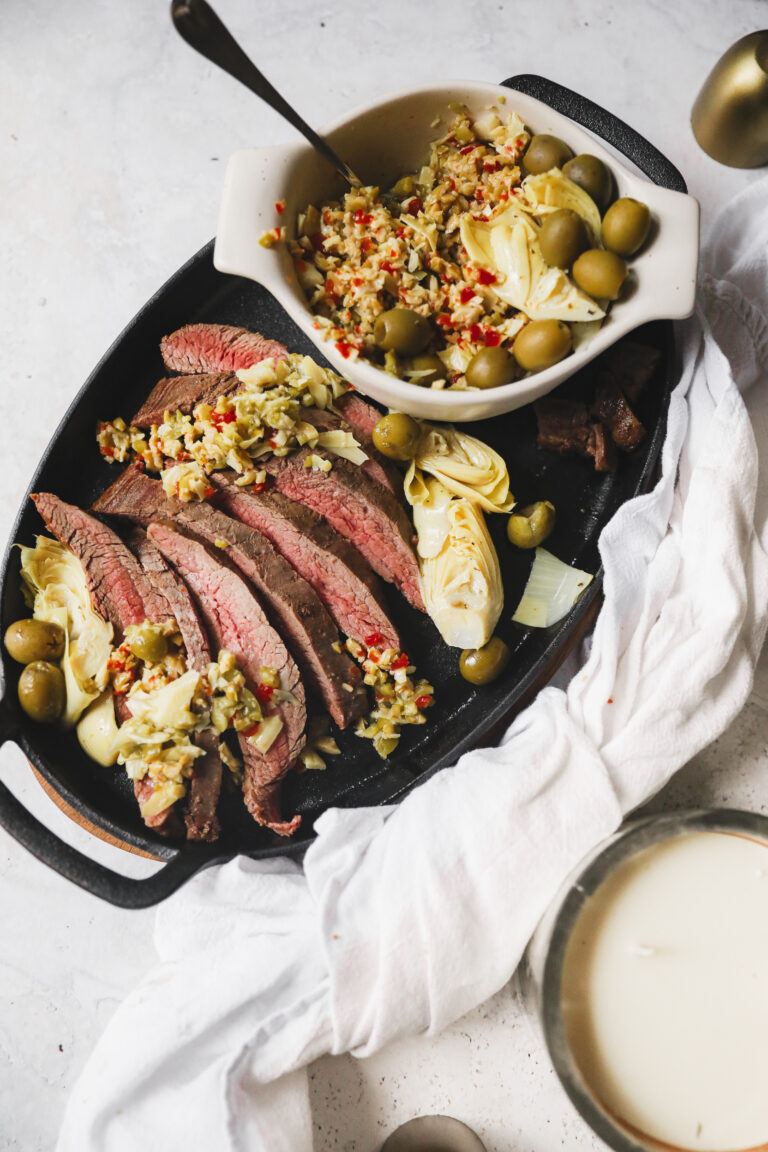 What Olives To Use In Tapenade?
A tapenade is a mixture of pulverized olives and is salty + delicious! I chose to use my favorite olives with the pimento in them. They are very salty so I also added equal amount of canned olives from Trader Joes.
These were a bit sweeter and had no pimento. Then to that I also added some Trader Joes Marinated Artichokes!
It adds another mellow flavor to the tapenade to help balance out the bold olives. I spread this thinly over my steak and oh wow was it good!
Uses For Tapenade
Use up the leftover tapenade as a dip with crackers, spread on toast, or by the spoonful! Since these ingredients were already jarred, it lasts a long time in the fridge.
I really loved pairing it with the steak because one of my favorite things with steak is my chimichurri sauce. This reminds me a bit of that because how acidic and salty it is!
I think it's a great combo! If you need a good flank steak recipe this is what I used! ⬇️
Simple Flank Steak
1 flank steak
salt + pepper
1 tablespoon soy sauce
Bring your steak to room temperature by setting it on a plate for at least 15 minutes. Season with salt and pepper.
In a cast iron skillet over medium high heat, sear the flank steak on one side for about 5 minutes. Add a dash of soy sauce to the side that is facing up.
Flip the steak and continue cooking it for an additional 5 minutes or until your desired doneness.
Remove and let rest for 5 minutes.
Slice against the grain and serve with the Olive Artichoke Tapenade!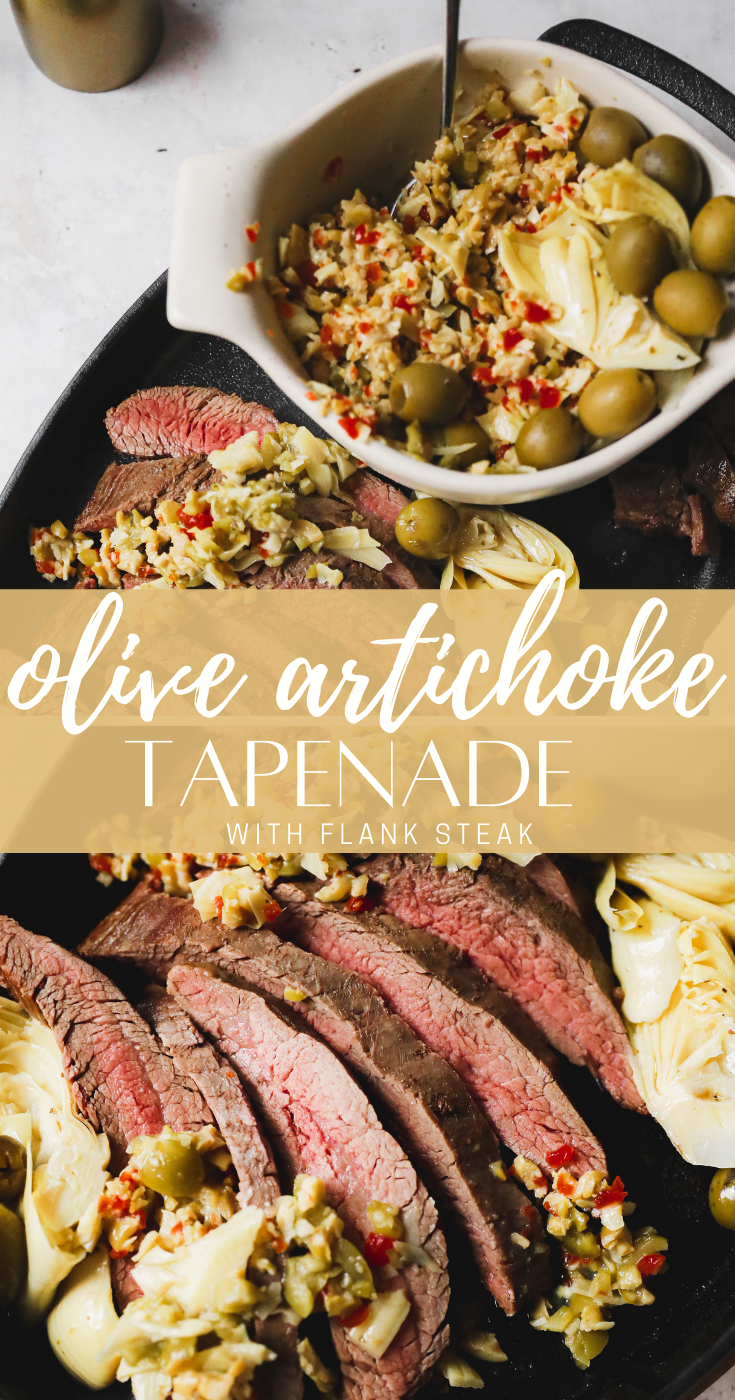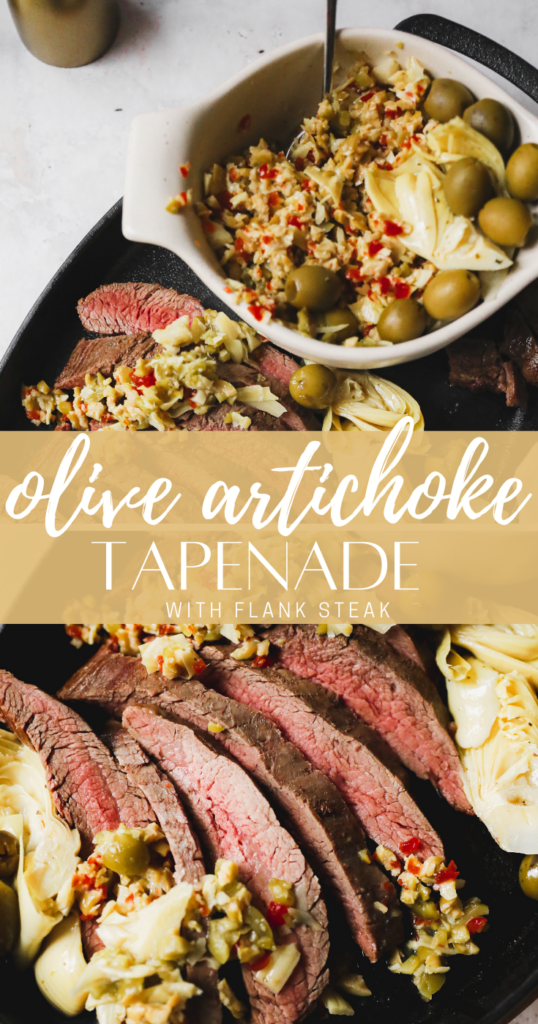 📖 Recipe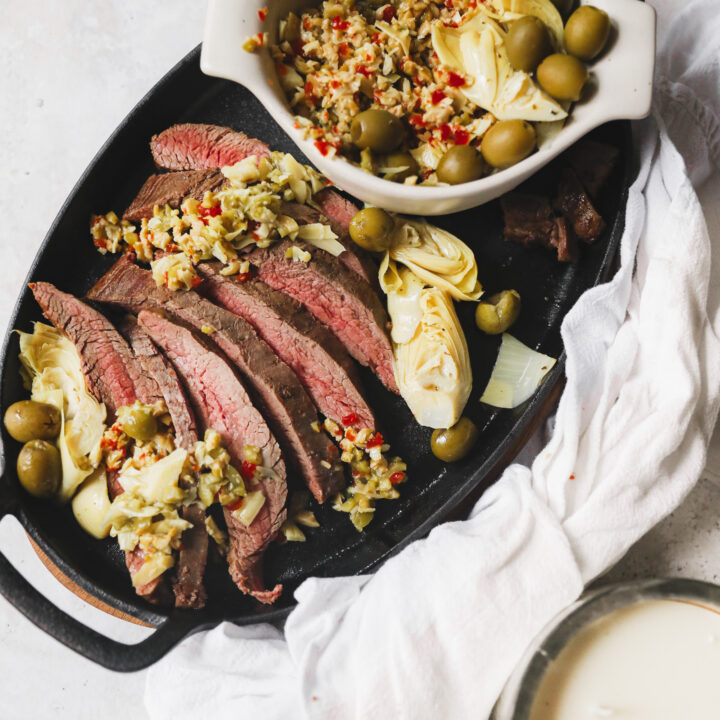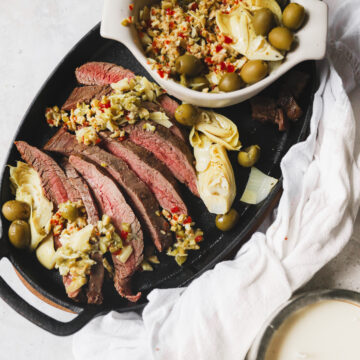 Olive and Artichoke Tapenade
simple and easy to make tapenade using jarred olives and marinated artichokes!
Print
Pin
Rate
Ingredients
½

cup

olives stuffed with pimento

½

cup

olives from a can (these usually aren't as briny!)

½

cup

marinated artichoke hearts
Instructions
Drain olives and artichokes then add them to a food processor

In a food processor pulse all ingredients until it forms a fine, chopped texture.

I like to serve this over a flank steak cooked to medium rare!