Do you ever just crave a good burger? Do you want to be done with dinner in 30 minutes? Yes & YES! This 30 Minute Meal: Loaded Burger Bowl is so satisfying and totally hits the spot if you are craving a big juicy burger! Using ground turkey instead of beef gives this burger bowl its healthy twist and if you load it with veggie toppings it's basically a salad...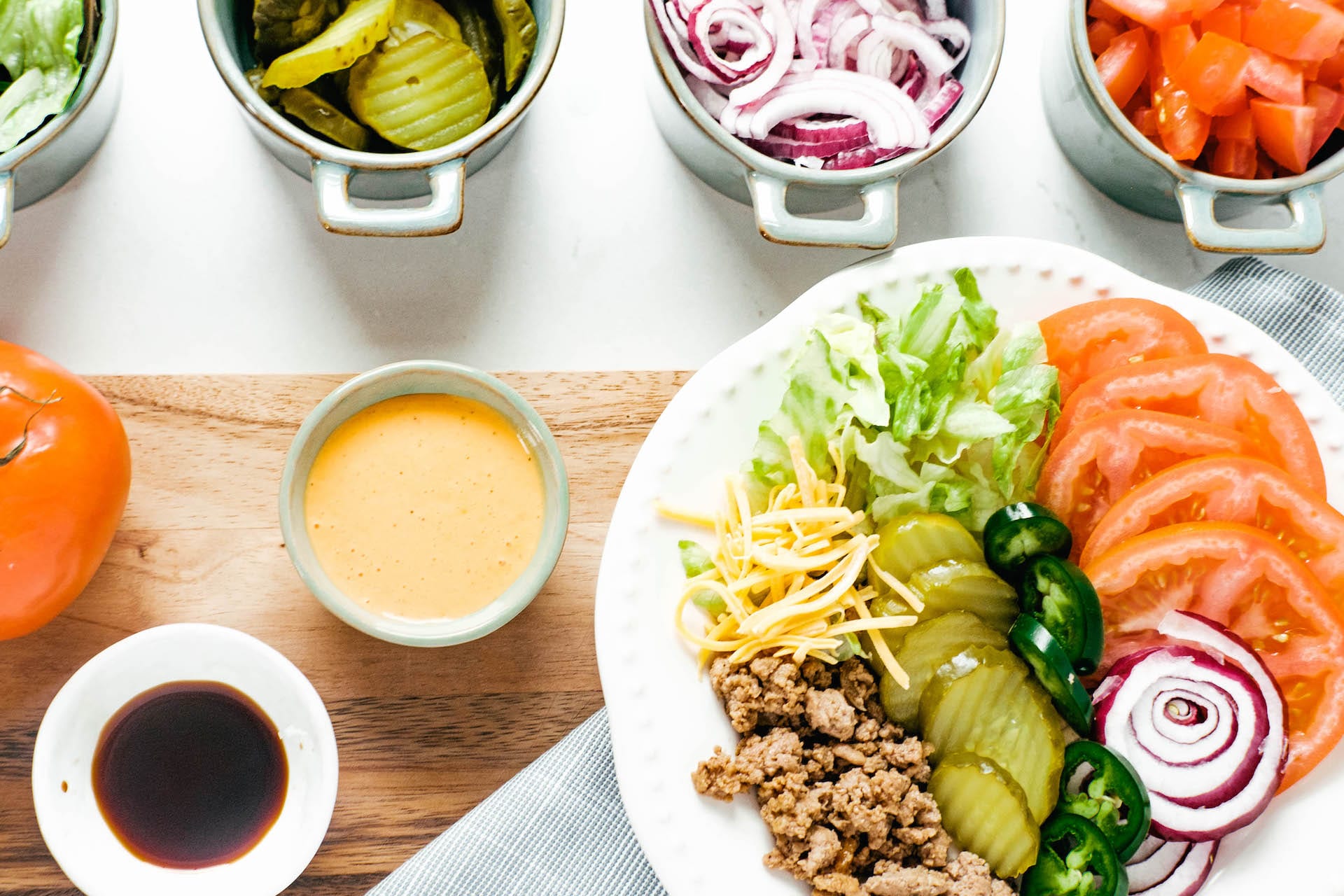 To me, half of the enjoyment of the burger is the toppings! It's what totally gives a burger its personality and honestly, is it even worth eating without some great fixings? NO. This is where you can take some creative liberty and really make it your own. I personally load mine with red onion and pickles, but you do you! In addition to the normal burger toppings, I've seasoned the ground turkey with a mix of soy sauce and Worcestershire sauce to give it a really rich, deep "beefy" flavor. You won't even miss the beef!
I tend to lean towards leaner meats in general because you can really save a lot of calories and unnecessary fats by switching to chicken or turkey in burgers and other dishes. I also created my own "special sauce" to top this with using roasted red peppers & greek yogurt and honestly, its divine!
Did I mention this meal comes together in less than 30 minutes?! Well, in my book a 30 minute meal is king and this won't disappoint. Plus, a burger that is basically a salad and it's perfect for a weeknight family meal. Set up all the toppings as a little buffet and let your kiddos build their own! Also great for a party with multiple guests that would free you up from plating each individual dish.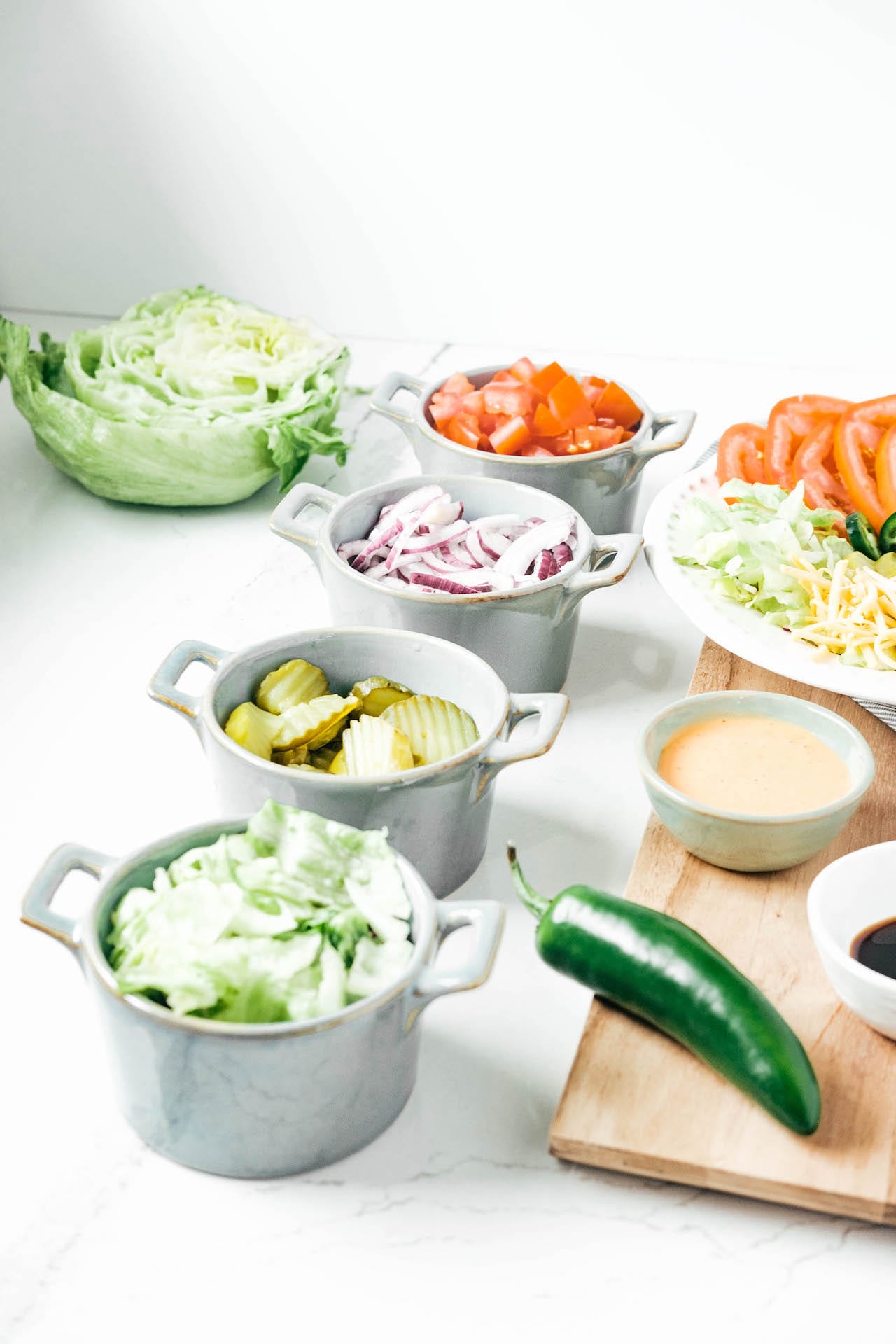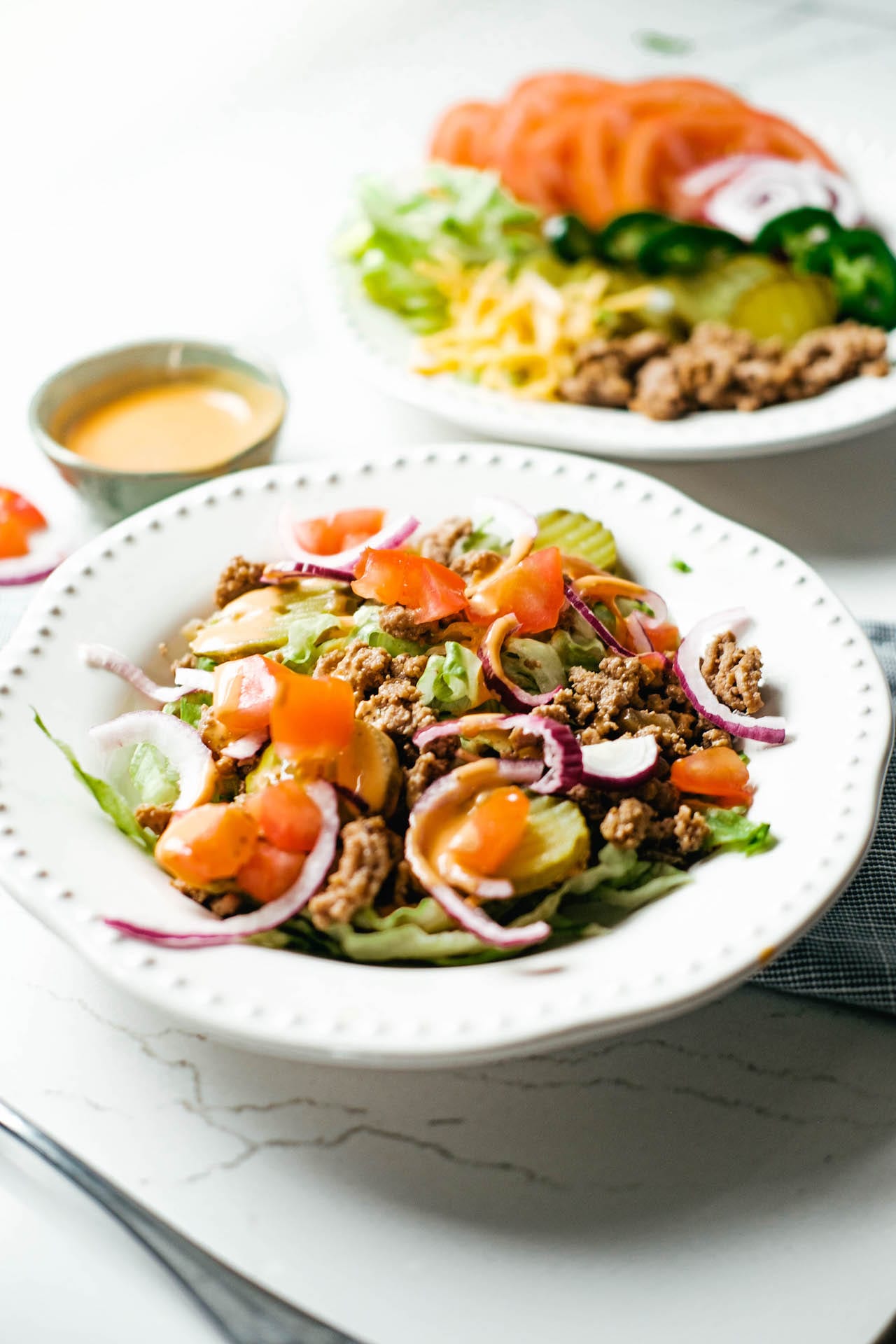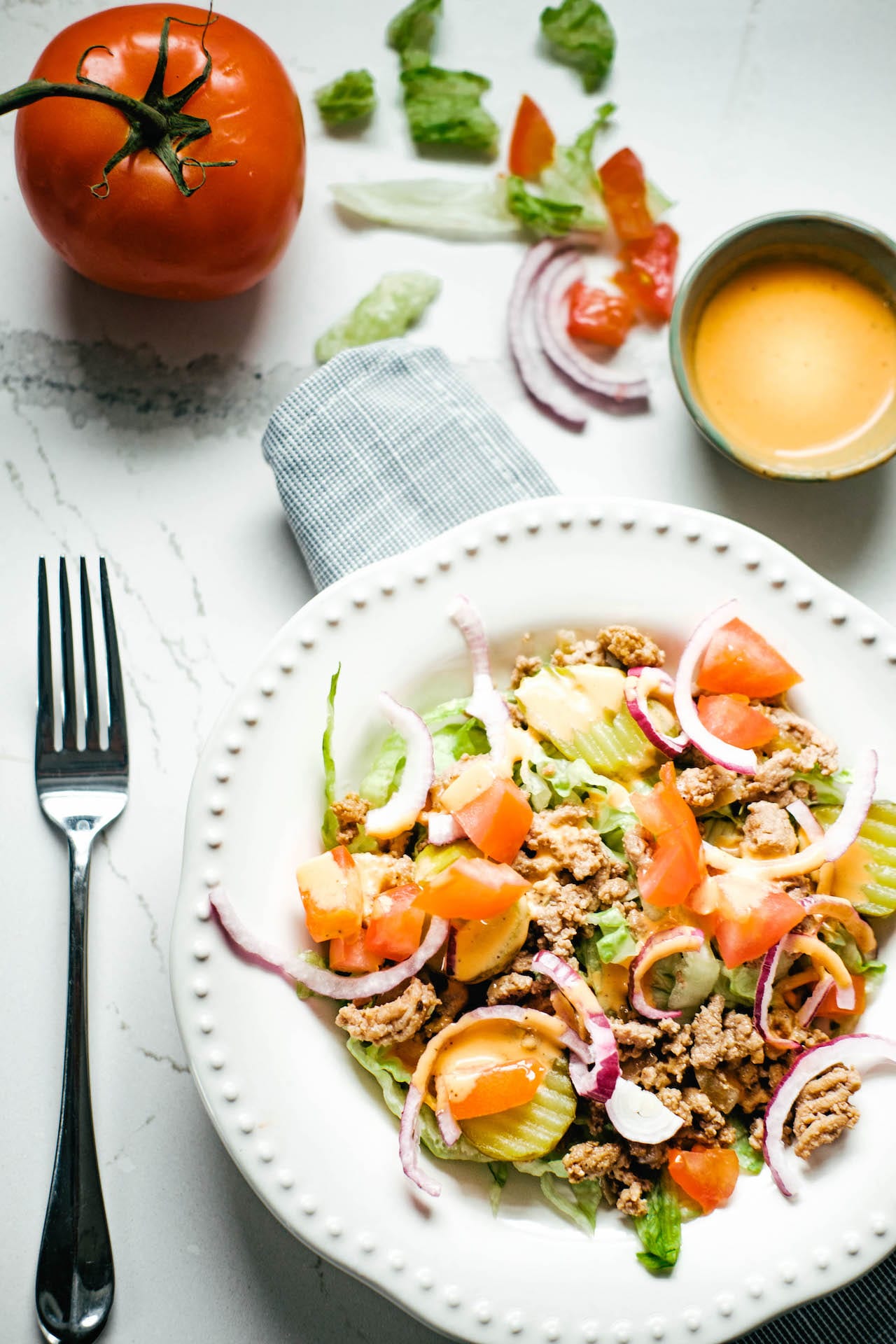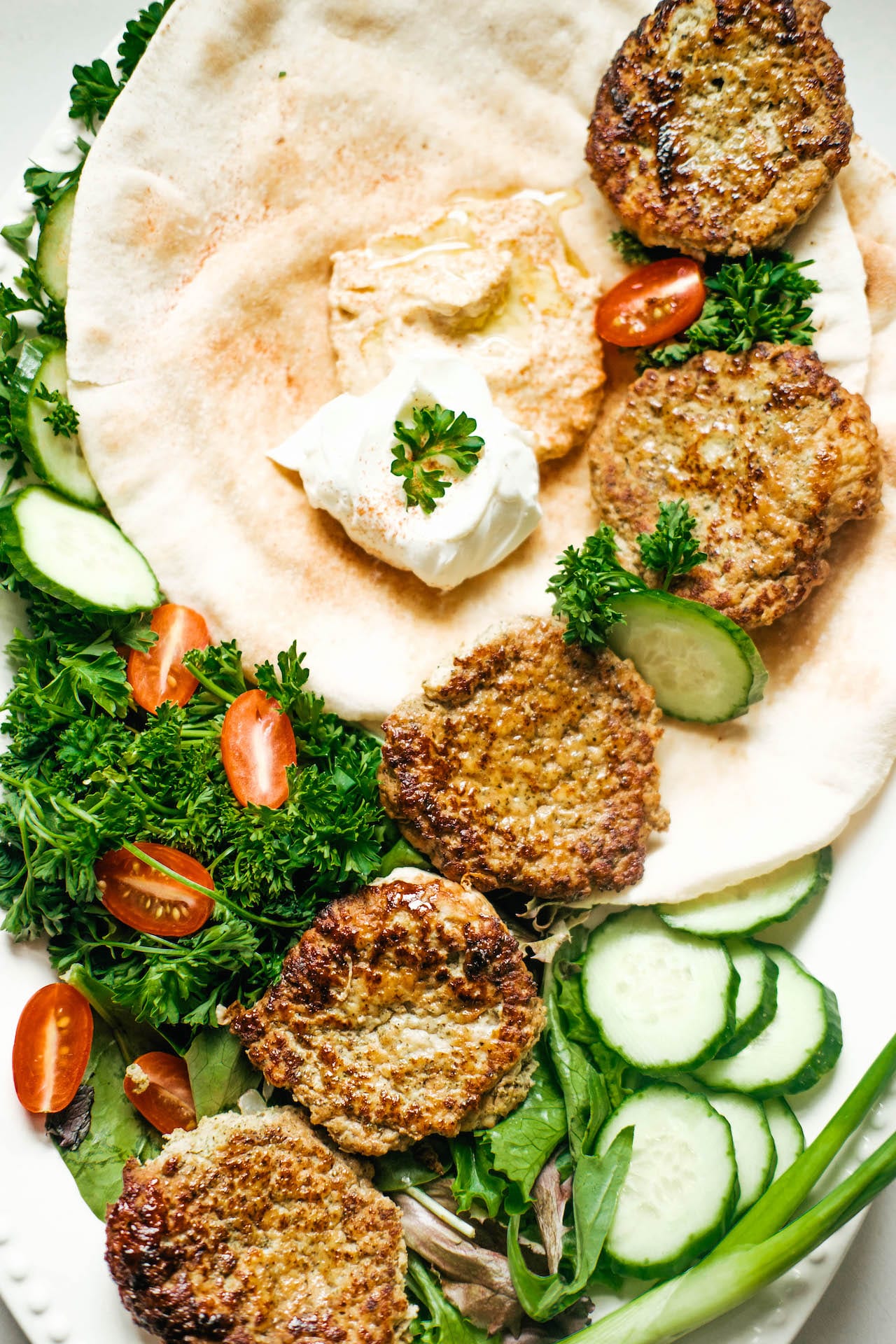 📖 Recipe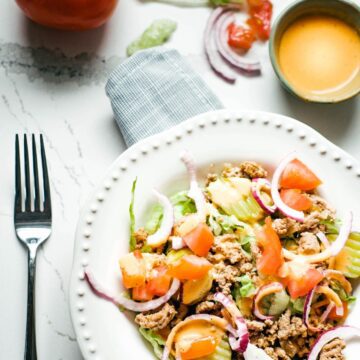 Ingredients
1

lb

ground turkey

2

tablespoons

Soy Sauce

1

tablespoon

Worcestershire sauce

1

tablespoon

Trader Joes Umami Seasoning

4

cups

shredded lettuce

1 to

mato

diced

½

red onion sliced

pickles

Special Sauce

1

cup

greek yogurt

1

roasted red pepper from a jar

1

tablespoon

mustard
Instructions
Brown the ground turkey and when it is almost finished cooking add in soy sauce, worcestechire sauce, and umami seasoning.

Assemble the bowl by starting with lettuce and adding the turkey on top.

Top with any of your favorite burger toppings! Red onion, pickles, tomato.

For the sauce, in a small blender add in the greek yogurt, roasted red pepper, mustard. Blend until smooth and add to the top of your burger bowl.

Enjoy!