3 words that come to my mind when I think restaurant quality dinner: fancy, delicious, beautiful. These are also the exact 3 words perfect to describe this 20 Minute Crispy Rosemary Salmon.
A delicious dinner done in 20 minutes and I promise you it'll look WAY fancier than it is. It consists of a filet of salmon with it's skin on, a rosemary salt, and a bit of garlic!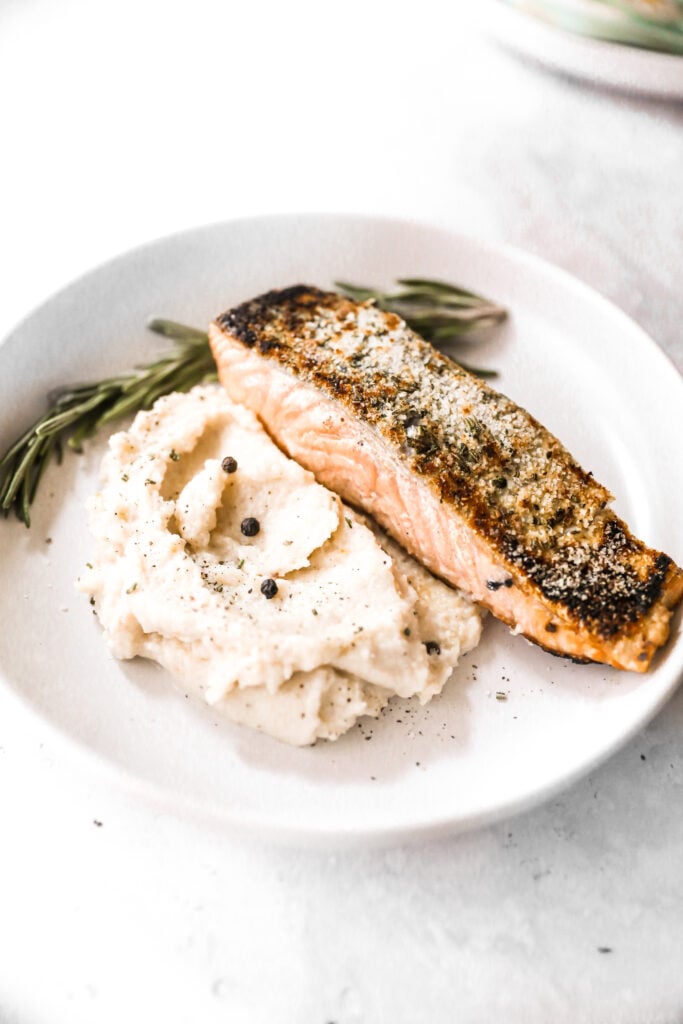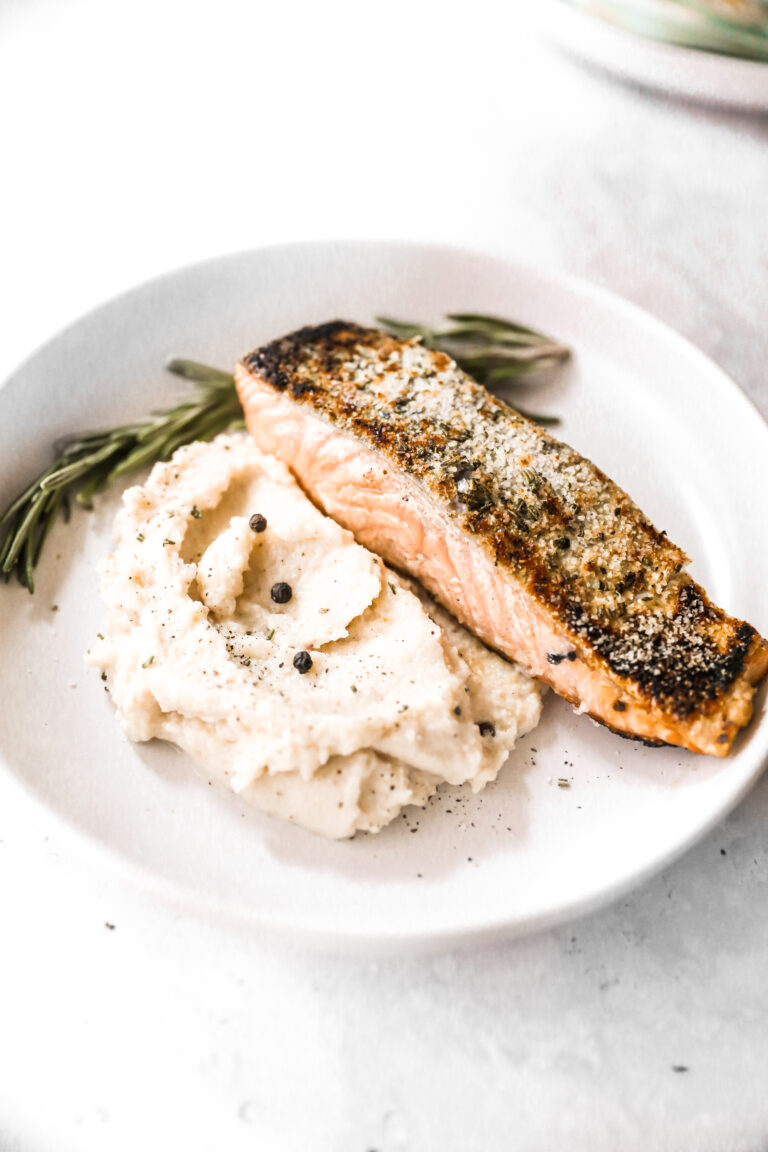 Can You Eat Salmon Skin?
YES. You can. And there even may be some healthy benefits according to Healthline's article, Salmon Skin: Can You Eat It
The salmon skin gets super crispy and delicious when you apply the perfect amount of salt and herbs to it. An amazing crust that gives this salmon it's restaurant quality presentation.
How To Make Rosemary Salt
The crust is the most important part of this dish. In addition to a screaming hot cast iron pan (Lodge has great ones!) you'll want a salt crust.
My salt crust has 2 simple ingredients: fresh rosemary and sea salt. First finely chop the rosemary leaves, you don't want huge, bitter pieces.
Combine this with a tablespoon of salt and mash the rosemary into the salt with a spoon. This will help release the oils and it will become very fragrant.
Crispy Skin On Salmon
So like I mentioned in addition to the salt crust we want a screaming hot cast iron pan to get the best sear on this Crispy Rosemary salmon.
You want to leave the salmon in one spot until it it almost looks like it's getting charred. If you try to remove it too early you run the risk of it sticking. (Same goes for salmon without the skin on!)
I find that a good 4 - 5 minutes is best on the first side. Then you flip it over and cook the salmon until it reaches 145 Fahrenheit internal temperature. Remove it and let it sit to finish cooking.
Can You Make This Salmon Without The Skin?
Yes! Simply add the salt crust to one side of the salmon, give it a good sear and it should get nice and brown.
The salt and rosemary should give it a pretty good crust when you sear it at a high enough temperature. Skin optional!
Need some stellar salmon recipes to try? How about...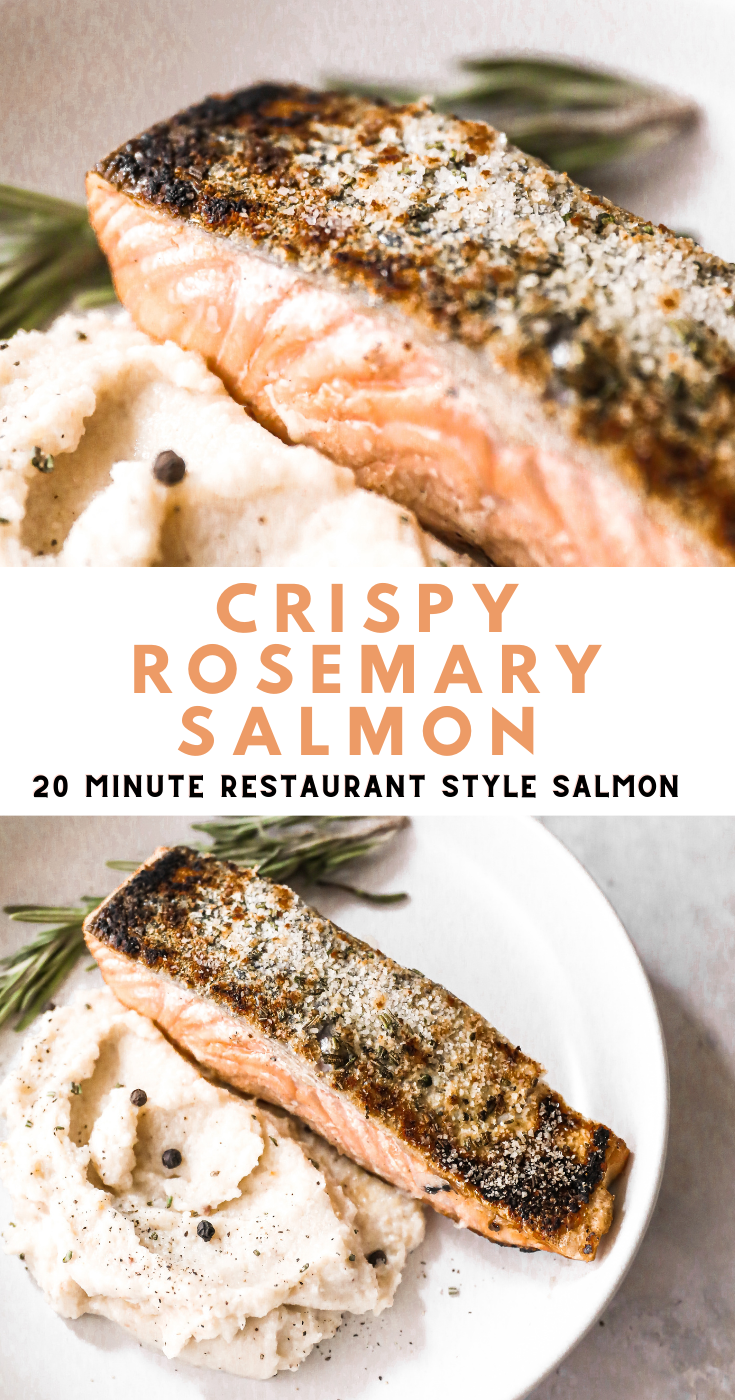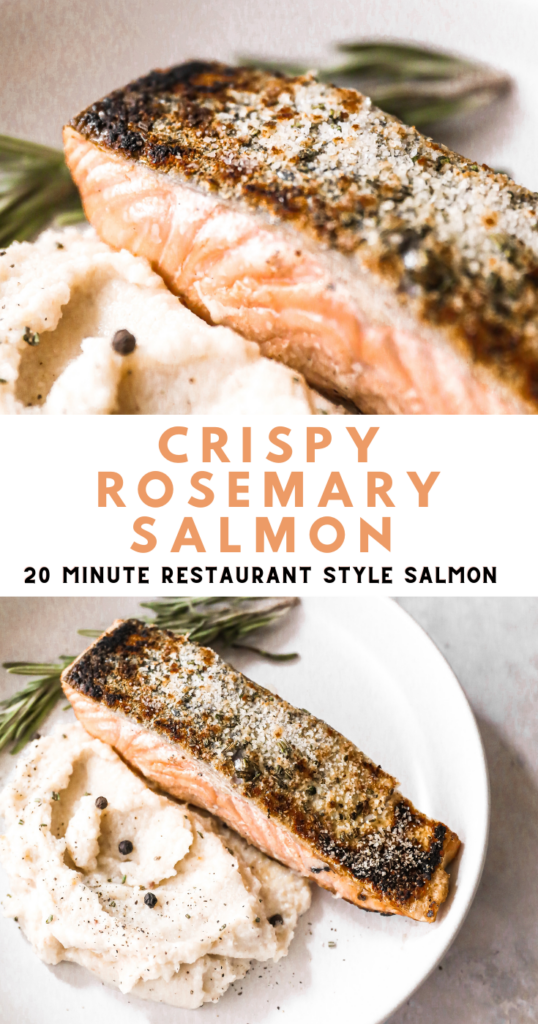 📖 Recipe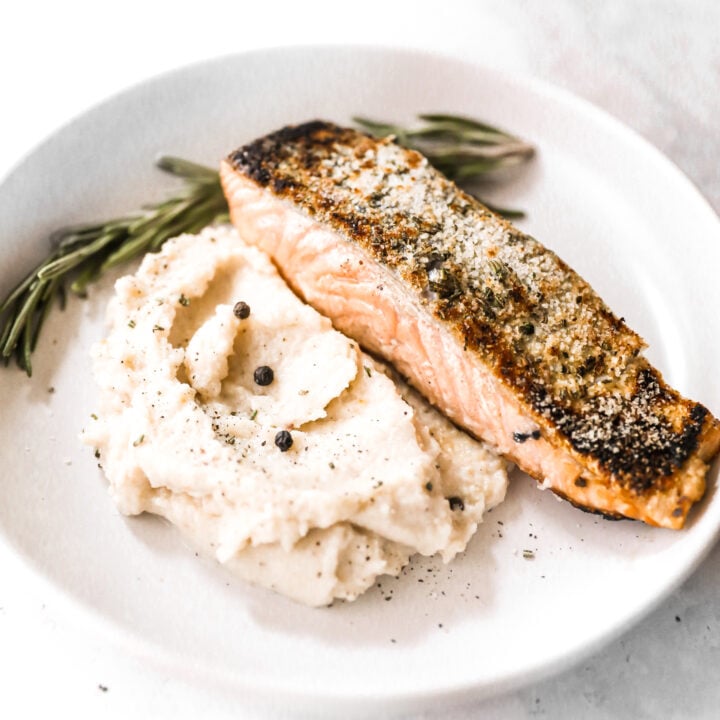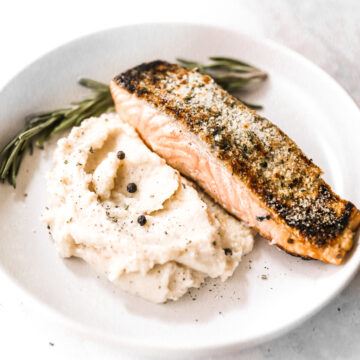 Crispy Rosemary Salt Crusted Salmon
A delicious restaurant style dish that has an amazing seared crust and juicy salmon. Done in 20 minutes!
Print
Pin
Rate
Ingredients
1

tablespoon

salt

1

teaspoon

fresh, finely chopped rosemary

1

tsp

garlic powder

1

6 oz salmon filets, skin on

pinch

black pepper
Instructions
In a small bowl mix the salt and the finely chopped rosemary

With the back of a spoon, smash the rosemary into the salt to release the oils. It will become very fragrant!

On the side of the salmon with the skin, rub ½ of the salt mix onto the skin. Pressing in to make sure its covered. Repeat with other filet.

Sprinkle on the garlic powder

Heat a cast iron skillet over high heat and let it get very hot!

Sear the salmon skin side down for about 5 minutes.

Turn the heat to medium high and flip the salmon. Sprinkle a little pepper on the salmon

Cook until the internal temperature is 145. Enjoy!