Let's be honest, cooking a full turkey can be intimidating. Maybe it takes too long, maybe it's too much food for your family, whatever the case, a Grilled and Rolled Turkey Breast might just be the answer!
My Rolled Turkey Breast is stuffed with goat cheese, bacon, and tons of delicious herbs.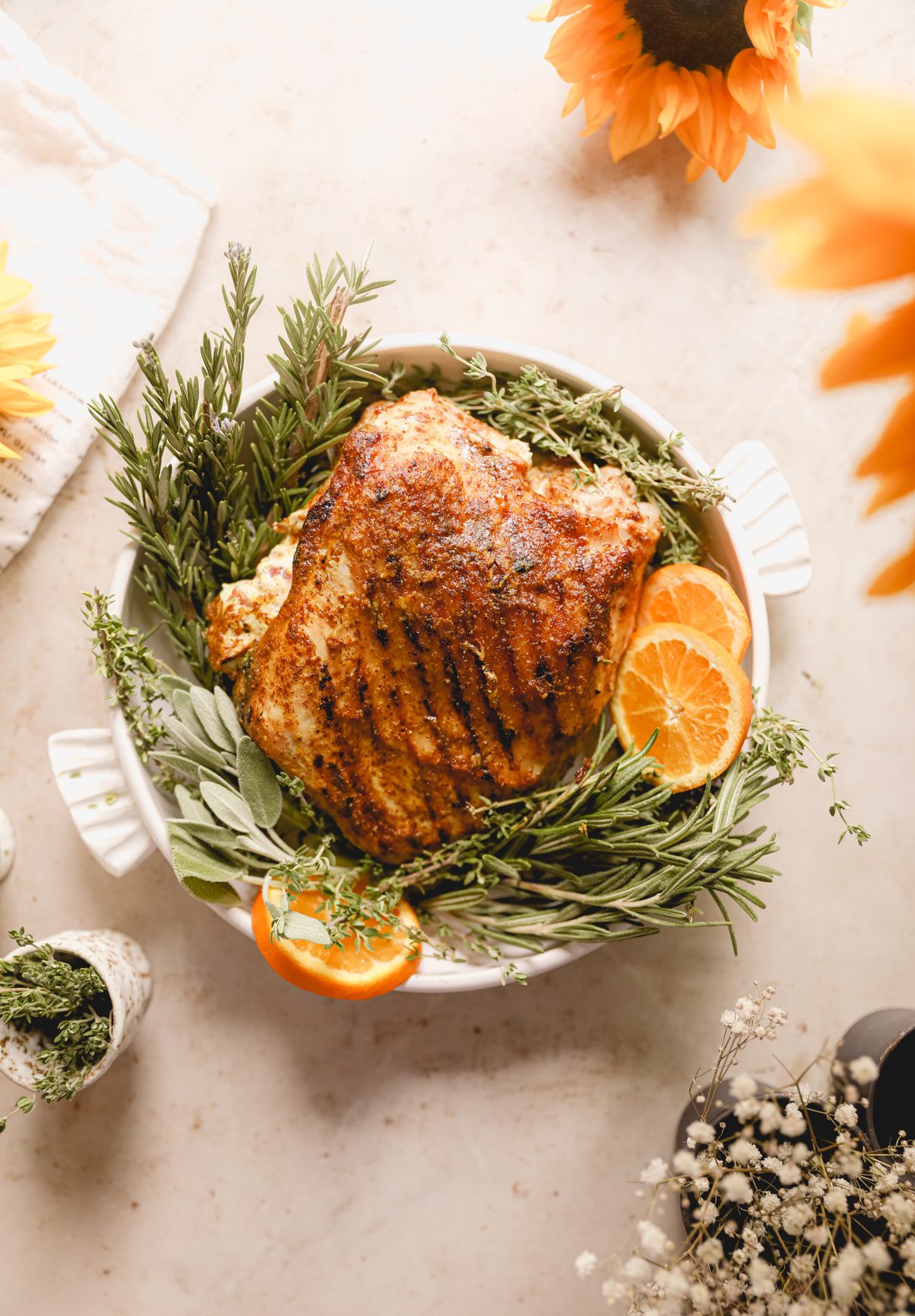 What is a Turkey Roulade
This turkey recipe features an easy cut of meat, boneless turkey breast! It's lean and delicious. A popular way to cook these breasts is a roulade.
Roulade means something cooked in the form of a "roll" or basically stuffed and rolled. This rolled turkey breast looks fancy, tastes delicious, and can be the star of your dinner time show.
Grilled Turkey Breast Ingredients
We're starting our list with the obvious ingredient, the turkey breast! You can find these in any store but I love Honeysuckle White turkey breast because they are boneless and skin-on for extra flavor.
whole boneless turkey breast
8 oz goat cheese
6 slices of bacon, cooked
maple syrup
dijon mustard
garlic powder
salt and pepper
rosemary, thyme, and sage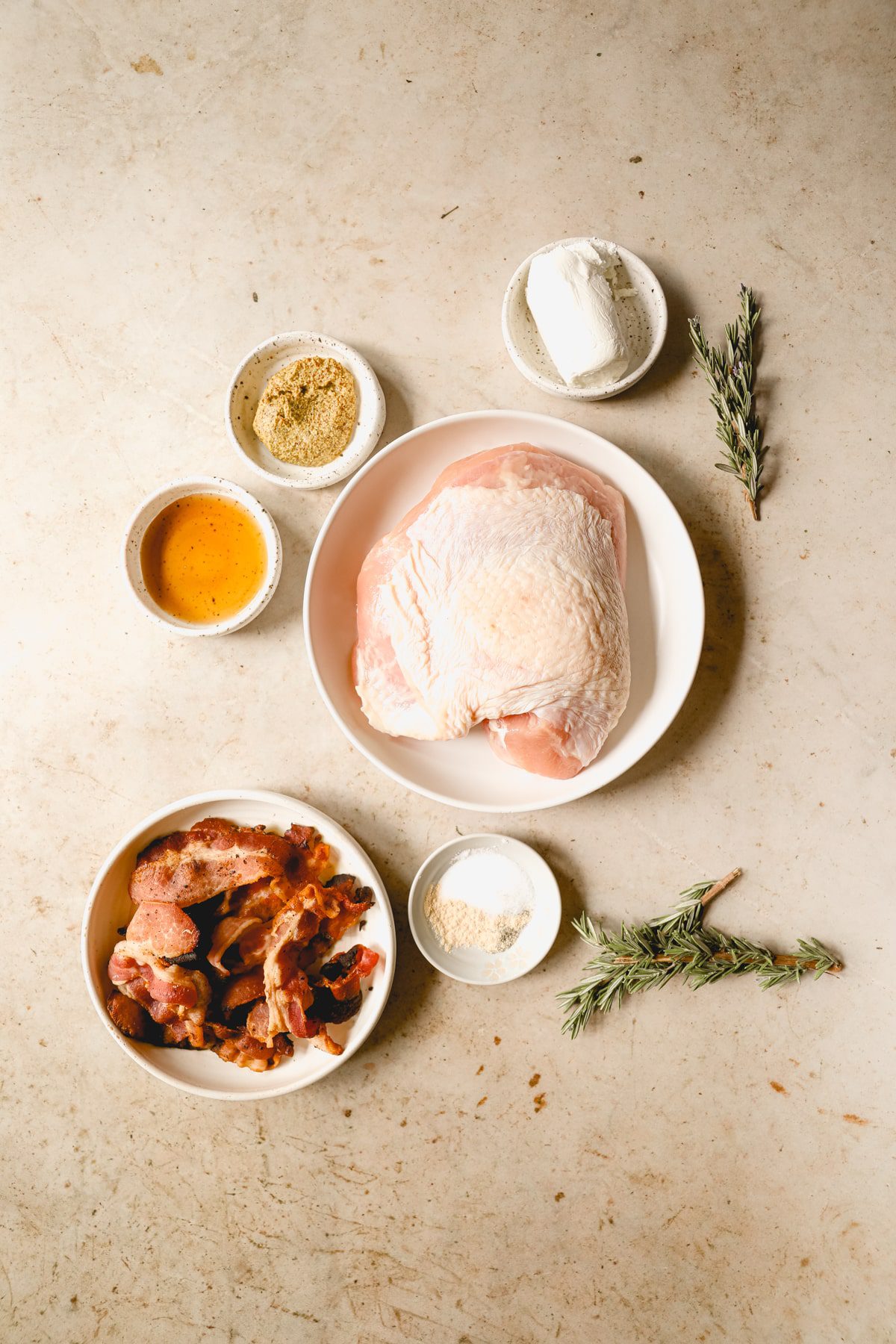 How To Roll A Turkey Breast
This task sounds tricky, but it's really not! All you need is a cutting board and a sharp knife.
Taking the knife, butterfly the turkey breast open and simply pound it flat to create your surface.
Evenly place the stuffing (goat cheese and bacon) inside and roll it up!
Secure with twine or even toothpicks.
Grill and enjoy!
The Easy Way To Grill Turkey Breast At Home
Grilling turkey breast is my preferred way to enjoy it at home. Grilling can also be intimidating! So I have a solution for that...
A grill pan! Get yourself a good grill pan so you can enjoy those grill marks and cook it indoors all year round.
Make sure this grill pan is also oven safe so we can finish our turkey breast in the oven for a slow-roasted taste.
Can I Just Cook This In The Oven?
Sure! Simply place the turkey in an oven-safe skillet or dutch oven, and roast at 425 for 45 minutes to an hour.
This is a great option for an easy roasted dinner idea. If you enjoy it, you might also like this Pork Tenderloin Roulade.
Maple Dijon Glaze
Arguably the best part of this turkey is the crispy skin on the outside. That is all thanks to our deceptively easy glaze.
The glaze is made with maple syrup and dijon mustard. It is wonderfully thick and tangy and caramelizes so nicely on the outside of our turkey skin.
How To Garnish Thanksgiving Turkey
This is probably one of the most fun parts of creating an amazing dinner experience. Especially around the holidays!
Adding all kinds of garnish to the plate really make it look gorgegous but also can allude to what flavors may actually be in your recipe!
Garnish For Plated Turkey
Fresh herbs are my first go-to garnish. They are easy to find and you probably needed a sprig or two of it for another recipe so you might have some extra! Use that to garnish your plate. Things like rosemary, thyme, sage, and even parsley!
Fresh fruit is another great option to add some pops of color to your table. Sliced citrus or even apples would be beautiful. Sprinkle in some cranberries or halved pomegranates as well and you've created something special
Edible florals would be a unique addition to a turkey dinner! You can pick those up at local grocery stores and might just be a modern twist on dressing up a thanksgiving turkey.
My whole roasted Herbs de Provence turkey recipe is another one you can use these tips and tricks on dressing up.
Other Turkey Recipes
If you are looking for more lean and delicious turkey recipes, give these a try....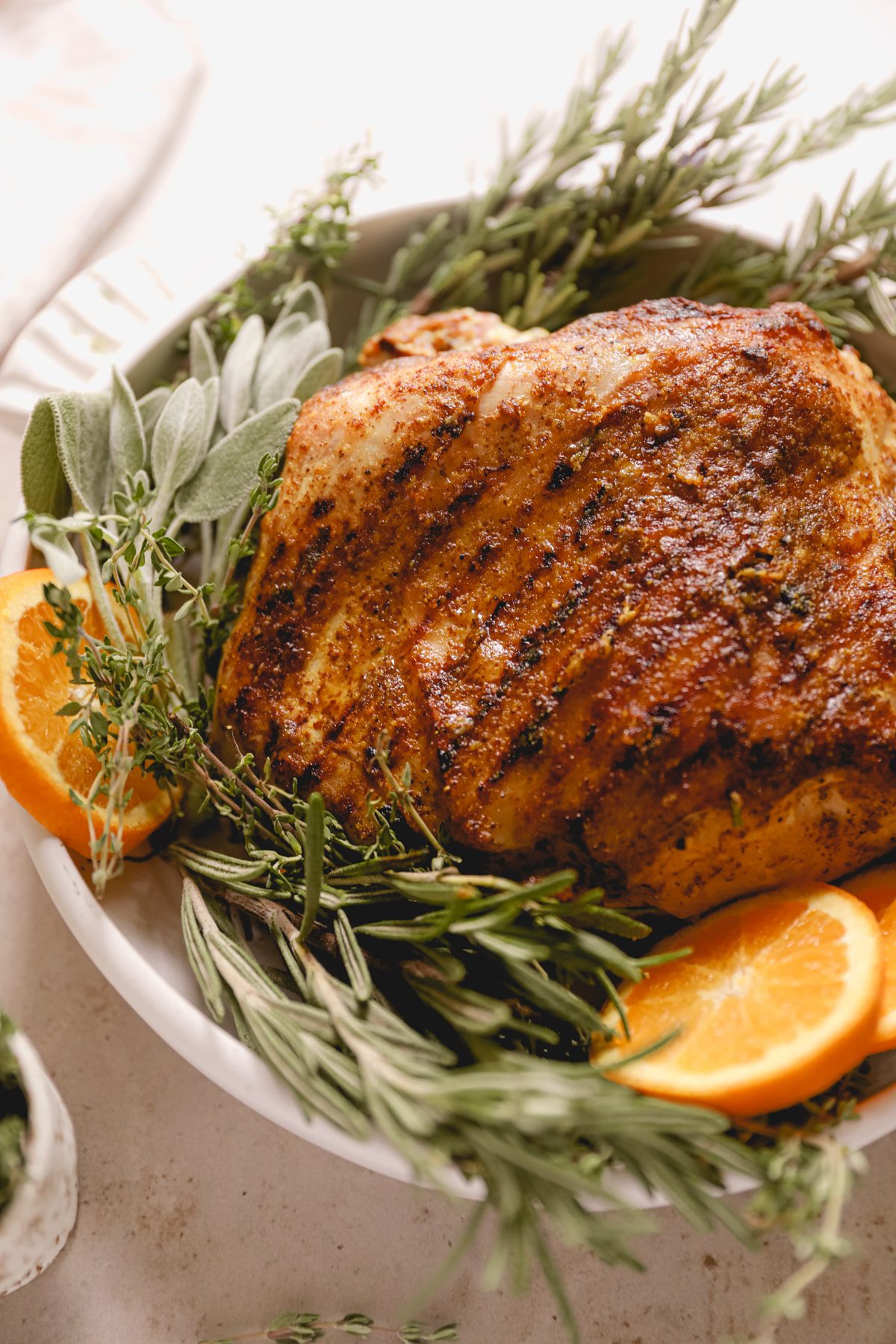 📖 Recipe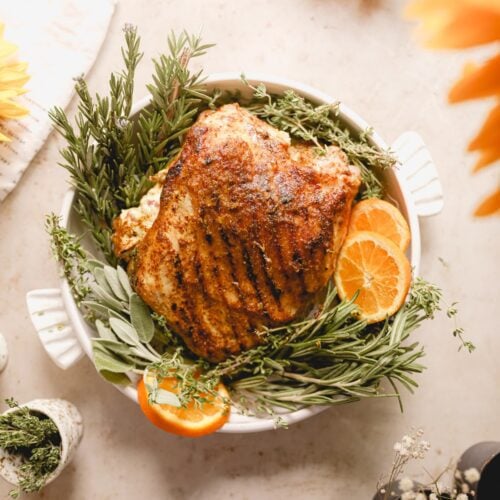 Maple Dijon Grilled Turkey Roulade
A simple to make grilled and rolled turkey breast recipe. It's stuffed with bacon and goat cheese and slathered with a maple dijon glaze. It's great for a weeknight dinner!
Print
Pin
Rate
Ingredients
1

boneless turkey breast

4

oz

goat cheese

6

slices

of bacon

cooked and chopped

1

sprig of rosemary leaves finely chopped

¼

cup

maple syrup

¼

cup

dijon mustard

3

teaspoons

salt

1

teaspoon

pepper

1

tablespoon

garlic powder
Instructions
On a cutting board, butterfly the turkey breast so it is laying flat and open.

In a small bowl mix the softened goat cheese, bacon, chopped rosemary, 1 teaspoon of salt, 1 teaspoon of pepper.

Spread the goat cheese mixture on the inside of the turkey breast.

Starting at one end, carefully and tightly roll the turkey breast and secure with butchers twine.

Season the outside of the turkey with the remaining teaspoon of salt.

Heat a grill pan (or cast iron skillet) over medium high heat and sear each side of the roulade for about 3 minutes.

While that is grilling, mix the maple syrup and dijon mustard in a small bowl.

After each side of the turkey is nicely browned, brush half of the mustard mix onto the turkey.

Place into a 400 degree oven and roast for 20 minutes then remove and brush the remaining mustard mix on the turkey.

Return to the oven and cook an additinoal 20 minutes or until the internal temperature is 165 degrees.

Let it rest for about 10 minutes before slicing, and remember to cut away the butchers twine before serving.