Crispy pepperonis, melty mozzarella, and a tender tenderloin, all the parts of a delicious meal! This Pizza Stuffed Turkey Tenderloin is a fun way to switch up a weeknight meal and kids and adults love it!
Pre Marinated Turkey Tenderloin
I have recently come to love pre-marinated turkey tenderloins. They have tons of flavor packed in there and the portion size is great!
They have marinade flavors that play well with other bolder flavors like this pizza stuffed turkey tenderloin.
Pizza Stuffing
So to make it a "pizza" stuffed tenderloin we of course need pepperoni and mozzarella. By slicing into the back of the tenderloin and stuffing those slices with the pizza filling we create a pretty awesome looking meal!
It is almost hasselback style cuts we are putting into the tenderloin and you could really stuff it with anything - but why not pizza toppings?!
Choose large oversized pepperoni or salami and pre-sliced mozzarella to make your job easier.
To reinforce that pizza flavor we will finish it with a drizzle of olive oil and some Italian seasonings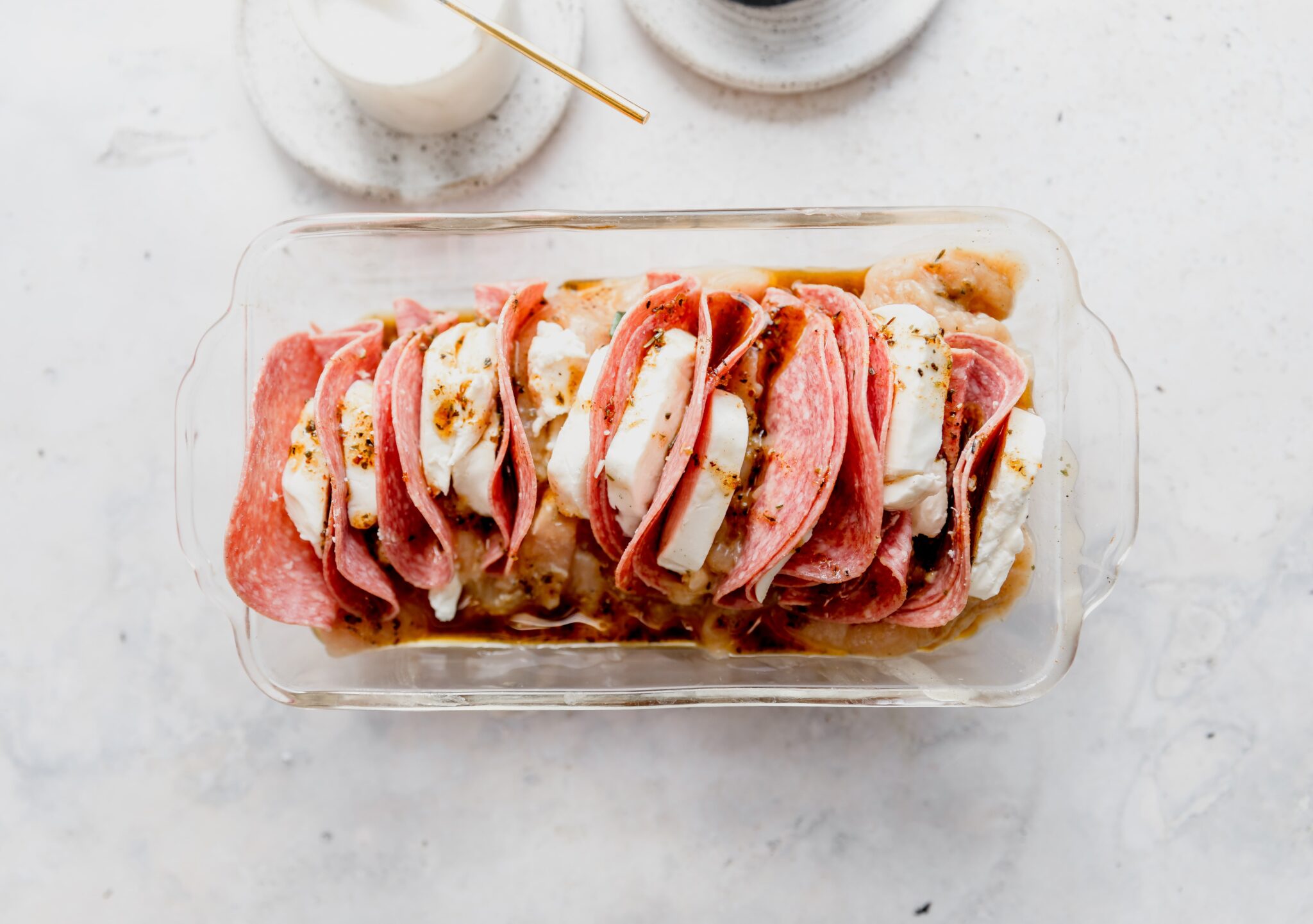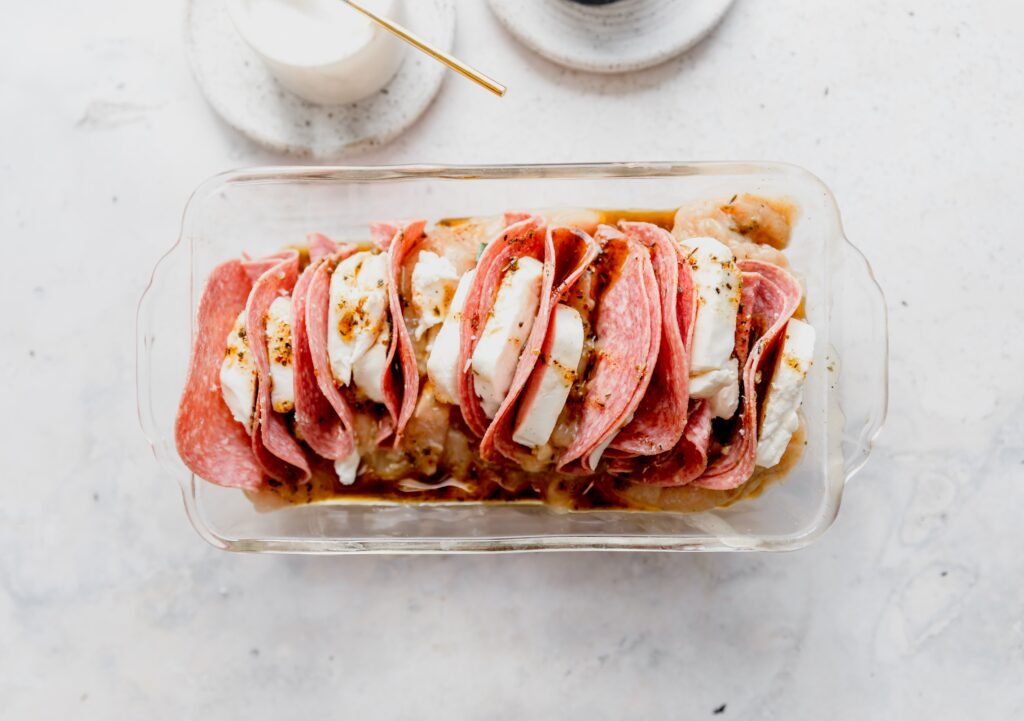 Cooking Stuffed Turkey Tenderloin
When we cook this I like to place it in a baking dish just large enough to hold the turkey tenderloin and keep it mostly "squished" together so the filling doesn't spill out.
I cook it at 375 for up to 45 minutes until the internal temperature is 165F.
The pepperoni will start to get crispy at the tops, if it looks like it might be burning, simply remove the tenderloin and wrap the top with aluminum foil to prevent burning.
What To Serve with Pizza Turkey Tenderloin
A nice spoonful of marinara sauce goes exceptionaly well with this stuffed tenderloin.
Garlic bread and maybe a Caesar salad would really hit the spot with this dish! Or slice and serve over angel hair pasta for a fun pasta dinner.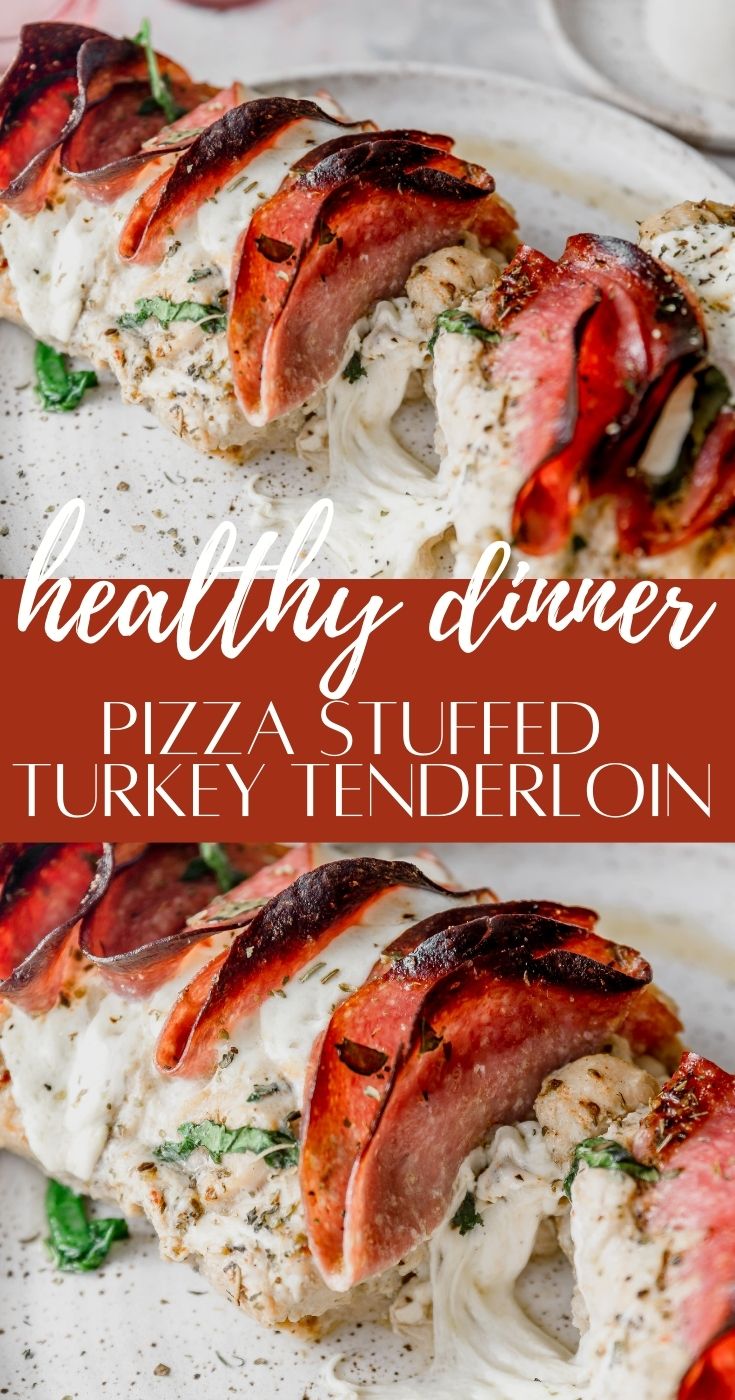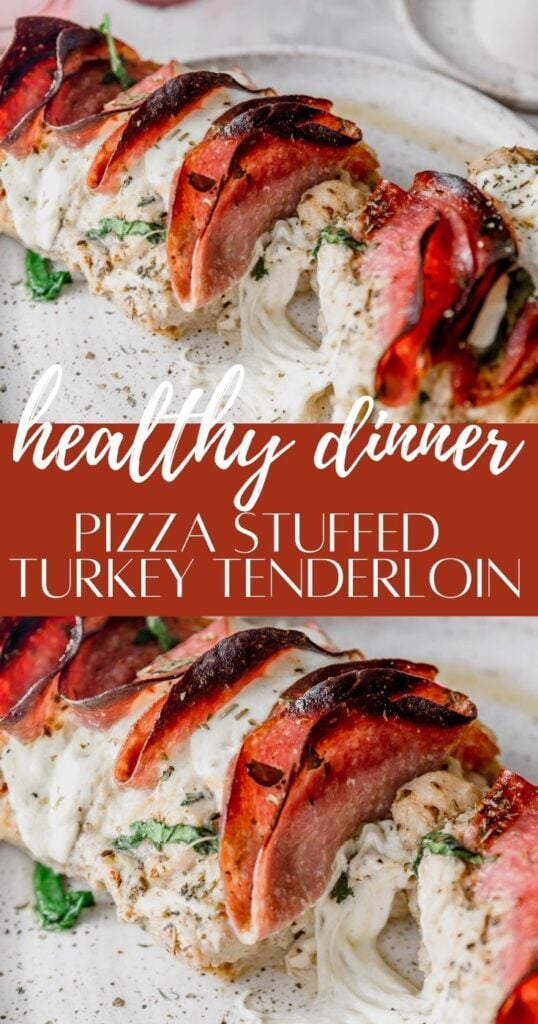 📖 Recipe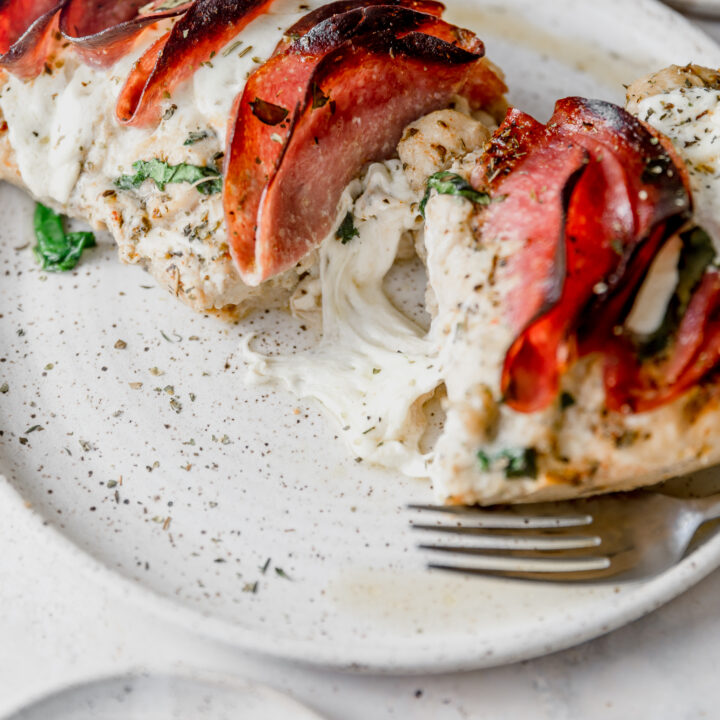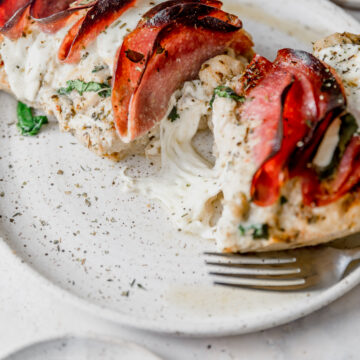 Pizza Stuffed Turkey Tenderloin
A delicious and healthy turkey tenderloin stuffed with your favorite pizza topping
Print
Pin
Rate
Ingredients
1

package of pre-marinated turkey tenderloin

likely will have 2 tenderloin in the package

4

oz

pepperoni or salami

8

oz

mozzarella cheese

it helps if it is pre-sliced

1

tablespoon

olive oil

1

tablespoon

dry oregano

1

tablespoon

dry basil

1

tablespoon

dry parsley

optional for serving

fresh basil and marinara
Instructions
Remove the tenderloin from the package and sliced 4-5 cuts down the back of the tenderloin. Don't cut all the way through.

In each slit add pepperoni and a slice of mozzarella cheese.

Place one (or both if your package had 2 tenderloins) in a baking dish just big enough to fit the tenderloin. It should help hold everything together while cooking. I used a 5x13 dish.

Drizzle the top with olive oil and sprinkle with the dry herbs.

Bake at 375 for 35-45 minutes until the internal temperature is 165F.

Enjoy with marinara and fresh basil.