Ever stumbled upon a time in your life where you needed (or wanted) to stock your freezer with accessible meals that are healthy and hearty? Or needed to take a meal to a friend who just had a baby? Sick family member? These are the 5 best freezer meals for a new mom!
These meals are a mix of hearty and healthy dishes that freeze well and are totally delicious! I used these 5 meals when I was pregnant with Monroe to stock my freezer and for countless friends.
I like to call them "emotional support recipes." Ha! They are comforting and filling. They provide certain support that almost nothing else can. One of the reasons I love food so much!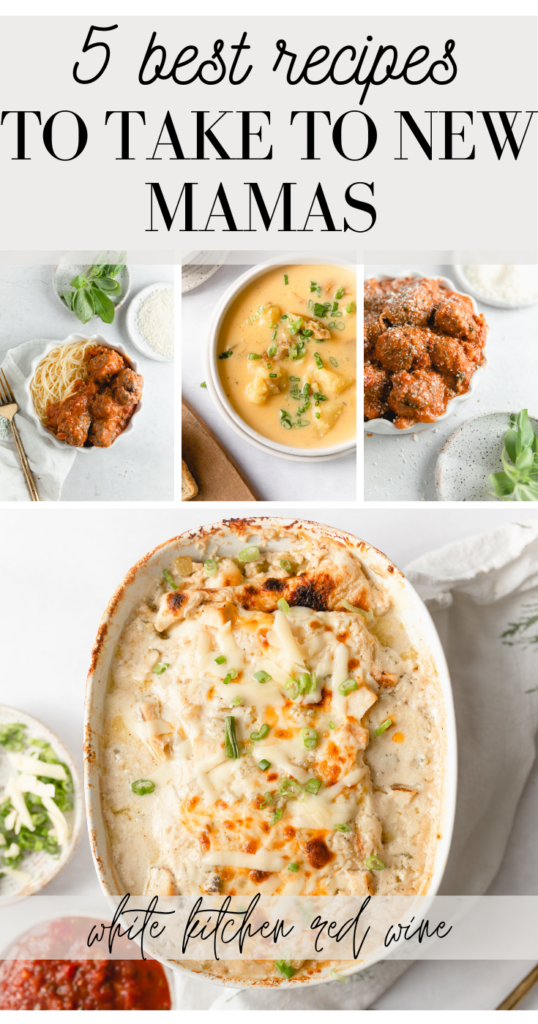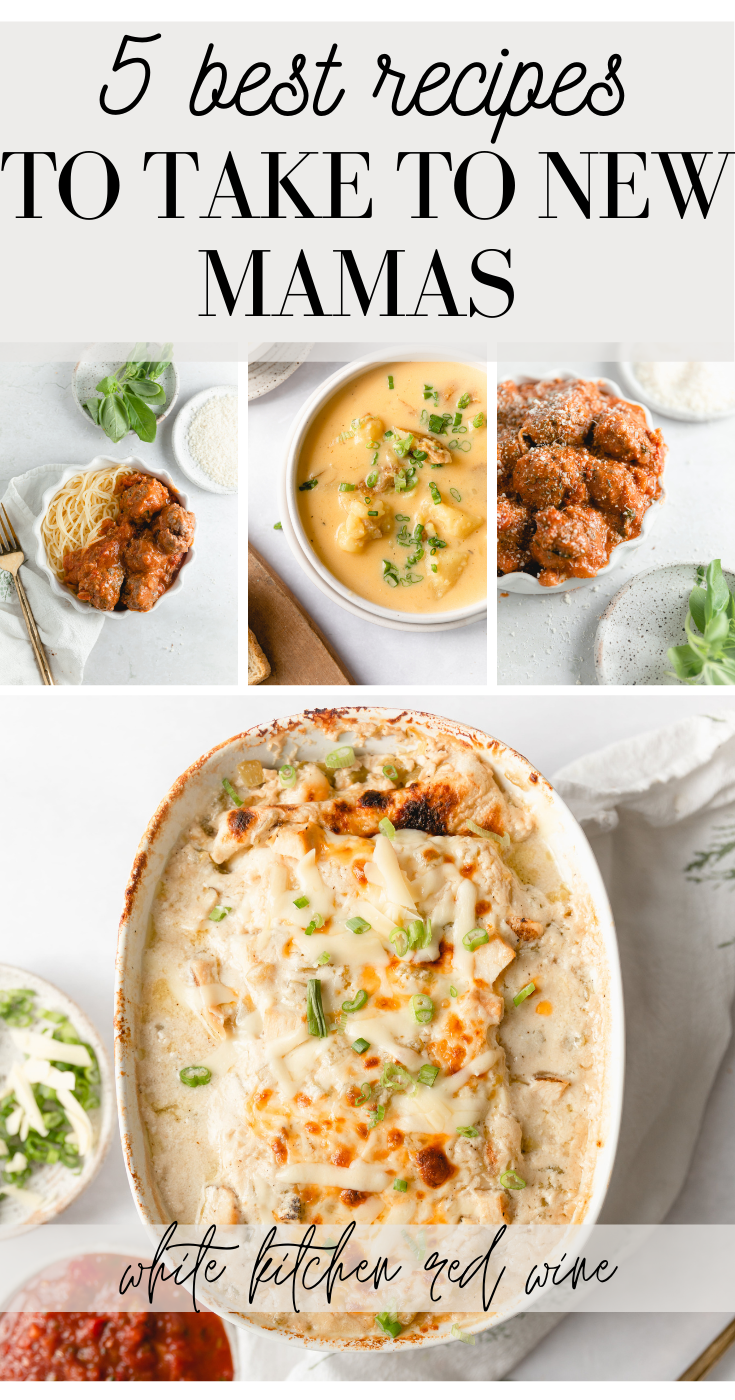 Mom's Potato Soup
Not so healthy, but TOTALLY soul-warming. This is my Mom's Velveeta Potato Soup. It has been made by my mom for years and it's comfort food like none other. Serve with toasty sourdough.
You bring this to a new mama and it's sure to make her smile! I like to make a big batch and deliver in 2 Tupperwares. 1 for enjoying now and 1 for freezing for later! A great freezer meal for new moms (and dads!).
Turkey Quinoa Skillet
Turkey Quinoa Skillet is SUPER healthy and full of lean protein and veggies. Plus it's great to pop out of the freezer for a quick dinner. Turkey Quinoa skillet has amazing flavor and it's something you can feel good about eating.
If there is one thing a new mom needs, it's protein, veggies, and COMFORT! This is full of all of those things. Stuff it in a pepper to go low carb or wrap in a tortilla for a quick burrito.
The filling freezes well in individual portions which makes it a great freezer meal for new moms.
White Chicken Enchiladas
Warm, cozy, inviting, and addicting are a few words I'd use to describe these easy semi-homemade White Chicken Enchiladas. Green Chile enchilada sauce is the star of this show and these enchiladas are filled with tender grilled chicken and cheese. YUM!
Like I mentioned above, it would be totally helpful to a new mama if you portioned these out in 2 or 3 enchiladas frozen in separate Tupperwares. That way they can defrost exactly what they need for a meal.
Vodka Sauce With Meatballs
Honestly, does it get any more comforting than red sauce and meatballs? Put a fancy spin on it by making this vodka sauce with meatballs. Make the meatballs from beef, pork, chicken - whatever you like! But don't leave off that vodka sauce!
This one is also great for a new mom to have on hand for an impromptu date night with the new daddy! Deliver this one with a bottle of red wine and French bread.
Big Soft Oatmeal Cookies
You didn't think I'd end this without having something a little sweet to stock the freezer with, right? A big, soft Oatmeal cookie is great for lactation (if you are having a baby or delivering these to someone who just had a baby)
But they are also super filling if you need a quick grab and defrost breakfast! Some recipes I love for oatmeal cookies include these delicious Chocolate Chip Oatmeal Cookies!