Delicious, healthy vodka sauce coats easy-to-make meatballs for a hearty 30-minute dinner! Meatballs in vodka sauce are not only easy to make, but it's a comfort food perfect for weeknight dinners!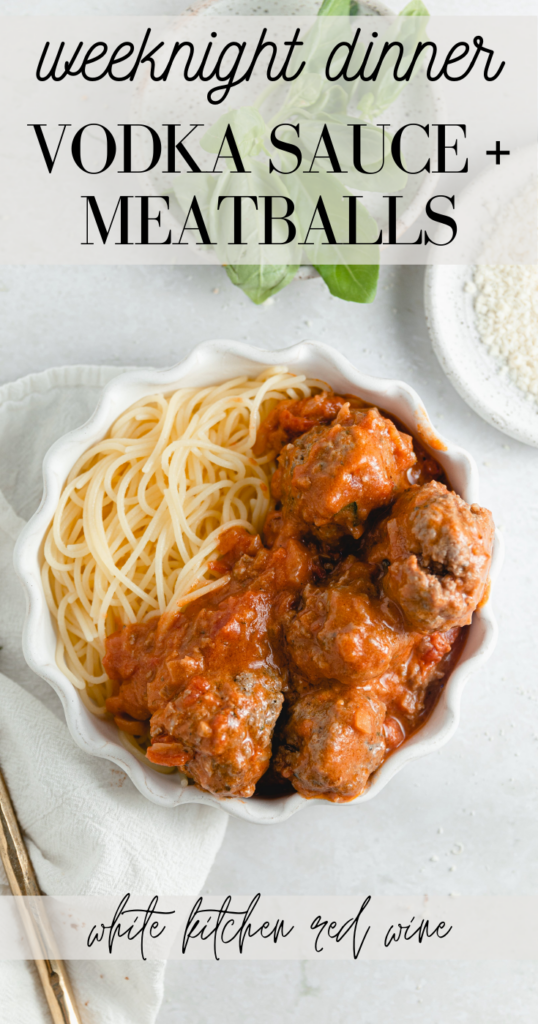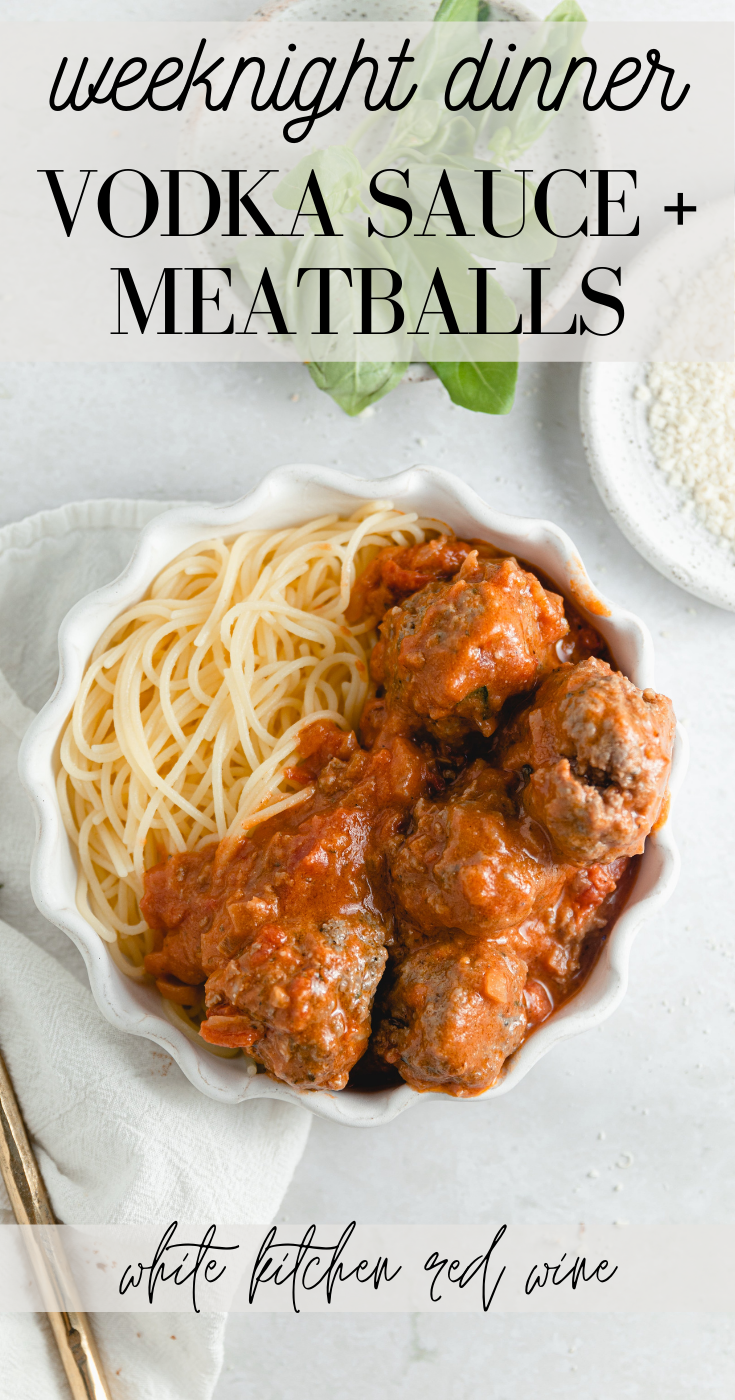 What Is Vodka Sauce?
Vodka sauce is an orangey/blush colored sauce that typically combines tomatoes, cream, vodka, and Italian seasonings to create a Lucious sauce!
I've created my own healthy version of vodka sauce that is dairy-free! Check out my Dairy-Free Vodka Sauce here. I explain more about vodka sauce in that article including hard-hitting questions like...Will vodka sauce get you drunk?!
This 15-minute sauce will be the base of our 30-minute meatballs in vodka sauce!
Easy Ground Beef Meatballs
The second part of meatballs in vodka sauce is the meatball! I'm using ground beef here but feel free to sub in any ground meat!
I've made it with chicken, turkey, and even lamb would be divine! Its mixed with salt, Italian seasoning and finely chopped onion. SO EASY!
Tips For Making The Best Meatballs
The most important part of making a good meatball is seasoning it correctly. Since it's frowned upon to try this ground beef mixed raw, how do you know you have enough seasoning?
Whether you are using beef, chicken, turkey, or lamb here are my tips...
Add 1 teaspoon of salt per 1 pound of ground meat. It comes out perfect every time! Especially when you are adding in a sauce of some kind that will also have salt.
Grate or blend the onion for ultimate flavor! This also prevents picky eaters from picking up on onion in the meatballs and the extra juices from the onion make the meat mixture amazing!
Use a cookie scoop for even-sized meatballs. To make sure they cook at the same time, ensure the meatballs are evenly sized.
Once you've perfected your meatball making skills, try out my other meatballs recipes like Chicken Enchilada Meatballs or Black bean Raspberry Skillet Meatballs or Bruschetta Turkey Meatballs.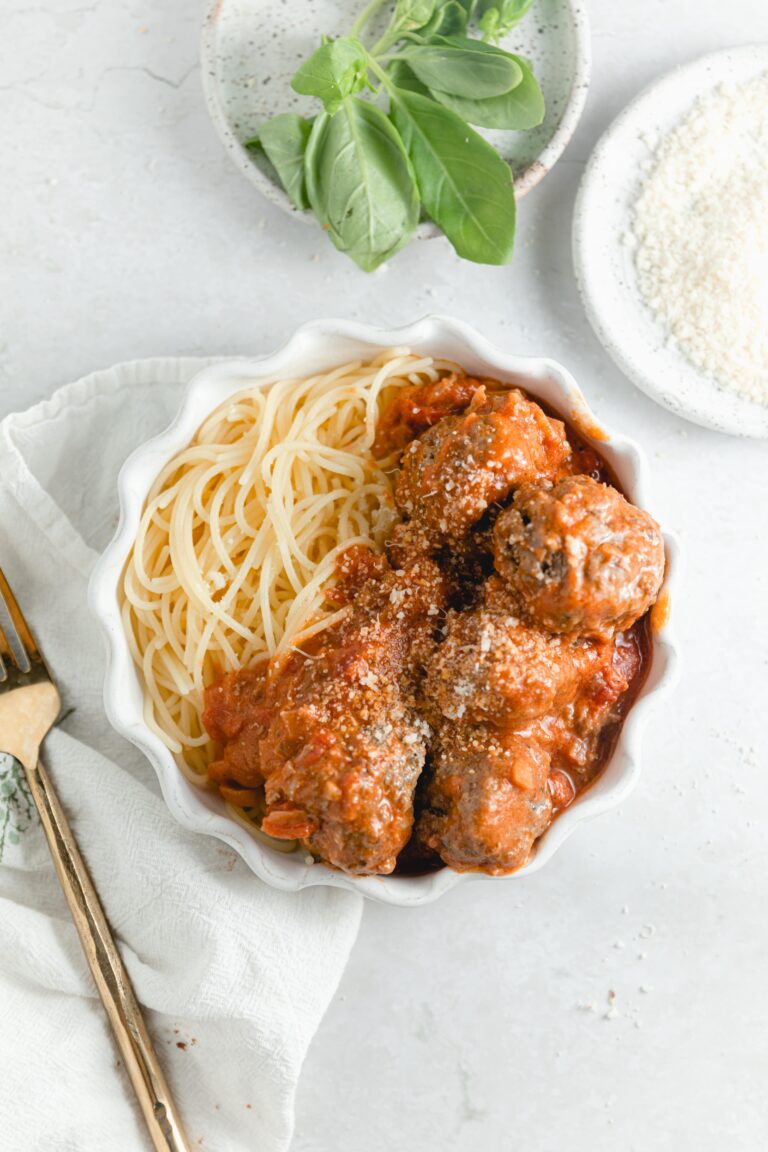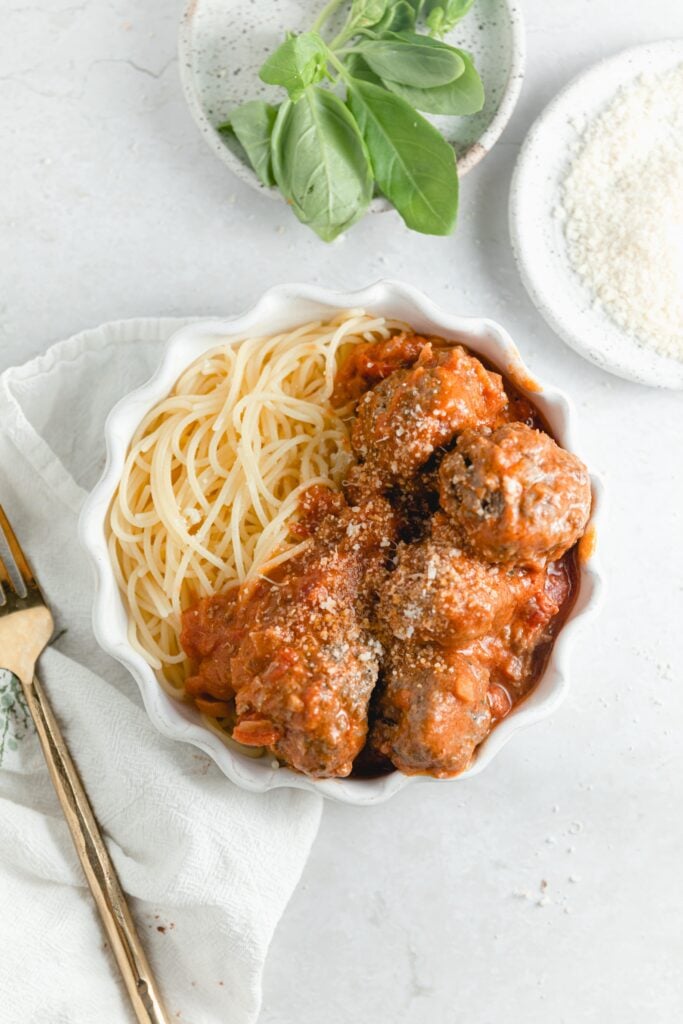 What To Serve with Vodka Sauce and Meatballs?
I love to serve these vodka sauce with meatballs up on top of pasta! Any kind will do; such as rigatoni, spaghetti, penne, or even zucchini noodles!
Of course a good slice of crusty bread is always a hit! Especially rubbed down with some fresh garlic.
Or you could serve it alongside a superfood-packed salad like Peach prosciutto salad, Garlicky Kale Panzanella, or Garlicky Kale Panzanella.
FAQ
Does the vodka make a difference? YES! Vodka adds a distinct bite to the sauce as well as helps to enhance the sweetness of the tomato.
What if I don't have beef for the meatballs? This would be delicious with any ground beef. I've used chicken and turkey before but you could also try lamb!
Does the vodka sauce have to be dairy-free? No, you may sub in heavy cream for the JOI in this recipe. However that will make it not as healthy- still absolutely delicious!
Best vodka for Vodka Sauce? I would simply choose a vodka that you would be willing to drink, probably nothing out of a plastic bottle! I like the New Amsterdam vodka.
How To Store and Re-heat Vodka Sauce and Meatballs
After cooking I would store them in an airtight container in the refrigerator for up to 4 days.
This also makes an incredible freezer meal! Simply portion out the meatballs and scoop the sauce on top. It's one of my favorite meals to deliver to new moms! You can check out my top 5 meals to deliver to new mamas if you need more freezer recipes.
To defrost simply place in the fridge overnight. When reheating, add a splash more vodka when warming over the stove and top with fresh basil!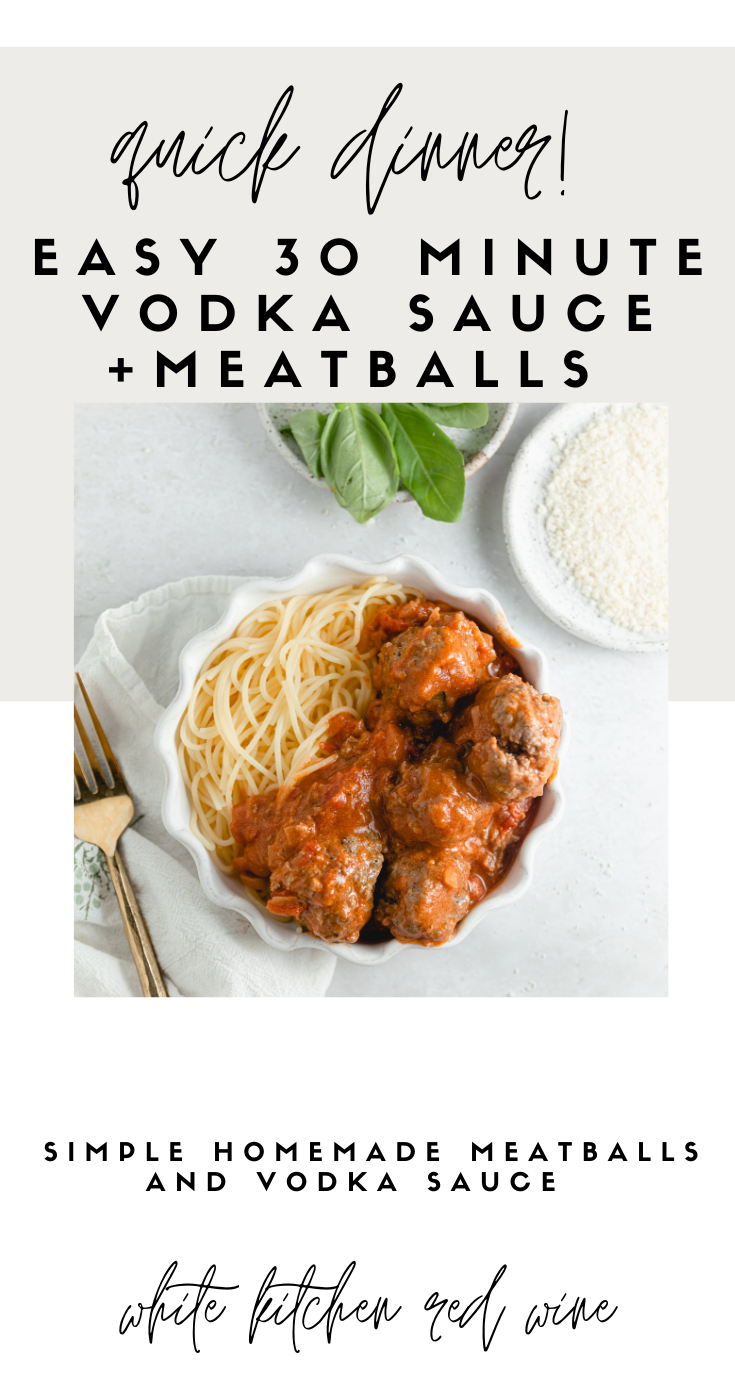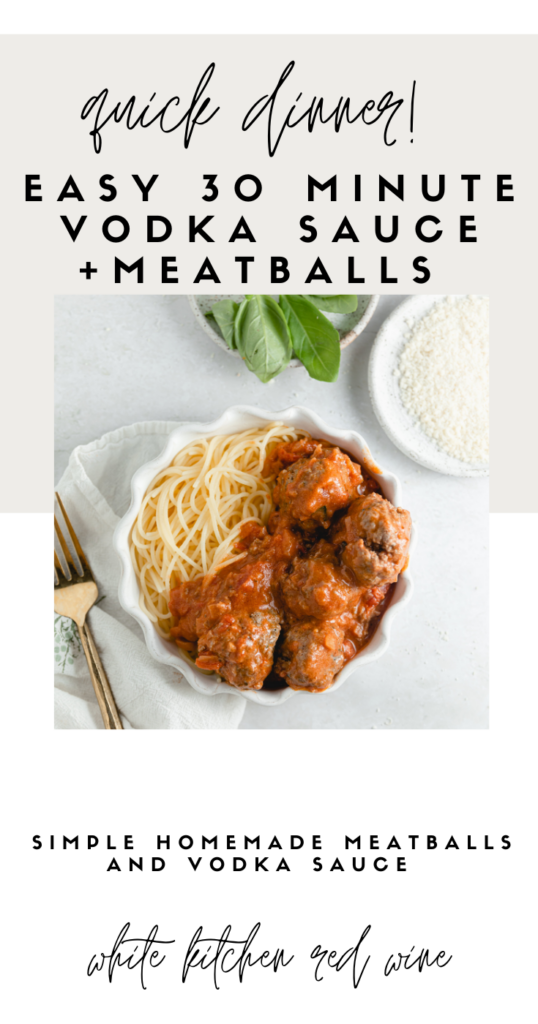 📖 Recipe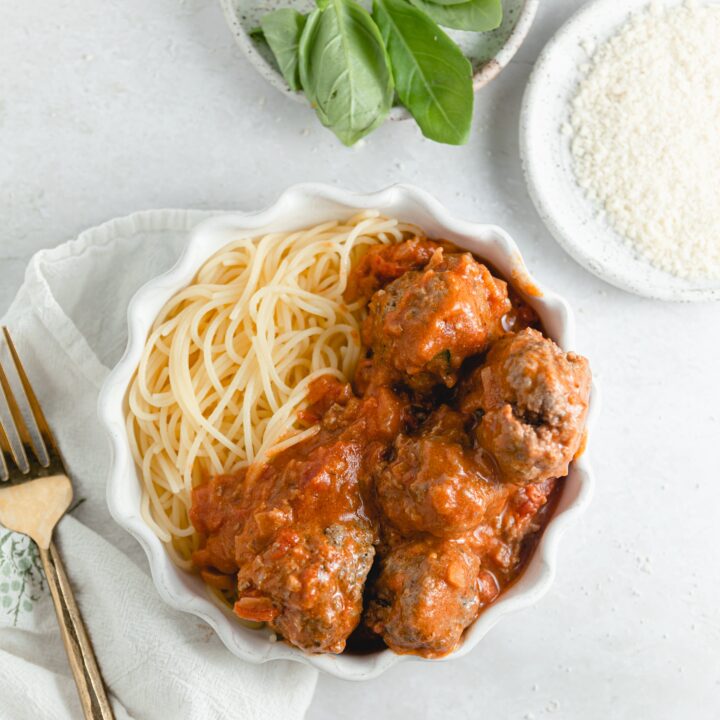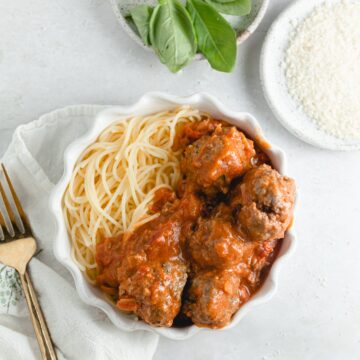 30 Minute Vodka Sauce and Meatballs
Homemade vodka sauce and ground beef meatballs done in 30 minutes for a perfect weeknight dinner!
Share by Text
Print
Pin
Rate
Ingredients
Vodka Sauce
1

14 oz can diced tomatoes

1

white onion

diced

1

14 oz can of tomato sauce

½

cup

vodka

½

teaspoon

red pepper flakes

1

tablespoon

garlic powder

1

tablespoon

Italian Seasoning

1

tablespoon

fresh basil

¼

cup

JOI Cashew base OR ½ cup heavy cream

you can sub vegan cream cheese, but it will NOT be the same
Meatballs
2

pounds

of ground beef

½

white onion

diced or grated

1

tablespoon

Italian seasoning

2

teaspoon

salt

1

teaspoon

pepper
Instructions
In a large saucepan sautee the onion over medium-high heat until it is translucent. About 3-5 minutes.

Add in the diced tomatoes, tomato sauce, garlic powder, Italian seasoning, and red pepper flakes and cook 5 minutes.

Add the vodka and cook for 7 minutes.

While that cooks out the alcohol from the vodka, start to prep your meatballs.

In a large mixing bowl combine all of the ingredients for the meatballs.

Mix with your hands or a fork.

Heat a separate skillet over medium high heat and scoop the meatballs in using a 2 tablespoon cookie scoop.

By the time you get all of those in the skillet, return to your sauce and add the JOI (or vegan cream cheese or heavy cream)

Stir to combine and reduce the heat.

Return to your meatball skillet and flip the meatballs over to brown the other side.

Once both sides are brown (about 2-3 minutes each side) place the meatballs in the sauce to finish cooking.

Cover the pot with the sauce and meatballs and let cook until the meatballs are finished.

Serve over pasta and garnish with fresh basil!