Colder months and soups go together like cozy sweaters and Netflix marathons - warm and comforting. But there are only so many times a basic chicken soup will do.
It's time to add a new soup recipe to your winter repertoire. If you're a pickle lover, I have something that'll have you licking your lips - Creamy Polish Dill Pickle Soup.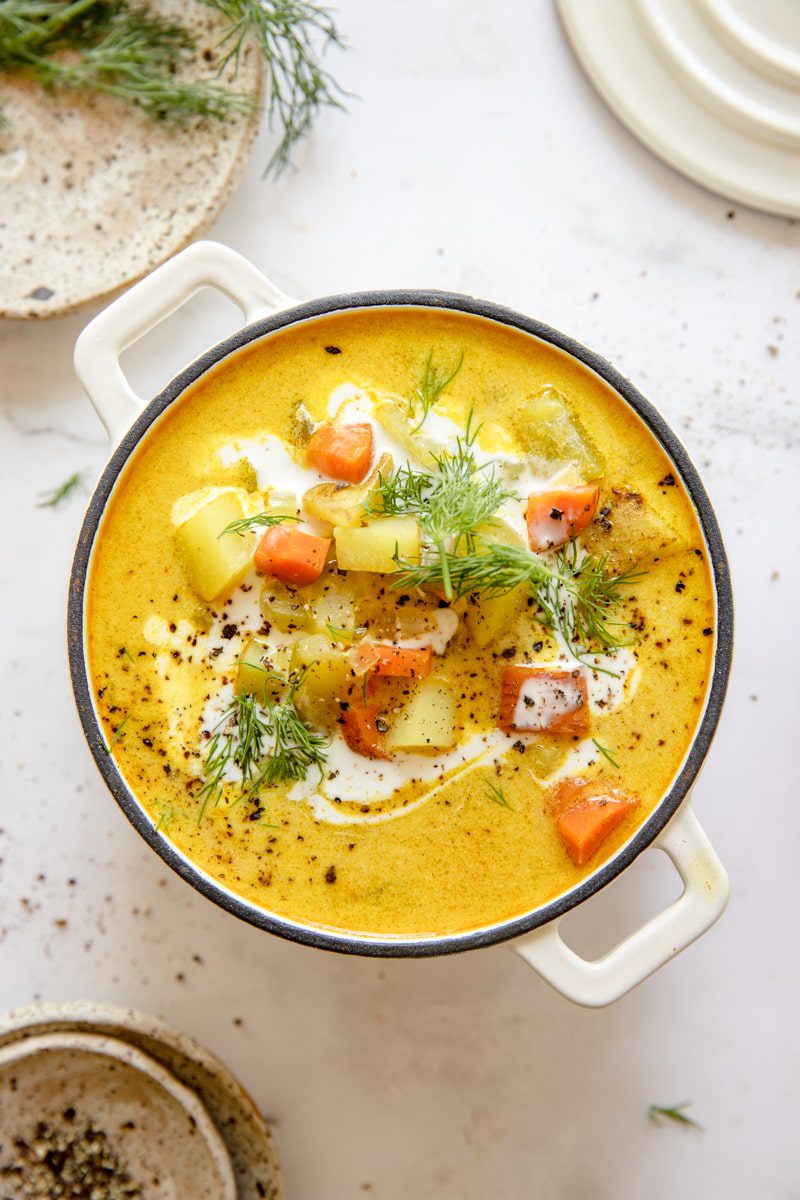 It's like a creamy potato soup blessed with a generous dollop of sour cream, tangy Polish pickles, and veggie goodness.
You can serve it with a salad of choice - think chicken salad or potato salad. Yum! I bend more toward a crusty bread to soak up all the flavors.
Here's Why This Polish Dill Pickle Soup Recipe is a Hit...
...Every. Single. Time!
It's a one-pot dish. Yes! No extra scrubbing on cold nights. All you need is a large soup pot.
It gets ready in thirty minutes only! I love love love recipes that wind up in a jiffy, don't you? It's an incredibly easy soup that comes together really fast.
And no flavor comprises either. I mean, can it get any better?! One large stock pot, thirty minutes, simple ingredients, and good taste? WOW!
This traditional Polish soup is comforting and super filling. Yummy in the tummy, warm and filling!
You know what the best part is? That first bite! The tangy, creamy, and savory flavor of pickles and vegetables in a bowl is something else! Trust me; there's no going back!
Ingredient List for Dill Pickle Soup Recipe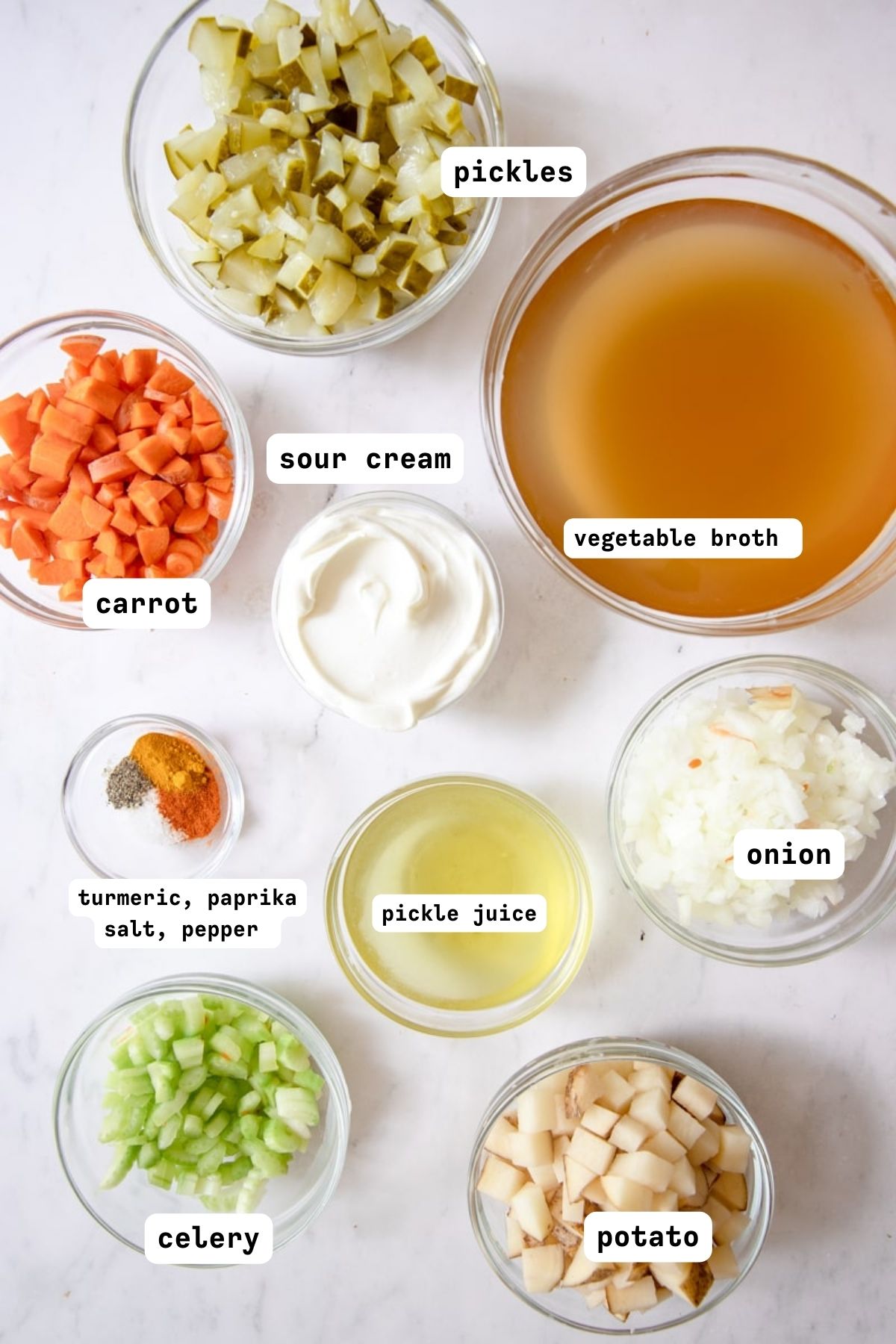 Yellow Onion: White onions will do, too. They're in the recipe to add a hint of sweetness.
Russet Potatoes: Russets are perfect for soups. They'll give you just the right creamy texture! You can also use baby potatoes.
Celery Stalks: The're here for a nice crunch. But if you want to leave it out, it's okay!
Carrots: Crunchy and sweet, they're the perfect addition to this dill pickle soup.
All Purpose Flour: This is the key to creating that oh-so-thick soup.
Vegetable Broth: Yep, I'm keeping this recipe vegetarian-friendly!
Dill Pickles: Use kosher dill pickles. They'll be the star of the show!
Dill Pickle Juice: You can get some from your pickle jar. A little goes a long way!
Sour Cream: Coconut cream will work if you're looking for a non-dairy substitute. Just add a bit more pickle brine!
Fresh Dill: You need this for garnishing. Dried dill won't give the same aromatic experience as the fresh one!
You'll also need olive oil, salt, turmeric, paprika, and black pepper.
Refer to the recipe card at the end of the blog post for measurements and other details.
Making the Creamy Dill Pickle Soup
Although the dish has a fancy name, Zupa Ogórkowa, the recipe is pretty straightforward - you won't even realize it, and you'll be done!
Here's what you have to do: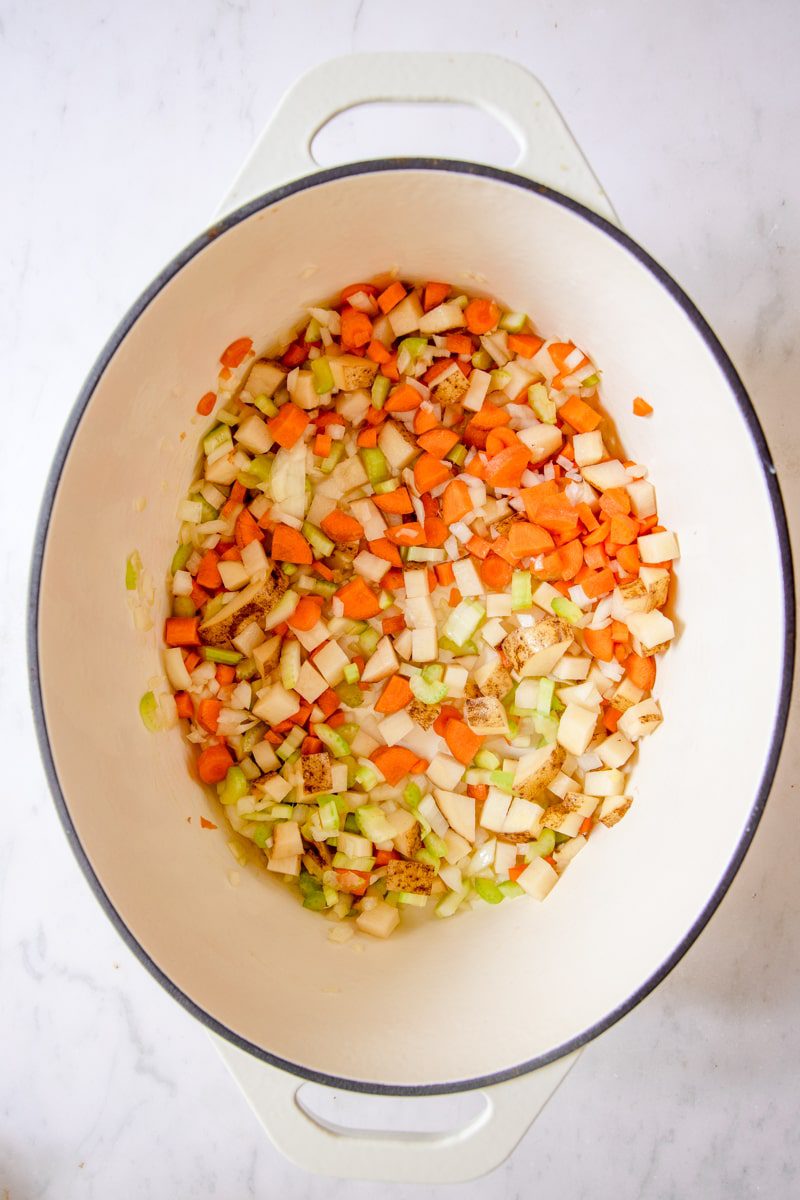 Heat olive oil in a large pot over medium high heat. Add veggies (except potato) and sauté 2-3 minutes. Add potatoes and flour and stir to combine. Cook 1 minutes.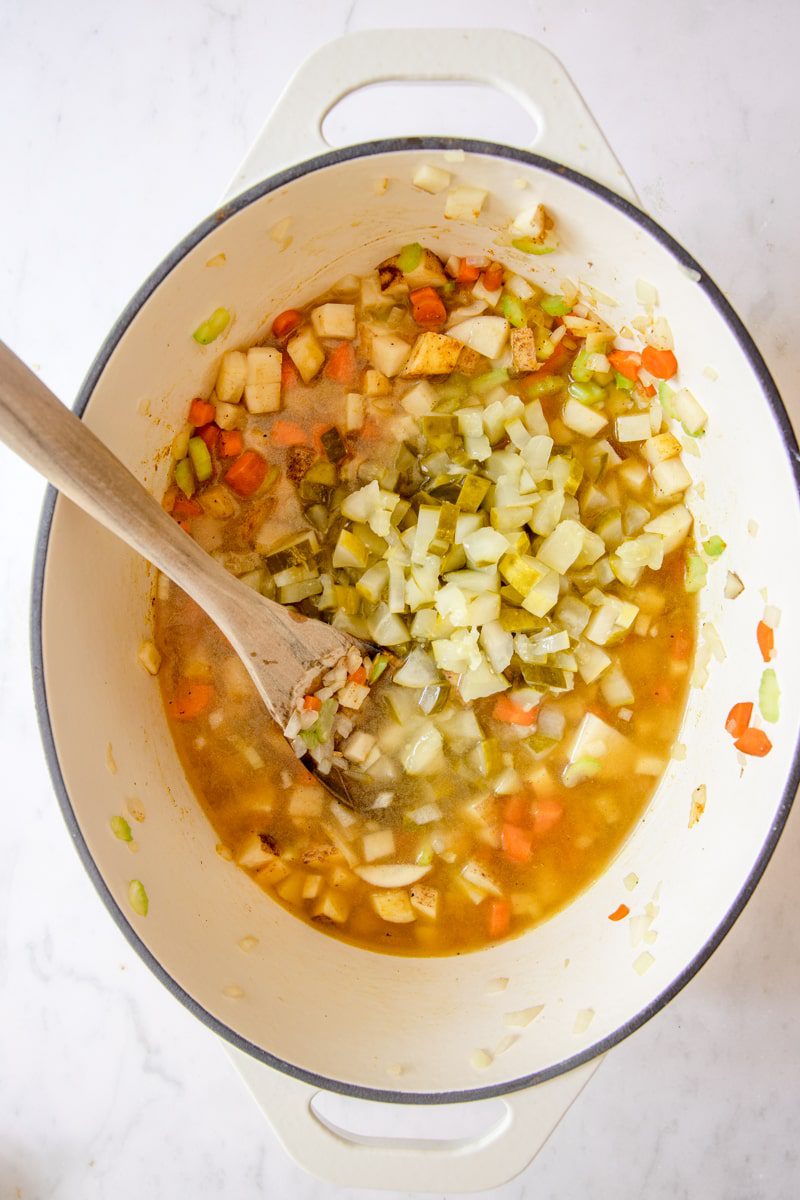 2. Add in the pickles, pickle juice, and broth, spices and stir. Bring to a boil over medium heat and cook for 20 minutes until potatoes are tender.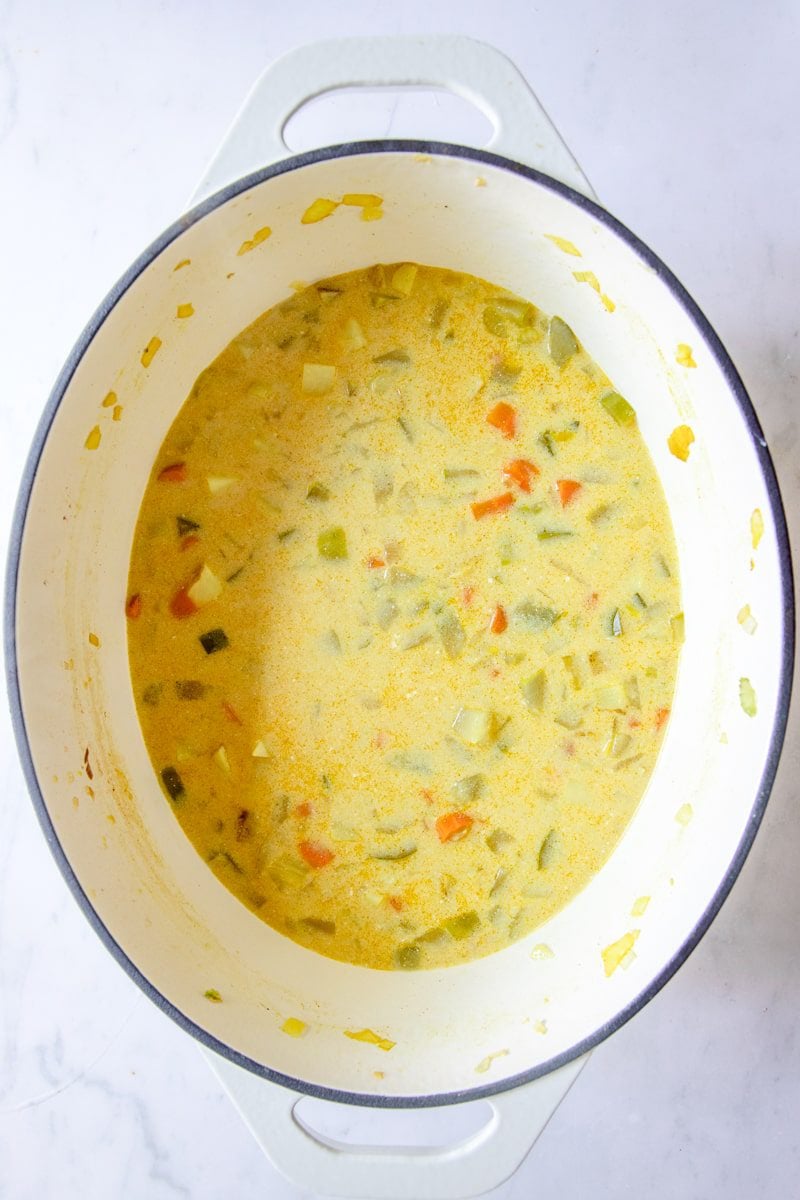 3. Remove from heat and stir in the sour cream.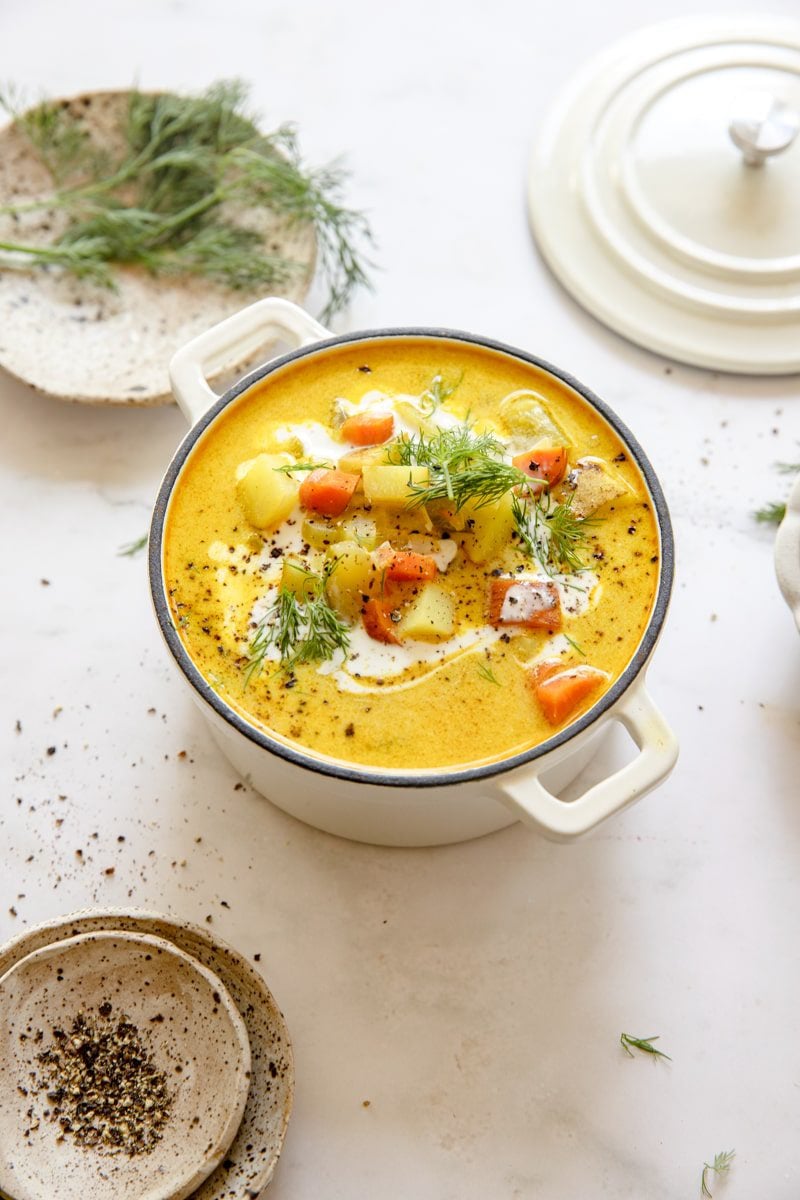 4. Add to a small bowl and garnish with fresh dill and black pepper.
Tips and Tricks
Even dump-and-stir-style recipes could go wrong if you don't pay attention to the nitty gritty details. So, save your ingredients and time by following these tips and tricks:
Not a fan of chunky soup? Use a potato masher! This will give you that creamy texture and thickness that is so desired with this soup! & If you love a creamy soup, try out this Spicy Butternut Squash Soup!
Regular heavy cream will work just fine instead of sour cream. Add some more pickle brine and flour to get the tang and consistency right. A little, okay? It'll go a long way!
Reduce the back-and-forth with your knife and cutting board, and chop everything beforehand. Chopped and diced veggies cook faster!
Never add potatoes first! You need to let your other vegetables cook first before adding them in.
If you don't want your sour cream to curd, temper it first with a few tablespoons of Polish pickle soup.
Never add extra salt to your soup until right at the end! Some pickle brines and pickles already have enough of it. Let your taste buds do their job before sprinkling some more salt.
Frequently Asked Questions
Can I Freeze the Dill Pickle Soup?
Nah, it's best enjoyed fresh! There's cream in there, so even if you successfully freeze it in an airtight container, it won't fare so well upon reheating. It'll become grainy.
However, if you really really want to, leave the sour cream out. You can add it later before serving.
Will Store-Bought Vegetable Stock or Broth Work?
Well, homemade versions are always more flavorful than store-bought broths, but if you're in a rush, sure, go ahead!
Can I Use Chicken Broth In Place of Vegetable Broth?
Yep, you can! You can even do half and half! If you really want that nice chicken flavor, I'd suggest using chicken stock.
What is the Best Bread to Serve with this Soup?
I'm partial to a nice and crusty French bread bowl, but any rustic-style bread will do! It can be rye bread, sourdough, or even pita pockets. You choose!
Wanna try some more new soups this season? Give my Velveeta Potato Soup and Roasted Butternut Squash Soup a go! I bet these are some excellent flavor pair-ups you haven't tried before.
More Soup Recipes!
📖 Recipe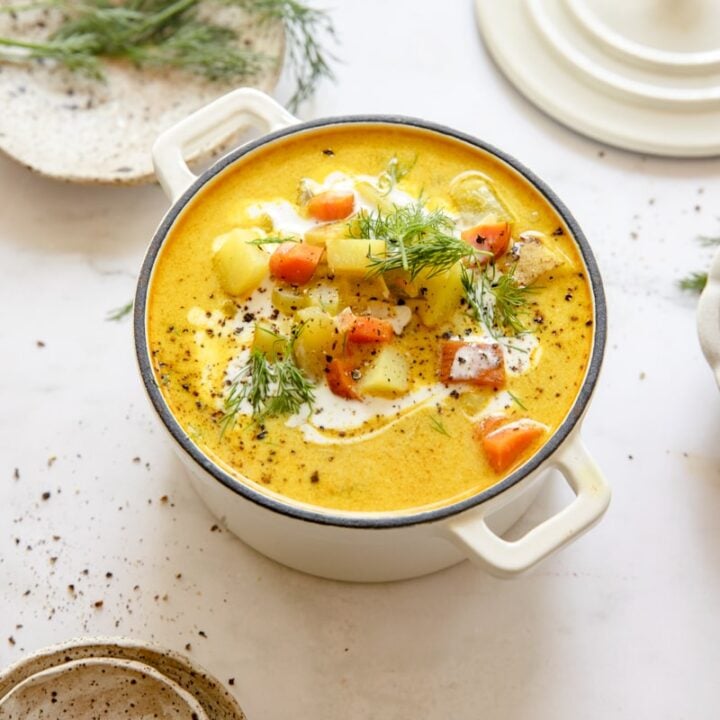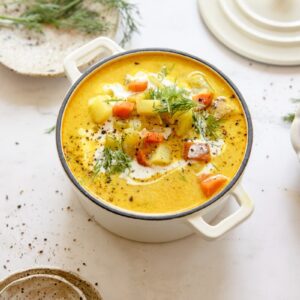 Creamy Polish Dill Pickle Soup
Discover the ultimate comfort food with our creamy dill pickle soup recipe. Perfect for pickle lovers, this savory and tangy soup is sure to satisfy your cravings.
Print
Pin
Rate
Ingredients
2

tablespoon

olive oil

½

a yellow onion

diced

3

russet potatoes

finely cubed

2

celery stalks

diced

2

carrots

diced

1

tablespoon

all purpose flour

4

cups

vegetable broth

2

cups

dill pickles

chopped

½

cup

dill pickle juice

1

teaspoon

salt

½

teaspoon

pepper

1

teaspoon

paprika

1

teaspoon

turmeric

½

cup

sour cream

fresh dill for garnish
Instructions
In a large pot heat the olive oil over medium high heat.

Add in the diced onion, celery, and carrots. Saute for 2-3 minutes.

Add in the cubed potatoes and stir well. Cook an additional 1-2 minutes.

Sprinkle in the flour to coat the veggies and cook for another 2 minutes. (This will help cook out the "raw" flour flavor)

Pour in the vegetable broth, pickle juice, pickles, and spices then stir to combine. Bring the mixture to a boil then reduce to medium heat.

Cook for 20 minutes, stirring occassionally.

Check to see if the potatoes are tender then remove from the heat before stirring in the soour cream.

Garnish with fresh dill and enjoy!