15 bean soup, 10 bean, 11 bean....I've heard lots of variations of this soup! It's traditionally a pack of many different dry beans that cooks slowly to create a delicious hearty soup! Today we're taking a 15 bean soup mix and making 15 Bean Chili!
A hearty chicken chili with a base of a 15 bean soup recipe with a couple of twists! I'm adding warm spices like cinnamon, cumin, and paprika to our broth to really drive home the chili aspect.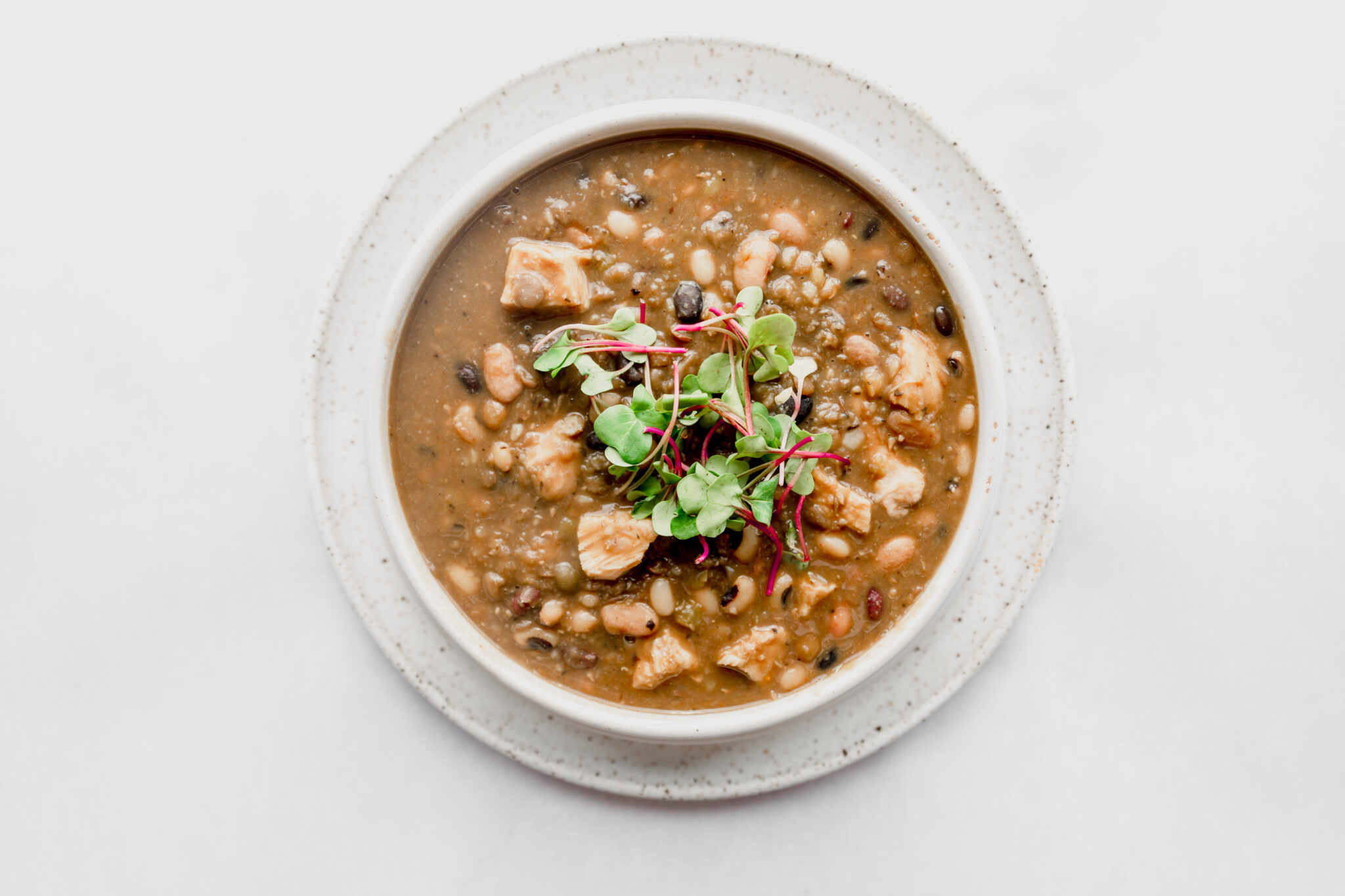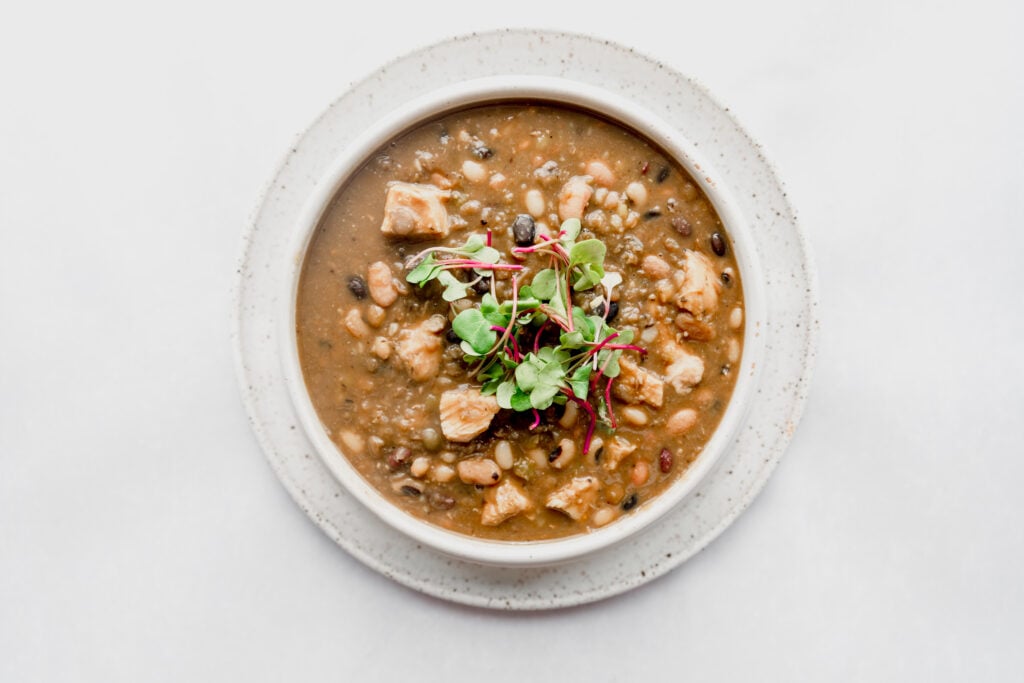 Whats in 15 bean soup?
Pretty much any bean under the sun! Kidney beans, navy bean, black eyed peas, lentils, black beans, red beans, white beans. ALL THE BEANS!
I've also seen the 15 (or 10 or 11 bean) soup packets that come with their own spice mix. Pitch that! We're making our own for this 15 bean soup recipe.
Also bean soup is a lot of times made with a ham hock and ham pieces, however for this version we are making it with chopped chicken breast.
15 Bean Chili
So as this suggests, our soup base will mostly be beans. It's a delicious and hearty bean chili that has minimal ingredients, maximum flavor and is very economical.
This soup will last you all week and usually the bean packets are fairly cheap!
So like I mentioned earlier, to turn this in to chili I've used cumin, paprika, and a touch of cinnamon for the spices to make it warm and inviting.
It cooks in a mix of chicken broth, water, and seasoning salt to really infuse that savory flavor into the beans.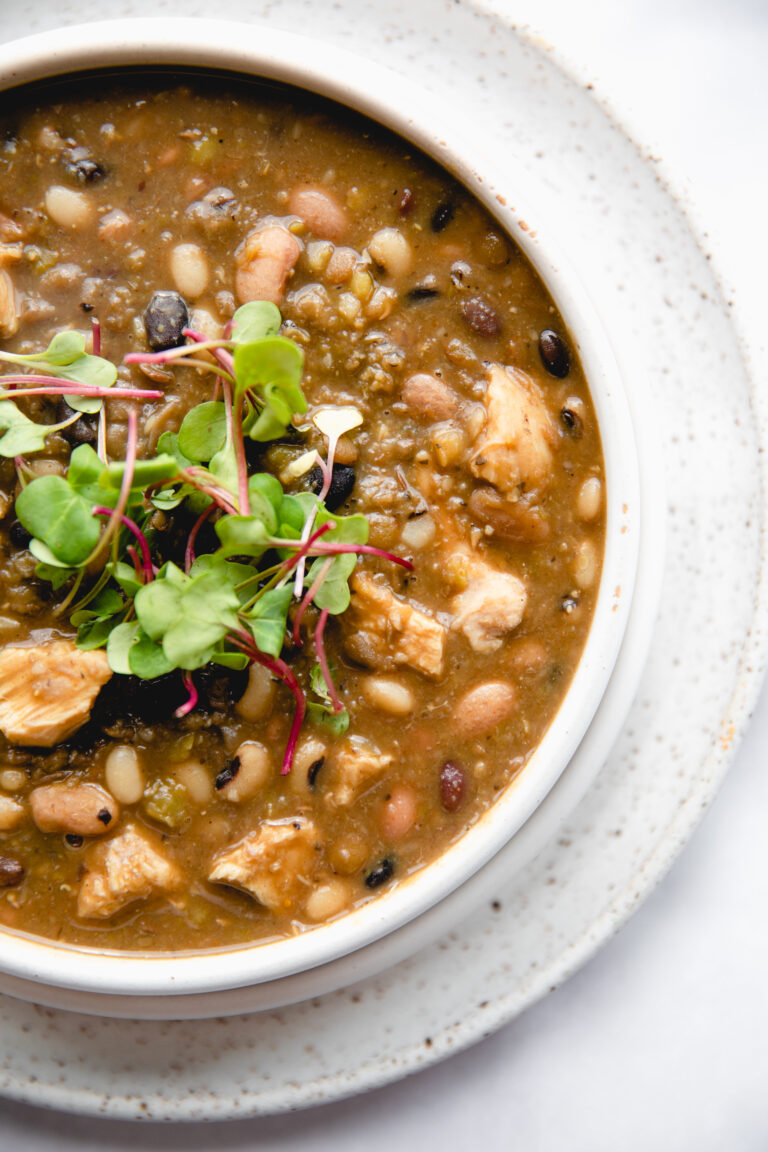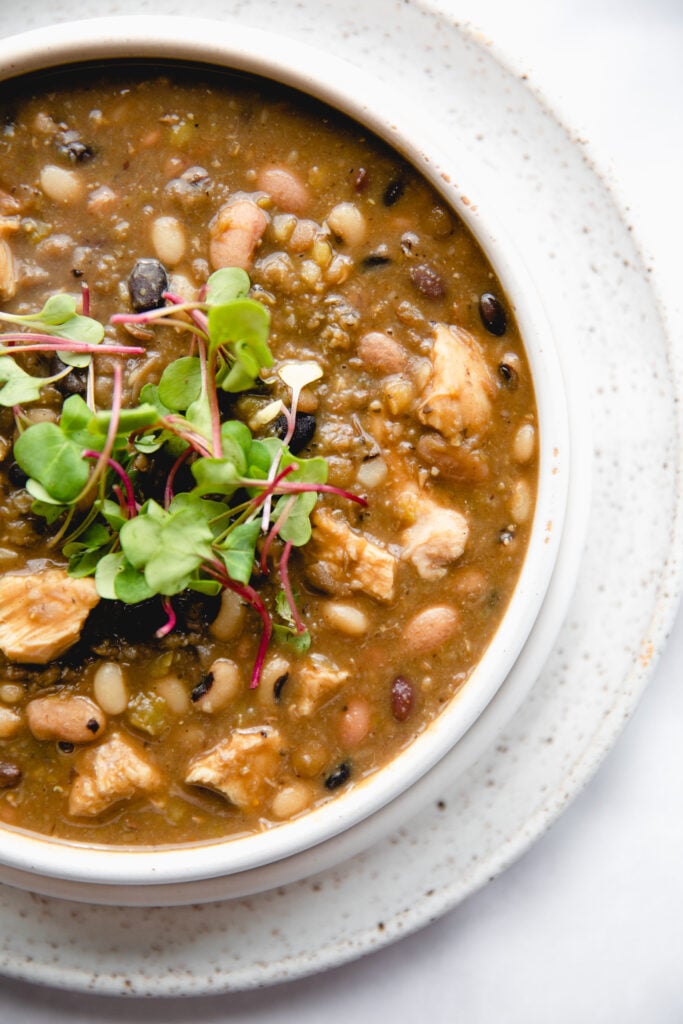 What Protein to Put Into 15 Bean Soup
So for this 15 bean soup recipe we are using chicken breasts. However ham and bean soup is very popular and it would be just as delicious!
Ham, chicken thighs, ground turkey, or ground beef are all fine substitutes for the chicken breast. But to keep it light and lean I'm going to stick with chicken breast in this recipe.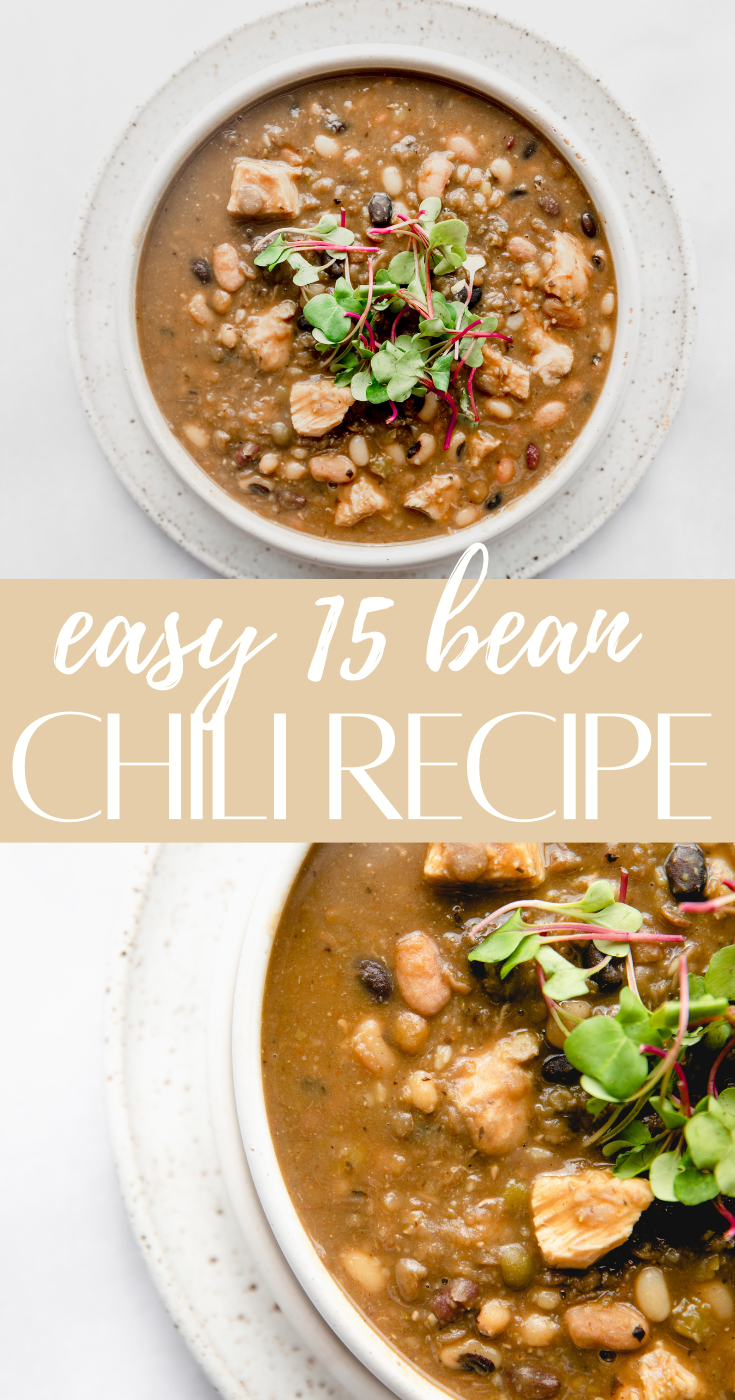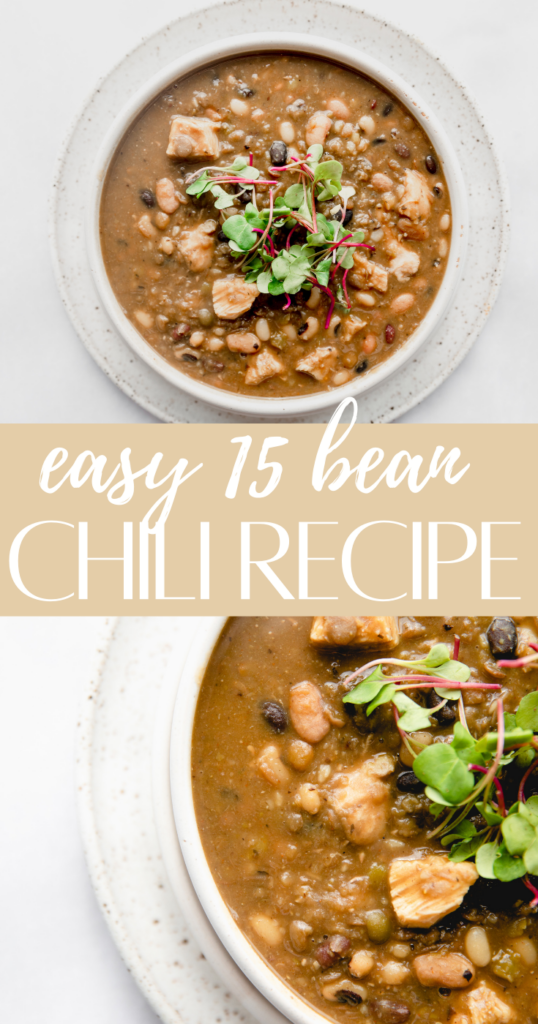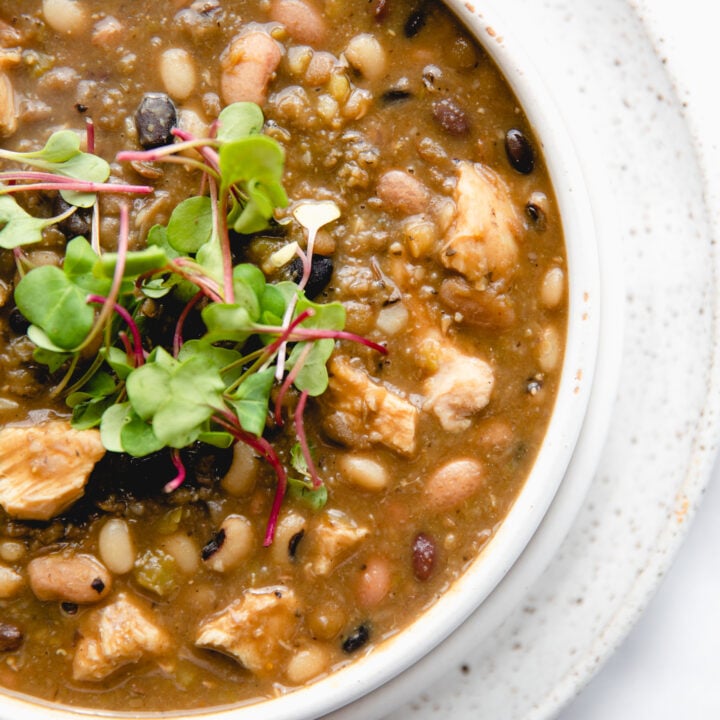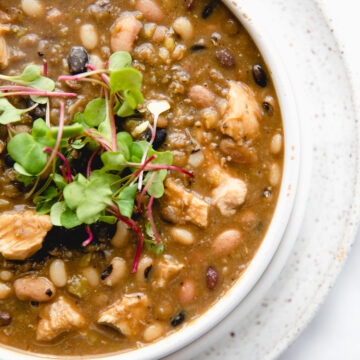 15 Bean Chili Soup Recipe
Delicious chicken chili using a 15 bean soup recipe! Hearty and filling.
Print
Pin
Rate
Ingredients
1

packet of 15 bean soup mix

sometimes labeled as 10, 11, or 12 bean soup!

4

cups

of stock

2

cups

of water

1

onion

1

tbsp

cumin

1

tsp

cinnamon

2

tsp

salt

1

tsp

pepper

pinch

of red chili flakes

3

chicken breasts

micro greens for topping.
Instructions
In a large pot sauté the onion until translucent with 1 tbsp of olive oil, about 3-5 minutes over medium high heat.

Add in the stock as well as the water and seasonings.

Bring this mixture to a boil and add in the beans from the soup packet. (It may also come with a seasoning packet, you won't need that for this chili!)

Once that comes to a boil reduced to medium heat and let it cook for 30-40 minutes.

Add in the whole chicken breasts and let it boil until they are cooked through. Another 15 minutes.

The soup should start to look quite thick at this point and you may need to add a bit more stock or water.

Once the chicken is cooked, remove it and dice or shred. Then add it back into the pot.

Once the beans are fully tender the chili is done! Enjoy topped with micro greens.