Light and fluffy with a hint of toasty, brown buttery goodness, this 3-ingredient recipe for Air Fryer Popcorn is sure to become a family favorite. Whip up a batch of better-than-movie-theater popcorn in less than 10 minutes with this sure-fire method. Family movie night will never be the same!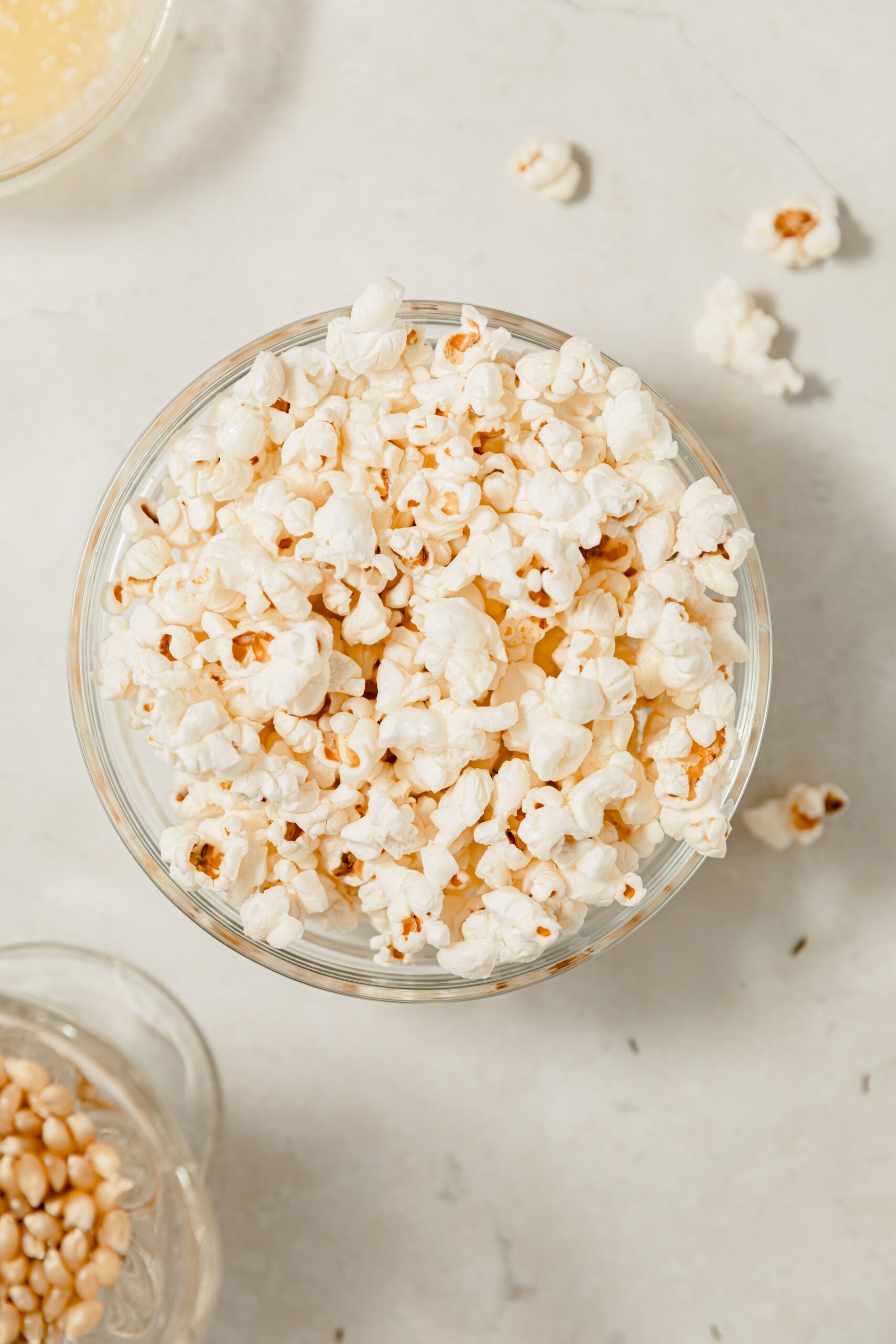 Why This Meal Is The Best
If you've ever wondered "can you make popcorn in the air fryer," the answer is a big fat YES! This tasty recipe for air-fried popcorn yields deliciously toasty morsels that are perfect for movie night or snack time. As if that weren't enough to love, this recipe is also:
Made With Only 3 Ingredients. Popcorn, butter, and salt. Just like movie theater popcorn SHOULD be!
Quick & Simple. A bowl of heaping whole-grain goodness awaits you in less than 10 minutes' time!
Versatile. Flavor your popcorn any which way to Sunday. Go sweet or savory, or experiment with both! Read on below for plenty of inspo.
Air Fryer Popcorn Ingredients
As promised, this simple recipe for air-fried popcorn requires a mere 3 ingredients:
Popcorn Kernels - Any variety of dried corn will work here. You can even open up a bag of microwave popcorn and use the kernels inside.
Melted Butter - In my world, proper movie theater butter should have plenty of butter, but feel free to swap in your preferred oil of choice. You can also dry pop them if you prefer.
Flaky Sea Salt - Feel free to get fancy here — Himalayan pink salt, kala namak, sel de gris, Maldon. Or just use kosher salt!
Tools Needed
The next time someone asks "can you pop popcorn in an air fryer," you can tell them yes! To make this simple air fryer popcorn you'll need:
Air Fryer or Convection Oven - Surprise! You'll need a piece of equipment that can air fry. An air fryer uses convection technology (basically, a fan blowing hot air), so you can also use a countertop convection oven if that's what you have on hand. If you do, PRO TIP: be sure to line the basket with foil, but place it atop the sheet pan to prevent the popcorn from burning on the bottom shelf.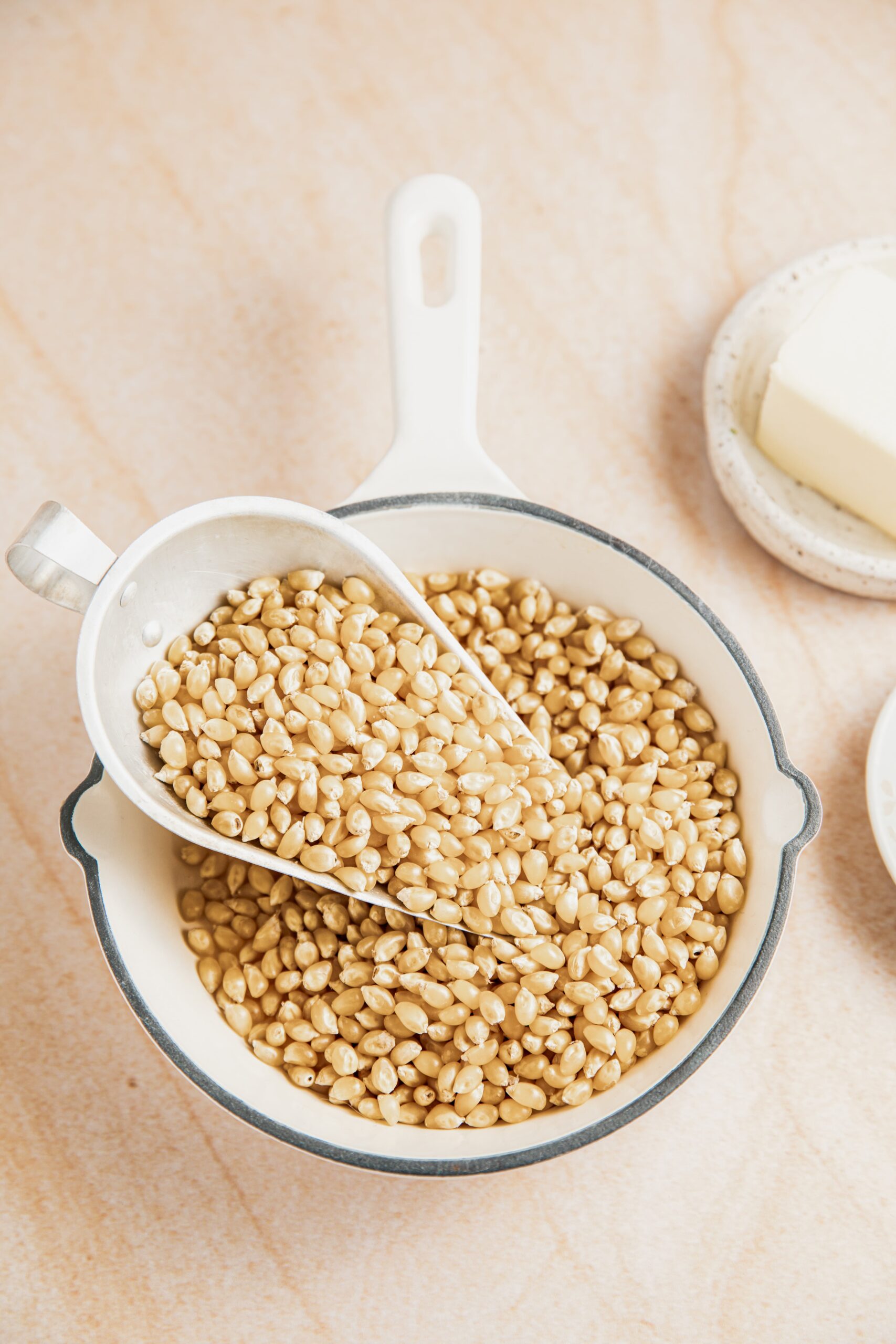 How To Make Popcorn In An Air Fryer
Learning how to air fry popcorn is an easy endeavor. Here's how it's done:
Step 1: Prep. Line the air fryer with tin foil. Preheat the air fryer to 400 degrees for 5 minutes
Step 2: Toss & Pop. Toss the kernels in the butter and place in the air fryer for 5 minutes, remove the basket and toss gently.
Step 3: Remove popped kernels and continue air frying the unpopped kernels for another 2 minutes.
Step 4: Add seasoning. Top with a pinch of flaky sea salt and enjoy.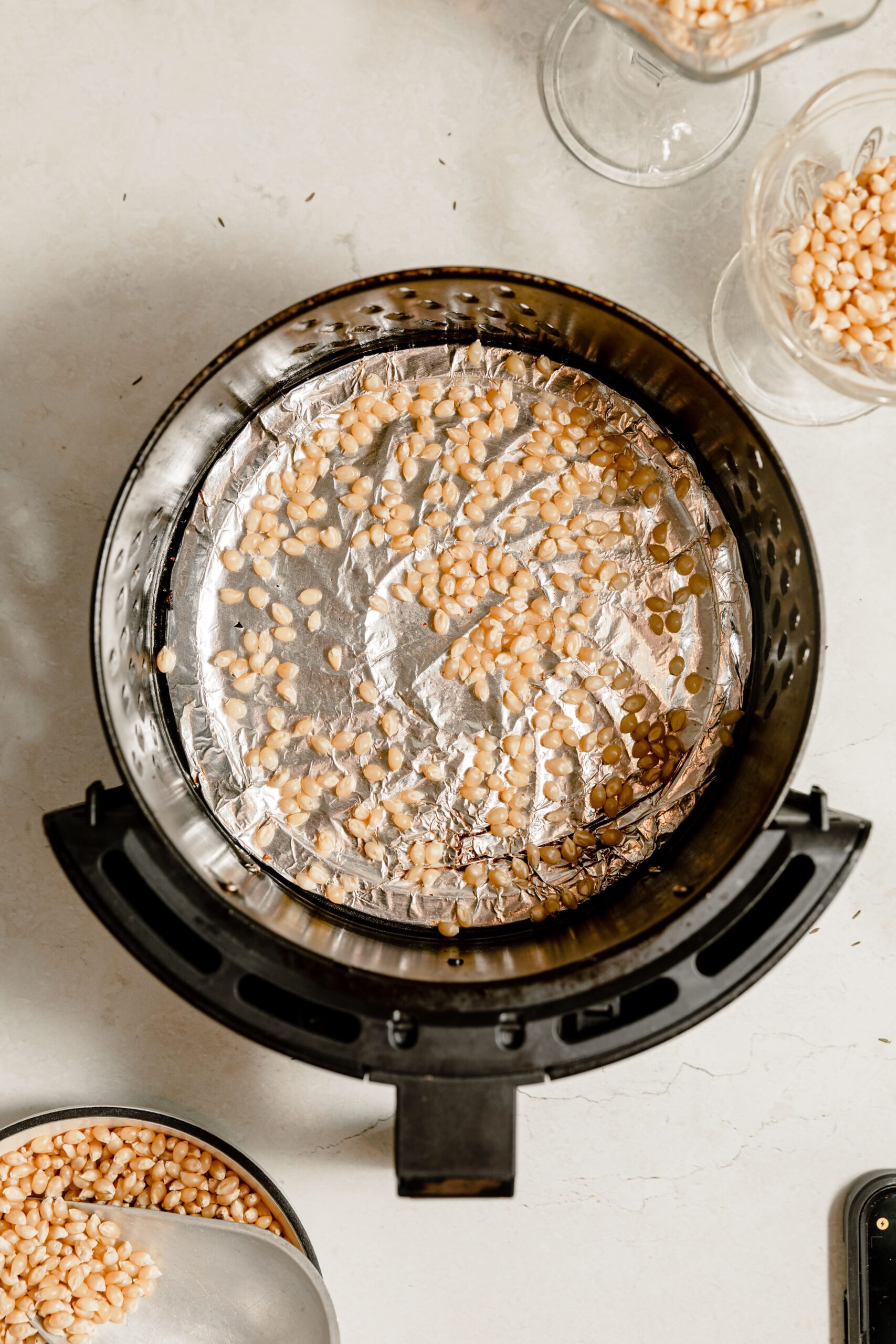 Swaps & Substitutions
While I love the simplicity of making air fryer popcorn as written, there are a few ways to customize this tasty treat to your liking. Here are a few ideas:
Make it vegan. Simply sub in either vegan butter, coconut oil, avocado oil, grapeseed oil, etc.
Use a pot on the stovetop. Don't have an air fryer? Don't fret! You can still make delightfully fluffy popcorn on the stovetop. Use a heavy-bottomed deep pot with a tight-fitting lid over medium-high heat. Add oil and wait until heated, then add the popcorn and place the lid on top. Swirl the pan often until the number of pops drops to less than 1 every 5 seconds. Remove from heat and toss with salt!
Swap in another grain. If corn is off the table, ancient grains like amaranth and sorghum can also be popped. Just note that I have not experimented with air frying smaller grains like these. I suggest doing them on the stovetop in a dry pan to be safe.
FAQs & Tips
Let the foil curl up at the edges to ensure proper ventilation.
Turn off the heat and let the basket stay in place for at least 10-15 seconds before pulling it out, or you might get shot with a rogue popping piece!
Make sure there isn't any overlap. Don't overcrowd your air fryer, or you'll end up with way more unpopped kernels. Spread the kernels in a single layer, leaving some room between them. That said…
Some kernels just won't pop. I do suggest removing the top layer of popped popcorn after about 5 minutes in order to give the unpopped buddies a fighting chance. After the popcorn slows to popping less than once every 5 seconds, it's time to let the unpopped ones go.
Will this recipe work for a normal popcorn air popper? If you are using a microwave air popper, this recipe should still work. Just be sure to refer to the product recommendations for cooking times.
Should I add butter before or after popping the corn? If I'm being honest, BOTH! Adding butter before popping imparts a lovely bit of toasty, brown buttery goodness. If you want a more decadent treat, tossing a little melted butter in after the fact is also wholly encouraged.
What is the best type of corn for popping in the air fryer? Any dried corn kernels should do the trick. White, yellow, and even blue varieties will all pop into puffy white balls. Oh, and check your Farmer's Market if you want to find some heirloom varieties. It's always fun to do side-by-side taste tests to see which one you like best!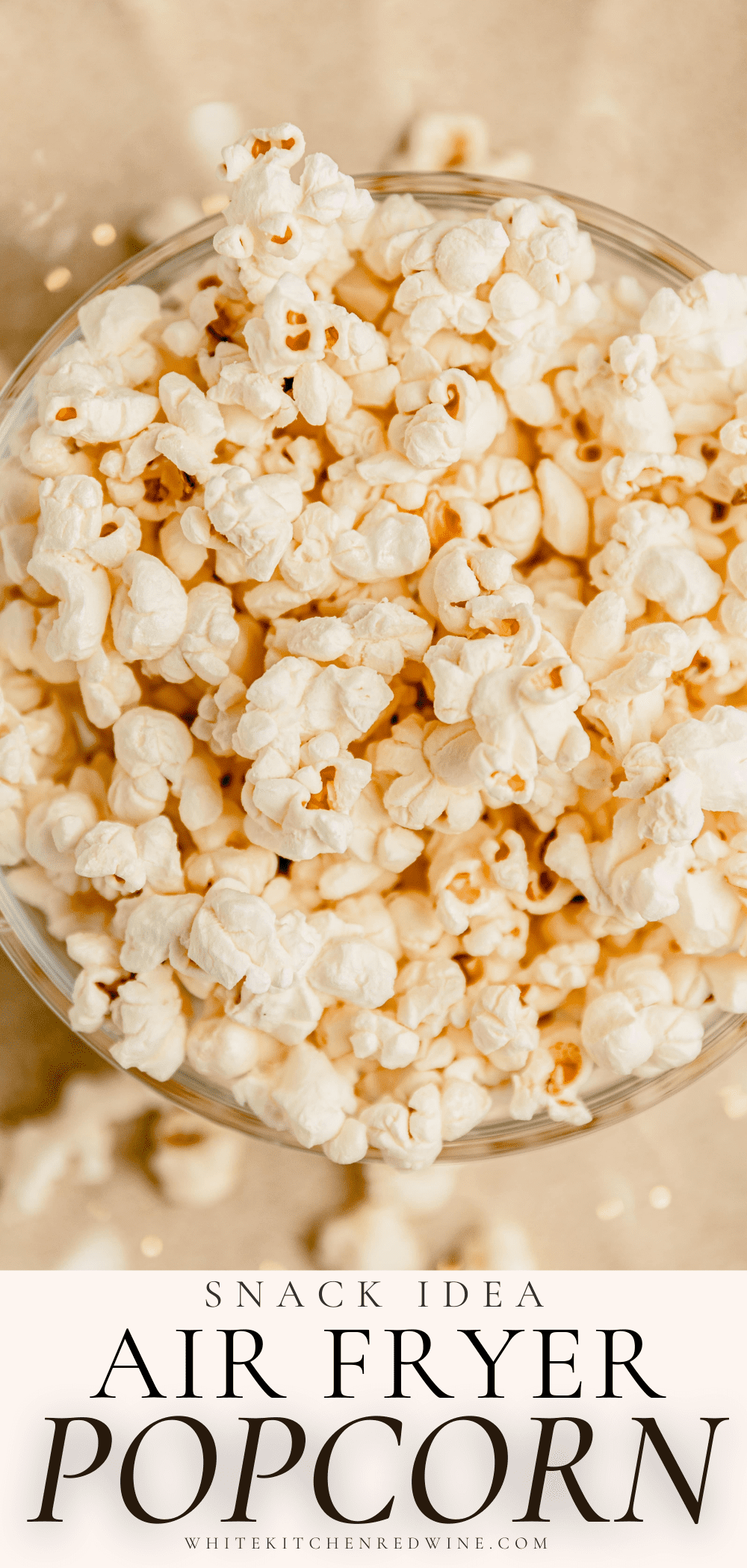 Flavor Suggestions
Once you have a heaping bowl of air fryer popcorn, feel free to dig right in. However, if you're feeling daring, there are lots of ways to gussy up your kernels. Here are a few of my favorites:
Butter & Salt - Simple and elegant.
Herbed Salt - I'm not exactly sure when it happened, but there are a BUNCH of flavored salts you can get these days. Anchovy salt, vanilla salt, truffle salt, Tajin… The list goes on and on. Choose your favorites!
Nutritional Yeast - For a completely vegan but satisfyingly cheesy experience.
Parmesan Cheese - Not vegan, still delicious.
Spice Mixes - Think Za'atar, Cinnamon Sugar, Trader Joe's Mixes (e.g. Chickenless Salt or Everything but the Bagel).
Trail Mix Style. Mix with nuts, dried fruit, and/or chocolate chips.
More Tasty Snack Recipes
📖 Recipe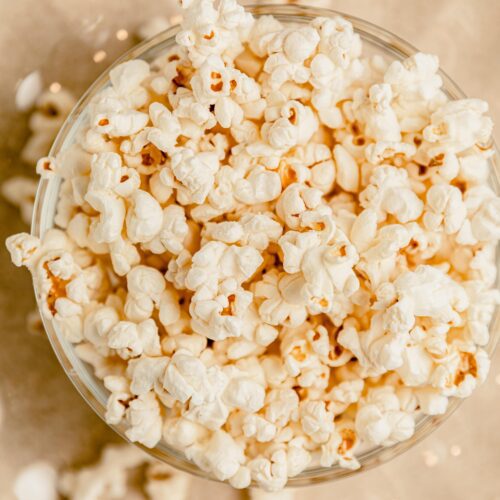 Air Fryer Popcorn
A super easy and totally customizable air fryer popcorn recipe! It is so fun to do at home or on the road with your portable air fryer and you can control the butter, salt and calorie content by making homemade popcorn.
Print
Pin
Rate
Equipment
1 air fryer

1 Sheet of Tin Foil
Ingredients
¼

cup

popcorn kernels

2

tablespoon

melted butter

pinch

flaky sea salt
Instructions
Preheat the air fryer to 400 degrees for 5 minutes

Take the bottom of your air fryer basket and either wrap it in tin foil or press the sheet of foil into the bottom and let it come up the sides a bit.

In a small bowl combine the popcorn kernels and ½ the melted butter. Toss.

Add the kernels to the air fryer basket and make sure they are spread out evenly.

At 400 degrees, cook the popcorn for 5-6 minutes.

Remove the basket and spoon out the popped kernels.

Return the basket to the air fryer and continue for another 5 minutes to pop the rest of the kernels.

Top the popcorn with remaining butter and flaky sea salt!