Delicious Spicy Crab Salad
This low-carb, flavor-packed meal is one of my Summer favorites. Spicy Crab Salad is light and fresh but slightly rich thanks to that real crab claw meat!
Spicy Crab Salad comes together in no time at all and is the perfect lunch for those hot summer days.
OR get fancy with it and serve it in a big bowl with some delicious crackers as an appetizer. An appetizer that's sure to please any crowd just like my Whipped Goat Cheese or Blistered Tomatoes.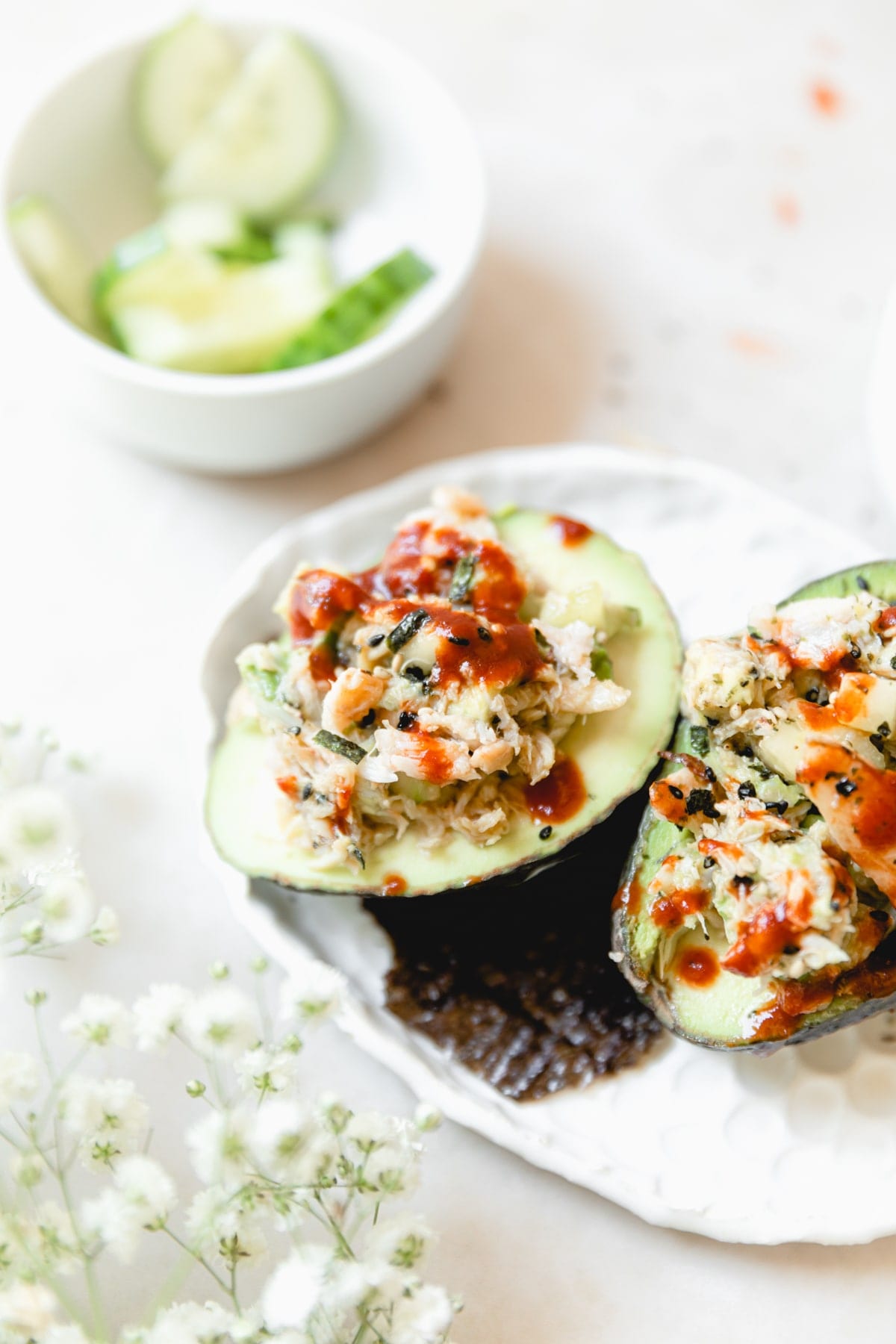 Crab Salad Ingredients
This easy salad features REAL crab meat, none of that imitation stuff here. And a few other fresh ingredients that are easily prepped.
Crab claw meat
Cucumber
Avocado
Sriracha
Furikake
Soy Sauce
Spicy Crab Salad Dressing
The "dressing" that makes this crab salad so delicious and creamy is actually made super creamy because of avocado!
Simply mash up an avocado with Furikake, soy sauce, and sriracha! Toss together with the cucumber and crab claw and you have yourself a gorgeous spicy crab salad.
Types of Crab Meat
You can get a few types of crab meat at your grocery store...While there are many different parts to the crab these are the types you are likely to find easily.
Crab Claw - meat coming from the claw of the crab.
Lump or Jumbo Lump - crab meat that comes from the 2 large swimming fin muscles.
Special - smaller broken-up pieces of the body of the crab.
Cocktail Claw - the smaller claw fingers, it's also brown in color!
Imitation Crab - These are "crab" sticks made from white fish and starches formed into a stick shape.
For this particular recipe I'm using the crab claw because it's delicious in flavor and not top of the line crab meat. It's economical to use when mixed with other ingredients.
You could use any type of crab meat for this however I wouldn't reccomend the imitation crab. If you want a delicious recipe for that, try out a Kani Salad. It's a shaved imitation crab salad with a spicy sriracha dressing.
How To Eat It
So for my crab claw salad what better way to serve it up than stuffed right inside an avocado?!
It honestly tastes like a California roll and it's totally low carb. I've also enjoyed this crab salad on toasted bread with garlic. It's the perfect lunch or appetizer.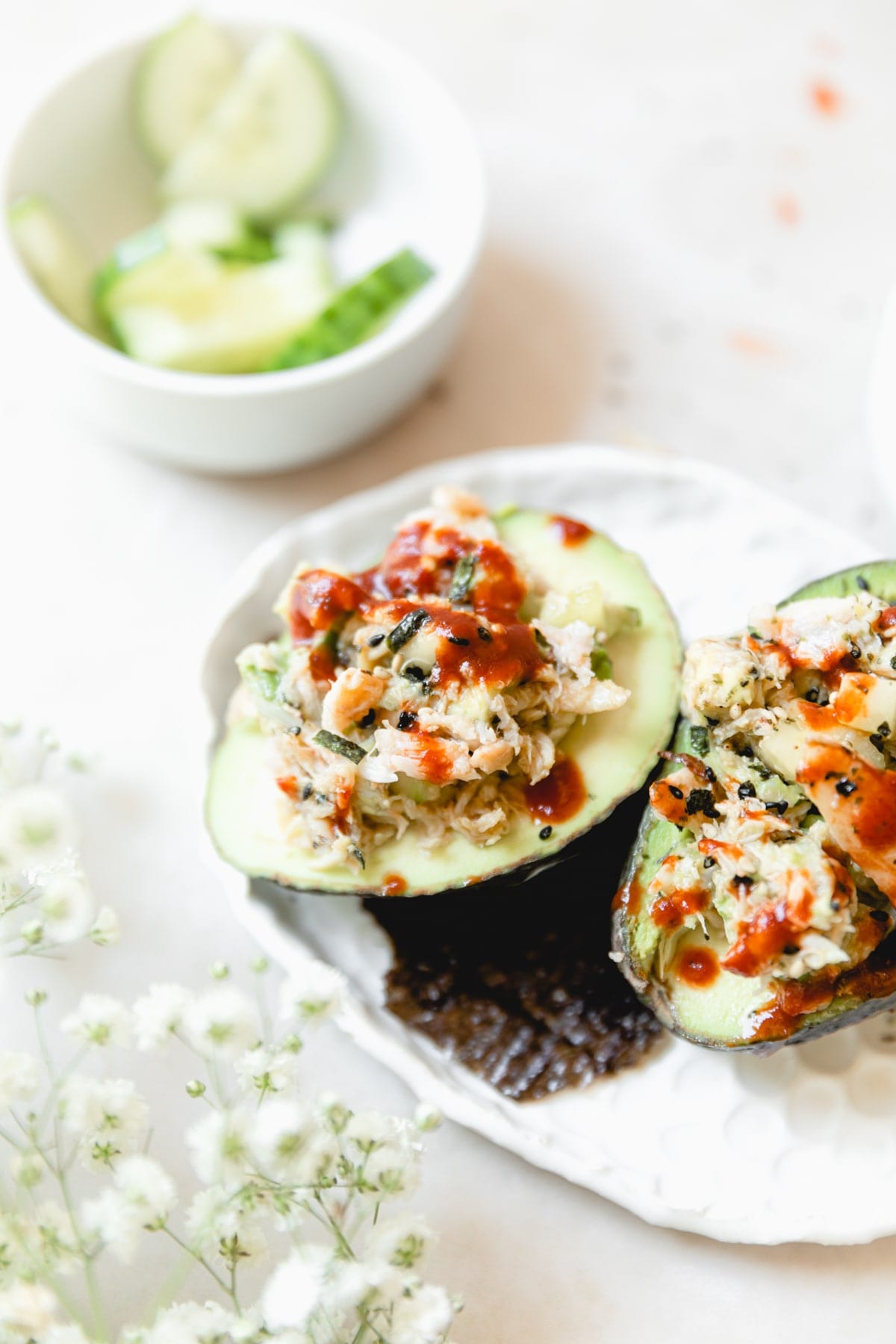 Where To Buy Crab Meat?
Did you know you can buy crab meat right in your grocery store!?
At my local Kroger, they sell cartons of jumbo lump and crab claw already out of the shell.
It's so easy to pick up a carton to whip up this delicious Low Carb Spicy Crab Salad.
You could also visit your local seafood shop and see what they have to offer.
It's Served Best With...
This Spicy Crab Salad is light however it really packs in a lot of flavor thanks to the soy sauce. It's savory and has a slight buttery richness from the crab claw.
I think it is served best as a little appetizer with a main dish of grilled chicken or other fish. Especially my Seared Ahi Tuna or Ahi Tuna Tacos.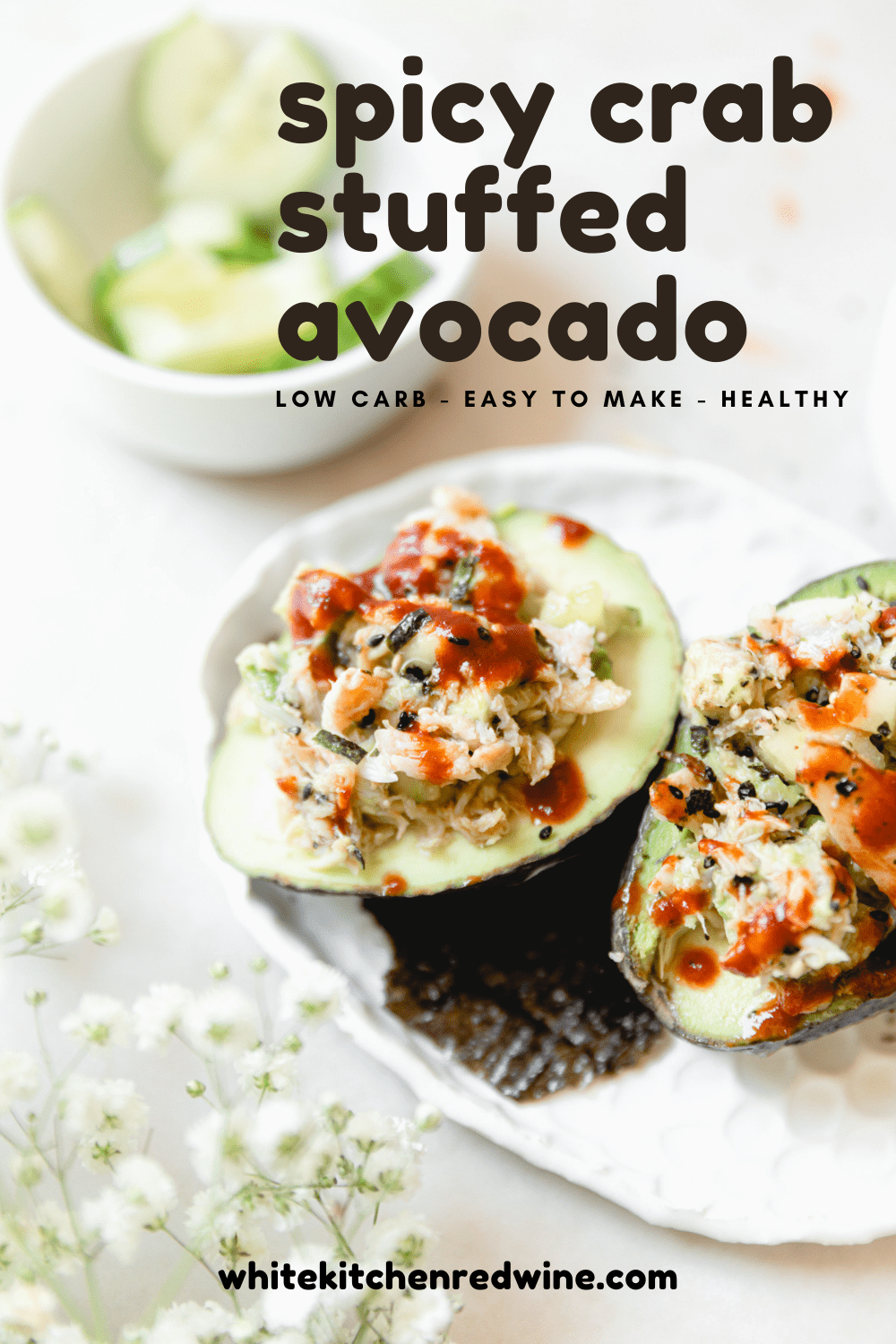 📖 Recipe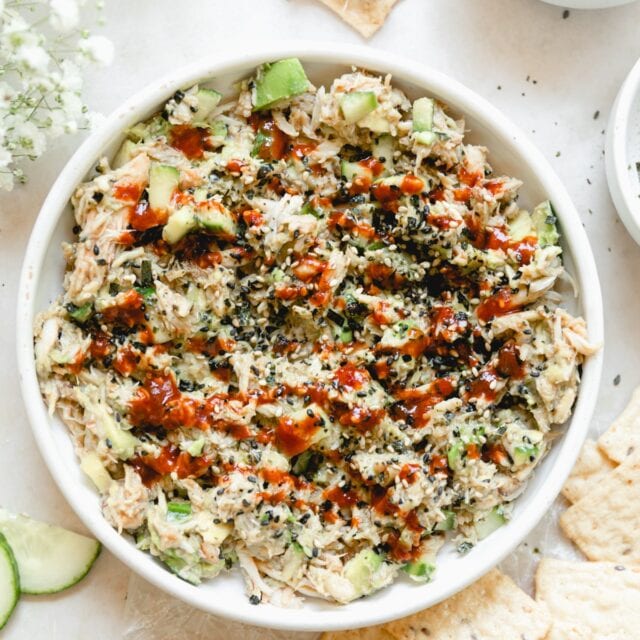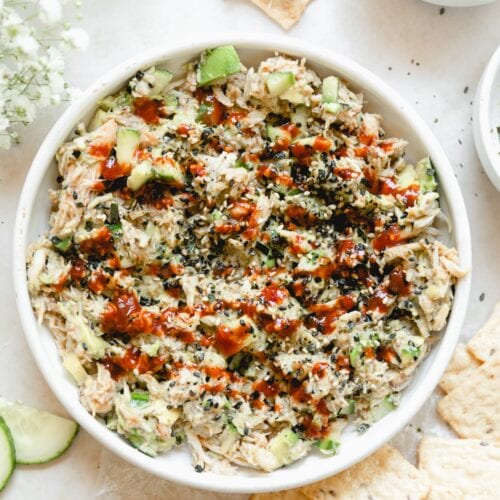 Spicy Crab Salad
A sriacha Spicy Crab Salad stuffed in an avocado to create a delicious blend of flavors that remind me of a California Roll!
Print
Pin
Rate
Ingredients
10

oz

crab claw meat

½

cup

English cucumber finely diced

1

tablespoon

sriacha

1

tablespoon

soy sauce

2

tablespoons

Furikake

5

avocados
Instructions
Cut one of the avocados in half and scoop out the inside into a bowl. Mash well.

Add in the soy sauce, sriracha, furikake and stir to combine.

Stir in the crab meat and diced cucubmer.

Cut the rest of the avocados in half and remove the seed.

Stuff the crab salad into each avocado half.

Serve with an extra drizzle of sriacha and sprinkle of furikake.