Deboning Chicken Thighs
While it is common to find deboned chicken thighs at the store, typically the bone-in, skin-on chicken thighs are a bit cheaper and more flavorful. With these steps, you can easily debone chicken thighs right at home.
Boneless chicken thighs are a great start to healthy dinners! So having them on hand is always a good idea. I typically buy them in bulk when I find them on sale & then bone the chicken thighs at home. This is how I do it!
This post contains affiliate links that I might make a small commission from.
How To Bone A Chicken Thigh
Deboning chicken thighs might seem intimidating, but really it's quite simple! It's an economical way to purchase chicken thighs. Debone the chicken at home and freeze them in smaller portions for easy defrosting for weeknight dinners.
Here are the tools you'll need...
A sharp boning knife, I use a Wustof 5 inch boning knife.
A cutting board, such as a large wooden Boos cutting board.
Instructions
Lay your chicken thigh skin side down on the cutting board.
Begin by making small slices down one side of the bone. Be sure to get as close to the bone as you can. Repeat this on the other side of the bone. Gently cut it away from the meat.
Once the sides have been cut away, carefully slip the knife under the bone and begin to cut it free from the thigh.
Once it's mostly cut free, flip the bone over and finish cutting it out of the chicken thigh.
Once you've completely cut away the bone from the chicken, be sure to feel around and be sure no small pieces of bone or gristle are left behind.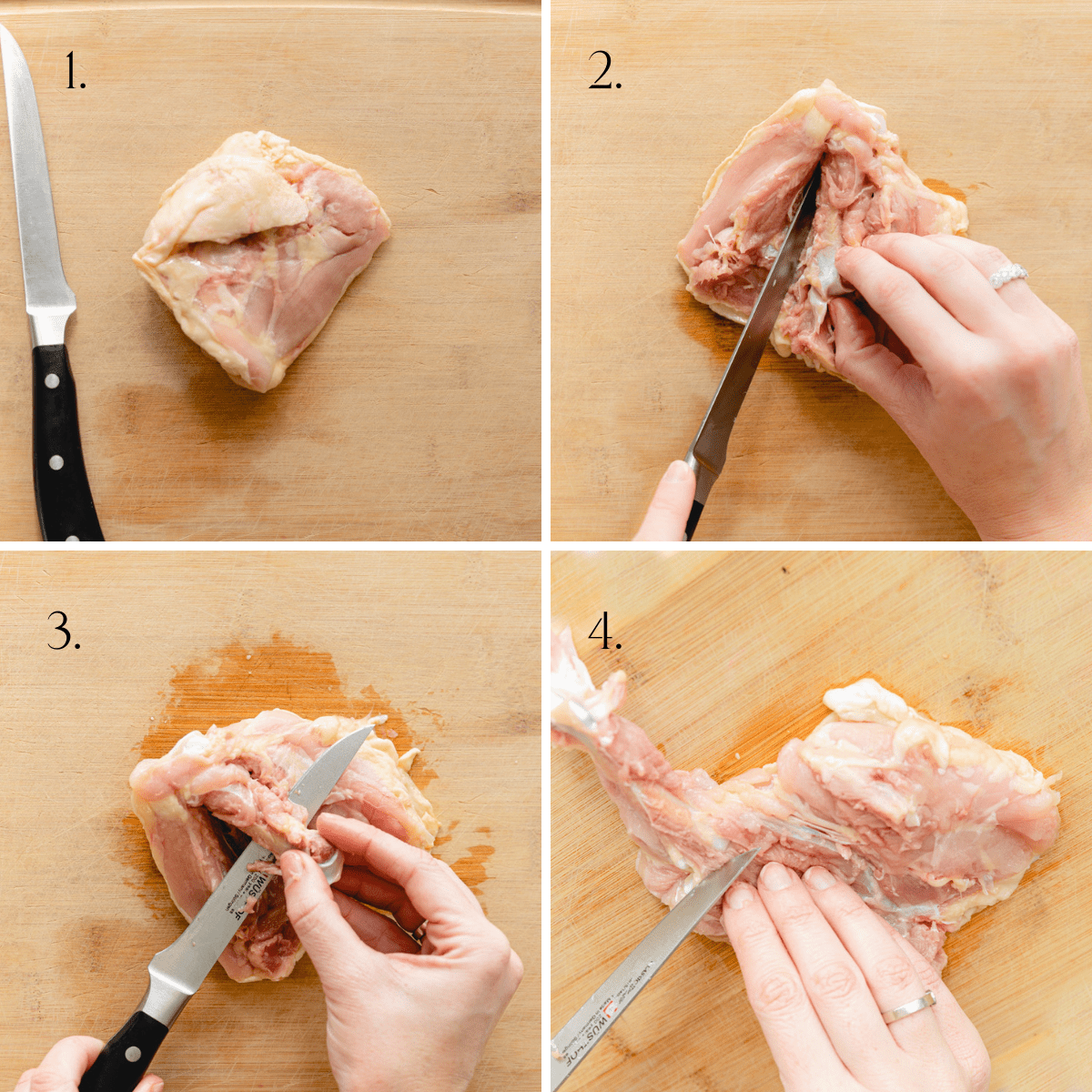 Should I Debone Before or After Cooking?
This may depend on your preference or the specific recipe you are making. Leaving the bones in during the cooking process provides extra flavor.
If your recipe calls for shredded chicken, it might be easier for you to cook the chicken and shred it from the bone! Soups, stews, and curry would be examples of recipes where you might debone the chicken after cooking.
However, boning the chicken prior to cooking cuts down on the overall cooking time. Also if your recipe needs a whole chicken thigh, intact, you would want to debone it prior to cooking it.
For example, my Rosemary White Wine Chicken Thighs are served as whole chicken thighs. So I would opt to debone these thighs before I cook them.
FAQ and Tips
Should I debone chicken thighs?

As I touched on in the paragraph above, it depends on the recipe! For recipes that call for whole, recognizable servings of chicken I would either leave it bone-in or debone it prior to cooking.

Leaving the bones in during the cooking process definitely adds to the flavor profile.

Do chicken thighs have bones?

Yes, they do. Nowadays you can find chicken thighs bone-in or deboned for you. It's typically cheaper to purchase bone-in thighs and bone them at home yourself!

What can you use leftover chicken bones for?

Keep those bones! Toss them in with vegetables like onion, celery, and some water to make homemade bone broth.

How to remove the skin from chicken thighs?

By tightly grabbing the skin near the joint area, pull the skin. You should be able to get it off in one piece.

If it gives you trouble, you may try gripping it with a dry paper towel or using a sharp knife to cut away the portions that are sticking.
Recipes Using Boned Chicken Thighs
Now it's time to reap the rewards of your efforts! Freeze them in individual portions or cook them up right away.
Boneless chicken thighs are the base for many quick 30-minute dinners like these...
So if you choose to debone before or after cooking, shred the chicken, or eat the whole portion, learning how to debone chicken thighs at home is a useful skill!