It looks fancy but I'm telling you it takes less than 30 minutes to whip up! So do I have your attention? This Rosemary White Wine Chicken Skillet is great for parties, meal prep, or dinner for the family!
While it does have wine, that doesn't mean the whole gang can't enjoy it! The sauce cooks down enough so you are only left with a slight acidity from the white wine and it goes beautifully with rosemary!
This blog may contain affiliate links from which I make a small commission.
Favorite Way to Cook Chicken, the Cast Iron Skillet!
Probably one of my favorite ways to prepare chicken is in the cast iron skillet. I love the skillet from Lodge, but any will do!
Simply heat the skillet over medium high heat and start with the skin side down on the chicken. This helps to render the fat out, crisp it up, and ensure the perfect golden brown skin!
Golden brown, crispy skin = FLAVOR. So we definitely want to start this rosemary white wine chicken skillet off right with some golden brown skin.
This typically takes about 10 minutes then I flip the chicken and cook until it reaches 165 degrees Fahrenheit internal temperature. That's when you can remove the chicken and set aside.
If you also have a cast iron dutch oven, try cooking a WHOLE chicken! Like this delicious Garlic Herb Butter Chicken. You won't regret making it!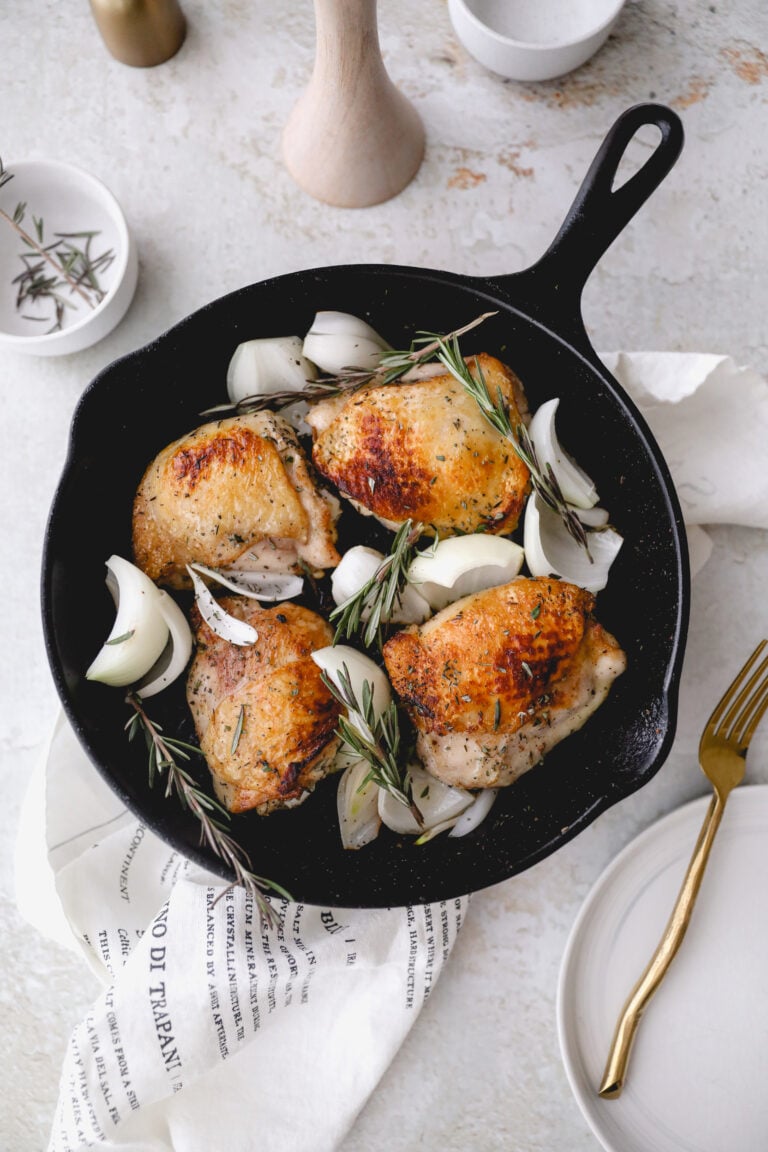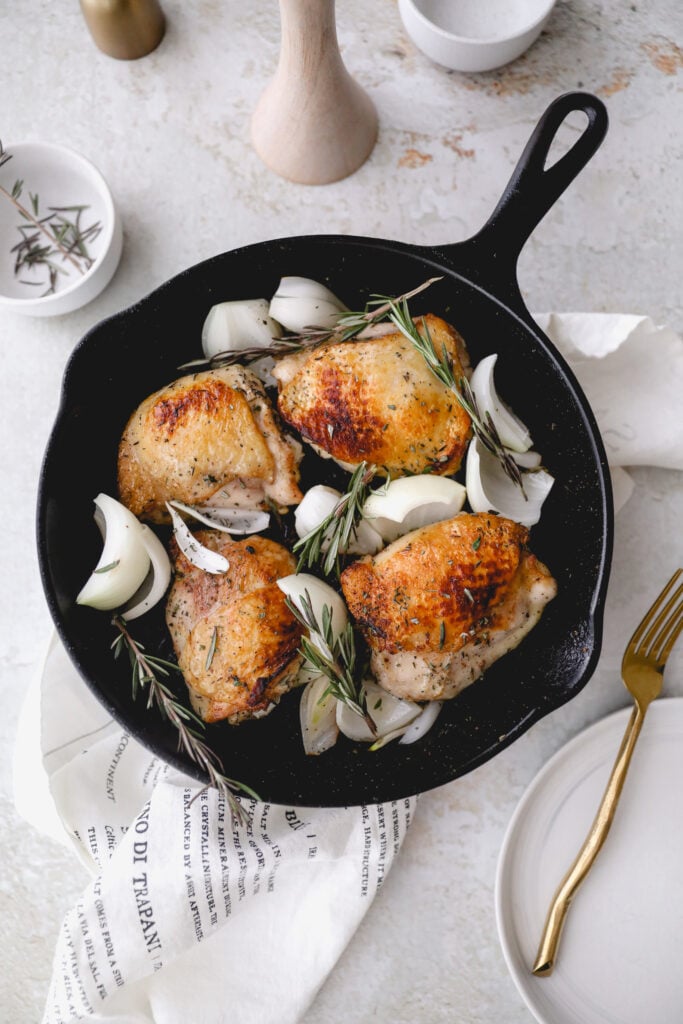 Rosemary White Wine Sauce
The base of this sauce is the white wine! It is a great way to deglaze the pan aka get all of those great bits off the pan from browning the chicken. One of the best qualities of this rosemary white wine sauce is that there is no cream!
That's right! A decadent white wine chicken sauce with NO CREAM! Here's the ingredients:
To flavor the white wine sauce, as you can guess from the recipe, is rosemary! A little bit of fresh rosemary goes a very long way. It's the perfect compliment to browned chicken and crisp white wine.
Lastly, to form the sauce completely we're going to use Better than Bullion Garlic base. This is so super savory, rich, and it almost helps to thicken the sauce in my opinion!
Other uses for this rosemary white wine sauce could include pan seared salmon, pasta, or even pork! I may have to try all 3!
Chicken Thighs vs Chicken Breast
For this dish I highly reccomend using chicken thighs. Bone in, skin on! This will yield the ultimate flavor.
Now chicken breast have a time and place...like in my BLT Stuffed Chicken or White Chicken Chili But this is a job for chicken thighs.
They stay unbelievably juice and tender and almost impossible to over cook. The skin get's nice and crispy plus they are the perfect size for each person you are serving to!
Chicken thighs have dark meat which stays nice and juicy plus I think the herbs and white wine pair very nicely with the crispy skin and dark meat!
Last major pro on the list is THE PRICE. You can get a family pack of bone in, skin on chicken thighs for super cheap. Keep your eye out!
Last major pro on the list is THE PRICE. You can get a family pack of bone in, skin on chicken thighs for super cheap. Keep your eye out!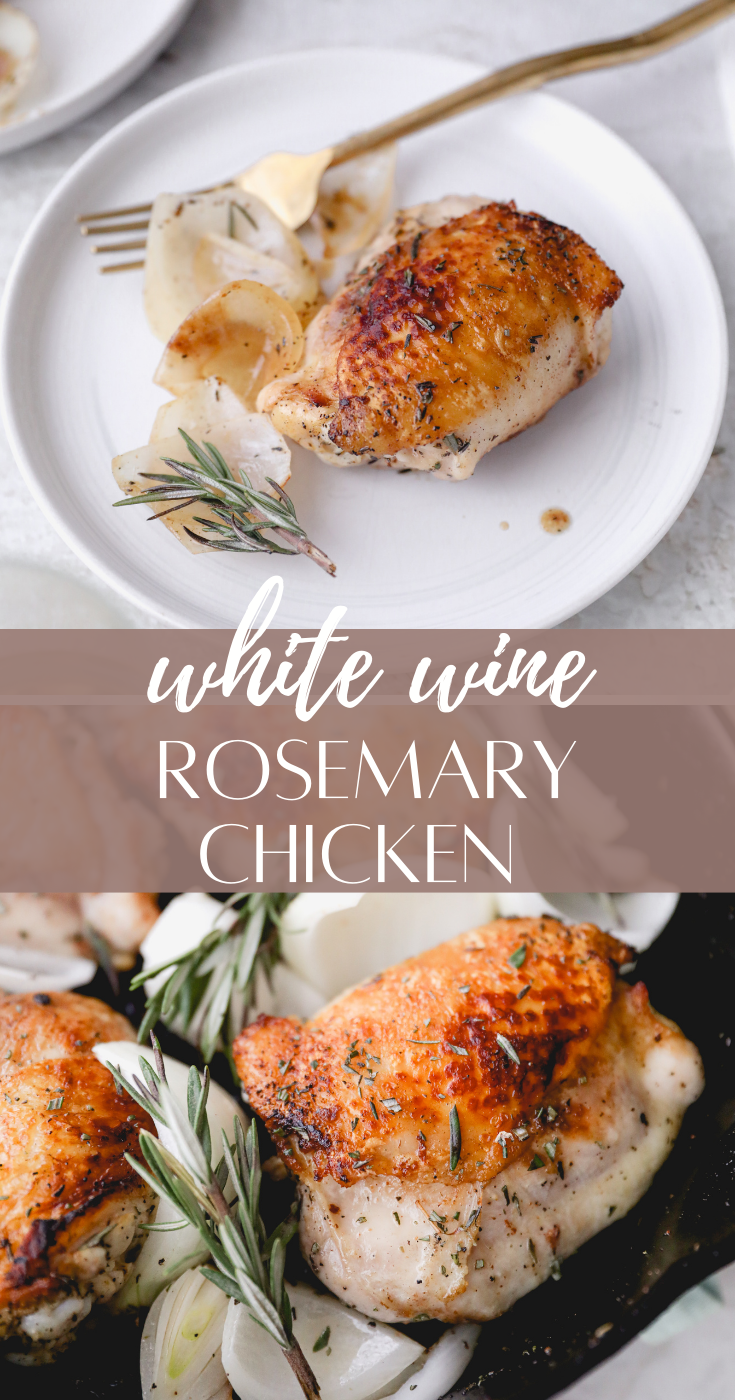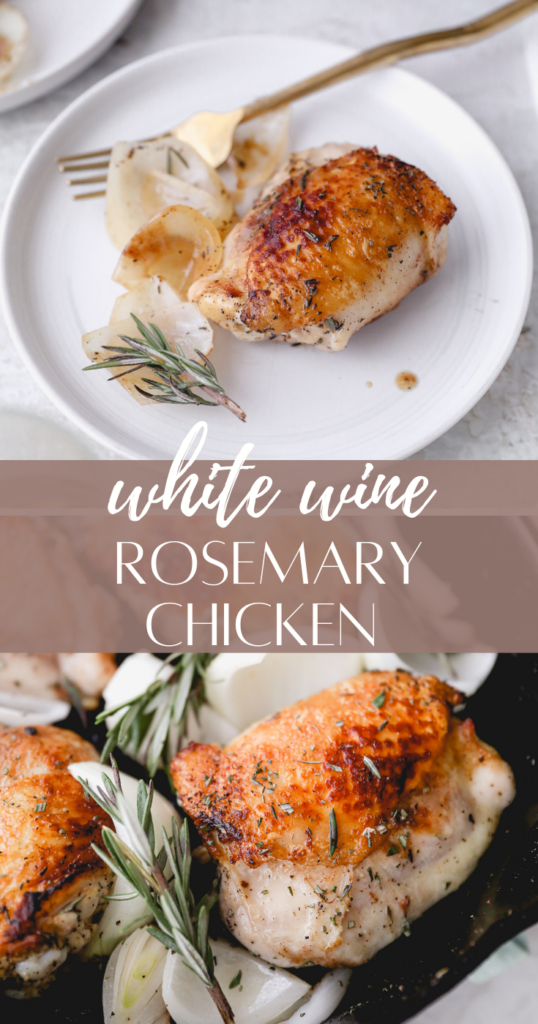 📖 Recipe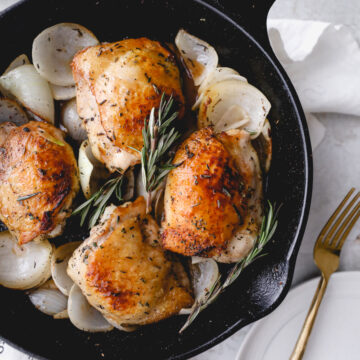 Rosemary White Wine Chicken Skillet
Pan seared chicken thighs in a rosemary white wine sauce!
Print
Pin
Rate
Ingredients
4-6

boneless, skinless chicken thighs

1

cup

white wine (chardonnay or sav blanc!)

1

teaspoon

salt

2

tsp

garlic powder

2

tsp

dried thyme

4-5

sprigs

of fresh rosemary

1

tablespoon

better than bullion in garlic

1

onion

quartered

1

tablespoon

finely chopped rosemary
Instructions
Lay out the chicken thighs on a cutting board and sprinkle the skin side with salt

While this sits, heat a cast iron skillet over medium high heat.

Once the pan is hot add the chicken thighs, skin side down. Sear for 10 minutes or until skin is golden brown.

While the chicken is cooking skin side down, sprinkle with garlic powder and dry thyme.

Add quartered onion in between the chicken thighs.

Flip the chicken and continue cooking until the internal temperature reaches 165 degrees Fahrenheit At least another 10 minutes.

Remove the chicken from the skillet and set aside. Deglaze the pan with the white wine.

Turn down the heat to medium and stir in the garlic better than bullion paste.

Let it reduce for about 10 minutes then add the chicken back in.

Spoon the sauce over the chicken a few times and then garnish with rosemary sprigs.