What is a Fruit Charcuterie Board?
If we're being literal, charcuterie (pronounced "shar-COOT-ah-REE") is a French term that refers to fancy cured meats (think: prosciutto, salami, or speck). However, in today's parlance, charcuterie is a term that is broadly applied to any type of grazing board or serve-yourself appetizer platter.
This charcuterie fruit board replaces the more traditional cured meats with an assortment of fruits to pair alongside your choice of cheeses, dips, nuts, and crackers for serving.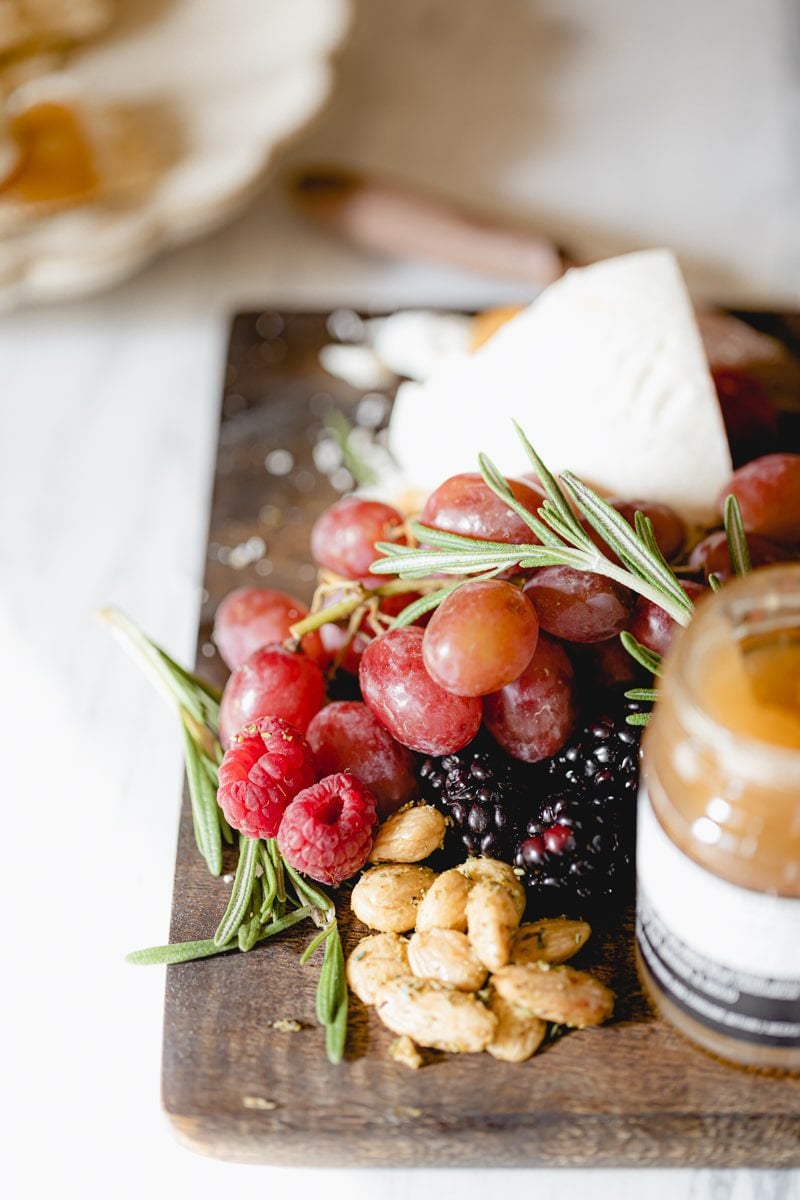 Why This Fruit & Cheese Charcuterie Board Recipe Works
When it comes to entertaining (especially around the holidays), I've found that simplicity is key. Making sure my guests are immediately greeted with snacks gives me time to finish up any last-minute preparations and also creates a focal point for where people should gather.
I love making this charcuterie board with fruit because it is:
Quick & Easy. Aside from washing produce and making a few clever cuts with a knife, there is almost no prep to speak of.
Totally Customizable. You're free to use any fruits, veggies, meats, spreads, dips, crackers, bread, or ANYTHING else you want.
Crowd-Pleasing. Even picky kiddos love fruit and cheese!
Make-Ahead Friendly. So long as you make smart decisions on your fruit (more on that below), you can assemble your appetizer and stash it in the fridge.
Fruit Charcuterie Board Ingredients & Substitutions
Rather than approaching this post like a "recipe" you have to stick to, use it more like a template!
You're welcome to swap out any of the charcuterie board fruit, cheese, spreads, or other additions to fit what you have on hand or to work with any dietary limitations you may be working with.
Fruits: I used Red Grapes, Strawberries, Blackberries, Blueberries, Raspberries, Pomegranate, and Bosc Pear to stick in my red-purple color scheme. Feel free to use your personal favorite fruits.
Cheeses: I used Brie Cheese and Manchego Cheese because I like having a mix of soft cheese and firmer, sliceable cheese. You're welcome to use whatever types of cheese you like!
Spreads: I used Tart Cherry Jam, but any fruit preserves are welcome. Read on below for even more spreads and dips that would work.
Crunch & Chew: I used TJ's Rosemary Marcona Almonds, but any nuts or seeds will work. You're also welcome to add dried fruit for charcuterie board texture; dates and figs are always lovely!
Carbs: I'm partial to Thin Crackers, but you can also use any crackers, bread, graham crackers, cookies, or any other vehicle for moving cheese and dips into your mouth with ease. 😉
Garnish: I used Rosemary Sprigs from my garden, but feel free to swap in whatever fresh herbs (or even non-poisonous greenery or edible plants) to help your cheese and fruit charcuterie board look extra bountiful and beautiful.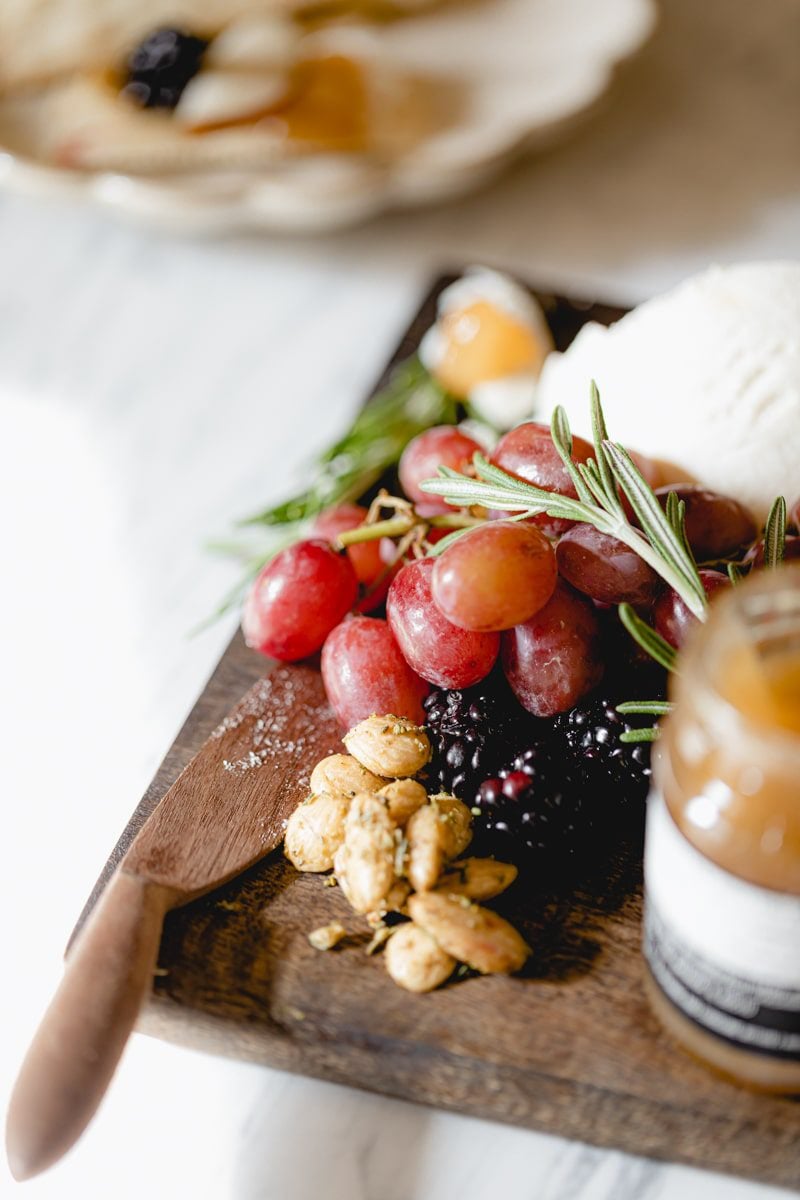 Best Dips For Fruit Charcuterie Boards
I always like to raid my fridge and pantry when I'm creating a fruit board — it's a great way to use up any half-full bottles or tubs of forgotten tastiness! Here are some great ways to add flavor to your grazing platter:
Jams, Jellies, & Fruit Preserves - Homemade or store-bought!
Dessert Hummus - Don't knock it till you try it.
Whipped Cream - A little chantilly is always welcome on fruit.
Marshmallow Fluff - In case you have some lingering in the back of your fridge.
Hot Fudge and/or Caramel Sauce - For a little extra decadence.
Cream Cheese Fruit Dip - Kids love this stuff!
Also, don't forget to raid Trader Joe's prepared dips section! They always have some gems, plus their cheese selection is vast and affordable.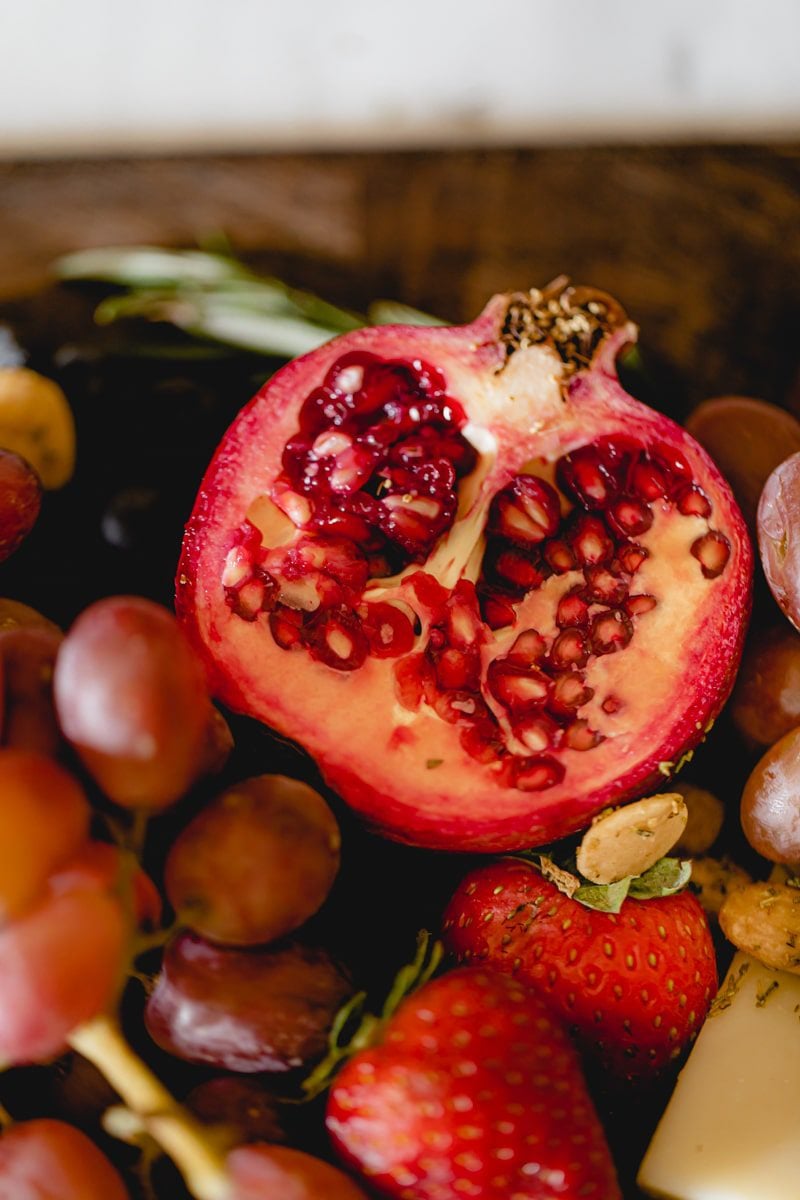 Tools Needed
You don't need much to make a dazzling fruit charcuterie board. Here is what I typically use:
Small bowls and/or ramekins - For messy dips, spreads, and any nutshell discards.
Cheese knives - For slicing any full wedges on the board. I suggest one knife per cheese.
Demitasse spoons and mini forks or toothpicks - For guests to serve themselves without double-dipping!
Paring knife & chef's knife - For pre-cutting any fruit or cheese into slices, cubes, or shapes. You can also use cookie cutters if you want!
Best Charcuterie Boards For This Recipe
You're also going to need some kind of "board" for your fruit and cheese to be displayed on. I like using a large wooden cutting board, but really any flat serving ware will do the trick. Shop some of my favorites here!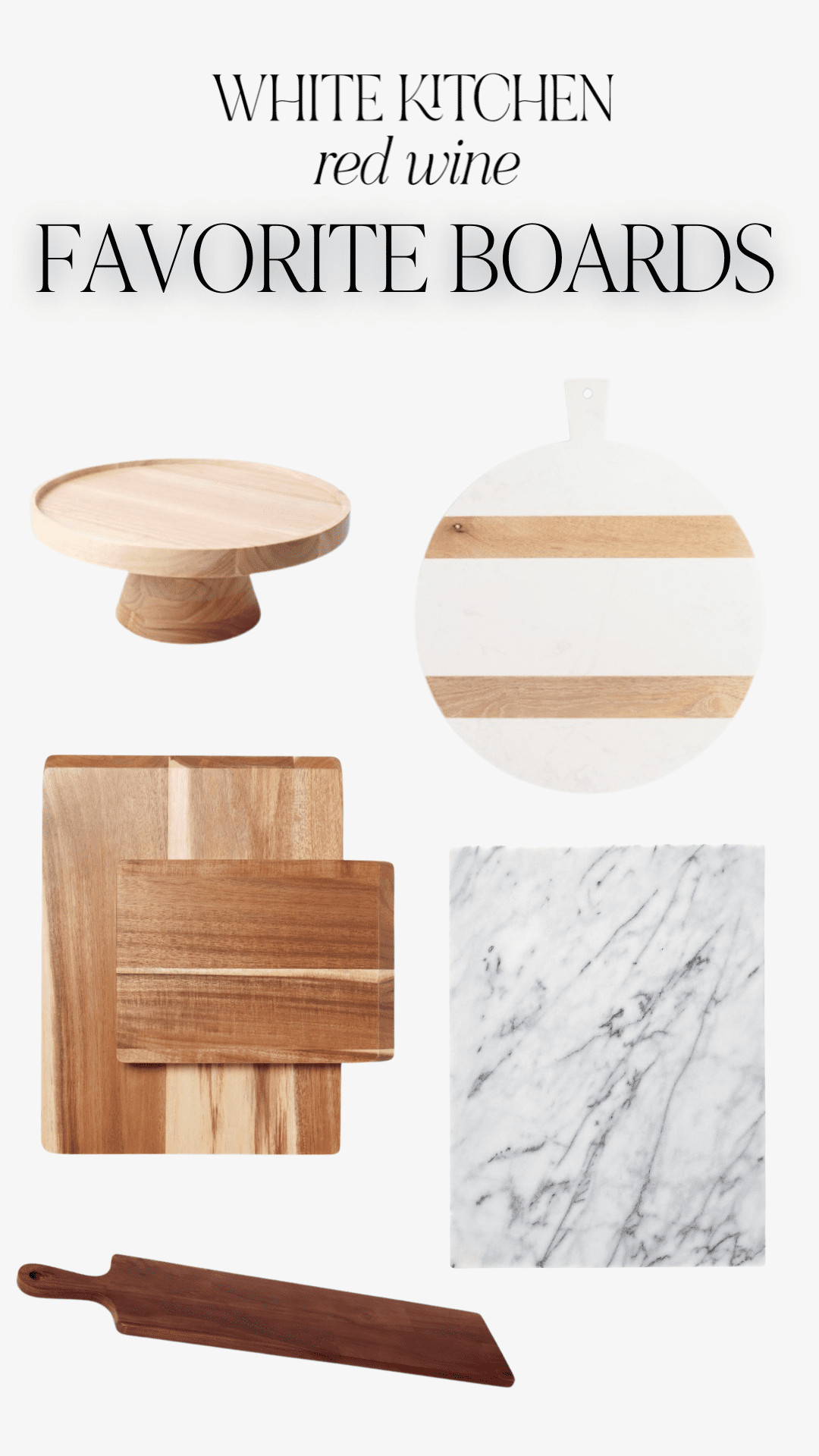 How to Make a Fruit Charcuterie Board
Making this charcuterie fruit platter is so simple! Here's how it's done:
Step 1: Place Your Anchors. Start by placing your larger fruits around the board, e.g. the bunches of grapes and the pomegranate halves. Whole wedges of cheese and bowls of dips can also be used as anchors.
Step 2: Add Sliced or Cubed Cheese. Be artful here, fanning out the cheese slices, or piling the cubes.
Step 3: Add Fruit. Next, add the sliced strawberries, blueberries, blackberries, and raspberries, using them to create visual movement around the board.
Step 4: Fill in the gaps with marcona almonds or other small bites.
Step 5: Garnish. Add sprigs of rosemary for the final touch.
Step 6: Serve with crackers and jam!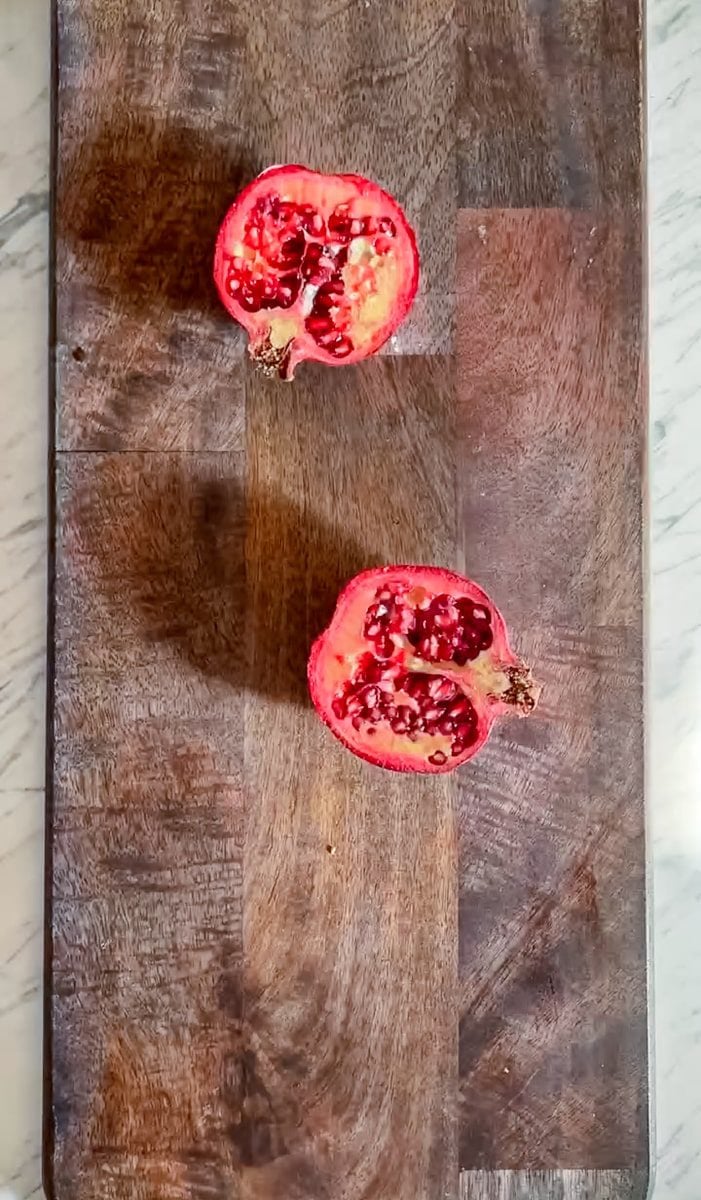 Optional Variations
Other fruit charcuterie board ideas include:
Themed Charcuterie Boards - Think red, white, and blue for the 4th of July, or red, green, and white for Christmas. You can also color coordinate for bridal or baby showers, school colors for fundraisers, or even movie- or book-themed boards for movie nights and book club.
Dessert Charcuterie Board - Add some mini cookies, brownies, and bite-sized candies to the mix.
Breakfast Charcuterie Board - Swap out the crackers for mini pancakes, waffles, and croissants!
Did you come up with any awesome fruit board ideas the world should know about? Let me know in the comments below or tag me on your social media posts (@whitekitchenredwine) so I can cheer you on!
How to Make an All-Fruit Charcuterie Board
If you want to make a vegan-friendly charcuterie board, consider using all fruit and omitting the cheese. To replace some of the creaminess, just step up your game by using more dips and spreads.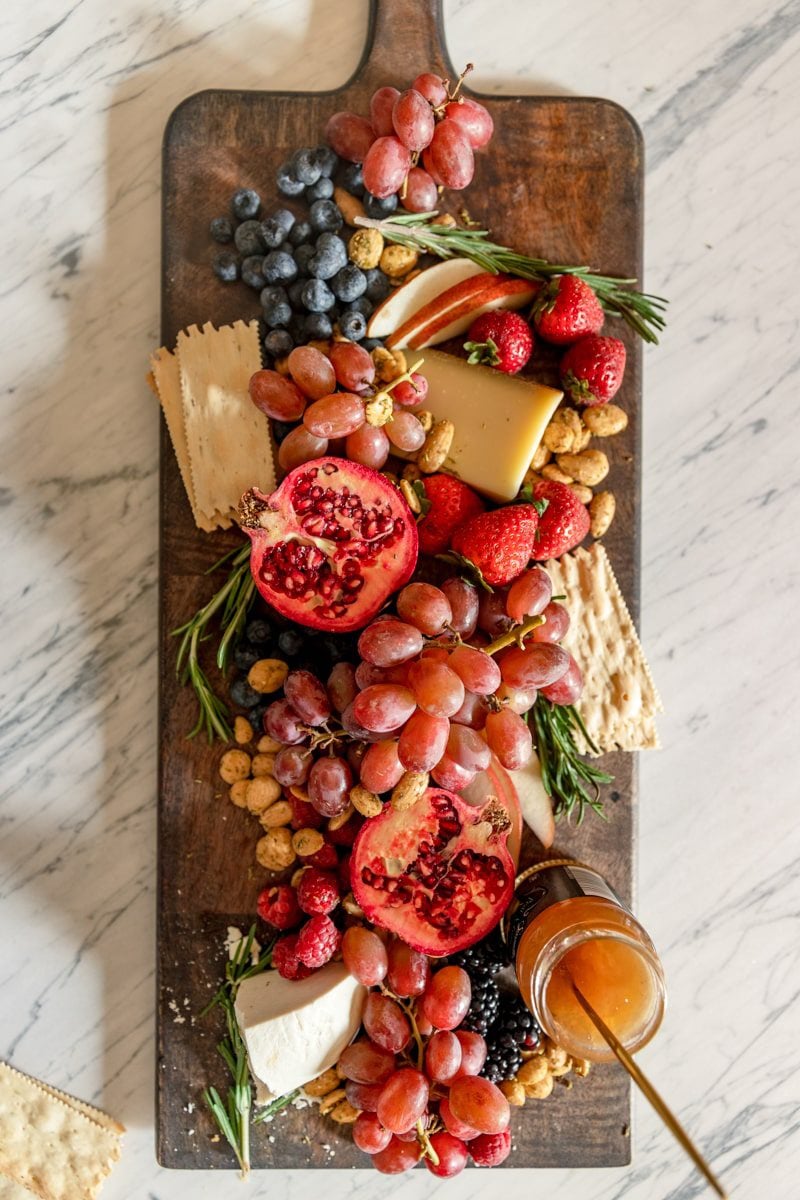 FAQs & Tips
Stay monochromatic for a dramatic presentation. I went with reds and purples for the photos here, but you could also do all green, or orange and yellow. Check out this comprehensive list of fruits and vegetables by color to help you plan.
Rinse berries in a vinegar-water bath to prevent mold. Be sure to keep rinsing in cool water until the vinegar flavor is gone, then dry the fruits very thoroughly (but gently) before putting them back in the fridge.
Know your charcuterie board fruit to set yourself up for success.

Apples and pears are prone to oxidizing and turning brown, so don't slice them until you're ready to serve!
Berries are prone to mold or getting squished, so don't buy them too far in advance!

Don't be too linear. As a fellow perfectionist, I understand the desire for making things look *just right.* The thing to remember with fruit and cheese boards is that you're dealing with organic materials. Straight lines are rare in nature, so embrace the curves.
What is the best fruit for a charcuterie board? Whatever fruits you like to eat! I like having a mix of sweet and tart, crisp (e.g. apples) and soft (e.g. berries).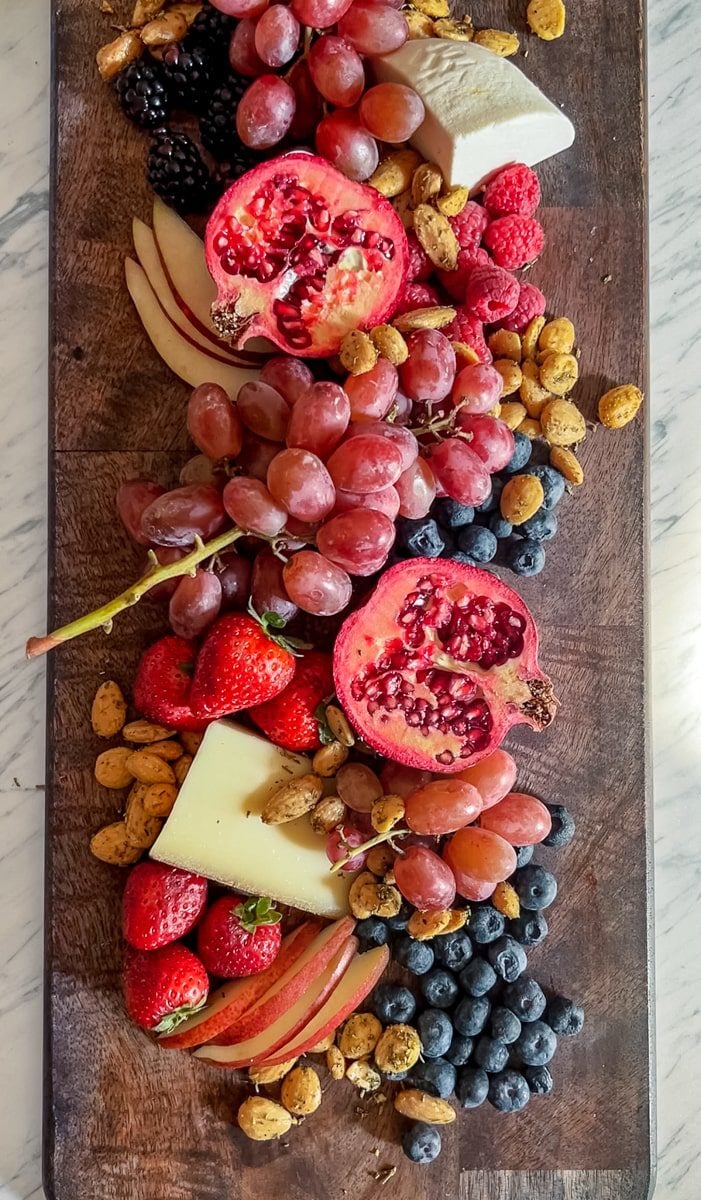 How far in advance can I make a fruit charcuterie board?
So long as you're choosing fruits that won't oxidize and turn brown, you can arrange your charcuterie board up to a day or two in advance. Just be sure to wrap it well in plastic wrap and keep it refrigerated.
Also, remember to keep the crackers and bread separate until serving time — they'll get stale if you put them in the fridge.
To save leftovers, I suggest separating the items into separate containers. Fruits in one, cheese in another, and spreads or dips all separated by type.
Depending on the type of fruit, you may also be able to save it in the freezer for future smoothies.
Serving Suggestions
The greatest thing about this fruit charcuterie board is that it is excellent for serving on any occasion, at any time of day, all year round. Whip one up for your next gathering and watch the tastiness disappear before your very eyes!!
More Tasty Appetizer Recipes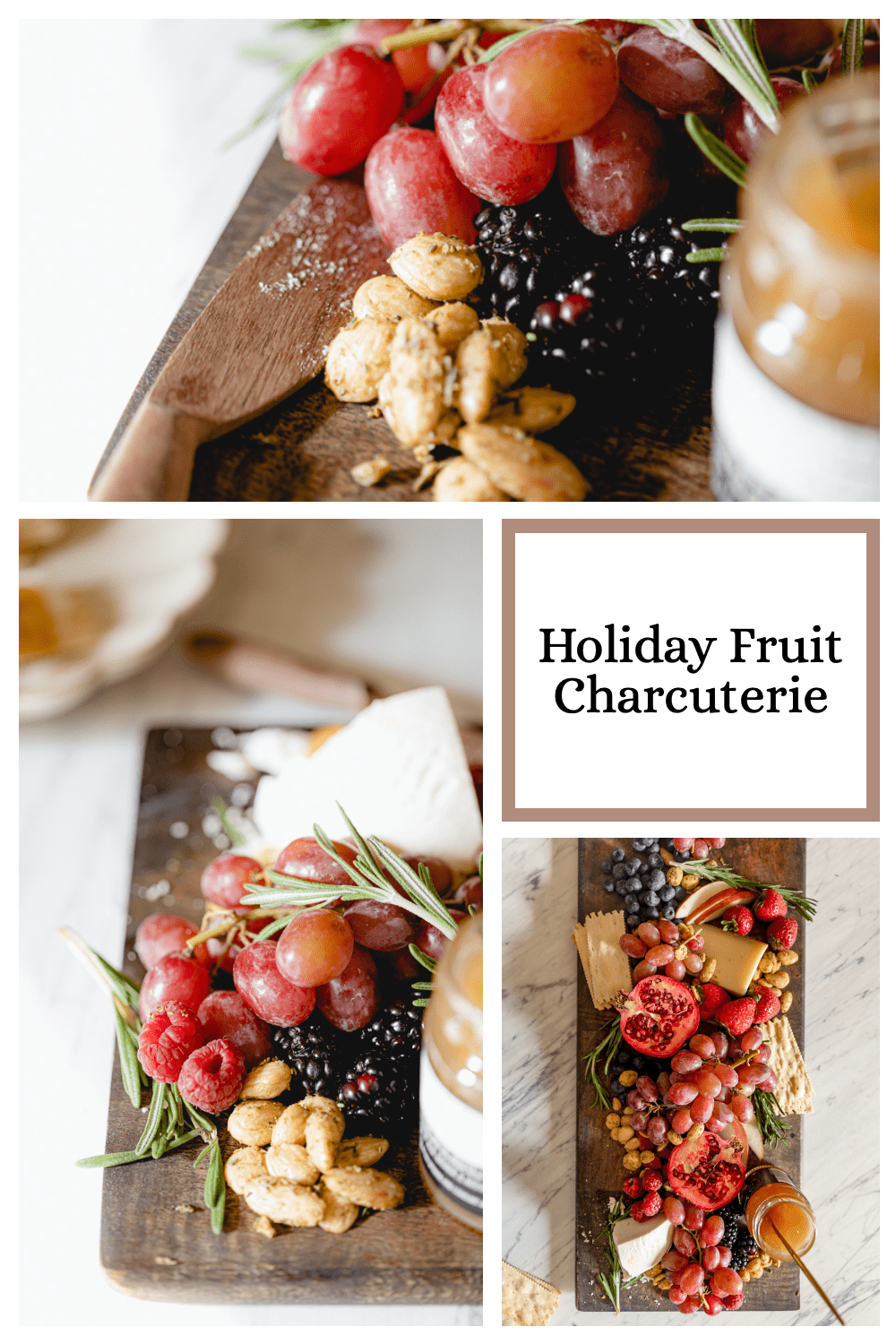 📖 Recipe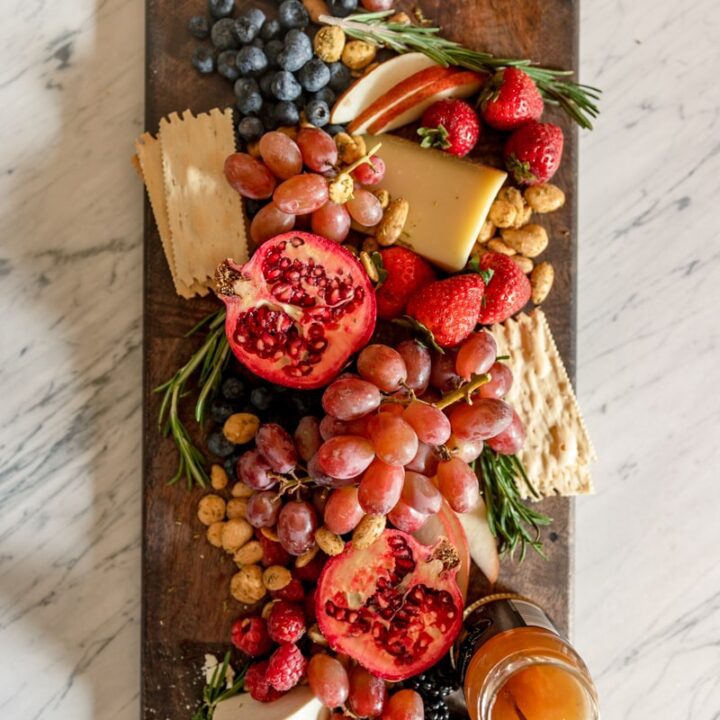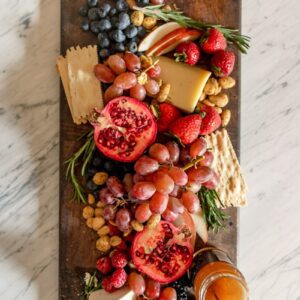 Fruit Charcuterie Board
Gorgeous deep purples and reds make a festive fruit "charcuterie" spread! This is a great option for family and friends who may not eat meat or just want something a little lighter for appetizer or dessert!
Share by Text
Print
Pin
Rate
Ingredients
2

bunches of purple grapes

1

cup

strawberries

1

pint

Blackberries

1

pint

Blueberries

1

pint

Raspberries

1

Pomegranate

1

Bosc Pear

1

wheel of Brie Cheese

8

oz

Manchego Cheese

1

jar of Tart Cherry Jam

1

cup

Rosemary Marcona Almonds

Thin Crackers

Rosemary Sprigs for garnish
Instructions
Start by placing your larger fruits on the board, the bunches of grapes and the pomegranate halves.

Add in the 2 types of cheese

Next add the sliced strawberries, blueberries, blackberries, and raspberries.

Fill in remaining empty space with marcona almonds

Add sprigs of rosemary for the final touch.

Serve with crackers and jam!