Vegan Pesto Recipe
Pesto is one of the most versatile things to keep in the fridge! It goes well with nearly anything: breakfast, any protein, with veggies, on pasta...the list goes on! My Dairy-Free Pesto recipe is a 5-minute sauce that is packed with flavor!
Typically pesto has parmesan cheese in it to give it salty, nutty, and creamy flavor to the sauce. However for many reasons, you may be dairy-free, serving vegan guests, or just want to switch it up - this option is for you.
Dairy-Free Pesto is super simple to make thanks to our friend nutritional yeast! It is a deactivated yeast that gives us that cheesy flavor with no dairy at all! I use it for many other recipes like my Dairy-Free Carbonara or my Broccoli Pesto Pasta!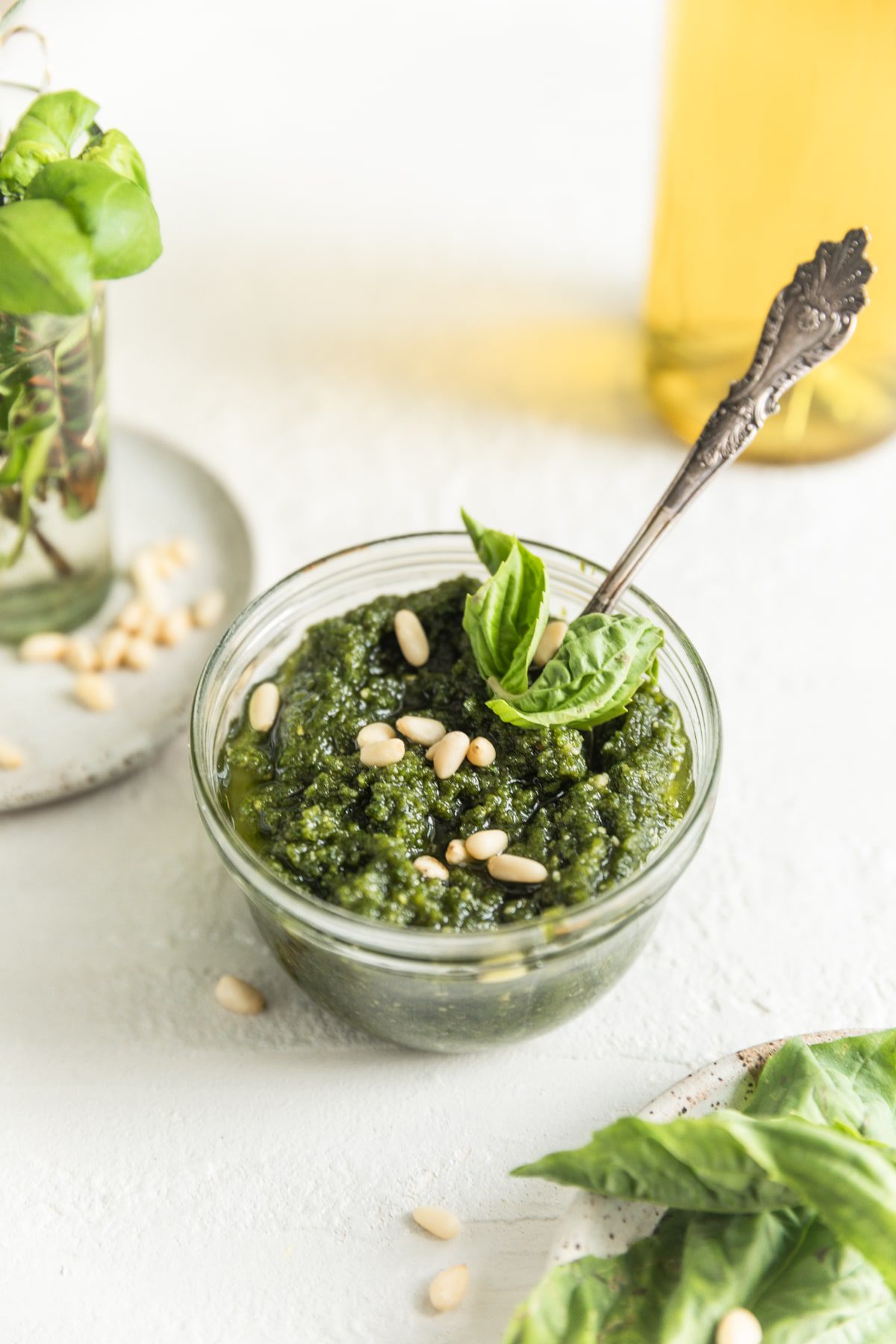 What Is Nutritional Yeast?
Nutritional yeast has become increasingly popular over the last few years. Especially in vegan cooking because it gives that "cheesy" flavor without actually using cheese.
It is sold in the form of yellow flakes or powder and it is a deactivated form of yeast (saccharomyces cerevisiae) which can also be called bakers yeast or brewers yeast.
It's actually pretty healthy for you too! It contains many vitamins and minerals and actually contains all 9 amino acids! This means it is a complete protein - just like an animal protein.
You can find it in most grocery stores now and it comes pre-packaged or sold in the bulk section.
Pesto Ingredients
No cheese pesto has only a few ingredients that you might already have in the pantry! It's a fabulous way to make use of that basil about to go bad in your fridge or if your summer basil plant is out of control!
fresh basil
olive oil
pine nuts
nutritional yeast
salt and pepper
garlic cloves
It seems so simple, but this combination of ingredients makes the freshest basil pesto ever! And done in 5 minutes - who can beat that?
How To Make Dairy-Free Pesto
For this vegan pesto, all you need is a high-speed blender or food processor. It instantly whips everything together and brings together our sauce.
Pulse together the basil and the pine nuts until both are finely chopped
Add in nutritinoal yeast, salt and pepper, and fresh garlic then turn the food processor on.
While it's blending, slowly pour in the olive oil. The slow pour helps to emulsify the sauce.
Blend well until everything is incorporated. Give it a taste and add more salt or pepper if desired!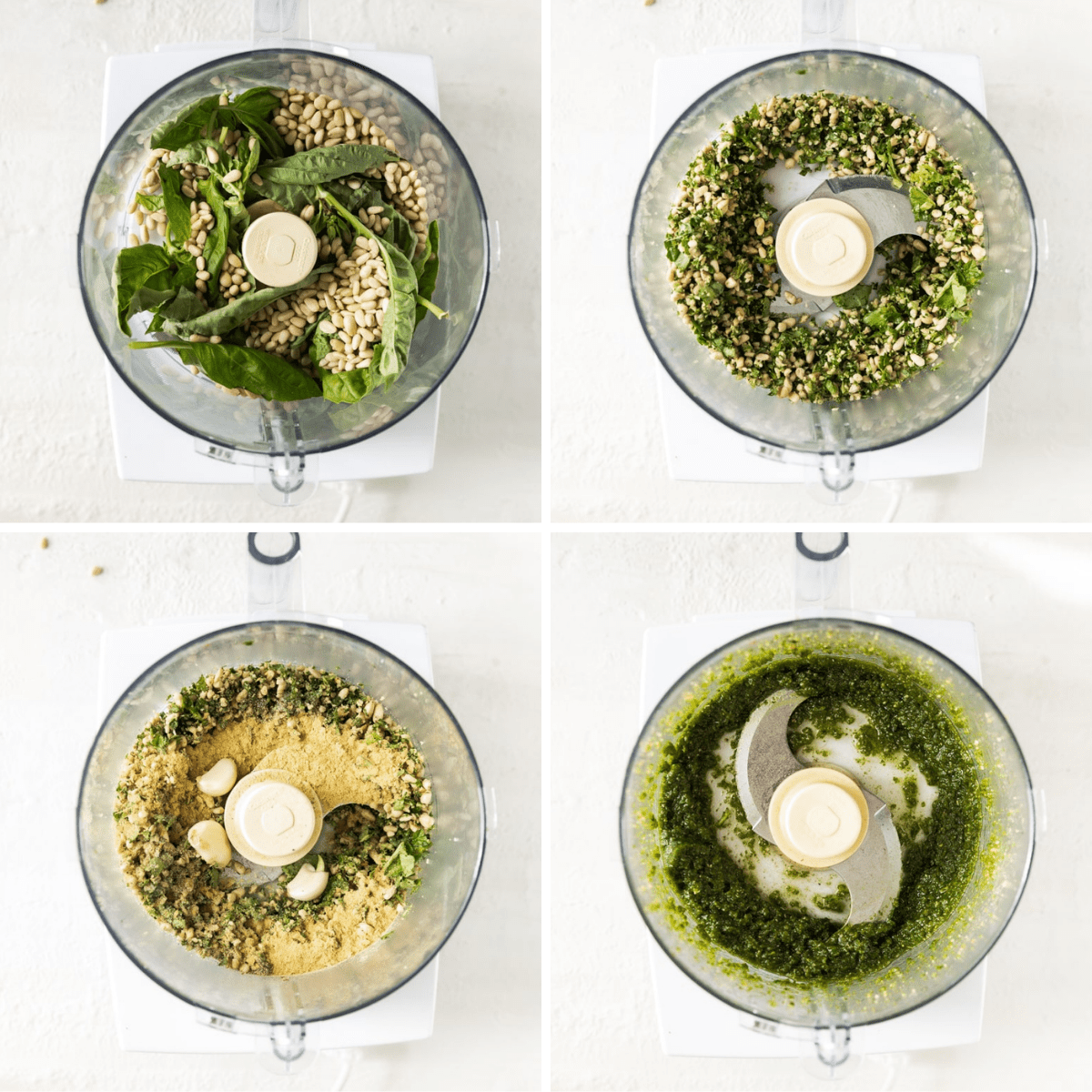 Storing Homemade Pesto
After it's all blended together it's time to store it! The nice thing about pesto is that it keeps in the fridge very well. That is...if it lasts that long.
I put it in a mason jar and tightly close the lid. It keeps this way for a week in the fridge or up to 6 months in the freezer.
I've seen people place pesto in ice cube trays and freeze it that way. A genius way to have a quick pop of that pesto flavor is by defrosting it for a quick recipe!
How To Use It
Pesto is one of the best additions to any meal! It is rich in healthy fats, tons of flavor from the basil, and that slight nuttiness from the pine nuts is absolutely divine!
Here are some ideas to utilize your vegan pesto!
Vegan Pesto Pasta - Grab your favorite pasta noodle and top it with the fresh pesto. If you put it over freshly cooked pasta with a ladle full of pasta water, it makes a quick sauce that is delicious and light!
Pesto Gnocchi Grab a bag of Trader Joe's cauliflower gnocchi and pop it in the air fryer for a few minutes and get it nice and crispy. Toss the crispy gnocchi with pesto and enjoy!
If you like the fried pesto gnocchi then you should definitely try out this Air Fried Salmon and Gnocchi - delicious!
Pesto Eggs - Made popular on TikTok, frying up some eggs in a dollop of dairy-free pesto is a great way to start the morning. I like to layer them on an English muffin to start the day!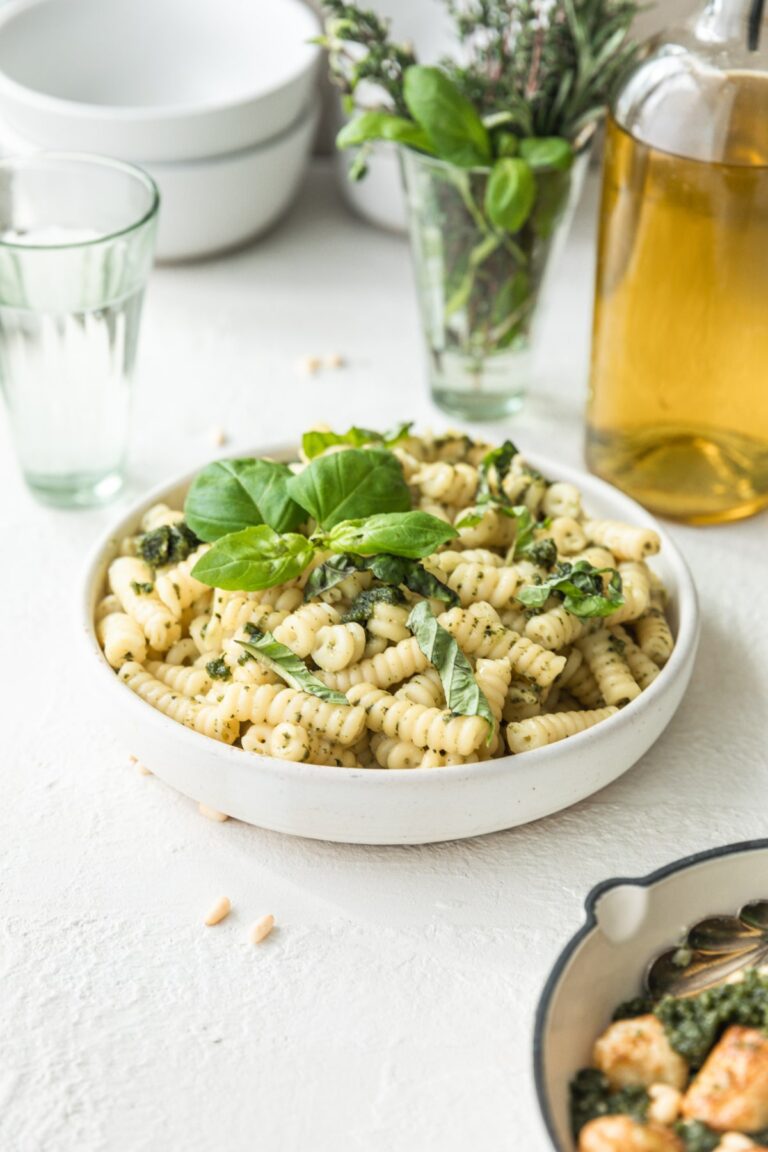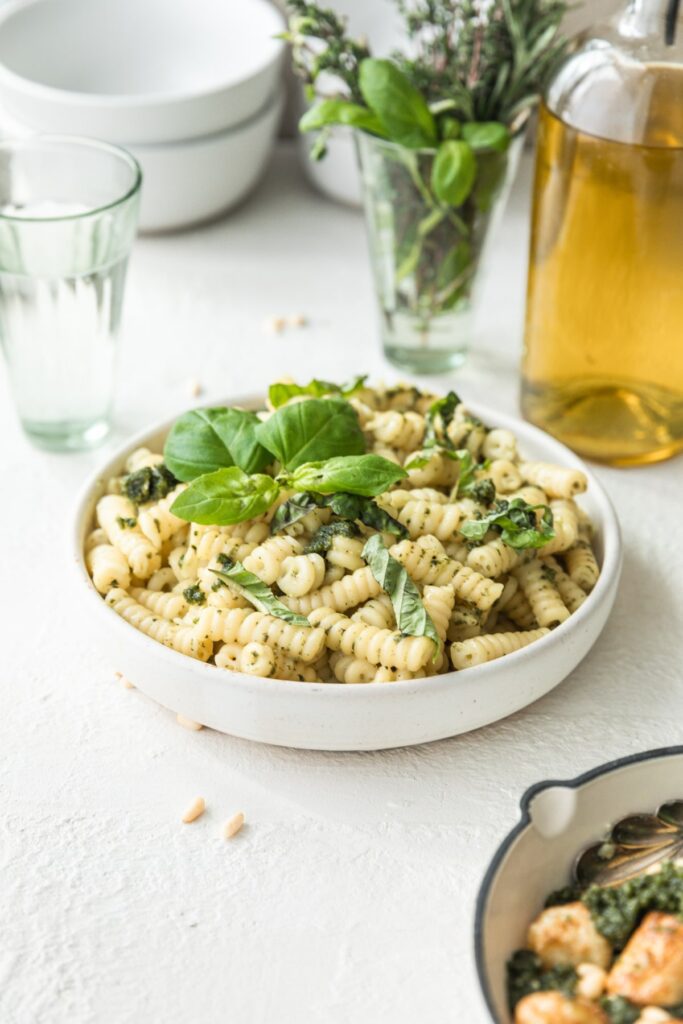 FAQ
What can I use instead of the cheese in pesto? 
For making pesto vegan and dairy-free, swap in nutritional yeast for the cheese. It's easy to find and adds great flavor to the pesto.
Does pesto usually contain dairy? 
Yes, pesto typically is made with parmesan cheese which contains dairy. So it's not normally vegan or dairy free. But it's easy to make substitutions to create this dairy free version.
What is vegan pesto made of? 
Vegan pesto has all of the same ingredients as regular pesto: basil, oil, salt, pepper, pine nuts. However, swapping the cheese for nutritional yeast is a quick substitution that makes it vegan.
Can you make pesto without a food processor? 
Yes! Actually using a high-speed blender will work just as well to make some homemade pesto.
Where do you buy nutritional yeast?
You can find this at almost any grocery store. At my stores its typically with the flour and sugar in the baking aisle. You can also likely find it in the bulk section of health food stores as well.
More Pesto Recipes
Did you enjoy this recipe? More recipes using pesto or different pesto recipes might interest you!
📖 Recipe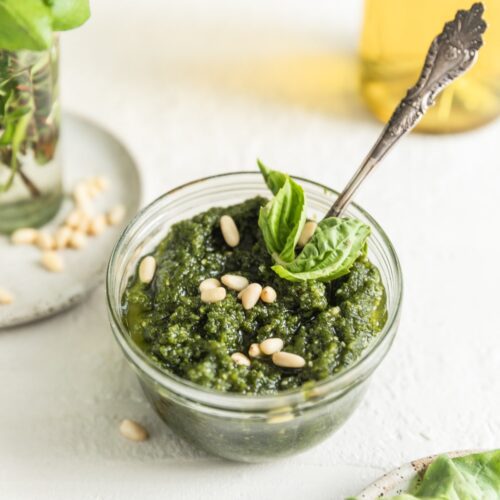 Dairy Free Pesto Sauce
Simple and delicious pesto made vegan and dairy-free. It's a 5-minute recipe that is packed with flavor!
Print
Pin
Rate
Ingredients
2

cups

fresh basil leaves

½

cup

olive oil

¼

cup

pine nuts

3

tablespoons

nutritional yeast

½

teaspoon

salt

¼

teaspoon

pepper

3

garlic cloves
Instructions
To the food processor add the basil leaves and pine nuts. Pulse a few times to chop.

Add in the nutritional yeast, salt, pepper, and garlic.

Turn the food processor on and let that blend for a few seconds.

Slowly begin to add in the olive oil. Doing this slow ensures that it emulsifies and won't separate later.

Blend for 1 minute until fully combined.

Store in an air tight container for up to 1 week.