Juicy tomatoes, mild & creamy fresh cheese, and crunchy, garlic-tinged croutons are more than the sum of their parts in this gorgeous Tomato Bruschetta With Mozzarella. Made with just 6 simple ingredients and only 10 minutes of hands-on kitchen time, this tomato mozzarella bruschetta is a perfect last-minute appetizer.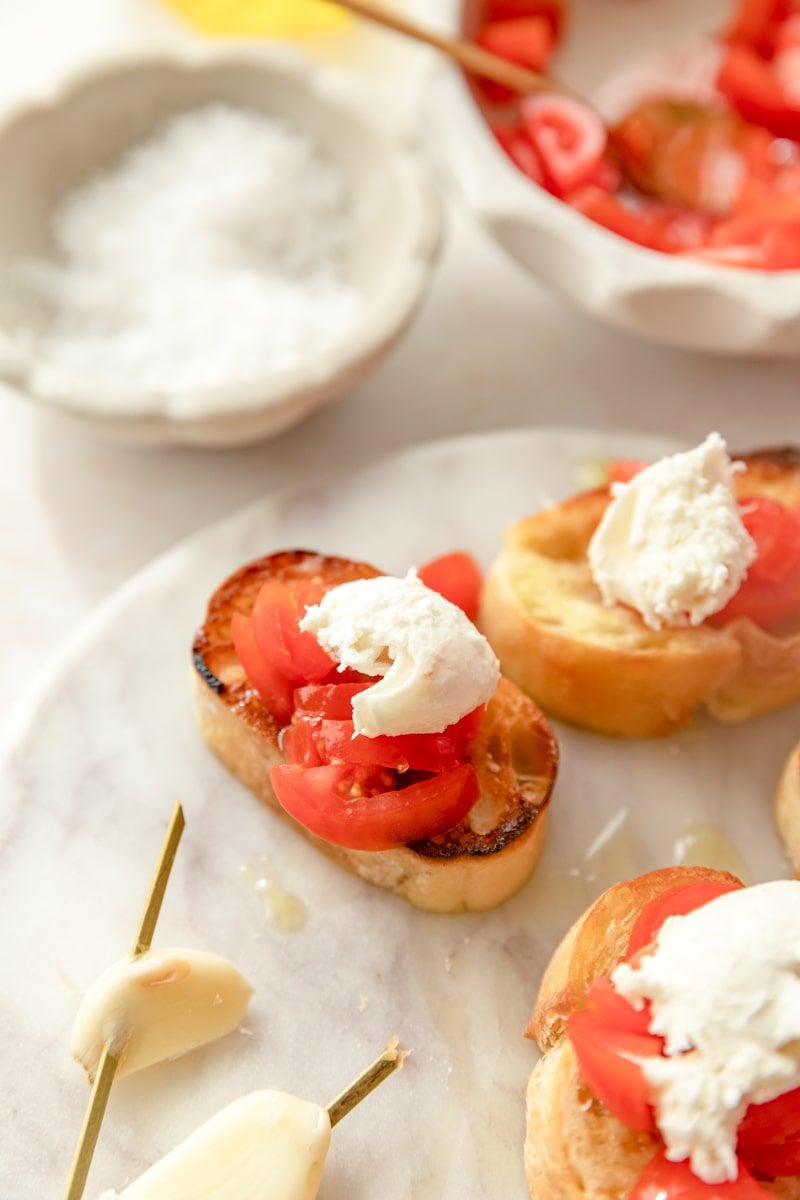 What Is Bruschetta?
Pronounced "brew-SKET-ta," bruschetta is a traditional Italian antipasto (appetizer) made with garlic-rubbed grilled bread and topped with any number of delicious ingredients.
Here in the US, tomato bruschetta is probably the most well-known interpretation of this simple and delightful dish, but other variations include everything from beans and cured meats to roasted vegetables and cheese.
Today I'll be showing you how to make one of my favorite iterations of this classic dish: tomato bruschetta with fresh mozzarella. YUM!
Why You'll Love This Tomato & Mozzarella Bruschetta
As much as I love tomatoes on their own, making this bruschetta with cheese gives it added richness that is most welcome. After all, who doesn't love bread with cheese? Aside from being super flavorful and delicious, this simple appetizer recipe is:
Made With Only 6 Ingredients, all of which are easy to find. And as Coco Chanel put it, "Simplicity is the keynote of all true elegance."
Quick & Easy. You only need about 10 minutes of prep over 5 simple steps to get these beauties on the table. 
Fresh & Bright. With such a pared-down recipe, every ingredient has a chance to shine. You'll taste the acidity of the fresh tomatoes, the luscious creaminess of the mozzarella, the piquant bite of the garlic, and the vegetal earthiness of the cold-pressed olive oil in each bite.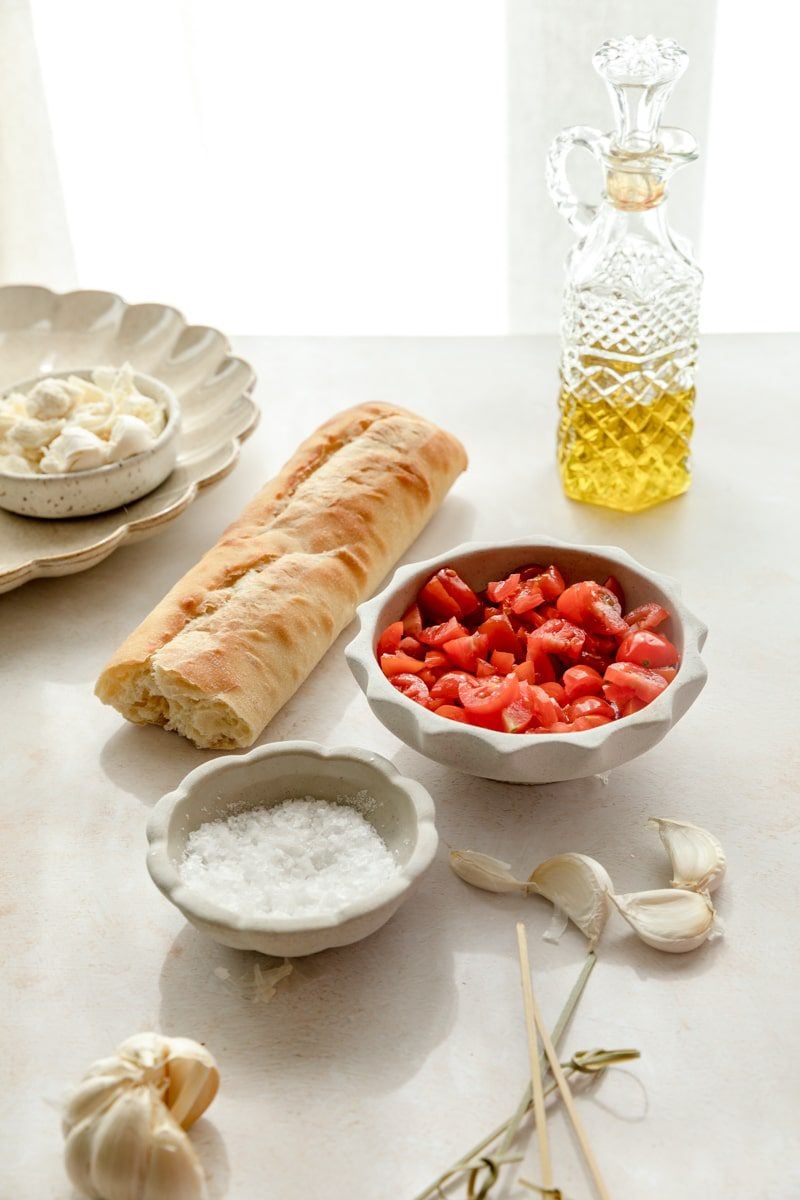 Ingredients & Substitutions
As promised, this recipe for bruschetta with cheese requires only 6 (!!!) easy-to-find ingredients. Here's what to grab:
Demi Baguette - I love the narrowness of baguettes for making easy-to-grab 2-bite bruschetta. I used a demi baguette since I only wrote this recipe to serve 4-6 people, but feel free to use a full baguette if you're hosting a big gathering. If you prefer to serve this as a sit-down appetizer, you're welcome to choose a larger crusty loaf with a coarse crumb (e.g. sourdough boulés or rustic Italian loaves).
Tomatoes - Any variety will do so long as it is ripe and in-season. Read my note below for more guidance.
Whole Garlic Cloves - You'll use the cloves to flavor the bread by rubbing them against the toasted crumb. Choose the largest cloves possible for the easiest application.
Olive Oil - Now's the time to bust out your bottle of the "good stuff." Small-batch, cold-pressed, and extra-virgin are all good adjectives to look for. If you're shopping at a normal grocery store, I like _____ brand, which is available nationwide.
Flaky Sea Salt - I love the crunchy pyramids of Maldon, but kosher salt will also do the trick.
Fresh Mozzarella Cheese - Buy it in a ball and pull, don't slice it, apart. The craggy tears are great for grabbing onto the tomato juices. You're also welcome to use my marinated mozzarella for an added layer of flavor.
The Best Tomatoes For Bruschetta
If you're wondering what type of tomatoes to choose for making the perfect tomato and mozzarella bruschetta, the answer is: in-season, ripe, juicy, and flavorful ones!
If you want less prep work, opt for a meaty variety like roma tomatoes.
If you want to show off your gardening prowess, opt for juicy beefsteaks or gorgeous heirlooms. If you go this route, make sure to remove the seeds (which can make your bruschetta soggy) and, if the skins are tough or thick, peel them first.
NOTE: To peel tomatoes in a flash, make a small "x" on the bottom and drop them into a bowl of boiling water for about 30 seconds. Carefully remove them and peel; the skins should slip right off!
If it's color you crave, opt for a mixed variety of tomatoes that are all shades of yellow, orange, red, and purple. 
If you're making this dish outside of tomato season, opt for cherry tomatoes on the vine.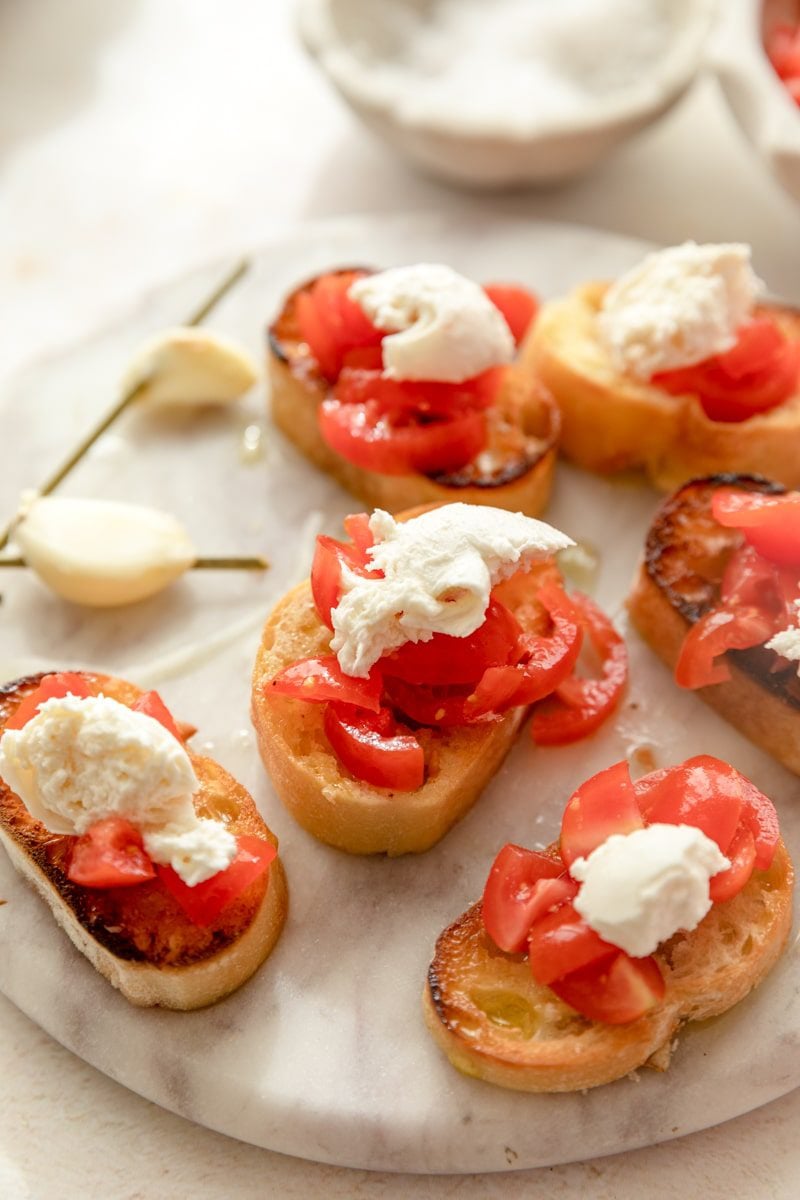 Tools Needed
You don't need any super fancy equipment to make this fresh bruschetta with mozzarella, which is yet another reason to love it. Here's what to grab:
Serrated Knife - The teeth on serrated knives make them ideal for slicing through crusty loaves. And, unless you have a *very sharp* chef's knife, I find that they're also easier for cutting through the delicate skin of tomatoes without crushing the flesh.
Grill, Oven, or Skillet - This is a choose-your-own-adventure! I love the smokiness the grill imparts, but if you don't have access or it's just too cold outside, feel free to use a parchment-lined sheet pan and the oven, or a cast-iron skillet on the stovetop.
Pour Spout - This very inexpensive piece of bar equipment is ideal for drizzling olive oil. As a bonus, they'll fit most bottles — you'll just need to pull out whatever plastic stopper that might be there already.
How To Make Bruschetta With Mozzarella & Tomatoes
This bruschetta recipe with mozzarella comes together in almost no time. Here's how it's done:
Step 1: Season Tomatoes. Finely dice the tomatoes and add a large pinch of salt then stir. Set aside.
Step 2: Broil or Grill the sliced baguette until browned on all edges.
Step 3: Rub Garlic all over each slice of bread.
Step 4: Add Olive Oil. Generously pour the olive oil onto the slices of bread.
Step 5: Assemble. Top with the salted tomatoes and a piece of mozzarella cheese. Enjoy!
Optional Variations
While I love this antipasto as is, there are lots of bruschetta recipes with mozzarella to try. Here are a few of my favorite variations:
Swap in burrata for the mozzarella for an extra ooey-gooey cheese experience.
Add balsamic vinegar for an added punch of sweet acidity. I like to reduce mine down until it's a thick glaze to drizzle over the top; it makes for a stunning presentation.
Add fresh basil. Tomato basil bruschetta with mozzarella tastes like a bite of summer sunshine. Simply chiffonade about 6-10 large basil leaves and add them to the tomato mixture.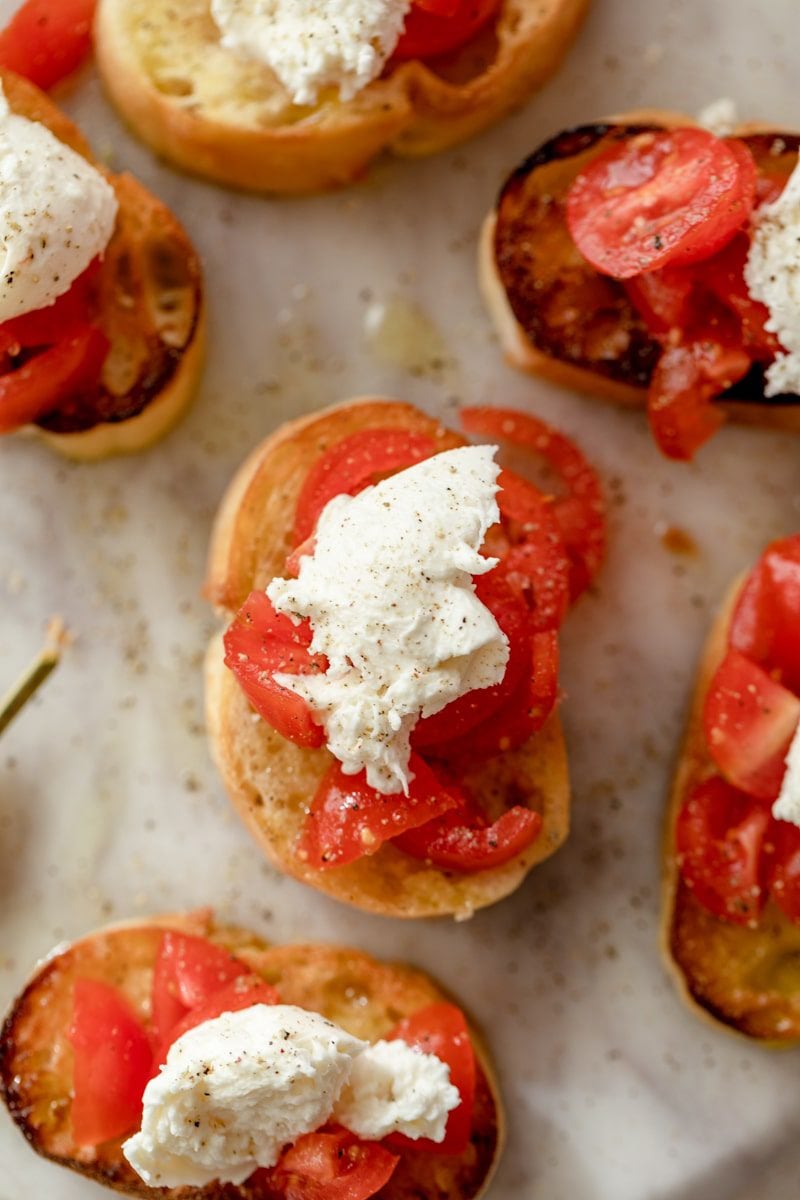 FAQs & Tips
What is the difference between bruschetta and caprese? Bruschetta implies that there will be garlic-rubbed toast involved, whereas caprese is typically served as a salad (with no bread). That said, you can certainly make caprese-style bruschetta by including both balsamic vinegar and fresh basil in your tomato mix!
Should bruschetta be eaten hot or cold? It depends on the type of bruschetta. I like to serve this particular type at room temperature, or while the bread is still slightly warm.
Do Italians eat bruschetta? You betcha! It has been a staple of Tuscan cuisine for centuries.
Make-Ahead Tips - Feel free to make your toast points and chop your tomatoes up to a day ahead. To keep the bread fresh, cool it completely and pop it in a ziptop bag or airtight container. The tomatoes can be covered and kept in the fridge, but they should be brought to room temperature before serving. Add the salt to the tomatoes just 10-15 minutes before serving to prevent them from getting too watery.
Slice your bread on a diagonal. The oblong shapes are more pleasing to the eye.
Marinate tomatoes with salt for at least 10 minutes. This will allow the flavors to really come alive.
Make sure the tomatoes are at room temperature for the best taste. Don't just take my word for it. It's science.
Serving Suggestions
These lovely tomato bruschettas with mozzarella are perfect for serving any time of year (so long as you choose the right tomatoes!).
If you keep them small, they're great as passed hors d'oeuvres. They also do well on a buffet table, though I recommend keeping the tomato mix to the side for guests to spoon on top so the bread doesn't get soggy. You can also serve them in a larger format for a sit-down appetizer.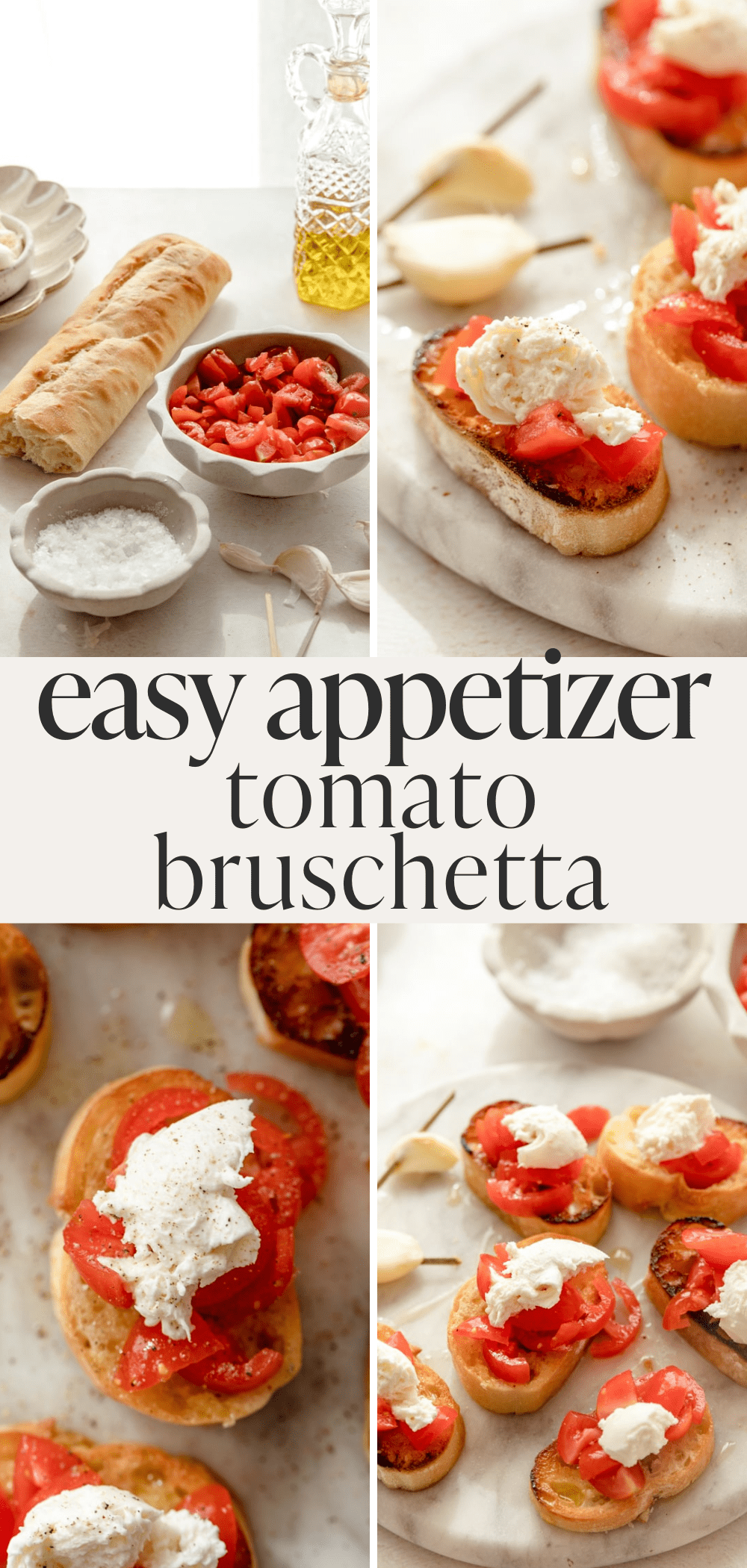 More Tasty Italian Appetizer Recipes
📖 Recipe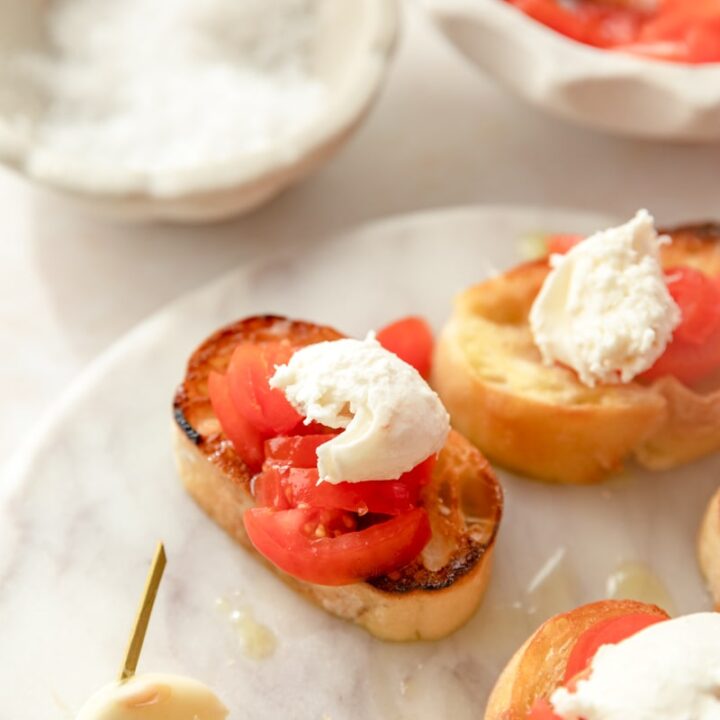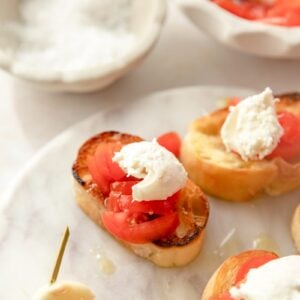 Bruschetta with Mozzarella
Simple and delicious ingredients come together in this Bruschetta with Mozzarella. Makes the perfect appetizer, side, or snack!
Share by Text
Print
Pin
Rate
Ingredients
1

demi baguette

sliced

3

ripe tomatoes

2-3

whole cloves of garlic

4-6

tablespoons

of really good olive oil

Large pinch of flaky sea salt

½

cup

mozzarella cheese

pulled into pieces (get the large mozzarella cheese ball, not shredded)
Instructions
Finely dice the tomatoes and add a large pinch of salt then stir. Set aside.

Broil or grill the sliced baguette until brown on the edges

When the bread is done, take a garlic clove and rub it all over each slice of bread

Generously pour the olive oil onto the slices of bread

Top with the salted tomatoes and a piece of mozzarella cheese. Enjoy!