Appetizers and side dishes can be tricky...you don't want something too simple but it's also an opportunity to get creative! Ditch your typical cornbread side for an elevated option: Fried Polenta With Goat Cheese and Honey.
Top with different textured bites like dried cranberries and pistachios all drizzled with sweet honey. It's crispy on the edges and creamy on the interior.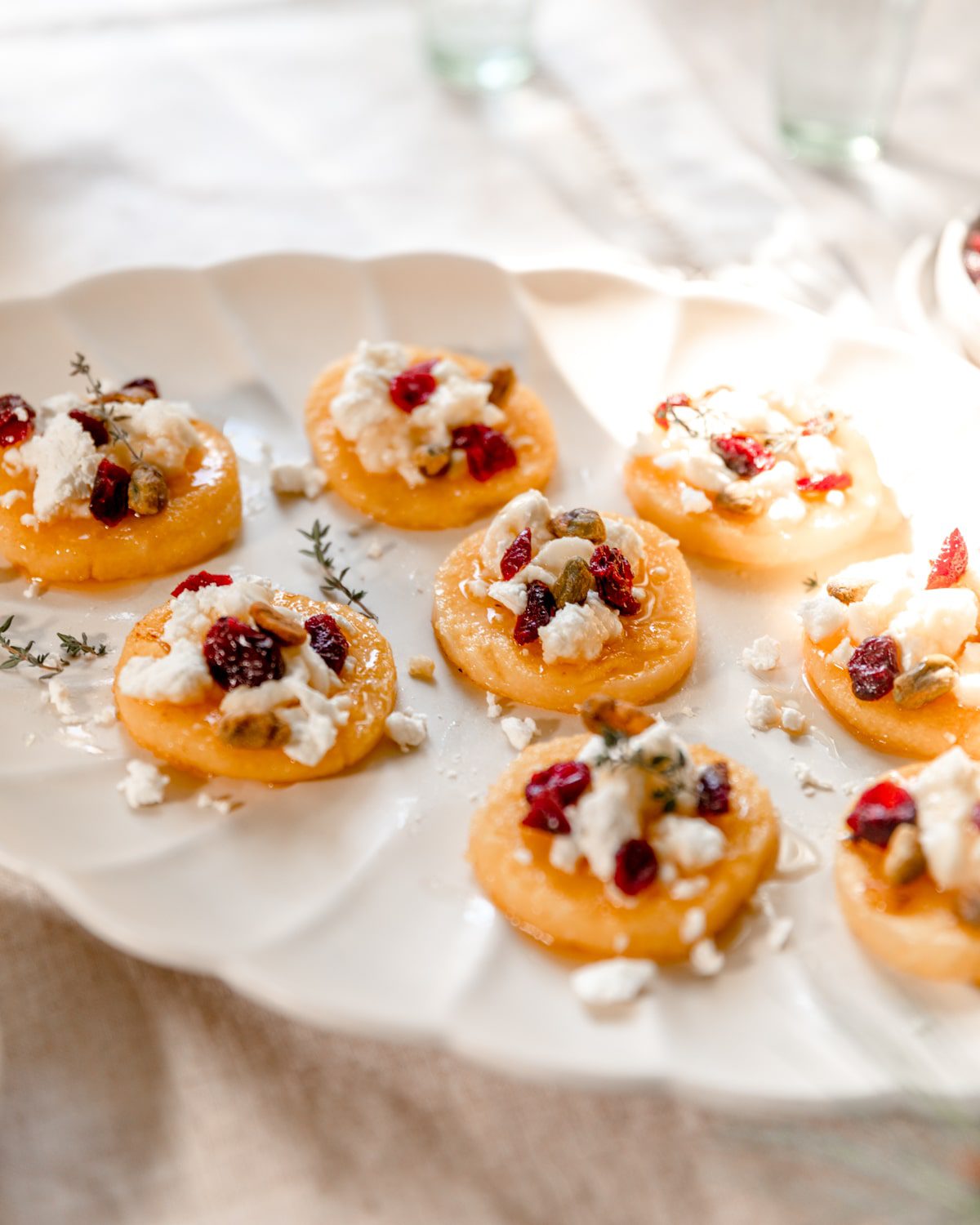 What Is Polenta?
So first you might be wondering, what the heck is polenta?
It basically a porridge cooked from cornmeal and typically is served warm. You may be familiar with grits which are essentially the same!
What's the Difference Between Grits and Polenta?
Grits and polenta are cooked the same way and are even made from the same ingredient: corn!
However, there is one big difference and that is the kind of corn it's made from. Polenta is made from cornmeal which is yellow in color.
While grits are made from white corn called hominy.
Sweet and Savory Polenta Cake Appetizer
These little fried cakes are gorgeous to serve, are easy to eat, and the toppings are really festive and delicious.
Ingredients You'll Need...
pre-cooked tube of polenta
goat cheese
honey
dried cranberries
chopped pistachios
However, if you don't have these ingredients for toppings just improvise with a mix of salty, sweet, and creamy!
These cakes are great for a pre-dinner or cocktail hour appetizer and if you enjoy them you'll definitely want to try my Apple Honey Walnut Crostini.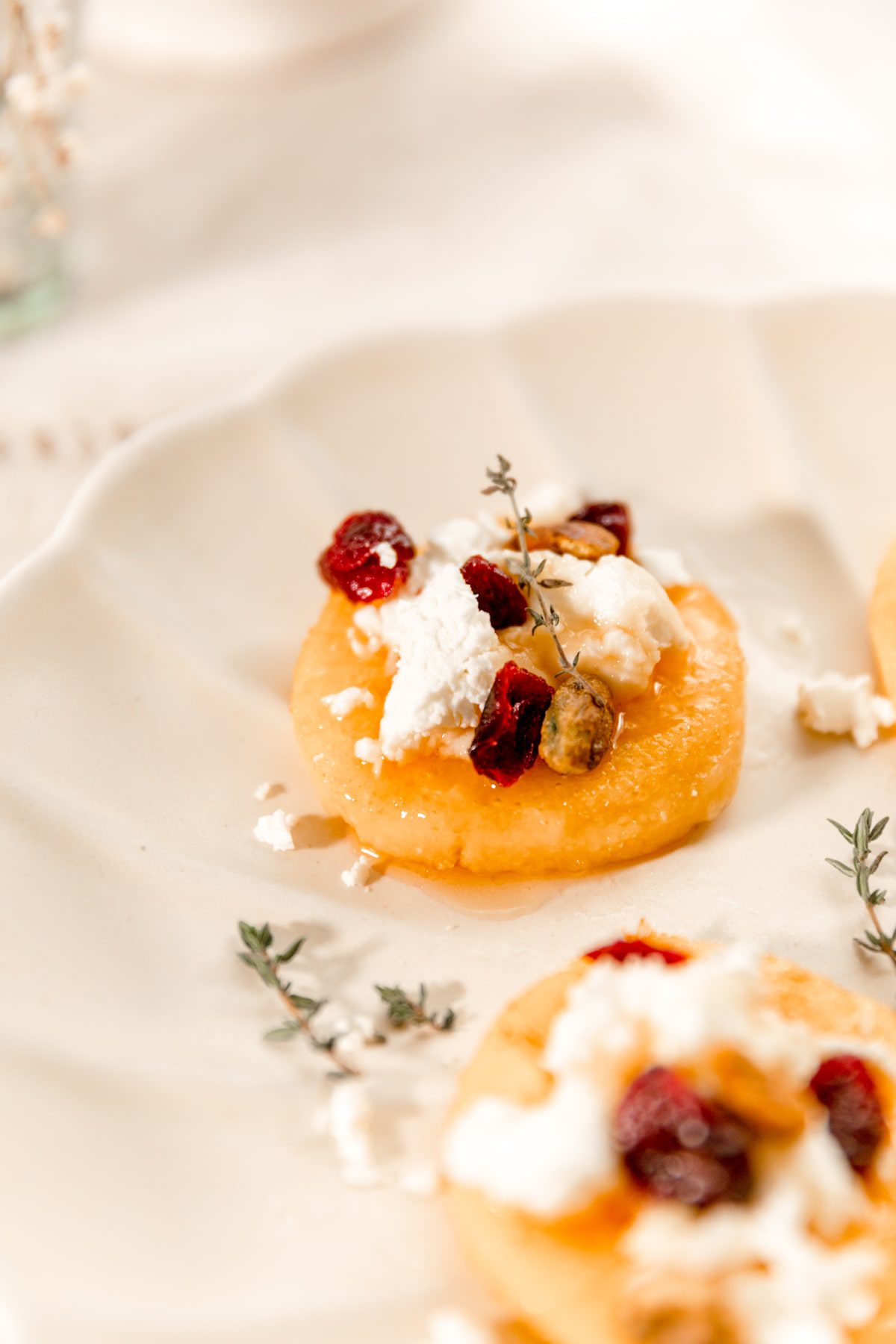 Frying Polenta
So when you make polenta at home it comes out as a porridge consistency. However, you may buy it already cooked at the store and it comes in a tube!
Simply slice it to pan sear it or air fry it. You could actually even grill it!
Frying polenta is my favorite way to enjoy it at home and you've got a couple of options to do it.
Air Fried Polenta
This is my preferred way to fry polenta, it's mess-free and creates a foolproof crispy exterior to the polenta cake.
Simply spray your polenta cakes with cooking spray and air fry at 425 for about 10-12 minutes. Flipping them in between to ensure even cooking.
Pan Seared Polenta Slices
The other option for this recipe is to pan-sear the cooked polenta slices.

In a nonstick skillet heat up some cooking oil and pan sear the polenta rounds for 6 minutes on each side until lightly browned.
Is Polenta Gluten Free?
YES!
One benefit and a huge bonus to many people is that polenta is a gluten-free option!
Cornmeal is naturally gluten-free and so this fried polenta appetizer is definitely gluten-free. However, always be careful about cross-contamination!
What To Serve with Fried Polenta
Frying polenta is satisfying and delicious on its own, but serve it up with these main dishes for a holiday feast!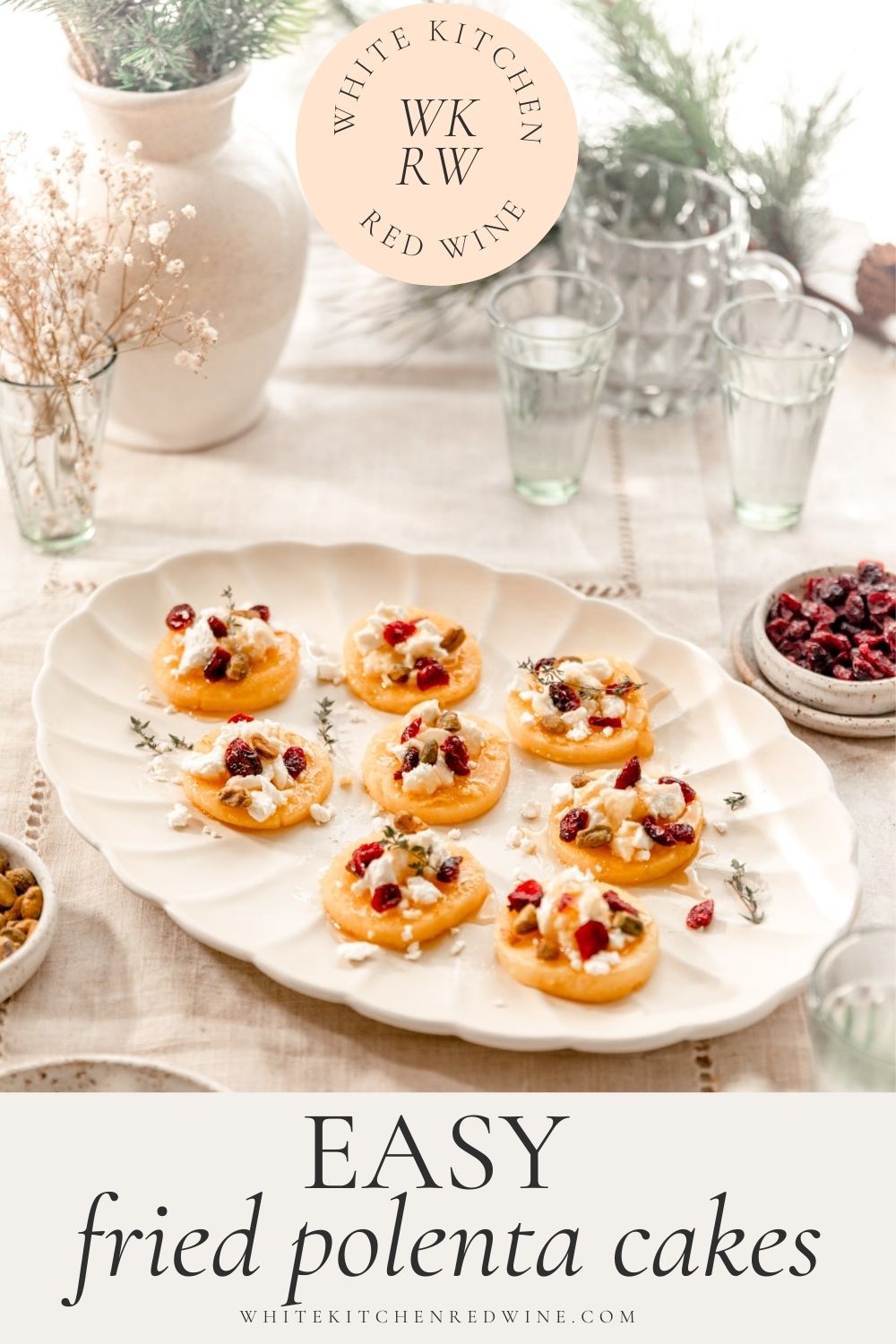 📖 Recipe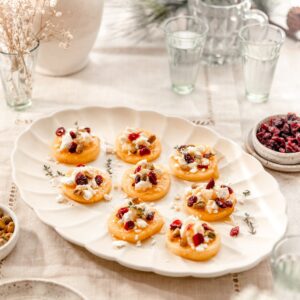 Fried Polenta with Goat Cheese and Honey
Delicious fried polenta slices with crumbled goat cheese and drizzled with sweet honey.
Print
Pin
Rate
Ingredients
18

oz

tube of pre-cooked polenta

5

oz

goat cheese

¼

cup

honey

¼

cup

craisins

¼

cup

chopped pistachios

Cooking spray or olive oil

fresh sprigs of thyme for garnish if desired
Instructions
In an air fryer, preheat your basket at 425 for 5 minutes.

While that heats up, slice the polenta into about ¼ inch round slices.

In batches, add the polenta about 4-5 slices at a time. Spray with cooking oil.

Air fry for 5 minutes, flip the polenta then cook an additional 5 minutes.

Repeat until all slices are air fried.

Top with crumbled goat cheese, craisins, pistachios, and drizzle honey over the top. Serve immediately.