So its the day after you've hosted friends or family and you made a HUGE cheese board. It was awesome! Everyone loved it. BUT now you have tons of leftover cheese. Enter: Leftover Cheese Balls!
Dainty, mini cheese balls made from leftover cheese so they can be enjoyed another day.
Recipe for Using Leftover Cheese
Using bits and pieces of cheeses from a charcuterie board are the best ingredients for these leftover cheese balls.
You won't have the same thing every time, but they WILL be delicious! I like to start with a funky cheese, a soft cheese, a hard cheese, and then a base of either cream cheese or goat cheese.
This recipe also calls for some Panko bread crumbs and everything but the bagel seasoning for an irresistible crust on these mini cheese balls.
Best Cheeses To Use
Like a said above, I like to use a few different cheeses to really make these balls work! Hopefully on your board you had a good variety to make these leftover cheese balls amazing.
I usually like to include one (if any) funky cheeses: blue cheese, gorgonzola, or feta! Any more than that and you run the risk of over powering the WHOLE DANG CHEESE BALL.
Other cheese that work really well in these mini cheese balls: white cheddar, shredded cheeses, parmesan, gruyere, Swiss, yellow cheddar.
The base I start with is cream cheese or goat cheese. They are creamy enough to hold the whole thing together and mild enough to blend the flavors together nicely.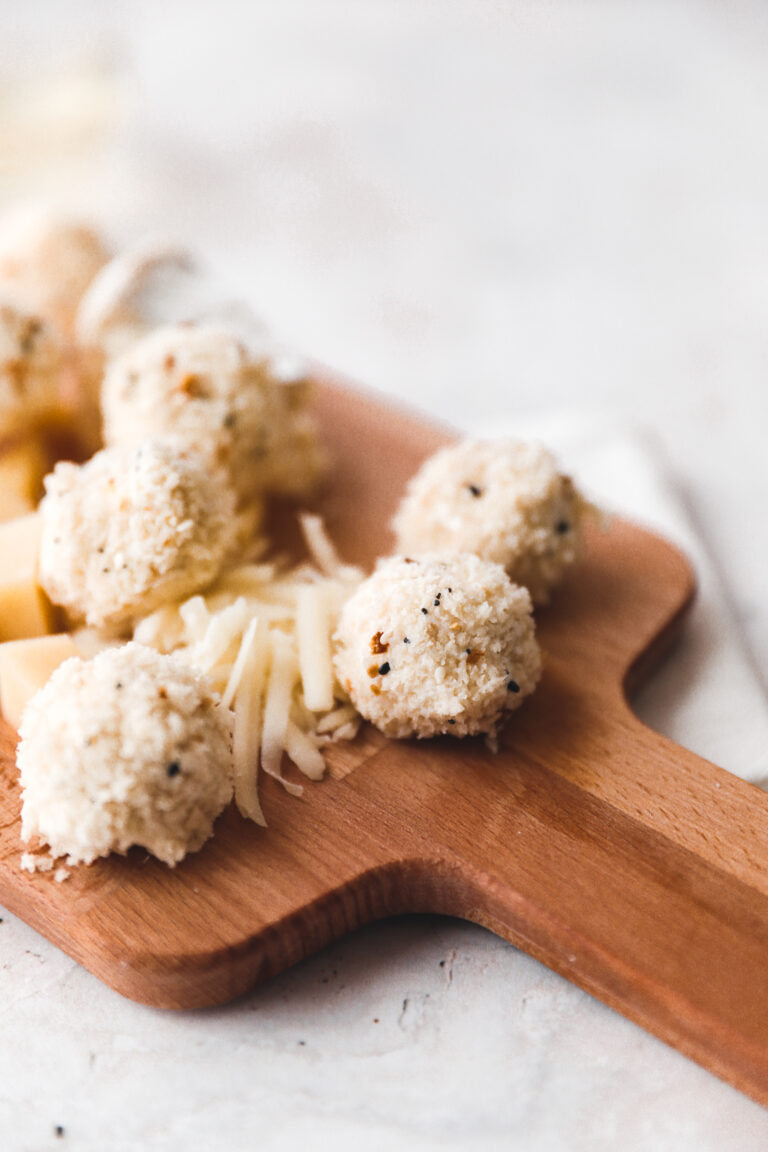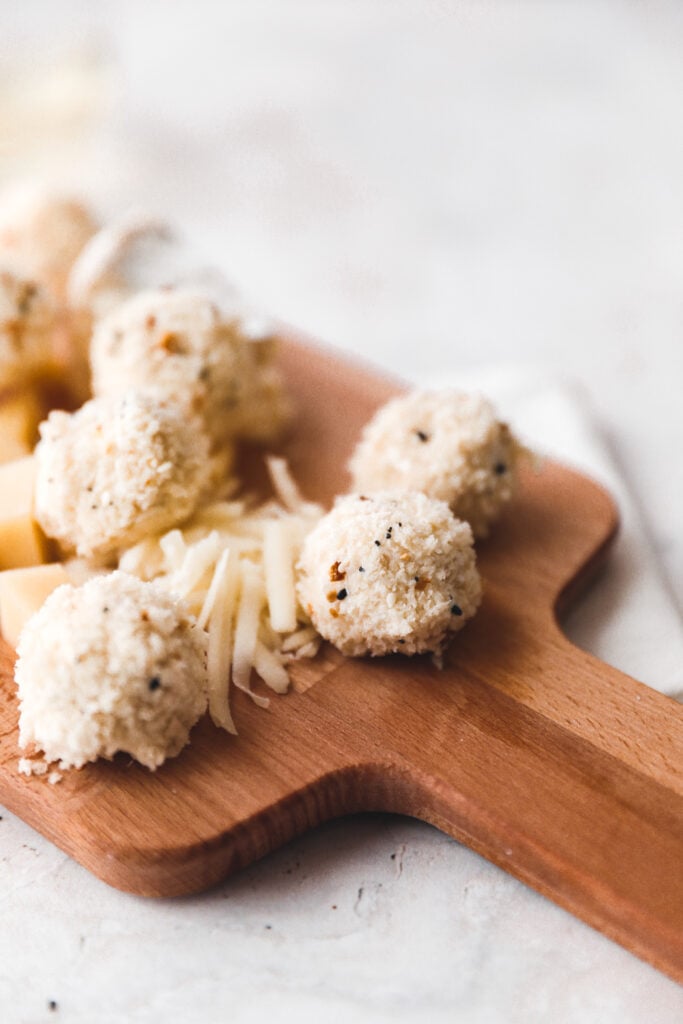 How To Form The Best Mini Cheeseball
So the key to getting the right texture is to pulse these in a food processor until it resembles a dough.
That's why it's key to have a mild soft cheese to hold it all together. It should stick together if you squeeze it in your hand.
That's when I take a small cookie scoop and scoop mini cheese balls! These are about 1 tablespoon each which is a great serving size. Scoop as many as you can and gently roll them into perfect balls.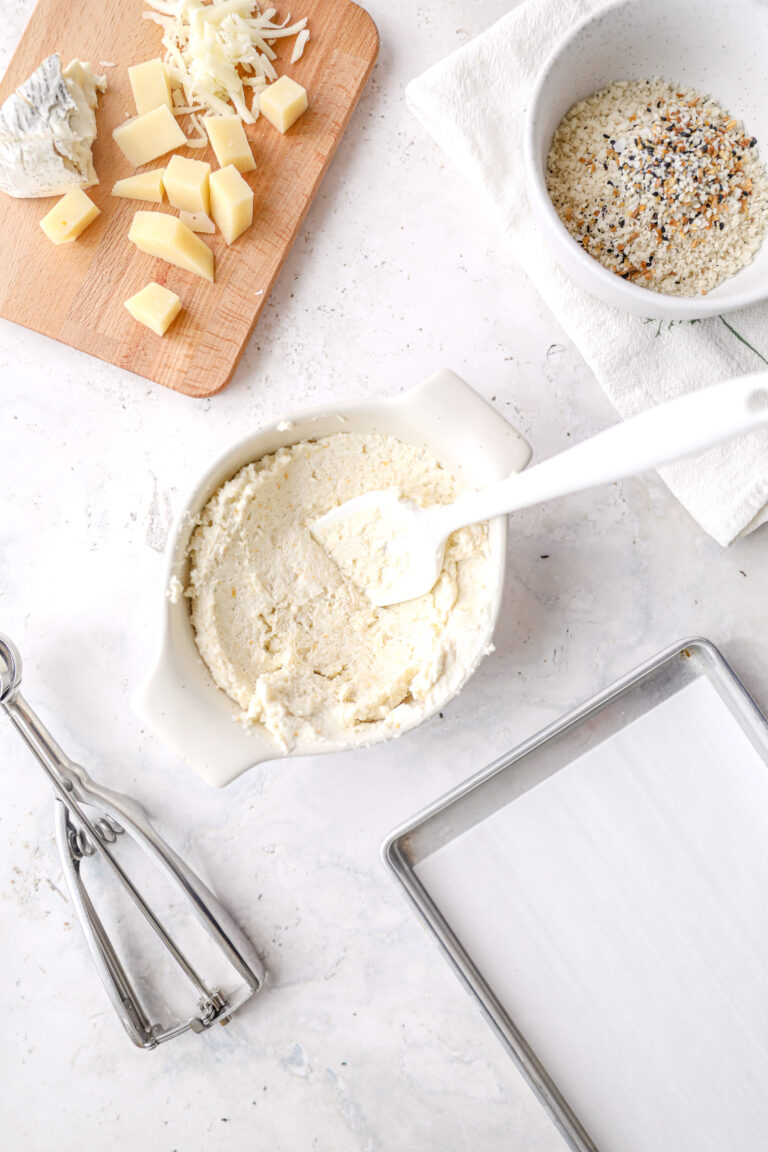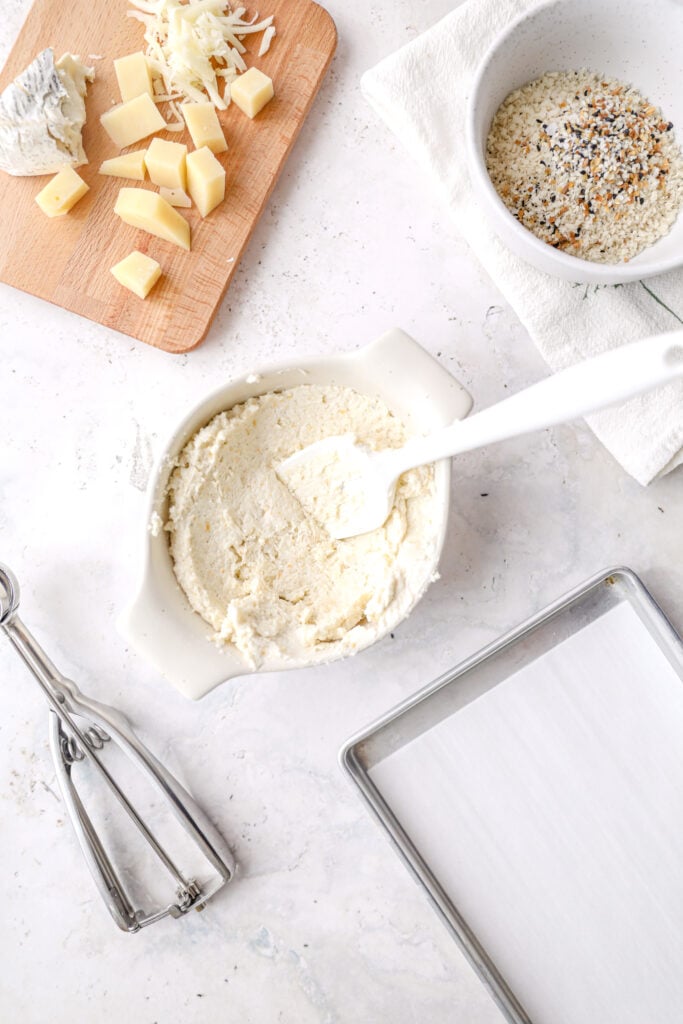 Everything Bagel Cheese Ball Crust
The last perfect touch to these Leftover Cheese Balls are a mix of crunchy Panko breadcrumbs and everything but the bagel seasoning.
Equal parts of both ingredients are a great topping to cheese balls! They add amazing texture and flavor to these mixed up, mashed up mini cheese balls.
Simply mix equal parts Panko breadcrumbs and everything but the bagel seasoning and gently roll your cheese balls in the mix.
How To Store Leftover Cheese Balls
So these cheese balls are great to eat right away or a little bit better if you refrigerate for about 10 minutes.
To store them after that, put in an airtight container for up to 4-5 days. Serve them over salads, on toothpicks with a side of olives and wine, or just pop them on-the-go!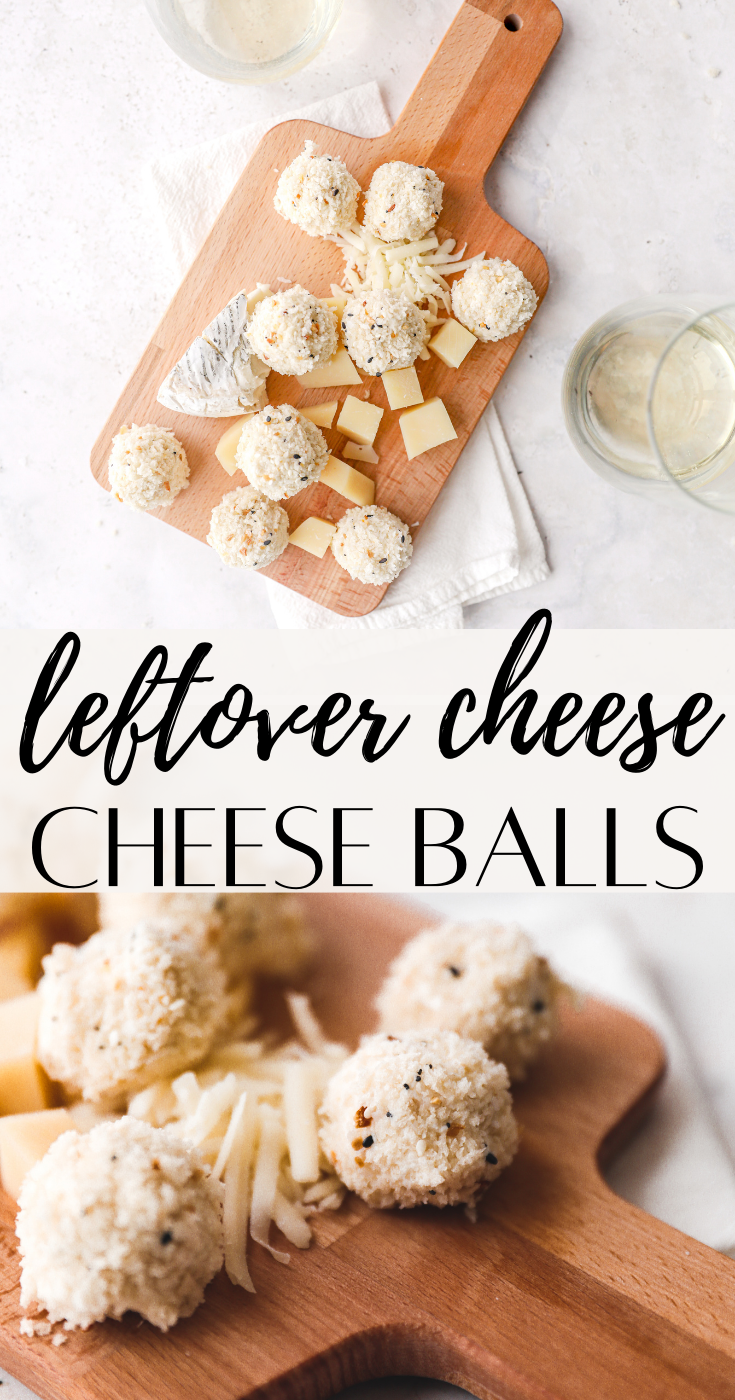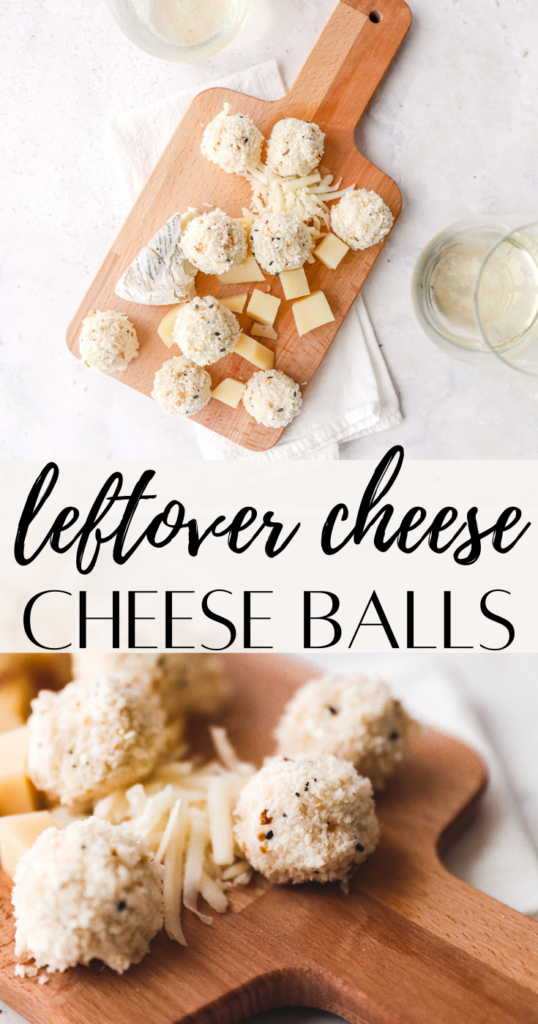 📖 Recipe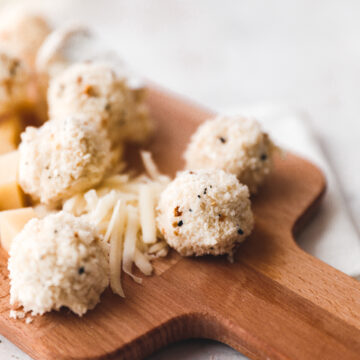 Leftover Cheese Balls
Need to use up lefotver cheese? These simple cheese balls are your ticket!
Print
Pin
Rate
Equipment
Food Processor

1 Tablespoon Cookie Scoop
Ingredients
¼

cup

shredded cheddar cheese

¼

cup

gruyere cheese

¼

cup

parmesan cheese

¼

cup

shredded swiss cheese

¼

cup

gorgonzola cheese

4 oz

goat cheese OR cream cheese

¼

cup

panko breadcrumbs

2

tablespoon

Everything But The Bagel Seasoning
Instructions
Using whatever leftover cheese you have, place it all in the food processor. It makes it easier if the cheese is already cubed or cut up.

Pulse until a crumbly yet creamy "dough" forms. It should stick together when you squeeze some in your palm.

If it's still too sticky, add extra shredded cheese until it sticks together.

In a small dish combine the panko breadcrumbs along with the everything bagel seasoning.

Using a small 1 tablespoon cookie scoop, scoop the cheese into balls. Remove from the scoop and gently roll in your hand to create a perfect ball.

Roll each ball in the panko/ bagel seasoning mixture and you are ready to serve them!