This perfectly spicy and lusciously creamy Jalapeno Corn Casserole is the perfect addition to any holiday table. Made with fewer than 10 ingredients (one of which is a box of cornbread mix!) and less than 10 minutes of active prep time, this easy side dish recipe is a real keeper!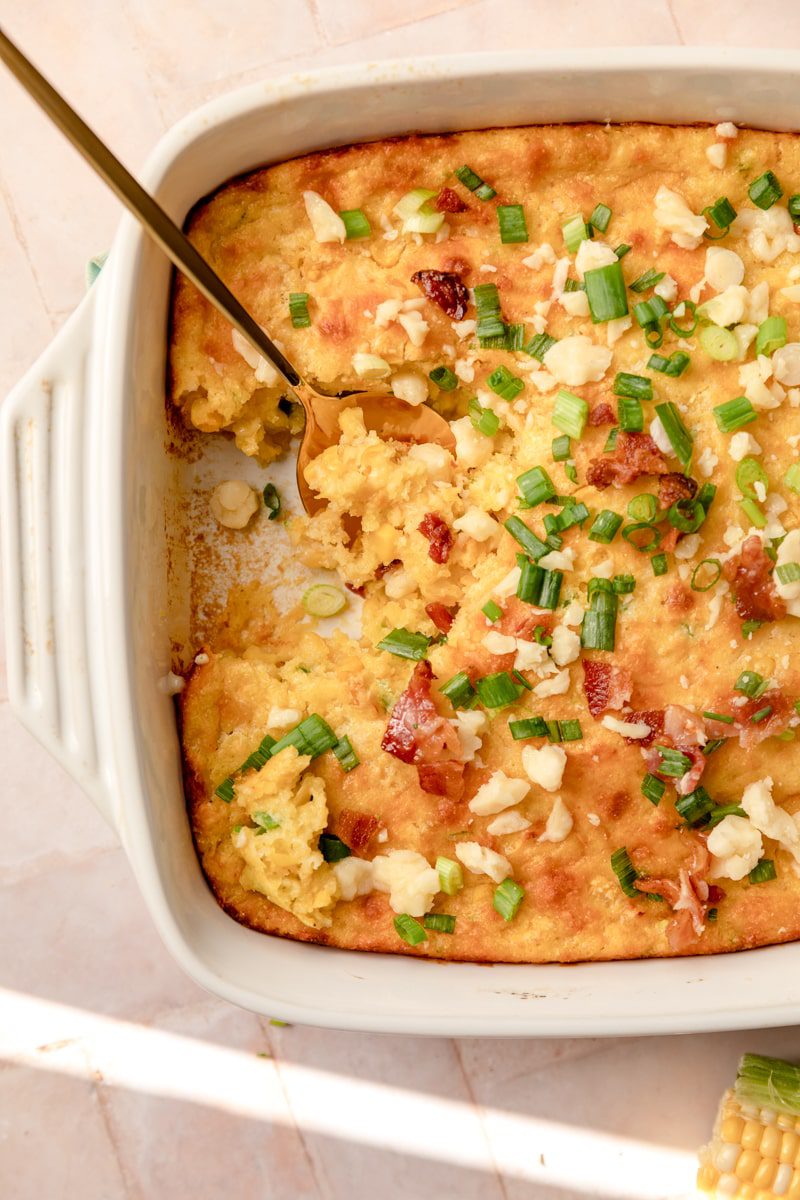 What Is Corn Casserole?
Also known as corn pudding, creamed corn casserole, corn soufflé, or corn spoonbread, this delicious Southern staple is something I look forward to every Thanksgiving. It's essentially a cross between cornbread and pudding — light and airy like a soufflé, but with the definitive flavor of cornbread.
It's believed that the Native Americans were responsible for introducing a cornbread-like dish (known as corn pone) to settlers, using nothing but corn, salt, water, and lard. It was then reinterpreted by settlers to make what we now know as johnnycakes (cooked in boiling water), hoecakes (cooked on heated field hoes), and cornbread.
After the Civil War, the first take on spoonbread started to emerge as a Southern tradition. The addition of butter, milk, and eggs is what transformed these more rustic dishes into the feather-light, cloud-like dish we know today!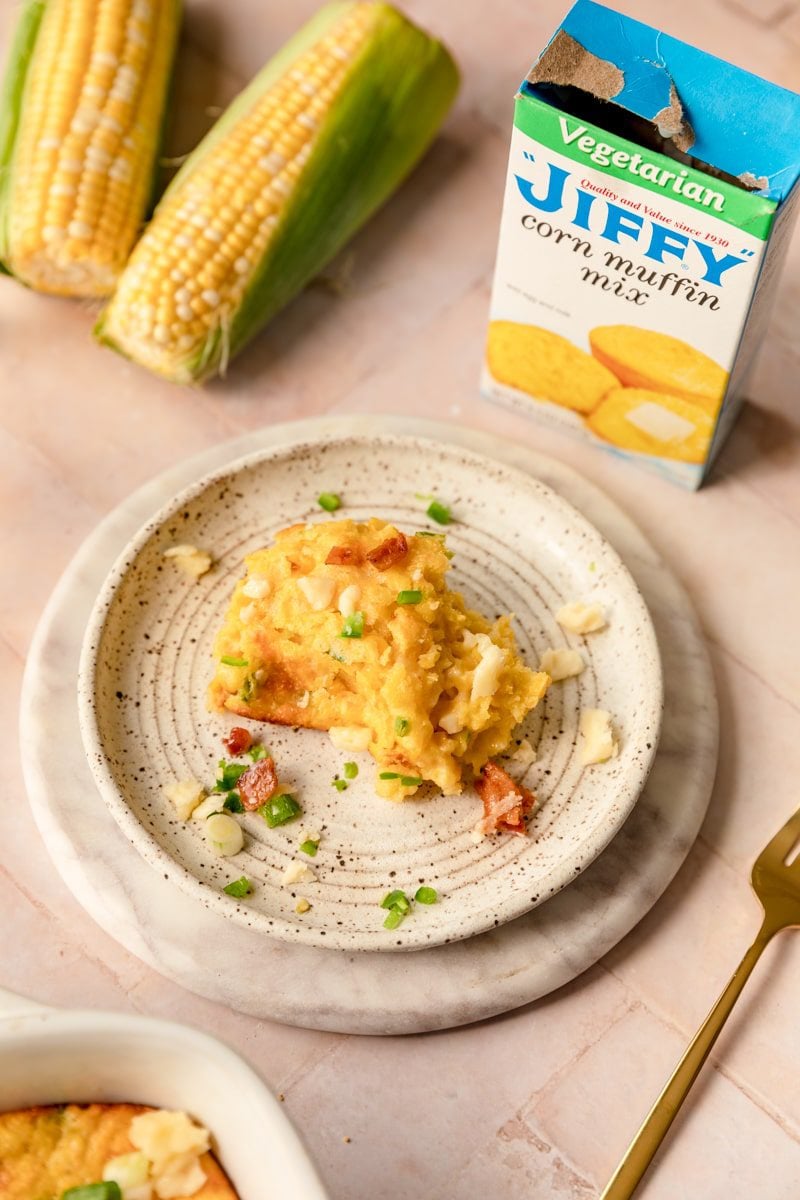 Why You'll Love This Spicy Corn Casserole
With a perfect balance of sweet and spicy, carby and custardy, this jalapeno cream corn casserole always gets devoured in the first round of dinner. In fact, I might just have to make a double recipe this year so I can have some leftovers! 🤔
Aside from being a fan-favorite literally every time I make it, this yummy jalapeño corn pudding recipe is:
Quick & Easy. All you need is one bowl, one spatula, one pan, and 5 minutes of prep to get this stellar side in the oven.
Hearty & Comforting. It's warm and creamy, like a soft, slightly spicy cornbread–pudding combo. In other words, it's 100% crave-worthy.
Budget-Friendly. Considering boxes of Jiffy are still being sold for less than $0.50 apiece and cans of veggies are usually $1 or less, this is easily one of the most inexpensive side dishes I can think of.
Meal-Prep & Freezer-Friendly. While the prep is super quick, many holiday dishes require the oven for different times at different temps, making scheduling a hassle. Luckily, you can easily make this hot corn casserole well in advance and just warm it up with your dinner rolls when it's time to eat.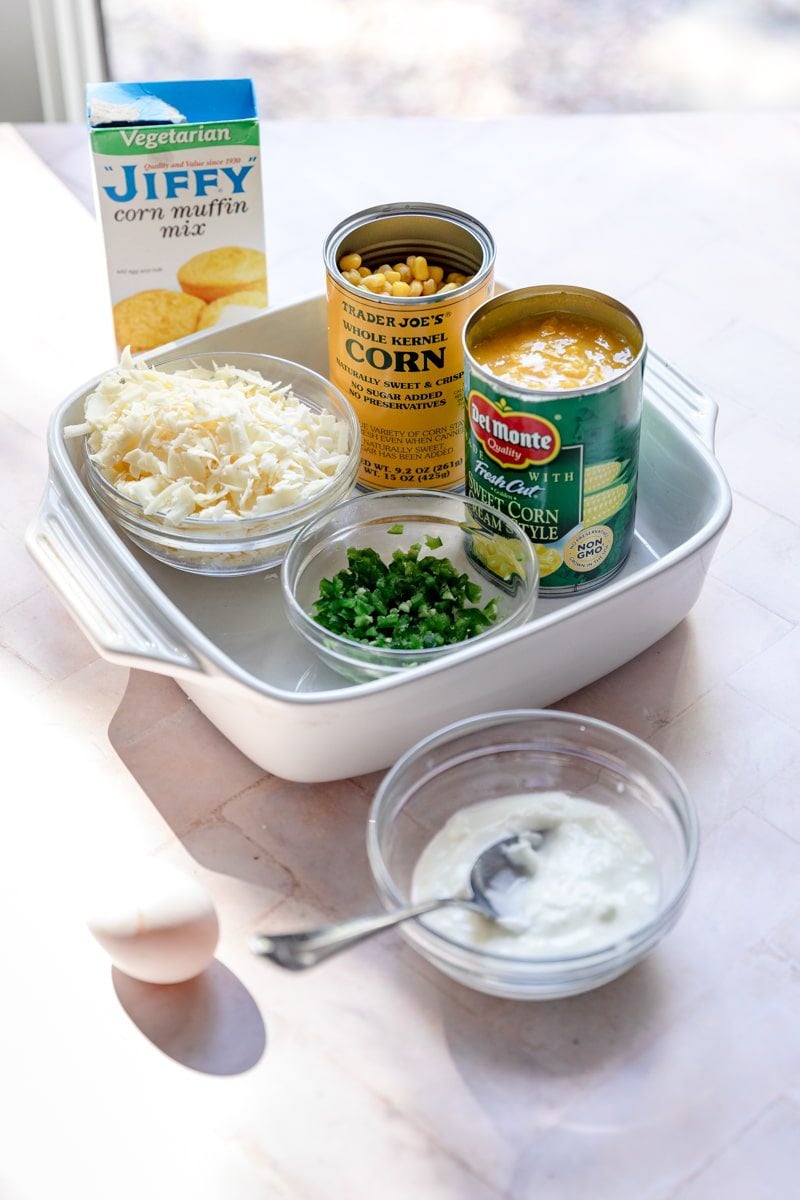 Ingredients & Substitutions
As promised, you don't need much to make this jalapeño cornbread casserole. Best of all, most of the elements are shelf-stable and come straight from the pantry! Here's what to grab:
Cornbread Mix - Feel free to use any mix that you like. I developed the recipe using ____ brand, but so long as you're swapping in an equal volume of any other store-bought or a homemade mix, it should work!
Jalapeño - You can add more or less depending on your heat preferences. Feel free to swap in spicier serrano peppers if you prefer!
Greek Yogurt - I use whole milk greek yogurt all the time in my kitchen. Feel free to swap in sour cream instead.
Eggs
Canned Creamed-Style Corn - For sweet corn flavor and lots of richness.
Canned Kernel Corn - For sweetness and crunch. You're also welcome to swap in fresh or frozen corn kernels, though they'll have a bit more of an al dente bite than canned.
White Cheddar Cheese - You're also welcome to use yellow cheddar if you prefer, but the color of your final dish will be more pronounced. Other good options include pepperjack, colby, colby-jack, or gouda.
Hot Honey - Optional, but delicious for serving. I'm a huge fan of Mike's brand, but you're welcome to use any other store-bought or homemade version you prefer. If you want to tone down the heat, regular honey would also be lovely!
Tools Needed
I LOVE how easy this holiday side is to mix up. Here's all the kitchen equipment you'll need:
Mixing Bowl - Just one!
Silicone Spatula or Wooden Spoon - The silicone spatula will make sure you get every last bit of corny goodness into the tin, but I prefer stirring with a wooden spoon.
Measuring Cups and Spoons
9x9 Baking Dish - You can also swap in an 8x12" oval casserole dish, or increase the recipe by 50% and bake it in a 9x13".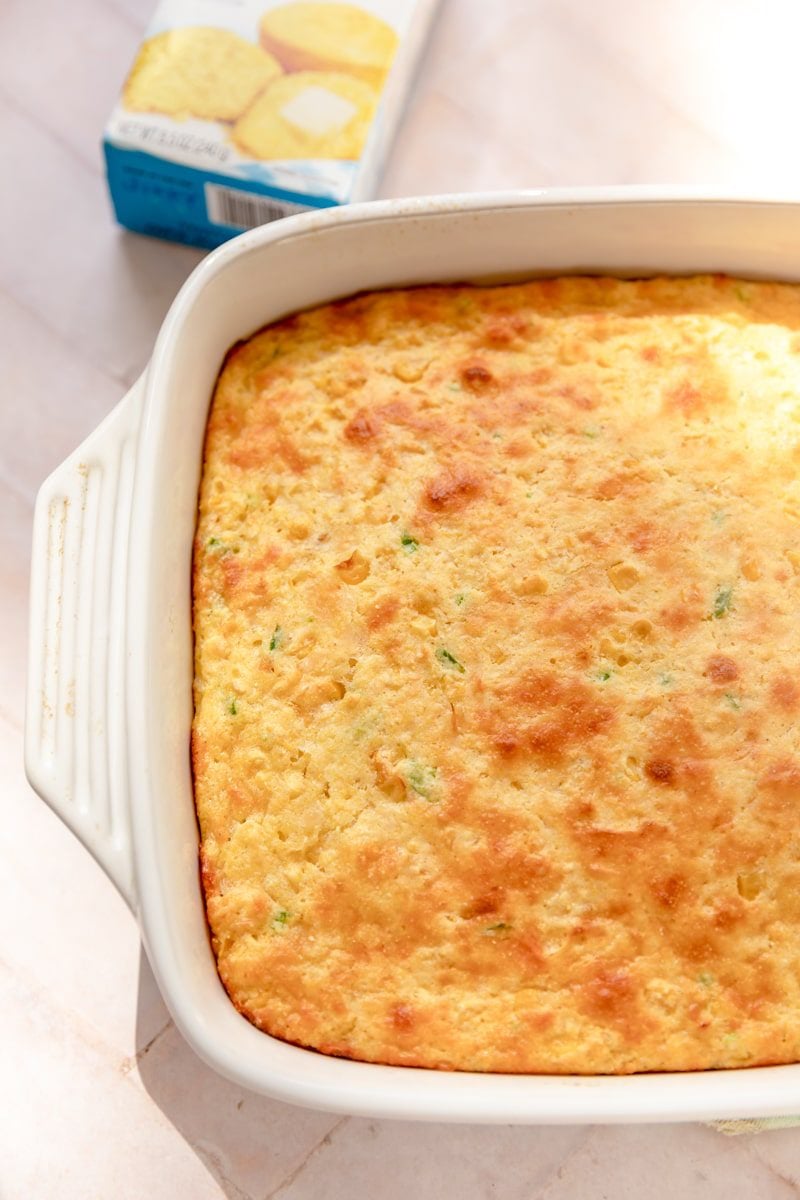 How To Make Cheesy Jalapeño Corn Casserole
This quasi-Mexican corn casserole recipe comes together in a flash. Here's how it's done:
Step 1: Prep. Preheat the oven & prepare your baking dish with non-stick cooking spray.
Step 2: Mix all ingredients (except the honey) in a mixing bowl and stir well.
Step 3: Bake. Pour the corn casserole mixture into the prepared baking dish and bake until you can stick a toothpick in the middle and it comes out clean.
Step 4: Serve. Slice into individual servings, drizzle with hot honey, and enjoy!
Optional Variations & Dietary Preferences
How to adjust the spice level of this spicy corn casserole:
To make it SPICIER: Swap in serranos for jalapeños or add more jalapeños to the mix and consider using pepperjack cheese instead of cheddar. Also, remember that the primary source of capsaicin (the compound that makes chiles taste spicy) lives in the white membranes and seeds, so leave those in!
To make it LESS SPICY: Remove the seeds and membranes of the jalapeño before chopping to cut down the heat a bit. You can also use less jalapeño if you like. If jalapeños are just too much to consider, try using about ¼ of a milder poblano or ¼ of a super mild green bell pepper. You can also swap out the pickled jalapeños for milder pickled banana peppers or use more mild canned green chiles instead!
How to make gluten-free jalapeño corn casserole: Simply opt for a gluten-free cornbread mix (like King Arthur, Krusteaz, or Bob's Red Mill).
How to make dairy-free corn casserole: Use your favorite unsweetened, unflavored plant-based yogurt or sour cream and swap in your favorite vegan cheddar cheese substitute (like Daiya). You'll also want to buy or make vegan creamed corn.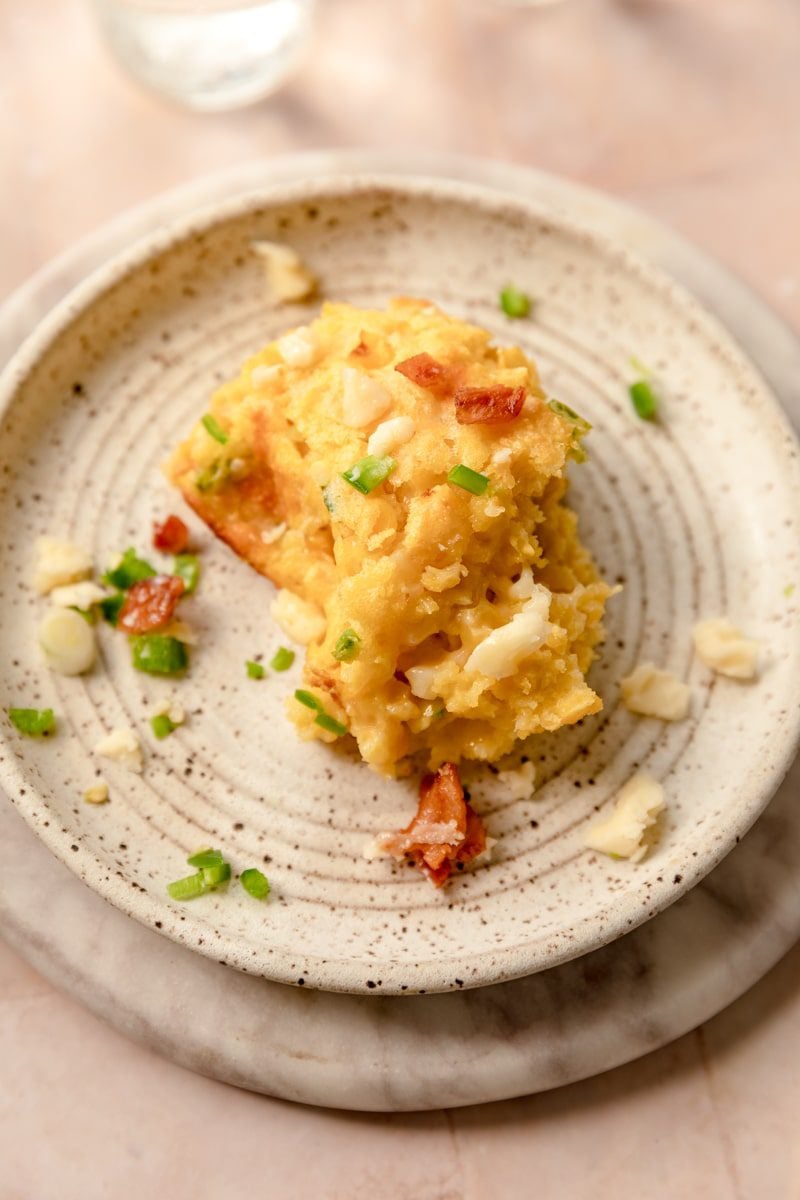 FAQs & Tips
Where does corn casserole come from? Traditionally speaking, corn casserole is considered a Southern dish, specifically from the Appalachian valley.
How do you know when this hot corn casserole is done? It should be lightly golden on top and shouldn't jiggle when you shake it. I also like testing mine with a wooden toothpick, which should come out clean.
Is corn casserole the same as cornbread? Not quite. Corn casserole uses some of the same ingredients as cornbread (e.g. cornbread mix in this recipe), but cornbread is usually firmer and drier than creamy corn casserole.
What's the best cornbread mix? I personally like using _____, but there are so many on the market to choose from! If you find a really stellar one I should try, let me know in the comments below! You can also always make your own from scratch using just a few pantry staples.
Grate your own cheese. While it's tempting to turn to pre-grated cheese to cut back on prep time, try to resist the urge. Each of the shreds in the bagged cheese is coated with starch that keeps them from glomming together into a lump; that same starch also prevents them from melting quite as well.
Meal-Prep FTW. If you're making this spicy jalapeño corn pudding for a dinner party or a big holiday gathering, do yourself a favor and make it in advance. When it comes time to serve, all you'll need to do is heat it up for about 15-20 minutes!
Storage
How to store jalapeño corn casserole: Cover the corn pudding with plastic wrap or foil and pop it in the fridge for up to 5-7 days or in the freezer for up to 3 months.
How to reheat corn jalapeño casserole: Defrost overnight in the fridge (if frozen), then reheat in a preheated oven at 350F. Cover with foil for the first 15 minutes, then uncover and keep cooking for 5-10 minutes until warmed through.
Serving Suggestions
Wondering what to eat with this yummy corn casserole? I have lots of ideas for you:
Easter, Thanksgiving or Christmas Dinner - It's perfect alongside ham, turkey, Mac and cheese, green bean casserole, Twice Baked Mashed Potatoes, and all your other holiday favorites.
Roasted or Fried Chicken
Meatloaf
Chicken or Beef Stew
Pork Chops or Pork Tenderloin
Breaded Fish
More Holiday-Ready Side Dish Recipes
📖 Recipe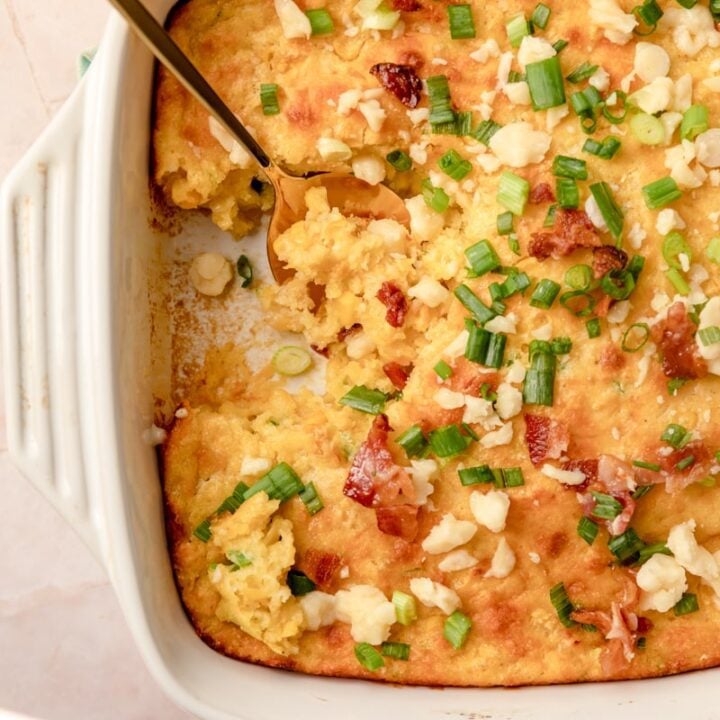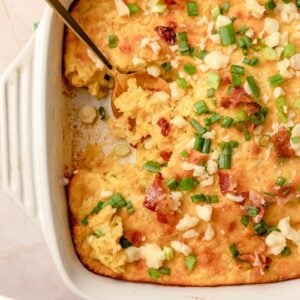 Jalapeno Corn Casserole
Deliciously creamy corn casserole with spicy jalapeños and sharp cheddar cheese make the best holiday side dish for your family.
Share by Text
Print
Pin
Rate
Ingredients
1

box cornbread mix

1

jalapeno

diced

½

a whtie onion

diced

1

tablespoon

olive oil

½

cup

greek yogurt

2

eggs

1

can creamed style corn

1

can of corn

drained

¼

cup

hot honey

1

cup

shredded white cheddar cheese
Instructions
Preheat the oven to 400 degrees

In a large bowl combine all ingredients except the honey and stir well.

Spray cooking spray or olive oil in a 9x9 baking dish and pour in the cornbread mixture.

Bake for 50 minutes or until you can stick a toothpick in the middle and it comes out clean.

Slice and serve then top with the hot honey. Enjoy!