Yogurt Marinated Grilled Chicken
Preparing a meal ahead of time is one sure way to make dinner time easy and clear one thing off your busy schedule! Yogurt-Marinated Grilled Chicken is a healthy, make-ahead marinated chicken that will surely spice up your weeknight!
I get stuck in a dinner rut often, believe it or not! & this Mediterranean-inspired chicken is marinated in yogurt and tons of delicious spices like oregano, turmeric, and cinnamon!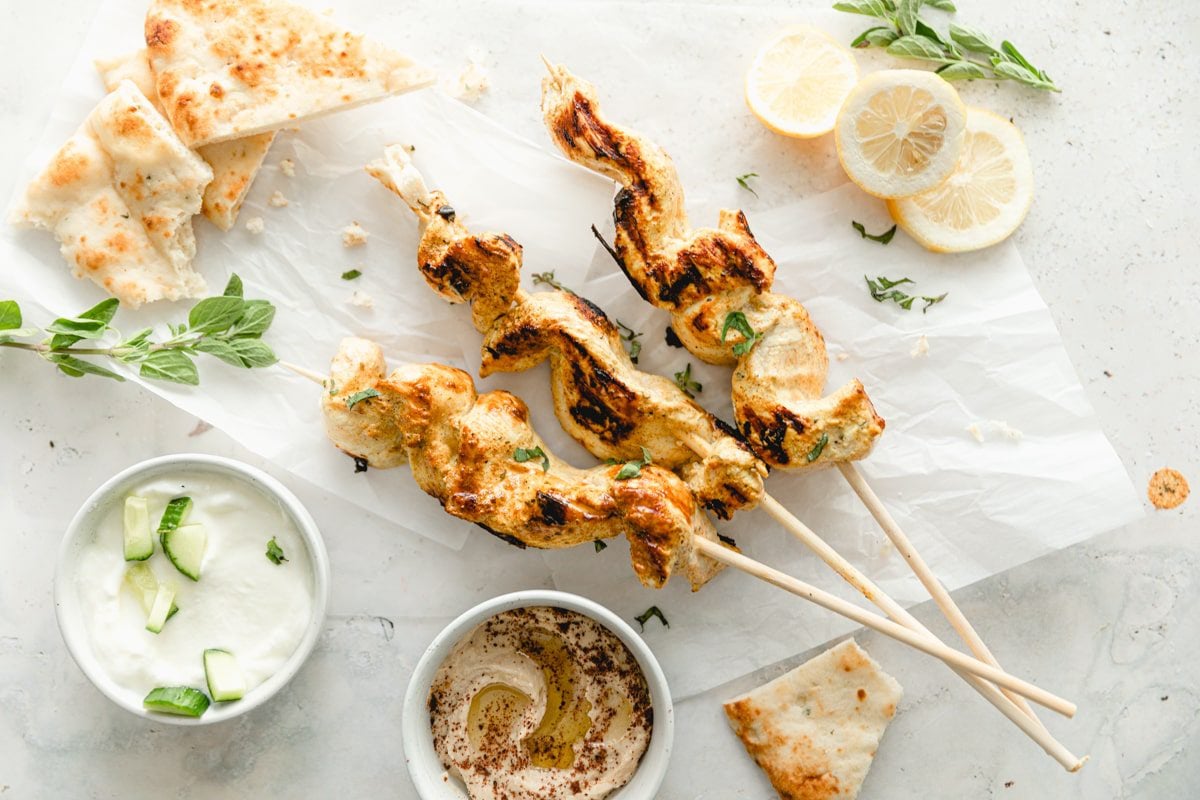 Greek Yogurt Chicken Marinade
This yogurt chicken marinade is really simple to whip up and is not only full of flavor but also helps keep our chicken really tender.
Ingredients
Boneless skinless chicken
greek yogurt
oregano
turmeric
cinnamon
paprika
garlic
olive oil
lemon juice
lemon zest
olive oil
salt and pepper
Whisk all ingredients together in a large bowl and add the sliced chicken. Let the marinade and the chicken come together in the fridge for a minimum of 2 hours to infuse all of those flavors.
Benefits To Marinating Chicken In Greek Yogurt
By using greek yogurt to marinate the chicken, you are not only getting flavor it actually helps to tenderize the meat in the process!
There is actually a chemical reaction that happens between the lactic acid and calcium in the yogurt and the protein in the chicken.
It slowly tenderizes the chicken in the process, unlike a lemon juice or vinaigrette type marinade, which would toughen up the chicken.
How Long To Marinate Chicken In Yogurt
A yogurt marinade needs to sit with the meat for a while so it has ample time to tenderize it. Anywhere from 2-12 hours. This is a great overnight marinade to prep the day before!
How long is too long? As long as you keep it under 24 hours of marinating, you should still end up with tender, juicy chicken
What Kind of Chicken To Use For Kebabs
For this recipe, I used boneless, skinless chicken breasts. Mainly because that's what I had on hand, but also for skewering, it seems to hold up better!
However, feel free to use boneless, skinless chicken thighs as well. They are always really tender and will be just as delicious.
Tips and Tricks for Using Kebab Skewers
So if you plan to grill these over an open flame charcoal grill, there are a few things you may want to know about cooking with skewers.
First, if your skewer is wooden you will want to soak them in water for about 15 minutes so they don't catch fire on the grill.
You could also definitely use metal skewers and have no issues, just don't grab those with your bare hands, hah!
Vegetables to Serve with Yogurt Marinated Chicken
This greek yogurt chicken marinade is loaded with warm and cozy Meditteranean flavors. You could serve this with all types of veggies!
Anything from a big, cool salad like Fattoush or Tabouli.
Sliced cucumber and tomato with my Roasted Red Pepper hummus is always a hit at our house!
Or, you could go with something like roasted potatoes, green beans, and zucchini! My Chili Onion Crunch Roasted Chickpeas would be delicious with the chicken.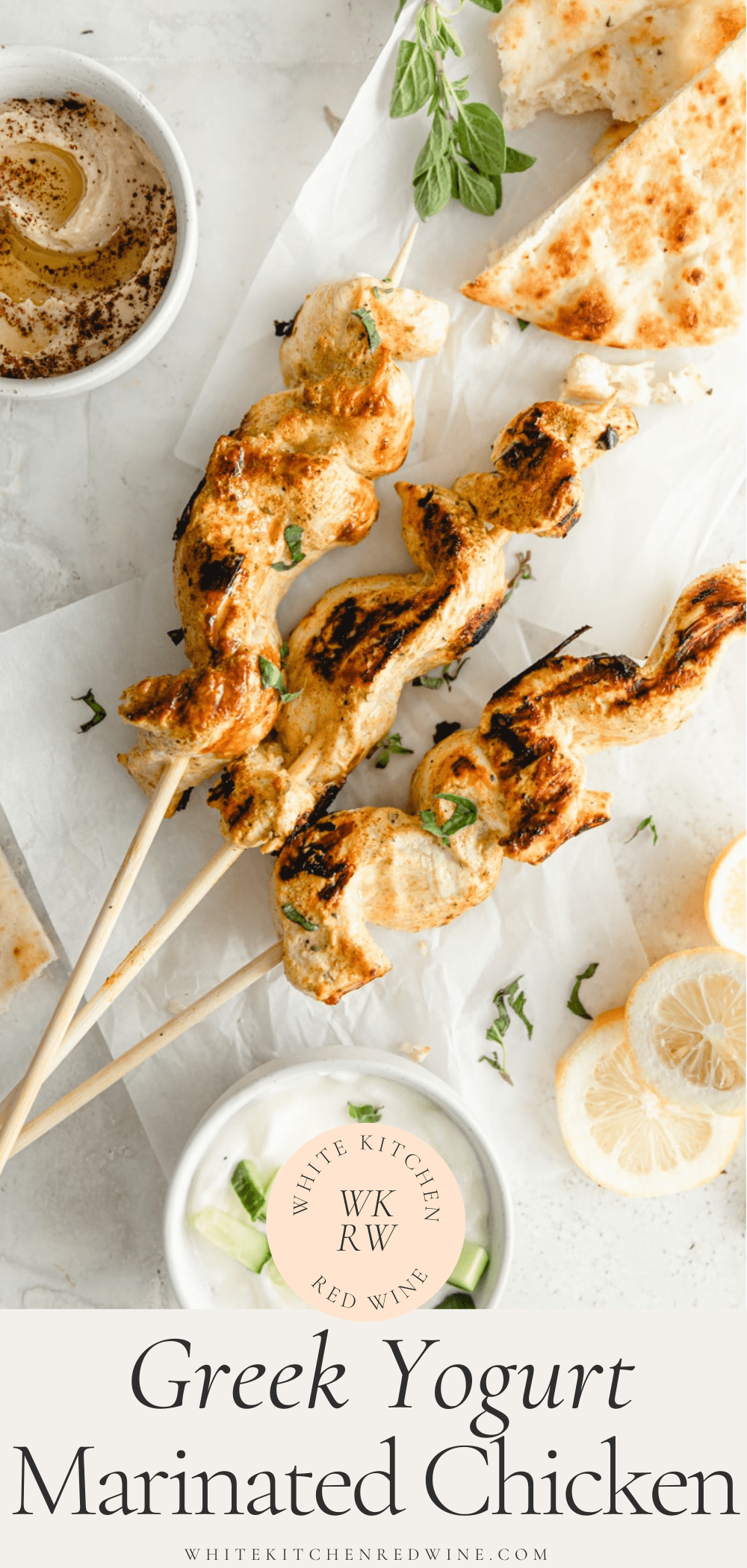 📖 Recipe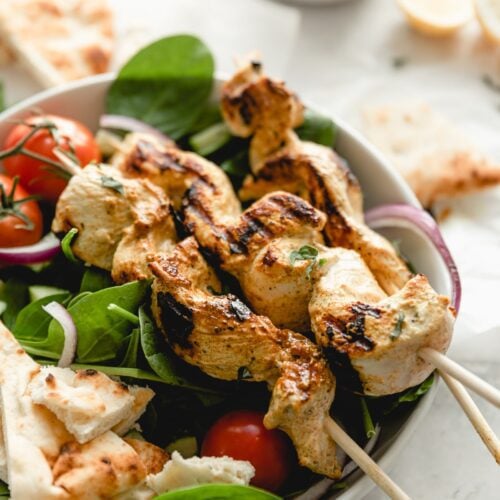 Greek Yogurt Marinated Chicken Kebabs
A healthy grilled chicken kabob that has been marinated in a greek yogurt spiced with delicious Mediterranean spices like oregano, turmeric, and cinnamon.
Print
Pin
Rate
Ingredients
2

large boneless

skinless chicken

1

cup

greek yogurt

¼

cup

lemon juice

2

tablespoons

olive oil

1

tablespoon

dried oregano

1

teaspoon

turmeric

1

teaspoon

cinnamon

1

teaspoon

paprika

1

tablespoon

garlic powder

2

cloves

of garlic

minced

zest of 1 lemon

2

teaspoons

salt

1

teaspoon

pepper

3

cups

baby potatoes

diced

2

cups

green beans

trimmed

2

tablespoons

olive oil

1

tablespoon

salt

1

tablespoon

sumac
Instructions
First, prep the marinade by whisking all marinade ingredients together in a large mixing bowl.

Prepare the chicken by butterflying it open. To do this, cut it in half lengthwise, but not all the way through. Just enough to open it up like a book.

Then slice the chicken into 1 inch thick strips.

Place the chicken in the marinade and cover with saran wrap. Refrigerate 2-12 hours.

When you are ready to cook the chicken, remove it from the fridge and set aside while you prepare the veggies.

Preheat the oven to 425 degrees.

In a bowl combine the diced baby potatoes and trimmed green beans with olive oil, salt and sumac seasoning.

Toss well and pour the mixture onto a sheet pan.

Roast for 15 minutes or until potatoes are tender.

Meanwhile skewer the chicken by sliding the slices onto the skewer in a snake like pattern. I did about 2 strips of chicken per skewer.

Heat a grill pan or cast iron pan over medium high heat and begin the grill the chicken kebabs. I did this in 2 batches.

Grill for 5 minutes on each side, until the internal temperature reaches 165 degrees.

When all kebabs are done, serve them with the sumac roasted vegetables and enjoy