My Fireball Hot Toddy is an exceptionally delicious update to the classic cocktail. It's spicy, sweet, and cozy, making it perfect for sipping by the fire. Trust me: fall and winter are ideal times for making hot Fireball drinks!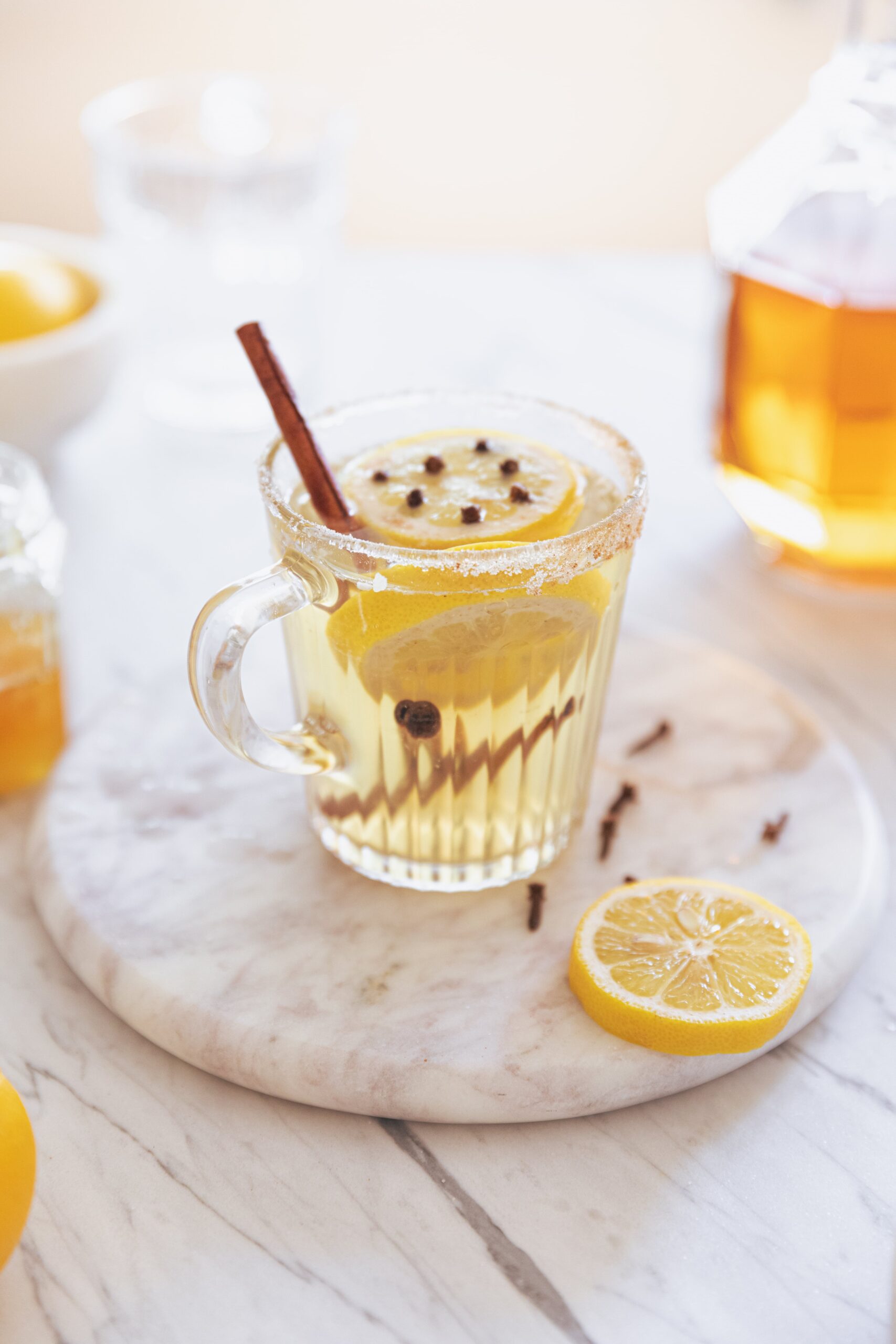 Why This Hot Cocktail Is The Best
When cooler weather rolls around, I almost invariably get a case of the sniffles as my body adjusts. The remedy I always turn to is without a doubt the Hot Toddy. The old wives' tale holds true — a bit of liquor mixed with hot water, bright lemon, and some holistic healers like honey and clove help to ward off the worst of it.
This hot toddy with Fireball whisky is:
Quick & Easy. You'll be done in about as much time as it takes to boil the water.
Soothing. Wrapping your chilly fingers around a hot mug of quasi-medicinal goodness will start to make you feel better almost instantly, and the first sip is almost guaranteed to make you close your eyes and say "Ahhhhhhhhhhh."
Made With Just 5 Ingredients, so it's easy enough to remember even when you have a serious case of the "I don't feel good" brain fog.
What Is Fireball?
If you're a fan of Hot Tamales or Cinnamon Imperial candies, you're going to LOVE Fireball. Made by blending Canadian whisky, cinnamon flavor, and sweeteners, this 33% ABV liquor is one of my favorites for cooler weather.
This cinnamon-flavored whisky is sweet and spicy with just the right amount of alcoholic burn. In fact, the company tagline is "Tastes like Heaven, burns like Hell!" You don't even need any specific Fireball recipes to get started.
Add it to everything from cola to lemonade, eggnog to tea for a welcome hit of warmth. It doubles as a sweetener and an edge-softener no matter what you use it for. That said, my hot toddy, Fireball-style is a great introduction to what this tasty elixir can do!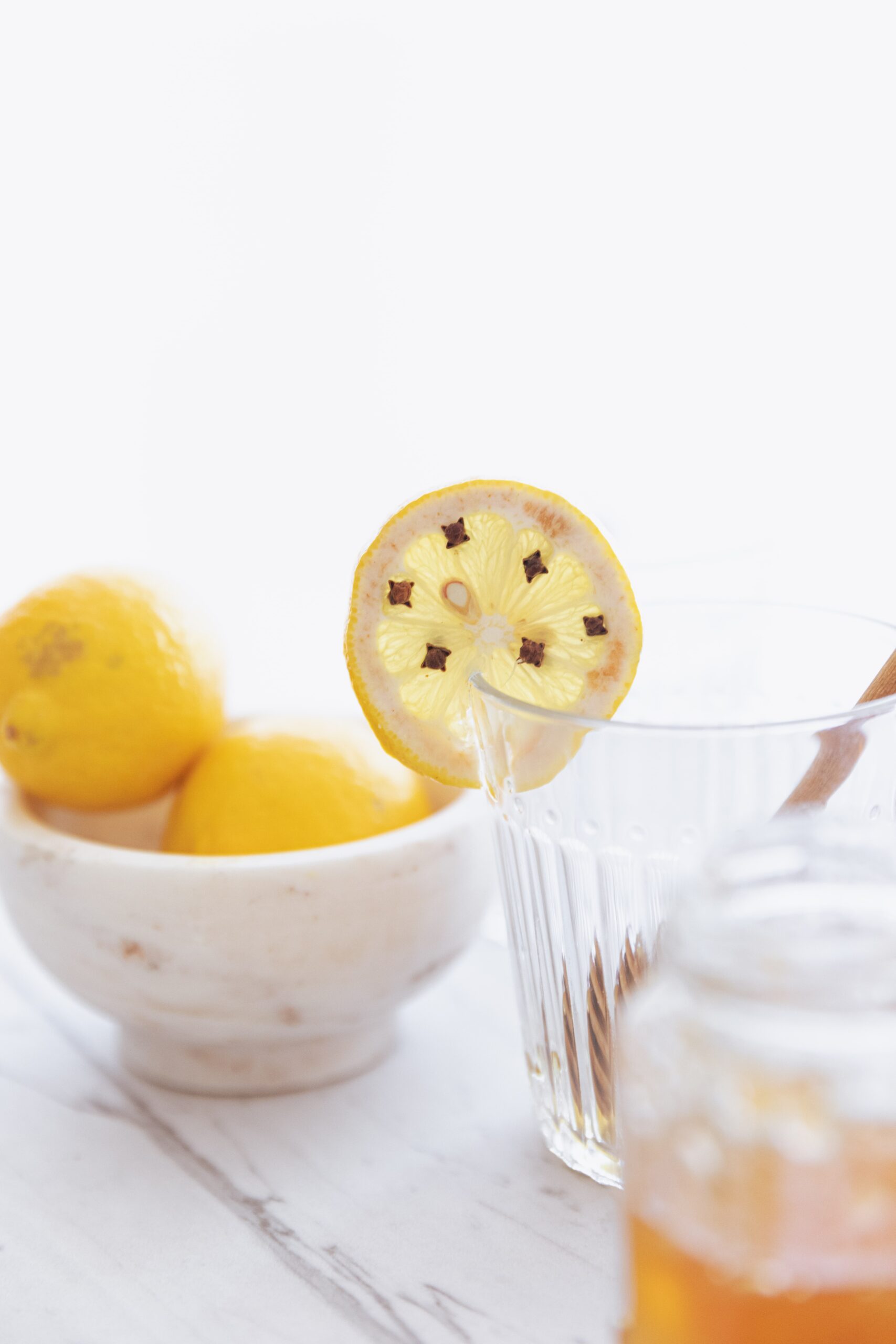 Fireball Hot Toddy Ingredients
Boiling Water - If possible, use filtered water for the best taste.
Honey - Honey has long been used as a holistic healing ingredient because of its natural antibacterial and antimicrobial qualities. If you're drinking this hot toddy to help fight a cold, I strongly suggest keeping it in the mix!
Fireball Whiskey - Sweet, cinnamony, boozy goodness.
Lemon - Fresh lemon juice is the way to go here if you're after the best flavor. Adding actual slices of citrus to your drink will also make it aesthetically appealing.
Whole Cloves - Aside from giving this cocktail tons of flavor, cloves are a natural analgesic. If you're in the market for a recipe for a hot toddy for your sore throat, this is one ingredient you don't want to miss.
Tools Needed
The beauty of Hot Toddies is that you don't need anything fancy to make them. Here's what to grab:
Electric or Stovetop Kettle - I'm a big tea drinker during the winter, so I LOVE my electric kettle. All you do is flip a switch and 2-3 minutes later you'll have a whole pot of water warmed to the perfect temperature for black, herbal, or green tea. That said, I also love the charming appeal of a whistling stovetop kettle. If you only have a microwave, you can make it work, but please be careful.
Mug - I love [this one] because it's wide enough to hold with both hands.
Knife & Cutting Board or Small Mandoline - For slicing the lemon. (Remember, acids like lemon juice can damage your countertops.)
How To Make A Hot Toddy With Fireball Whisky
This simple Fireball cocktail recipe comes together in little more time than it takes to boil a kettle. Here's how it's done:
Step 1: Stud Lemon Slices With Cloves. Set aside.
Step 2: Add Honey and Boiling Water to a mug. Stir to dissolve the honey.
Step 3: Add Fireball & Lemon Juice.
Step 4: Garnish with a cinnamon stick and the clove-studded lemon. Enjoy!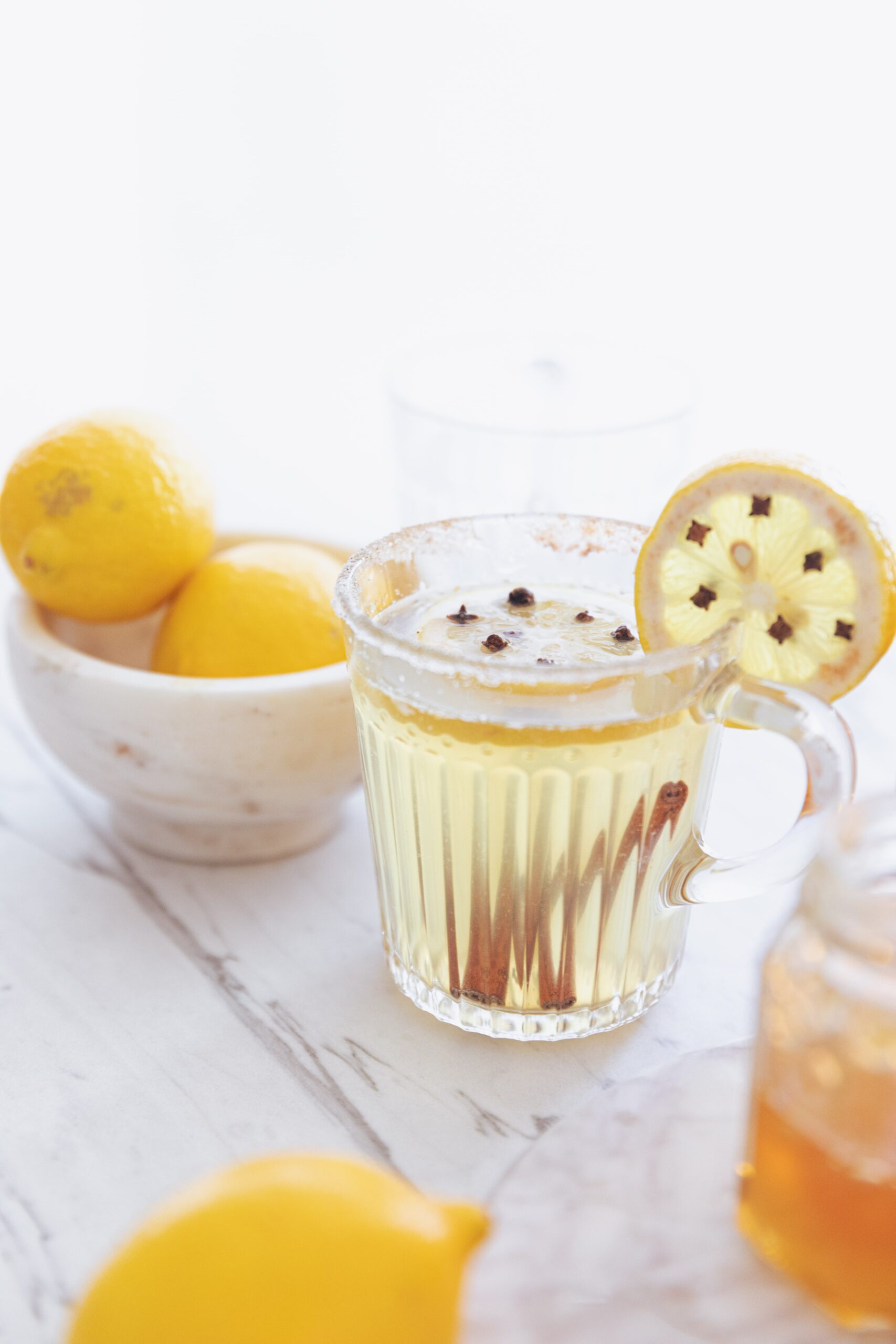 Swaps & Substitutions
This Fireball drink recipe is pretty stellar, but learning how to customize any recipe to your preferences is half the fun of cooking and bartending! Here are a few variations to consider:
Make it vegan by trading in maple syrup, agave nectar, or the liquid sweetener of your choice. Please note that these other sweeteners do not have the same holistic healing power as honey, but they'll still taste great.
Use 1-3 drops of food-grade clove essential oil in place of the whole cloves.
You can use any type of whisky you prefer in place of Fireball. Some other tasty liquor options include ginger liqueur, honey liqueur, maple liqueur, or orange liqueur.
Make it non-alcoholic by swapping in cinnamon-flavored tea for the Fireball.
FAQs & Tips
Will a Fireball hot toddy help with my cold? So long as you don't overdo it on the liquor, there is evidence to suggest that hot toddies do actually have some benefits. Vitamin C-packed lemon mixed with the pain-relieving properties of clove, antibacterial properties of honey, and steamy water can all help to ease the symptoms of a common cold.
A shot of liquor can also help you to relax, which can be beneficial since sleep is great for an ailing body. Just note that alcohol is also dehydrating (not great for when you're sick) and acts as a vasodilator (which can make your runny nose worse), so it's best to just have one of these hot cocktails before switching over to a non-alcoholic beverage.
What whiskey goes best in a hot toddy? Flavor is subjective, so that's entirely up to your tastebuds! I happen to love the cinnamon sweetness of Fireball. You can also try using bourbon for notes of oak and vanilla, Scotch for smoky and peaty flavors, or even other types of flavored whisky.
My best advice is to grab high-quality liquor at your price-point and start experimenting to find your favorite.
What is best to mix with Fireball? Aside from this hot toddy, try adding it to other hot drinks like hot chocolate or coffee. There are tons of Fireball cinnamon whisky recipes, but warm Fireball drinks are some of my favorites. It's also quite tasty when served chilled as a shot!
Does Fireball have gluten? While distilled liquors are generally considered to be gluten-free because of the distillation process, Fireball whisky is made using wheat. Since wheat allergies and gluten allergies often go hand in hand, you may want to steer clear. 
Serving Suggestions
My Fireball Hot Toddies are great served on the couch in your PJs, under a blanket, snuggled up with a feel-good [movie/tv show] like [Bridget Jone's Diary/Ted Lasso]. That said, they're not just for healing purposes!
Whip some of these delightfully revitalizing adult beverages up for your morning tailgates, to keep you warm when you're out Trick or Treating with the kiddos, or for backyard bonfires.
More Fun Drinks With Fireball
Feel free to swap in Fireball for any whiskey-based cocktails you can think of. Here's a little inspiration to get your wheels turning on fun Fireball drink recipes:
Gingerbread White Hot Chocolate — Pro Tip: Make a big batch and keep in a crockpot for your family-friendly events, then serve the liquor on the side as an optional flavor boost for the adults!
If you come up with a brilliant Fireball cocktail recipe the world should know about, let me know in the comments below or tag me on social media so I can cheer you on!!!
📖 Recipe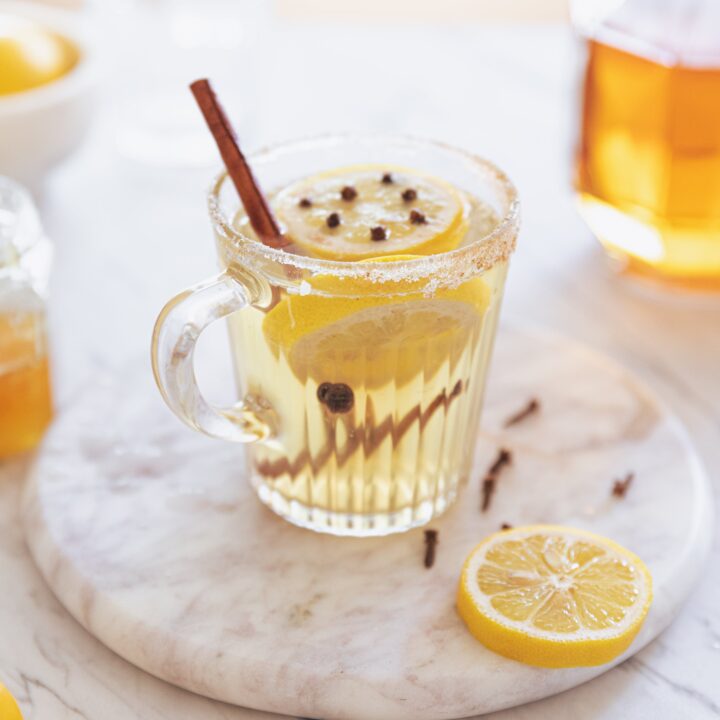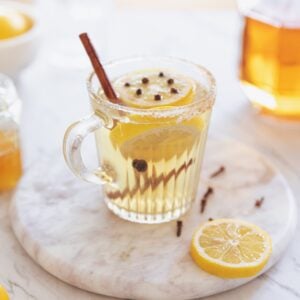 Fireball Hot Toddy
A sweet and spicy hot toddy made with Fireball whiskey, lemon, and clove. Warms you up on any chilly evening.
Print
Pin
Rate
Ingredients
¾

cup

boiling water

1

teaspoon

honey

2

oz

fireball whiskey

juice of ½ a lemon

whole cloves

1-2

lemon slices
Instructions
Take the whole cloves and press them into the lemon slices. Set aside.

To a mug add the honey and pour the boiling water over it.

Stir to dissolve the honey.

Stir in Fireball and lemon juice.

Garnish with a cinnamon stick and clove lemon slices.