Ahh. Valentines Day....a day to love on your friends, family, and significant other! The past couple of years Ryan and I have just stayed in and cooked a fancy dinner together (aka I cook, he cleans). That doesn't just stop with dinner! I go all out and include a fancy, yet easy dessert, too! Although I like to keep it mostly healthy, sometimes you just need a chocolate cherry cupcake. ??‍♀️
I did sweeten these chocolate cherry cupcakes with dates and coconut sugar! So that counts as a littttttttle healthy, right?! My husband loves chocolate cake, and although he would probably have preferred it paired with peanut butter, we had extra cherries in the house. So this is what he gets!
These cupcakes are absolutely fluffy, chocolatey, and fruity. Its one of the softest cakes I've ever eaten and I love how it isn't overly sweet because of the dates and coconut sugar. The tart cherry in the frosting really balances the rich chocolate cake. There is not actually any cherries in the cake itself, since they are sweetened with dates, the bits of date in the cupcake really mimic the cherry texture and you get plenty of cherry flavor from that beautiful frosting!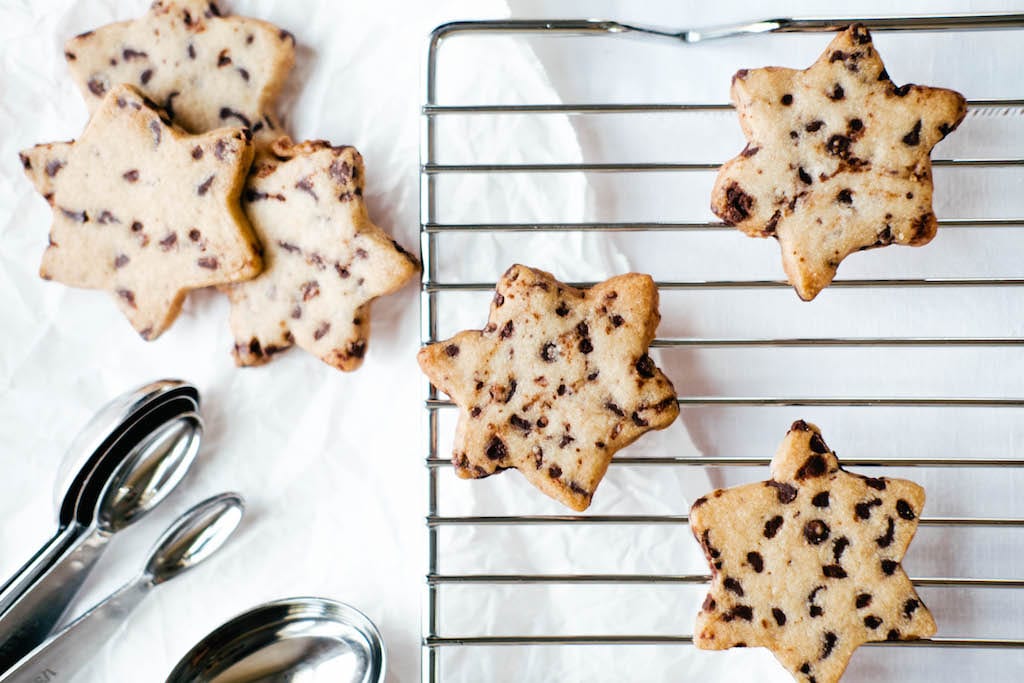 How pretty are they with a cherry on top?! So happy Valentines Day and make this easy dessert for someone special. They will thank you! I highly recommend trying a date night in this Valentines day, that way you can have as many rounds of dessert as you want and nobody can stop (or judge) you!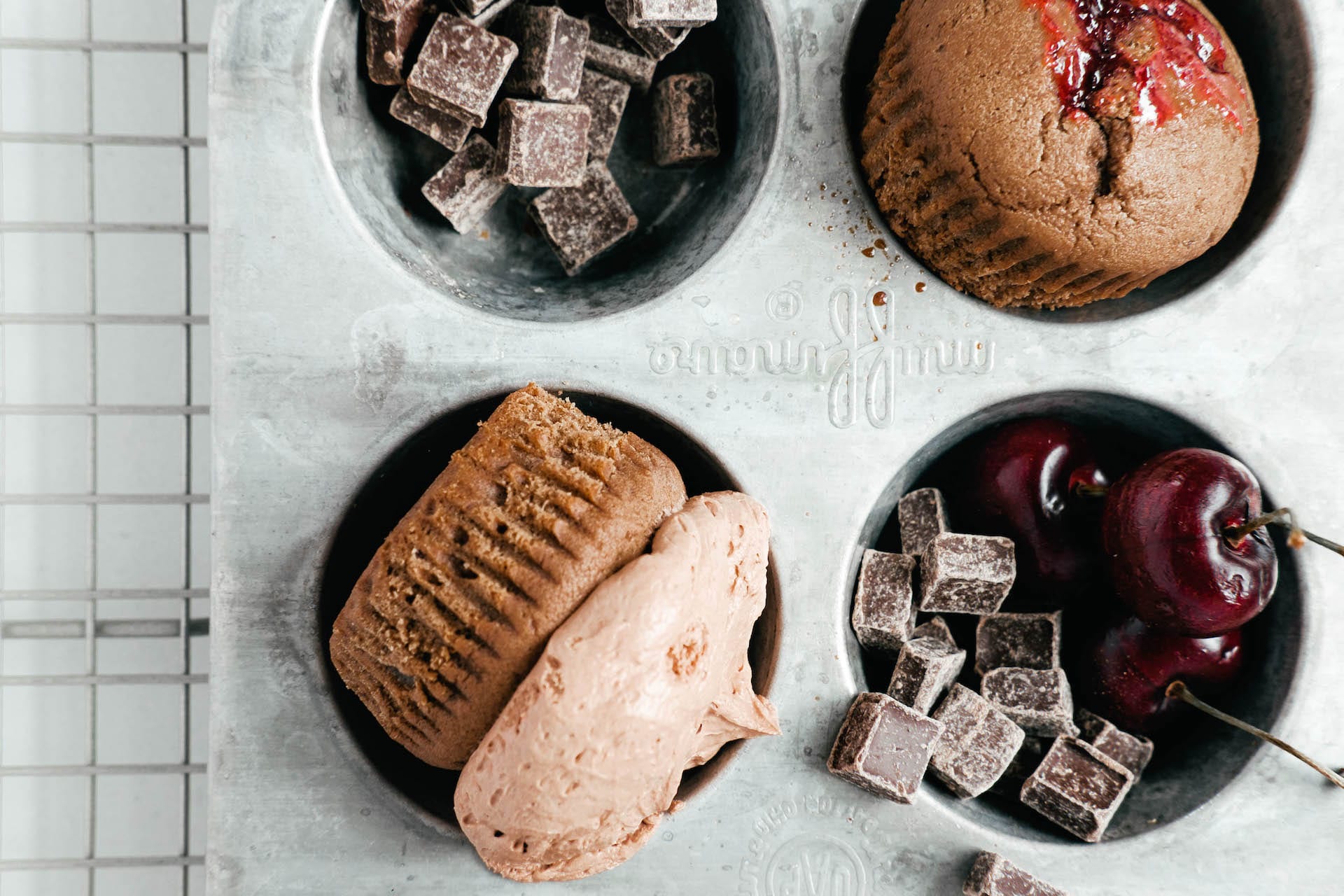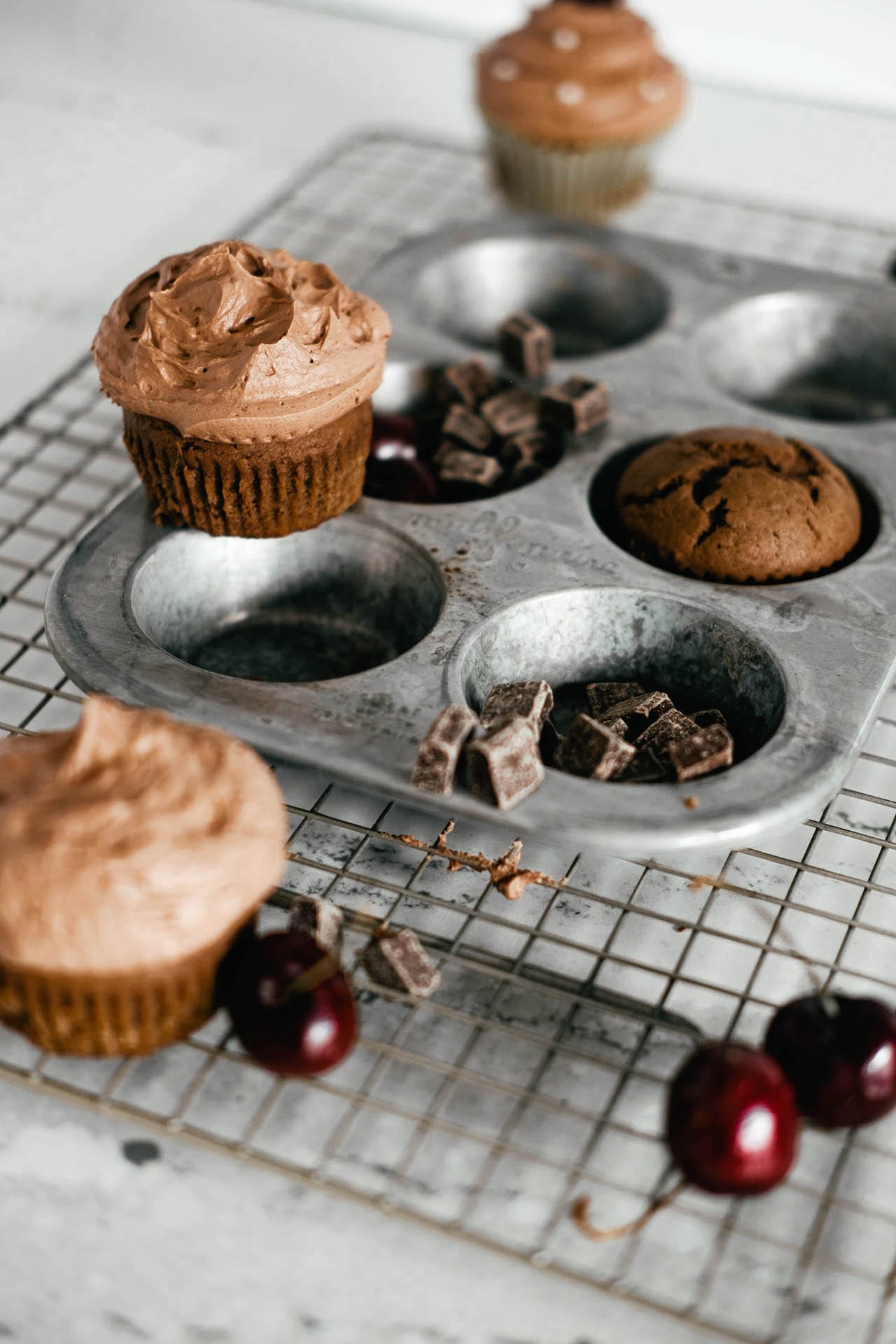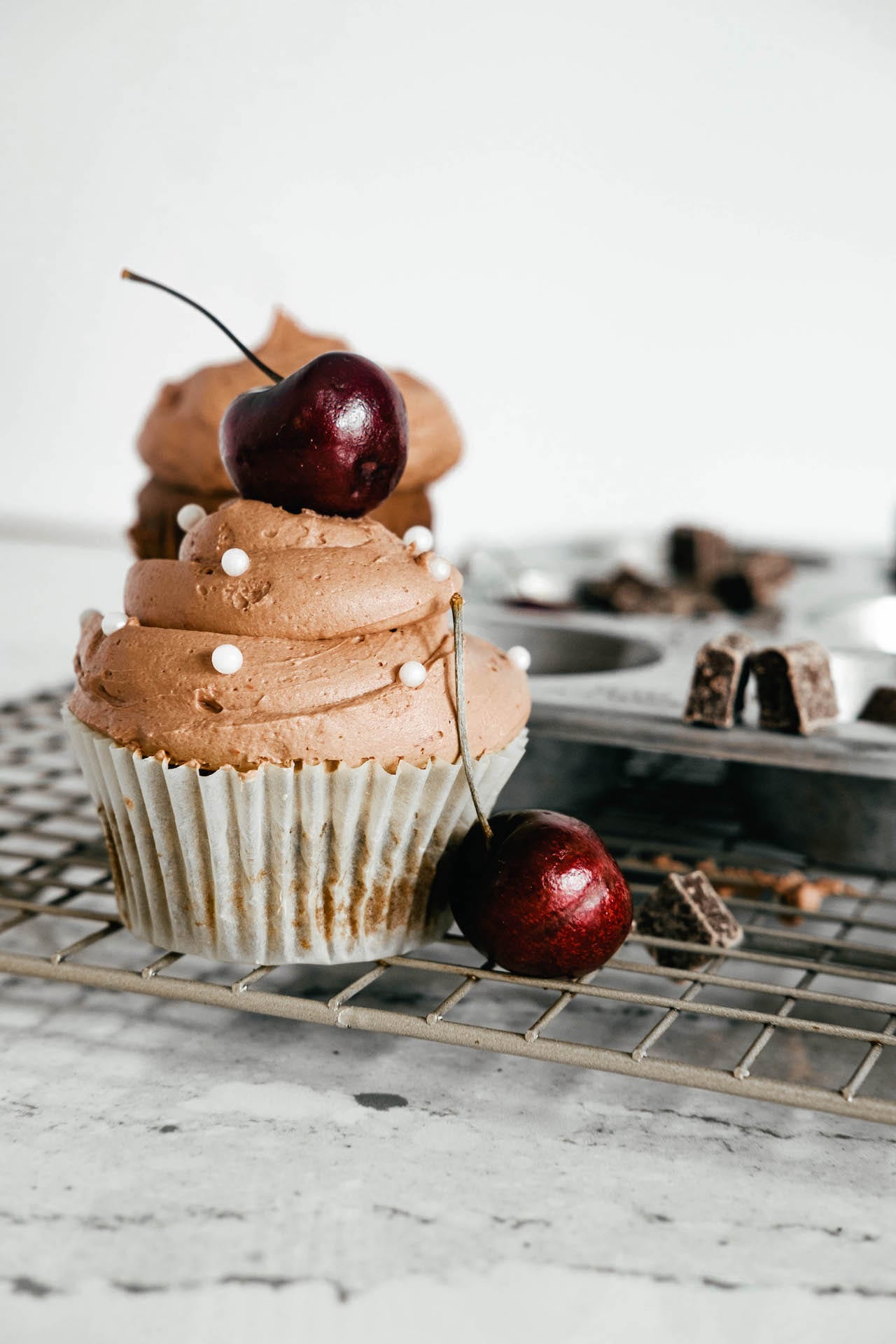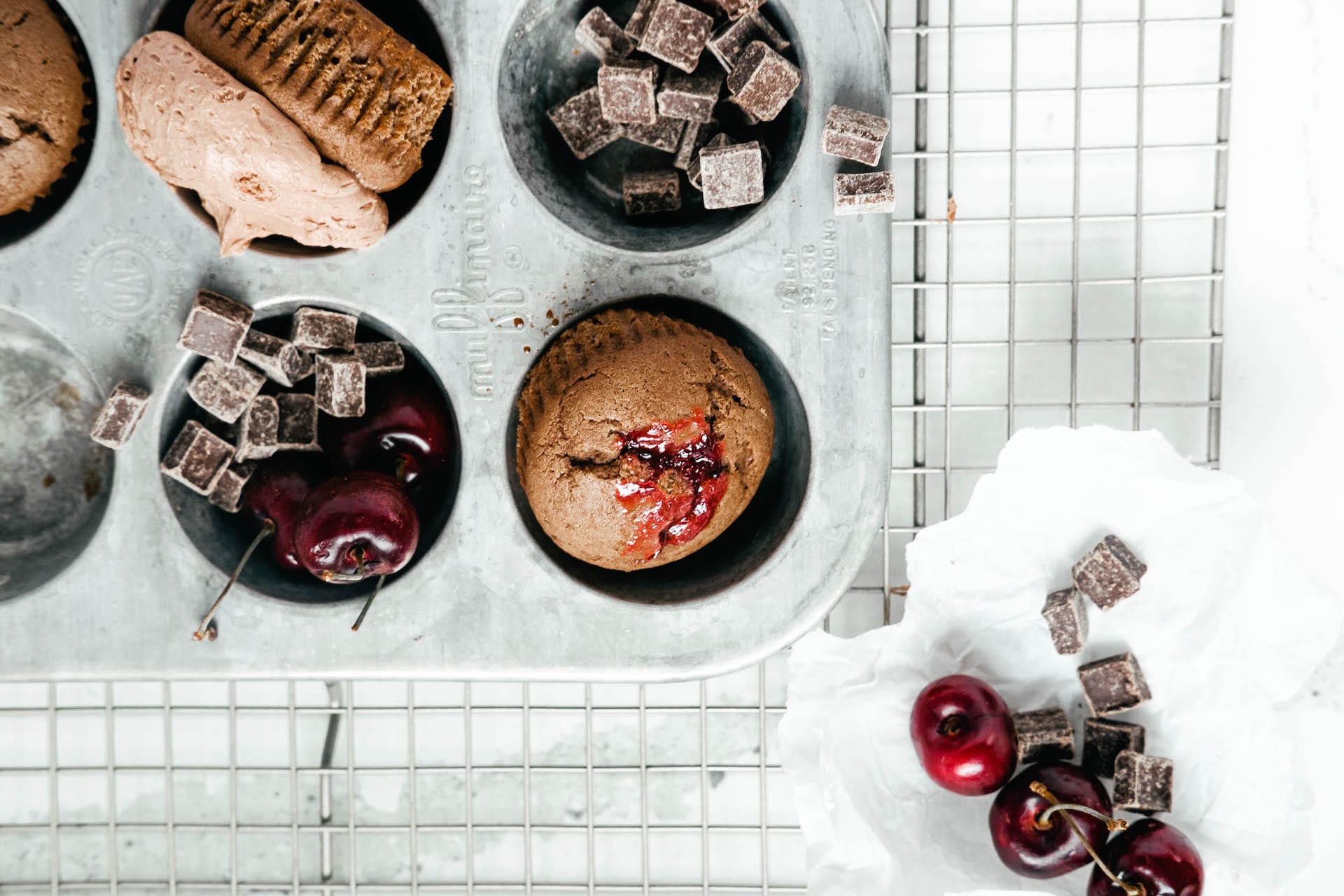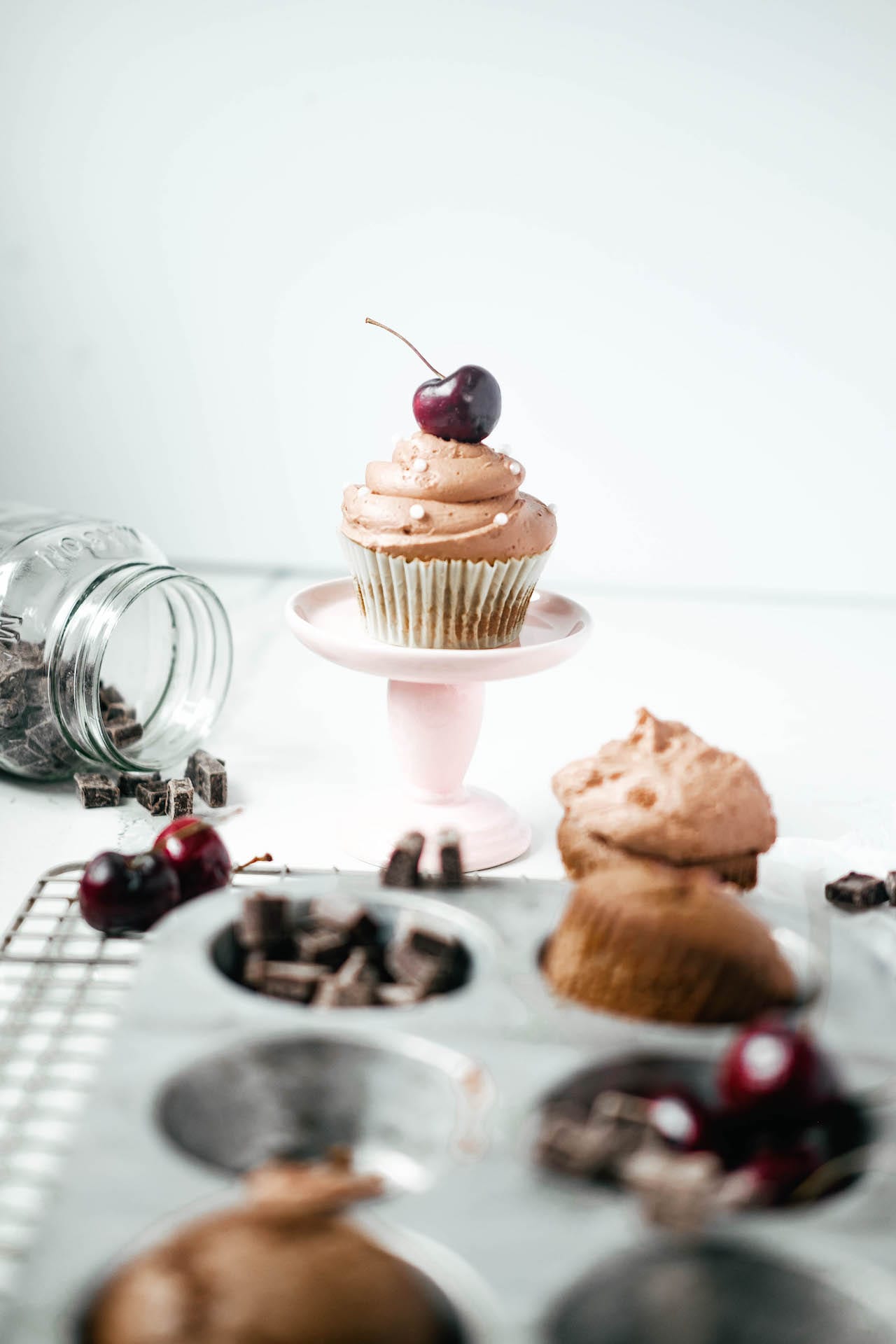 Ingredients
5

large dates

with the pit out, soaked in warm water

1

tablespoon

cocoa powder

1 1/2

cups

flour

1 1/2

tsp

baking powder

1/4

tsp

baking soda

1/4

tsp

salt

1/3

cup

softened butter

3/4

coconut sugar

1/3

cup

dark chocolate chips

melted

2

eggs

1/2

cup

almond milk

1/2

tsp

vanilla

frost with chocolate cherry buttercream
Instructions
Soak your dates in a bowl of warm water to soften them. Once they are soft add the dates and 2-3 tablespoons of the water to a blender and puree.

Sift together flour, baking powder, baking soda, salt, and cocoa powder in a medium bowl

In a large bowl cream together the softened butter and coconut sugar until light and fluffy.

Beaat in melted chocolate and prune puree.

In a small bowl whisk together milk, eggs, and vanilla.

Alternating flour and milk mixtures, start by adding flour to the creamed butter & sugar. Then milk and then flour again.

Bake in cupcake liners sprayed with nonstick spray at 350 for 20 minutes.

Let cool and then frost!
Ingredients
4

cups

powdered sugar

3

tablespoons

cocoa powder

3

tablespoons

cherry jam

2

sticks of salted butter

1/4

tsp

salt

1

tsp

vanilla extract

extra:

chop up cherries and fold in
Instructions
In a stand mixer whip 2 sticks of softened butter with 1 tsp vanilla extract and cocoa powder

Add in cherry jam and continue to whip.

1 cup at a time add in powdered sugar, making sure each one is fully incorporated before moving on to the next cup

fold in chopped cherries

enjoy!