Two popular brunch foods combined into one bite? Yes please! Bloody Mary Deviled Eggs are a unique combination of flavors and textures that will have all of your guests impressed.
I love the mix of creamy egg with the slight tang from the hot sauce and horseradish all topped off with some crispy bacon - delish! Deviled egg lovers and skeptics BOTH enjoyed these one-bite Bloody Mary deviled eggs.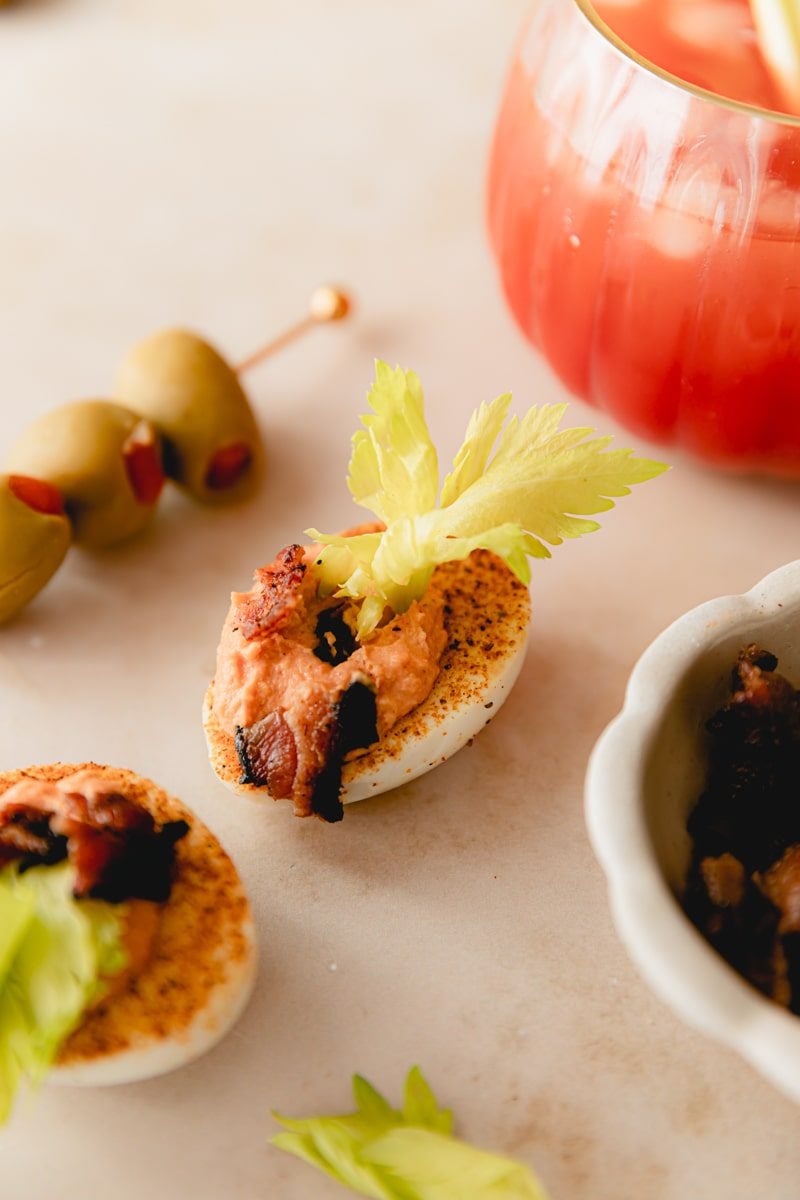 What Are Bloody Mary Deviled Eggs?
Well just like the name insists, it's a wonderful marriage between the classic deviled egg and a Bloody Mary cocktail.
Bloody Mary's are known for the tomato juice base, kicked up with some hot sauce, celery salt, and other savory flavors.
It's honestly the perfect compliment to the creamy interior of a deviled egg! Whip it all together and you've got yourself one unique appetizer.
Why This Recipe Works
One-bite appetizers are always a hit at parties or family dinners and these are no exception. There are so many reasons to love them!
Easy to prep ahead. Aside from the 15 minutes of cooking the eggs, the whole dish comes together in no time! It's easy to prep it all hours to days ahead of time and store in the fridge until ready to assemble.
It's unique! People are probably familiar with the classic deviled egg or a traditional Bloody Mary recipe ....but likely haven't ever seen them combined. It's a "wow" moment every time.
Protein packed. I secretly love that these are healthy little bites of protein! It uses low calorie ingredients to really pack a huge flavor punch in the Bloody Mary filling.
So if you are in search of a super easy appetizer to make ahead of time for brunches, birthdays, or dinner parties - this deviled egg recipe has your back.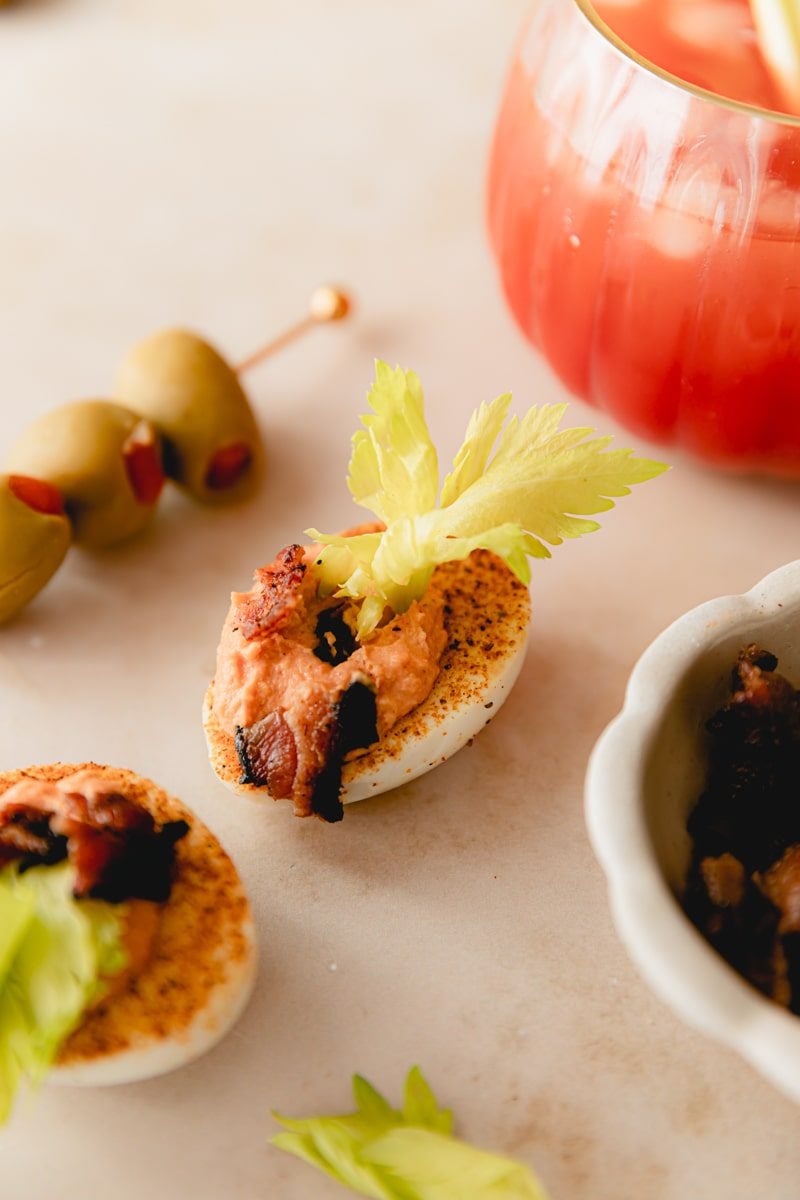 Ingredients
Of course you'll need all of the Bloody Mary flavor essentials to create your filled eggs - omitting the vodka (sadly!) However feel free to sip that on the side 😆
12 eggs
¼ cup mayo
2 tablespoon Franks Hot Sauce
1 tablespoon Worcestershire Sauce 
1 tablespoon horseradish
1 teaspoon celery salt
Juice of ½ a lemon 
½ teaspoon pepper
¼ cup tomato paste
3 slices of bacon, cooked
1 tablespoon Old Bay seasoning 
2-3 mini dill pickles or large olives 
A few celery leaves for garnish
Substitutions
If you are not a fan of the buffalo flavor of Franks Hot Sauce you can definitely swap in any hot sauce you like, or leave it out completely.
Try adding in some mini shrimp as garnish for a fun twist!
You could also try to top these eggs with Tajin seasoning instead of Old Bay for a unique twist on a Bloody Mary.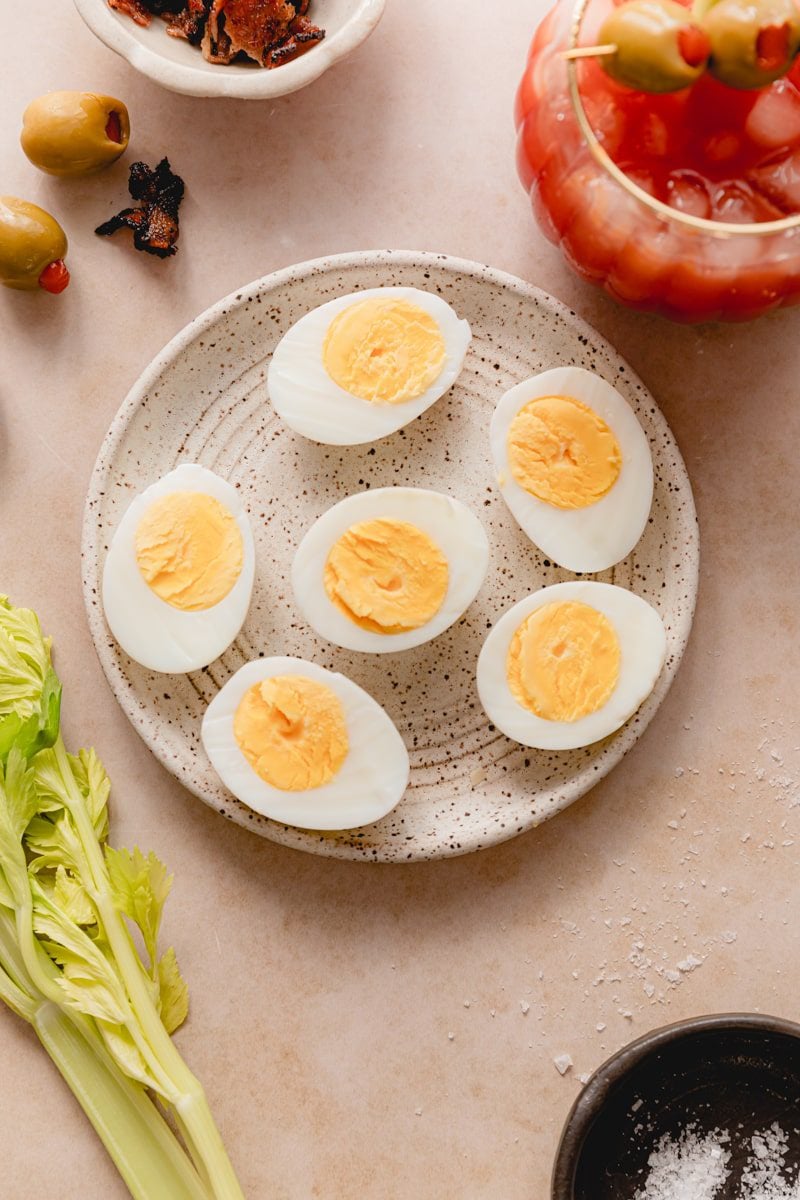 How To Make Bloody Mary Deviled Eggs
Our fun deviled eggs come together in less than 20 minutes and can be easily prepped ahead of time for dinners or parties. Here's how to make them:
Boil the eggs - Add eggs to a large pot and top them with just enough water to cover the eggs. Bring to a boil and cover. Let sit for 10-12 minutes and then remove using a spoon and place in a bowl of cold water.
Peel the eggs while running cool water over them to help with the peeling process.
Slice eggs and remove the yolks. Place the yolks in a mixing bowl and set aside the whites.
Mix the filling. Using a hand mixer combine the yolks,  mayo, hot sauce, lemon juice, Worcestershire, horseradish, tomato paste, celery salt, and pepper. Mix with a hand mixer until fully combined and mostly smooth.
Pipe the filling. Sprinkle the Old Bay all over the eggs and then using a piping bag or small spoon, fill the egg whites with the filling.
Top the eggs with a slice of pickle or olive and a celery leaf. Enjoy!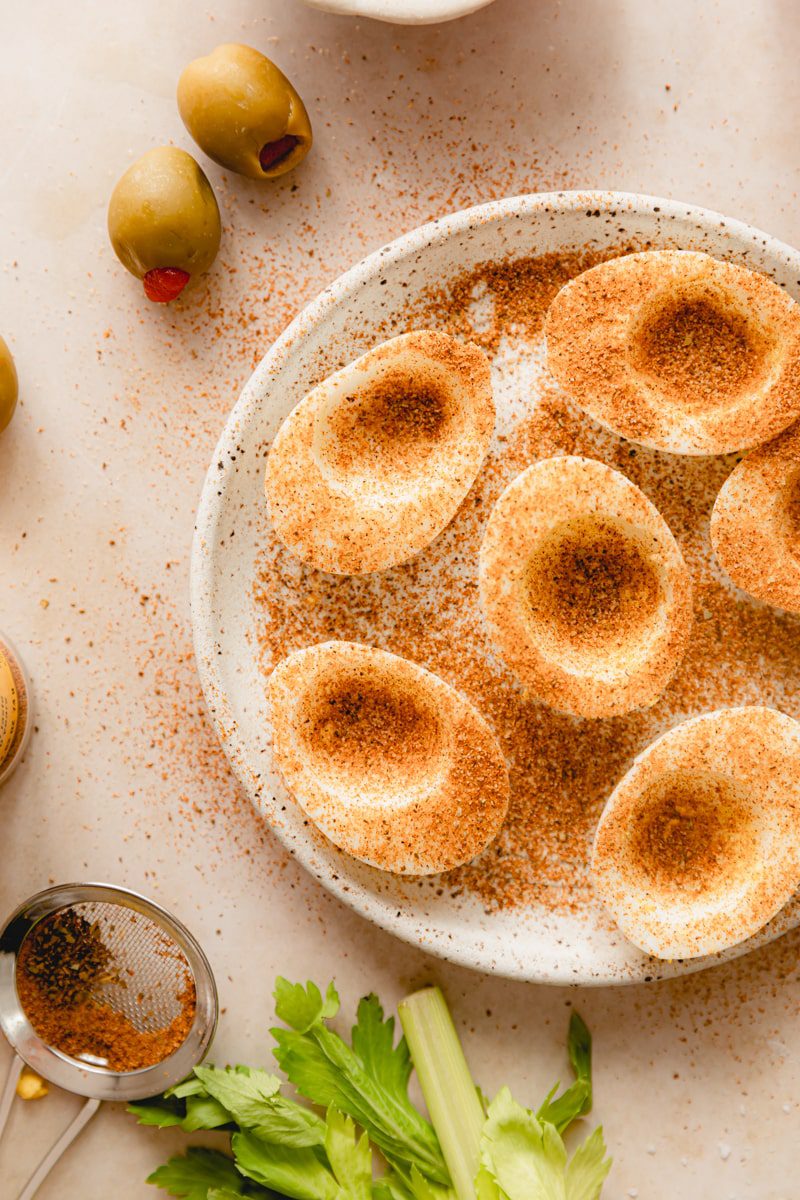 Best Way To Hard Boil Eggs
Hard boiling eggs is quite easy to do and there are many methods to get to our final destination. Try these ways to cook your hard boiled eggs easily...
Easily peel the hard boiled eggs by first putting them in an ice bath to cool them off enough to handle.
Then I like to run cool water over the eggs after cracking the shell to help gently peel the shell from the eggs.
Hard boiled eggs are always fantastic to have on hand for quick breakfasts. And if you are looking for another quick breakfast idea, try out the Pesto Fried Egg Sandwiches - so easy and yummy!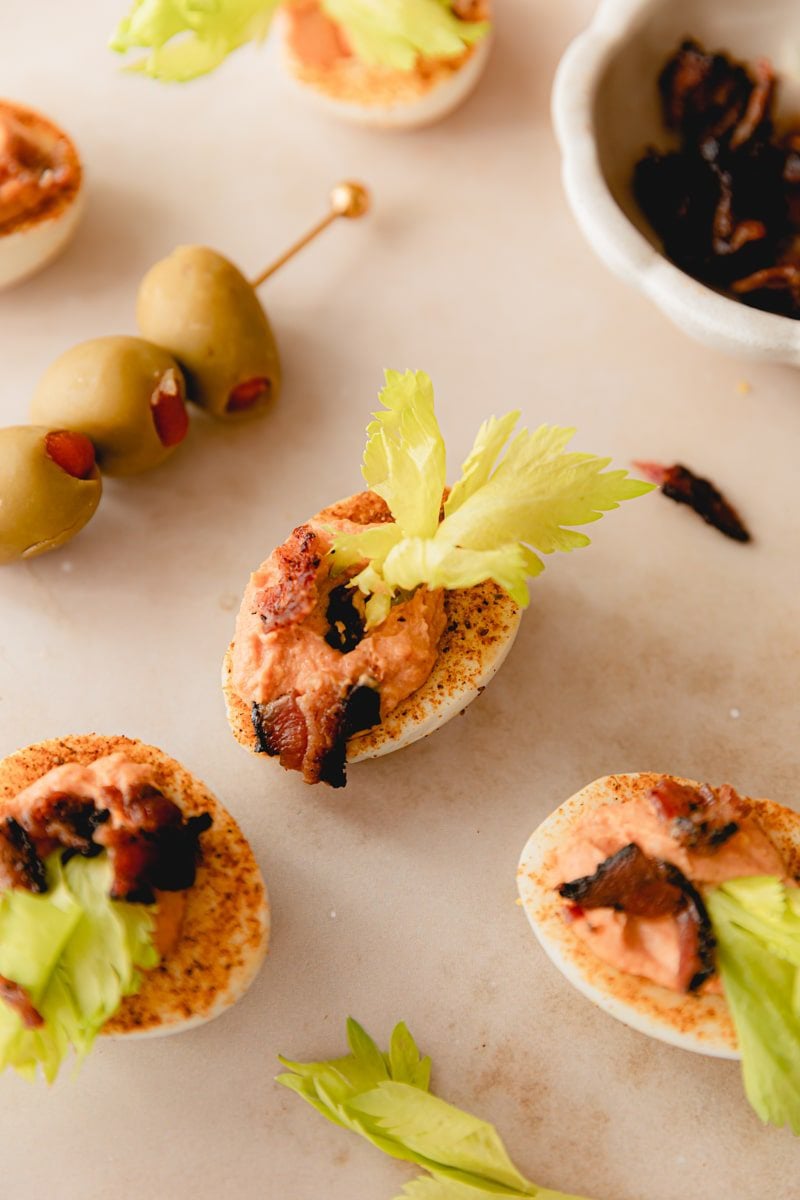 Pro Tips
After making these a few times, I've got some tips and tricks to make the job easier.
I love using a hand mixer to mix the filling to make it nice and smooth.
When piping the filling into the eggs, use a ziplock if you don't have a piping bag and just snip the corner with some scissors to make your own! OR use a small cookie scoop to dollop one tablespoon of the filling into the Bloody Mary eggs.
If your filling feels too runny place the mixing bowl in the fridge to thicken the filling for about 10-15 minutes. It should firm right up and and be able to pipe easily.
Make These Ahead of Time
One of my requirements for easy appetizers is if it's able to make ahead of time! When I'm hosting dinner parties (Like my Ruby Red Party or holiday apps for a crowd) I like to prep as much ahead of time as I can.
This recipe is perfect for prepping because the longer it sits in the fridge, the better the flavors get.
Simply mix up the filling and plate the egg whites on a platter up to 2 days before hand. Just don't assemble them yet.
When you are ready to serve, pipe the filling in and top with the old bay seasoning and pickles.
If you add the Old Bay too soon, it will start to get wet and runny and completely ruin the look of these delicious deviled eggs.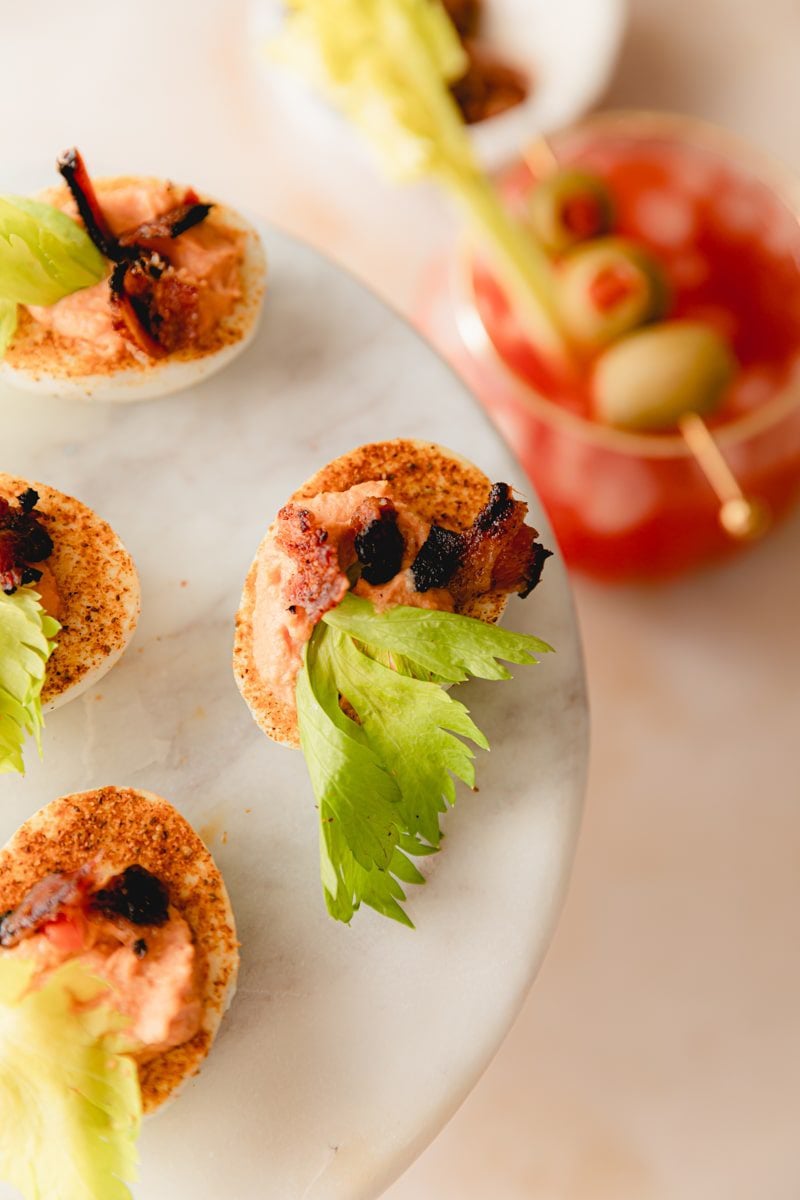 How To Store The Deviled Eggs
Once they are made and IF there are any leftovers, go ahead and place them in an air tight container and store in the fridge.
These keep well for up to 3 days. Enjoy them as a snack, lunch, or side dish to a healthy dinner like my favorite Braised Turkey Tenderloin. or
More One-Bite Appetizers You'll Love!
So if these easy to make Bloody Mary Eggs stole your hearty and pleased your guests, try out some of these other delish one-bite appetizers!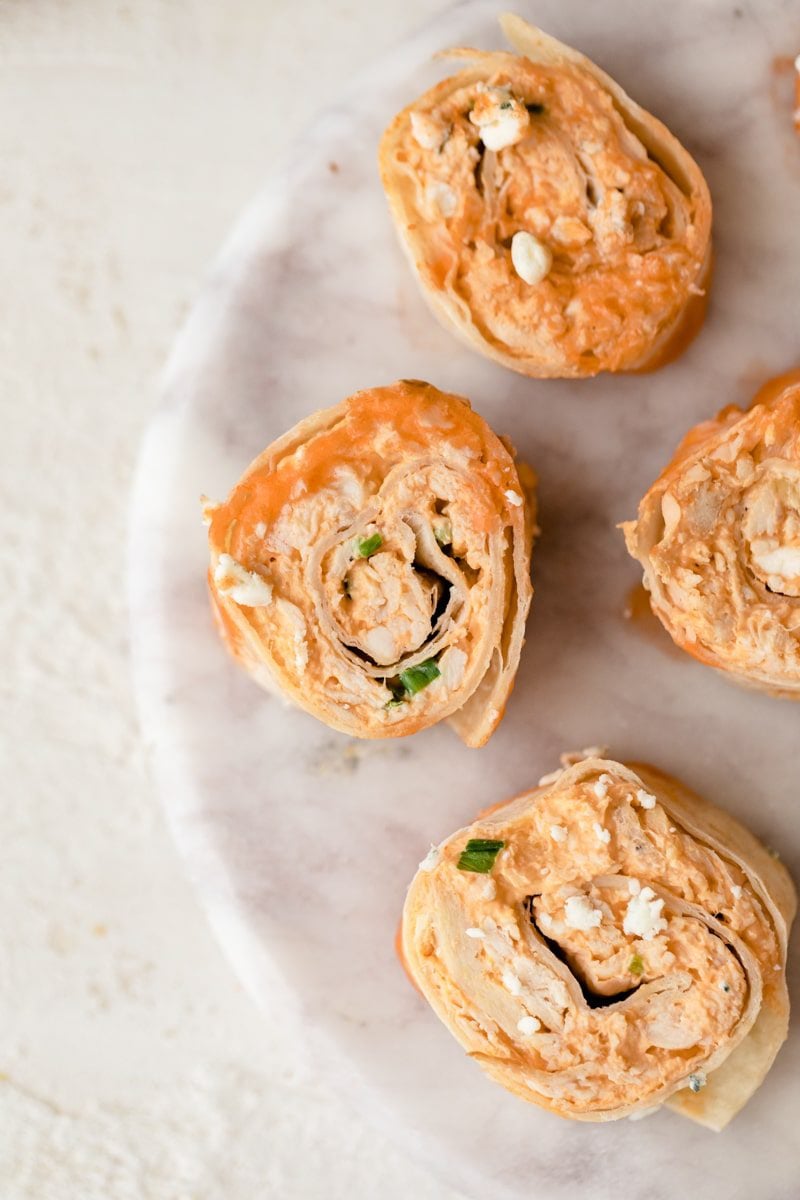 📖 Recipe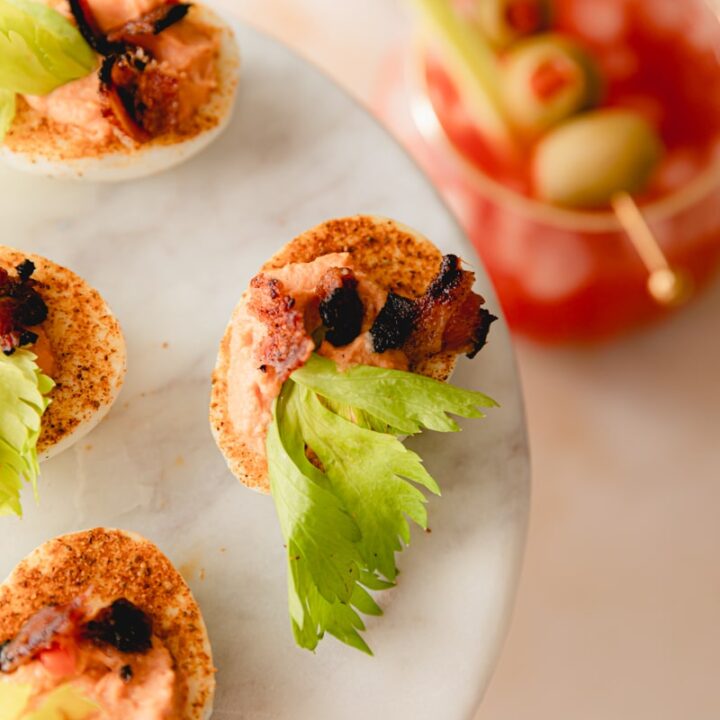 Bloody Mary Deviled Eggs Recipe
A delicious and unique twist on the classic dish, Bloody Mary Deviled Eggs are a party pleasing appetizer fit for any party!
Print
Pin
Rate
Equipment
1 large pot

1 hand mixer

1 glass bowl

1 piping bag
Ingredients
12

eggs

¼

cup

mayo

2

tablespoon

Franks Hot Sauce

1

tablespoon

Worcestershire Sauce

1

tablespoon

horseradish

1

teaspoon

celery salt

Juice of ½ a lemon

¼

cup

tomato paste

½

teaspoon

pepper

3

slices

of bacon

cooked

1

tablespoon

Old Bay seasoning

2-3

mini dill pickles or large olives

A few celery leaves
Instructions
In a large pot place all of the eggs and cover with water

Over high heat, bring to a roaring boil. Turn off the burner.

Cover the pot with the lid and let sit for 10-12 minutes.

After they sit, add them to a large bowl of ice water.

Peel the eggs under cool running water.

Slice each egg in half and add the yolks to a mixing bowl. Set the whites aside on a platter or plate.

To the yolks in a mixing bowl add the mayo, hot sauce, lemon juice, worcestershire, horseradish, celery salt, and pepper. Mix with a hand mixer until fully combined and mostly smooth.

Sprinkle the Old Bay over the eggs.

Add the filling to a piping bag or carefully use a spoon to add the filling back into the egg whites.

Top with a small slice of pickle or olive and a celery leaf.

Finish with crumbled bacon and enjoy!