Turkey Tenderloin For Dinner
Who could use a little help with menu planning for the week? I think we can all remember a time when we had absolutely NO clue where to start for dinner, but I'm here to help! By keeping any of the delicious flavors of pre-marinated Honeysuckle White Turkey Tenderloins on hand - that question will never go through your mind again!
This post is sponsored thanks to Honeysuckle White Turkey. All thoughts and opinions are my own.
Pre-Marinated Tenderloins
One of my absolute favorite proteins to have in the fridge or stocked in the freezer are the marinated turkey tenderloins from Honeysuckle White. They come in flavors like Rotisserie, McCormick Montreal, and McCormick Garlic and Herb.
You really can't go wrong with any of these! Whether you choose to roast it in the oven all by itself or try out one of these three delicious recipes below, it's a lean protein that the whole family will love.
Honeysuckle White Turkey
If you've read the blog for a while, you'll know my love for Honeysuckle White Turkey! From ground turkey in my Walking Tacos to whole birds for Thanksgiving (like my Herbs de Provence Turkey)…it's one of my go-to brands for protein to plan my healthy meals around.
It's an easy choice for healthy protein because there are NO added hormones*,
NO added steroids, & *NO growth-promoting antibiotics.
It's a high-quality turkey & something that I know is good for my family and I can feel good about where it came from. Click here to see where you can shop for Honeysuckle White turkey products near you!
3 Ways To Prepare Turkey Tenderloins
Below I'm showing you how I love making these turkey tenderloins right at home! From roasting in the oven to on the grill, it's easy, quick, and best of all DELICIOUS!
Pizza Stuffed Turkey Tenderloin - Baked
While these marinated tenderloins have fabulous flavor on their own, by adding a few simple ingredients we can elevate it to something that's suitable for family night or a dinner party! I used the rotisserie flavored tenderloin to start this recipe.
For this one, I Hasselback cut the back of the tenderloins, then stuffed them with my favorite pizza ingredients: pepperoni and fresh mozzarella! Bake it all together with your favorite marinara and fresh basil & you have yourself a low-carb pizza option.
The full recipe for the pizza stuffed turkey tenderloin is right on this blog!
Grilled Tenderloin on Summer Strawberry Salad
Next, this lean grilled turkey is served over a fresh summer strawberry salad. This is the most amazing flavor combination! The sweetness from the strawberries compliment the smoky grilled turkey
I opted for the McCormick Grillmates flavors of turkey for this recipe. They are great classic grilling flavors that when paired with the tender turkey are hard to beat. This recipe would be great for a BBQ or weekday lunch. Slice and serve the turkey over this simple salad and enjoy!
Grill the tenderloins by heating a grill pan over medium-high heat. Begin cooking the tenderloin on the first side for 5 minutes then flip them over and grill another 5-7 minutes until they reach 165 degrees internal temperature. Slice and assemble the salad!
For the salad, make it easy by grabbing a bag of pre-mixed greens, top with strawberries, apples, and almonds, then drizzle balsamic vinaigrette over it all. Serve with freshly grilled Honeysuckle White turkey tenderloins and prepare for the whole family to be impressed.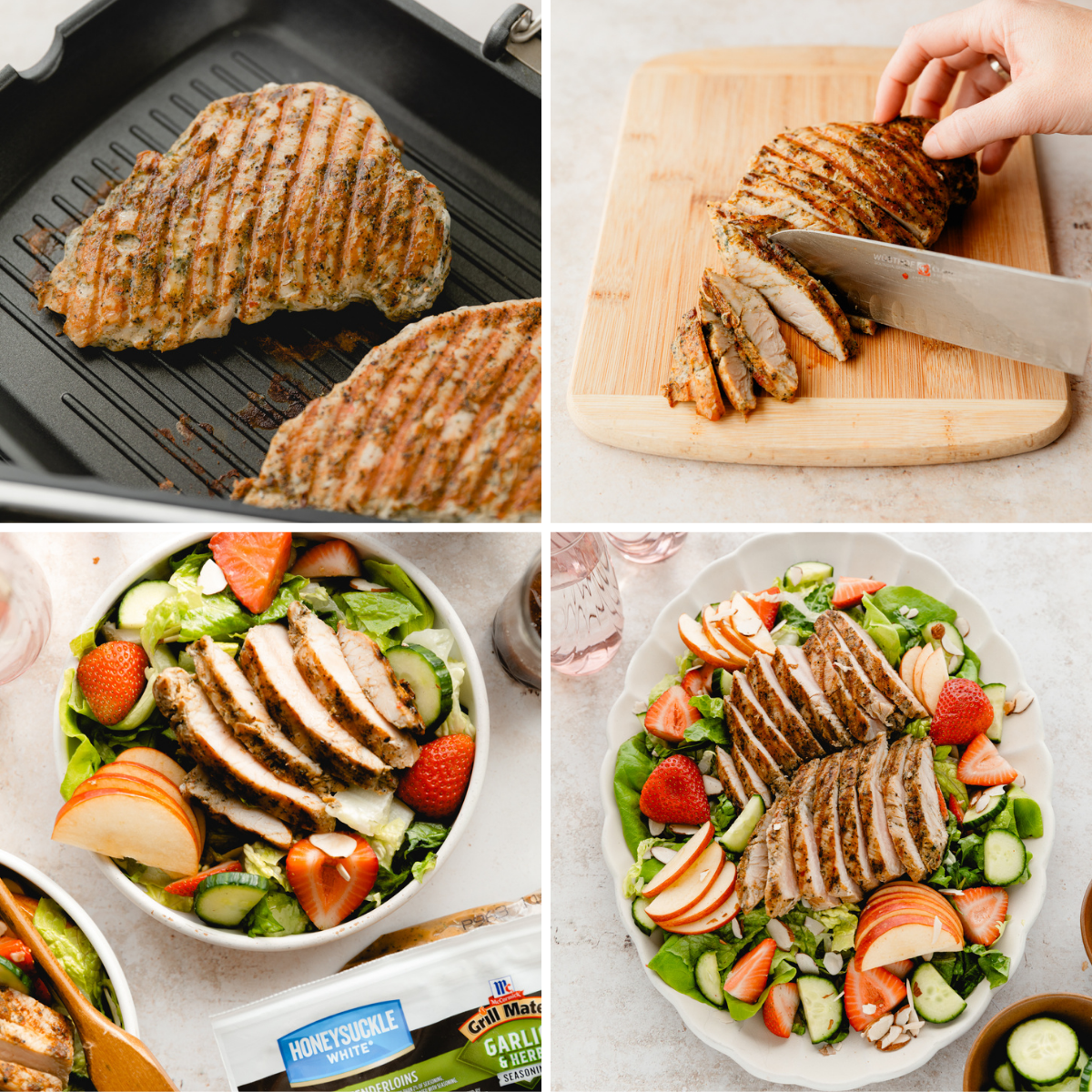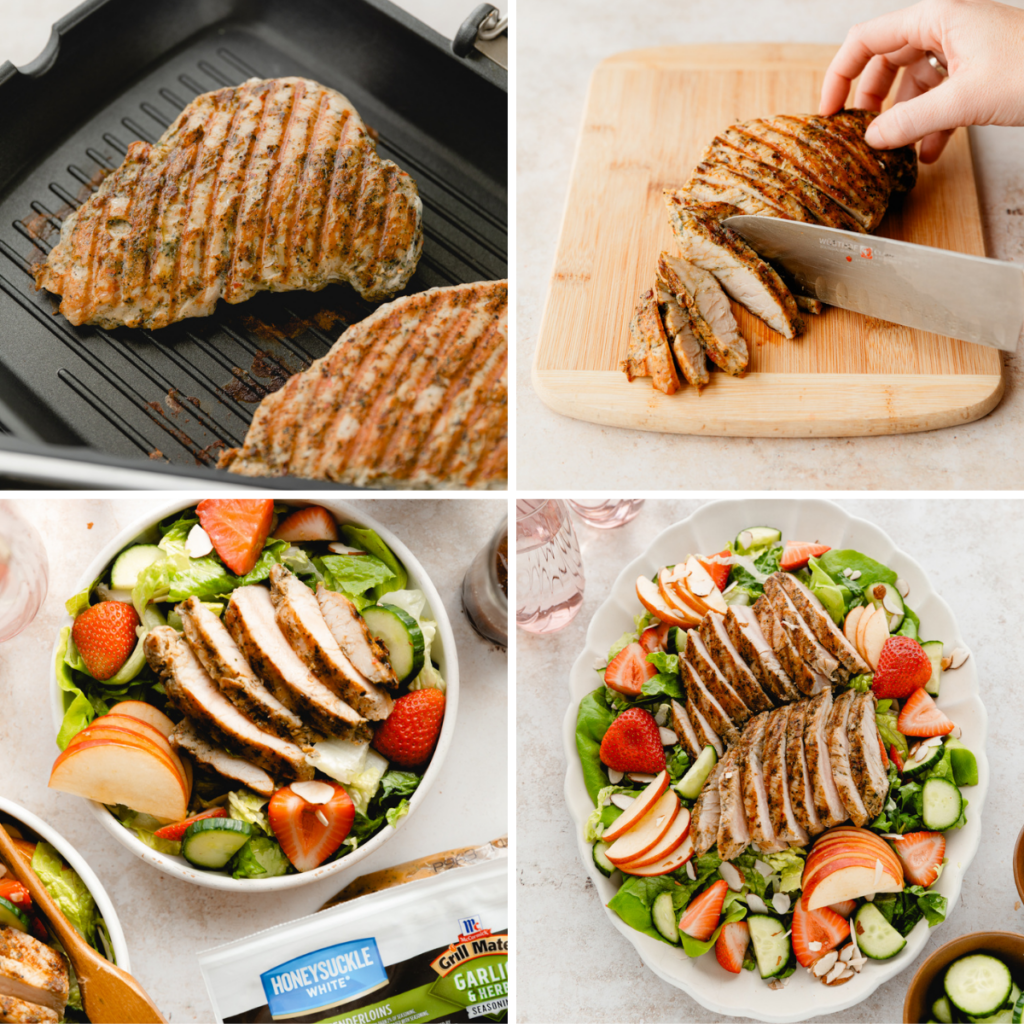 Quick Braised Tenderloin with Veggies
Lastly, this is a lighter take on a common comfort food! By using lean turkey tenderloin as our star, it's a great start to a healthy, quick dinner. (You know those are my favorite!) You usually see tougher cuts of meat braised to make them nice and tender - these tenderloins are OBVIOUSLY tender on their own. This quick braise gives you all the delicious flavors of braising meat in a fraction of the time.
Turkey tenderloins seared, then cooked in a herb-infused broth with fingerling potatoes, carrots, and celery! It's hearty, yet surprisingly light. It's the perfect recipe to feed some hungry kiddos or friends.
Something about meals cooked in a large pot with lots of healthy vegetables and that savory broth just calls for a sit-down dinner full of happy friends & family. And happy bellies! Full recipe below for this braised tenderloin.
📖 Recipe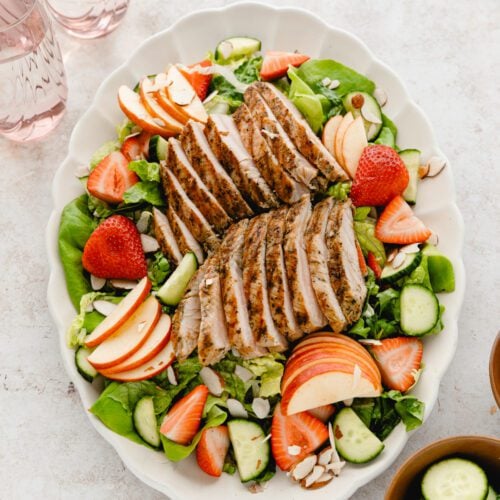 Braised Turkey Tenderloin with Cauliflower Mash
Quick braised pre-marinated Honeysuckle White turkey tenderloin with hearty veggies and a delicious cauliflower mash with white truffle oil.
Print
Pin
Rate
Ingredients
1

package Honeysuckle White rotisserie flavor turkey tenderloin

3

cups

chopped fingerling potatoes

2

stalks celery

chopped

2

large carrots

chopped

1

onion

chopped

2

cups

chicken broth

1

cup

white wine

optional, if excluding, swap in 1 more cup of broth

2

tablespoons

olive oil

1

sprig rosemary

2

sprigs fresh thyme

1

bag steamable cauliflower

¼

cup

parmesan cheese

1

teaspoon

salt

½

teaspoon

pepper

½

an onion

diced

1

sprig thyme

chopped

1

clove

garlic

minced

1

tablespoon

white truffle oil

optional
Instructions
In a large dutch oven pot heat the olive oil over medium-high heat.

Start by searing each side of the tenderloin for about 1-2 minutes on each side.

Once browned, remove and set aside on a plate.

Add the chopped celery, onion, and carrots to the pot. Saute them for 3 minutes then deglaze the pan with the wine (or broth).

Using your spoon scrape off any delicious browned bits on the bottom of the pan.

Add the fingerling potatoes into the pot.

Return the turkey to the dutch oven on top of the vegetables.

Add the chicken stock as well as the rosemary, thyme, and bay leaf. Bring to a boil.

Once boiling, you can reduce to a gentle simmer at medium-low heat or place in an oven at 350 degrees until the turkey has reached an internal temperature of 165 degrees.

While that is cooking, prepare a cauliflower mash to serve with it.

Steam the cauliflower according to the package and add it to a food processor.

Blend with the parmesan cheese, onion, salt and pepper, truffle oil, and the garlic clove.

Once the tenderloin is finished serve it with the vegetables over the cauliflower mash and enjoy.