This delicious Garlic Marinara Shrimp and Spaghetti Squash recipe and blog post are sponsored by Just Like Home. They are an incredible company that looks to highlight the hand crafted recipes of people around the country.
You'll want to grab a jar for yourself! Now available at Sprouts!
Each of their sauce recipes was developed by cooks right in their own kitchens. You can even see the photo of the person who created each recipe right on the jar! And 25 cents of each purchase of pasta sauce goes back to support the homeless.
Today I'm serving easy 30 Minute Garlic Marinara Shrimp and Spaghetti Squash created with their N.Y. Lip Smackin' Garlic pasta sauce.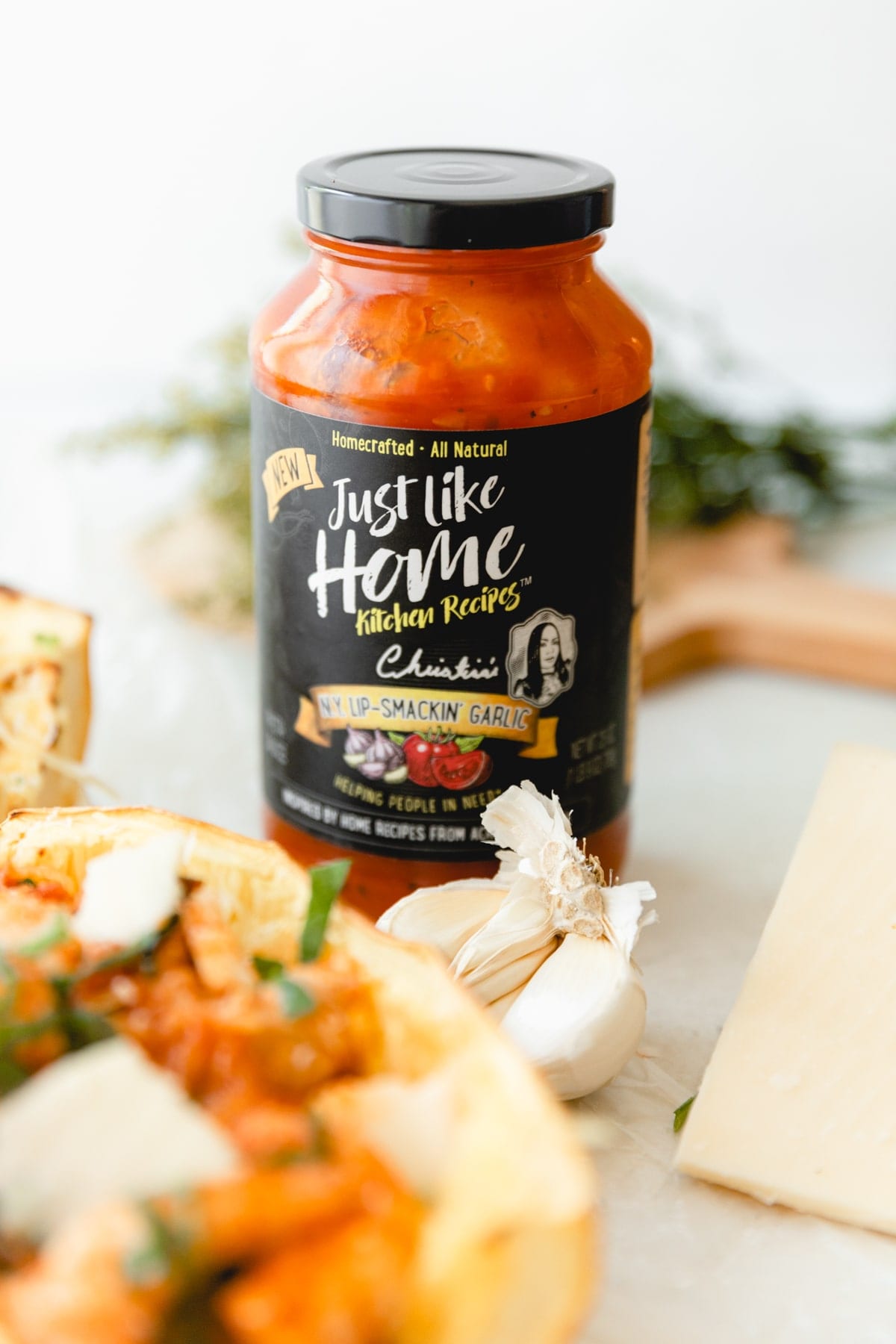 Easy Summer Dinner Recipes
You know my thing is healthy dinner ideas so these easy summer dinner's are no exception. Lean protein, done in around 30 minutes, really what more could you ask for?
If you'd like to try your hand at creating your own easy summer dinners, try using the 6 flavors of Just Like Home pasta sauce in your creation!
Buttery Marinara
Zesty Tomato Basil and Cheese
N.Y. Lip-Smackin Garlic
Chicago-Style Bolognese
Mushroom Cabernet
Sweet Potato Pomodoro
By starting with these amazing sauces, you can't really go wrong with your dinner menu. So let's see what I've been cooking with these incredible pasta sauces...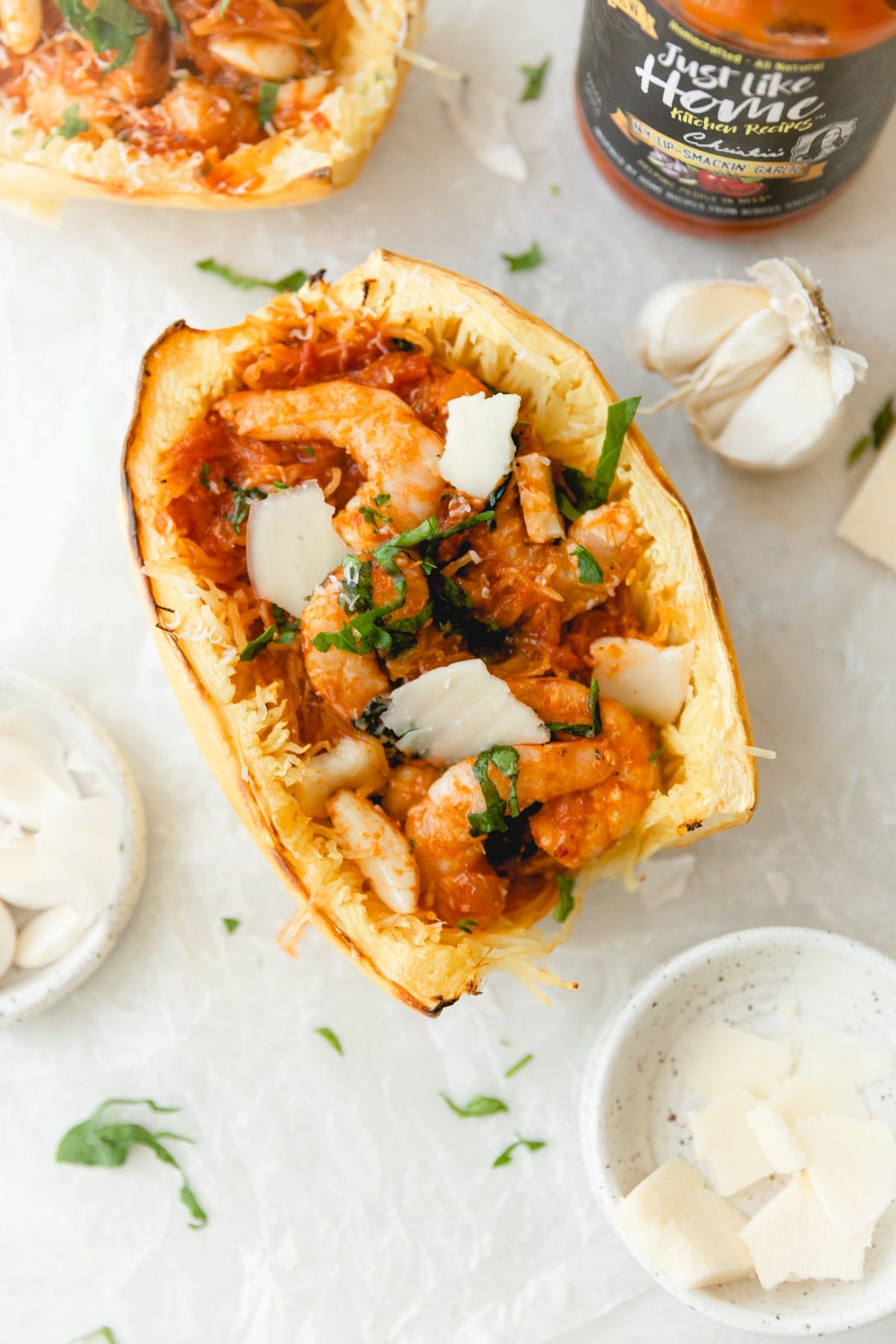 Garlic Shrimp and Spaghetti Squash
Using the N.Y. Lip-Smackin Garlic flavor, I simmered these tender shrimp to perfection and tossed them with lean, low-carb spaghetti squash noodles to create a light dinner!
You'll need
1 lb shrimp, peeled and deveined
1 large spaghetti squash
2 tablespoons olive oil
3 cups of spinach
2 cups of Garlic Marinara
3 cloves of garlic
Juice of 1 lemon
1 teaspoon salt
½ teaspoon pepper
½ teaspoon red pepper flakes
Optional topping: parmesan cheese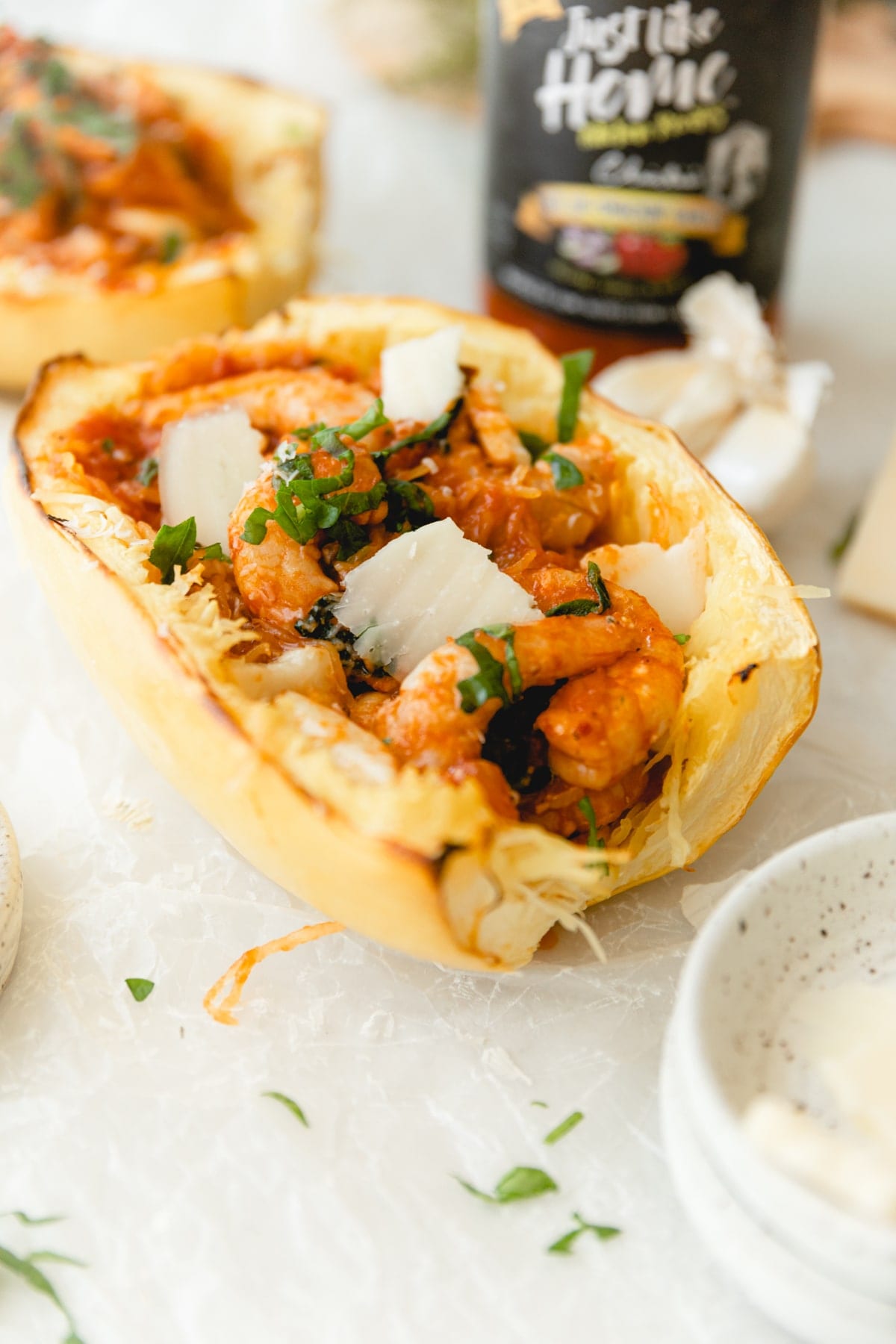 These ingredients are abundant in the Summer and make the perfect lean and healthy weeknight dinner for your family.
Other Recipes Using Just Like Home Pasta Sauce
If you loved this Garlic Marinara Shrimp and Spaghetti Squash, you'll definitely want to check out the easy Chicken Parmesan Sliders using the Buttery Marinara flavored sauce.
These sliders are everything you love about chicken Parmesan, baked to perfection and topped with a rich, buttery marinara sauce.
Click here to check out how to make it!
Get Your Pasta Sauce Today!
So, you can see what I mean when I say these pasta sauces can take any ordinary dinner and totally transform your plate. The recipes are hand-crafted, totally delicious, and have many uses.
You can grab your own jars of Just Like Home pasta sauce online, at Amazon, Sprouts, Albertons, and more!
Visit their website to find your closest retailer!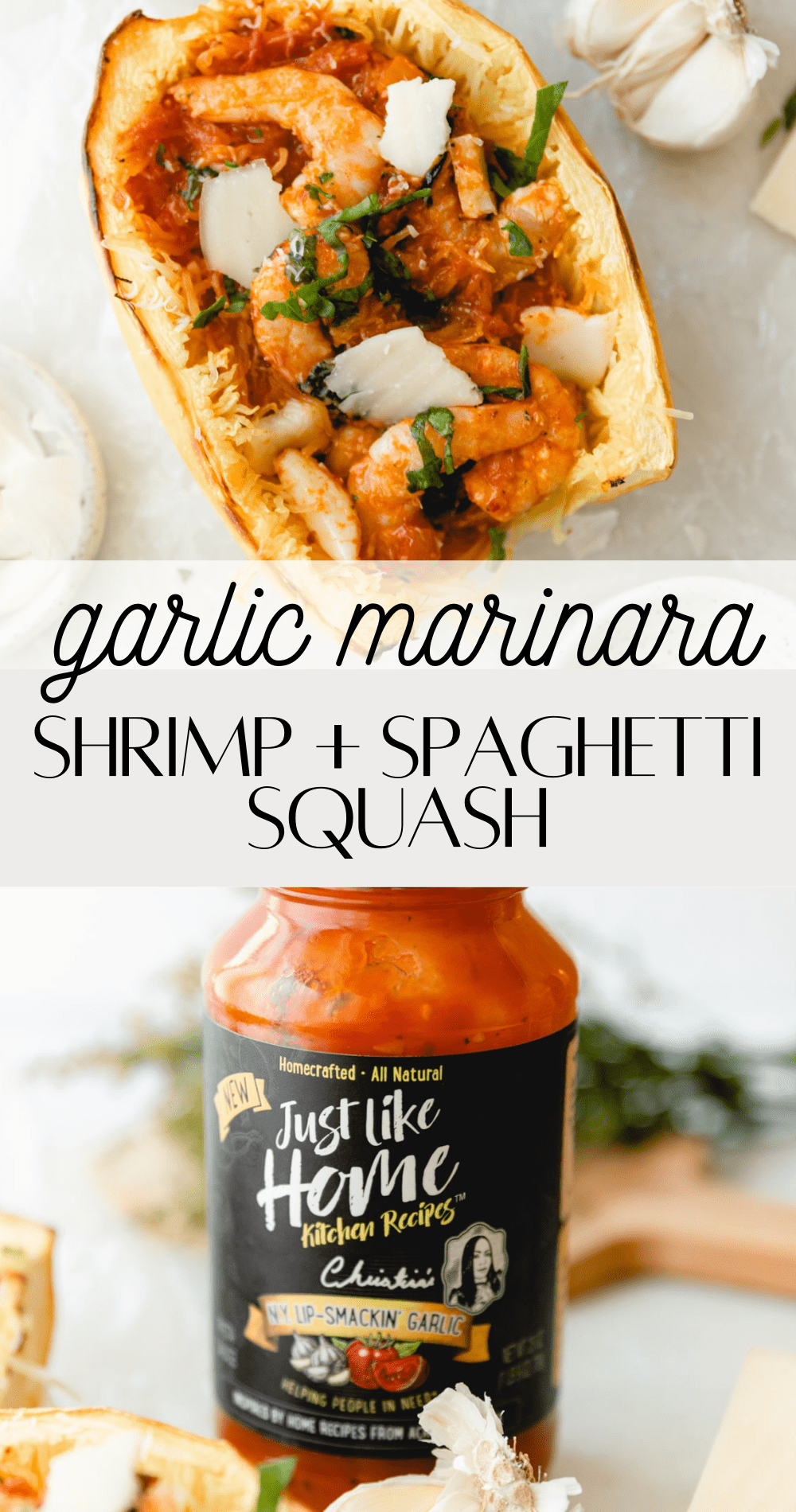 📖 Recipe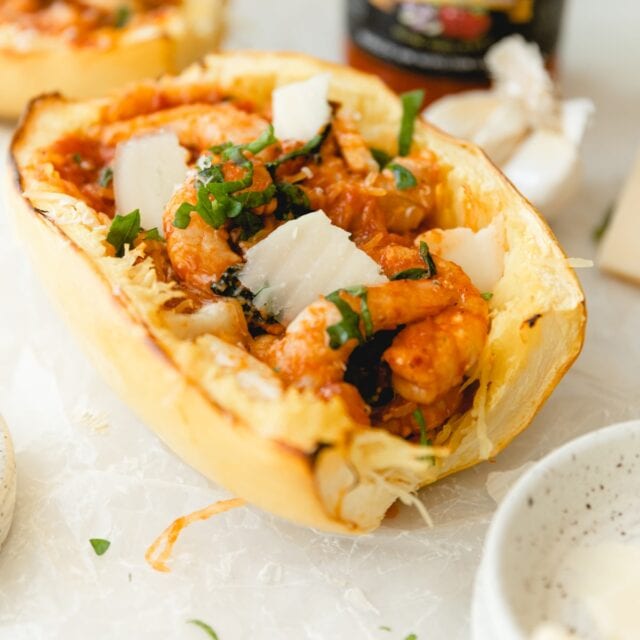 Garlic Marinara Shrimp and Spaghetti Squash
Delicious shrimp tossed in a garlic marinara sauce on top of low-carb spaghetti squash. It makes a perfect weeknight dinner.
Print
Pin
Rate
Ingredients
1

lb

shrimp

peeled and deveined

1

large spaghetti squash

2

tablespoons

olive oil

3

cups

of spinach

2

cups

of Garlic Marinara

3

cloves

of garlic

Juice of 1 lemon

1

teaspoon

salt

½

teaspoon

pepper

½

teaspoon

red pepper flakes

Optional topping: parmesan cheese
Instructions
Preheat the oven to 400 degrees.

Cut the spaghetti squash in half and scoop out the seeds.

Drizzle olive oil over the squash and sprinkle with salt and pepper.

Roast for 45 minutes until the squash is fully cooked. Set aside when done.

In a large skillet, heat up a tablespoon of olive oil and sear the shrimp for 1-2 minutes on each side.

Add the garlic, lemon juice, salt, pepper, red pepper flakes, and the Garlic Marinara.

Simmer the shrimp for 2-3 minutes.

Scoop out the flesh of the spaghetti squash and add it to the skillet. Toss well.

Top with shaved parmesan cheese and fresh basil!

For serving add it back into the shell of the spaghetti squash for a beautiful presentation.