Lightened Up Chicken Parmesan Sliders
Another amazing summer recipe sponsored by Just Like Home pasta sauce. My lightened up Chicken Parmesan Sliders get totally elevated with Buttery Marinara sauce.
Just Like Home prides itself on home-crafted recipes created by people just like you and me! They have 6 delicious flavors that have amazing stories behind them. You can even find photos of each recipe creator on the jars of sauce.
Plus 25 cents of each purchase of pasta sauce goes back to support the homeless!
Pick one up today at your local Sprouts and let's start making some magic with these delicious sauces!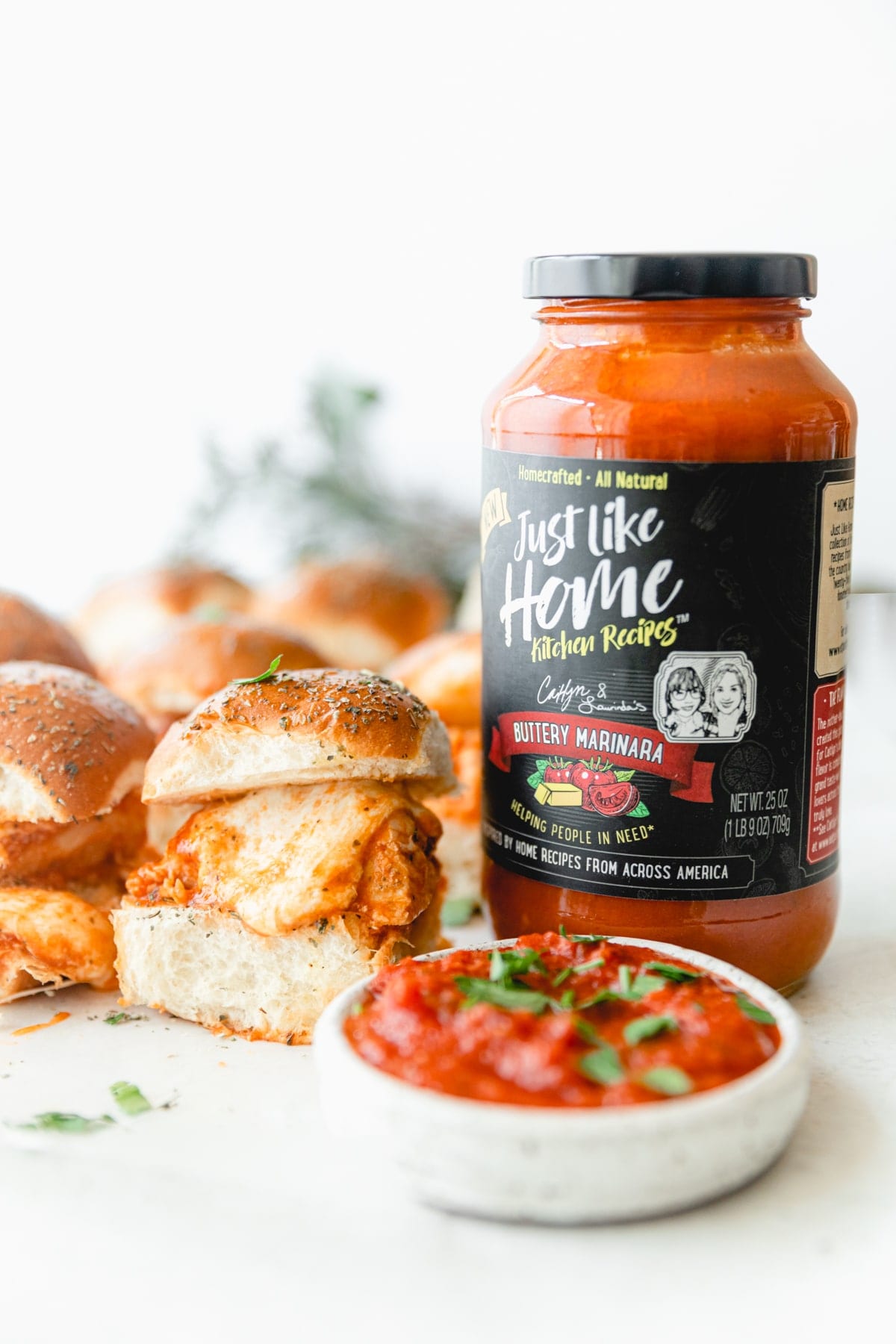 Buttery Marinara Sauce
I love the story behind the Buttery Marinara Sauce because it was created by a mother-daughter duo. Read their story here!
Buttery Marinara has SO many uses, but when I think summer I love a good slider. Chicken, beef, turkey, pork, I don't care. I just like the tiny, handheld sandwiches that are easy to make and serve!
When brainstorming ideas, the Chicken Parmesan Sandwich came up and I knew I had to put my own White Kitchen Red Wine spin on it...
Lightened Up Chicken Parmesan
To create a dish that was a bit lighter, we baked these chicken parmesan sliders instead of going the traditional breaded/fried route.
This chicken parmesan is baked in the oven to perfection IN the Buttery Marinara, topped with melty cheese, and between Italian herbed slider buns.
It takes nearly no time or prep to develop amazing flavors in this dish thanks to Just Like Home's Buttery Marinara Sauce.
Other Delicious Pasta Sauce Flavors
If I've tempted you with this amazing dish, you will LOVE the Garlic Shrimp and Spaghetti Squash using the N.Y. Lip Smackin' Garlic sauce...check that one out!
Other flavors you can expect from Just Like Home include...
Zesty Tomato Basil and Cheese
N.Y. Lip-Smackin Garlic
Chicago-Style Bolognese
Mushroom Cabernet
Sweet Potato Pomodoro
Try them all and visit their website to find a retailer near you!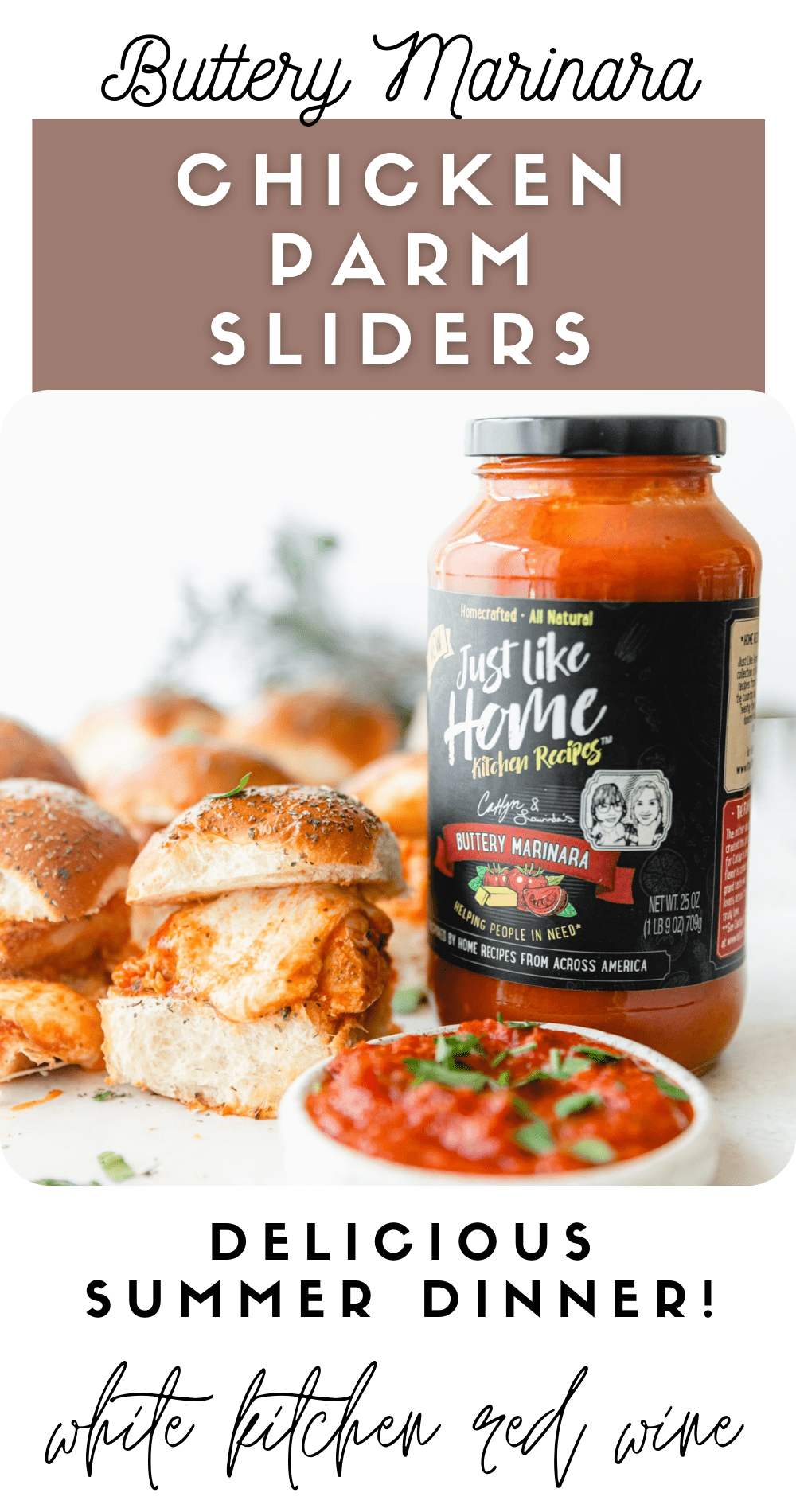 📖 Recipe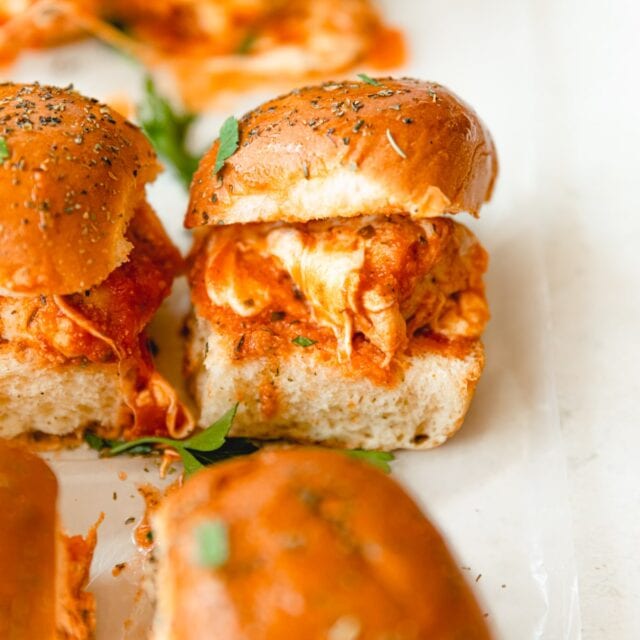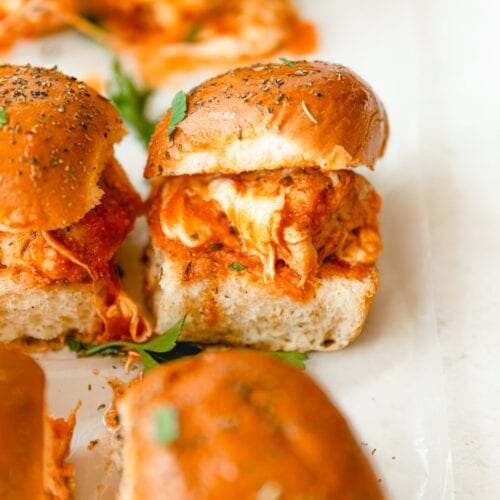 Lightened Up Chicken Sliders
Easy to make Chicken Parmesan Sliders that are baked to perfection, topped with melty cheese, and in between herbed slider buns.
Print
Pin
Rate
Ingredients
2

chicken breasts

2

cups

Buttery Marinara sauce

Just Like Home

8

oz

mozzarella slices

2

oz

shredded parmesan cheese

6-8

slider buns

brioche or sweet rolls

1

teaspoon

salt

½

teaspoon

pepper

1

tablespoon

garlic powder

1

tablespoon

Italian seasoning

extra Buttery Marinara for dipping
Instructions
Pre heat your oven to 375 degrees.

Take your chicken breasts and butterfly them (cut them in half lengthwise)

Then take the 4 chicken breast halfs and cut them in half to create 8 small chicken pieces. About 3-4 inches each.

In a baking dish layer 1 cup of the Buttery Marinara sauce in the bottom.

Place the chicken pieces on top and season with salt, pepper, and garlic powder and parmesan cheese.

Pour the additional 1 cup of sauce over the chicken.

Place the 8 slices of mozzarella over the top and bake for 45 minutes.

Remove when done and set aside.

Take the slider buns and brush each one with a small amount of butter and sprinkle Italian seasoning on top.

Pop those in the already warm oven on a baking sheet for about 3-4 minutes.

When the buns are warmed up, remove the top and using a spatula or tongs, remove one chicken serving from the dish (be sure to get the cheese too!) and place it on the bun.

Repeat with the remaining buns.

Dip in extra marinara and enjoy!