Buffalo sauce and sweet potato, has there ever been a more perfect pair? If you haven't tried it you may not believe it's true. However, the creamy, sweet roasted potato perfectly balances the shredded buffalo chicken. This combo hits you with a little heat and a lot of flavor.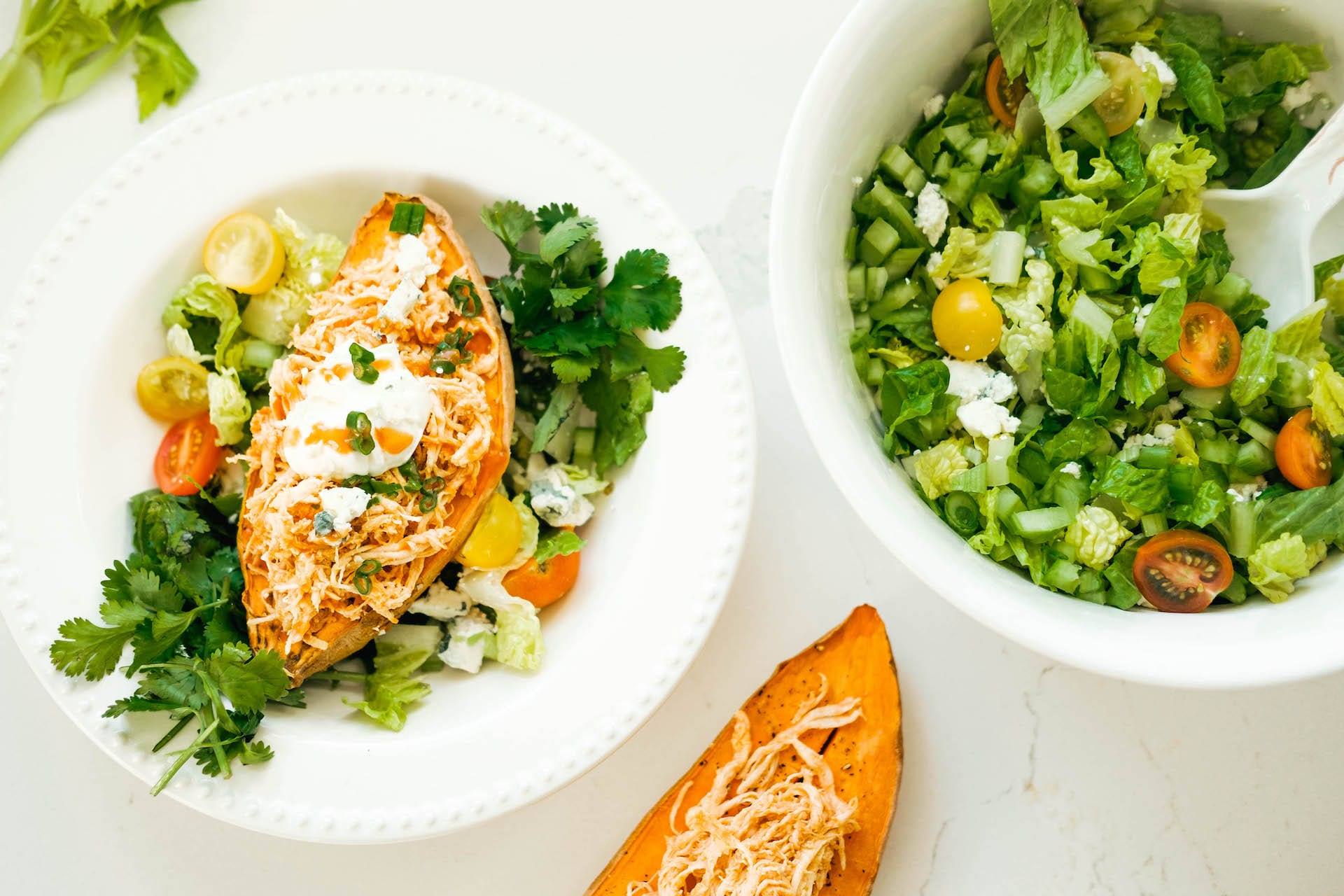 While Ryan and I were renovating our current 1930s fixer-upper my parents were gracious enough to let us and our little pup, Moose, live with them for 7 months. God bless them and my husband for sticking it out! So glad they did so I could have my dream kitchen!
---
Anyways, while living there I would cook a few meals here and there to help out. One meal in particular that the family fell in love with was this stuffed sweet potato! It was probably made once a week for the entire 7 months we lived there. Needless to say Ryan never wanted to see this meal again! Haha. So when I told him I was making it to share on the blog he was NOT a happy camper that he would have to eat it. Not because it wasn't absolutely delicious, but something about living with your in-laws for that long eating the same food over and over really got to him. ?
---
So we had a couple of friends over to enjoy it with us so I wouldn't have leftovers for days seeing as he wasn't going to eat a ton of it. We sat down to dinner and he took one bite and guess what? He fell in love all over again! (So did our guests!) I guess this is just a true testament that time heals all wounds, even buffalo chicken burnout.
---
I served up this delicious stuffed sweet potato with an easy salad of chopped Romain hearts, cherry tomatoes, cilantro, and blue cheese with a little garlic red wine vinaigrette dressing. After our dinner guests we did not have any leftovers! My favorite buffalo sauce to use is Franks Hot Sauce but feel free to use any one you like!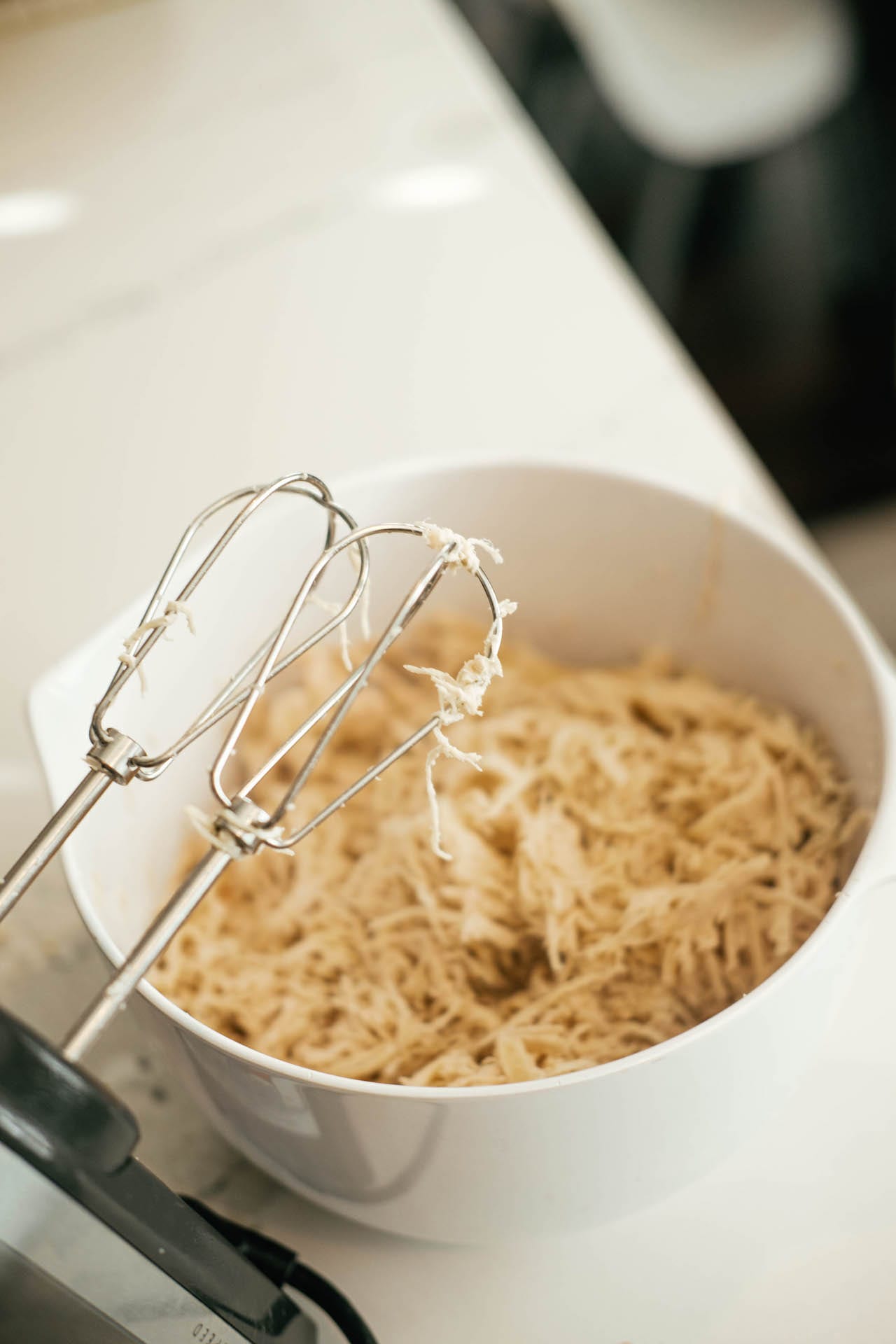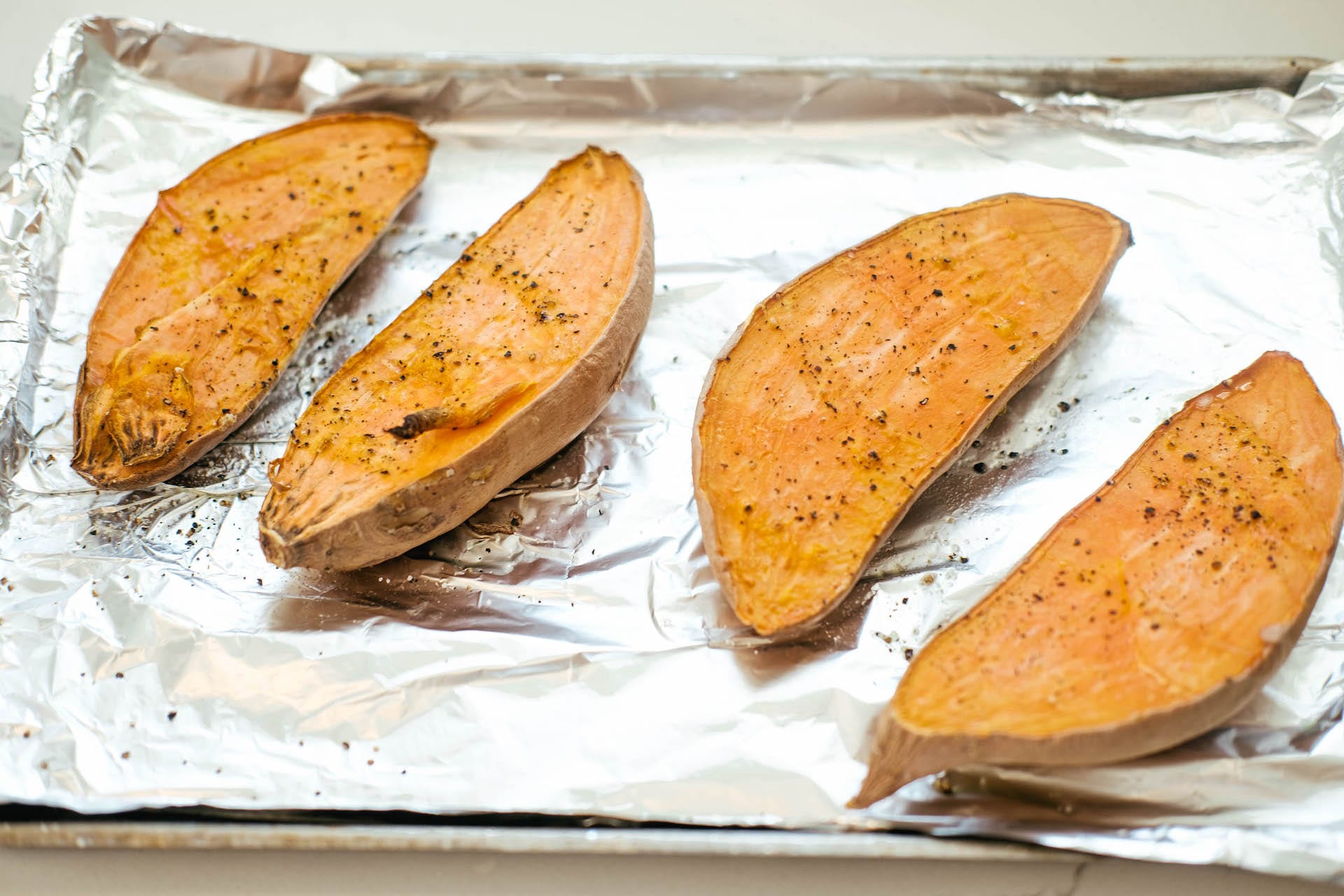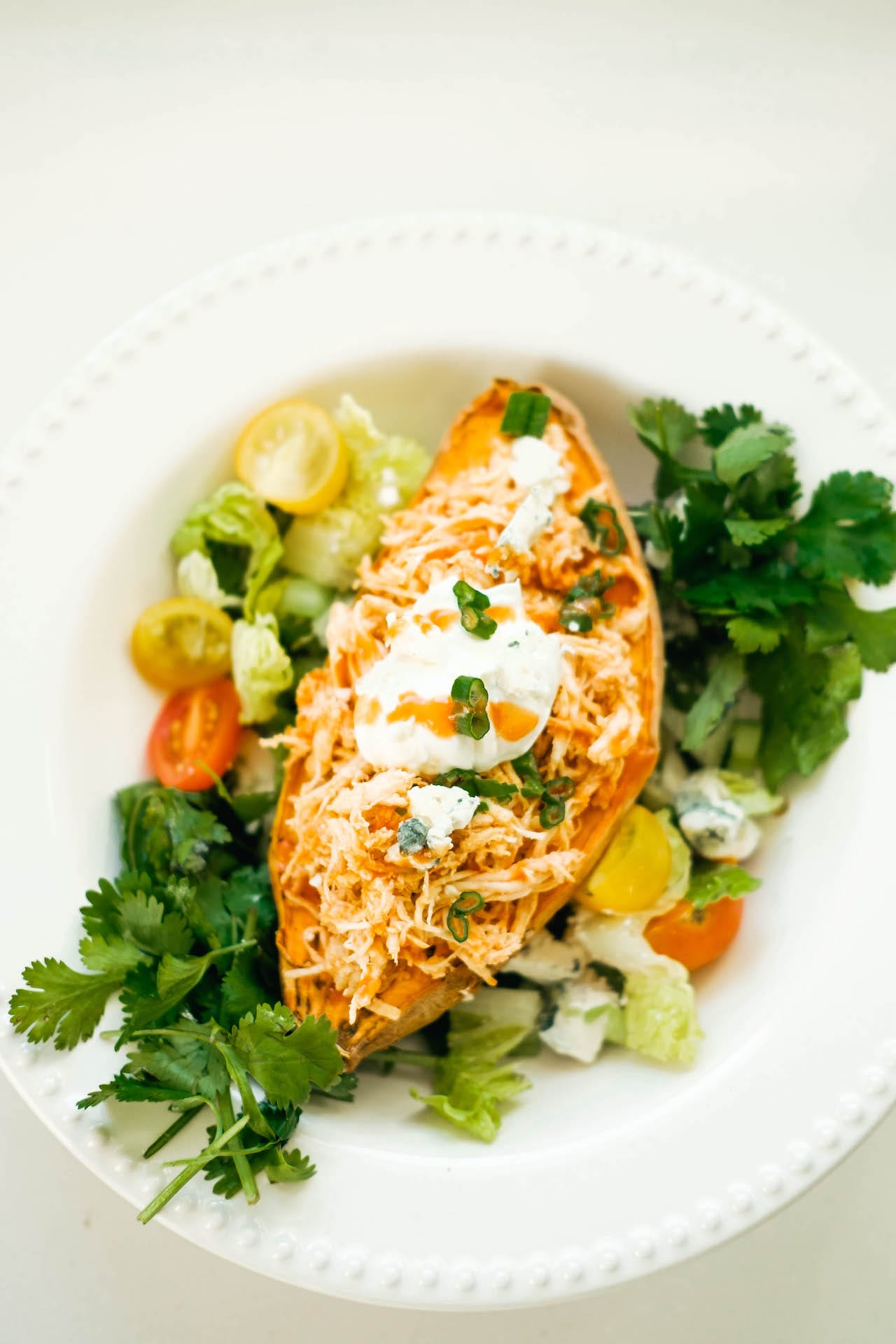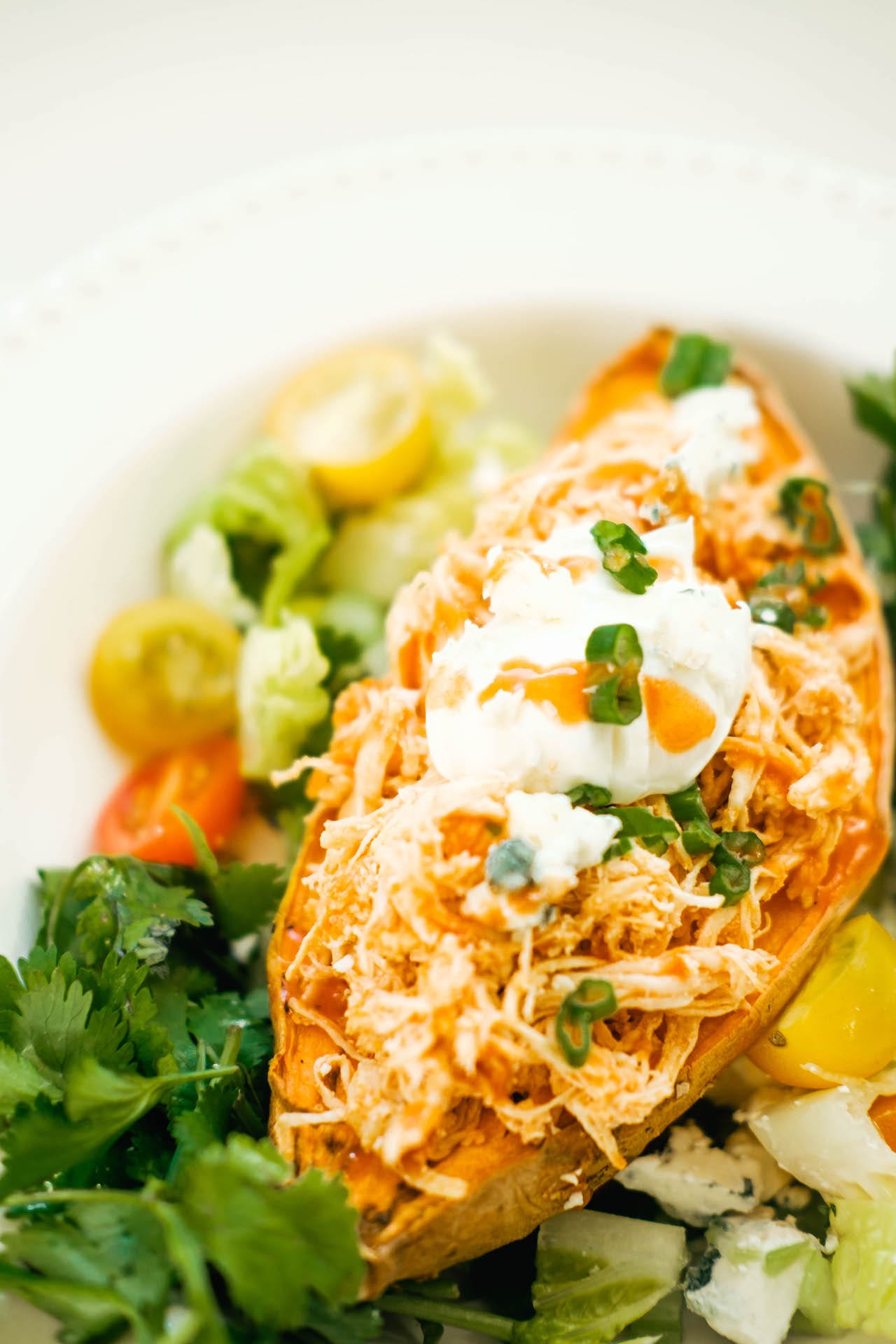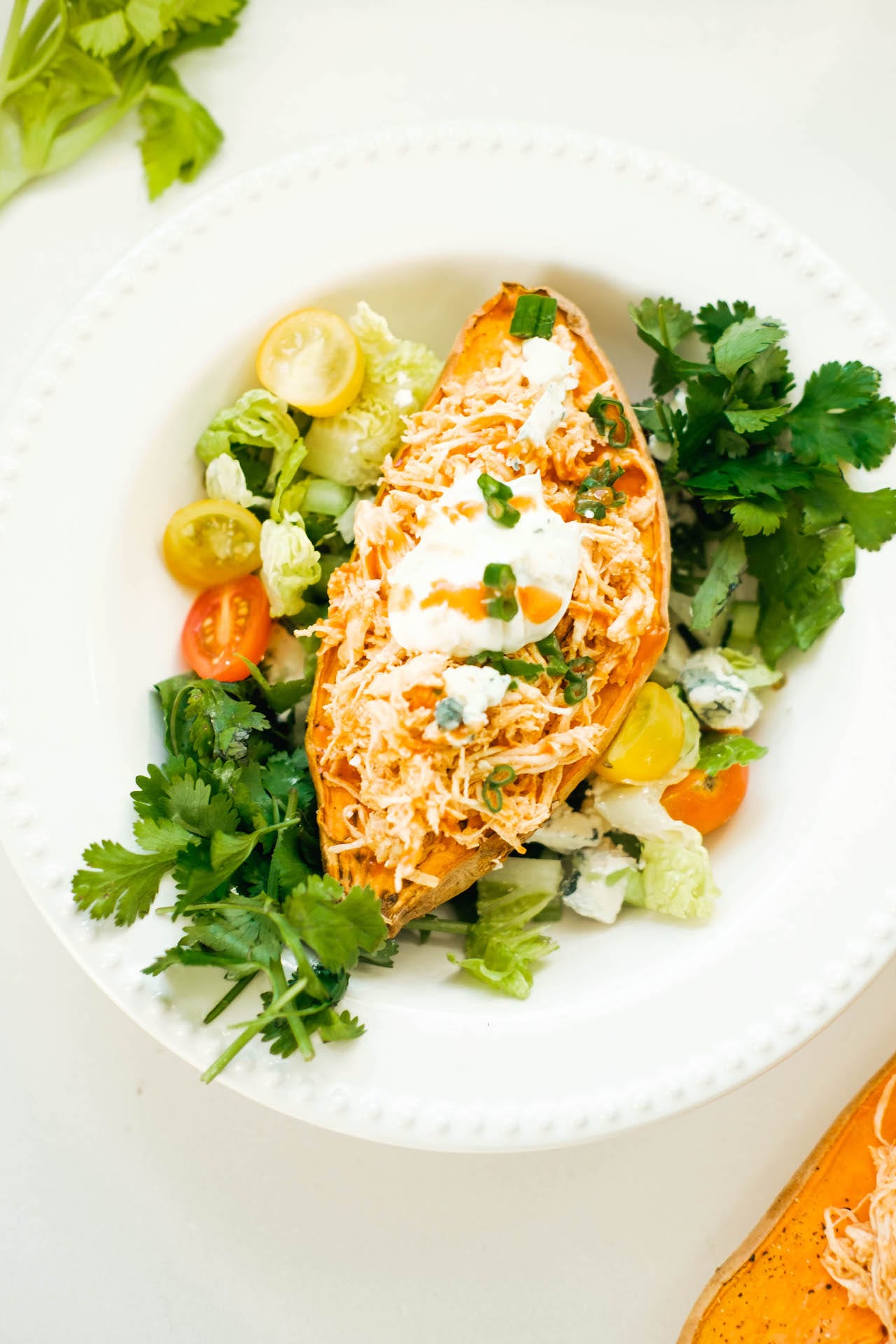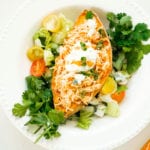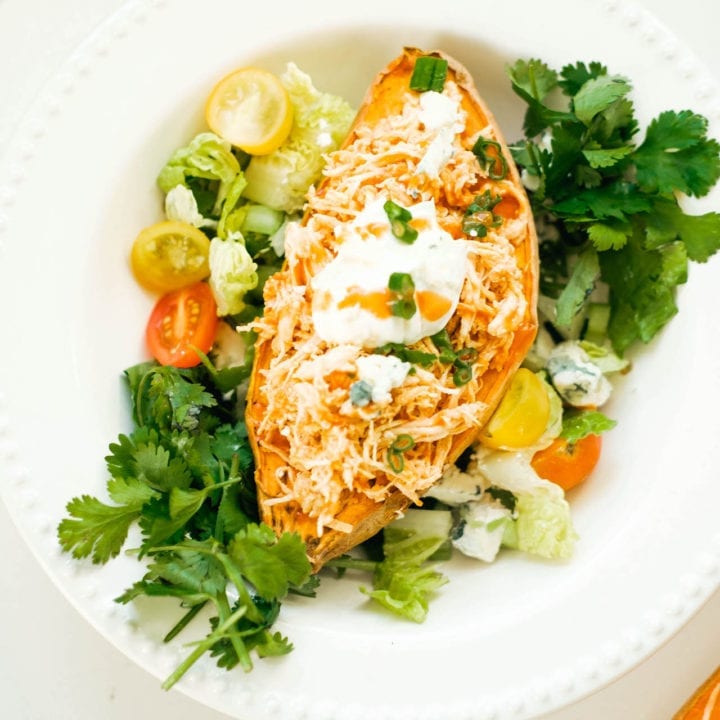 Print Recipe
Buffalo Chicken Stuffed Sweet Potato
Ingredients
2

large sweet potatoes

2

boneless skinless chicken breasts

1/2

cup

franks hot sauce

2

tsp

salt

1

tsp

pepper

4

tablespoons

sour cream or greek yogurt

cilantro

blue cheese crumbles for topping
Instructions
Preheat oven to 375 and cut your sweet potatoes in half. Place on a lined baking sheet and roast for 45 minutes to an hour until very tender.

While that is roasting, boil your chicken breasts. Bring a pot of water to a boil and add in 2 tsp of salt. Place chicken in the water and boil until cooked through

Put chicken into a large mixing bowl and with an electric hand mixer, shred the chicken. Or use 2 forks.

Mix in 1/2 tsp of pepper and 1/2 cup Franks Hot Sauce.

By now the sweet potatoes should be done. Top each half with some of the chicken mixture.

Garnish with 1 tablespoon of sour cream, cilantro, and blue cheese crumbles

Enjoy!
Nutrition
Serving:
1
g
|
Calories:
261
kcal
|
Carbohydrates:
22
g
|
Protein:
27
g
|
Fat:
7
g
|
Saturated Fat:
3
g
|
Polyunsaturated Fat:
3
g
|
Cholesterol:
66
mg
|
Sodium:
2094
mg
|
Fiber:
3
g
|
Sugar:
8
g