Needing a delicious comfort meal that is healthy, vegan, and SO easy to make? This healthy vegan vodka sauce is one of my favorite homemade 30-minute meals.
The best part is NO BLENDING CASHEWS! You heard me, I've found the product that will take the mess of blending cashews OUT of the equation. So let's take a penne alla vodka and make it VEGAN.
This post contains an affiliate link in which I may make a small commission.
The Trick To Vegan Vodka Sauce...
So I recently started working with JOI. They are a nutmilk base company and their product is a paste made from one ingredient: almonds or cashews.
You take a couple of scoops and blend it with water for FRESH homemade nut milk.
Do you know what they put in almond milk to keep it shelf stable? Do you want milk that has been trucked around and unrefrigerated for who knows how long?
Well, I didn't really know any different until trying this. Now I'm hooked! The taste is not only incredible, I make TONS of other things with it...
use this link for 10% off your JOI purchase 
You can also use the cashew or almond base as a thickening agent in recipes. Which is exactly what I did here.
The creaminess of the cashew base almost perfectly mimics heavy cream in this recipe. WHAT!? So just dream of all of the possibilities with this awesome base. I digress...back to the recipe!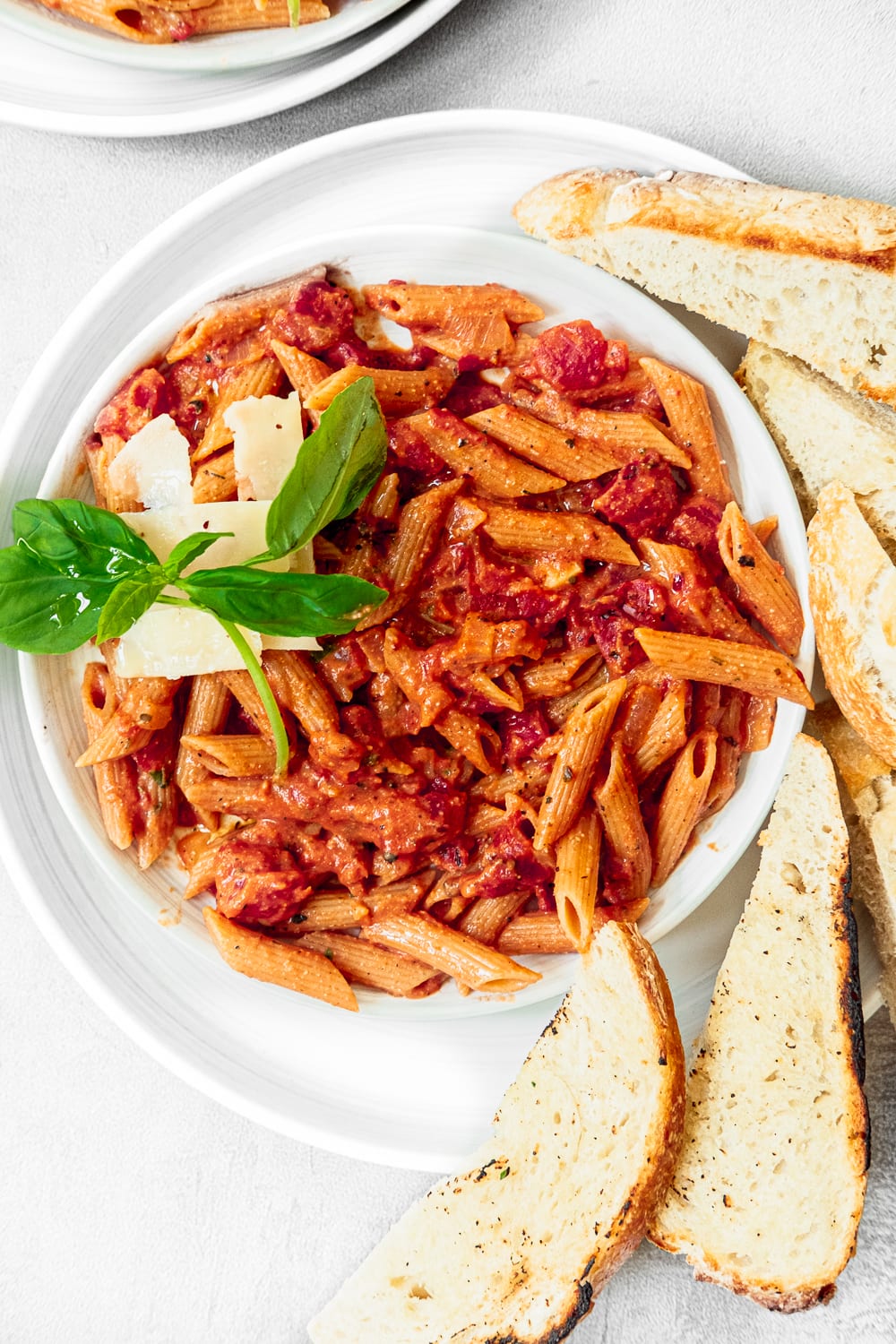 What is vodka sauce?
Vodka sauce is a red Italian sauce that has vodka and cream cooked into it. For our version, we are replacing the cream with JOI!
Vodka adds a bite and enhances the sweetness of the tomatoes, but it's not overpowering.
Will Vodka Sauce Get You Drunk?
Unfortunately (or fortunately, whichever way you want to look at it! ha!) it will not get you drunk.
The sauce cooks for long enough that the alcohol is cooked out and the flavor that's left behind is what makes vodka sauce amazing!
Healthy Penne Pasta Options
This recipe uses a few staple pantry ingredients for the sauce, and to keep it even healthier I used red lentil pasta by Tolerant.
I am in no way affiliated with them (wish I was!) but I cannot get enough of this pasta. I've been on the lookout for a pasta alternative that tastes, cooks, and is as good as pasta.
This is it. I like mixing this pasta sauce with this specific pasta, but you go for what you love!
Substitutions in Penne Alla Vodka
If you don't have JOI to make this vegan vodka sauce, you can sub in vegan cream cheese.
Both will give the sauce its bright orange flavor and delicious creaminess.
For the pasta, I like to serve it with lentil or chickpea penne, but feel free to use the noodle of your choice! A zucchini noodle would be excellent.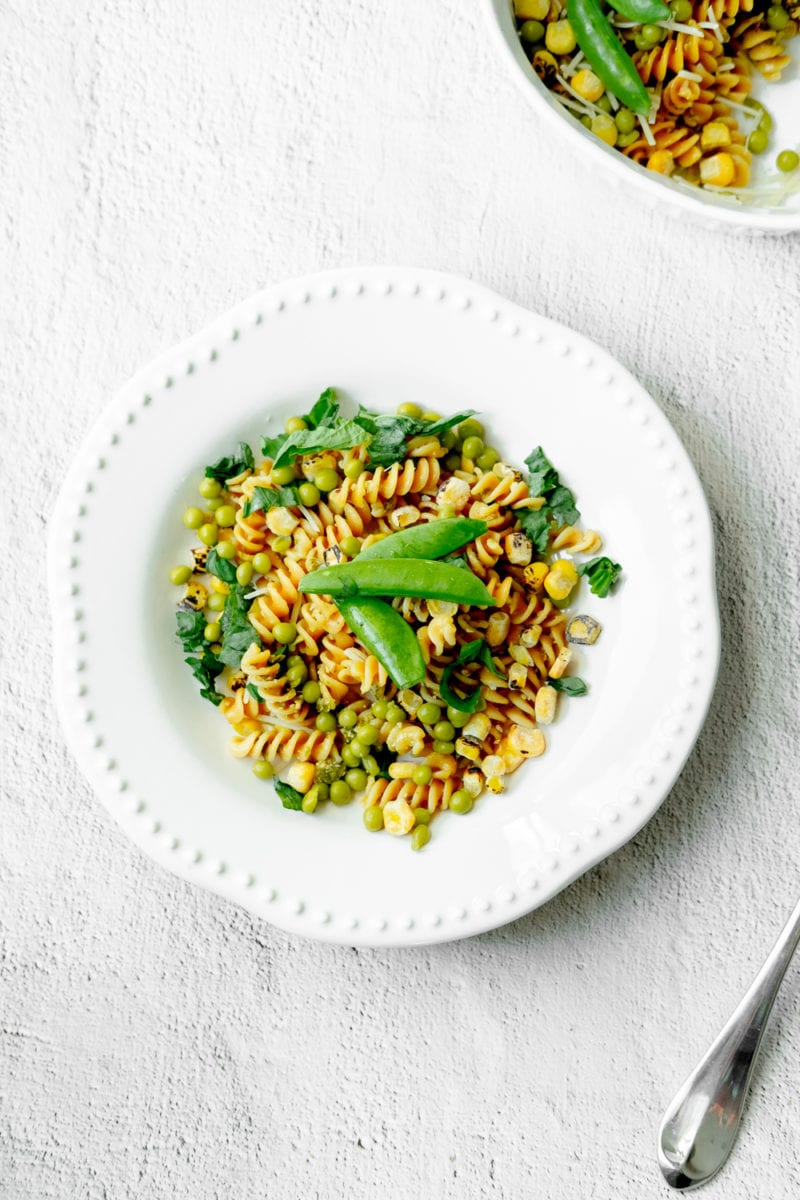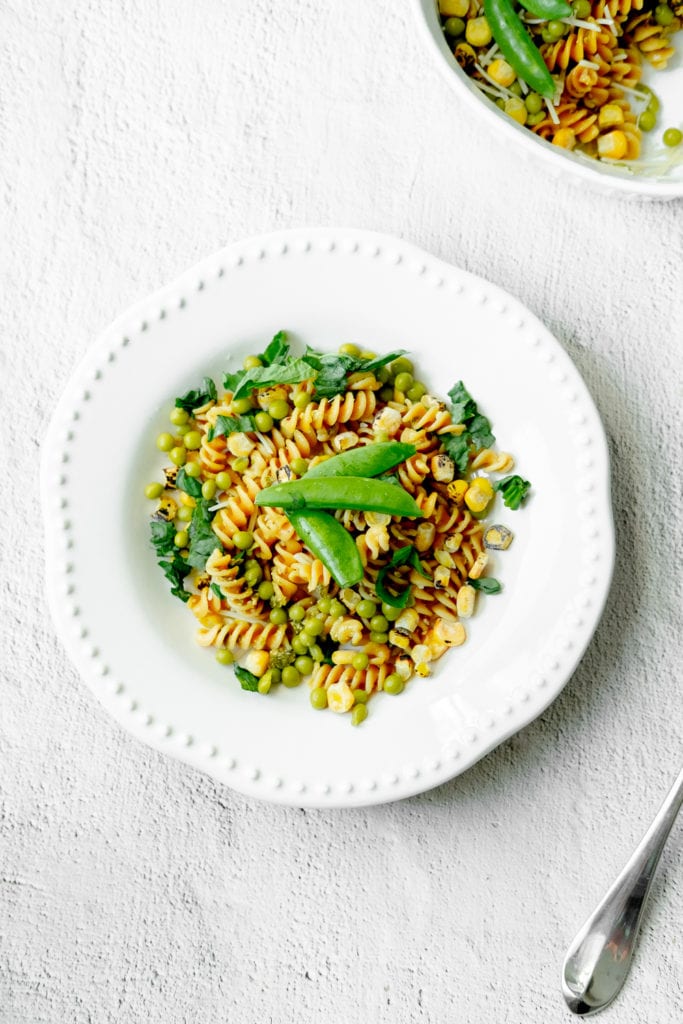 📖 Recipe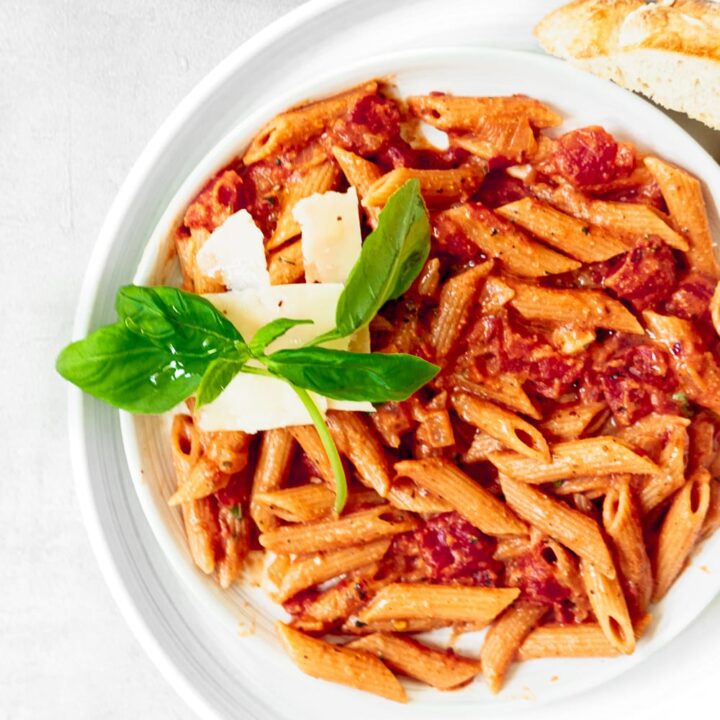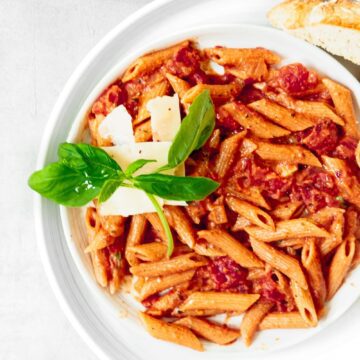 Vegan Vodka Sauce
Delicious homemade penne alla vodka with a simple and delicious vegan vodka sauce. It's so delicious, you won't even miss the dairy!
Print
Pin
Rate
Ingredients
1

can

diced tomatoes

½

white onion, diced

1

8 oz

can of tomato sauce

½

cup

vodka

½

teaspoon

red pepper flakes

1

tablespoon

garlic powder

1

tablespoon

Italian Seasoning

1

tablespoon

fresh basil

2

tablespoon

JOI Cashew base ( you can sub almond milk, but it will NOT be the same)
Instructions
In a sauce pan combine a little olive oil and the diced onion. Stir and saute for 3-5 minutes

Slowly stir in vodka and cook for 5-7 minutes

Add in spices, tomato sauce, and can of diced tomatoes. Bring it to a gently boil and simmer for 15 minutes

Stir in fresh basil and 2 tablespoons of JOI cashew base until it's thouroughly combined.

Stir in your favorite pasta! Done!