Have you ever just had the absolute NEED for a large bowl of cheesey pasta? Warm, melty, comforting. These are just a few of the words that come to mind when I think of this dish! Shrimp and Cheesy Red Pepper Stuffed Spaghetti Squash completely satisfied my craving for a huge pasta bowl without ANY guilt.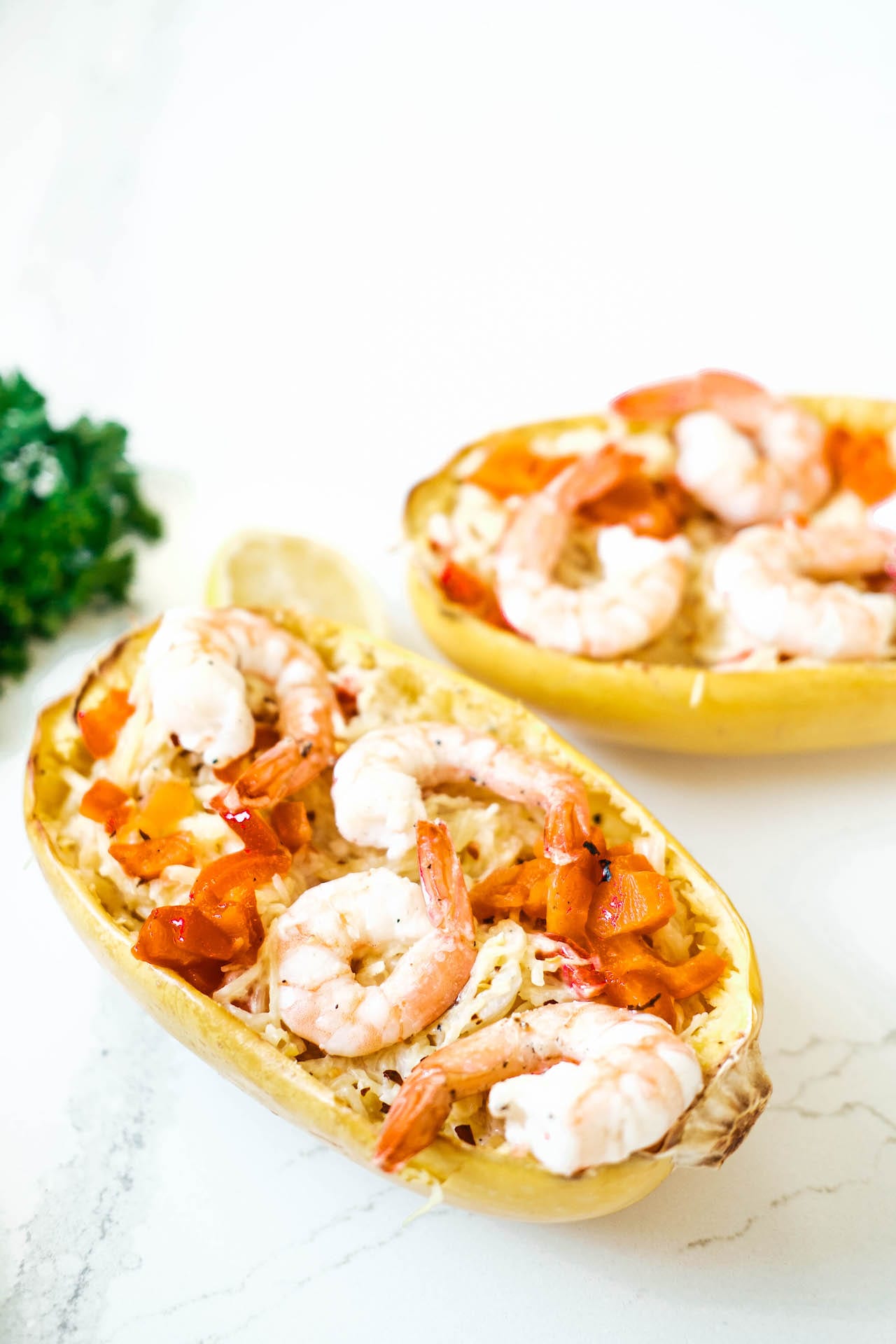 What To Stuff In Spaghetti Squash?
Roasted spaghetti squash is SO good stuffed with some creamy laughing cow cheese, stir in a bit of roasted red peppers and dinner is served! I chose to top these bowls with shrimp and lemon and wow was it good!
My husband, Ryan, is not one for pasta substitutes. He hates cauliflower rice, hates zucchini noodles, and tolerates spaghetti squash. He even finished his entire bowl and that's when I knew I had a winner.
Cheese Sauce With Laughing Cow Wedges
Using the perfect portions of the Laughing Cow cheese really helps not over do it on the cheese! Cheese is one of those things I can't live without but found that it is really easy to over eat. (I probably didn't have to tell you that though)
I like to whisk it with a bit of unsweetened almond milk helped turn it saucey and delish for our ShrimpCheesy Red Pepper Stuffed Spaghetti Squash
I also used jarred roasted red peppers from Trader Joes. So much flavor from these! It really adds some brightness to an otherwise heavy dish. I also nabbed the Red Argentian shrimp from Trader Joes and I was really pleased! Plump and yummy, you would never know they were frozen.
Here's how I did it!
How To Roast The Squash Preheat that oven to 350 degrees. While it heats up cut your spaghetti squash in half and scoop out the seeds. Then drizzle the olive oil over each side and season with salt and pepper. Roast this for 45 minutes until it easily shreds.
How To Make The Sauce In a shallow sauce pan sauté the onion in some olive oil. Add in garlic, Laughing Cow Cheese, almond milk, salt and pepper. Whisk until this combines.
The Laughing Cow wedges don't melt down right away so be patient! It will get creamy. Stir in the chopped roasted red peppers. Give it a taste and add salt or pepper if you want! Squeeze in half a lemon and stir to combine.
How To Cook The Shrimp Get the shrimp in a quick marinade by squeezing half a lemon over shrimp. Season it with salt and pepper and let it sit while your skillet heats up. Heat a bit of olive oil over medium high.
Toss the shrimp in the pan and let it sit for 1 minute on the first side. Flip them with a pair of tongs and once you have flipped each one turn off the heat! You don't want chewy shrimp. Nope.
Mix It All Up Once your squash is cooked, shred it into a large bowl, toss it with the sauce and add salt and pepper if it needs it. Top with the shrimp and a little green parsley. ENJOY!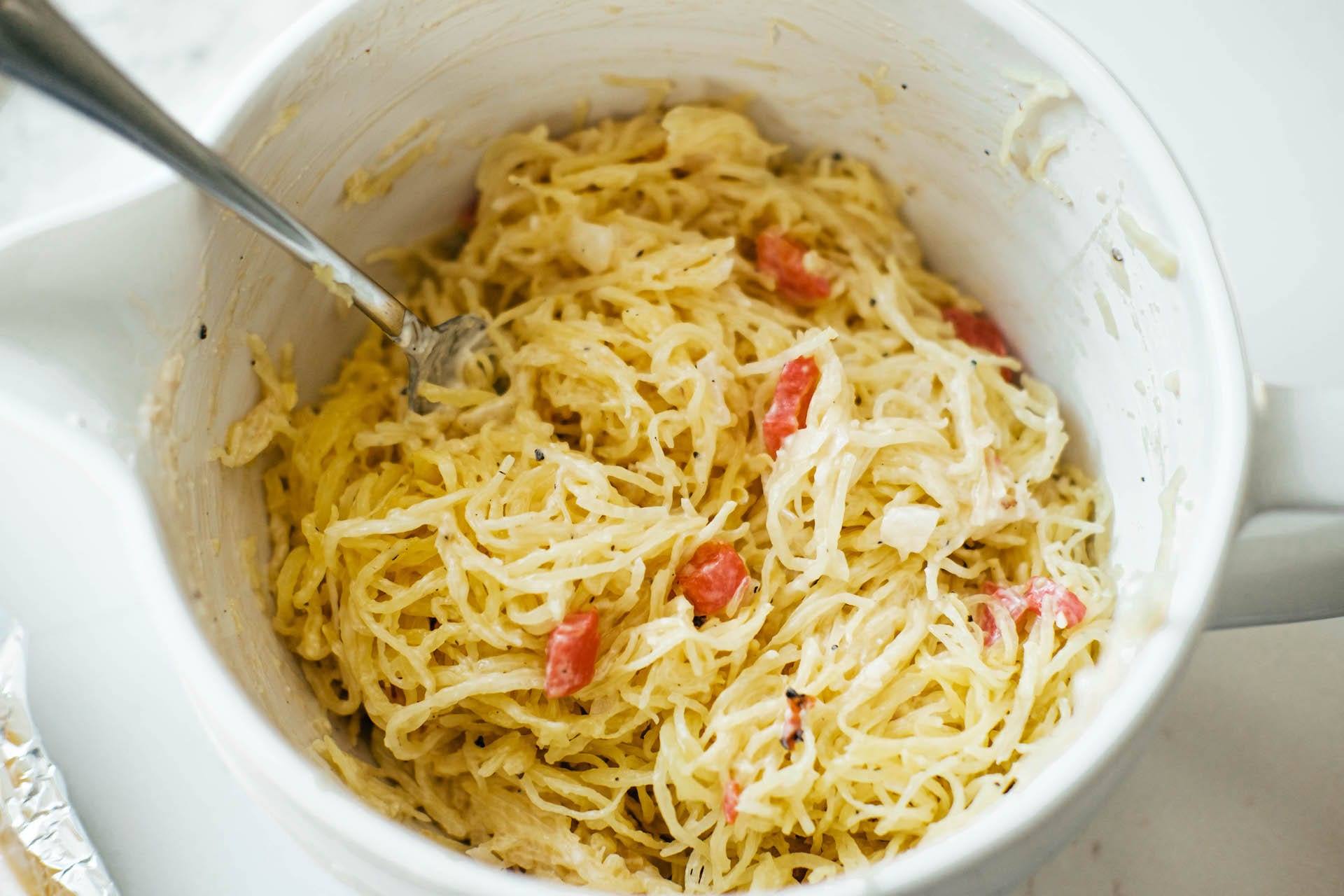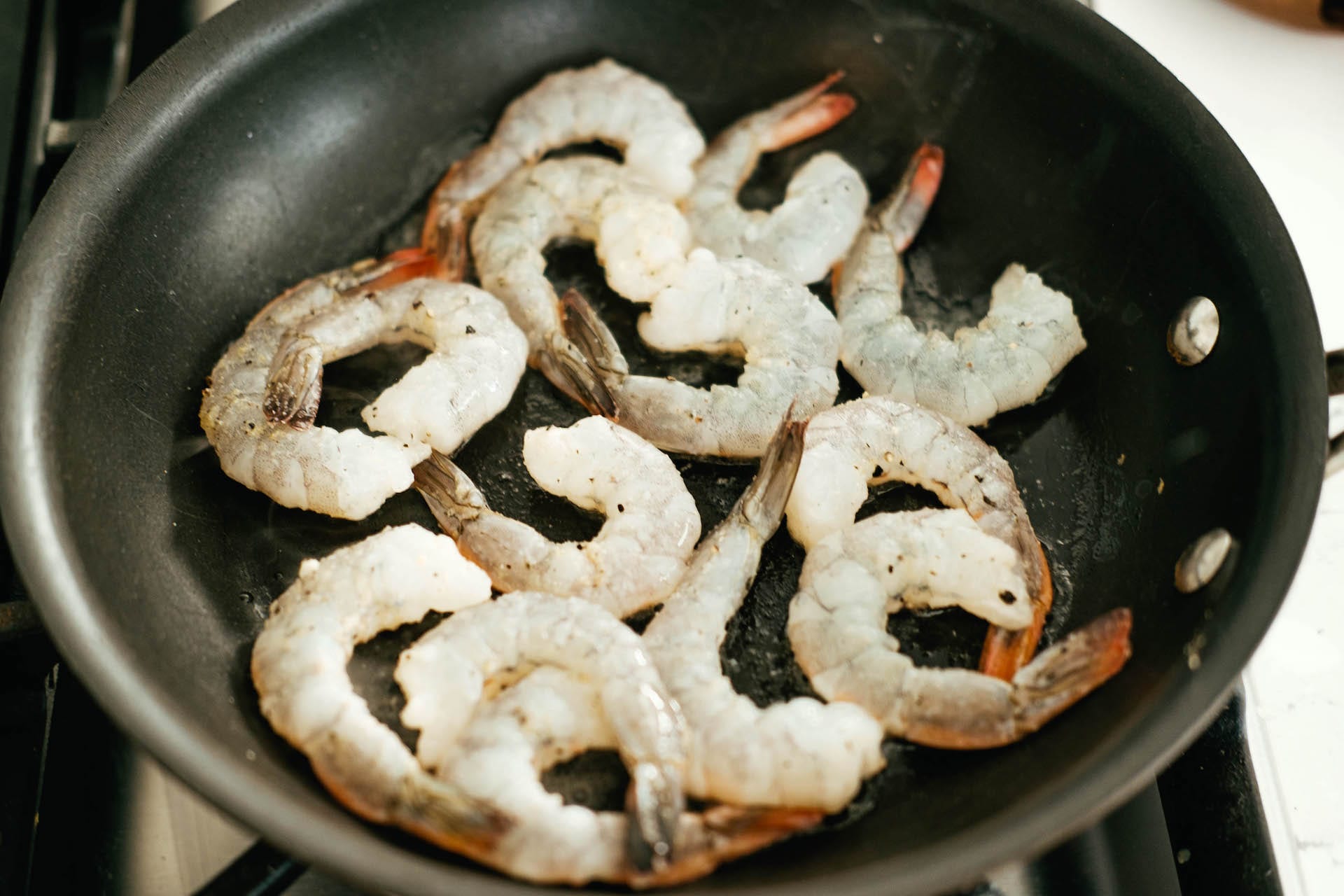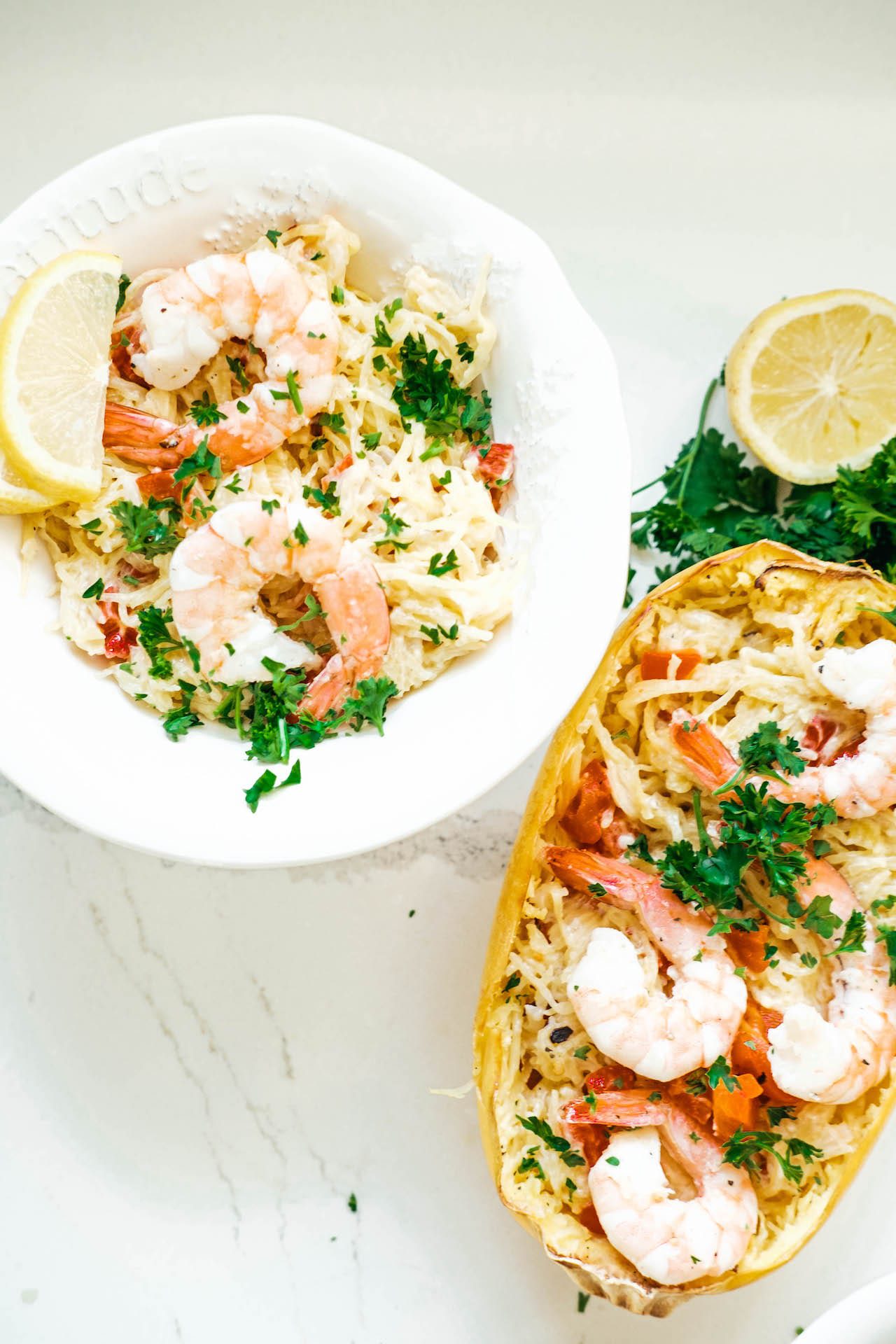 📖 Recipe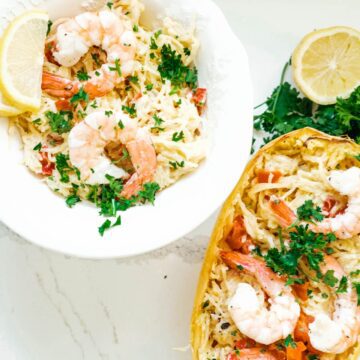 Shrimp and Red Pepper Spaghetti Squash
Healthy and hearty spaghetti squash with cheesey sauce served with shrimp!
Print
Pin
Rate
Ingredients
1

Spaghetti Squash

20

Large Shrimp

4

Wedges Laughing Cow Creamy Swiss Cheese

1

Cup

Almond Milk

unsweetened

1

Tablespoon

Minced Garlic

½

Onion

chopped

2

teaspoon

Garlic Powder

3

teaspoon

Salt

1

teaspoon

Pepper

Olive Oil

3

Roasted Red Peppers from a jar

1

Lemon

Parsley for garnish
Instructions
Pre heat the oven to 350. Cut the spaghetti squash in half and scrape out the seeds. Drizzle both halves with olive oil, sprinkle ½ teaspoon salt over each half, then sprinkle with pepper.

Bake for 45 minutes. Remove and while cooling, prepare the sauce.

Over medium high heat add the olive oil and onion in a sauce pan. Cook 3-5 minutes.

Toss in garlic and stir.

Put wedges of Laughing Cow and almond milk into the pan and whisk until smooth. Be patient! The Laughing Cow doesn't want to melt very easily. Cook about 5-7 minutes.

Season with 1 teaspoon salt and ½ teaspoon black pepper. Stir in 2 chopped roasted red peppers and juice of ½ of your lemon.

Turn off the heat and prepare your shrimp.

In a bowl season shrimp with 1 teaspoon salt, ½ teaspoon pepper, 1 teaspoon garlic powder, and juice of the other ½ of the lemon. Heat a skillet over medium high heat with olive oil until hot. Add shrimp and cook 1 minute and 30 seconds on one side until it's pink. Turn off the heat and flip shrimp.

Leave the shrimp until cooked through. Another 2 minutes or so.

In a large bowl, scrape out the spaghetti squash and mix with the sauce and shrimp.

Sprinkle parsley over it and enjoy!
Nutrition
Serving:
1
g
|
Calories:
344
kcal
|
Carbohydrates:
29
g
|
Protein:
19
g
|
Fat:
19
g
|
Saturated Fat:
8
g
|
Polyunsaturated Fat:
9
g
|
Cholesterol:
91
mg
|
Sodium:
2258
mg
|
Fiber:
6
g
|
Sugar:
12
g