If you thought salads were destined to be boring, you've clearly never tried my copycat recipe for Wendy's Jalapeño Popper Salad. Crispy breaded chicken, crunchy lettuce, juicy tomatoes, salty bacon, pickled peppers, spicy cheese, and a creamy jalapeño ranch dressing combine forces to create pure Tex-Mex magic. Best of all, the whole thing takes just 15 minutes to throw together. You just won your weeknight. Congratulations!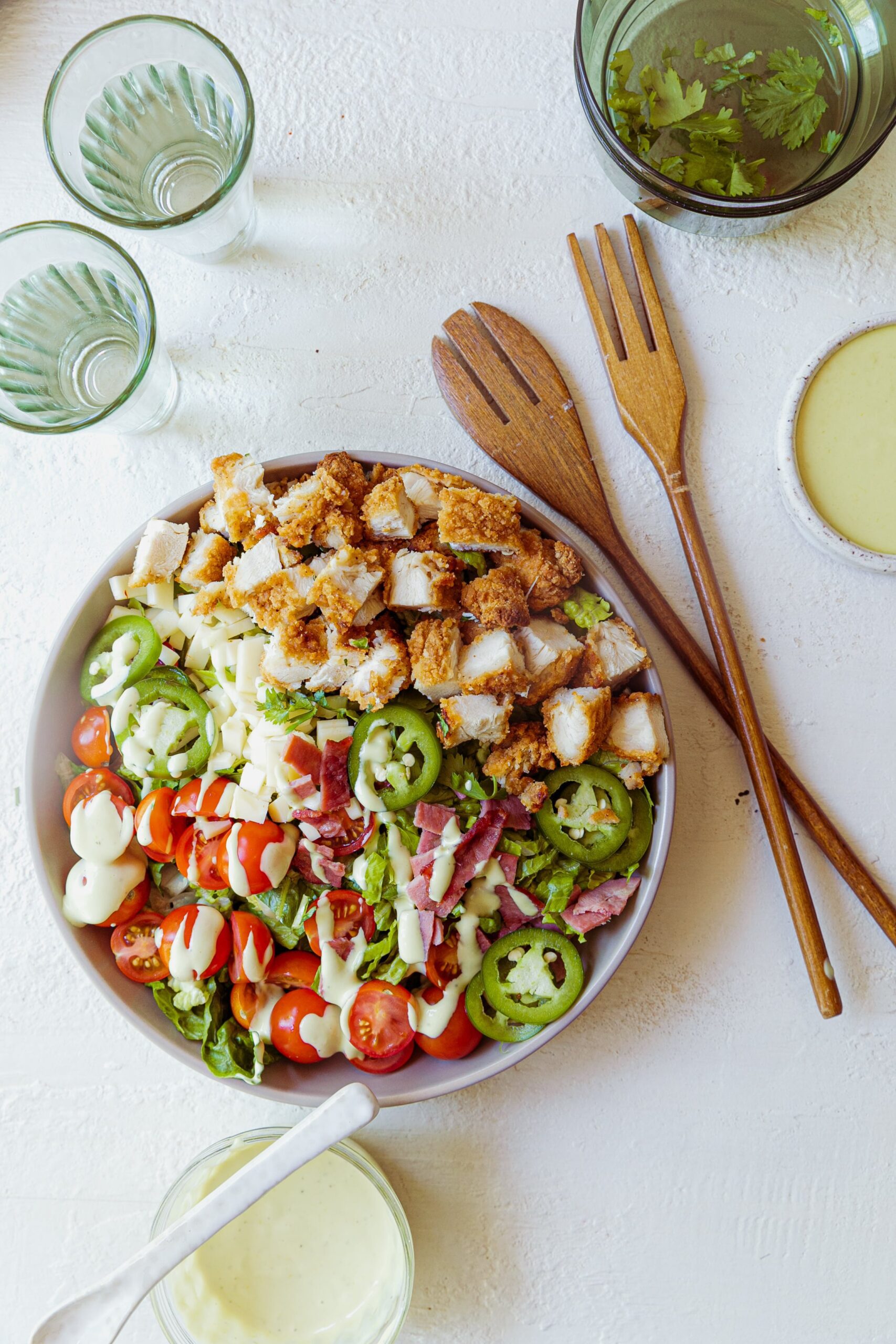 Why This Meal Is The Best
I'm a sucker for a good entrée salad, especially when it's uncomfortably hot out. All I want are the crispy cold things! This delicious copycat recipe for the Jalapeño Popper Salad from Wendy's combines crunchy veggies and crispy chicken with Tex-Mex flavors for a delightfully fresh and filling meal. As if that weren't enough to love, this recipe is also:
Budget-Friendly. I can feed my whole family for the cost of just one takeout salad from Wendy's using this tasty copycat recipe. That's some pretty hefty savings if you ask me!
Wholesome & Nutritious. Lean protein and fresh veggies form the basis of this jalapeño popper chicken salad, so I can feel good about feeding it to my loved ones.
Quick & Easy. I use some excellent store-bought hacks (e.g. frozen breaded chicken breasts and store-bought dressing) to get this dinner on the table in just 15 minutes flat!
Jalapeño Popper Salad Ingredients
Despite packing some serious flavor, this simple jalapeño popper salad recipe requires fewer than 10 ingredients to get on the table. Here's your shopping list:
Romaine Lettuce - While I love me some mixed greens or arugula, there's something super refreshing about the crunch factor that romaine brings to the table. 
Cherry Tomatoes - Cherry tomatoes are the only tomatoes I'll eat outside of summer. However, feel free to use cubed garden-fresh tomatoes if you have them!
Bacon - Cook your own bacon and chop it into pieces, or swap in bacon bits.
Pepperjack Cheese - Despite having chili peppers in the mix, the creaminess of the dairy keeps this from being too spicy. Feel free to swap in cheddar or plain jack cheese if you prefer.
Pickled Jalapeños - Tangy, spicy, and downright addictive, pickled jalapeños are a staple in my kitchen. PRO TIP: Don't toss the liquid they come packed in! That flavorful brine can be used to doctor up your regular ranch into something a little zestier or used to marinate meat.
Cilantro - When it comes to cilantro, you either love it or hate it. I firmly fall in the Love camp. If you're not similarly inclined, feel free to swap in a different fresh herb like parsley, or omit it altogether.
Chicken Breasts - For simplicity's sake, I used frozen breaded chicken breasts and they worked great. You can also feel free to use any type of breaded or grilled chicken that you prefer. 
Jalapeño Ranch Dressing - Feel free to buy it pre-bottled at the store or use your dry ranch spice mix to make it at home. You can also use plain ranch if you prefer!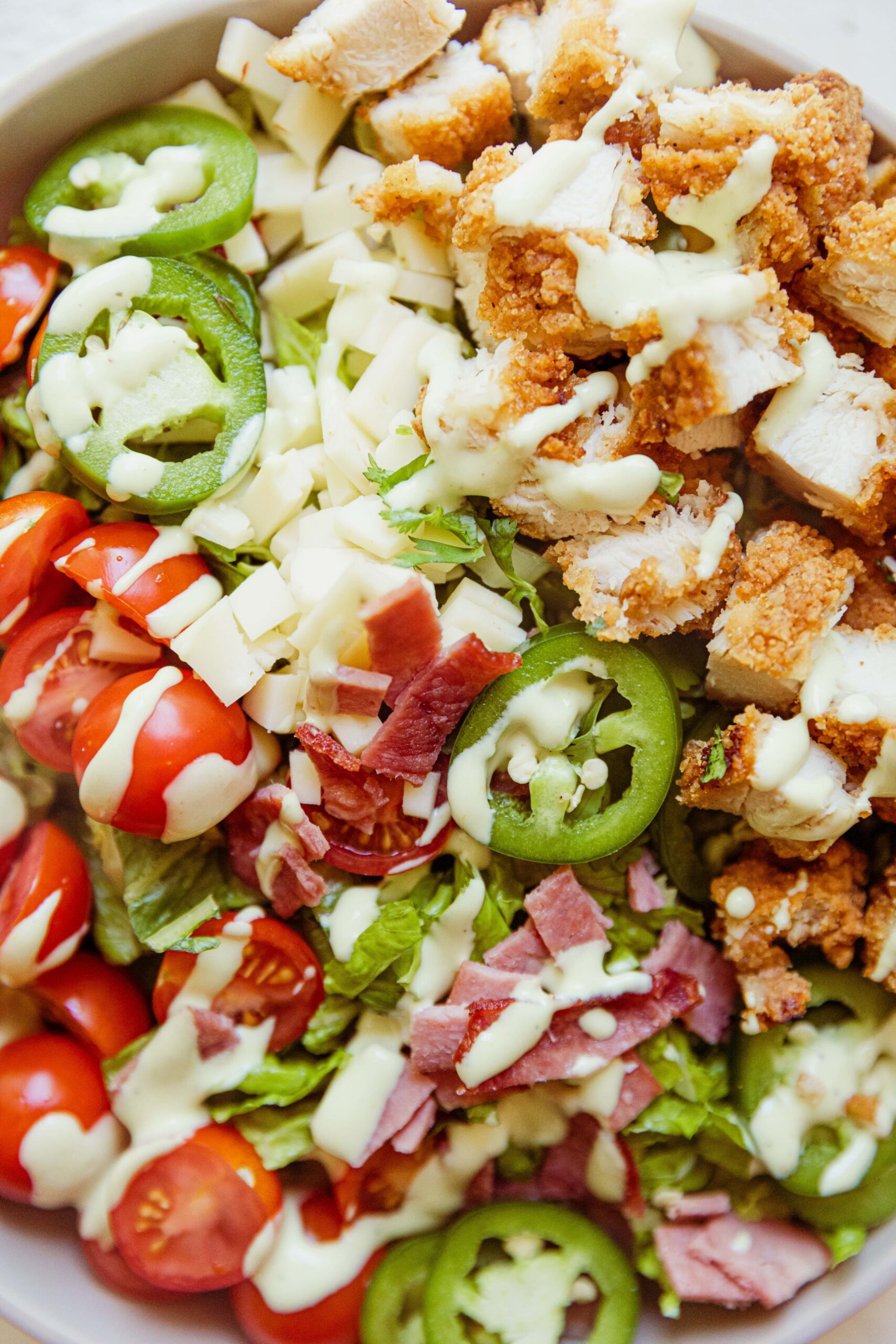 Tools Needed
Perhaps the best part about this jalapeño popper chicken salad is how little you need to pull it together. Here's what you need to grab:
Large Salad Bowl - As someone who adores salad, the best piece of advice I can give you is to use a larger bowl than you think you'll need. To properly toss a salad, you need space!
Long Kitchen Spoons or Tongs - So long as your utensils are long enough to get to the bottom of the salad, you're good to go.
Sharp Chef's Knife - It might sound counterintuitive, but a sharp knife is actually safer than a dull one. Make sure your knives are extra sharp to cut through delicate tomato skin, or use a serrated knife to make life easier.
Cutting Board - Either plastic or wood works well for a cutting board. Just do yourself a favor and skip the glass — it's very unpleasant to chop on a glass surface!
How To Make Wendy's Copycat Jalapeño Popper Salad
You know I'm no slouch in the kitchen and I'll happily take on big, lengthy cooking projects with excitement… SOMETIMES. That said, there's definitely a time and a place for quick and easy recipes to keep in your back pocket for when life gets hectic. This copycat Wendy's chicken salad is one of those recipes. Here's how it's made:
Step 1: Cook Chicken. Begin by cooking the chicken according to the package directions.
→ PRO TIP: You can cook frozen chicken in the air fryer to make this a super speedy meal!
Step 2: Toss. While the chicken cooks, assemble the salad by combining all ingredients together and tossing well.
Step 3: Plate. Divvy up your salad into individual serving bowls (or place on a large serving platter). Top with slightly cooled chicken that you've diced into ½-inch cubes. Enjoy!
Swaps & Variations
I love making this Wendy's-style jalapeño popper salad just the way it's written, but there's always plenty of room for customizing a recipe to fit your needs. Here are some of my favorite variations:
Swap in iceberg lettuce or green cabbage. Can't find romaine? No worries! Chopped iceberg lettuce or cabbage will give you plenty of crunchiness.
Make it vegan. Use breaded vegan bacon bits and chick'n patties (like Morningstar Farms) in place of the chicken and swap in a vegan salad dressing. Primal Kitchen makes a vegan ranch that you can doctor up, or make your own. Feel free to use a vegan cheese substitute, or add in cubed avocado for some creaminess instead.
Make it gluten-free. Use grilled chicken breasts in place of breaded.
Add some crunch. Use up the busted bits and pieces of tortilla chips at the bottom of the bag as a way to add a little salty crunch to this Tex-Mex-inspired salad.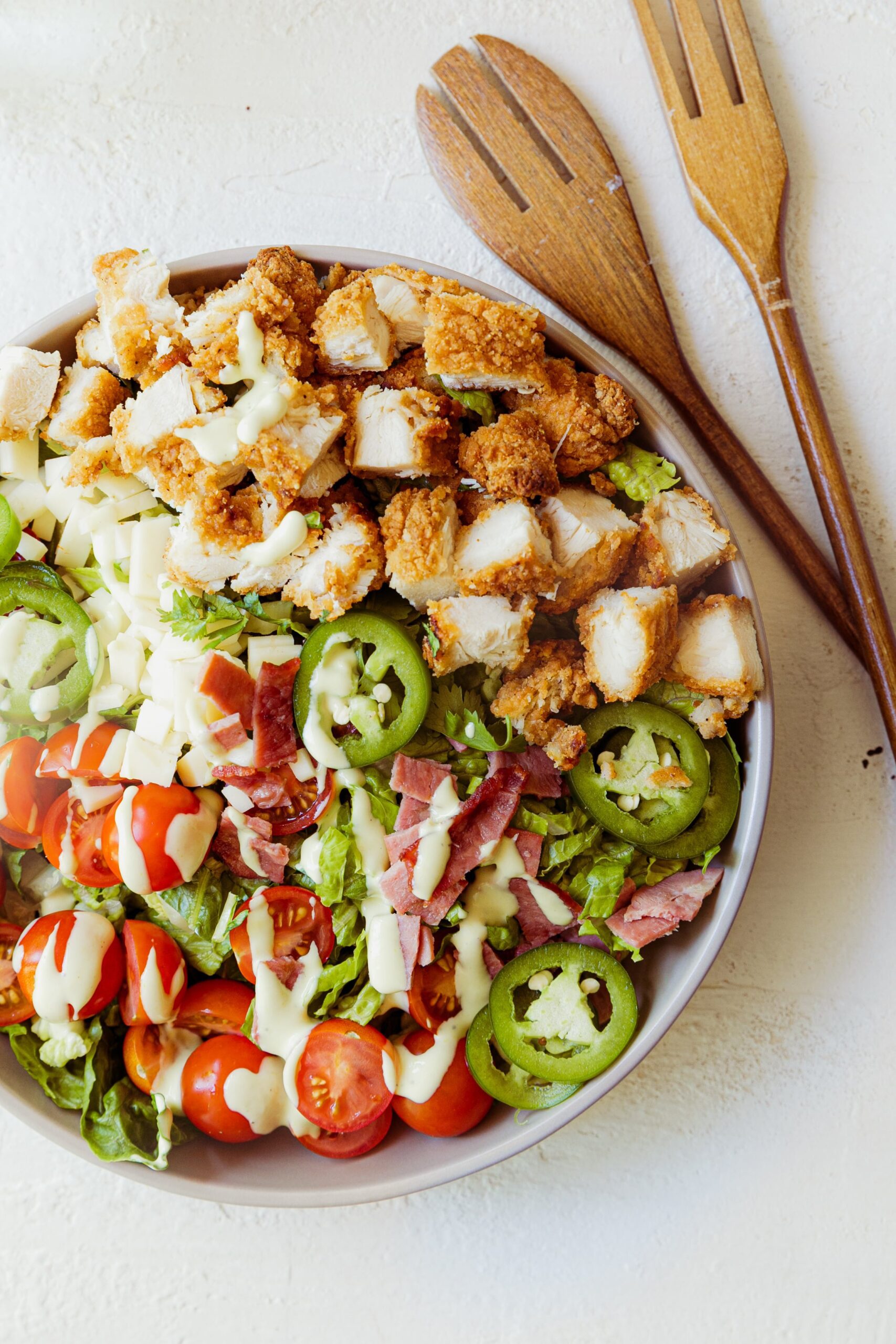 FAQs & Tips
Quickly halve a bunch of cherry tomatoes using two delitainer lids. Rather than cutting each tomato individually, you can do a whole bunch at once using this easy method.
Dress the bowl first. It might sound weird, but the easiest way to ensure your salad gets perfectly dressed is by adding some dressing to the bottom and sides of the bowl before you add in the rest of the ingredients. Don't knock it til you try it!
Shredded cheese is a time-saver. As far as this salad is concerned, speed is the name of the game. Give yourself an even lighter dinner load by opting for pre-shredded cheese.
What is the best way to pack this jalapeño popper salad for lunch? Packing salads to eat for later is all about how you layer them. Start by adding dressing to your container, then top that with the cherry tomatoes, pickled jalapeños, cheese, bacon, cilantro and chopped chicken. The last (read: top) layer should be the lettuce.
The basic idea is to keep the lettuce from coming into contact with anything that will make it wilt (e.g. the dressing or the liquid from the tomatoes or jalapeños). When you're ready to eat, shake the container and pour it out into a fresh bowl to make sure you get all the good stuff!
Where can I find jalapeño ranch dressing? From what I can tell, several brands make a bottled jalapeño ranch that you can buy pre-made. Otherwise, make your own! There are lots of recipes out there. You can also just doctor up your regular ranch dressing by adding fresh or pickled jalapeño, some cilantro, and a squeeze of lime, and blitzing it in the blender.
Can I serve this salad cold? Absolutely! That said, I suggest reaching for grilled chicken breast over breaded if you do. I find that breaded anything tends to get soggy in the fridge.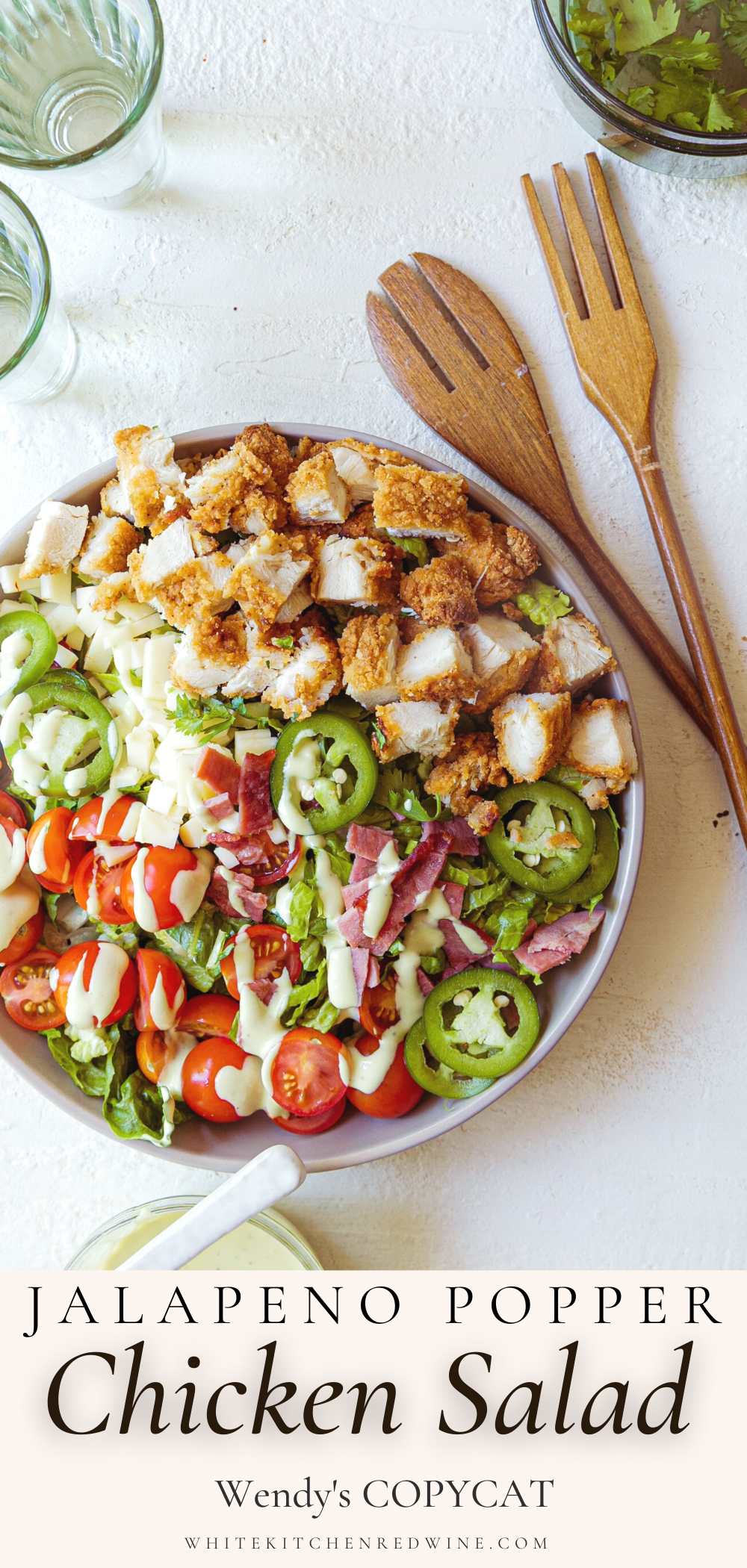 Serving Suggestions
As far as I'm concerned, this tasty Tex-Mex salad requires exactly zero accompaniments. It's a perfectly complete meal! That said, I do have a few serving suggestions for you:
If you're serving this at a party as part of a larger spread, I suggest leaving the salad undressed. Pour the jalapeño ranch dressing into a separate bowl that you nestle inside of a larger bowl filled with ice, then let your guests help themselves!
Tex-Mex foods generally pair beautifully with margaritas, sangrias, and spiked Arnold Palmers. Crisp Mexican beers are also highly recommended.
More Tasty Tex-Mex Recipes
If you tried this recipe for my Copycat Wendy's Jalapeño Popper Salad, please be sure to rate and review it below!
📖 Recipe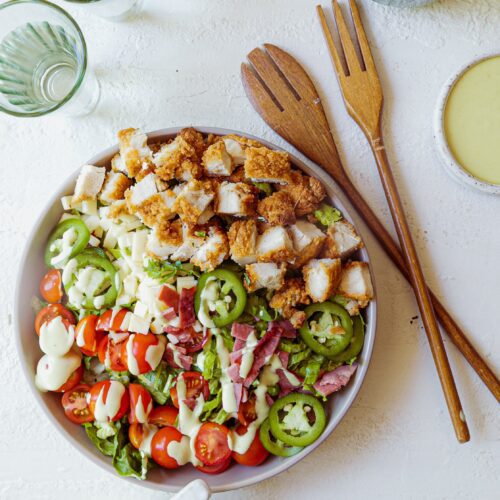 Jalapeno Popper Chicken Salad (Wendy's Copycat!)
A delicious and hearty salad with chicken and all the best flavors of a jalapeno popper! It's a copycat for Wendy's Jalapeno Popper Chicken Salad and the best part is you can make this right at home!
Print
Pin
Rate
Ingredients
4

cups

chopped romaine lettuce

1

pint

cherry tomatoes

halved

8

slices

of cooked bacon

chopped

1

cup

shredded pepperjack cheese

¼

cup

pickled jalapenos

¼

cup

cilantro

2-3

chicken breasts

frozen breaded chicken breasts worked great, feel free to use any type of breaded or grilled chicken!

¼

cup

jalapeno ranch dressing
Instructions
Begin by cooking the chicken according to the directions on the package.

While that bakes, assemble the salad combining all ingredients together and toss well.

Top with slightly cooled chicken, diced into ½ inch cubes. Enjoy!