Grilled Halloumi Salads are a fantastic low-carb, vegetarian, and absolutely beautiful meal! Pan grilled Halloumi sends it over the top with richness and sacrifices no flavor.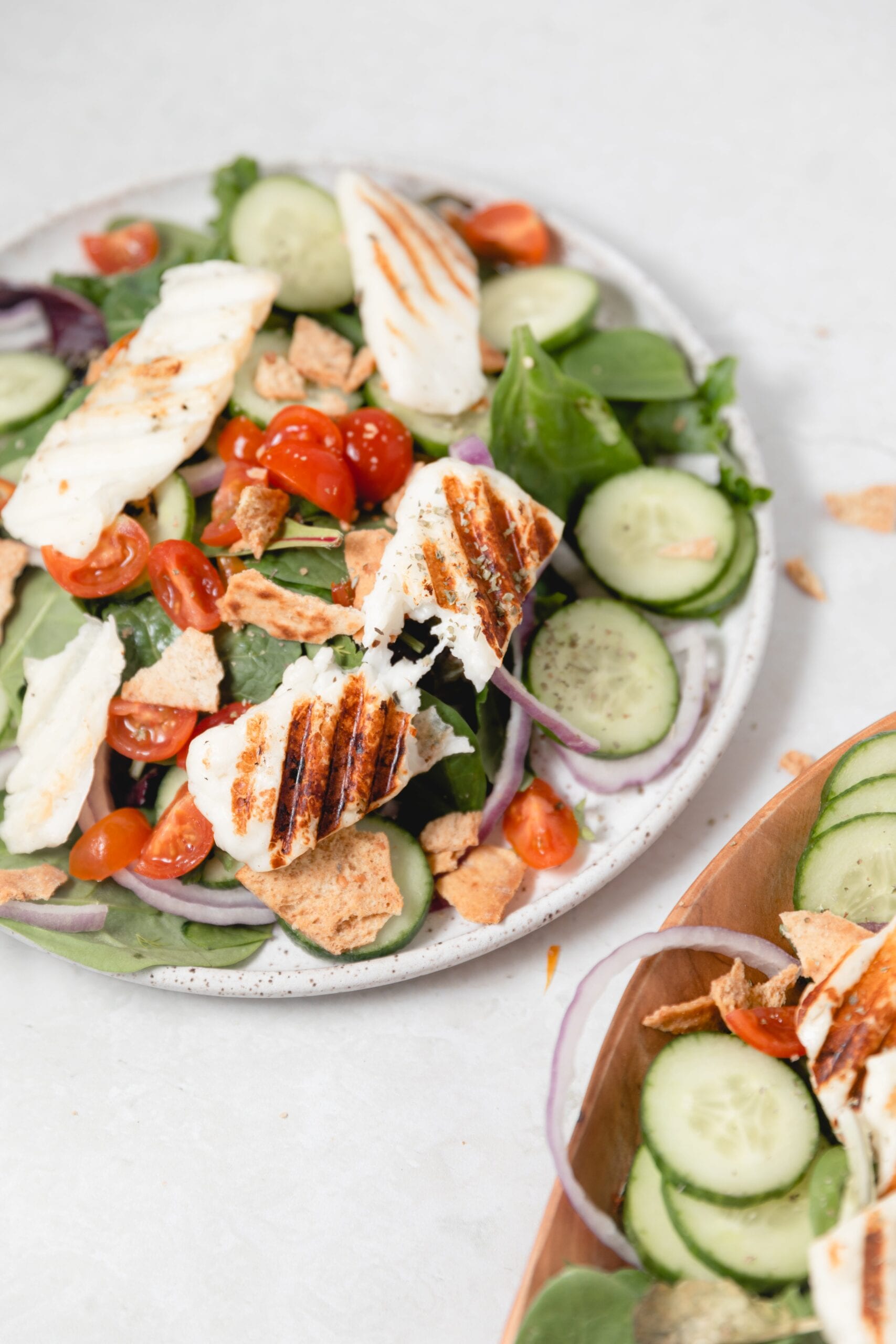 Pan Grilled Halloumi Salad
The most important part of this salad is obviously the Halloumi cheese! Preparing it by grilling or pan searing adds a layer of depth that you will love.
Here's what you need to make it...
8 oz Halloumi cheese
Mixed greens
Cucumber
Red onion
Pita chips 
1 tablespoon dry mint
2 cloves minced garlic
3 tablespoon lemon juice
4 tablespoon olive oil
1 teaspoon pepper
1 teaspoon salt
1 tablespoon sumac
1 cup pita chips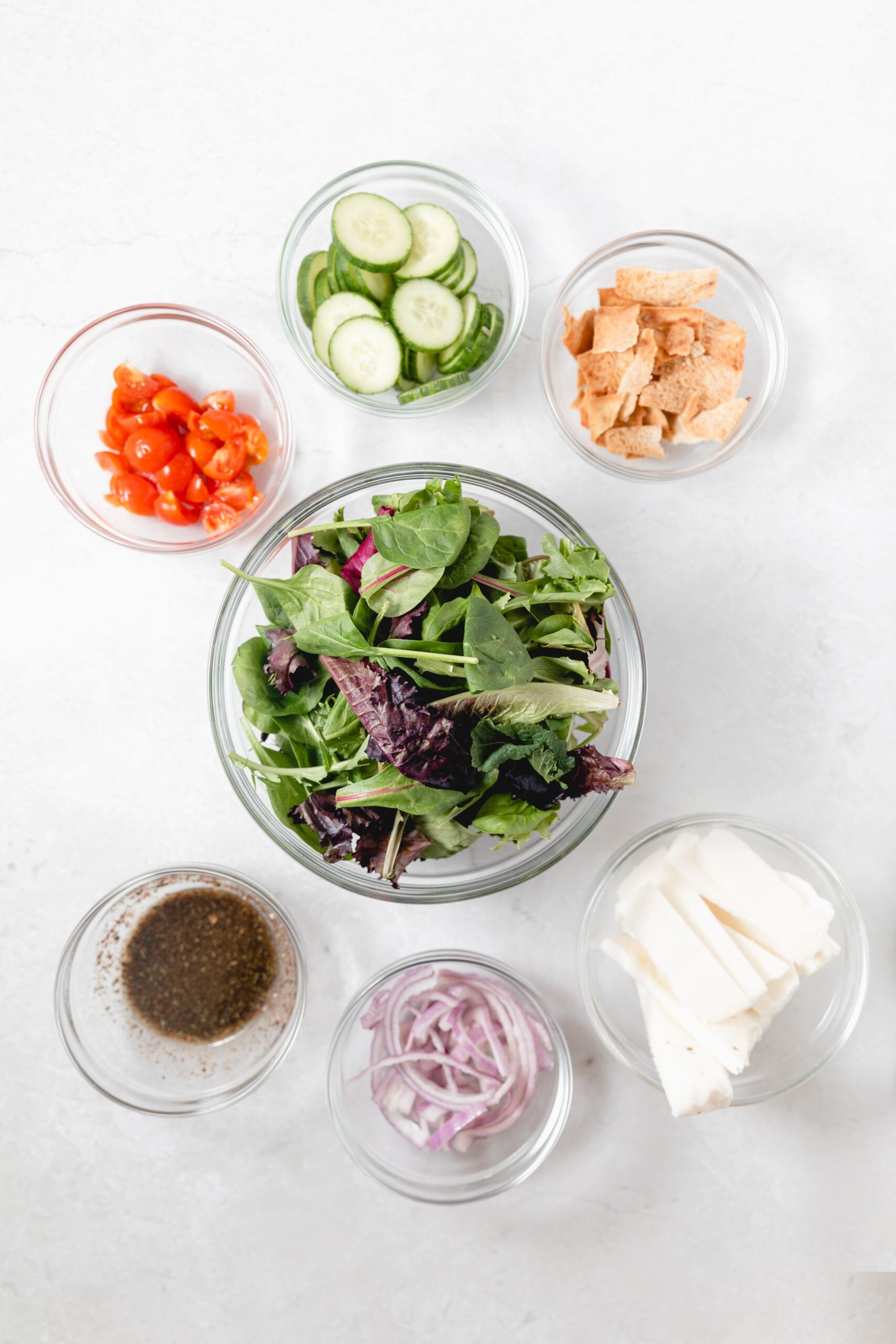 How To Cook Halloumi Cheese?
This simple method of preparing delicious, crispy cheese is the key to making this dish over the top. With a high melting point, it is the perfect choice to grill or fry.
It gets crispy on the outside while maintaining a delicious creaminess on the inside. There are 4 ways I like to "grill" Halloumi cheese!
Grill or grill pan. This can be done on the stove or the actual grill but I find a stovetop grill pan to work the best. It gives a beautiful result!
Panini Pressed Cheese. This is the same idea as a grill with a lot less mess!
Pan-seared Halloumi cheese. Simply use a nonstick skillet with a little oil to sear each side. You won't get grill marks but it'll be just as tasty!
Air Fried Halloumi. This method uses no oil and is SO easy to just pop that cheese in and fry it.
I would recommend serving this right after grilling or frying to ensure the best crispy texture on the outside.
The Best Toppings For This Salad
I love paring anything cold and crunchy with the salad! The cheese is very savory and rich. Pair it with ingredients like...
Cucumber
Red Onion
Chickpeas
Cherry Tomato
Pita Chips
Sliced Chicken or Salmon
For the dressing on my Grilled Halloumi Salads, I like to use the same dressing as my Lebanese Fattoush. It's got something totally unique about it and I love how tangy it is!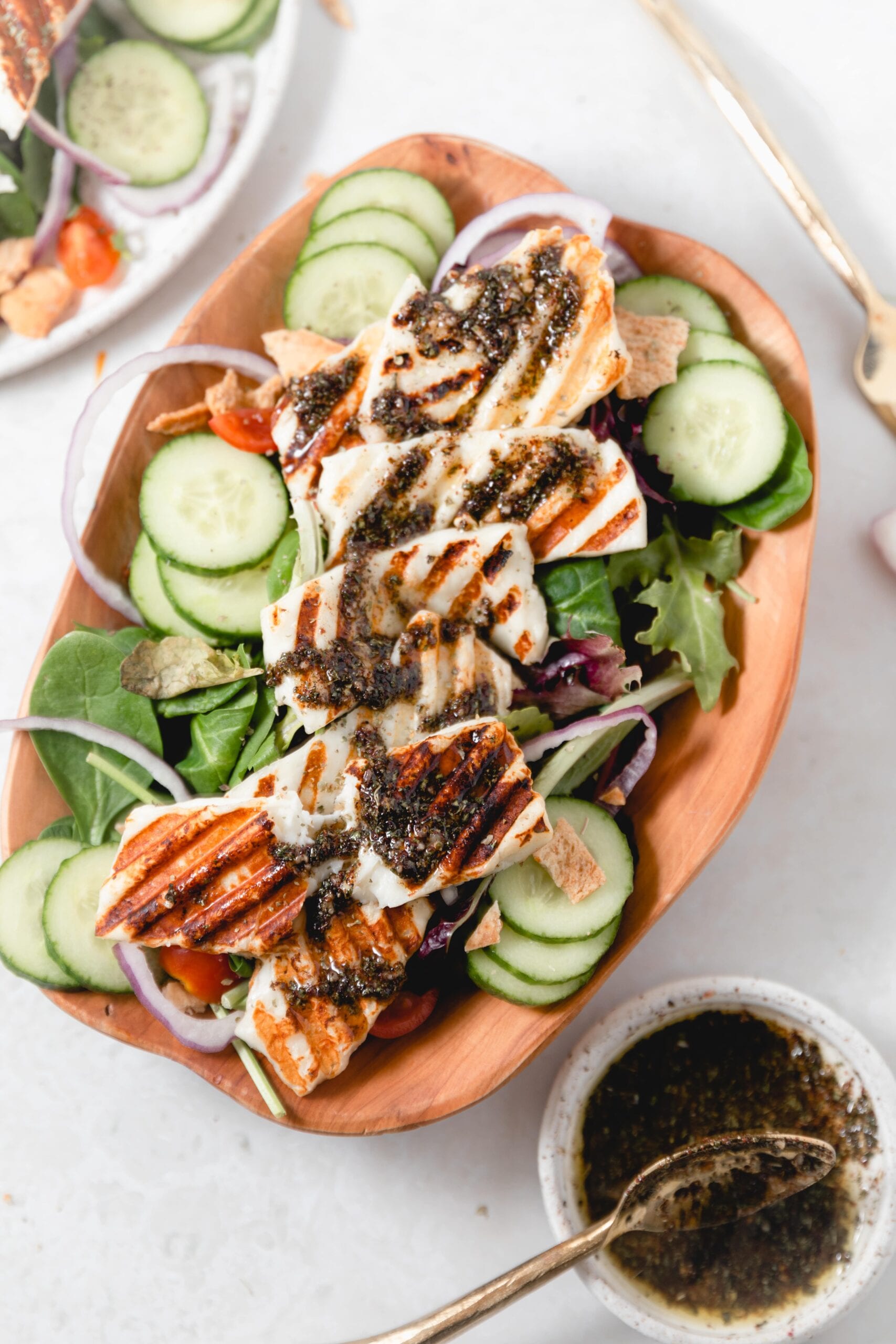 Is Halloumi Cheese Hard To Find?
So Halloumi cheese is a Middle Eastern cheese origninating in Cypruss. It has a texture to it a lot like cheese curds, where you can hear it "squeak" on your teeth!
It can be a little tricky to find but my local Kroger, Sprouts, and our Middle Eastern Market in town carry it.
Can You Add Protein?
YES! While this salad is rich on it's own from the cheese, adding protein will make this a full meal for 2 people.
I would recommend any sort of grilled chicken, such as my Basil Balsamic Chicken!
Fish like shrimp or salmon would be a great addition to!
You could even prepare some Pan Seared Flank Steak to serve with it. The possibilities are endless.
More Halloumi Recipes
If you enjoyed this unique, refreshing, and delicious Grilled Haloumi Salad recipe you might want to try these as well! There are so many uses for this Middle Eastern cheese.
Frequently Asked Questions
What do you eat Halloumi with?
Salads are a great option because they balance out the saltiness. Melted on sandwiches or toast as well as on crackers!
Can you eat it raw?
Yes, you can cook this or eat it right out of the package, "raw."
How To Store Halloumi Salad?
While this is best eaten right away, I would wait until you are ready to eat to add the dressing. That way if you need to put it in a Tupperware for leftovers the salad won't get soggy!
Store in an airtight Tupperware in the fridge for 1-2 days!
📖 Recipe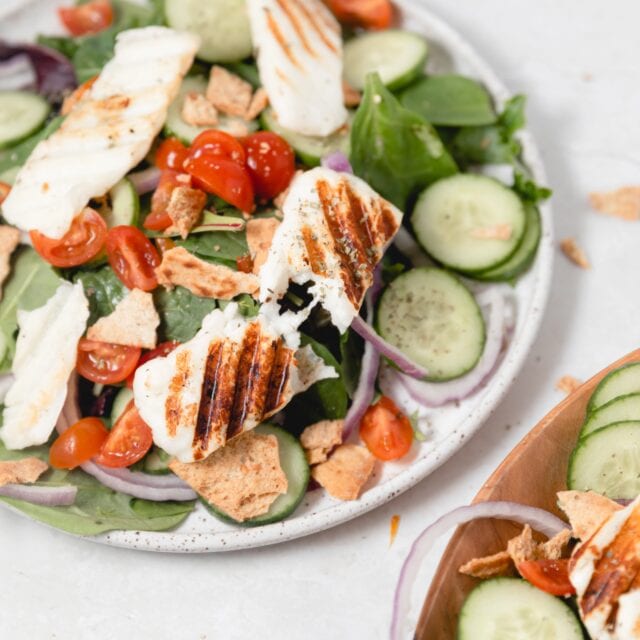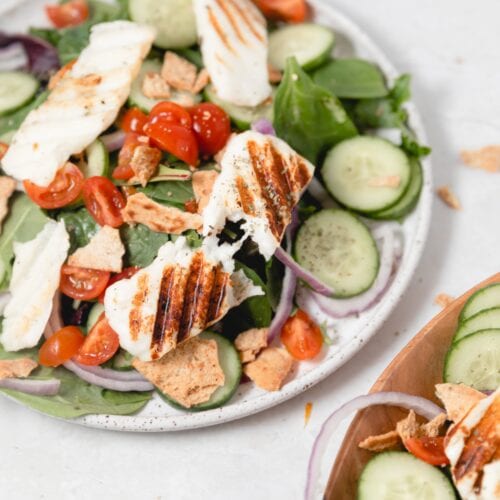 Grilled Halloumi Salad
Delicious grilled halloumi cheese on top of a Mediterranean salad. Its crunchy, cool, savory and makes the perfect 30 minute vegetarian meal!
Print
Pin
Rate
Equipment
Grill pan, grill, or panini press
Ingredients
Salad
8

oz

Halloumi cheese

5

cups

mixed greens

½

English Cucumber

sliced

¼

a Red onion

sliced

½

pint

cherry tomatoes
Dressing
1

tablespoon

dry mint

2

cloves

minced garlic

3

tablespoon

lemon juice

4

tablespoon

olive oil

1

teaspoon

pepper

1

teaspoon

salt

1

tablespoon

sumac

1

cup

pita chips
Instructions
Slice the halloumi into 1x3 inch strips ( you could also do 1-inch chunks!)

Grill the halloumi cheese using whichever method you choose! Grill on a grill, grill pan, or panini press. Grill for 2 minutes on each side or 2 minutes total on the panini press.

Assemble the salad by tossing the mixed greens, cucumber, red onion, tomato, and top with the grilled halloumi cheese.

In a small mixing bowl combine mint, garlic, olive oil, pepper, salt, sumac, and lemon juice.

Whisk to create the dressing.

Top the salad with the dressing right before serving and finish with crushed pita chips.