One of my favorite go-to fancy restaurants has a steak salad with fried goat cheese on it. One of the best salads ever, I knew I needed my own at-home version. This easy Pan Seared Flank Steak Salad is a quick, weeknight meal!
A steak salad is the best of both worlds because you can enjoy the rich steak but have it in moderation! By combining it with delicious salad greens and loads of veggies, it brightens up the whole meal.
This blog contains affiliate links that I may make a small commission off of.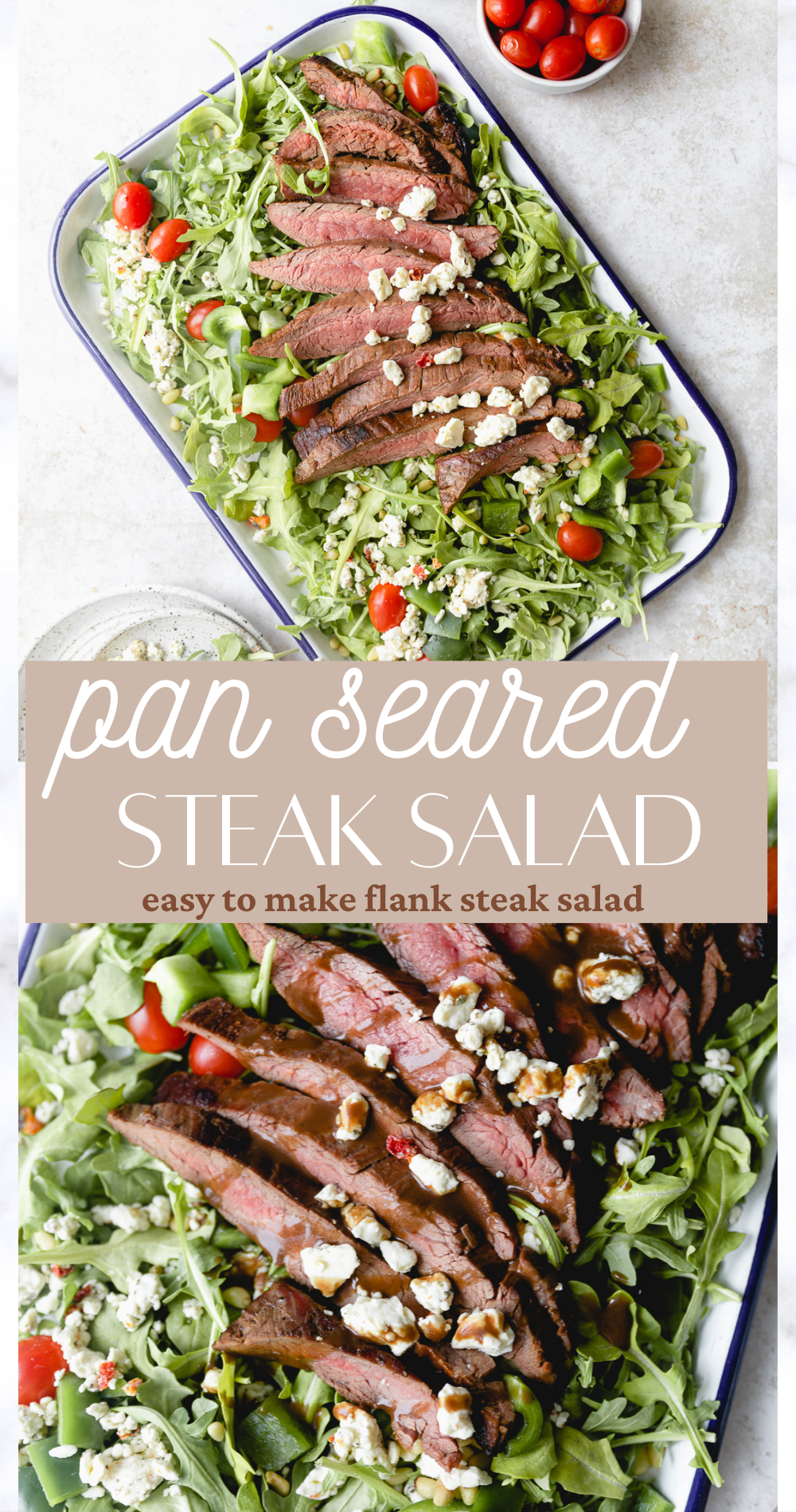 Cooking The Perfect Flank Steak
The best advice for cooking the perfect flank steak has to be having a good meat thermometer!
You can time it, you can eye-ball it, but you'll never know if your steak is cooked to your liking unless you have a meat thermometer.
I like my steak medium rare but you'll want to follow these temperatures to cook the steak to your liking!
Medium Rare 130-135 °F
Medium 135-145 °F
Well 145-155 °F
Well Done 155-165 °F
The Right Way To Slice
When cutting meat, especially a piece like flank steak, you want to make sure you are cutting it the proper way. If you look at the meat after it's cooked, you can see the grain, or lines, in the steak.
You want to cut the opposite way of the grain. This will help to make each slice super tender and easy to chew.
Especially with flank steak, you can make it really chewy. Have you ever been eating fajitas and had a super chewy piece of steak and it instantly ruins it? Don't do that to this pan seared steak salad!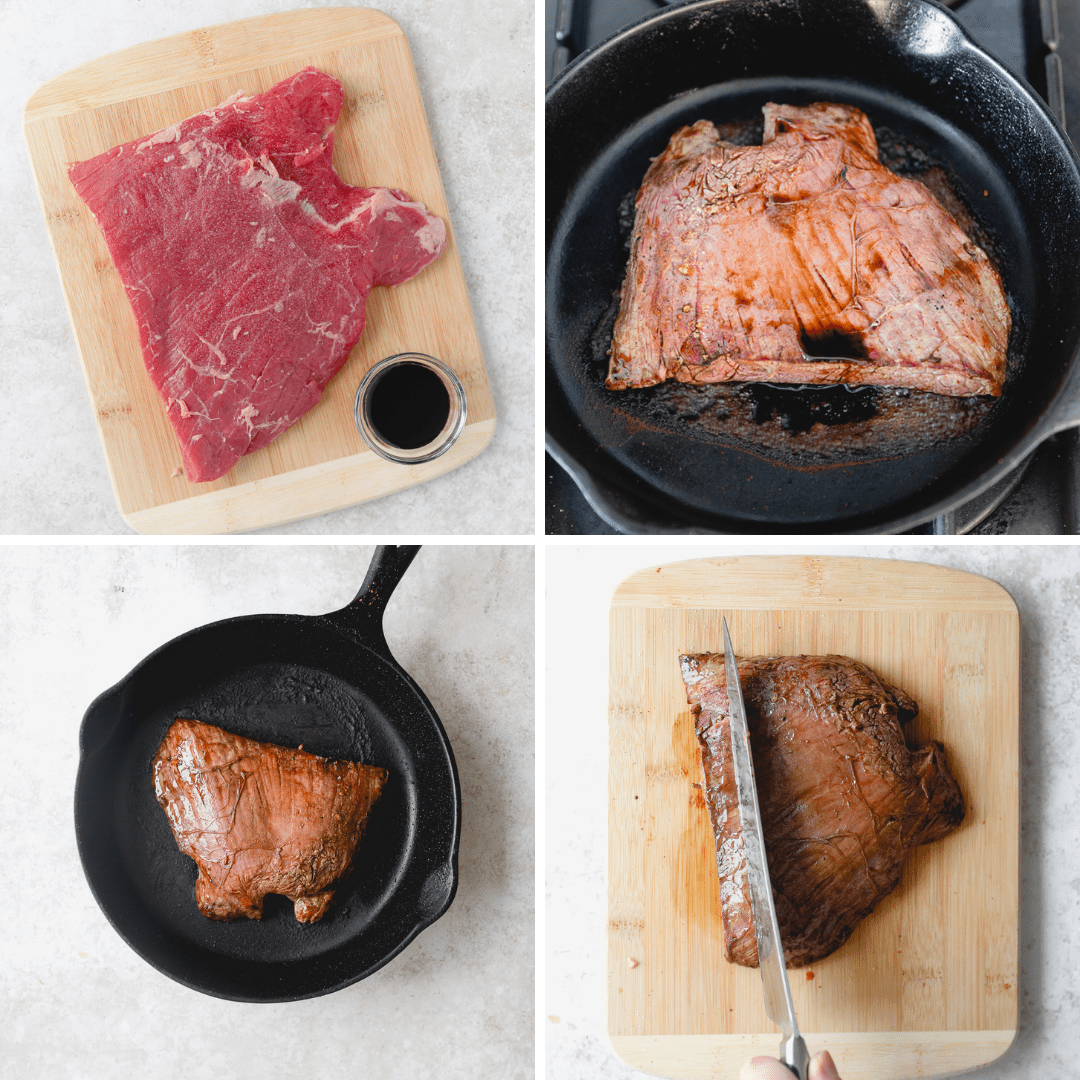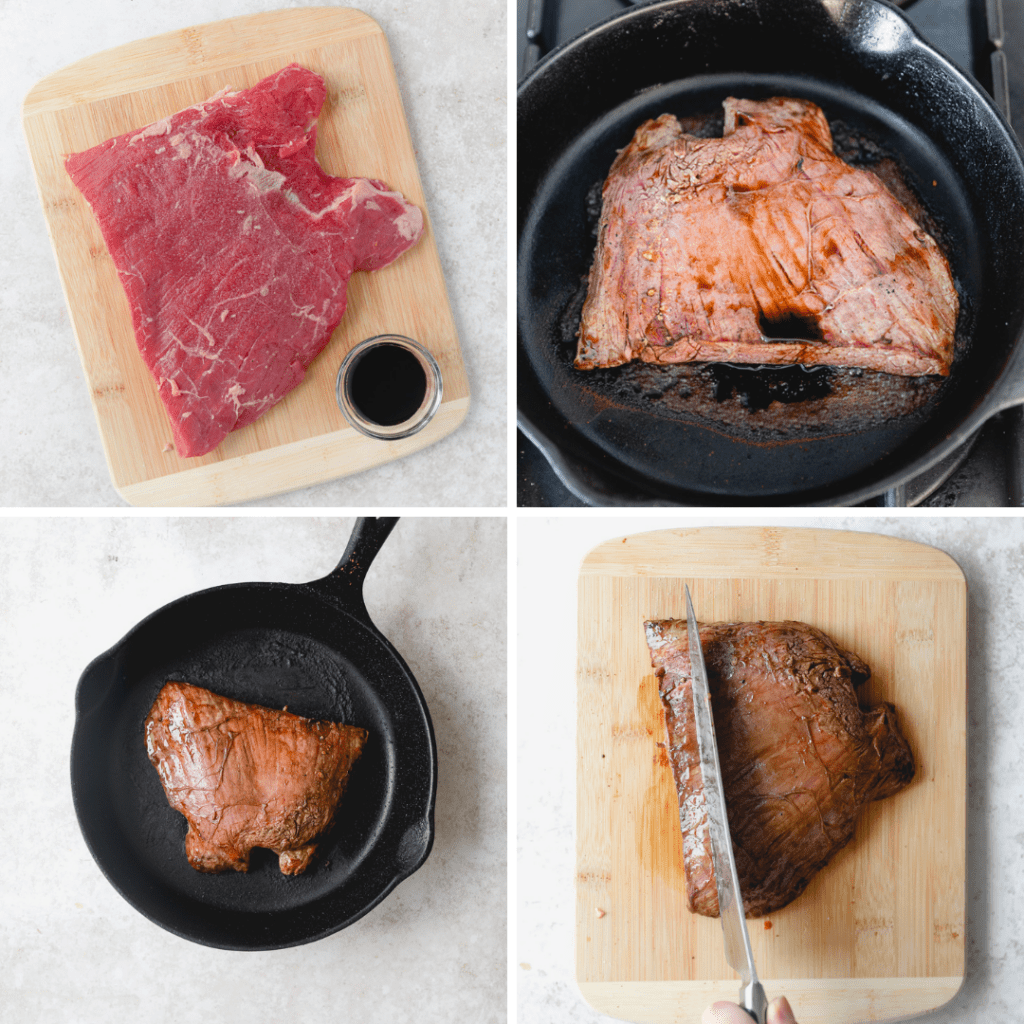 Perfect Seasonings
Flank steak takes on Mexican flavors really well! I love cumin, garlic, and bright herbs with flank steak. Like my chimichurri!
I also love really deep flavored, savory seasonings for this. Marinades with soy sauce, Worchestershire sauce, and even my Olive and Artichoke Tapenade.
For this salad, we are using Mediterranean flavors! Feta cheese, pine nuts, and balsamic will complement it very well.
Best Pan For Searing Flank Steak
I love to use a cast iron skillet for pan searing flank steak. My cast iron skillet actually came from my husband's grandma - they last forever!
Lodge makes a great cast iron skillet and you can order them right from Amazon! It comes pre-seasoned and ready to go.
Cast iron heats evenly and can ensure you get an even cook on the steak. If you don't have a cast iron, you can use a large non-stick skillet.
Salad Greens To Go With Steak
Steak is a very substantial protein to put on a salad and you want your salad greens to match up with that!
Arugula or kale are great options because they have flavors that can stand up to the steak and other toppings we'll add to the steak.
For our Pan Seared Flank Steak salad I chose use arugula!
Best Dressings For Steak Salad
Like I mentioned earlier, the flavors that go well with a steak are really savory, umami flavors.
Balsamic dressing is a great option because it's slightly sweet, savory, and goes with arugula and steak perfectly!
Other dressings that are creamy such as ranch and caesar dressings would be great as well!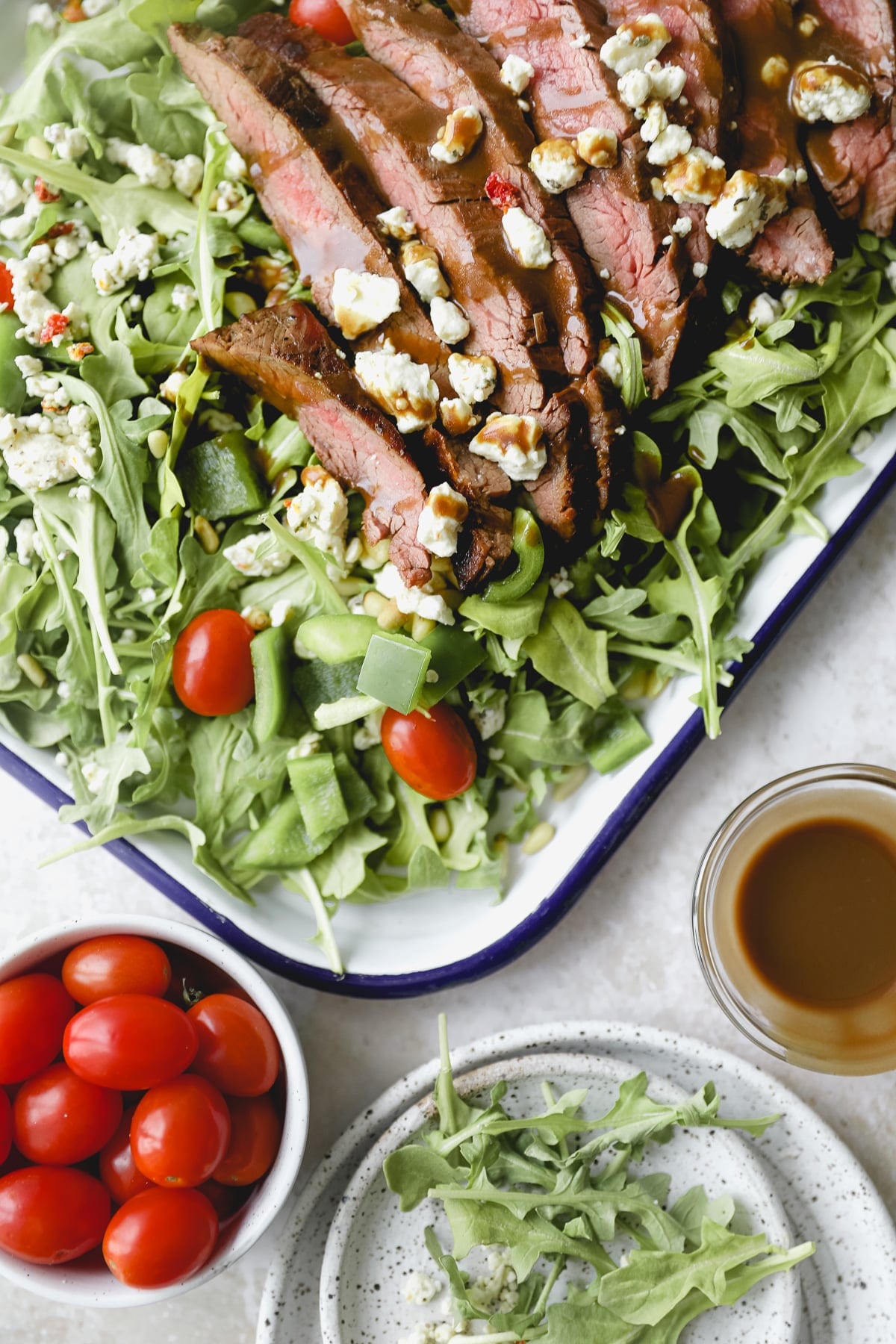 📖 Recipe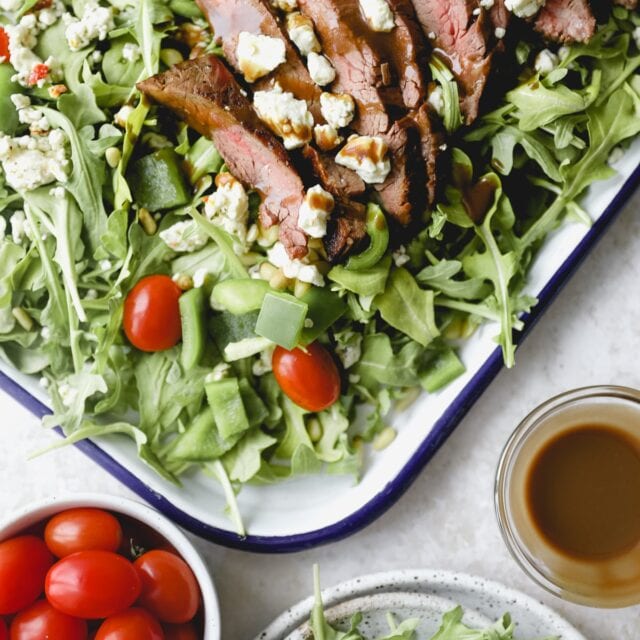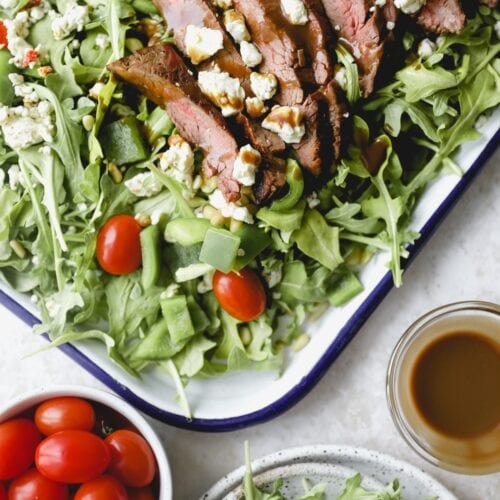 Pan-Seared Flank Steak Salad
Mediterranean flavors pair beautifully with this pan-seared flank steak. Enjoy all year long!
Print
Pin
Rate
Ingredients
2 -3

lbs

of flank steak

2

tablespoons

soy sauce

1

teaspoon

salt

½

teaspoon

pepper

4

cups

arugula

1

pint

cherry tomatoes

halved

1

green bell pepper diced

4

oz

feta cheese

¼

cup

pine nuts

4

tablespoons

balsamic salad dressing
Instructions
Cook The Steak

In a large cast-iron skillet heat over medium-high heat until the pan looks like it is smoking.

While that's heating, season the flank steak on both sides with salt and pepper.

Lay the steak in the pan and let it cook for 5-7 minutes.

Before you flip it to the other side, pour the soy sauce over the steak.

Flip the steak and continue cooking until it reaches your desired doneness. I like mine medium rare!

Use your meat thermometer to check the temperature, 135 for medium-rare up to 155 for well done.

Remove the steak and set it aside.

Make The Salad

In a large bowl combine the arugula, tomato, bell pepper, feta cheese, and dressing.

Toss To Combine.

Slice the steak (be sure to slice against the grain!) and lay on top of the salad.

Sprinkle with pine nuts

Enjoy!