If you're looking for a drink that's the perfect balance of sweet, sour, and spicy, keep reading! This lemon ginger cocktail is a perfect pick-me-up during the holiday season or a cold refresher in the middle of summer. It makes 4 servings, so it's ideal for happy hour or your next party!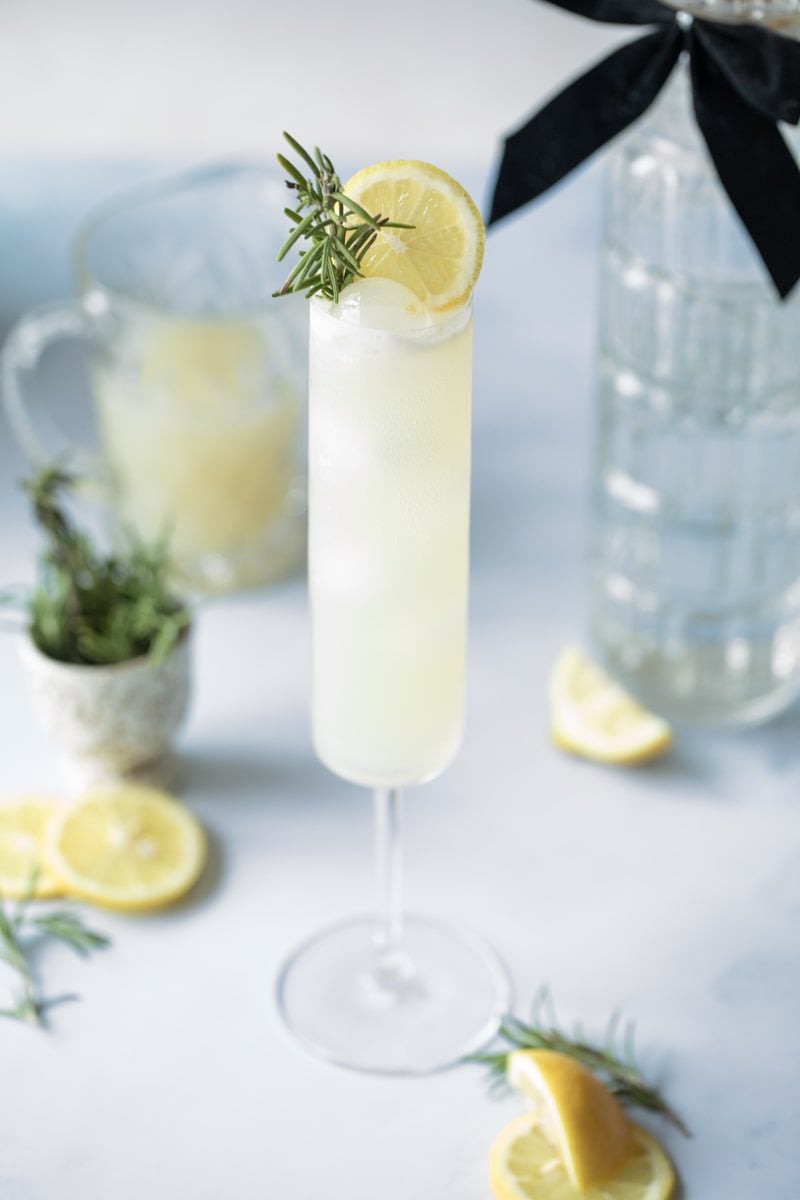 Why You'll Love This Ginger Beer & Lemon Cocktail
The classic combo of ginger and lemon needs no introduction.
Have you ever had that Starbucks medicine ball tea? It's an off-menu drink, but basically, it's the hottest cup of spicy ginger tea spiked with bright lemon and sweet honey.
It serves a similar purpose to the classic whiskey drink, the hot toddy (like my fireball hot toddy). It's a traditional drink used to warm you up and soothe your sore throat or the sniffles.
This ginger ale cocktail keeps those soothing flavors together, but serves them over ice and adds some refreshing aromatics to that tickle your nose.
It might not quite count as medicine, but it sure it s a great way to let go after a long day. Honestly, it's my new favorite vodka cocktail and I think you'll see why when you try it!
Ginger Beer vs Ginger Ale
I bet you're wondering whether you need ginger ale or ginger beer for this recipe and what the difference is anyway!
Ginger beer - Traditionally fermented (kind of like kombucha), ginger beer has a very strong ginger flavor and heat. It is usually not too sweet and is great for settling an upset stomach.
Ginger ale - Ginger ale is a ginger-flavored soda perfect for sipping or as a cocktail mixer. It is sweeter and has a milder flavor than ginger beer.
Which one is right for this recipe? Either!
If you're a fan of really bold, sharp flavors, a ginger beer will give this lemon ginger vodka cocktail a big bite and a warm heat that radiates on the way down.
Ginger ale will be more appropriate for people who like a sweeter, more mild ginger flavor, while still ensuring you have a light, fizzy cocktail.
How sweet is this lemon ginger beer cocktail?
You'll notice that the only added sweetness in this recipe comes from the ginger ale or ginger beer.
I love how bright and refreshing this cocktail is but if you're used to sugar-sweet drinks, you may want to opt for ginger ale as it is typically a little sweeter. You can always add a splash of simple syrup, too!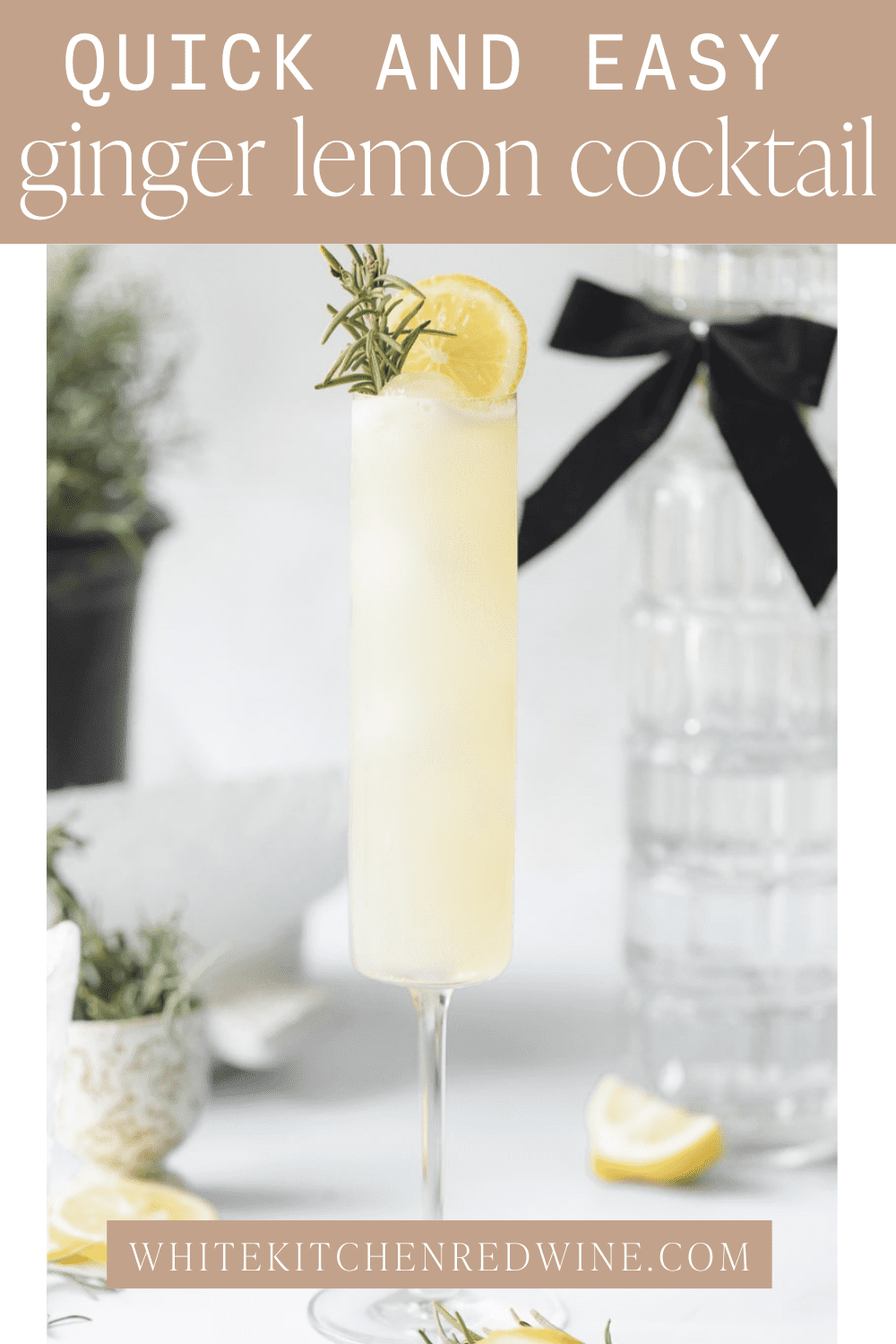 Ingredients for a Ginger Ale Cocktail
Fresh lemon juice - There's nothing as refreshing as lemon juice! With such a bright, clean flavor, it cuts through the heat of the ginger and adds a pleasant tanginess you'll love.
Vodka - This is the perfect neutral alcohol to let the flavors of lemon, ginger, and rosemary shine. Choose any unflavored vodka you love. You'll need a cup of vodka for this recipe (serves 4).
Ginger beer - Spicy with a crisp bite, fizzy ginger beer brings this whole drink together.
Fresh rosemary - Although these garnishes are optional, a sprig of fresh rosemary and a little lemon zest give this drink a little mystery. They add a savory, herbal note that pairs perfectly with the ginger and lemon.
Ice - Feel free to use regular ice cubes or make your own ice shards, if you're really fancy!
How to Make a Lemon Ginger Cocktail
In a pitcher or cocktail shaker, combine the vodka and lemon juice. Stir well.
Pour this mixture over ice in 4 glasses.
Top with ginger beer and garnish with rosemary sprig and lemon slice.
Substitutions
Although I love using vodka in this drink, feel free to swap out your favorite whiskey, bourbon, or gin. I'm telling you, lemon and ginger go with anything!
If you can't find ginger beer or ginger ale, you can try substituting ginger syrup and soda water or club soda.
Trying to consume less sugar? Feel free to substitute sugar-free ginger beer or ginger ale.
If you're out of fresh rosemary, try using fresh mint leaves.
Not trying to mix drinks for a crew? Scale down this recipe to a single serving.
1 oz lemon juice
2 oz vodka
3 oz ginger beer
Feel free to choose whichever glassware works for your crew whether that's a mason jar, martini glass, or cocktail glass!
Other Ginger Lemon Cocktails
You'll find this classic flavor duo in a wide variety of cocktail recipes! Here are some of my favorites:
Lemon Ginger Gimlet
This gimlet recipe from Love and Lemons adds a little sweetness and swaps out the vodka for gin.
The Penicillin Cocktail
Just like its namesake, the Penicillin cocktail is made to cure what ails you! It's loaded with refreshing ginger syrup, honey syrup, whiskey, and lemon juice. Delicious!
Lemon Ginger Martini
This take on the classic cocktail combines ginger root syrup, fresh lemon juice, vodka, and vermouth. This lemon ginger martini is sure to please the martini lovers in your crew!
Ginger Gold Rush
In this recipe from Garnish with Lemon, you combine bourbon, ginger liqueur, and fresh lemon juice for a cold drink to warm you up!
Lemon Ginger Prosecco Cocktail
Take the lemon-ginger flavor combo to the next level by combining both gin and prosecco in this prosecco cocktail recipe by The Fitchen!
Lemon Ginger Gin Fizz
Are you looking for a cocktail with fresh ginger? In this ginger lemon gin fizz from The Beader Chef, you muddle sliced ginger with fresh lemon first and then let them infuse with the gin before serving.
Pink Grapefruit Moscow Mule
If you're flexible on your citrus choices, my pink mule is both beautiful and delicious! The bitterness from the grapefruit pairs so well with the spiciness of ginger.
Serve Lemon Ginger Cocktails at your next party
Save this recipe for your next cocktail party or to serve alongside your favorite brunch recipes this weekend. It's packed with so much fresh flavor and comes together so quickly! Will you let me know what you think after you try it?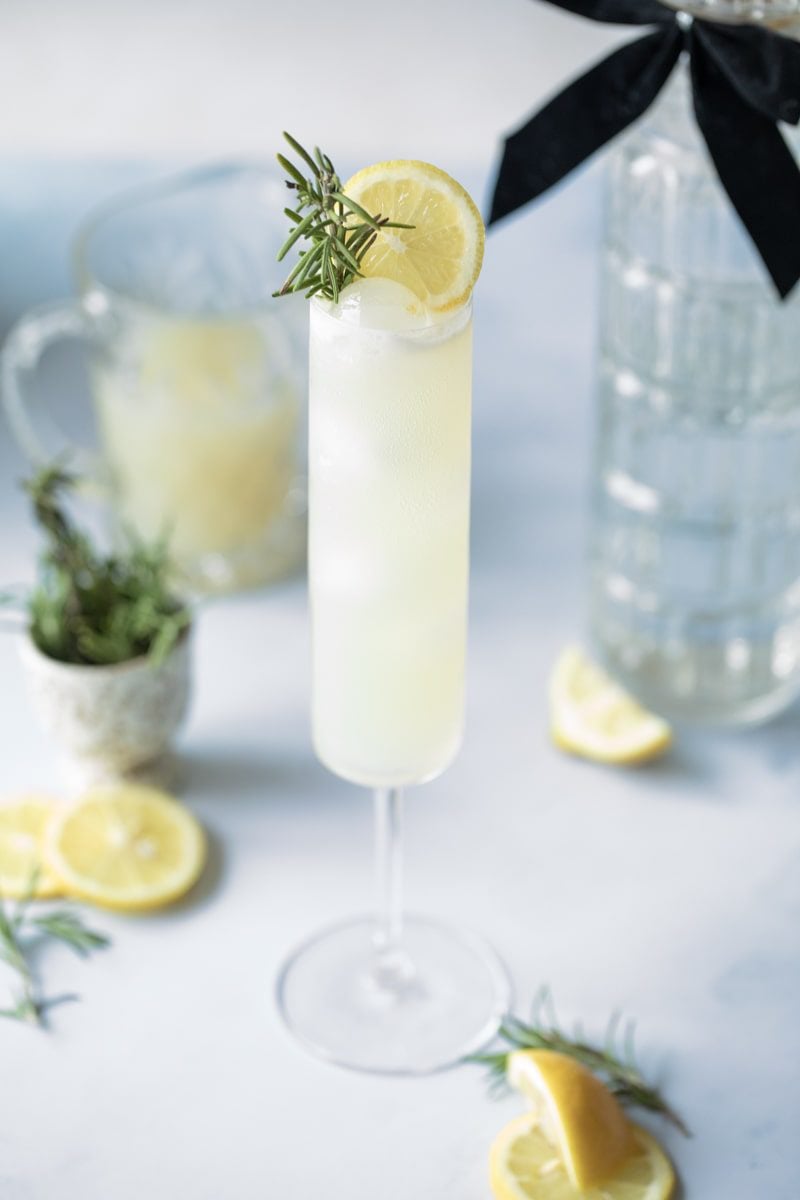 📖 Recipe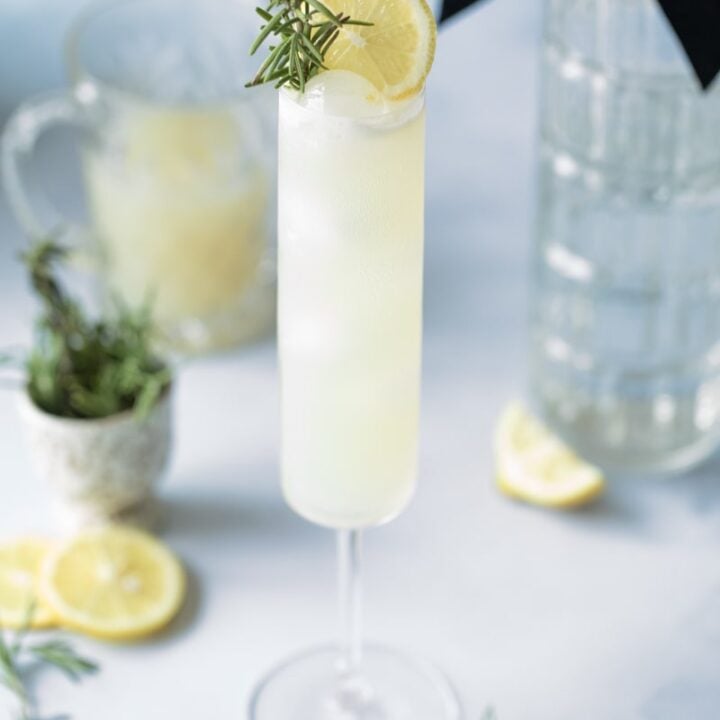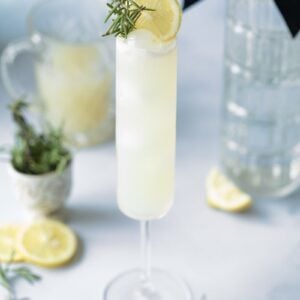 Lemon Ginger Cocktail
A refreshing and light ginger beer and lemon cocktail that is great of parties or at home happy hours!
Share by Text
Print
Pin
Rate
Ingredients
4

oz

lemon juice

8

oz

vodka

12

oz

ginger beer

or ginger ale

rosemary and lemon for garnish

ice
Instructions
In a pitcher or cocktail shaker, combine the vodka and lemon juice. Stir well.

Pour this mixture over ice in 4 glasses.

Top with ginger beer and garnish with rosemary sprig and lemon slice.