Are you looking for the perfect appetizer for your next party? This creamy pomegranate and herbed goat cheese dip is an easy appetizer your guests will love. It's made with simple ingredients, but tastes like you got it at a specialty market!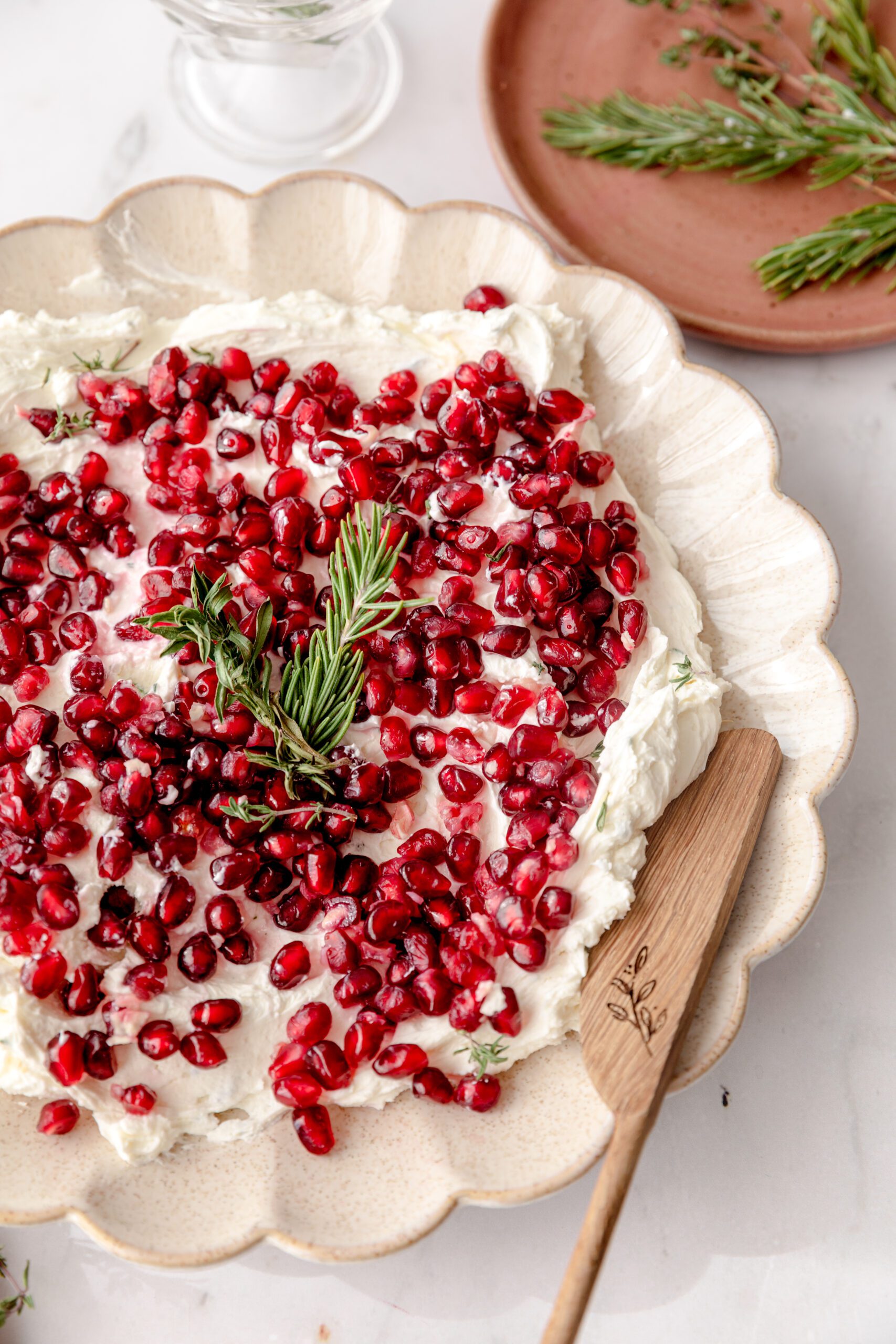 Made with tangy goat cheese, cream cheese, and pomegranate, this is an easy recipe with so much flavor! This recipe for goat cheese dip makes a smooth and creamy appetizer with a mild tanginess. The crunchy pomegranate seeds offer a sweet flavor that cuts through the creaminess of the dip.
It's such an easy holiday appetizer! I promise you'll find yourself dragging cracker after cracker through this simple goat cheese dip. You might want to make a double batch!
What Is Goat Cheese?
Although there are many types of goat cheeses, the most popular one is called chevre. This is a fresh soft cheese made from goat's milk. It is a very mild cheese known for its creamy, crumbly texture and tangy flavor.
Chevre is so popular because it's so mild. This goat cheese spread recipe includes herbed goat cheese, and those herbs play off the tanginess of the chevre even more.
The Best Whipped Goat Cheese Dip
This is my favorite goat cheese appetizer for two reasons. The cream cheese in this recipe gives the sometimes dry, crumbly goat cheese a smooth and creamy texture. Plus, the cream cheese will play down the goat cheese flavor, making it popular with all your guests this holiday season.
The secret is the whipping process, which adds a lot of extra air into the creamy dip. This process mellows the goat cheese flavor and makes it easier to taste the flavors in this delicious goat cheese dip.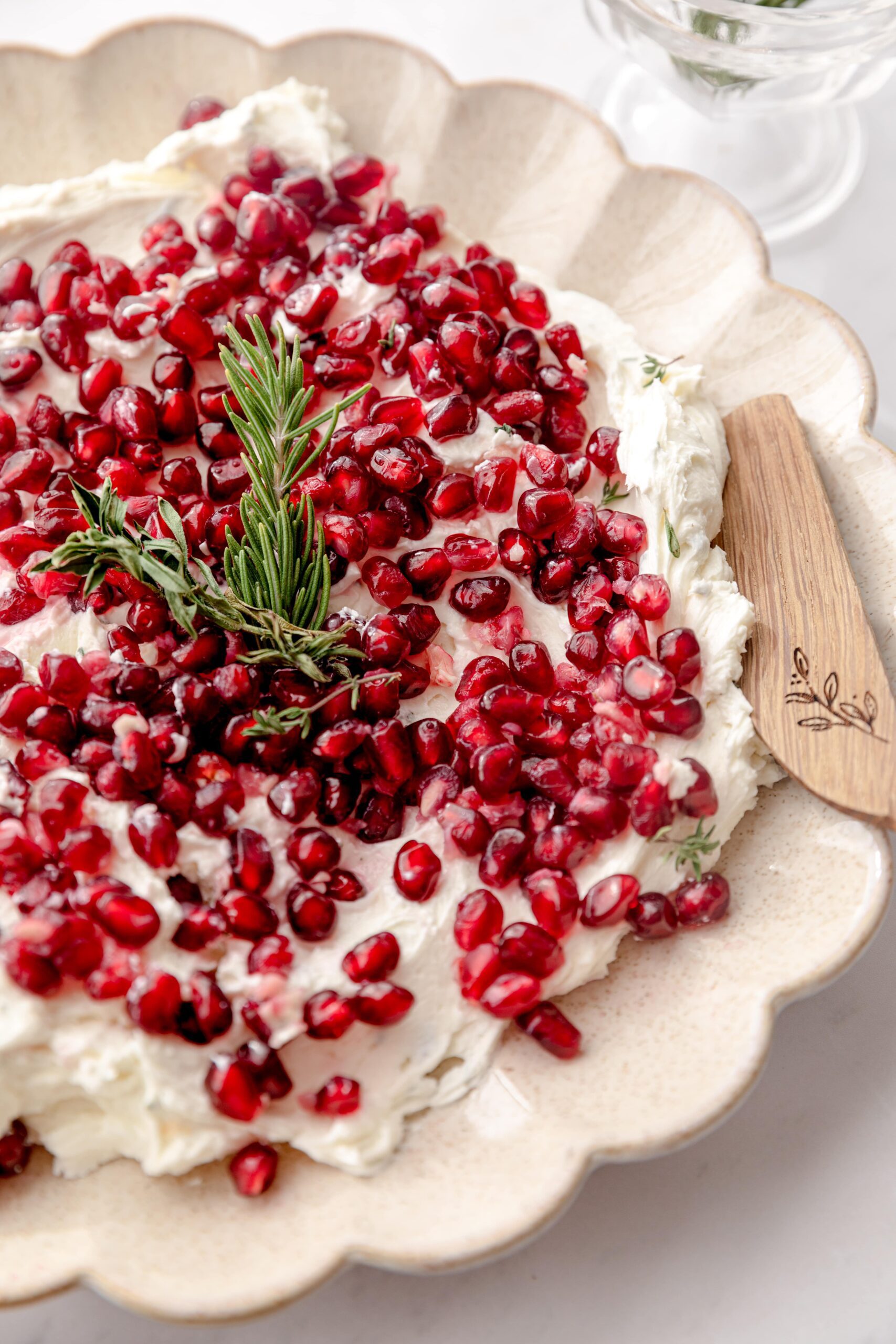 Ingredients for Pomegranate Goat Cheese Dip
8 oz herbed goat cheese (substitute any flavored goat cheese!)
8 oz cream cheese; softened to room temperature
2 cups pomegranate seeds
Crackers for serving
How To Make Goat Cheese Dip
Allow goat cheese and cream cheese to come to room temperature.
In a mixing bowl with a hand mixer, combine goat cheese and cream cheese.
Spread the goat cheese mixture onto a plate or a shallow dish and top with the pomegranate seeds.
Serve with crackers, and enjoy!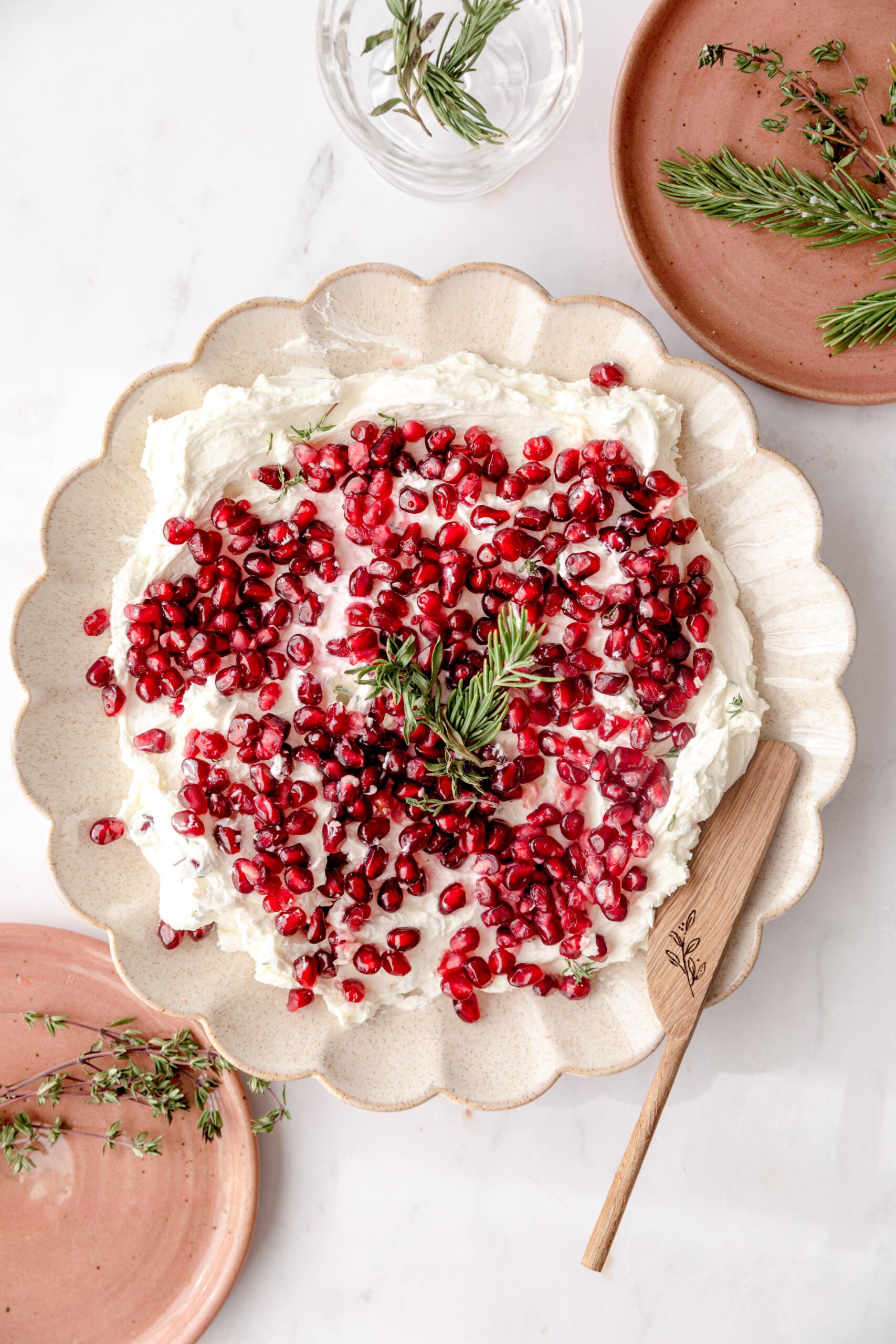 Serving Suggestions
This cold goat cheese dip is perfect for enjoying with crackers or crusty bread. I love using whole wheat crackers because they add a subtle sweetness that plays well with the creaminess of the dip. You can also make crunchy crostini by toasting thin rounds of crusty French bread in the oven.
I love to add this simple goat cheese dip to my charcuterie or snack boards at parties. It goes great with my other appetizer recipes, too!
PRO TIP! This makes an awesome single serve dessert if you can serve them on a  mini sizzling brownie plate! It's perfect for just yourself or as a dinner guest dessert.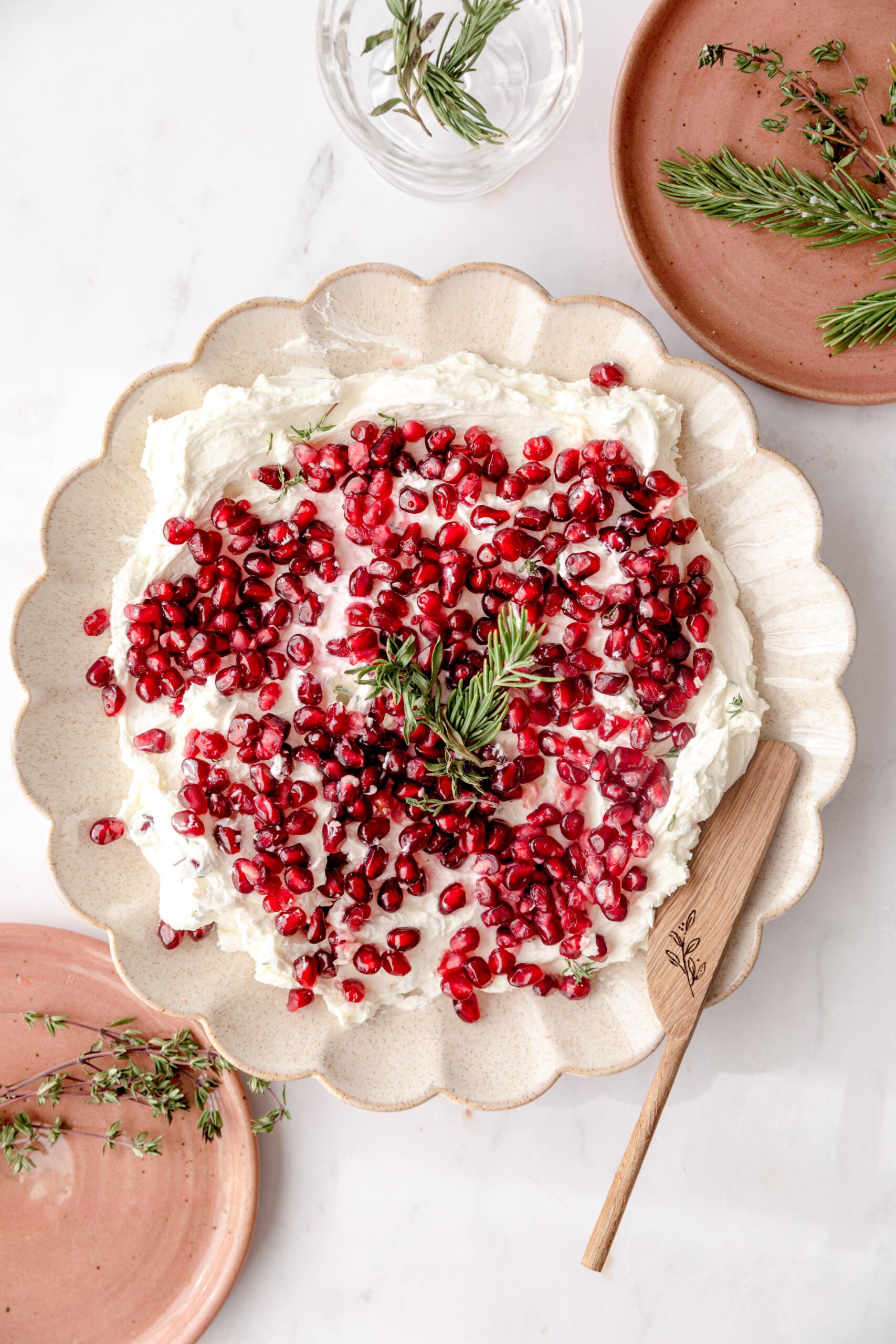 Substitutions
Use plain goat cheese and add dried herbs - If you can't find herbed goat cheese at the grocery store, substitute plain goat cheese and your own dried herbs like rosemary, thyme, dill, chives, etc.
Try cranberry cinnamon goat cheese - Not into the herb flavor? Try using a sweet goat cheese like cranberry cinnamon instead.
Add herbed cream cheese - Add another layer of fresh herb flavor by using herbed cream cheese instead of plain.
More Goat Cheese Dip Recipes
Goat cheese dips are an easy appetizer all your guests will love! There are so many versions out there with a wide variety of ingredients. Here are some more goat cheese dip recipes for you to choose from.
My Spicy Goat Cheese Dip has garlic, red pepper flakes, and onion for a creamy, spicy snack.
Transform your leftover goat cheese and other cheeses into these Mini Cheese Balls. These are one of my favorite party foods!
My Fried Goat Cheese Balls are amazing over salads and are fun on a charcuterie board.
This warm goat cheese dip recipe from The Cookie Rookie is full of savory flavors like cherry tomatoes, fresh basil, garlic clove, and more.
This whipped honey and goat cheese dip from Cooks Well With Others is another excellent sweet goat cheese dip option to choose from!
FAQs
What to dip in goat cheese dip?
I enjoy this goat cheese recipe with crackers or toasted French bread slices. You can also dip raw vegetables like sliced celery sticks or carrots for a low-carb snack.
What does goat cheese go well with?
Goat cheese goes well with so many different flavors! It has a creamy, tangy flavor and can pair well in any recipe that needs that type of flavor profile. Try adding goat cheese to these flavors in your next recipe!
Fresh herbs
Pomegranate
Honey and nuts
Apples and pears
Dried fruit
Fresh peaches or nectarines
Roasted peppers and onions
Fig jam
Cured meats and salami
Fresh basil and roasted garlic
Roasted butternut squash
My favorite use of goat cheese is to whip it into this light and creamy goat cheese dip that makes the perfect holiday appetizer.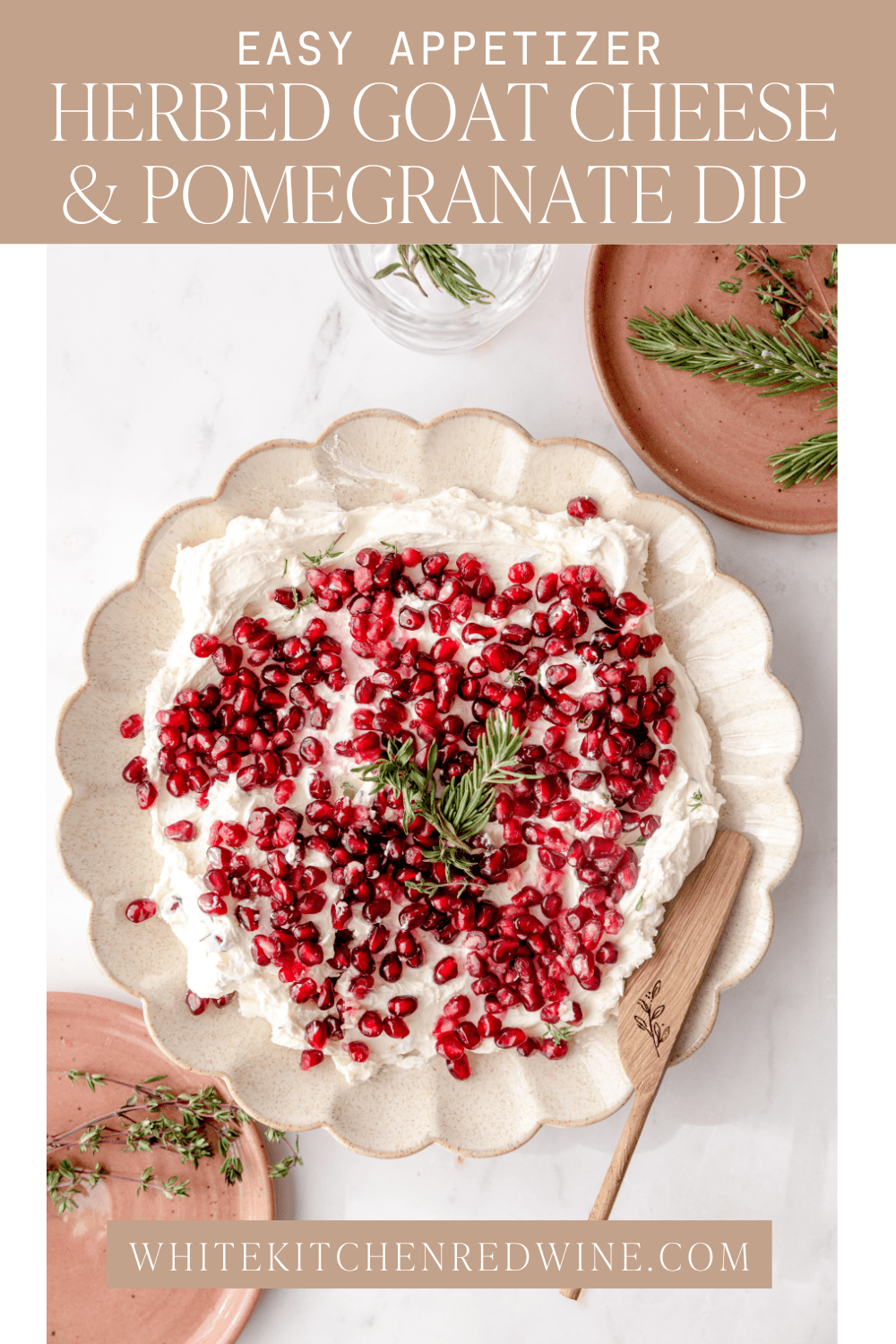 📖 Recipe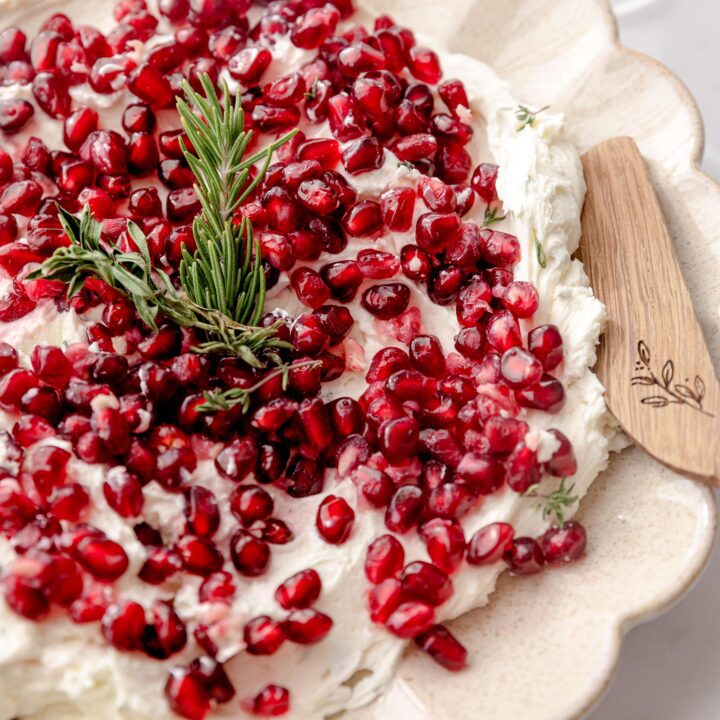 Easy Pomegranate and Herbed Goat Cheese Dip
Tangy, creamy, and oh so delicious! This dip has a range of flavors and textures that are unique and look so beautiful on any table!
Print
Pin
Rate
Ingredients
8

oz

herb goat cheese

8

oz

cream cheese

2

cups

pomegranate seeds

Crackers for serving
Instructions
Allow goat cheese and cream cheese to come to room temperature.

In a mixing bowl with a hand mixer, combine goat cheese and cream cheese.

Spread the goat cheese mixture onto a plate or a shallow dish and top with the pomegranate seeds.

Serve with crackers, and enjoy!