If you are intimidated by making a rack of delicious ribs at home, these EASY pork ribs in the oven are for you! The process of making baked ribs are the simpliest way to achieve those tender, fall off the bone ribs.
I'm including a bonus finishing touch to this recipe by glazing them and popping them in the air fryer for a delicious finish!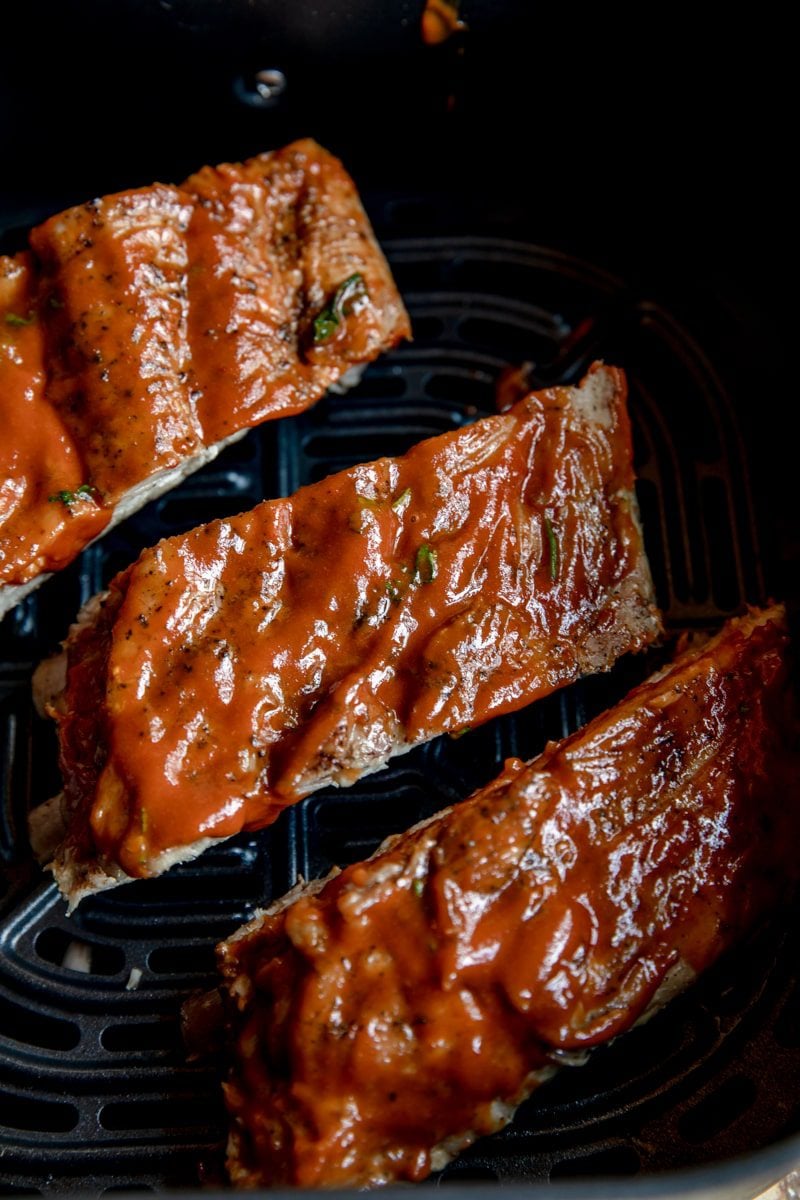 Ribs are the perfect addition to any summer dinner and for feeding crowds! Baking them in the oven is the ideal way to start them off and when it's time to eat, finishing in the air fryer!
From neighborhood bbq's to game days, these tender baked ribs are going to be your new go-to recipe! Baby back ribs are perfectly served with a fresh salad, just like my Peach Prosciutto Salad.
Jump to:
Ingredients
Oven baked ribs are a delicious and easy way to enjoy this classic American dish. Whether you're cooking for a crowd or just for yourself, the key to making perfect oven baked ribs is in choosing the right ingredients.
Rack of baby back ribs - about 1.5 to 2 lbs of pork baby back ribs are what you're looking for!
Salt and Pepper
Apple Juice - baking the ribs tented with foil and in a pool of apple juice keeps these super tender and delicious!
BBQ sauce - use any flavor of sauce you like here!
Full measurements are in the recipe card below!
Baby Back Ribs vs Spare Ribs
While both are ribs, there is a difference!
Baby back ribs are located in the top of the rib cage of the pig (near the backbone!)
Spare ribs are cut from the bottom of the rib cage. These are a bit meatier!
How To Make Tender Oven Baked Ribs
If you aren't looking to fire up the grill or just want an easy-to-prep rib recipe, this is it! Oven baked ribs result in tender, fall off the bone ribs that I'm finishing off in the air fryer with delicious sauce!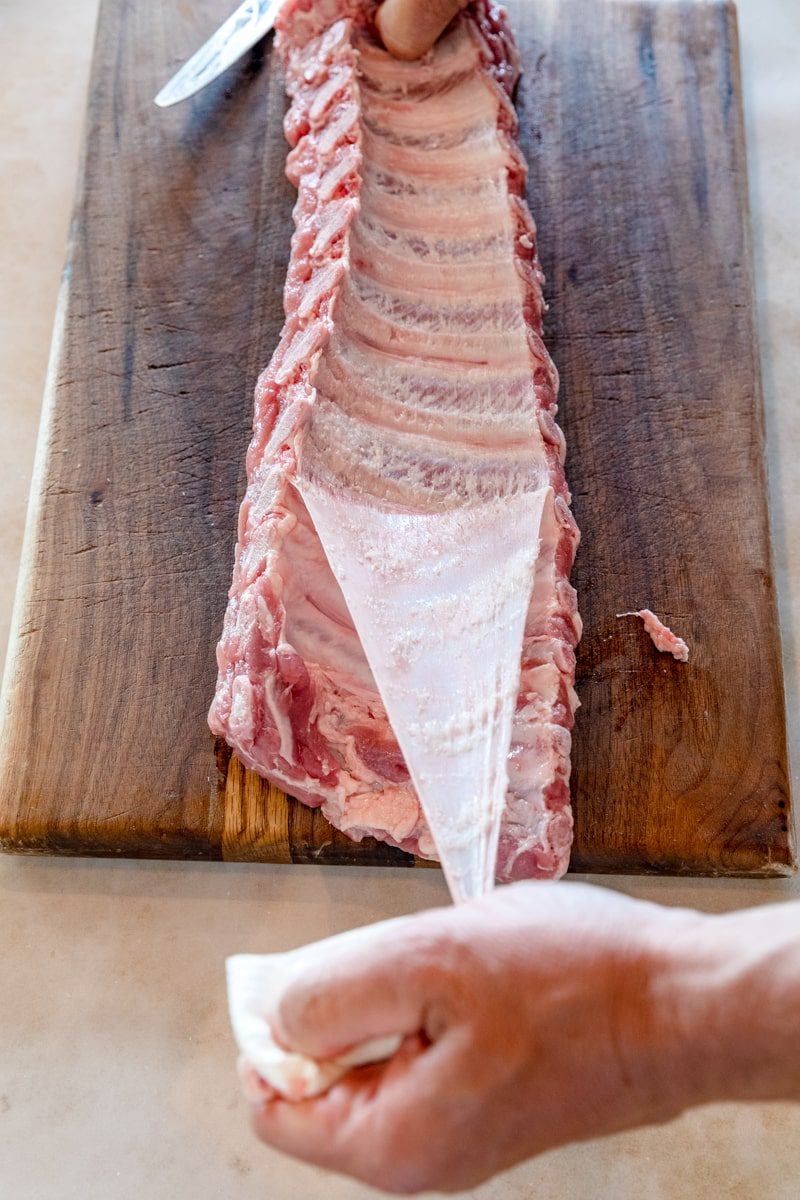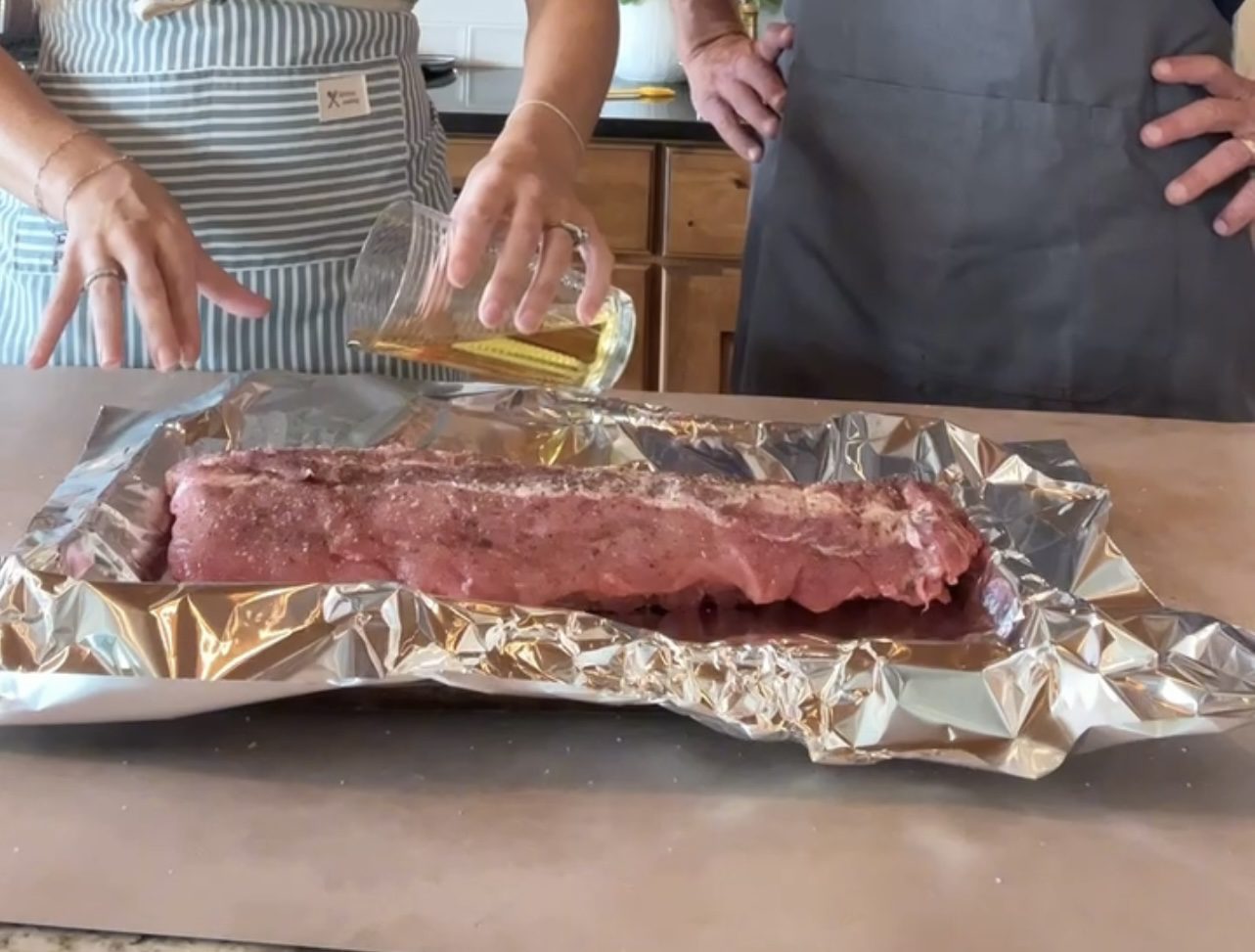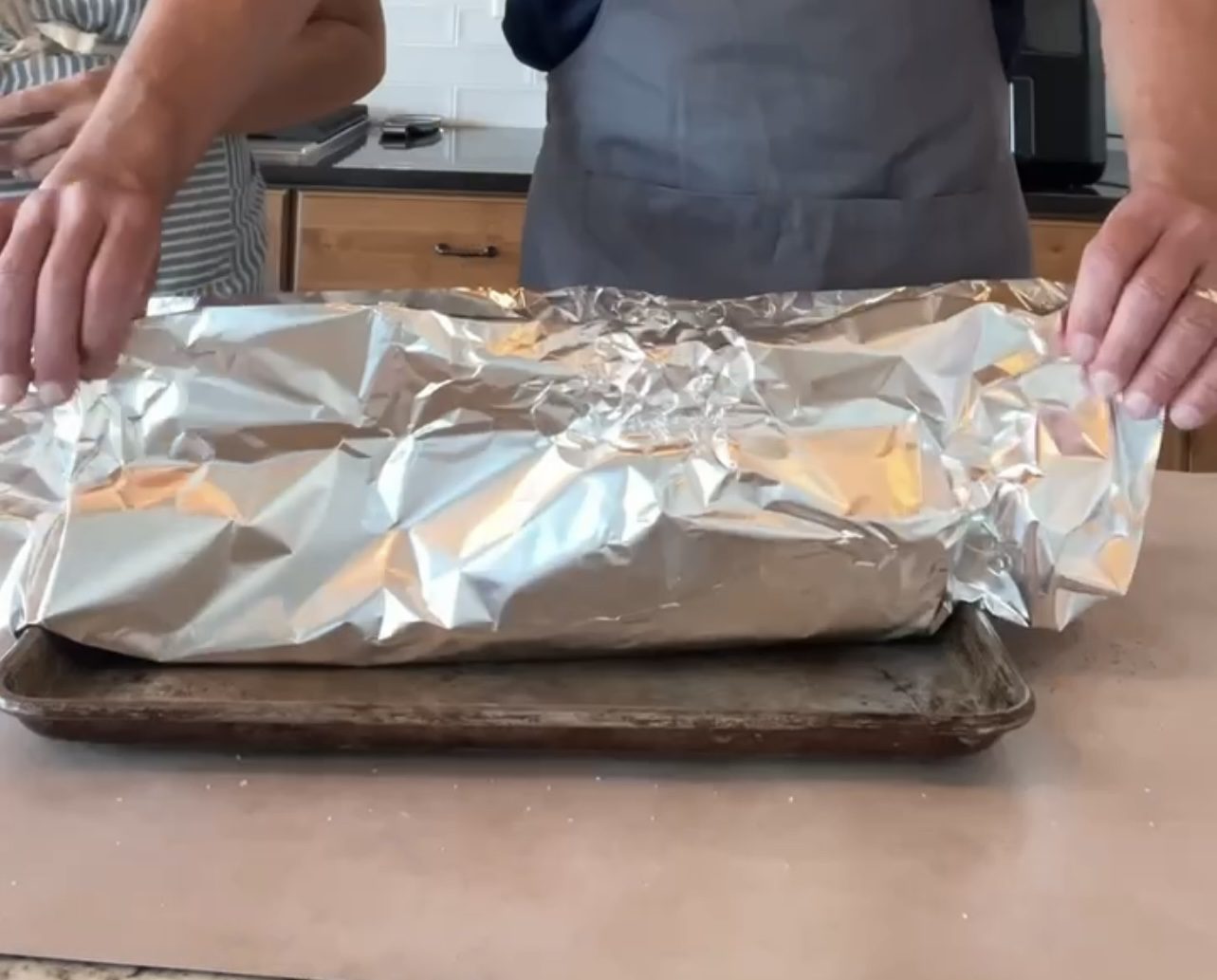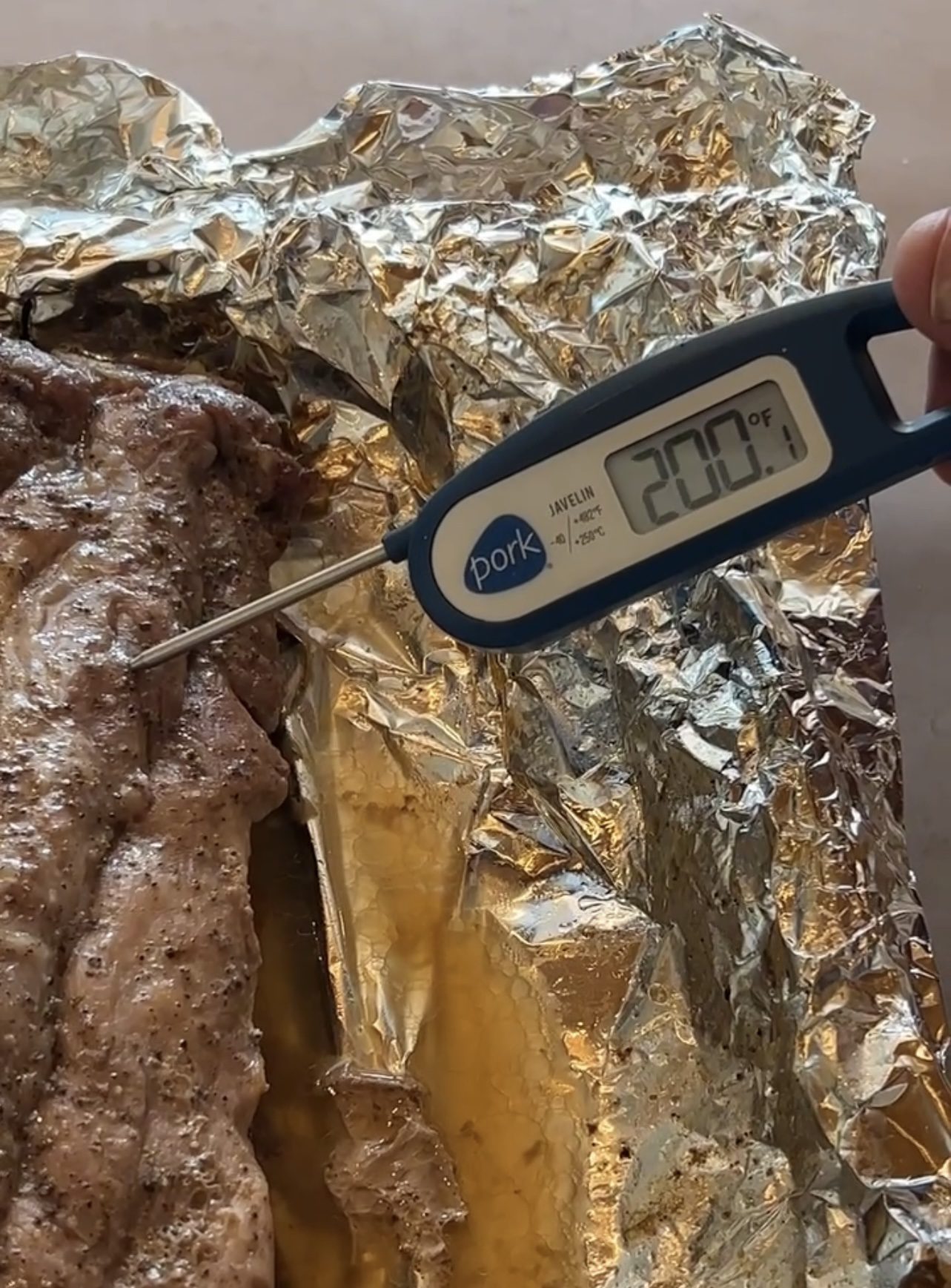 Prepping the ribs - to prep the ribs you'll remove the membrane from the back, cover both sides in olive oil and season with salt and pepper.
Place on an aluminum foil lined sheet tray and add a splash of apple juice to the bottom of the foil.
Wrap the ribs in the foil and bake at 300 degrees for 2 hours, or until the internal temperature is 200 degrees.
Remove and slice in to smaller sections of 1 or 2 ribs.
Place them in the air fryer and add any sauce you like! Air fry at 400 degrees for 2 minutes. Enjoy!
Cooking ribs in the oven is a simple process that requires minimal preparation, making it perfect for busy weeknights or lazy weekends.
How to Easily Remove the Membrane from Ribs
If I could leave you with ONE tip or trick from this recipe its this! How to easily remove that membrane from the back of the ribs.
Sometimes it will come with the membrane already removed, but that's not likely. So when you are ready to prepare the ribs, here's what you'll do...
Starting on the small end of the rack of ribs, slide a butter knife under the membrane and pull a little bit up.
Fold up a paper towel into a small square or rectangle and grab the membrane.
Firmly pull the membrane off and voila!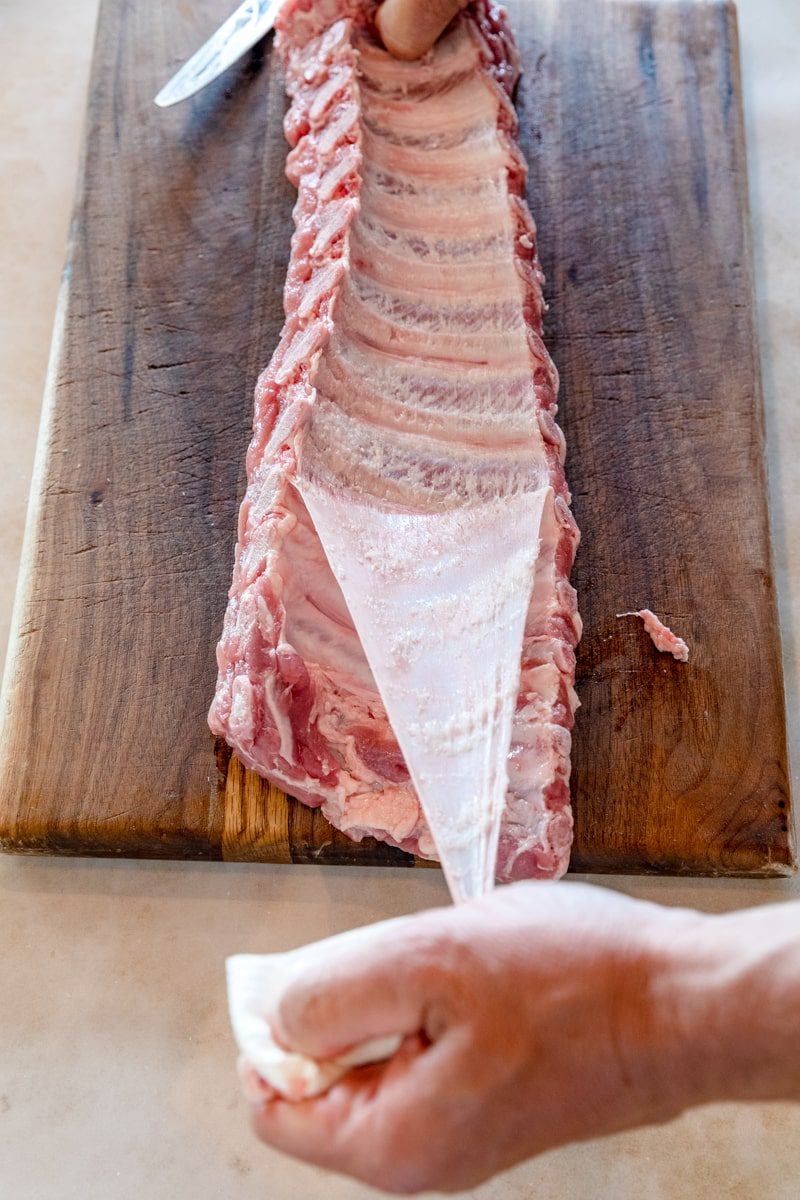 Swaps and Substitutions
These oven baked ribs are HIGHLY customizable and here are a few ways to make them your own!
Yellow mustard instead of olive oil - when preparing them you can coat them in mustard instead of olive oil for a little extra flavor!
Dry rub instead of simple salt and pepper - use your favorite seasoning blend when baking them if you want a dramatic flavor profile.
Any sauce you want! Before air frying, choose your favorite barbecue sauce, glaze, or really any sauce you like to finish them off or just enjoy plain roasted pork on its own. Delicious!
What You'll Need To Make The Ribs
There are a few things that will make this whole process easy to do when you are oven baking the ribs, here's what I used!
Meat Thermometer - this is probably the single most important thing you'll need! Knowing the temperature inside the ribs is key to achieving tender baked ribs.
Sheet tray - use a large sheet tray to cook the ribs in the oven.
Basting Brush - if you don't want to get your hands dirty, use a basting brush to coat the ribs in olive oil or mustard!
Tin Foil - this creates the "tent" we need to perfectly steam those ribs while baking.
Air Fryer - this is an optional finishing touch but truly creates the most perfect ending to this recipe! Easily crisp up those edges and infuse your sauce & flavor into the ribs by air frying them.
How To Store Leftover Ribs
After I bake the ribs, I typically store them in an air tight container in the fridge until I'm ready to serve!
Any large Tupperware will do and they keep well for 3-4 days. When ready to serve, remove from the fridge and pop them in the air fryer!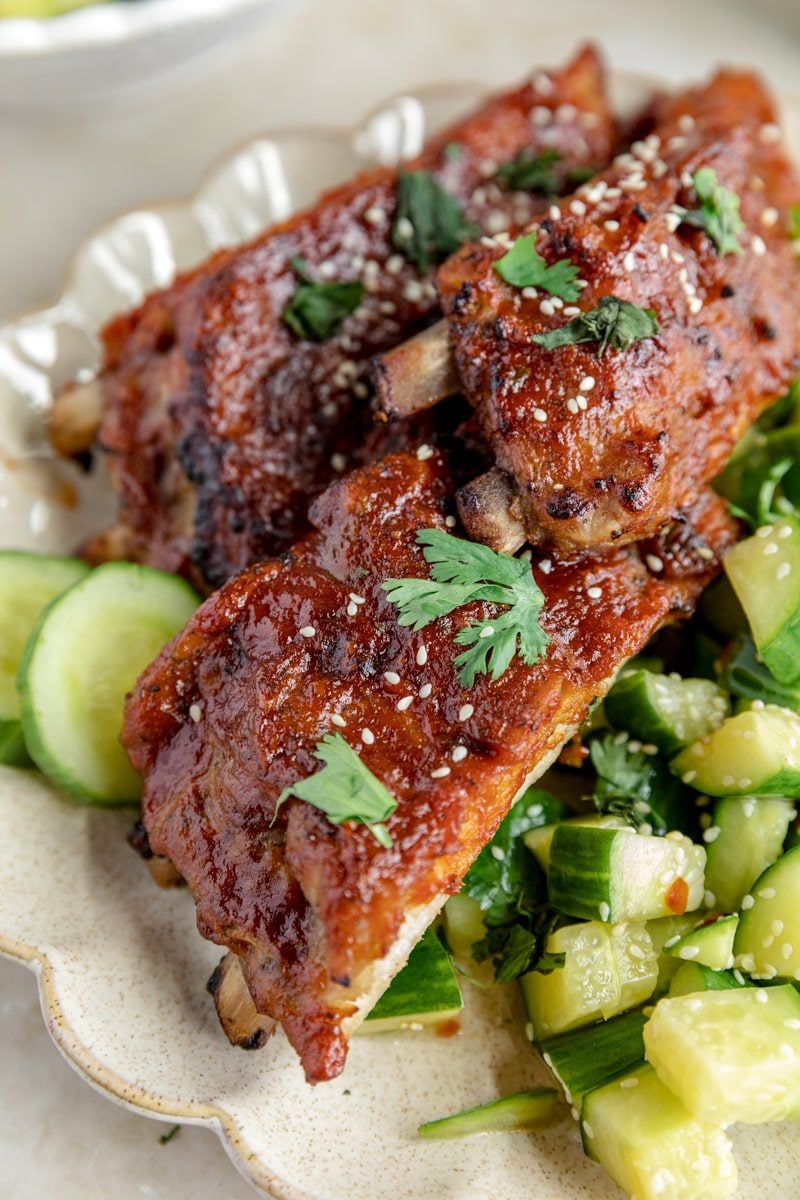 Top Tip!
Help! What if I don't have an air fryer...
Don't worry! Instead of using an air fryer you can place the ribs on a fresh baking sheet and turn your oven on to the convection setting.
This will circulate the air around it like an air fryer and give the same crisping effect.
FAQ
What temperature to cook pork ribs in the oven?
You want to cook at a low temperature of 300 degrees until the ribs have reached an internal temperature of 200 degrees. This will ensure SUPER tender ribs.
Can you cook pork ribs in the oven?
Well...YES! It's my favorite way to do it because its fast, simple, and this is the best way to prep them ahead of time and just quickly reheat when I need to serve.
Do ribs get more tender the longer they cook?
Yes! Technically pork is "done" when it reaches 145 degrees internal temperature. But...the secret is to keep cooking until that internal temperature hits 200 degrees to make sure they are fall of the bone tender.
📖 Recipe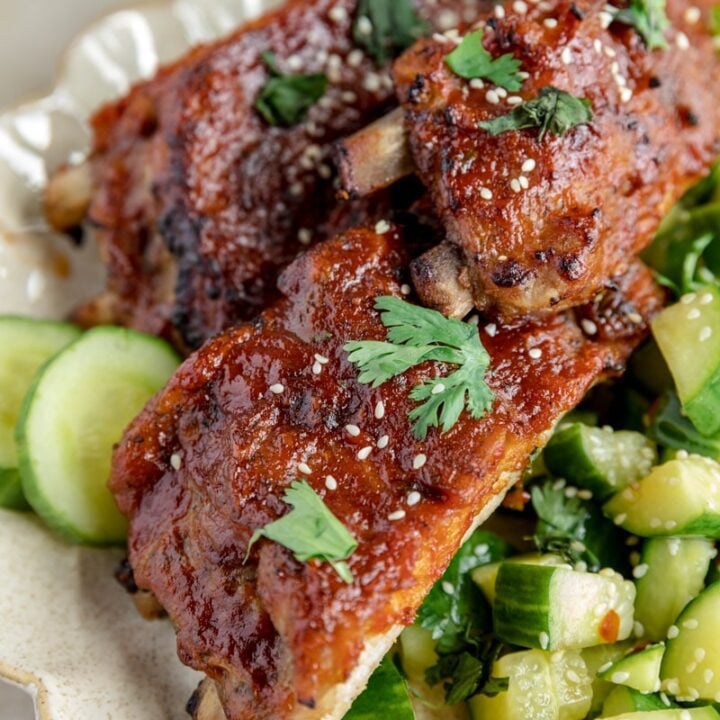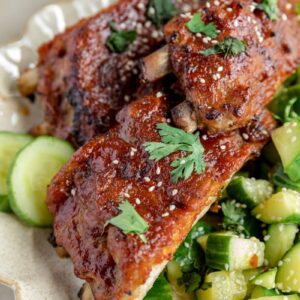 The EASIEST Pork Ribs in the Oven
Delicious pork ribs in the oven that are so simple to make and easily customizable! Perfect for family dinners or dinner parties .
Share by Text
Print
Pin
Rate
Equipment
1 meat thermometer

1 sheet tray

aluminum foil

1 air fryer
Ingredients
1-2

lbs

baby back pork ribs

¼

cup

apple juice

4

tablespoon

olive oil

1

tablespoon

salt

½

tablespoon

pepper

1

cup

bbq sauce

any you like!
Instructions
Preheat the oven to 300 degrees.

Prep the ribs by removing the membrane from the back of the ribs. Starting at the small end, slide a butter knife under the membrane and peel it back slightly.

Fold up a paper towel and grab onto the edge of the membrane and it should easily pull off the back of the ribs.

Cover the ribs with olive oil, salt, and pepper on both sides.

Line a baking sheet with tin foil and place the ribs on the sheet tray.

Pour the apple juice on the sheet tray and wrap the ribs in the tin foil.

Bake the ribs at 300 degrees for 2 hours or until the internal temperature reaches 200 degrees. These are perfectly fine to enjoy at 145 degrees but cook to 200 degrees for the perfect rack of ribs!

When the ribs have finished in the oven, remove the sheet tray and let set for about 10 minutes.

Slice the ribs into individual ribs or by two's and in batches, place into the air fryer.

Glaze with any bbq sauce or glaze you like.

Air fry for 2 minutes at 400 degrees to crisp up the edges. Repeat with all remaining ribs.
Notes
Tip for removing the membrane: slide a butter knife under the membrane and pull a small corner of it up. Grab a folded up paper towel and use that to easily pull the rest off the membrane from the back of the ribs!
Tip for tender ribs: let the internal temperature reach 200 degrees. Pork is done at 145 degrees, however for super tender ribs let this cook until 200 degrees.