Subtly spicy and irresistibly juicy, my Spicy Margarita Grilled Chicken Fajitas are destined to become a summer favorite. Make restaurant-quality chicken fajitas at home by flame broiling them on the grill for a super speedy, extra flavorful midweek dinner.
As a bonus, cooking your fajitas on the grill means fewer dishes. Less Cleanup = Weeknight Win!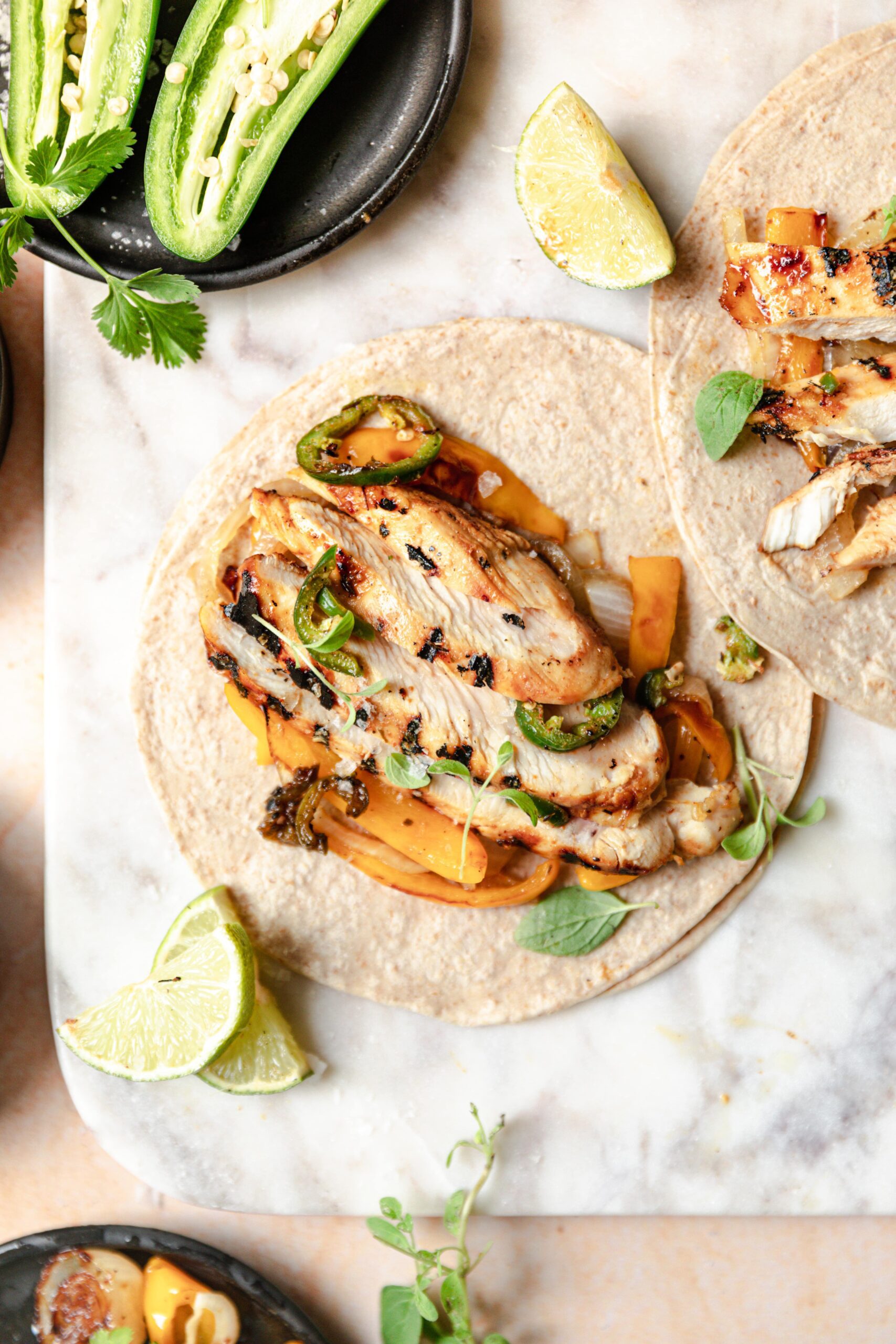 Why This Meal Is The Best
Do any of you have a litmus test for deciphering whether a restaurant is any good? For example, I always have to try the crème brûlée at any French restaurant or pho tai if I'm at a Vietnamese spot. When it comes to Mexican food, it's all about the chicken fajitas! (The chips and salsa are pretty important, too.)
These succulent grilled chicken fajitas have all the best qualities of my favorite restaurant fare: they're juicy, flavorful, and served hot off the cast iron. They also happen to be:
Quick & Easy. The prep takes all of 10 minutes, and the meat and veggies will cook up in less than 20 minutes. The hardest part is being patient enough for the chicken to marinate.
Perfect For Meal-Prep. Slice your veggies and whip up the marinade in advance (it'll keep in the fridge for up to a week). When you're ready for Mexican-inspired goodness, simply marinate the chicken in the morning, and dinner is practically ready for you by the time you're off work!
Versatile. Spoiler alert: my spicy margarita chicken fajita marinade isn't just for chicken! You can easily use it to flavor your favorite fajita proteins. Read on below to learn plenty of ways to customize this dinner to fit your needs.
Crowd-Pleasing. In my experience, kids and adults alike love chicken fajitas. This recipe also happens to be gluten-free, dairy-free, nut-free, and soy-free, meaning just about anyone can participate in all the tasty goodness.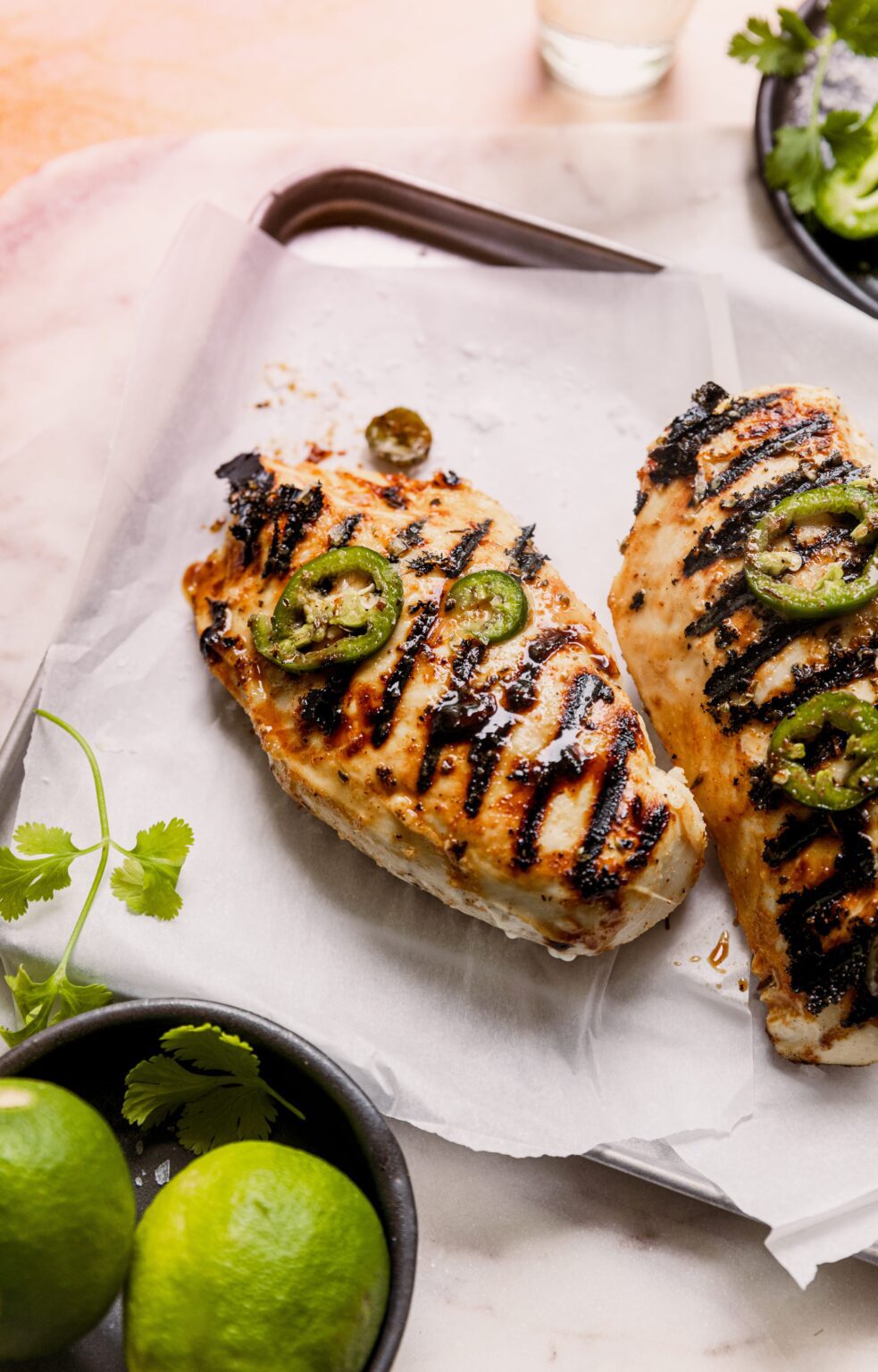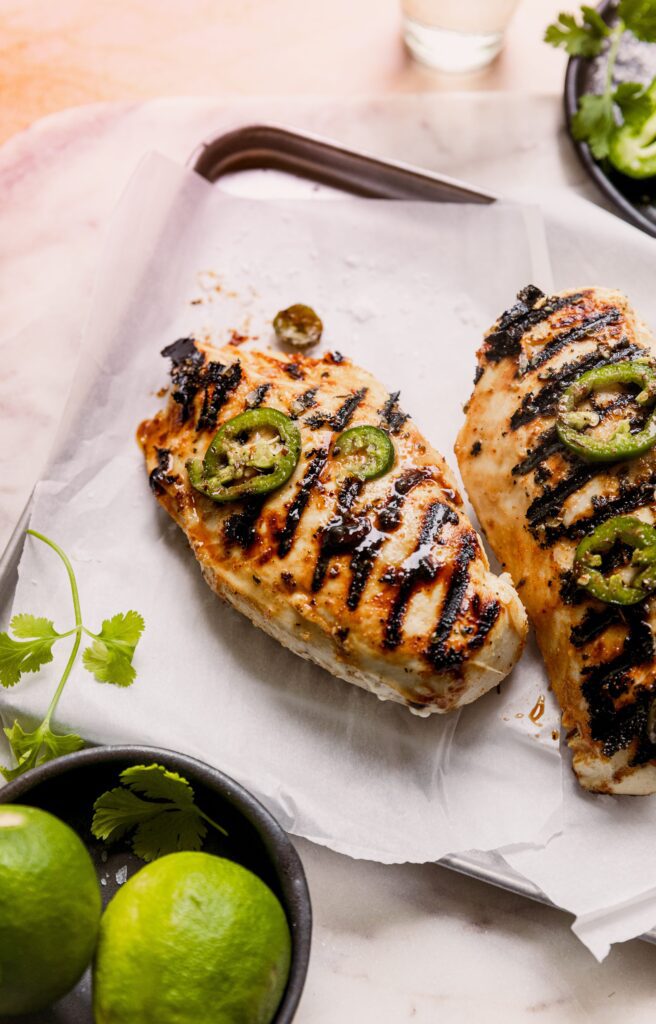 Grilled Chicken Fajitas Ingredients
You don't need much to make grilled fajitas a weeknight reality. Here's your list:
Chicken Breasts - With my lean, green, and clean mentality, boneless, skinless chicken breasts are my go-to cut for most situations. Feel free to swap in chicken thighs if you prefer!
Chicken Fajita Marinade (Recipe Below) - I'm partial to my spicy margarita marinade, but you can always substitute your own favorite recipe or store-bought substitute.
Bell Peppers - I like using multiple colors of bell peppers for a pop of color, but you do you! Remember that immature green bell peppers will taste more earthy while yellow, orange, or red varieties will be sweeter.
Red Onion - I love the color and sweetness of cooked red onions, but yellow, white, or sweet onions will also do the trick.
Tortillas - Whether you're Team Flour or Team Corn, you'll want some carb-y pockets to stuff your fajita goodness into.
Spicy Margarita Fajita Marinade
Lime Juice - Fresh is always best when it comes to citrus juice. To get the most juice from your fruit, give them a firm roll on the countertop for 10-15 seconds before cutting.
Olive Oil - There's no need to bust out your best stuff here since we'll be grilling the fajitas. Reserve that bottle of small-batch cold-pressed yumminess for drizzling over salads or soups.
Jalapeños - If you or your family is spice averse, remember that most of the heat in peppers lives in the membranes and seeds. Remove them before marinating if you want a milder flavor!
Agave Syrup - Since I'm going for a margarita-inspired vibe, it made sense to use the sweetener that comes from the same plant that is responsible for tequila. In a pinch, feel free to use maple syrup, honey, or even plain sugar if needed. Just be sure to dissolve the sugar crystals if you use them!
Tequila - I love the subtle, punchy flavor tequila adds to this chicken fajita marinade. Don't worry, you only need ¼ cup to do the trick! If you're in an alcohol-free household, try swapping in some chicken broth instead.
Dried Oregano & Ground Cumin - These spices are cornerstones of Tex-Mex flavor!
Kosher Salt & Pepper - If you're using a different kind of salt, please refer to this conversion chart for proper measurement. Also, remember that freshly cracked black pepper is far more flavorful than the pre-ground kind. Do yourself a favor and invest in a pepper grinder if you haven't already!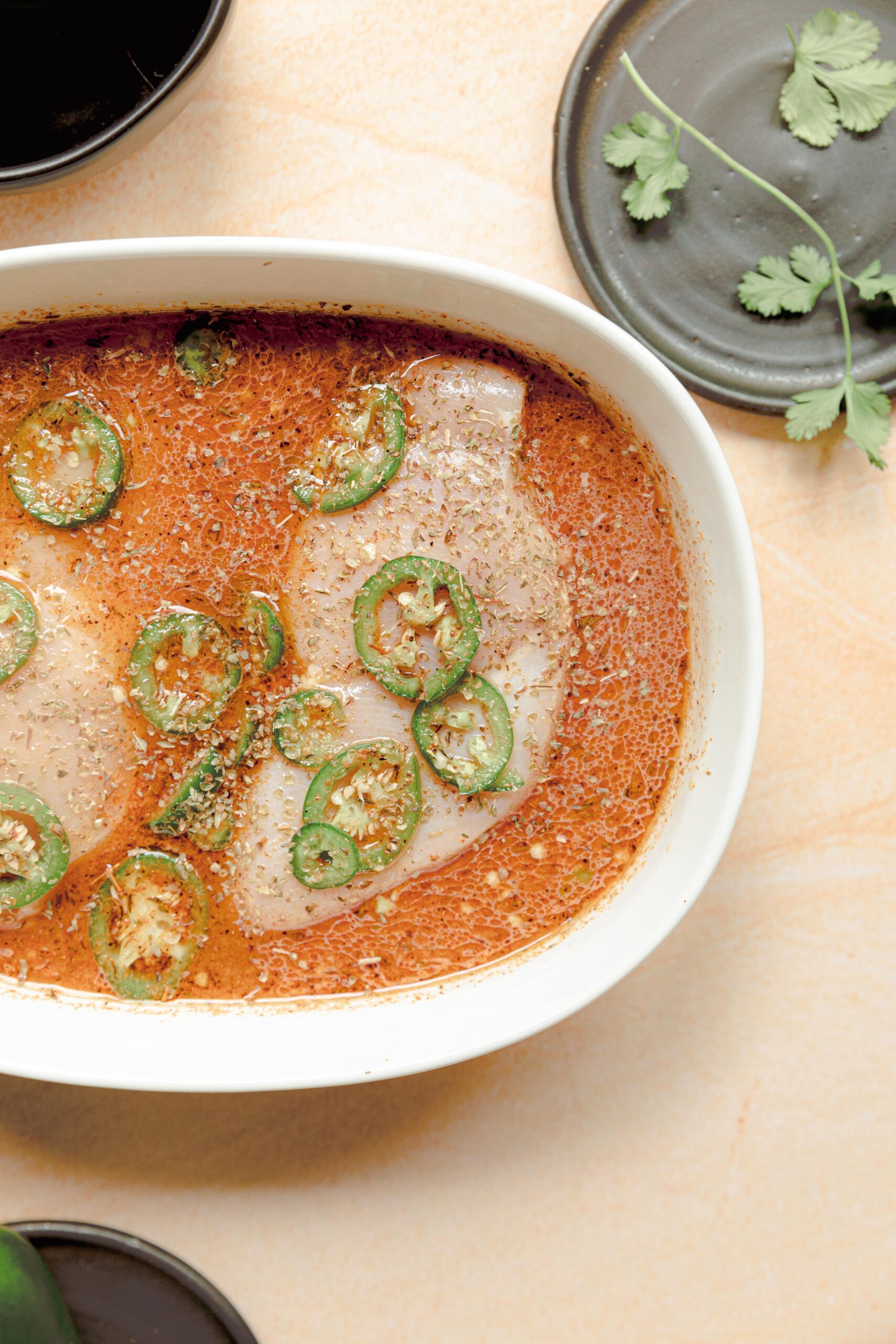 Tools Needed
The beauty of making chicken fajitas on the grill is that it significantly cuts down on the number of dishes you need to wash. Here's what you'll need:
Grill or Grill Pan - One of my favorite parts of summer is that I have plenty of excuses to fire up the grill! If you don't have one (or if you're making this in the dead of winter), a grill pan will totally do the trick. If possible, I suggest using a cast-iron version; they capture and distribute heat more evenly and will aid in creating beautiful char marks on your meat.
Skillet - You'll want a skillet both for cooking up the peppers and onions, as well as for a fun restaurant-style presentation for your grilled fajitas. If you're using a gas or charcoal grill, remember that your cast iron can go directly on the grates. That means you don't have to turn on your stovetop — hooray!
Tongs - A nice long pair of grilling tongs is essential to any grilling setup.
How To Make Grilled Chicken Fajitas
Grilling your own restaurant-quality chicken fajitas at home is a lot easier than you might think. Here's how it's done:
Step 1: Make Marinade. Prepare the marinade by whisking all of the ingredients until well combined. Reserve ¼ cup of the marinade to the side.
Step 2: Marinate Chicken. Pour ¾ of the marinade over the chicken and refrigerate for at least 4 hours and up to overnight.
Step 3: Grill Chicken. Grill chicken over medium-high on a grill pan and heat for 6 minutes on one side. Flip and pour the reserved marinade over the chicken (if using an actual grill with open flame, be careful because there is tequila in the marinade!)
Food Safety Tip: Cook chicken until internal temperature is 165.
Step 4: Cook Peppers & Onions. In a skillet, add 1 tablespoon olive oil and saute peppers and onions over medium-high heat until tender, about 5-7 minutes.
Step 5: Slice Chicken. After resting for at least 10 minutes, slice chicken into strips, cutting against the grain. Set aside.
Step 6: Assemble & Devour! Assemble the fajitas with peppers/onions, sliced chicken, flaky sea salt, and pickled jalapenos or onions. Enjoy!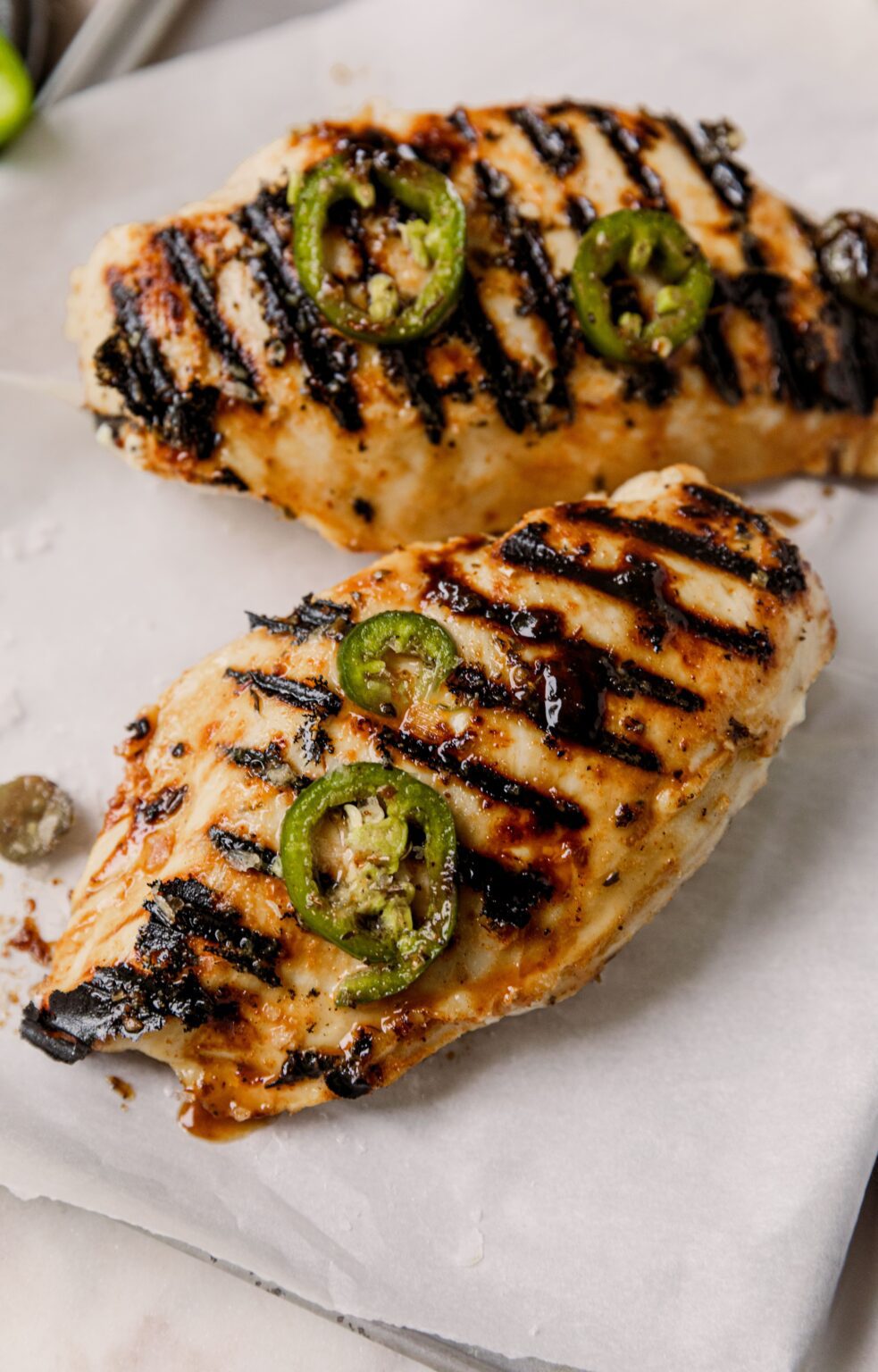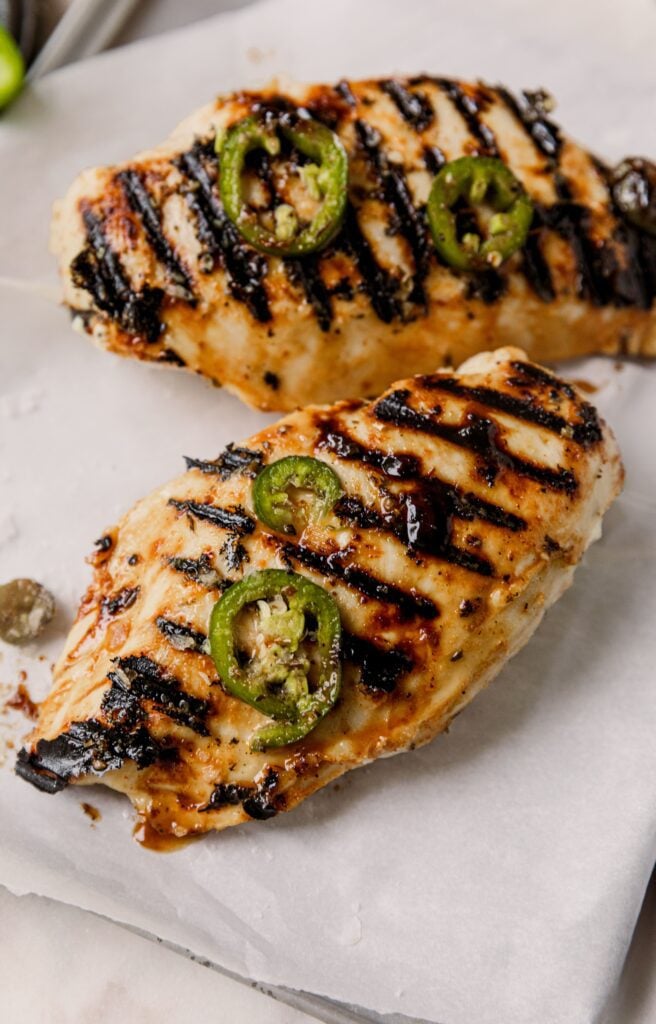 Swaps & Substitutions
Chicken breast fajitas on the grill is just the beginning. Here are some of my favorite variations on this highly versatile recipe:
Use thighs instead of breasts. If you're more of a dark meat person, embrace it!
Use a different protein altogether! Here is a quick guide for ideal marinating times:

Steak - 4 hours to overnight.
Pork - 4 hours to overnight.
Shrimp - 15-30 minutes.
Fish - 30 minutes to 1 hour.
Tofu - 30 minutes to overnight. Pro Tip: Extra firm tofu is the best option for the grill. Make sure to press it first before marinating; tofu is like a sponge, so you need to squeeze it out so it can sop up the flavor!

Make it a Burrito Bowl or Salad. This grilled chicken fajita recipe can easily be accommodated to eliminate tortillas or grains altogether. Use rice, salad greens, or beans as a base, then load on all the charbroiled goodness!
FAQs & Tips
There's tequila in the marinade, so be careful if working over an open flame! Alcohol is highly flammable and can cause some exciting flare-ups, so keep your hands and arms well protected.
Slice against the grain.
Don't over-marinate. Contrary to what you might think, longer marinating time doesn't equal better results. My chicken fajita marinade recipe is heavy on lime and tequila, which are both great meat tenderizers – to a point. After a while, the acidity will start to unravel the proteins, causing the meat to get mushy. That's not what we want!
Cast-iron cookware can go directly on the grill. If you've got an outdoor grill, you don't need to heat up the kitchen at all. You're welcome.
Once you're done cooking, turn up the burners to char off any food bits that have stuck on, using a grill brush to assist you. Also, be sure to turn off the gas before you turn off the burners to keep pressure out of the line.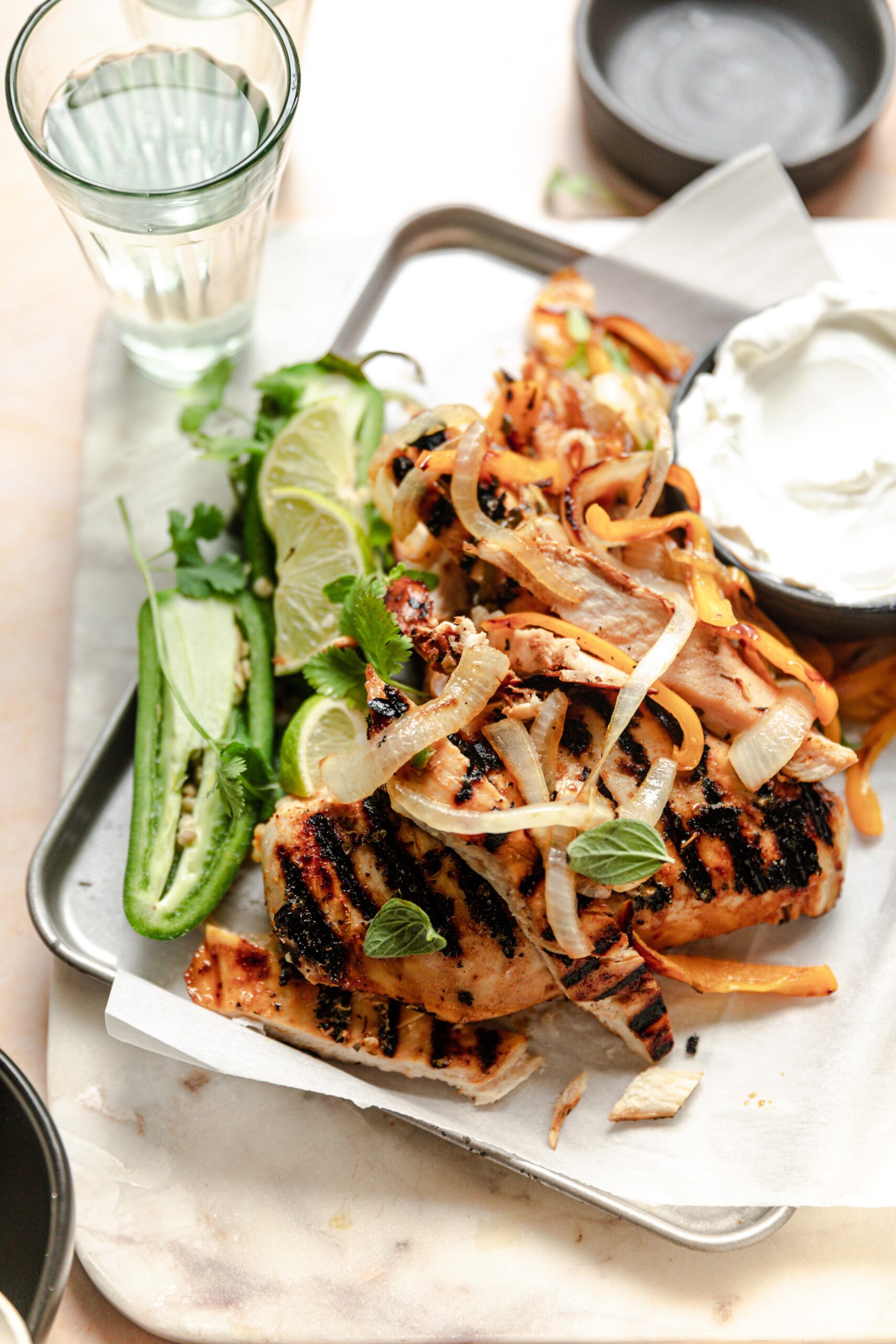 Will the tequila cook off? (Or, can I serve spicy margarita grilled chicken to my kids?)
Yes, and yes! Some of the alcohol will cook off on the grill, but remember that only so much of the marinade will penetrate the meat and the rest will be dumped.
With ¼ cup of booze (that's 2 ounces, or about a shot) distributed over 4 chicken breasts, with the majority of the marinade staying in the bag or bowl? I'd feel totally comfortable serving this to my kids.
That said, feel free to replace the tequila with chicken broth, or use tequila to soak some wood chips for smoking to impart some of the flavor without any of the booze!
What are the best tortillas for fajitas? Either flour or corn tortillas will work here. Remember, taste is totally subjective, so get what you like! Also, I suggest using the smaller taco-sized tortillas, but if you're more of a burrito person, go for it!
What is the best way to warm tortillas? Lightly steaming tortillas is the best way to keep them pliable and soft while heating them up. I love my tortilla warmer, but you can achieve the same effect with a microwavable plate and a damp paper towel. It just won't stay warm for as long!
How long do you marinate chicken for fajitas? I suggest a minimum of 4 hours, but no more than 24 hours.
How do you make fajita seasoning? I actually let my spicy margarita fajita marinade do all the flavoring, but if you're in the market for a dry rub, check out my Southwest Seasoning recipe!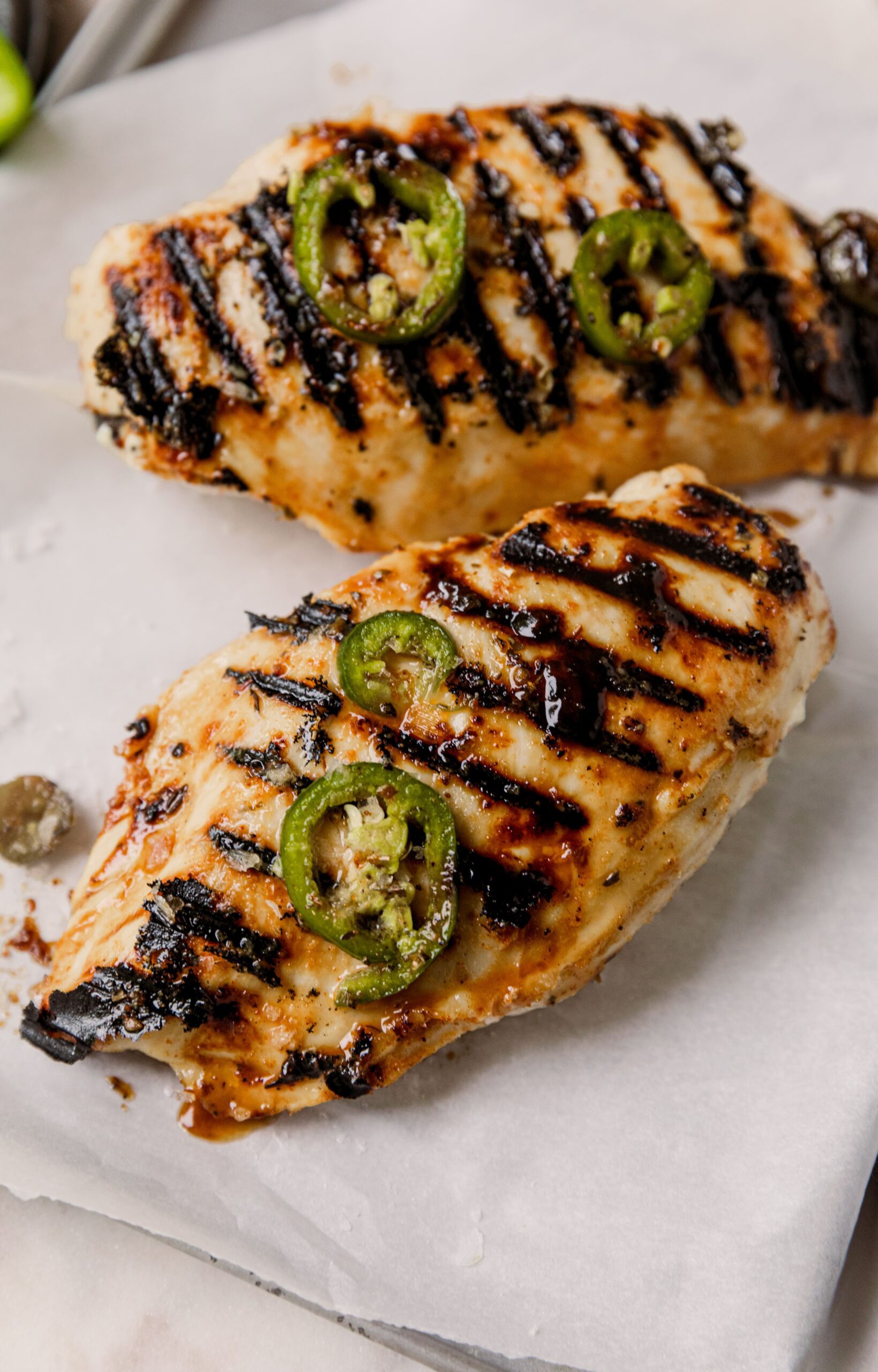 Serving Suggestions
These chicken fajitas on the grill basically serve themselves, but here are a few ideas to bump up your presentation a notch or two:
Restaurant-style, in the cast iron. Is there anything more impressive than a sizzling platter of fajitas delivered tableside? Make sure you have a trivet for the table and be sure to wrap the handle of the skillet with a kitchen towel to protect from the heat. Pro Tip: If you really want to wow your guests, squirt a little water on the skillet before walking it to the serving table. It'll steam and sizzle like nobody's business!
Keep your tortillas in a warmer to the side for your guests to grab as they need them. If you have both gluten-free folks and those who prefer flour tortillas, get two different colors to keep them separate.
Set up a bar for people to serve themselves. Don't forget napkins, cutlery, toppings, and tasty bevvies!
Go for gold with your sides. Cilantro lime rice, black, pinto, or refried beans, or my roasted corn and quinoa salad are all excellent pairs.
Optional Fajita Fixings:

Pickled Jalapeños
Pickled Red Onions
Tortillas
Mexican Crema or Sour Cream
More Tasty Recipes On The Grill/Tex-Mex Recipes/Chicken Recipes
Grilled Bruschetta Chicken - The summer's healthiest 30 minute dinner is right here! Easy, healthy Grilled Bruschetta Chicken is super flavorful and totally guilt free. The fresh combination of basil, tomato, and savory feta is perfection!
Grilled Halloumi Salad - Grilled Halloumi Salads are a fantastic low-carb, vegetarian, and absolutely beautiful meal! Pan grilled Halloumi sends it over the top with richness and sacrifices no flavor.
Southwest Shrimp Burrito Bowl - Chipotle at home? YES PLEASE! Grab a few simple ingredients from your pantry and let's make a Healthy Burrito Bowl with pan-seared Southwest Shrimp!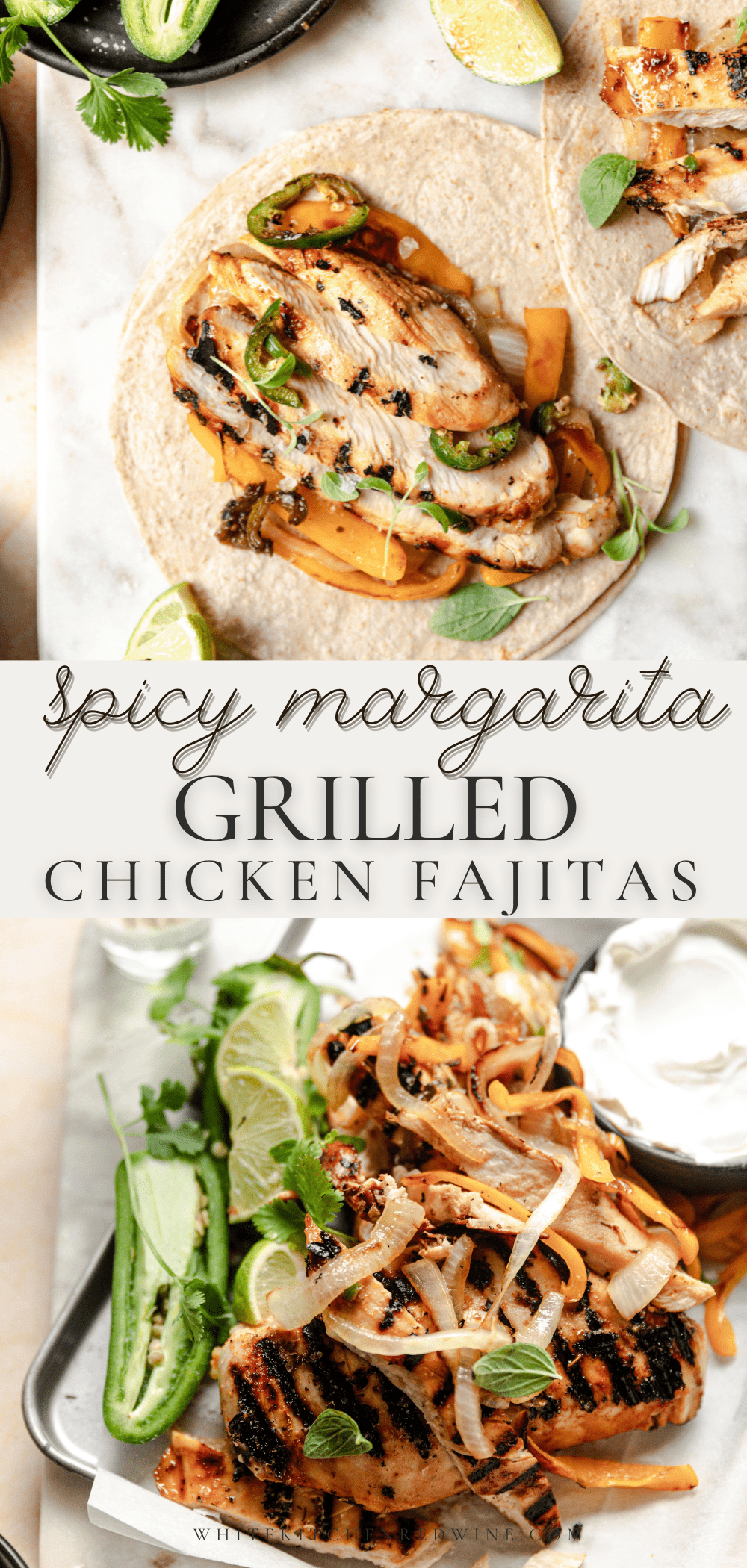 📖 Recipe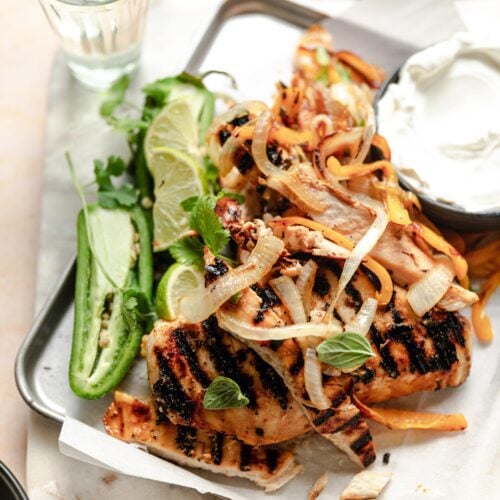 Grilled Chicken Fajitas
A classic dinner of grilled chicken fajitas gets a fun twist with a spicy margarita marinade! Serve with warm tortillas and peppers for a delicious and easy weeknight meal.
Print
Pin
Rate
Equipment
grill pan

tongs

skillet

tortilla warmer

optional!
Ingredients
3-4

chicken breasts

½

cup

lime juice

¼

cup

olive oil

2

jalapenos

sliced

2

tablespoons

agave syrup

¼

cup

tequila

1

tablespoon

salt

½

tablespoon

pepper

1

tablespoon

oregano

1

tablespoon

cumin

2

bell peppers

pickled jalapenos or pickled red onions

1

onion

tortillas
Instructions
Prepare the marinade (combine lime juice, olive oil, jalapenos, agave syrup, tequila, salt, pepper, oregano, and cumin)

Reserve ¼ cup of the marinade to the side

Pour the marinade over the chicken and refrigerate 4 hours up to overnight

Grill chicken over medium high on a grill pan heat for 6 minutes on one side

Flip and pour the reserved marinade over the chicken (if using an actual grill with open flame, be careful because there is tequila in the marinade!)

Cook chicken until internal temperature is 165. Set side.

In a skillet add 1 tablespoon olive oil and saute peppers and onions over medium high heat until tender. About 5-7 minutes

Assemble the fajitas with peppers/onions, sliced chicken, flaky sea salt, and pickled jalapenos or onions

Enjoy!