If you are lucky enough to have leftover risotto, fry it up into this easy and delicious arancini di riso!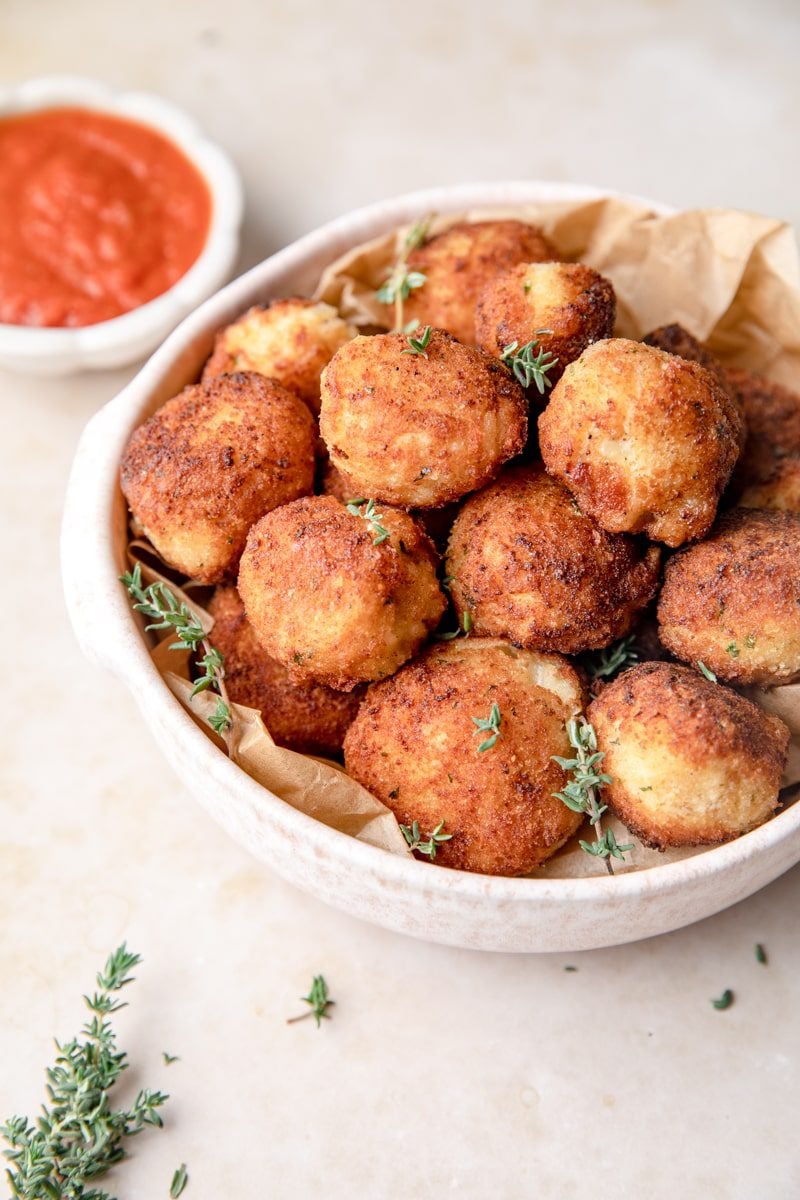 After all the work you put into making your homemade Cacio e Pepe or Spicy Tomato risotto, don't let the leftovers go to waste! It's simple to transform them into the best little Italian rice balls.
This easy arancini recipe is a perfect appetizer, or they're lovely over a nice bed of fresh greens with a cold glass of pinot grigio.
What are Arancini?
Arancini are little balls of leftover rice stuffed with cheese or other ingredients, coated in bread crumbs, then deep-fried to golden perfection.
Did you know? They are a traditional Sicilian food from Southern Italy and have been eaten since the 10th Century. Still one of my favorite dishes from when I visited Rome.
These delectable treats are often enjoyed as street foods in Sicily but are often served as appetizers in the United States.
Although traditional Sicilian rice balls are filled with cheese, green peas, or meat, the sky is the limit. I love to make mine with mozzarella and prosciutto and serve it with a little tomato sauce on the side. So good!
What does the Italian word Arancini mean?
In Italian, arancini means little oranges, which refers to the size and golden color of fried rice balls when adequately fried.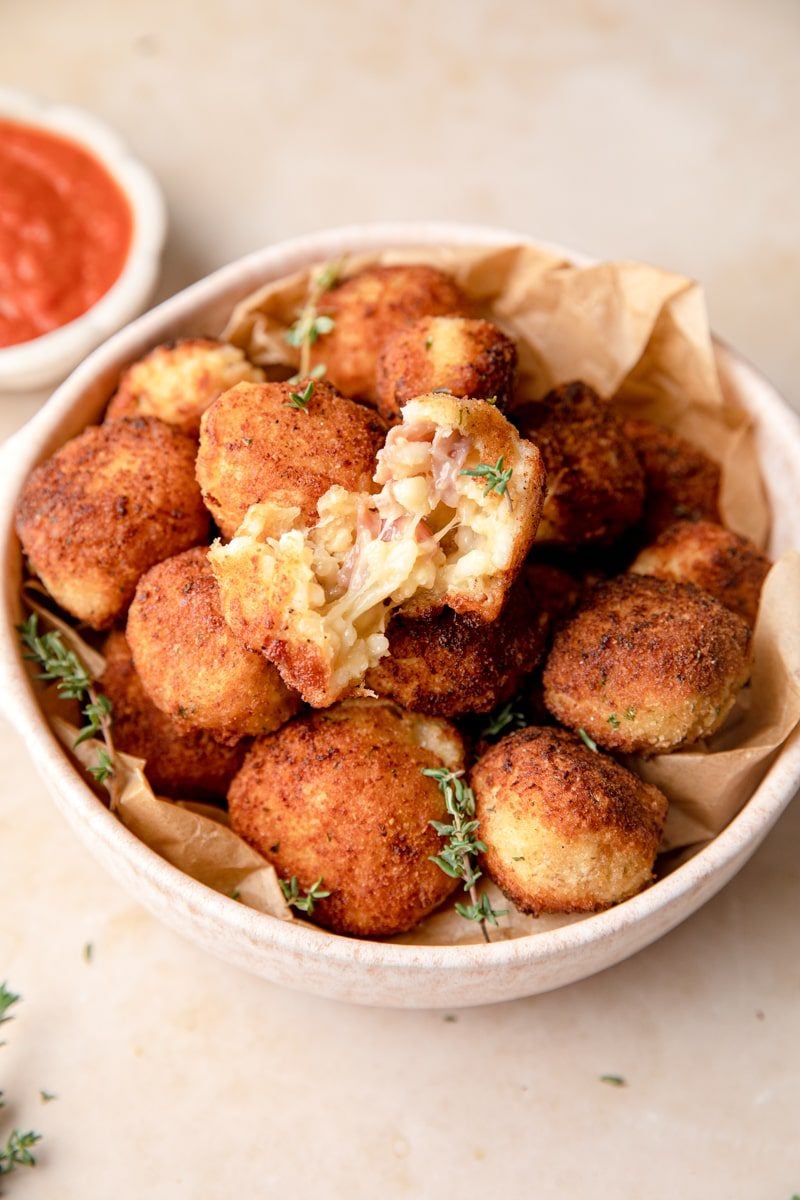 Arancini Di Riso Ingredients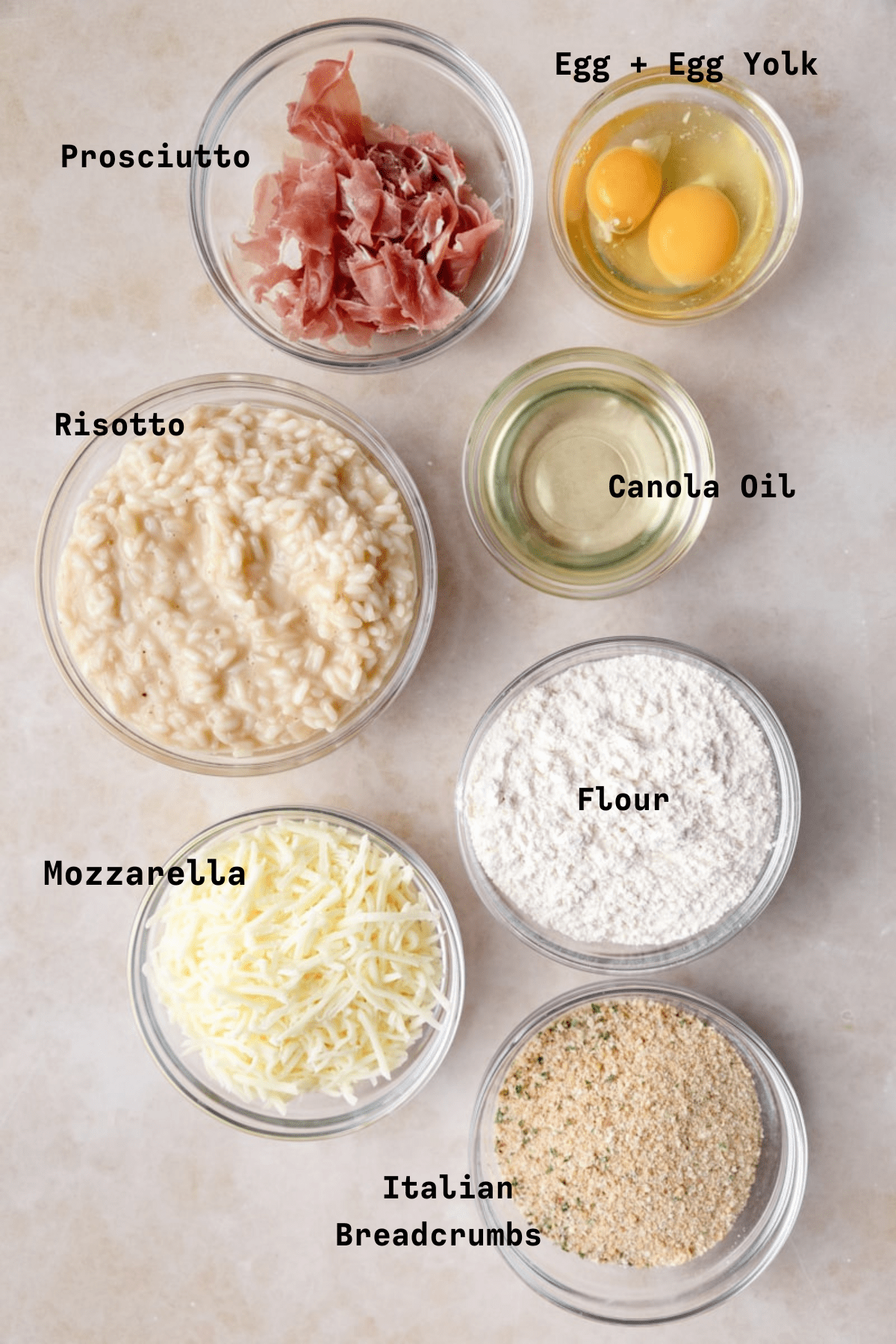 Risotto - If you don't have leftover risotto, you'll need arborio rice, chicken stock, white wine, olive oil, yellow onion, garlic clove, salt, and freshly grated Parmesan.
Egg & egg yolk - The eggs will help hold the rice together to be fried.
Parmesan cheese - Salty Parmesan cheese will thicken the rice mixture and add extra flavor.
Mozzarella - Dice fresh mozzarella to stuff into each arancino ball.
Prosciutto - Tear your favorite prosciutto into bite-sized pieces.
All purpose flour - This is part of breading for your risotto arancini.
Eggs - Whisk together some eggs to coat your arancini in a small bowl before rolling in bread crumbs.
Italian breadcrumbs - Make your own or purchase Italian breadcrumbs at the store. These are essential for a crisp crust.
Oil - Use canola or vegetable oil.
PRO TIP! If air frying, use cooking spray!
How to Make Fried Italian Rice Balls
While it may look like there are a lot of steps here, it's really quite easy! Especially if you've already got leftover risotto on hand!
Prepare the risotto
(Skip 1-7 if using leftover risotto)
Prepare the risotto by heating the olive oil over medium heat
Add in diced onion and saute for 2-3 minutes. Add garlic and stir.
Add the rice and stir to coat it in the olive oil. Let it toast for 1-2 minutes.
Add the white wine to deglaze the pan, scraping everything off the pan and stirring well.
Once the rice has absorbed the wine, sprinkle in the salt and add the chicken stock in ½ cup increments.
Making sure it is fully absorbed in between additions, this should take 15-20 minutes.
Stir in the Parmesan and remove from heat.
Make the arancini rice balls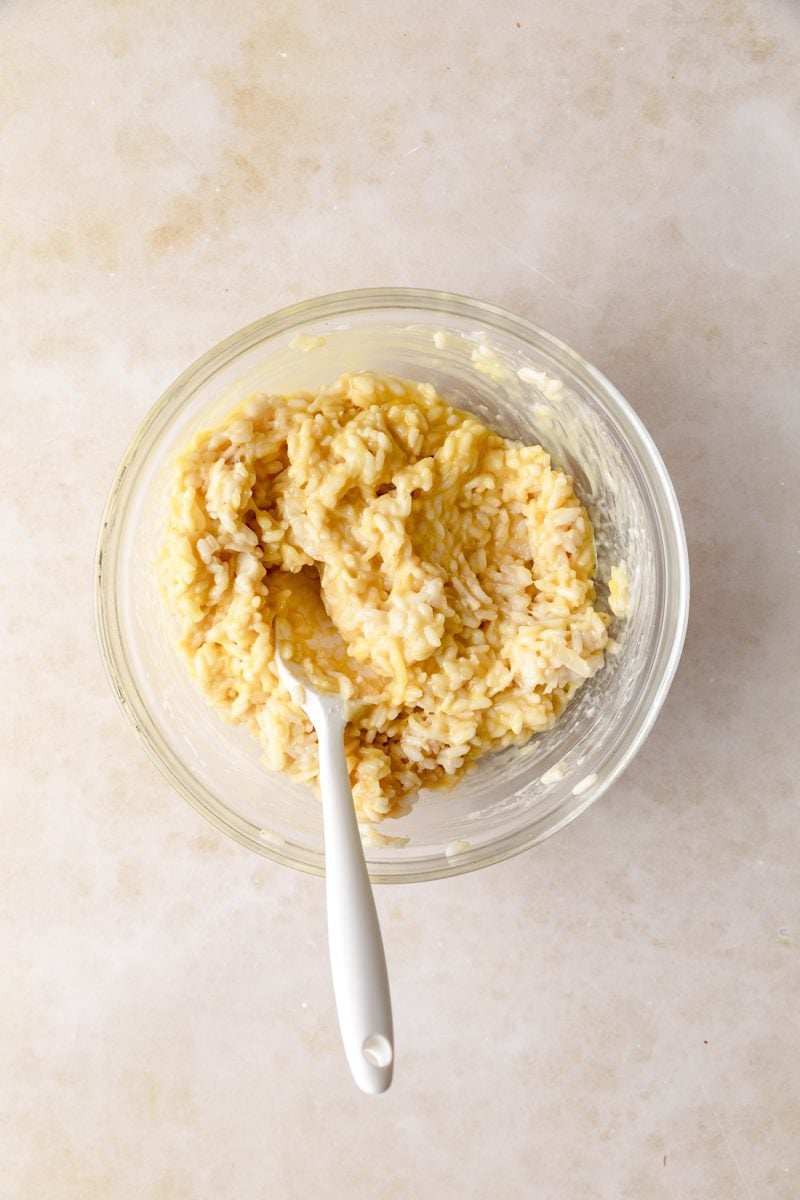 Stir in the Parmesan, egg, and egg yolk to room temperature risotto.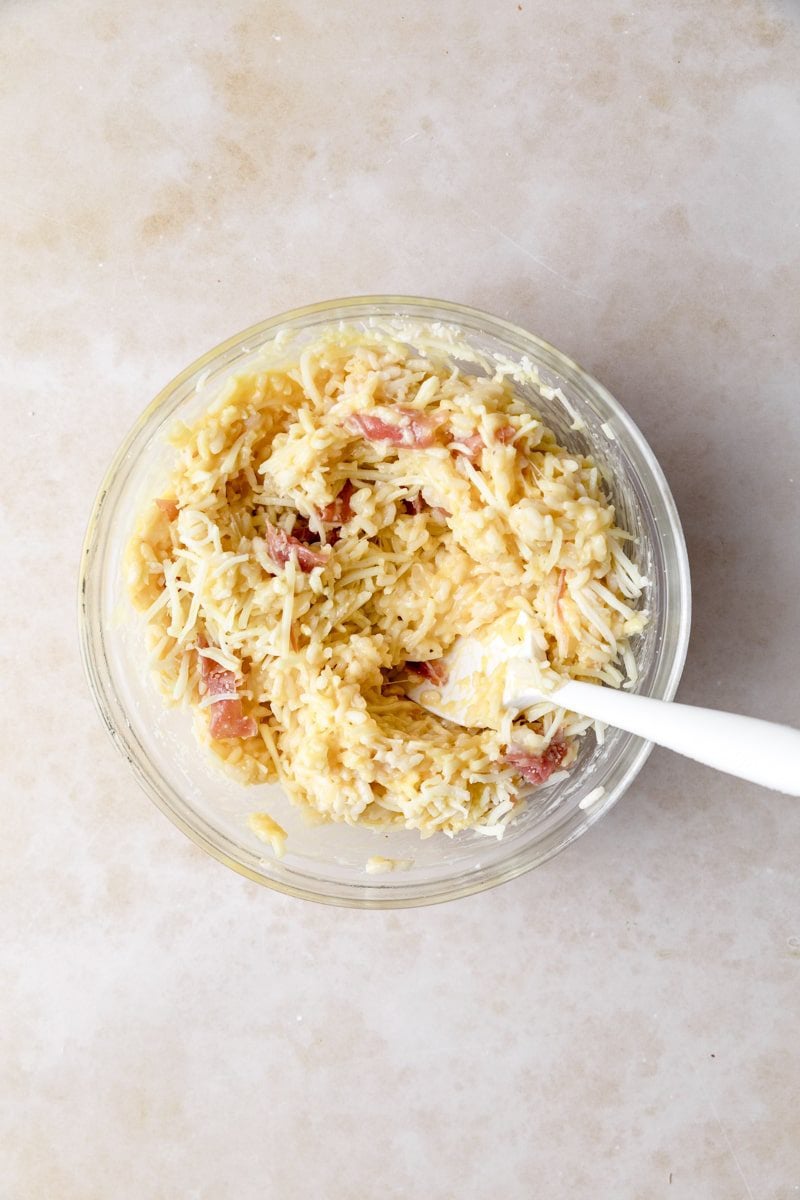 2. Mix in the mozzarella and prosciutto.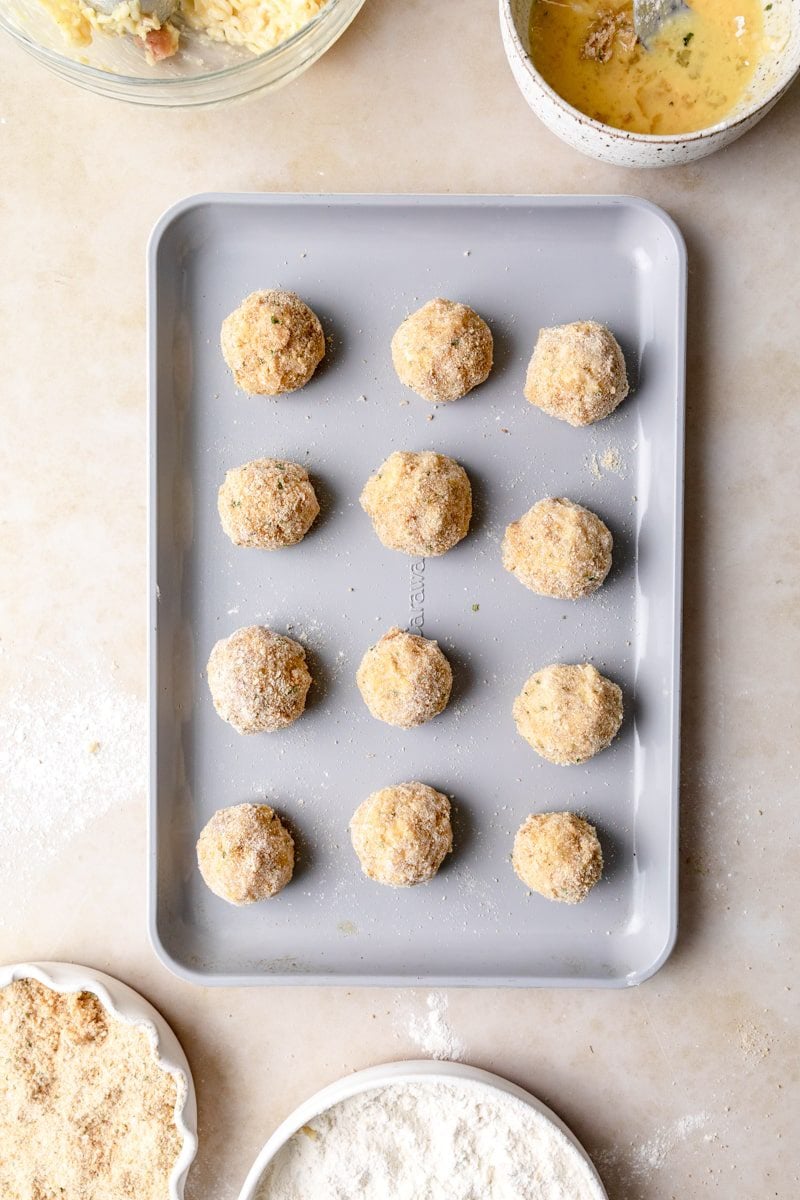 3. Scoop 2 tablespoon of the rice mixture and dredge it in flour, egg, then breadcrumbs and place on a sheet tray.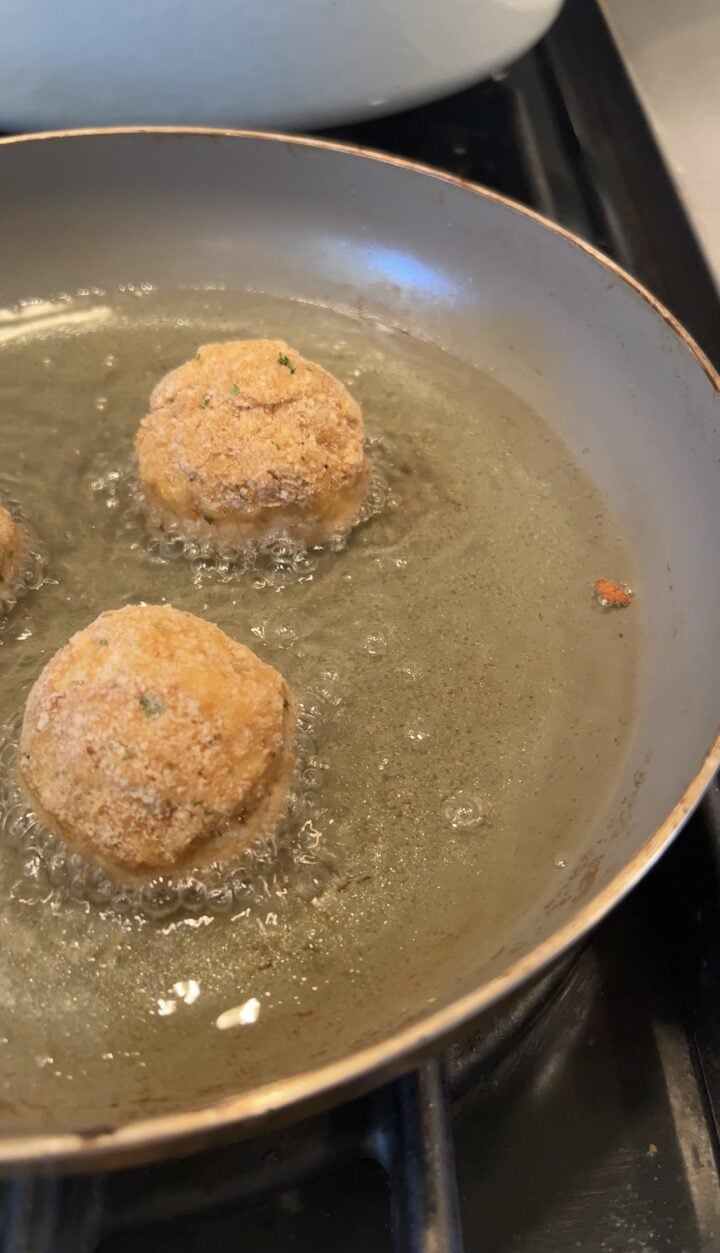 4. Over medium high heat, heat canola oil and fry the arancini for 1 minute on each side.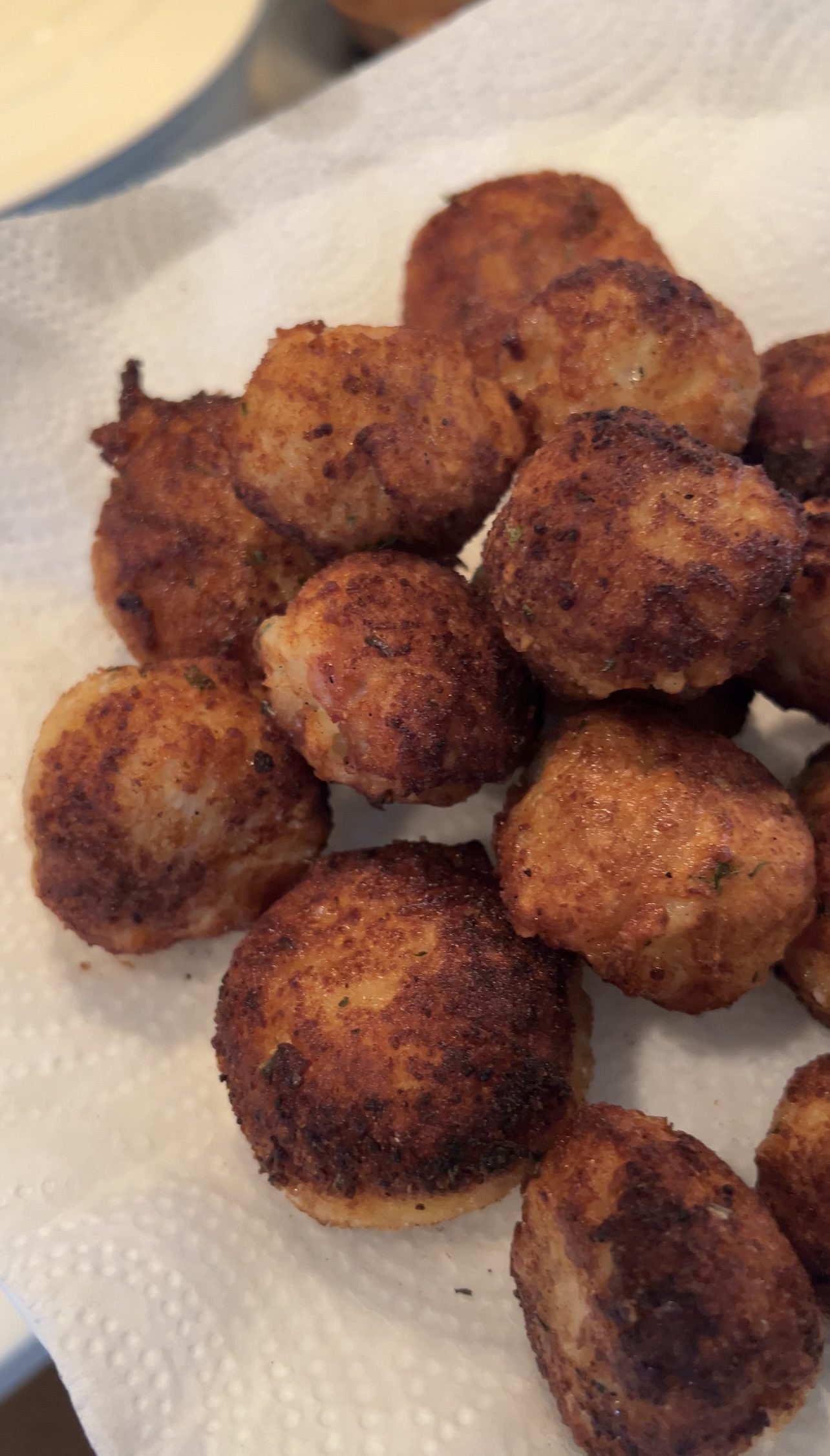 5. Remove with a slotted spoon and place on a paper towel to cool.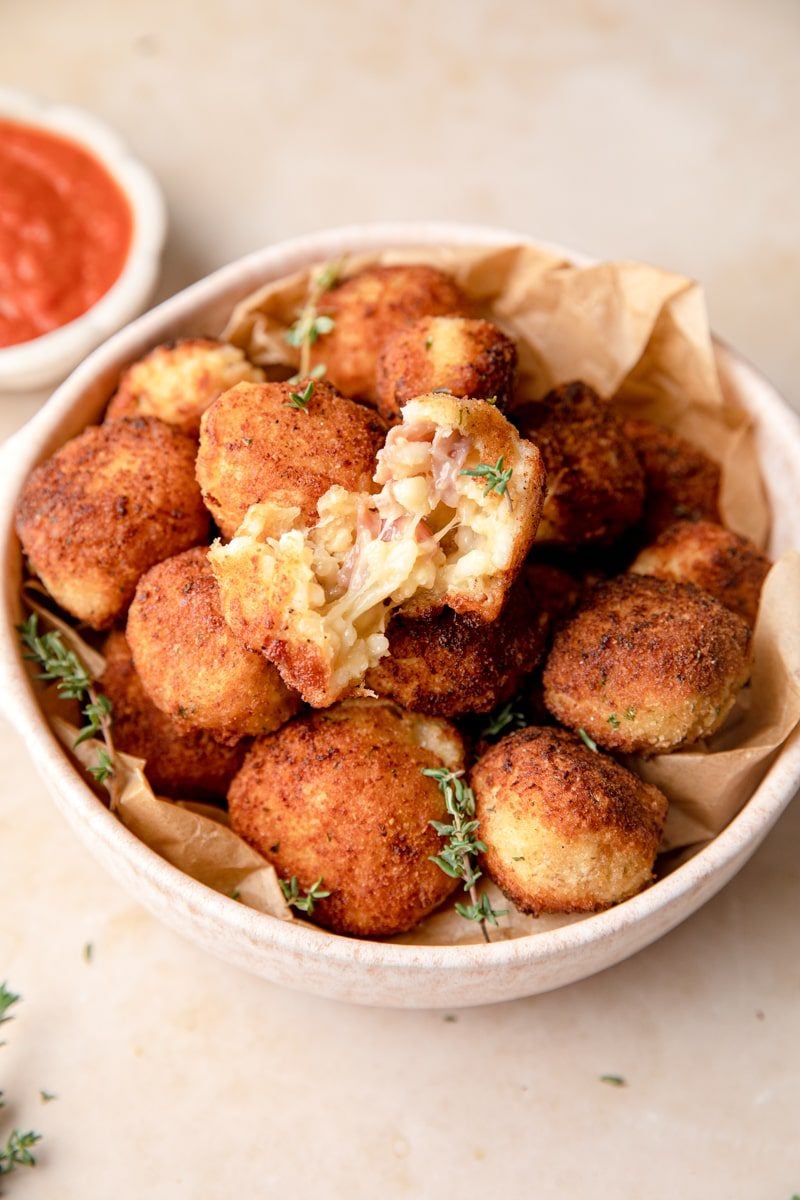 6. Serve with your favorite marinara sauce.
How To Make Arancini with Leftover Risotto
If you want to make arancini balls with leftover risotto, your arancini will be done much faster than if you need to make the arancini from fresh risotto.
Add your seasonings, Parmesan, and eggs to turn the risotto into a thick, flavorful mixture that can hold its shape. Form and fill the round balls. Coat each arancini ball in flour, then dip it in the egg mixture before coating it in breadcrumbs. Chill in the fridge to firm up the arancini. Pan fry until golden brown and serve hot.
How to Form and Fill Arancini di Riso
Since the risotto filling can be sticky, always work with wet hands. Grab a chunk of risotto and form it into a small ball in the palm of your hand. Press it into a patty and place a piece of mozzarella and any other fillings. Fold the rice mixture up around the filling to form a round shape. Roll it gently in your hands and squeeze the seam to make sure it's closed well.
For best results, chill the arancini before frying.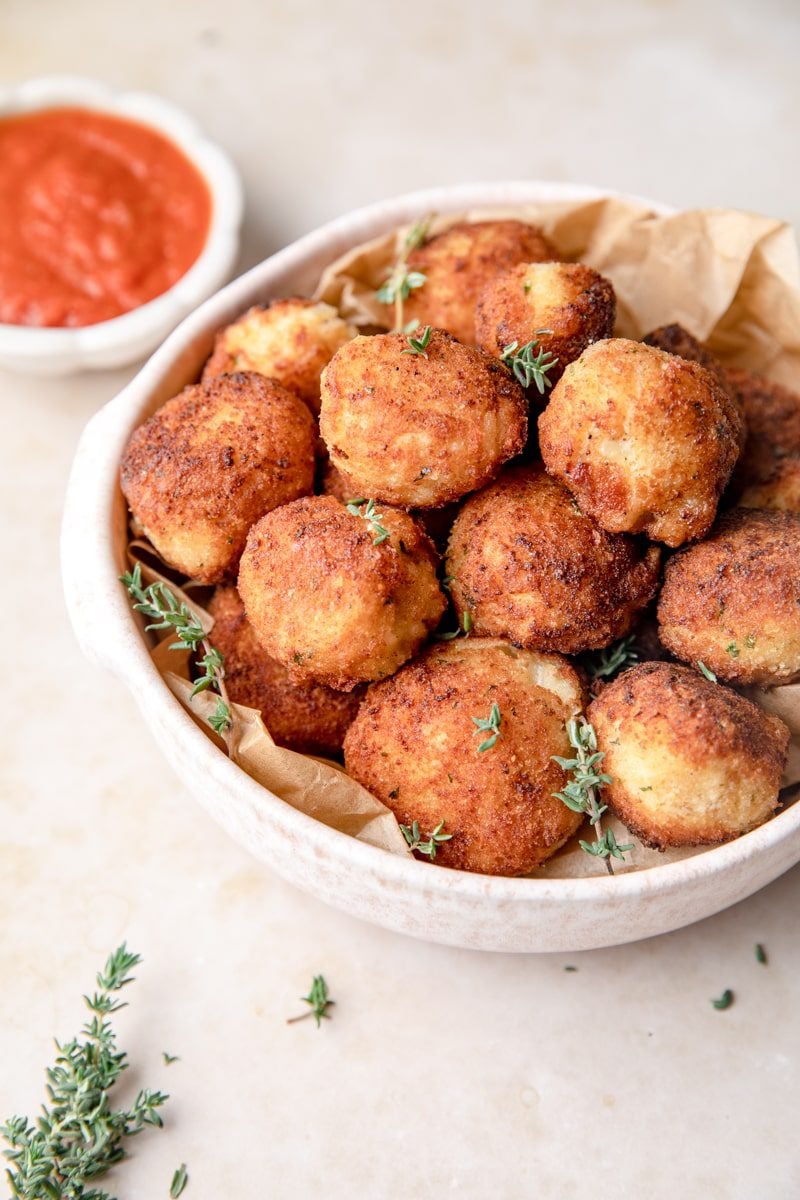 Arancini Filling Ideas
There are so many possible arancini fillings! Try these traditional and not-so-traditional fillings for your next batch of arancini:
Cube of mozzarella cheese
Sundried tomatoes
Meat sauce
Fresh green peas
Porcini mushrooms
Meat ragù
Roasted eggplant
FAQ & Tips
What are arancini balls made of?
Arancini is made from leftover risotto thickened with eggs and Parmesan cheese. Each ball is hand-rolled and stuffed with different fillings, often mozzarella or different meats. The balls are breaded and fried until they reach a golden orange color.
Why are my arancini balls falling apart?
If you are trying to make leftover risotto balls, yet they are falling apart, a few things could be happening. First, check your temperature. If you don't chill the arancini balls, they will be too soft to hold their shape in the deep fryer. Chill your mixture for at least 20-30 minutes.
If that doesn't solve the problem, your mixture might be too wet. The arancini filling should look thick and hold its shape when you manipulate it. If it's loose or soggy, you may need to add some breadcrumbs to bind it together.
Can I make arancini with regular rice?
Risotto is made with starchy rice like arborio or Caranroli. Regular rice isn't starchy enough to bind the dish together with that classic creamy texture. If you try to make arancini with regular rice, the rice will most likely fall apart.
Can I freeze arancini?
Freeze them individually on a sheet tray in your freezer until they are frozen solid.
Store them in a freezer-safe bag for up to 3 months.
Allow them to thaw overnight before reheating them in the air fryer or deep fryer.
More Risotto Recipes
If you enjoyed my best arancini di riso recipe, you'll love my other risotto recipes!
📖 Recipe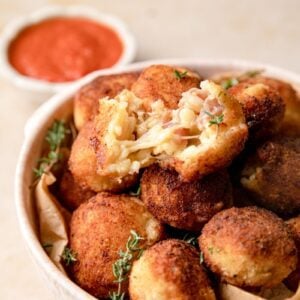 Easy Arancini di Riso Recipe (Fried Risotto!)
Step-by-step instructions make it easy to whip up a batch of these mouth-watering arancini di rosi in no time
Print
Pin
Rate
Equipment
1 heavy bottomed pot

1 slotted spoon

5 mixing bowls
Ingredients
2

cups

leftover risotto

1

egg

1

egg yolk

¼

cup

parmesan cheese

1

cup

fresh mozzarella

diced

1

cup

proscuitto

torn into pieces

1 ½

cups

all purpose flour

2

eggs

whisked together

1

cup

Italian breadcrumbs

2

cups

canola oil for pan frying
Instructions
To the leftover risotto add in the egg yolk, egg, and parmesan. Mix well.

Mix in the mozzarella cheese and torn prosciutto.

Moisten your hands with water and scoop 2 tablespoon of the rice mixture into your hands and form into a ball.

Set up the dredging station with one bowl of flour, one bowl with beaten eggs, and one bowl of breadcrumbs.

Take each ball and coat in the flour, dip in th egg mixture, then finally in the breadcrumbs.

Place back on a baking sheet.

Repeat with each ball.

Place the baking sheet in the fridge to firm up the arancni balls.

When ready to cook, add canola oil to a heavy bottomed pot and heat over medium high heat for about 5 minutes.

Using a slotted spoon, gently place 3-4 risotto balls in the hot oil and fry for a couple of minutes on each side until golden brown.

Remove and place on a plate lined with a paper towel.

Repeat until they are all fried. Serve with your favorite marinara!