Hello! Welcome to the first of my series on our 1970s Ranch style home renovation. I'm giving you the low down on my painted stone fireplace!
We bought this home over the summer of 2020 and the first thing I saw was this stone fireplace. This stone was brown, ugly, and an eyesore.
This post may contain affiliate links in which I make a small commission. Thanks!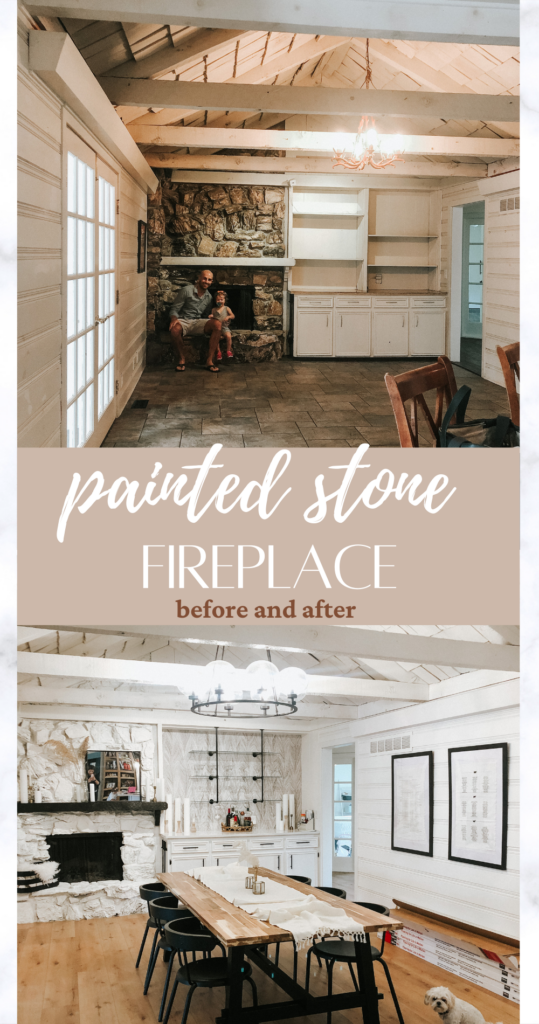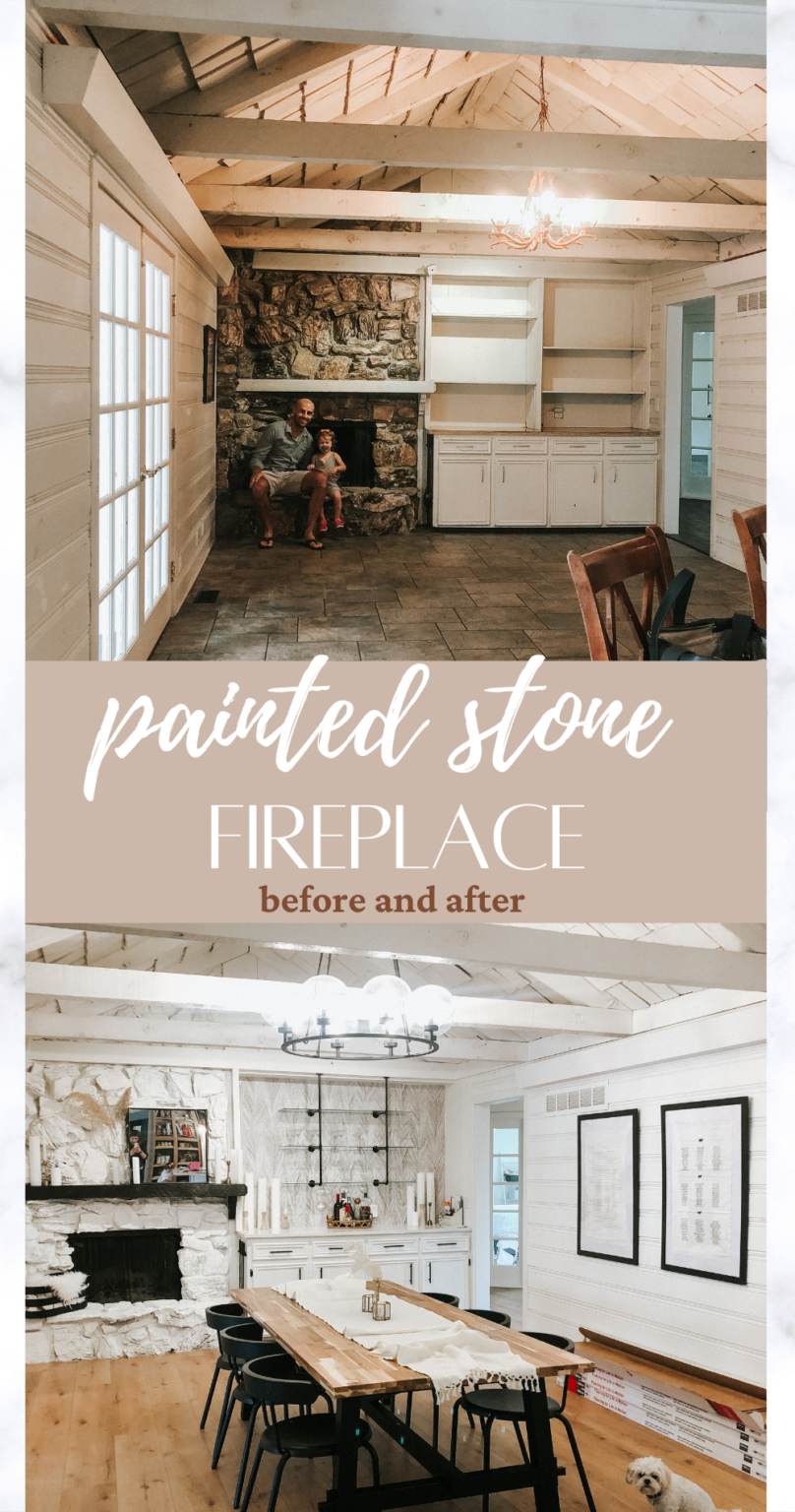 Seeing Through The Ugly
So right next to the stone fireplace was the perfect area for a bar! So that was that. I knew this room with a cozy fireplace would be the heart of our home. Where we would enjoy family meals together.
It's right off the brown, maple kitchen (that Reno coming soon!) and it had cedar shake shingles on the ceiling with large beams! And it was all getting a fresh coat of white paint.
Can You Paint A Stone Fireplace?
YES! Absolutely you can. There are lots of different textures of stone out there on fireplaces and with the right tools and a little time they absolutely can be painted.
Choosing A White Paint For The Fireplace
So we chose the same white paint that was going to be used on our cabinets. Because there are SO many textures in this room we didn't want to overwhelm the space with different shades of white.
When choosing the white, we wanted something bright and warm. Not too blue but not too creamy either. We chose Behr Whisper White.
It's a great bright white without feeling like a hospital, for our space at least!
Tips For Painting Stone Fireplace
My biggest tip when painting your stone fireplace is to have realistic expectations for your stone.
Our stone was dark and had TONS of texture to it. It wouldn't ever look like smooth brick or smooth stones no matter how much it was painted.
It also was always going to be a touch darker because of the dark stones under it. The shadows from each rock on one another create different colors and you have to know since it's a natural stone it won't turn out exactly the same for every fireplace.
We also hired this out. There is absolutely NO SHAME in not going the DIY route if it's a tricky job. By having it done professionally we saved a lot of heartaches and they had it done in a day.
Lastly, I incorporated a contrasting color for the mantle. Our whole dining room is black and white. So a sleek black mantle was just what this all-white room needed.
Whether you paint your mantle or you keep it natural with wood tones, make sure there's a contrast for some visual interest! Then dress it up with decor that bridges the gap between black and white. Natural colors and greenery.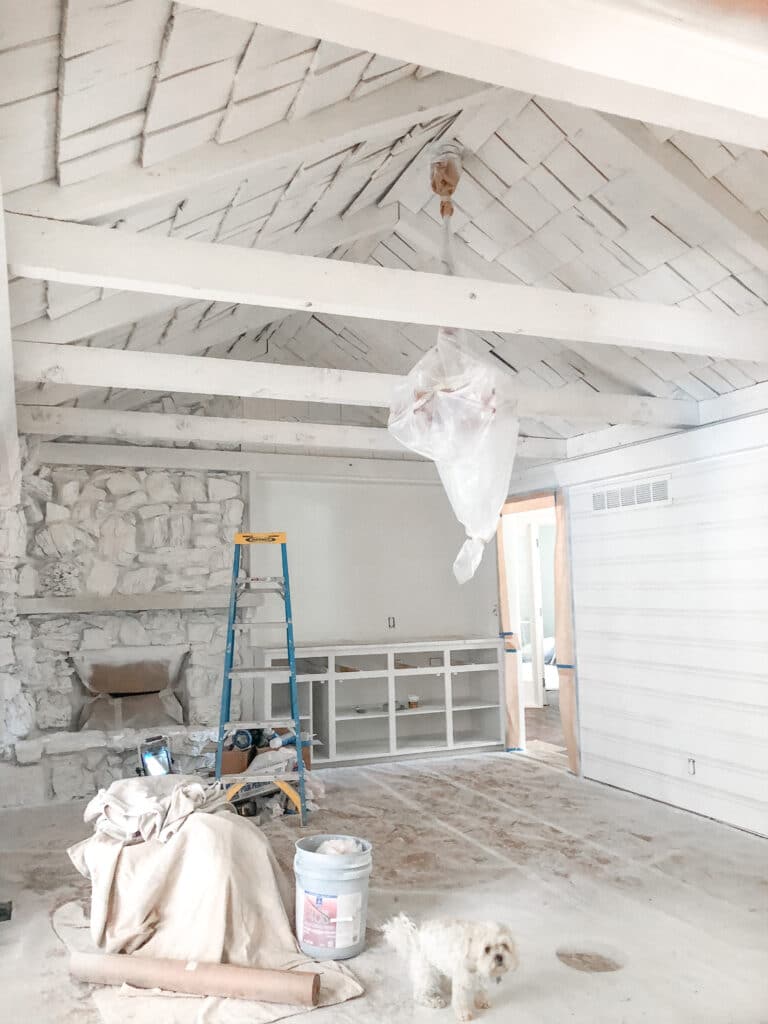 Furnishing Our New Dining Room
So now that our hearth room had a fresh coat of paint, it was time for some fresh dining room furniture!
A 9ft long butcher block table with black legs, this Ikea Dining Room table fits our space perfectly. Kid-friendly, stylish, and affordable!
We added some black Ikea chairs to accompany it. They are so easy to wipe down and I love them! It ties in the black on the painted stone fireplace.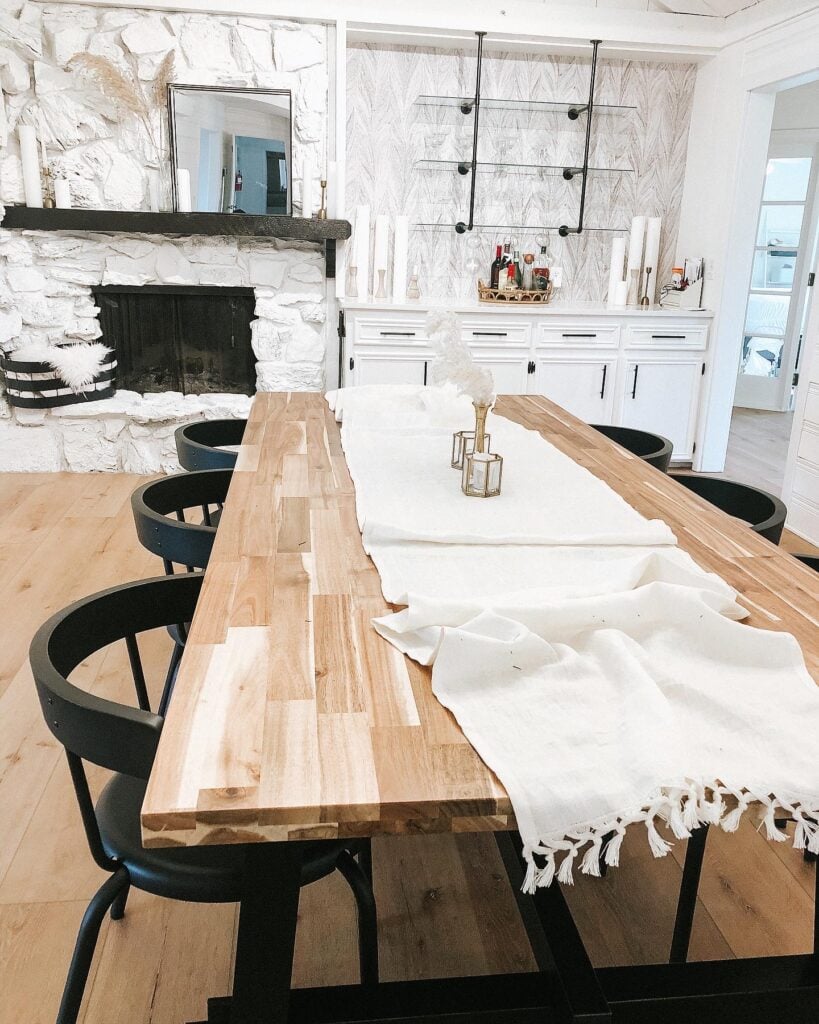 For the walls I knew I wanted some large black frames with something simple framed in them. I found these tea towels at Burke Decor and framed them in Amazon frames.
I also added white mat boards from Amazon to give it a more finished look.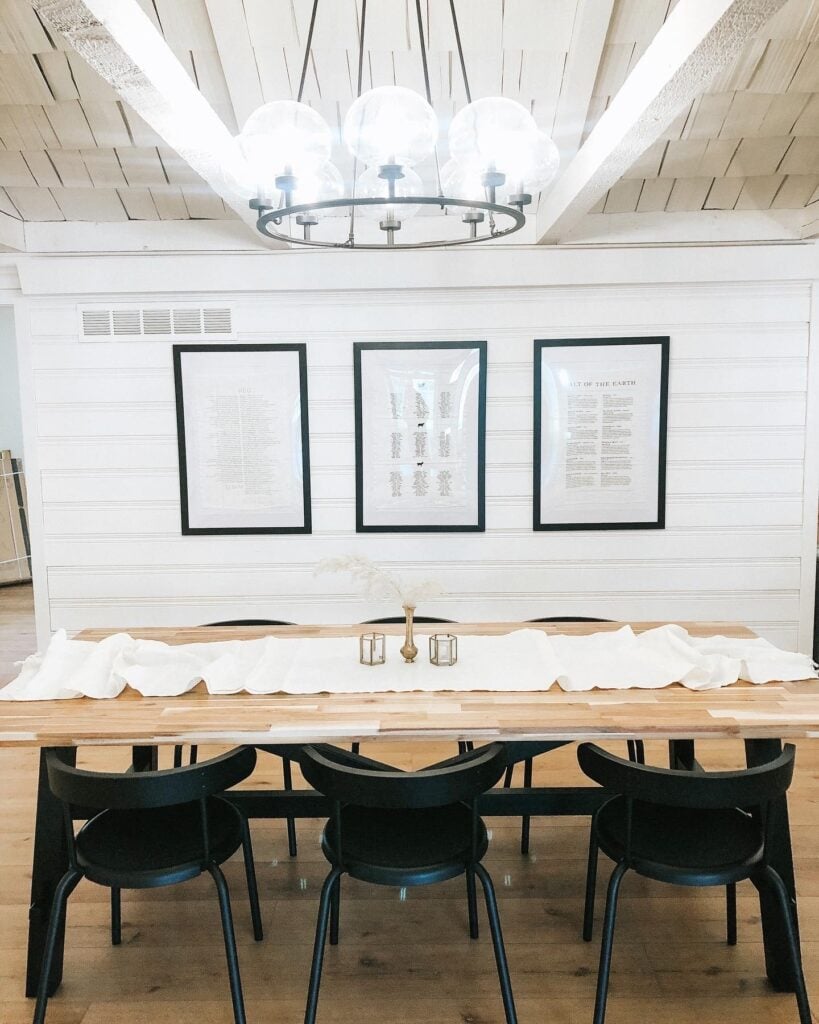 Modern and Elegant Dining Room Bar
In addition to the big change in the fireplace, the second largest change was turning some old shelving and cabinets into a luxury in-home bar!
We love to entertain and have a good time so a fancy bar was a must! It incorporates extra storage into the space and creates just another fun element into the room.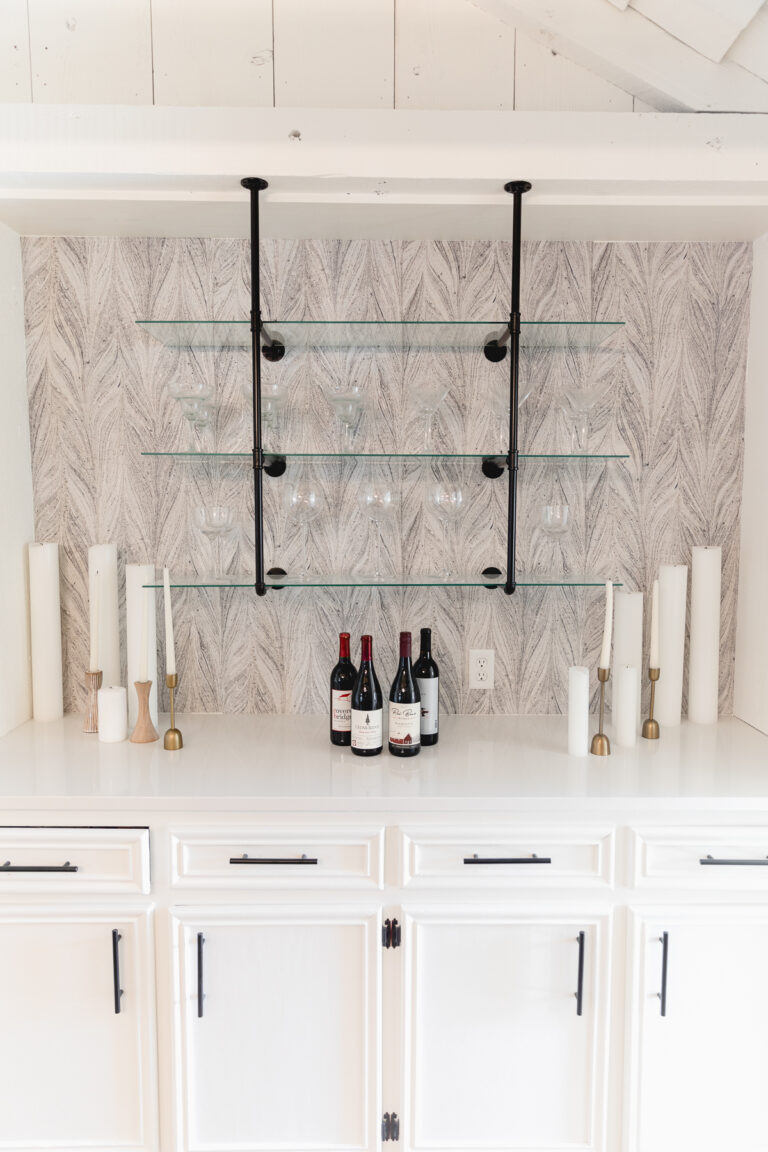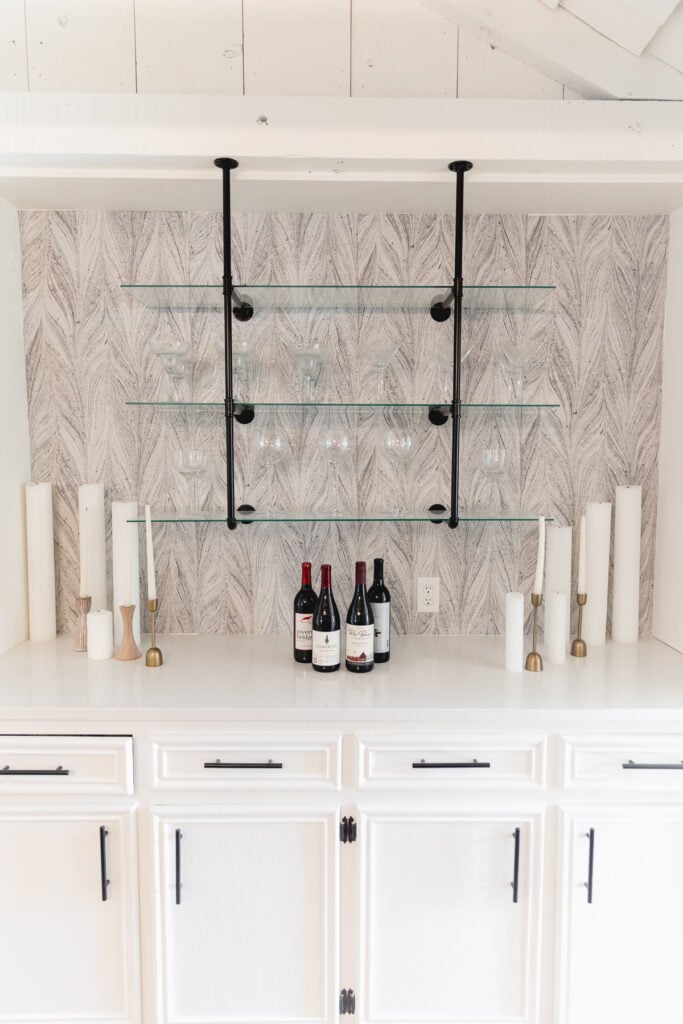 We took out the built in shelving above the cabinets and wall papered the walls and added a shelving unit! It's painted the same color as the fireplace and we also replaced the drawer pulls with black handles.
The wall paper was a beautiful thick paper from Antrhopologie that has fleccks of gold and silver metallic in it. We applied it ourselves (aka Ryan did) and it turned out great!
Over that we added these metal piping to hold glass shelves. The metal piping unit was from Amazon and only cost around $50!
The glass shelves were from a retail supply store and I got 5 slats for around $100.